Favorite Paint Color ~ All American Edition
Summer makes me think of red, white, and blue and I love to use it in my decor. But have you ever thought of using patriotic paint colors in your home? Today we're looking at some perfect All American paint colors from Benjamin Moore.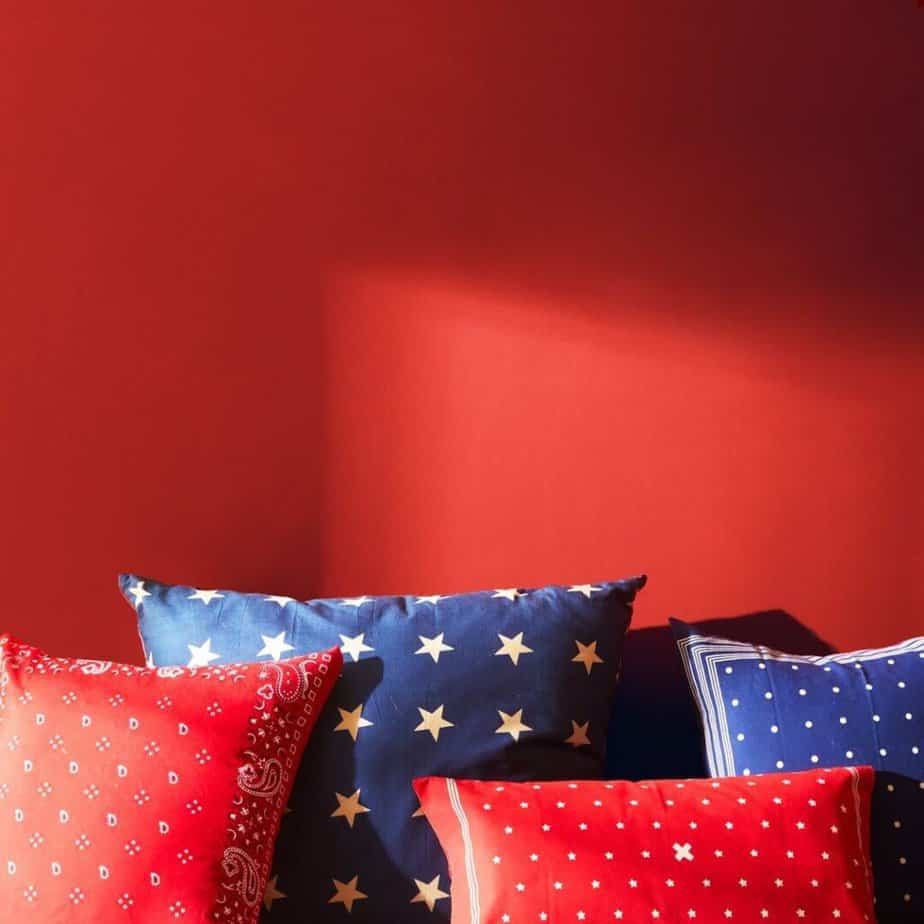 Heritage Red makes an amazing backdrop for these pillows. Find similar ones here:
This post contains affiliate links for your convenience. I may make a small commission on products purchased with my link, but your price does not change. For full disclosure go here: Disclosure and Policies. Thank you for supporting my site.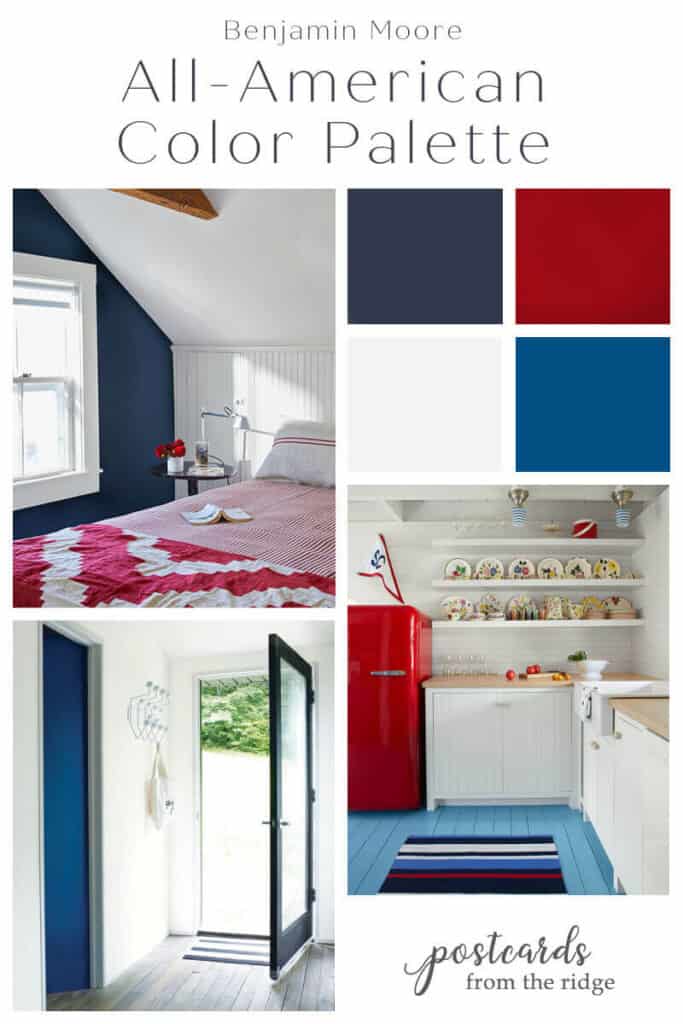 Red, white, and blue paint colors will always be a classic in this country. Although they're usually seen more in farmhouse or rustic decor and as accent colors, they can be used anywhere. Let's take a look at some favorite spaces with patriotic paint colors.
All American Paint Colors in a Bedroom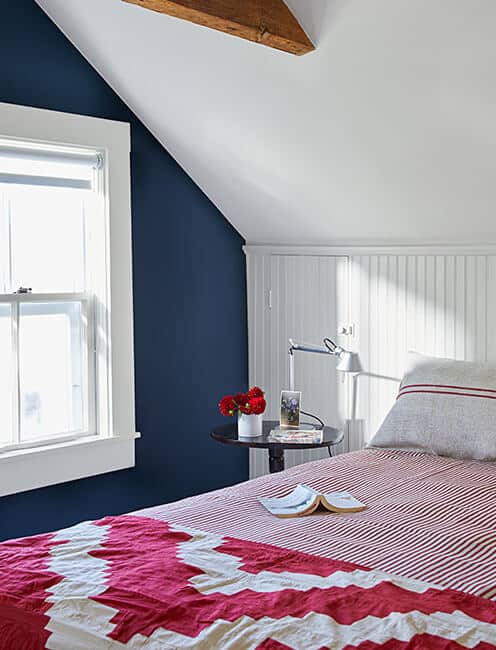 image courtesy of Benjamin Moore
In this New England bedroom, the crisp white painted bead board looks so fresh against the Deep Royal painted walls. The gorgeous red and white quilt, red ticking stripe duvet, and red stripe grain sack pillows really give the room a patriotic look.
This nautical style bedroom has walls in Benjamin Moore Caliente that really make an impression. The wood walls in White Opulence give a sharp contrast and keep the room from looking too dark. Navy blue pillows on the window seat complement the red and white perfectly.
Hallway Painted with Old Navy
image courtesy of Benjamin Moore
This hallyway painted with Benjamin Moore Old Navy definitely doesn't give me the blues. The crisp white trim really sets it off and the pup is so very adorable. Adding the jute runner gives it a much needed textural element.
Benjamin Moore Cloud White and San Francisco Bay Kitchen
Isn't this a cozy little patriotic kitchen? I'm totally smitten with that vintage style red refrigerator. And the blue floor reminds me of the sea. The vintage dishes and striped rug tie everything together.
Brave Red, White, & Blue Bathroom
image courtesty of Benjamin Moore
This bathroom has such an energetic look and it would really wake you up in the morning. The Tomato Tango ceiling is bold and brave. Walls – Stoneware; Accent Color – Andes Summit
Bold Red Front Door
image courtesy of Benjamin Moore
There's nothing like a red front door color to say welcome to visitors, and this one painted with Benjamin Moore Caliente says, "Come on in!". Siding: Nimbus Gray
Patriotic Blue and Ice Mist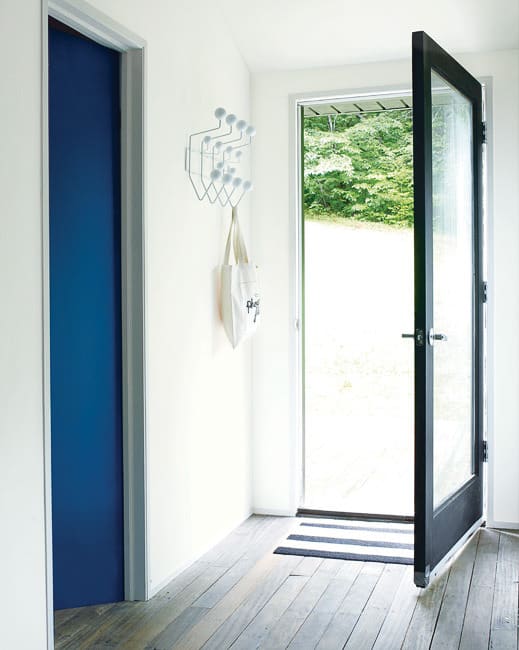 Sometimes all you need is a bit of color to make a big statement. In this entry, the Patriot Blue door against Ice Mist Walls has a strong and simple impact.
Benjamin Moore Blue Danube
Sometimes the addition of a simple red folding chair and red and white striped rug is all you need for a patriotic look. Especially if the walls are already painted with Benjamin Moore Blue Danube. Such a fun space.
Gray Oxford Bedroom with Red Accents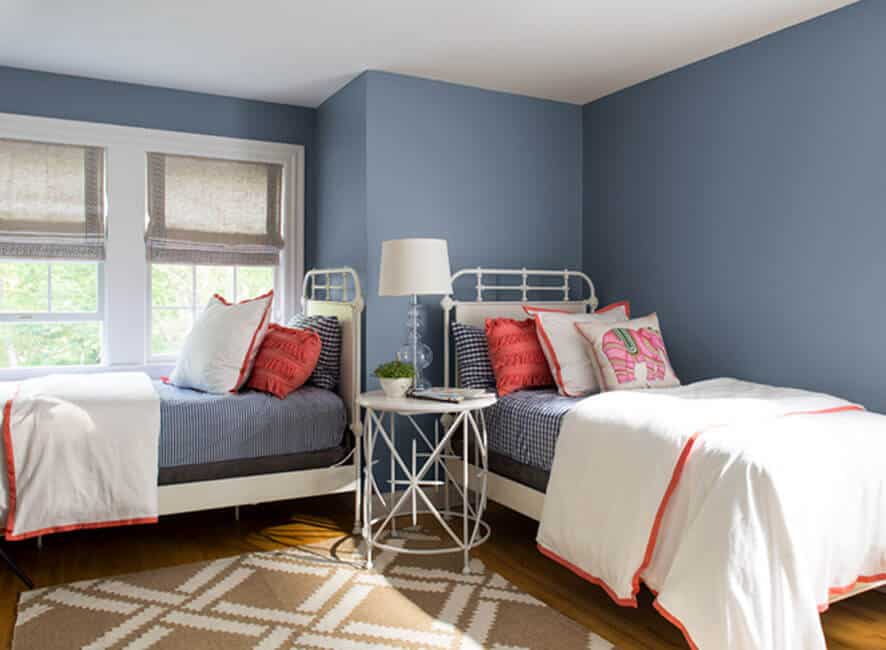 For a more subtle look, consider a color like Gray Oxford on your walls. You can still used red, white, and blue accents and create the same patriotic look.
Patriotic Table Decor
Add all-American colored cloth napkins to your table for a classic summer look.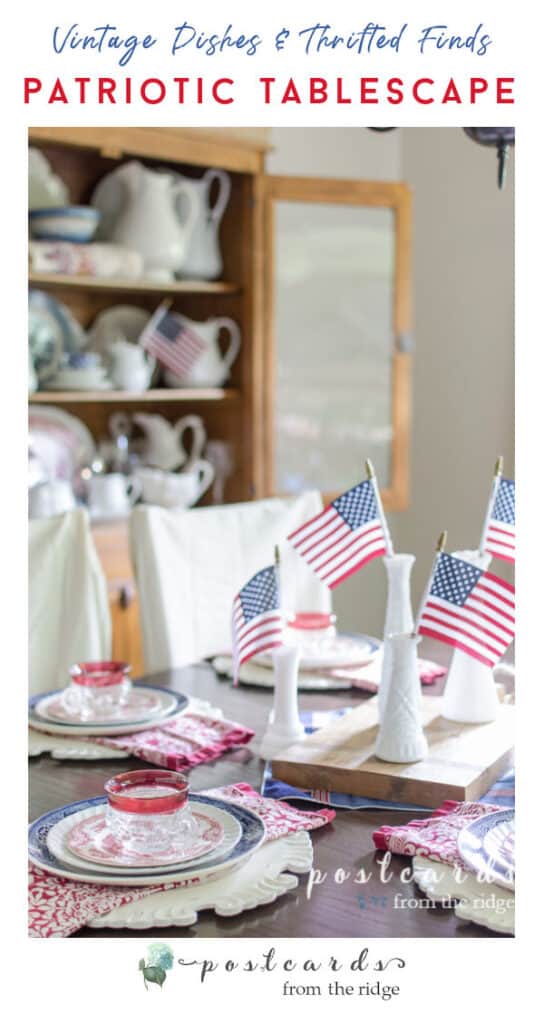 Looking for more fun ways to add a patriotic, All American flair to your decor? Visit this post for inspiration: Patriotic Table Decor Ideas
Thanks so much for dropping by!
And be sure to follow along to see all of the "Favorite Paint Color" posts.
I hope you've found this post helpful and inspiring. Let me know if you've used any of these colors before or if you have another favorite paint color.