How to make your own candles
Learn how to easily make your own candles
I've got a fun and simple DIY candle making project for you today. It's one of my favorite projects ever and I don't know why I waited so long to try it. It incorporates 3 things that are very important to me – vintage/recycled items, environmentally friendly items, and candles. And lavender too, but you can use any scent with these.
My oldest daughter and I made these lavender candles along with several others a few weeks ago and I'm just now getting around the sharing how we did it. For years I've wanted to make candles and just never took the time to do it. Plus I admit that I was a little bit intimidated. But not any more.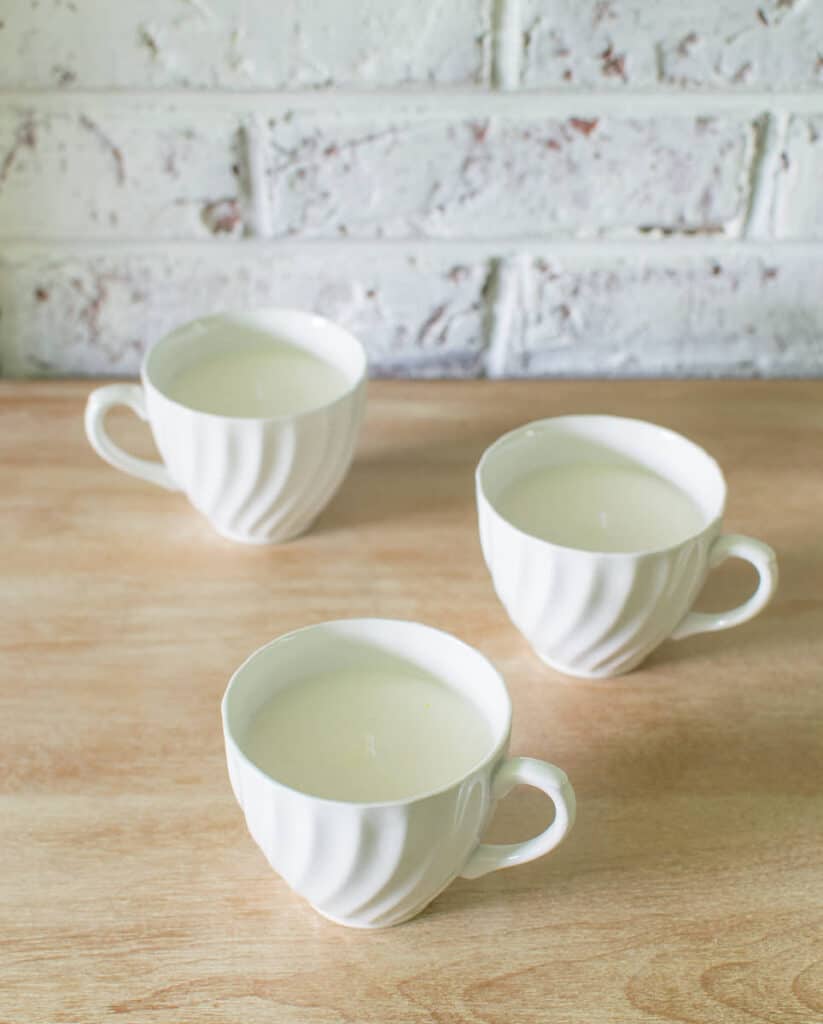 We spent a few hours bonding over cleaning out old containers, melting soy wax, pouring the wax and fragrance, and then enjoying the fruits of our labor! I'll be doing again with my youngest daughter soon.
When I posted a photo on instagram and facebook several of you asked how we did it so here's the tutorial.
This post contains affiliate links for your convenience. If a purchase is
made after clicking one of the links I might make a small commission. Your
price does not change. For full disclosure, go here.
How to make homemade candles
Ingredients needed for homemade candles
Note: I bought my supplies individually but wish I would have gotten this starter kit plus some extra wick bars. It would have been much simpler and less expensive for a beginner like me.
How to Make Your Own Candles
1. Choose your containers
Here's where you can get really creative. For our candles, I used some of my stash of old candle containers (I knew that I would eventually do something with them) as well as some cute vintage blue and white teacups.
How to clean out old candle containers
For reusing the old containers, I placed them in the freezer for a day or two and then scraped out the old wax and removed what was left of the wick. I cleaned them as well as possible.
You can find new, inexpensive containers HERE.
There are some tea cups similar to mine HERE.
Or you can even make candle containers from any bottle using THIS TOOL.
You can also use cleaned out jars, cans, tins, or whatever you like. The sky is the limit.
2. Melt the wax
How much wax do I need?
A. Typically, one pound of dry/unmelted candle wax = 20 oz of melted (liquid) wax.
Here's an example:
One pint size mason jar holds 16 liquid oz. For that size container here's the formula:
16 ÷ 20 = .8 lb of candle wax
You can use your kitchen scale to measure out .8 lbs or 12.8 oz (dry weight) of your candle wax.
Another way to know how much was you need is to add water to each container you're using, then pour all of the water into a large measuring cup to see the total amount of melted was you'll need.
Once you know how much wax you need for your containers, add your soy wax to a candle pourer. Place the pourer inside of a large pot filled with a few inches of water. Bring the water to a boil. After the wax melts, allow it to cool.
3. Insert your wicks while you're waiting for the wax to melt
What size wick do I need for homemade candles?
There are several wick sizes. Who knew? I sure didn't. Be sure to check the opening size of your container and get the right size. (Use these for 3″ diameter soy candles).
You can use the chart found on this page to determine the wick size you need: Candle Wick Size Chart
Stick the wicks to the bottom of your container with hot glue or these wick stickers. We used the
wick stickers because they're heat resistant. I didn't want the hot wax to cause the wicks to come unstuck.
TIP – Slide a straw over the wick to help keep it straight and stable while you're sticking it to the container. Or put the sticker in the container and then stick the wick to it. Otherwise it's tricky to get it centered. Those darn tricky wick stickers!
4. Add the fragrance
After the wax has cooled to 130° or 140°, add your fragrance. You can use essential oil or candle fragrance.
How much fragrance do I need for homemade candles?
For candle fragrance, typically one oz of fragrance is needed for each pound of wax.
For essential oil, you'll want to add around a half an ounce per lb of wax.
5. Slowly pour the wax into your containers
TIP – to make cleanup easier, place wax paper or newspaper on the surface underneath your containers before you begin pouring the wax.
Fill your containers with the liquid wax, leaving a little wax in your pourer. After you allow the wax to harden, fill in any sinkholes or tunnels that occur with the leftover wax. This gives them a nice finished look. If you want to add anything like lavender buds or dried rosebuds, add them while the wax is still wet and they'll stay in place better.
NOTE: don't ever pour melted wax down the drain. It will harden after it cools and can block your pipes.

After you've poured the wax, place the wicks in a stabilizer like this one or use a clothes pin or pencil. We used clothes pins but they were too small for some of our containers. So some of our wicks aren't centered. (Moral of the story – I recommend wick bars)
6. Trim the wicks
Finally, trim the wicks and enjoy your candles!
Cleanup
For cleanup, try to wipe off excess wax with a paper towel while it's still wet. And you'll probably want to have tools that are dedicated to candle making since you'll never get all the wax off. Just another good reason to make more candles!
Safety
Never leave a burning candle unattended.
Never burn a candle on or near anything that might catch fire.
Keep candles out of the reach of children and pets.
How to Make Candles
Active Time:
1 hour
30 minutes
Total Time:
1 hour
40 minutes
See how easy it is to make candles at home with this easy to follow and thorough tutorial.
Materials
Containers
Wax paper, newspaper, butcher paper, etc.- this makes cleanup much easier.
Soy wax - I've found that the flakes melt better than the pellets.
Wax pourer
Wicks
Wick stickers or glue
Wick bars or clothes pins
Candle fragrance or essential oils
Scissors
Paper Towels
Tools
Thermometer
Kitchen Scale
Instructions
Select your containers and pre heat them. This will prevent little craters from forming as the candle wax cools. To do this, place them on a cookie sheet in an oven that's preheated to 150 - 170. Leave the containers in the oven until you're ready to fill them. Handle them with an oven mitt.
Measure your wax. One pound of dry/unmelted candle wax = 20 oz. of melted (liquid) wax. Add up the ounces needed for all of your containers and divide the number by 20 to determine how many pounds of wax you need. For example, a pint sized jar holds 16 oz. of melted wax so you would need .8 lb. or 16/20 lb. (Another way to know how much was you need is to add water to each container you're using, then pour all of the water into a large measuring cup to see the total amount of melted was you'll need.) Add the wax to your candle pourer.
Melt the wax. You can melt it on the stovetop or in the microwave. Place the pourer inside of a large pot filled with a few inches of water. Bring the water to a boil. Heat the wax to 170 to 180. Let it cool to 130 or 140 and then add your fragrance. You can also melt the wax in the microwave. Add it all to a large microwaveable bowl and microwave it on high in 30 second intervals. Stir and repeat until melted to 170.
Add wicks to containers. There are different wick sizes available and you can find a chart here: Candle Wick Size Chart. Attach the wicks to your containers with wick stickers. You can use a hot glue gun, but they sometimes come unglued when the hot wax is added.
Add fragrance. Once the wax has cooled to 130 - 140, add your fragrance.
Pour wax into containers. Carefully pour the wax into your containers but don't fill them all the way to the top. Reserve a few ounces of melted wax to finish the candles after they harden. Stabilize the wicks with clothes pins, pencils, or these wick stabilizers that are designed specifically for to center the wicks: candle wick holders.
Allow to cool completely and fill in cracks and tunnels. As the candle cools you might have small craters or tunnels that develop. Use the reserved melted wax to fill these in. The wax may need to be melted again, but doing this will make your candles look so much better.
Notes
For easier cleanup, place wax paper, newspaper, or parchment paper over the surface where you'll be pouring the candles.
To prevent tunneling, the first time you burn the candles make sure you burn them until they're liquid across the entire top.
Click for sources:
Beginner's Candle Making Supplies
Let me know if you decide to make candles and how they turn out. I'd love to see photos of them too.
Have a great day!