How to Shop Estate Sales Like a Pro + 23 Fab Finds
Love vintage and bargains? Read this post for tips on how to shop estate sales like a pro!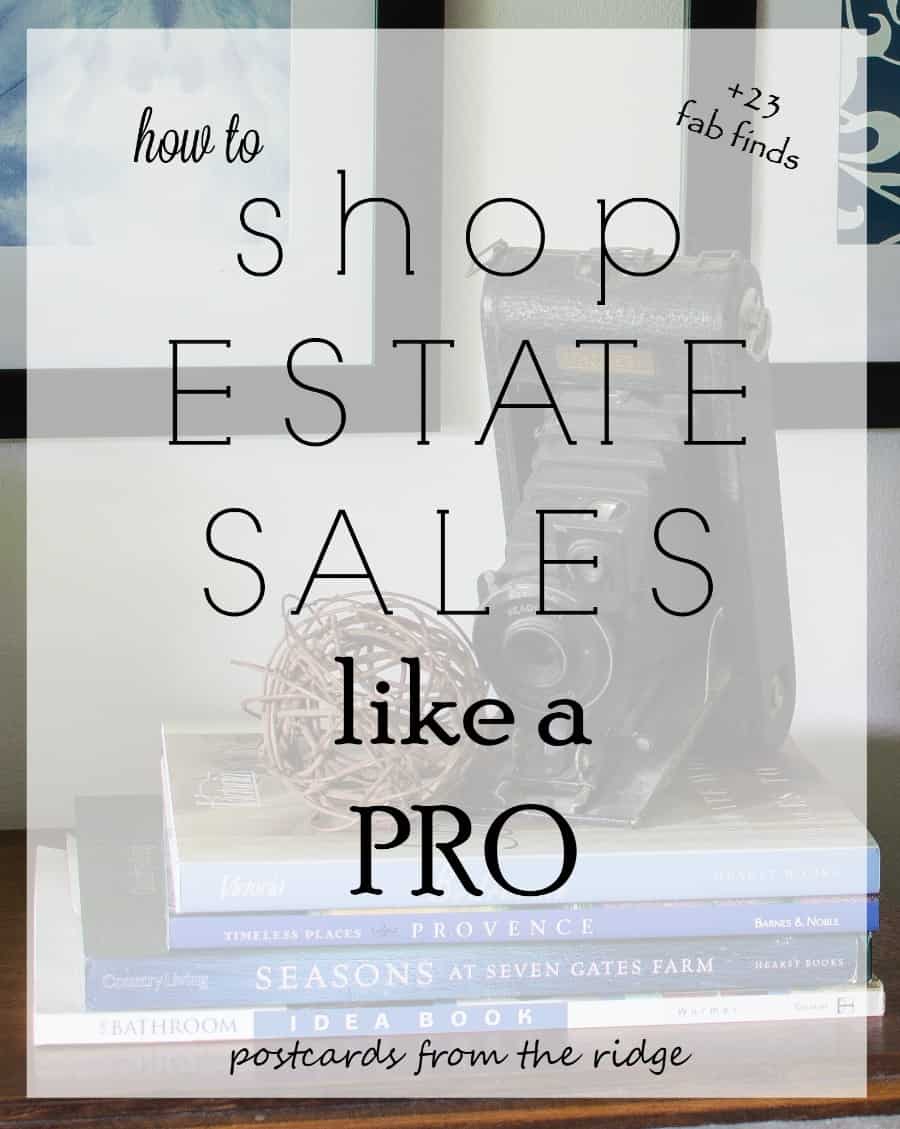 How to shop estate sales
It's estate sale season! Shopping at estate sales can be so much fun. They're like a treasure hunt and a midnight madness sale all rolled up in one. I've been shopping at them for 20+ years and some of my favorite things have been estate sale finds.
When I first started going to them it felt a little weird and sad to be going through someone else's belongings, but then I realized that I was giving these items a new lease on life and keeping them out of the dump. By the time an estate sale happens the family has usually gotten everything they want from the home and anything you buy is helping them to empty the house and get it prepared for new owners. The ulitimate in recycling!
Today I'm sharing my best estate sale shopping tips and some of my favorite finds.
This post contains affiliate links for your convenience. I may make a small commission on products purchased with my link, but your price does not change. For full disclosure go here: Disclosure and Policies. Thank you for supporting my site.
Tips for shopping estate sales
Arrive early for the best selection, but the best prices probably won't be until the end of the sale. Some sales hand out numbers for admission an hour before the sale starts. Check the sale listing to find out.
Bring your own bag/boxes.
Bring cash for better negotiations, although many organizers take debit and credit cards for convenience.
Dress comfortably.
Drive a truck or a vehicle with lots of cargo space.
Bring a friend – it's more fun.
Bring a water bottle, snack, and hand sanitizer (leave it in your car)
Have twine or rope and blankets to secure and protect larger pieces
Know what you're looking for and what you're willing to spend, but also be open minded because you never know what you'll find.
Be nice and don't insult the organizers.
Negotiate for a better deal on a pile of items.
The best deals are at the end of the sale.
Have them take your number if there's an item that you like but it's more than you want to pay.
Sign up for emails. I get regular emails from estatesales.net for local and regional sales.
Check out the photos ahead of time online, if possible.
Have fun! It's like a treasure hunt!
Favorite Estate Sale Shopping Finds
There are so many different things you could look for at estate sales, depending on your needs and your style. When we bought our first home 29 years ago we were flat broke and furnished much of our house with estate sale finds. These days the budget isn't quite as tight but I still love treasure hunting at estate sales.
Here are some of my favorite finds and things to look for at estate sales. I've also gotten some great items from yard sales, flea markets, and thrift stores. The prices there are usually better, but the selection isn't nearly as good as estate sales.
1. Christmas decorations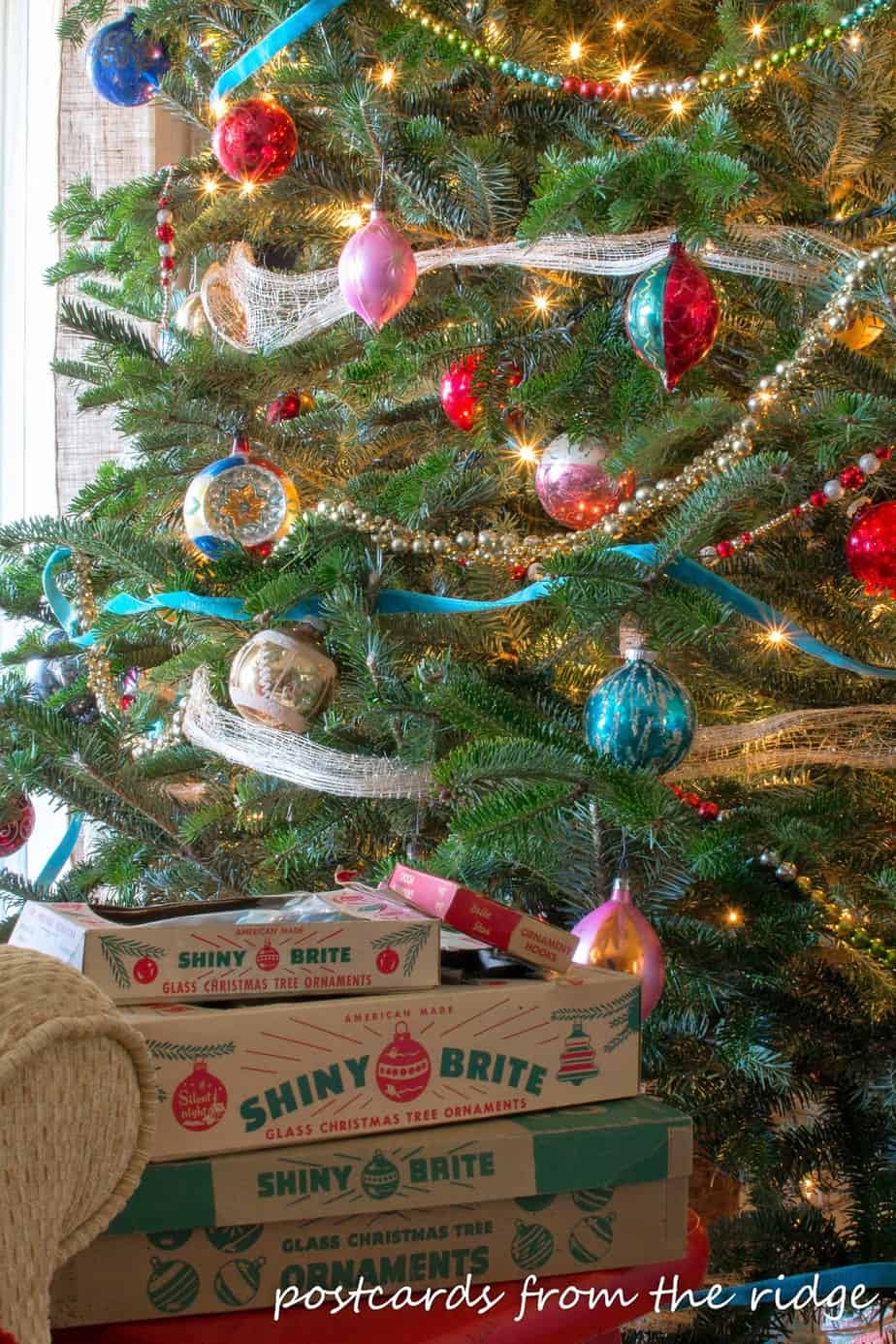 Some of my all-time favorite finds are my vintage mercury glass ornaments. At one estate sale a couple of years ago I bought 7 or 8 boxes, plus I've found a few here and there over the years. I put them on the tree, in bowls, and scattered throughout the house. The colors and designs are absolutely gorgeous and they make the tree and house look magical.
2. Ironstone and pretty dishes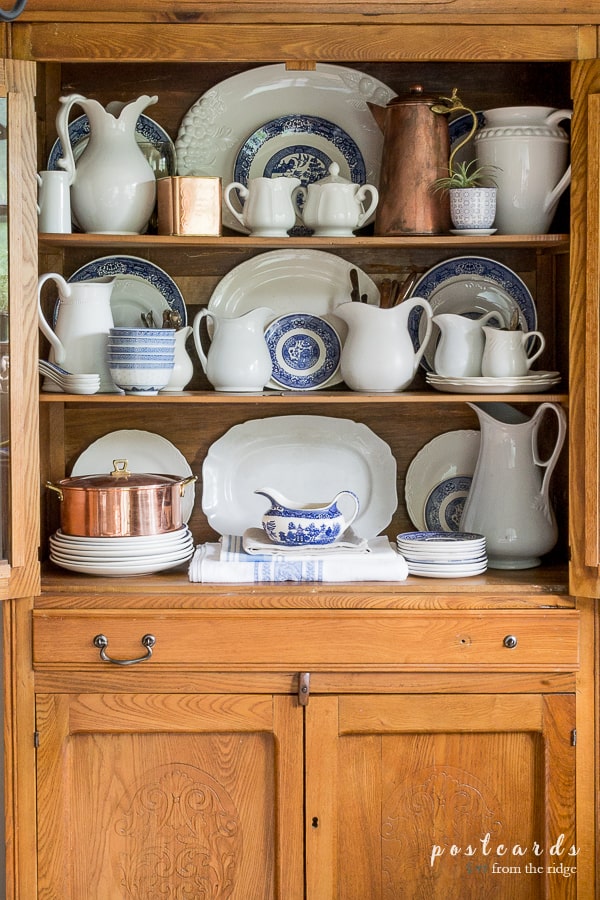 I never met a white platter I didn't like and I can't resist them when I find them. They're just so pretty and handy! And they're a great backdrop for my blue willow or any color dishes I put with them. I have several sets of dishes that I rotate throughout the year and the white ones don't get changed out.
3. Pitchers
I love to clip branches and flowers from the yard and white pitchers are the perfect place to put them. Small, medium, or large, they're all good to collect.
3. Vintage silverware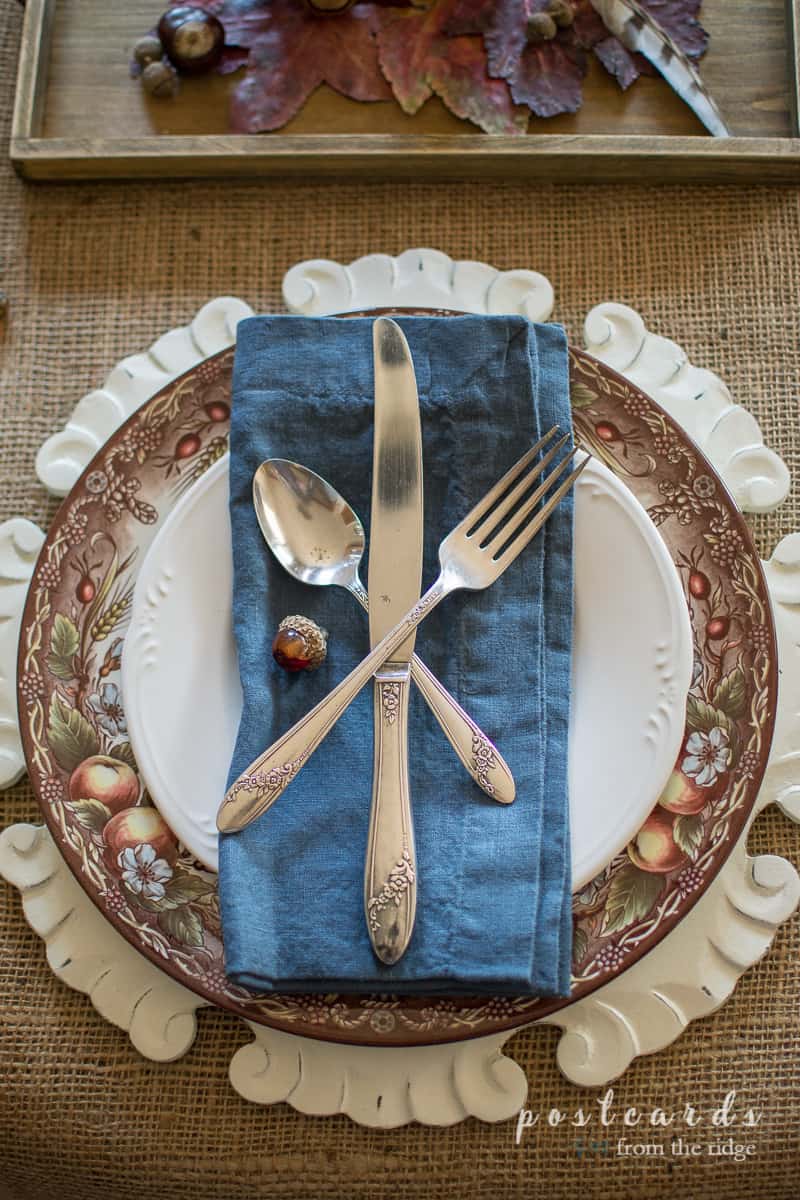 Vintage silverware isn't always easy to find or a good price, but if it is I buy it. Admittedly, it's more for decoration than anything else. But it sure looks pretty when I dress up the table.
4. Picnic baskets
Picnic baskets are pretty easy to find and are usually priced well. They're great for storage or just for filling in nooks. And of course they're perfect for impromptu picnics in the park.
5. Old frames
I rarely pass up a nice old frame, even if it has ugly artwork in it. Painting them is super simple and there are so many things you can do with them. Some ideas are turning them into chalkboards, mirrors, bulletin boards, dry erase boards, or even using them in a photo booth like we did here.
6. Artwork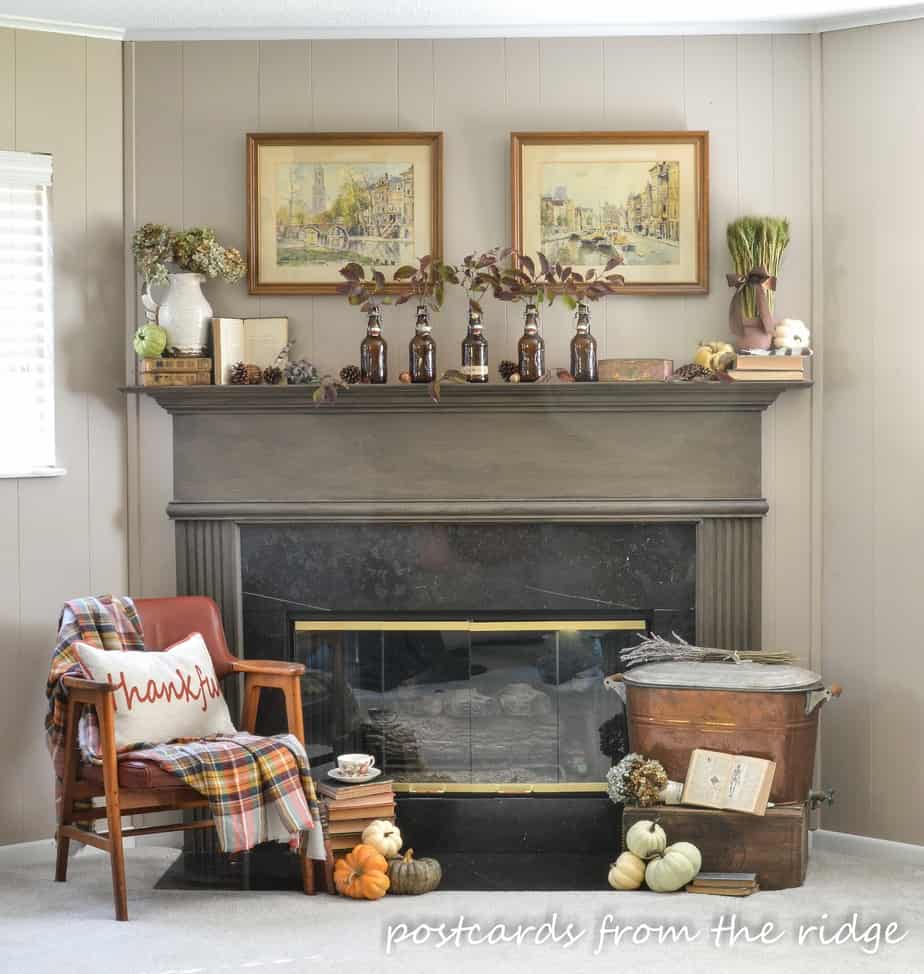 New artwork can be very expensive, but you can find great deals on it at estate sales. I've bought oil paintings and watercolor prints for less that $20 each. And FYI, almost everything in the photo above is from an estate sale, yard sale, junk store, or a castoff from someone I knew.
7. Wooden boxes and crates
Old wooden crates are so versatile, They can be used for storage, shelving, stacking, and more. They're somewhat hard to find and are usually around $20 – $30, depending on the age and condition.
8. Furniture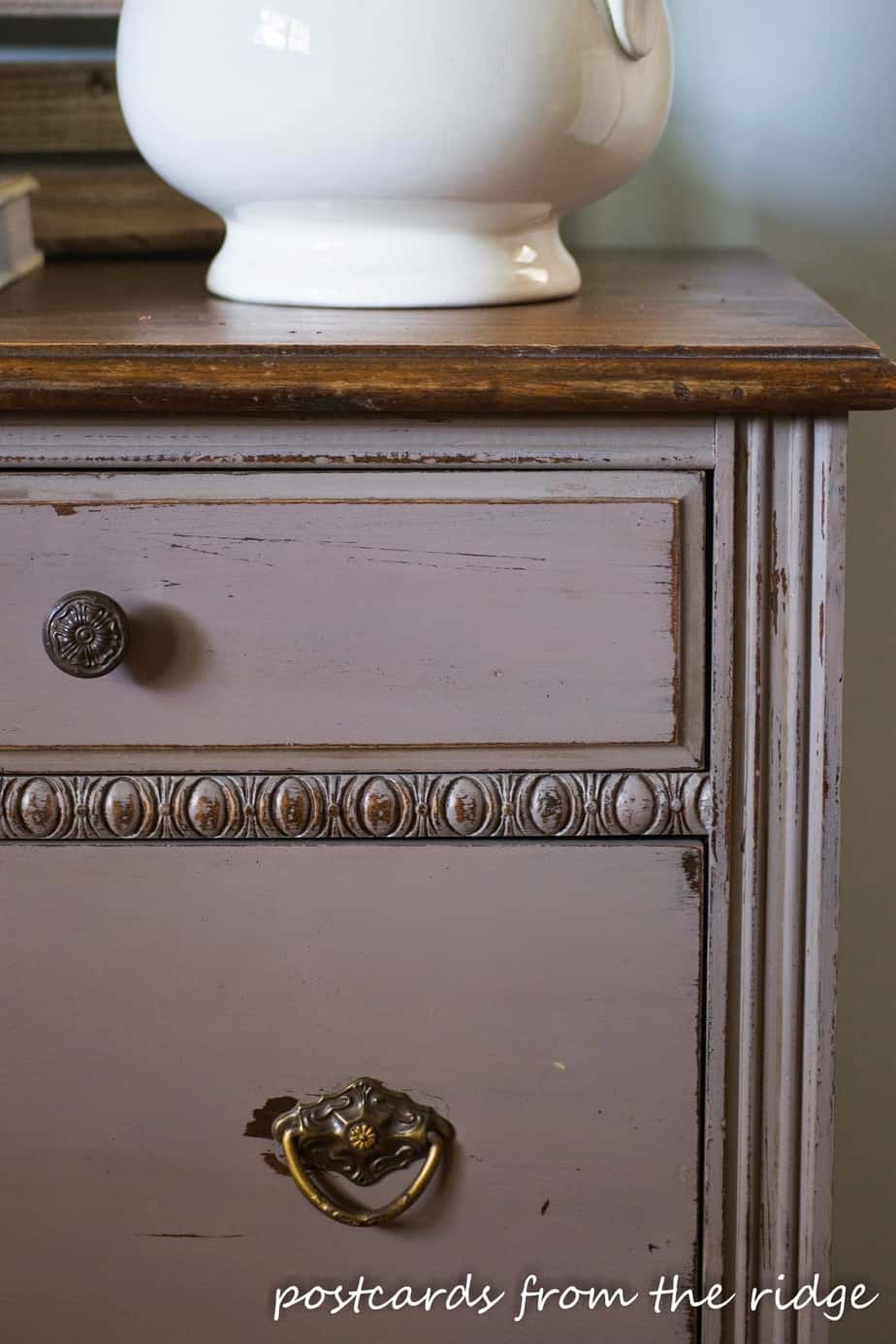 Antiques can be pricey at estate sales, but if you wait until the end of the sale you can get some great deals. I've bought wingback chairs, kitchen tables, desks, and more at great prices. Keep in mind that if an upholstered piece needs to be recovered, that can cost several hundred dollars. Wooden pieces can be painted easily and for less than $20.
9. Lamps
Over the past 10 years, I've found several alabaster lamps at estate sales, including the ones in our master bedroom. Some of the lamps were a little more than I wanted to pay, and some were less than $10. New lamps can be really expensive but old ones are usually made well and can be rewired without too much difficulty.
10. Milk glass
Milk glass is a great thing to collect since it's cheap and easy to find. It was mass produced and comes in lots of interesting shapes and sizes.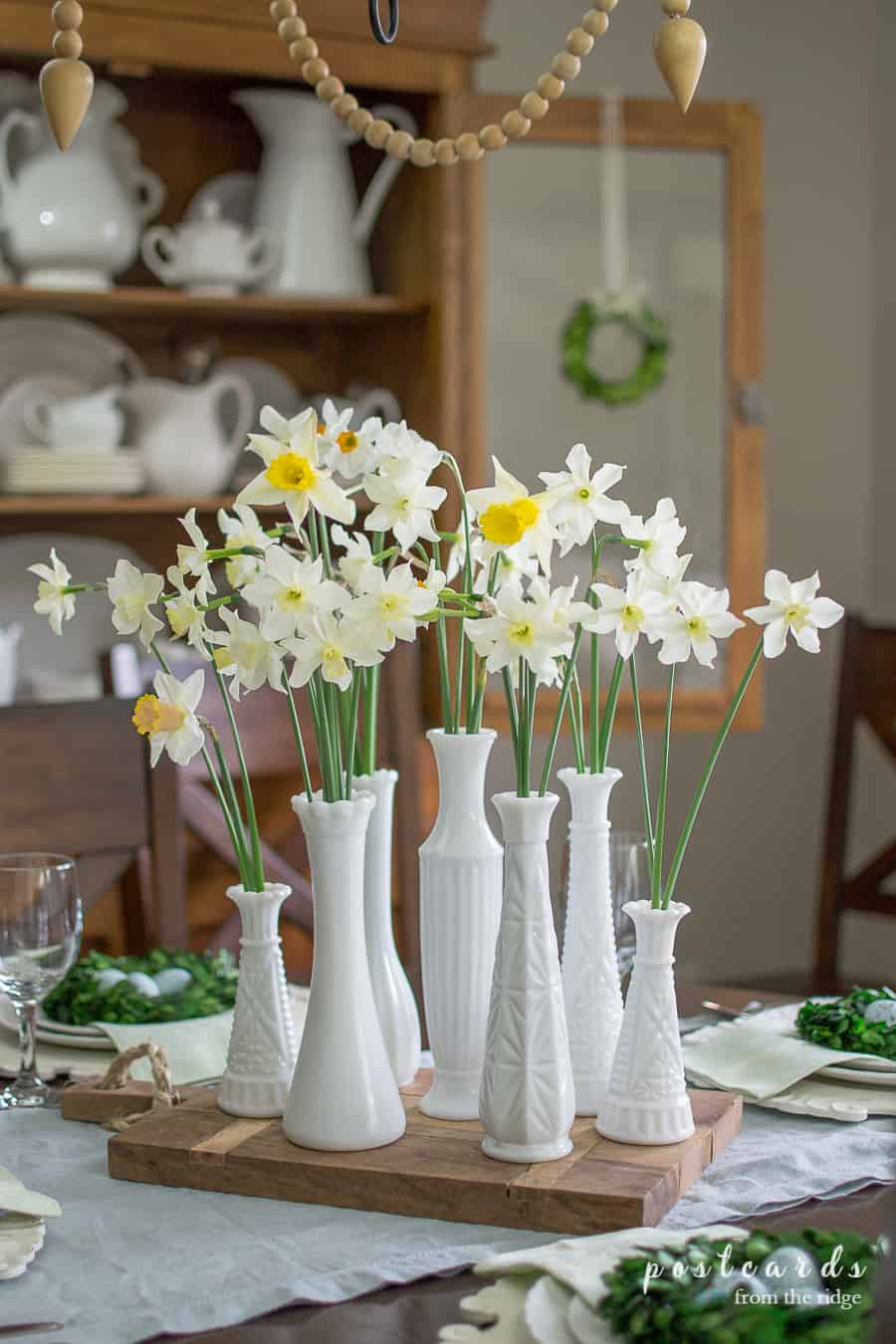 It's easy to make an inexpensive centerpiece with grocery store flowers in various sizes of milk glass vases.
11. Old Books
Old books are a nice way to fill empty space on a mantel, shelf, or accent table. They're usually around $1 each at estate sales in this area.
12. Old postcards
If you can find old postcards, they're great to decorate with seasonally. They were popular several decades ago and have pretty colors and graphics. Prices could range from $1 to $5.
13. Old bottles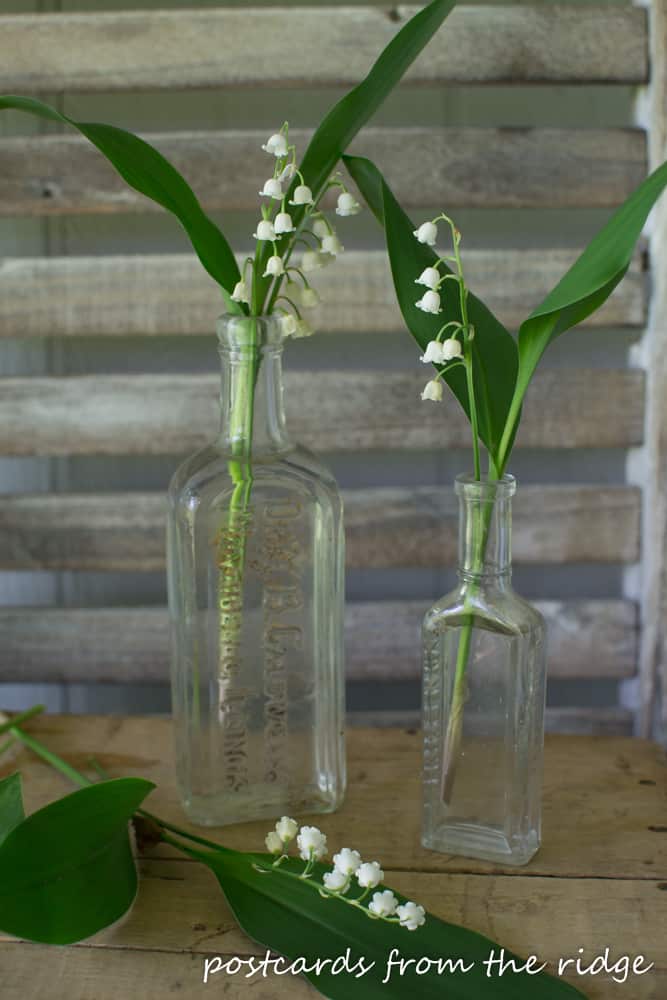 Old bottles can sometimes be found in medicine cabinets or in the kitchen area of estate sales. They're perfect as bud vases or grouped together on a pretty tray.
14. Mason Jars
Mason jars make great vases, storage, or look pretty without anything in them. They're easy to find and shouldn't cost more than $5 – 10 each.
Also in this photo, old books and an old doctor's office window are from estate sales. The window is one of my all-time favorite finds.
15. Vintage linens
Vintage linens might be found in the kitchen area or linen closet at an estate sale. They're pretty in bathrooms or kitchens and are very affordable most of the time.
Old tablecloths and blankets are usually afforable as well. I found this colorful vintage block print tablecloth for $5 at an estate sale and love the print and bold colors. The vintage wicker chair was also from an estate sale.
16. Vintage quilts
Vintage quilts can be expensive, depending on the age and the quality. I've seen them for as little as $40 and as much as $150. Look for stains, tears, and wear on them and negotiate for a better price if the condition isn't great.
Since they're old, washing them might not be the best. Use them at the bottom of the bed or folded up on a quilt rack.
17. Vintage throws
Plaid throws are very popular and pretty easy to find. They're usually $10 – 20, and sometimes even less than that. Look for them in linen closets, bedrooms, and basements.
18. Vintage cameras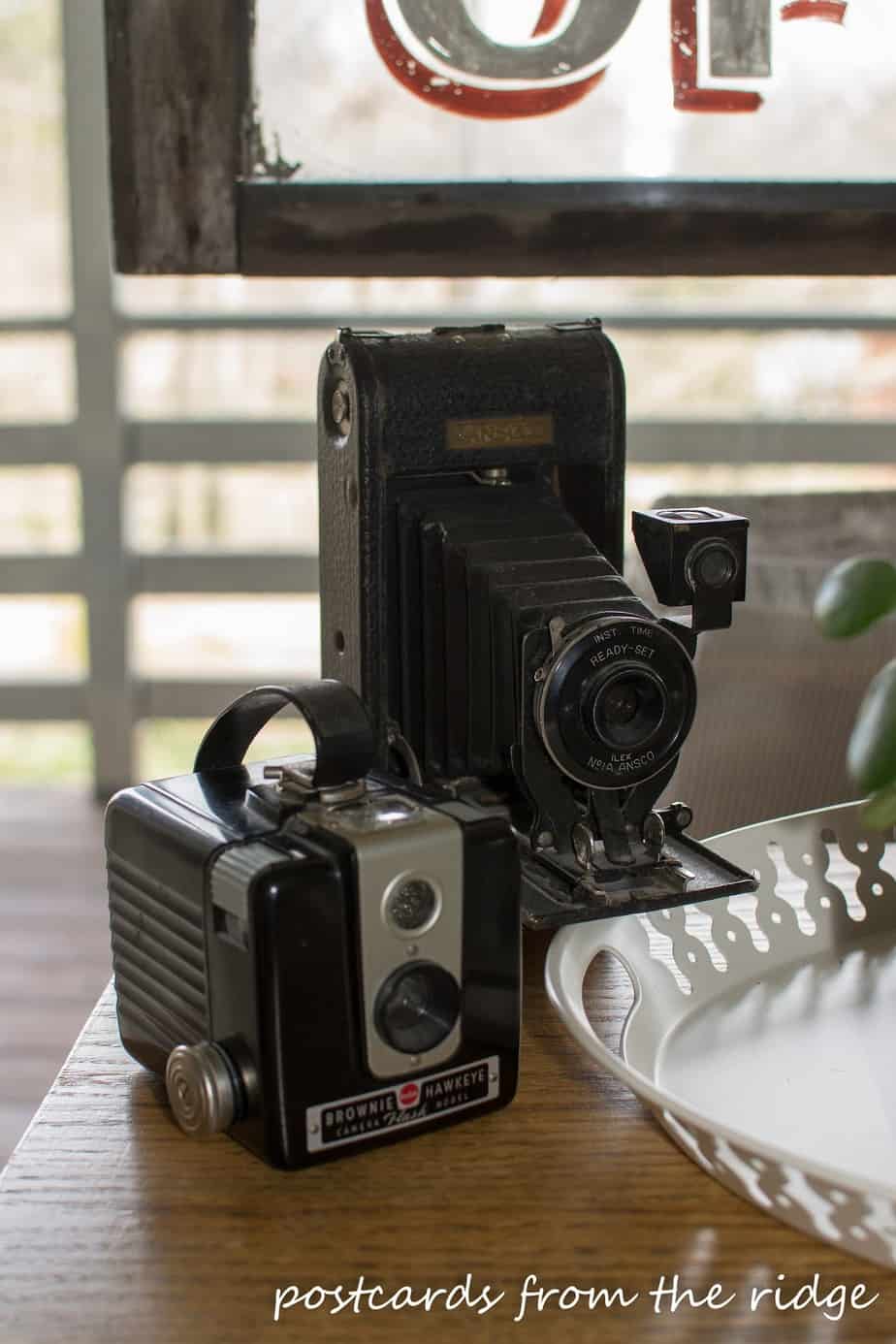 I'm a photography nerd and have several vintage cameras. They're a popular decorating item and usually start at less than $10 but can be several times that, depending on where you are and the condition of the camera.

19. Bar carts
I got really lucky with this bar cart several years ago. I was one of the first ones to the sale and they weren't nearly as popular as they are today. Believe it or not, I got it for $10. I'm sure it would be several times that price today. If you're searching for one, look in the living room or dining room first.
20. Bar accessories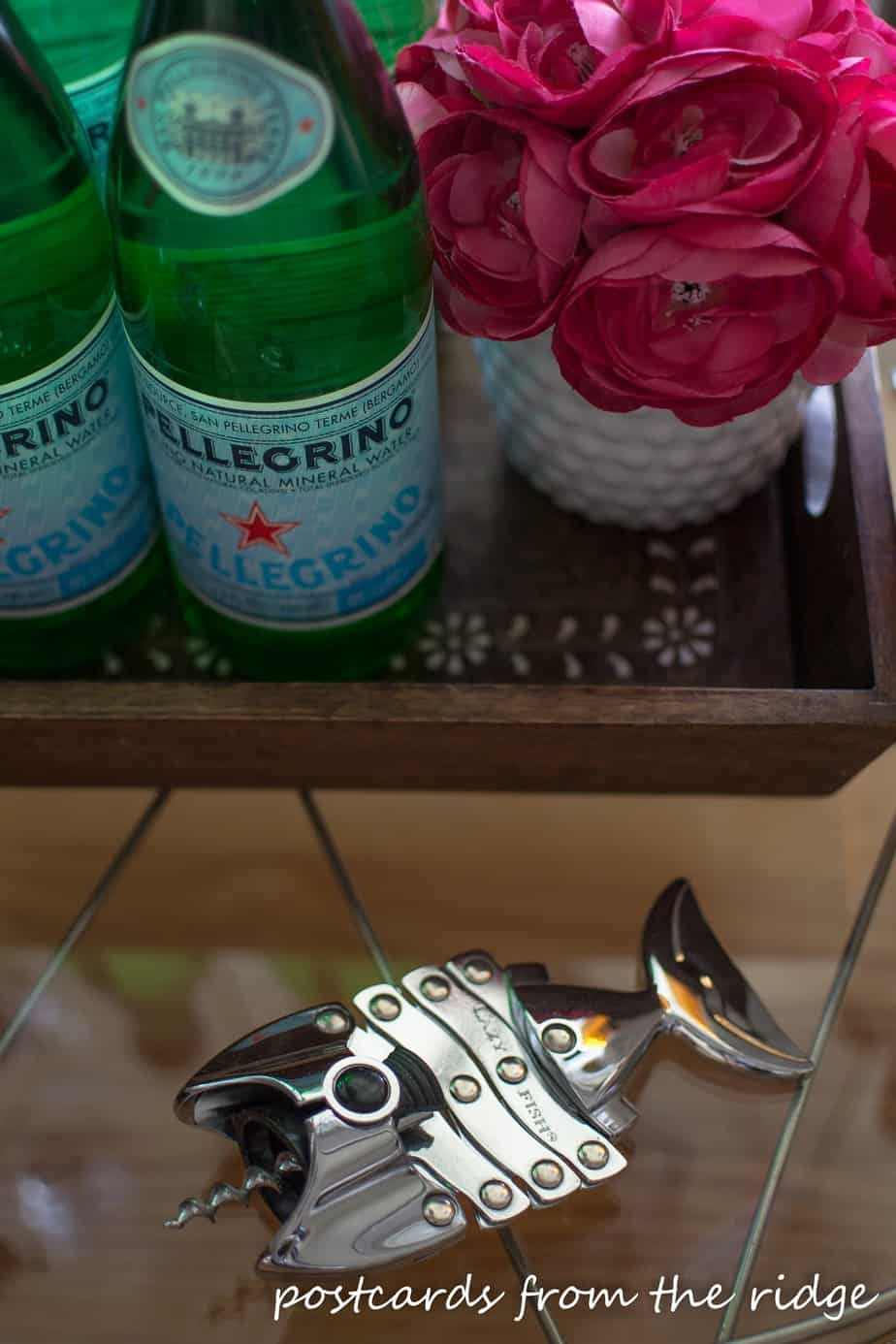 There are so many fun wine bottle openers and bar accessories. You can usually find cocktail shakers, corkscrews, glasses and more for great prices. These items are usually in the kitchen or bar area, and sometimes in the living room or dining room.
21. Old wagons and gardening items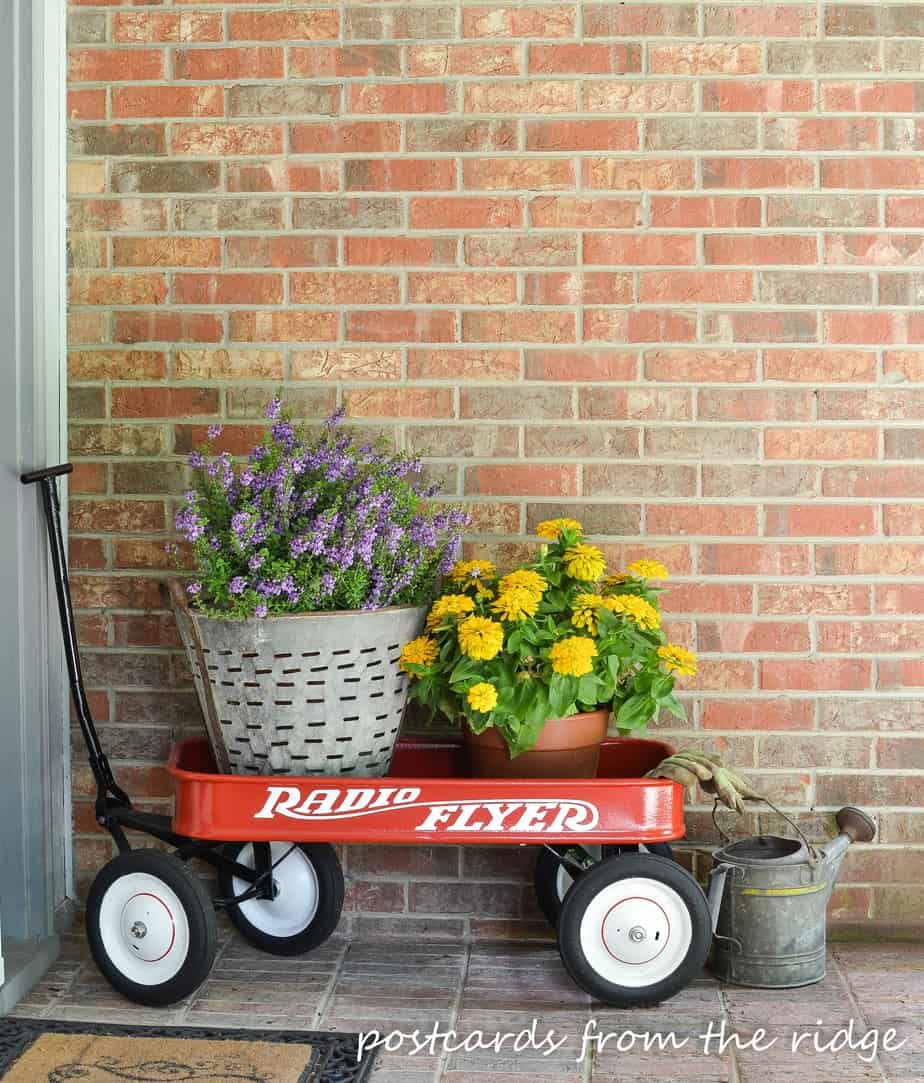 Don't forget to look in the garage or shed! You can often find nice tools and other items for really good prices. I've found furniture pieces and storage items in there as well. The vintage wagon was actually my dad's when he was a little boy, but you could very possibly find one at an estate sale.
The scarf, ice skates, and sled were estate sale finds and are perfect porch decorations during the holidays. Always be open minded to using things for something other than their intended purpose!
22. Old wooden ladders
Old wooden ladders are pretty easy to find and shouldn't be more than $15 or 20. They're very versatile and can be used as pot racks, towel racks, quilt racks, and so much more.
23. Miscellaneous items
Everyday items are always at estate sales for low prices. Here are a few things I've picked up over the years.
Office supplies
Organizers – kitchen lazy susan, wire baskets
Appliances – food processor and bread maker
Vintage purses and hats
The sky is the limit, really. It's amazing what you see at estate sales, from really weird to classy and beautiful. You just never know…


What are some things you've found or would like to find at estate sales? Do you have any tips?
Other great resources for vintage items are etsy and eBay.
Thanks for dropping by. Happy estate sale shopping!!