A Paper Heart Garland and Vintage Valentine's Day Decor
Hello, friends. If you love paper heart Valentine garlands and sweet little vintage valentine's vignettes, then you'll L💕VE today's post. I'm sharing some Valentine's day decorating ideas using a paper heart garland and some of my favorite vintage items. Let me know what you think!
Paper Heart Garland and Vintage Decor for Valentine's Day
This post contains affiliate links for your convenience. I may make a small commission on products purchased with my link, but your price does not change. For full disclosure go here: Disclosure and Policies. Thank you for supporting my site.
Even though most of my house looks like a tornado blew through, I do have at least one little spot that currently makes me smile.
It's the small landing area next to our basement entry. The one that I never use, lol. Maybe that's why it has been staying neat and tidy? Hmmmm.
I had this vintage metal drawer cabinet in the garage until a few months ago, when I cleared out the clutter that was piled up here and moved the cabinet here. And I'm trying to get rid of things that don't spark joy. So that means I need to say goodbye to probably 75% of the stuff in my house, haha!
I added some various new-ish and vintage Valentine's day decor and some red accents to give the area a romantic look. I already had everything here. It was all borrowed from other areas of the house (the perks of having a big stash).
I got the vintage tulip botanical at an estate sale several years ago and never have really figured out where to put it. I kind of like it with this little vintage Valentine's day vignette and am thinking it will stay here through the spring.
Don't you just love my paper heart garland? I got it from etsy a couple of years ago and bring it out every February or late January. (You can find it here if you're interested → vintage paper heart garland)
This little area is so warm and cheerful now. And I think I'll be finding excuses to visit the basement and might even use these doors when I go out to run errands. It's definitely bringing a smile to my face in the middle of the dreary month of January.
Are you feeling the winter blues too? What are you doing to beat them? I suggest making a little vignette somewhere in your house that brings a smile to your face every time you see it.
Sources:
Many of the items shown here are vintage. Some are from my shop, Emory Valley Mercantile, and similar items can be found on etsy. Here are the sources:
Do you love vintage decor?
Here are more posts that you might enjoy:
Spring Mantel With Flowers and Vintage Finds
20 Creative Ways to Organize with Vintage Finds
See all of my ideas for decorating with vintage decor here:
Vintage Decor Archives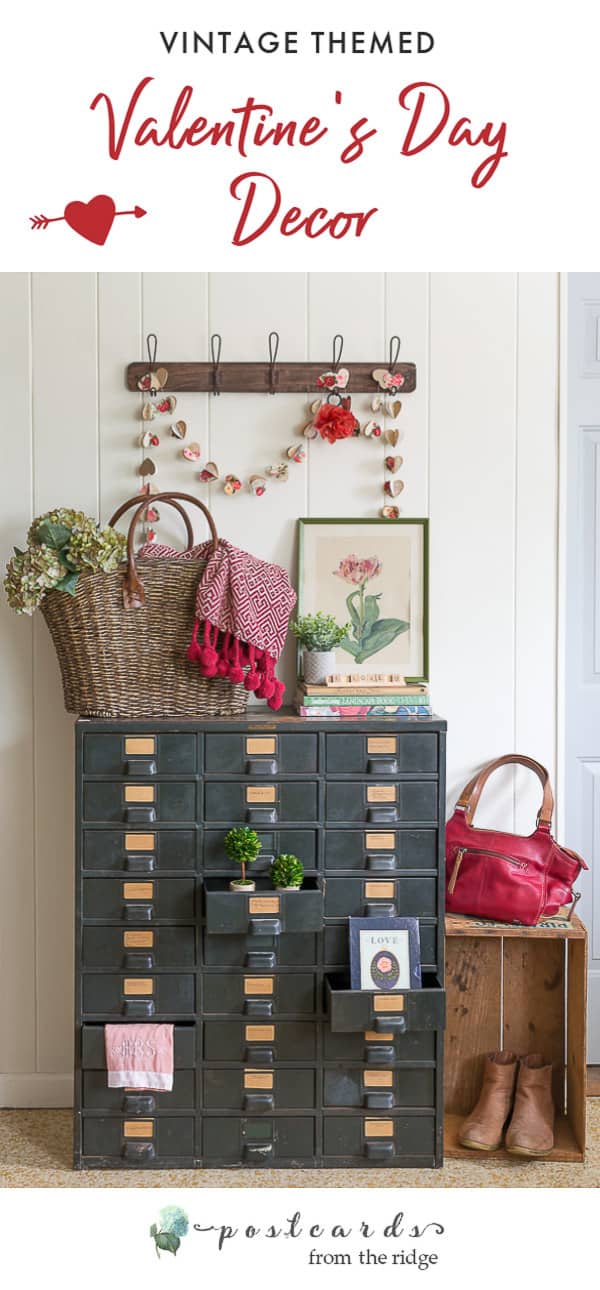 Sharing this post here:
Silver Pennies Sundays hosted by Danielle at Finding Silver Pennies featured here!
Farmhouse Friday hosted by Michelle at The Painted Hinge featured here!
All About Home hosted by Debra at Common Ground featured here!
All About Home hosted by Amber at Follow the Yellow Brick Home featured here!
Celebrate Your Story hosted by Michelle at Zucchini Sisters featured here!
Inspire Me Tuesday, Hosted by Marty at A Stroll Thru Life