Cozy Christmas Front Porch with Colorful Vintage Finds
Christmas front porch with vintage decor
This post contains affiliate links for your convenience. For full disclosure go here.
A cozy Christmas front porch decorated with vintage finds
It all started with a trip to Biltmore a couple of weeks ago. "What? This porch looks nothing like anything I've ever seen at Biltmore." I know that's what you're saying. And you're right. The trip also involved a visit to a few favorite stops including an antique shop. And that's where I found an amazing old blue ice cream churn.
I think my mom and sister, who were with me that day, thought I had lost my mind. And my husband didn't exactly welcome it with open arms. But none of that mattered to me. I could just see a little Christmas tree in it for the holidays, and some hydrangeas during the summer.
So that's how this year's front porch Christmas decor started. An old turquoise wooden bucket. Ya gotta start somewhere, right?
I'm sharing my front porch today as part of a home blogger Christmas porch tour coordinated by my friend Amy at Atta Girl Says. Her Christmas porches are always dreamy. You can see hers and my friends' porches at the bottom of the post so be sure to visit everyone for some great ideas.
First let me say that turquoise can be a challenging color to work with for Christmas. Mainly because I like to use red. But I think I made it work.
And I mostly used things that I already had to go with it. See the plaid fabric in the bucket? Don't tell anyone, but it's actually an old flannel nightgown that I haven't worn in several years. I've held onto it in my stash so I could make something Christmas-y with it. That never happened, so I scrunched it up and used it like a tree skirt. The blues and greens go perfectly with the turquoise.
I have several old red thermoses that I thought would be fun to add to the mix. The red and white one is my mom's but she was happy to let me borrow it. When I photographed the porch, the temperature was in the low 40's and I was wishing that one of them had hot cocoa inside. Let's just say that I worked quickly, lol.
I usually add a plaid throw blanket out here. But earlier this year I painted our front door black, so I decided that my thrifted black vintage granny square throw blanket would look nice. And lo and behold, it has lots of glorious turquoise in it! I found this blanket at Goodwill many years ago. It's wool, it's colorful, and I love it.
Here's a view of the whole porch. You can't see the door very well because of the glare. But it's black. And the red wagon was my dad's when he was a little boy back in the 1940's. My great uncle refurbished it a few years back and my dad gave it to me. It stays out here all year and brightens up the porch.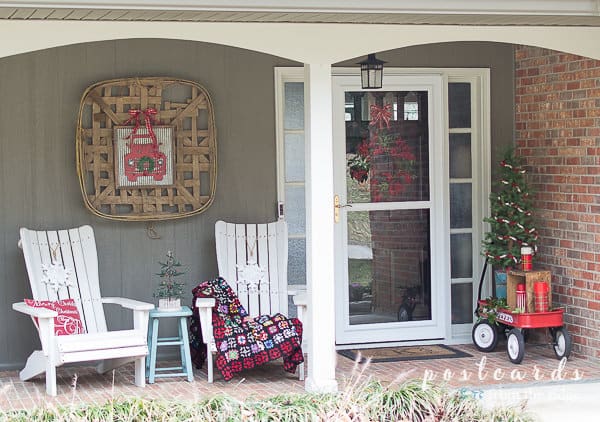 Here's a better shot of the door. I added a wreath with red berries that I've had for several years. The ribbon was also from my stash.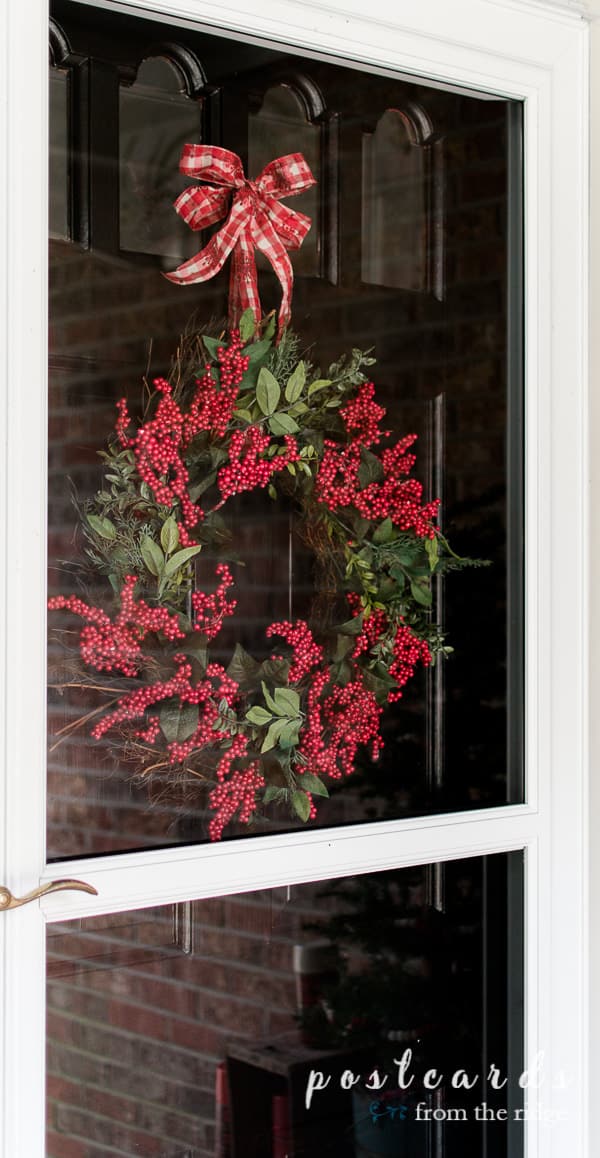 And on the wall behind the chairs I hung my vintage tobacco basket and added a sign with a vintage red truck from my shop. The little stool in between the chairs was a second hand find and makes a great little table. Perfect for a cup of cocoa, or a little tree in this case.
The sign isn't old, but I think it definitely fits in with the vintage theme since it's a silhouette of a vintage truck. Do you agree? I love the wreath on the front of it too.
Here's one last peek at the old bucket that inspired this year's porch decor. I can't wait to use it in the spring.
Sources: known sources are listed at the bottom of the post, so scroll down if you're interested in recreating this look.
More Christmas Porch Inspiration
Be sure to visit all the participating bloggers for festive decorating inspiration for your front porch, patio, sunroom and screened-in porch.
Atta Girl Says // The Frugal Homemaker // House of Hawthornes // Southern State of Mind
2 Bees In a Pod // The Chelsea Project // Virginia Sweet Pea // T. Moore Home
Top Row: Our Crafty Mom // Postcards from the Ridge
Bottom Row: Cottage at the Crossroads // Worthing Court // Major Hoff Takes a Wife
A couple of days ago I shared our deck, which is also decorated for Christmas. You can see all the details here → Cozy Natural Christmas Porch with Vintage Mantel
Sources: