Easy-to-make DIY snowman wreath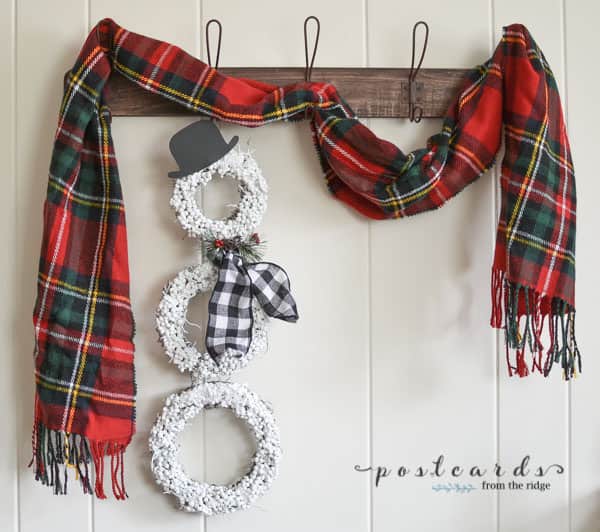 Easy DIY Snowman Wreath
Snowman wreaths are so much fun for Christmas and the winter months. You can
find them already made, or you can make them yourself in just a short time
with a few supplies. I'm sharing how I made mine today as this month's Thrifty
Style Team project, and I'm including a full tutorial and supply list for you
as well.
Once a month, I join a group of uber-talented ladies and we share ideas for
thrifty decorating. The group is organized by my friend
Julie at Redhead Can Decorate, and always has such clever ideas. This month is Christmas themed and we've
got some great ideas for thrifty holiday decorating.
This post contains affiliate links for your convenience. For full
disclosure go here.
I have a way-too-large stash of materials that I like to use for these
challenges. It's truly budget-friendly and it helps me whittle away at the
things that I've held on to so I can use them someday.
Well, someday is today for this spring themed wreath that I haven't used in
years. It was a thrift store find years ago, so I didn't pay much for it to
begin with.
I removed the pink ribbons and painted the little styrofoam pellets with
white chalk paint.
While the paint was still wet, I added some glitter and little glass pellets
that I had on hand to make it look like glistening snow.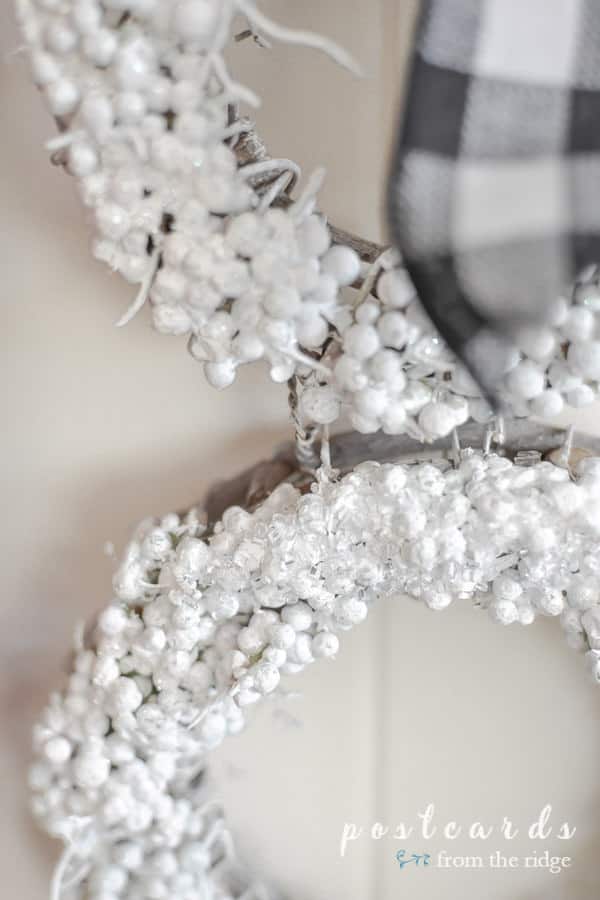 The paper bowler hat was made with my
cricut machine
and I used my hot glue gun to attach it to the top wreath. 
Some
black and white buffalo checked ribbon
and a little sprig of holiday greenery finished it off.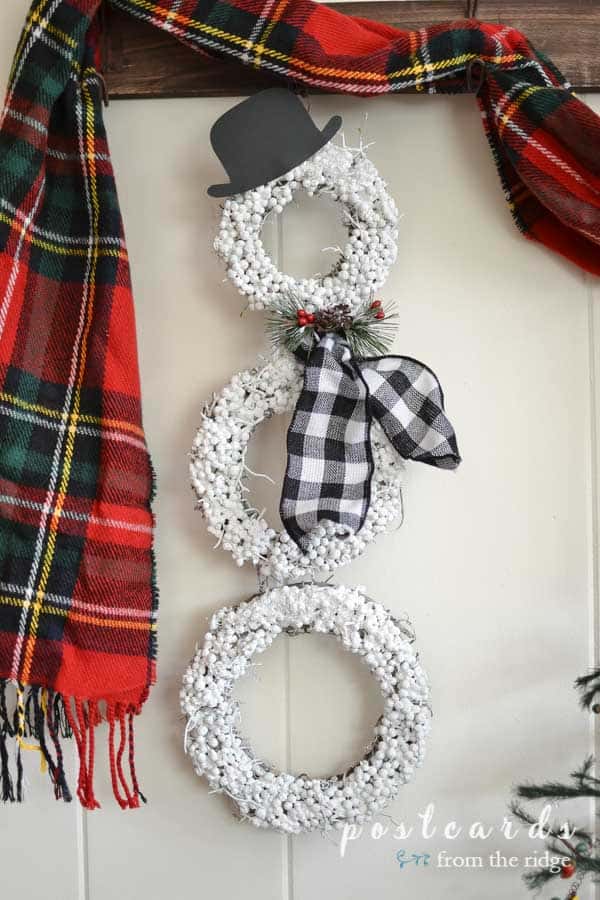 I added some
winter snow gear themed mugs
from my shop, a
red plaid scarf, and a decorative box for a snowy holiday theme.
Since I only used things that I already had, this cute little project cost me
ZERO dollars. You can't beat that for budget-friendly!
Of course I know that not everyone is a craft hoarder like me. So if you want
to create your own snowman wreath, here's how to do it.
Yield: 1 wreath
Author: Angie @ Postcards from the Ridge
Estimated cost: $25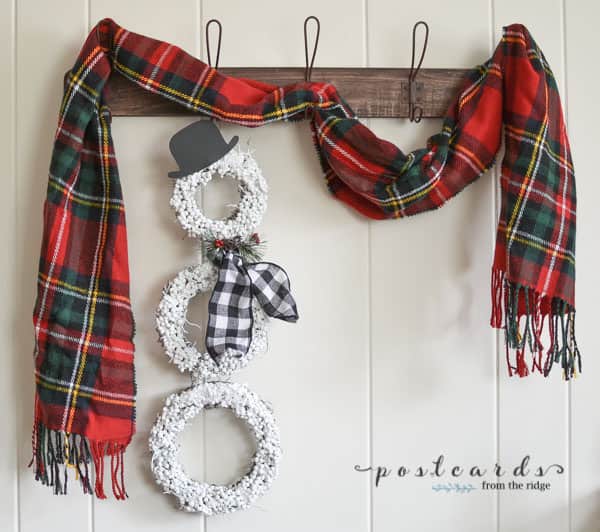 Easy DIY Snowman Wreath
Here's an easy and fun snowman wreath that you can use through the winter
months.
materials:
tools:
steps:
Easy DIY Snowman Wreath
Fill a plate or dish with
foam beads.
Using a low temp glue gun, cover one side of each wreath with glue,
then dip that side into the foam beads. Add more as desired.
Paint the foam beads with light coat of paint.
While the paint is wet, add the
glitter.

Use wire to attach the wreaths together.
Make a wire loop hanger and attach it to the top wreath.
Add
buffalo check ribbon
and hat. Hang where you can enjoy it every day.
Created using
Craft Card Maker
Here are my past Thrifty Style Team projects:
Presenting this month's Thrifty Style Team Projects! They're all amazing so be
sure to visit everyone for some great, budget-friendly Christmas decorating
ideas.
Redhead Can Decorate – 25 Affordable Thrifty DIY Christmas Decorating Ideas
The Painted Hinge – Vintage 7UP Crate Christmas Centerpiece
DIY Beautify – How to Make a Glitter Ornament Nativity
2 Bees In A Pod – Stamped Book Stacks For Christmas
Postcards From The Ridge – Easy DIY Snowman Wreath
The How To Home – Copper Geometric Christmas Ornament
The Tattered Pew – Easy Homemade Christmas Soaps For Kids
Sweet Pea – How to Make Christmas Cut Out Wooden Candleholders
What Meegan Makes – Glittery Christmas Wreath From An Embroidery Hoop
Cottage At The Crossroads – Wooden Chinoiserie Christmas Ornament
I Should Be Mopping The Floor – How To Make Christmas Tassels
Lora B Create & Ponder – DIY Repurposed Candlesticks with Sheet Metal Shades
White Arrows Home – DIY No Sew Christmas Pillow