Benjamin Moore Black Wall Paint Colors
Are you looking for some ideas for black wall paint colors? Here's an in-depth look at black accent walls, rooms, accent pieces, and exteriors to inspire you!
This post contains affiliate links for your convenience. I may make a small commission on products purchased with my link, but your price does not change. For full disclosure go here: Disclosure and Policies. Thank you for supporting my site.
Benjamin Moore black wall paint colors
There's nothing like dark colors to add drama, especially black wall paint colors. Black is a timeless and classic color that never goes out of style. And there's no need to be afraid of using it in your home.
Today we're looking at black accent walls, rooms, accent furniture, and exteriors and examples of specific black paint colors. So if you're ready to add some dramatic interest to your home then let's get started!
This post contains affiliate links for your convenience. I may make a small commission on products purchased with my link, but your price does not change. For full disclosure go here: Disclosure and Policies. Thank you for supporting my site.
Understanding Black Wall Paint Colors
Warm and Cool Black
Black is black, or so you might think. But just like white, there are multiple shades of black. If you've ever tried to match black pants to a black shirt, then you know exactly what I'm talking about. Black can have cool or warm undertones and it's important to be aware of that.
What's an undertone?
Most colors have either a warm or cool undertone determined by the tint colors that they're made of. Cool paint colors have more green, black, blue, or umber tints. And paint colors with warm undertones have more yellow, yellow oxide, red oxide, orange, and red tints added. Neutral colors are neither warm or cool.
Why does my black paint look blue?
In certain lighting situations black paint can look like it has a blue tint. And sometimes it does! There are definitely black paint colors that have blue undertones. Others have green, brown, or purple undertones.
Looking at a paint color on the color chip with lighter and darker values is a good way to know what undertones it has. Here's a good example of that: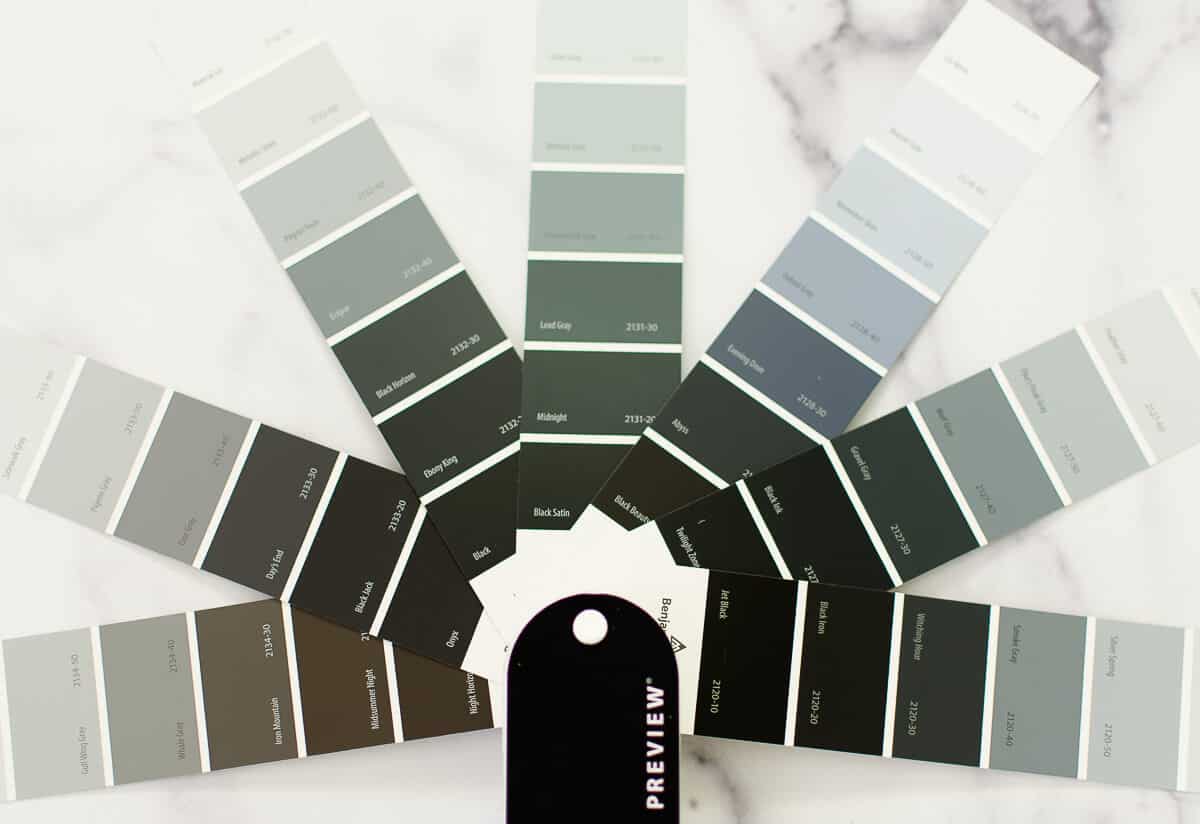 Testing a paint color in the room or area where you'll be using it will allow you to see what undertones it has on a larger surface. You can test colors by painting a sample board or section of your wall, or you can use samplize peel and stick paint samples.
Should you paint your walls black?
If you're want to create drama and make a classic statement, then yes! Contrary to popular belief, painting your room with a dark color can make the room look larger. It will give the room a sophisticated appearance.
Which Benjamin Moore black paint color is the best?
The best black Benjamin Moore paint color will differ depending on who you ask, but here are several top ones to choose from:
What's the blackest black from Benjamin Moore?
The darkest black available from Benjamin Moore with a LRV of 4.56 is actually called Black (see more about LRV below). Black is pre-mixed at the factory in some exterior products as indicated by the number PM-9. It has to be mixed or tinted in-store for many products and also has the number 2132-90 and HC-190 when this occurs.
INSIDER TIP: for the purest black exterior paint, buy factory pre-mixed whenever possible.
The most popular black is Onyx 2133-10. It has a LRV of 4.99 and only gray undertones, no blue, brown, purple, or anything else. Here's a side-by-side comparison of color samples of Onyx and Black. There's only the slightest difference and both would definitely look black. Scroll down to see a dresser that I painted Onyx a few years ago.
What type of black paint should I use?
Aside from the fact that you should buy the best quality that you can afford, the finish and type of paint depends on where you're using it. Although flat black paint will give you the darkest shade, it will also show burnish marks if something touches it.
So only use flat black paint in a room where there's very little traffic like a living room or dining room. Here's a bit more about burnish marks: How to Fix Paint Burnishing
A more durable flat like the matte finish paint from Benjamin Moore would be a better choice for black painted walls if you don't want any gloss. Or for even more durability without much gloss, go with an eggshell finish on walls.
If you're using black paint on furniture, trim, doors, or cabinets, satin or semi gloss is the recommended finish. For a lacquered or wet-paint look, use high gloss but be aware that every little bump or blemish on the wall will be very noticeable.
Black Paint Colors and Ideas for Using Them
They say that the little black dress is a classic standard for your wardrobe. And for your home, black paint colors are a safe bet when you want something that works with any style of decor and basically any other color.
Let's tour some rooms to see black paint colors that would be a good choice for your next project.
Accenting with Black Paint
There are many ways to incorporate black paint colors in your home. But if you're not ready to paint an entire room black then you can add it as an accent color. Here are some gorgeous examples.
Black painted kitchen island and backsplash
Painting your kitchen island or backsplash is a quick and easy way to insert black into your decor. The black alcove in this kitchen really pops against the white walls. And the black painted island ties it all together and gives the room a balanced look.
Black kitchen cabinets
Want a little more black paint in your kitchen? Try painting the base cabinets black. It's a bold and classic look, especially with warm white walls or upper cabinets. The open shelves displaying the vintage black and white dishes in this kitchen give it an English country look that's so cozy.
Black Interior Doors
Another quick and easy way to introduce black paint into your home is with black painted interior doors. This look never goes out of style. See more interior door paint color ideas here: 13 Gorgeous Interior Door Paint Colors
Black Painted Furniture
Got a piece of furniture that needs a facelift? Black painted furniture is so stylish and it goes with anything!
Here's a peek at a vintage dresser from my former shop that I painted with Benjamin Moore Onyx several years ago. It would work in any room.
Black Accent Walls
Adding black accent walls to any room makes a huge impact. It keeps the room from being all black but still has a bold presence.
Black Accent Wall of Built-In Bookcases
This black built-in bookcase is the perfect backdrop for the homeowner's colorful book collection. It's dramatic and stately and provides a gorgeous contrast against the Cloud White walls. Find ideas for styling your bookcases here: 15 Styled Bookcases to Inspire You
Black Bedroom Accent Wall
Here's another bold black accent wall. The white paint and orange accents really pop and give the room a sleek, modern look. And the light fixture is incredible.
Black Living Room Accent Wall
The black accent wall in this modern living room looks amazing with the black accent chairs and window frames. The fluffy rug and curtains soften the room and add so much coziness to the space.
Black Bathroom Accent Wall
The white vanity and trim really stand out against the almost black wall in this bathroom. The wood chair, woven pendant, and woven rug add texture and warmth to the room.
Black Accent Wall in Family Room
Designer Tip: If you're looking for a way to make your oversized television less noticeable, think about painting the wall behind it black. It doesn't stand out like it would on a lighter paint color. The black chairs, wall hanging, and sofa tie it all together in this modern family room.
Photo courtesy of Benjamin Moore. Wall color is Raccoon Fur.
Black Wall Paint Ideas
Bathroom with Black Wall Paint
Go bold or go home! This black bathroom with a black vanity really makes a statement. The gold mirror and light scones look striking against the black walls.
Bedroom with Black Paint
For a moody and sophisticated bedroom, try painting the walls black. The earth colored accents and soft textures make the room cozy and classy.
Black Paint in Bedroom
Here's another classy black bedroom. The ivory curtains, light rug and bedding keep it from feeling drab. More bedroom paint color ideas are found here: 14 Beautiful Bedroom Paint Colors
Living Room with Black Wall Paint
The light trim and furniture in this black living room give it sophisticated look. Pinks, creams, and taupes soften the overall look and keep it cozy and warm.
Black Walls and Ceiling in a Dining Room
A traditional dining room gets a boost of style with the black ceiling and upper walls. The chairs and light fixture tie it all together. And the white trim and wainscoting have a lovely sharp contrast against the black.
Entry with Black Wall Paint and Doors
How's this for a dramatic entrance? By painting the walls, trim, and doors the same color it actually makes the space look larger. That red chair really makes an impact in this small area.
Black Cabinets, Walls, and Ceiling
Create an elegant mood in a wet bar area by painting everything black. The space is rich and classy and the wall art and decor really set the mood.
Black Painted Houses
Black homes are definitely trending these days and here are some great examples of black exteriors.
Modern Farmhouse painted black with white windows
Black painted siding gives this farmhouse a modern, updated look. And the white windows keep it cozy and welcoming.
Modern Waterfront Home with Black Siding
This striking waterfront home with black siding has plenty of warm wood tones that keep it from being too cold.
Mid Century Modern Home Painted Black
The classic black and white combination on this mid century modern home give it a classic and stylish appearance.
Black Exterior Trim, Shutters, & Doors
Using black paint on trim, shutters, and doors is always a good choice. Let's look at some homes with black accents on the exterior.
Historic Charleston Homes with Black Shutters
Strolling through historic Charleston will allow you to see plenty of homes with black shutters. On this home, the black shutters balance and cool down the warm coral siding and look lovely with the white windows. For a similar look, use Benjamin Moore Vivid Peach with Black shutters.
The shutters on this Charleston home almost look like they have a blue undertone and look perfect with the pinkish body color. For a similar look, try Benjamin Moore Orleans Violet for the body and Midnight for the shutters.
And you can never go wrong when you pair black shutters with a light neutral body color. To get this look, use Benjamin Moore Elmira White for the main color with Brilliant White trim and Mopboard Black Shutters.
Black Front Door
A black front door symbolizes order and control and indicates that you're sophisticated and authoritative. Our front door is painted with Sherwin Williams Tricorn Black and looks great with anything I put on it.
Neutral siding and white trim are the perfect classic combination with a black front door. This home is stylish and classy with that color palette.
For a softer version of black, consider a paint color like Iron Mountain. It still gives a strong contrast with lighter colors but isn't quite as stark and cold as black paint.
From the Williamsburg Collection, Mopboard Black is perfect for any era. Pair it with a soft white and gray-green for a historic palette.
To make a bright front door color really stand out, paint the trim surrounding it with a shade of black. This turquoise door is striking against the warm black trim color.
Black Garage Doors
If you want to dress up your garage doors then paint them black! These look so classy with the gray siding and white trim. A welcoming sight to come home to, for sure.
See more great ideas for front door colors here: 37 Front Door Colors + Tips for Choosing the Right One.