Spring Centerpiece with Tiered Tray and Vintage Jadeite
Let's create a spring centerpiece with a tiered tray and some pretty spring accessories.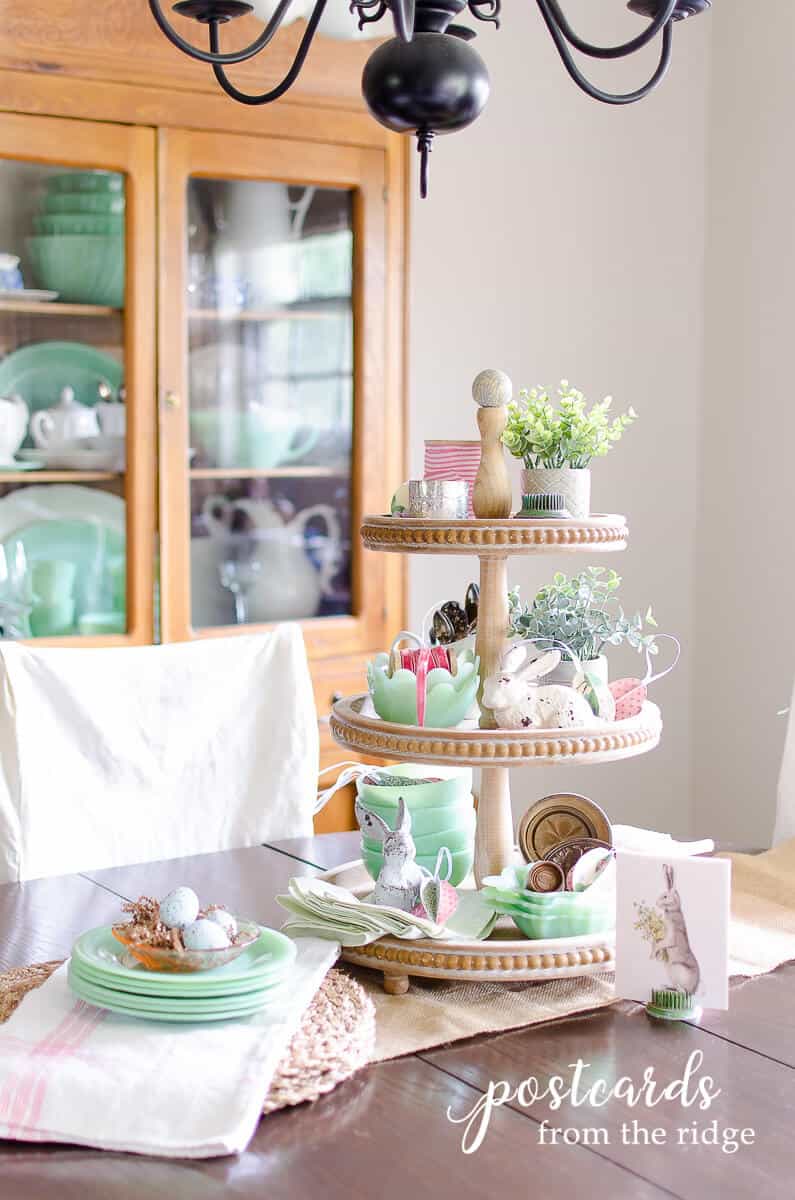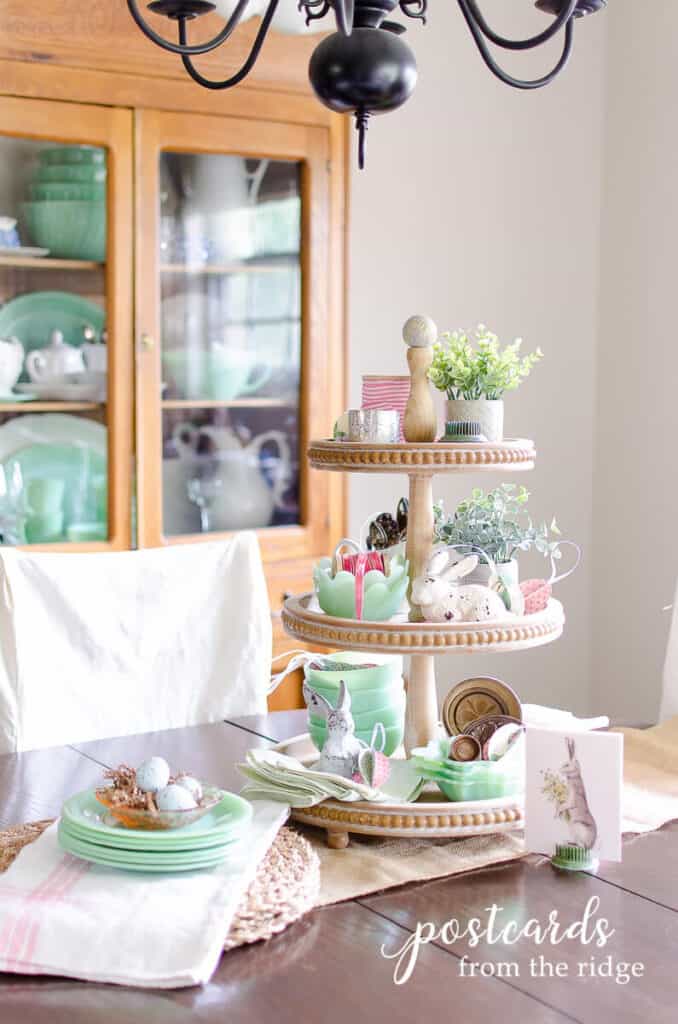 This post contains affiliate links for your convenience. I may make a small commission on products purchased with my link, but your price does not change. For full disclosure go here: Disclosure and Policies. Thank you for supporting my site.
Today I'm joining with a group of friends for a "Pinterest Challenge". We start with a beautiful inspiration image and recreate our own version of it. This fun challenge is hosted and organized by Cindy at County Road 407 who always has the prettiest decorating ideas.
If you're coming over from Cindy's, welcome!! If you haven't visited her post and her version, be sure to drop by and see her adorable version.
Our inspiration photo for this challenge comes from my friend Suzy at Worthing Court. She has such a knack for decorating her beautiful home, and always shares great ideas for incorporating ideas into your own home.
We've been on many home tours together and she even helped me promote my online shop, Emory Valley Mercantile, when I launched it in 2017. In fact, the wood tiered tray she used here came from my shop, ! She's one of my favorite bloggers.
Suzy created this cozy spring table full of warm texture, spring greens, and white accents. Here are the main elements that are found in her decor.
Elements of Suzy's Spring Centerpiece and Table
Burlap Table Runner
Wood Tier Tray
Round Woven Placemats
Bunnies
Small Plants
Green Dishes
Wood Accents
Green, White, and Wood
I created a similar look using things I had in my home or from my shop and am so happy with the way it turned out. Thanks for the inspiration, Suzy!! Here's how I created my version.
How to Create a Spring Centerpiece with a Tiered Tray
1. Start with a Burlap Runner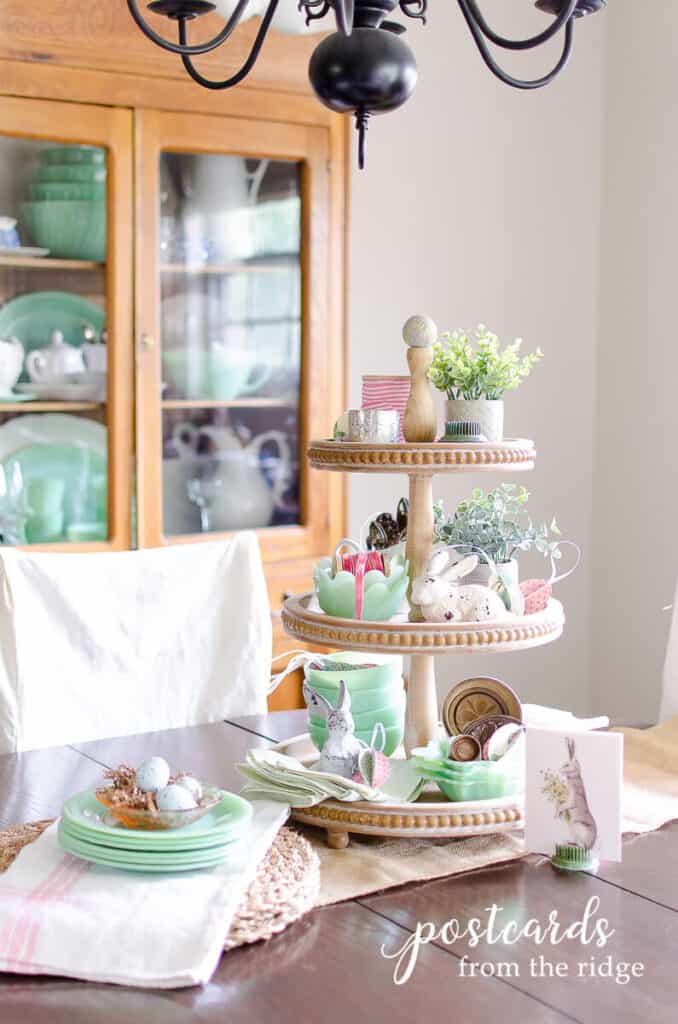 Using a burlap table runner as a base adds a warm texture and serves as a great neutral base for your table decor. You can find burlap runners in various widths and lengths already made, or you can purchase two or three yards and easily make your own.
DESIGNER TIP: To make your own burlap runner from yardage, simply cut the burlap fabric to the size you want and then pull out a few threads from the edges for a frayed look. Simple and affordable! Find yardage here: Burlap Fabric By the Yard
2. Using a Wood Tiered Tray as a Centerpiece
Tiered trays are so very versatile and fun to decorate for each season throughout the year. It's a nice and easy way to create a festive vignette. Suzy's wood tiered tray has two levels, but I used a wooden three tier tray from my shop, Emory Valley Mercantile, for my centerpiece.
Tips for decorating a tiered tray:
Use varying heights. A mix of heights makes your tiered tray, or any vignette, much more visually interesting. The taller items on my tray are the faux succulents and a taller stack of bowls; my shorter items include the vintage flower frogs and paper eggs; and I filled in with medium height items like the bunnies, bowls, the pink and white striped ribbon, and a shorter stack of bowls.
Mix up the textures. For more interest, use a variety of textures like wood, metal, glass, and fabric. Use at least 3 different textures if possible.
Add some greenery. Faux and real plants are wonderful filler for tiered trays. Small pots of herbs, preserved boxwood, and faux plants make great additions. For fall trays you can also add nuts, acorns, and pine cones for texture.
To see some of my past tiered tray decor, visit these posts:
3. Woven Natural Placemats
Another way Suzy added warm texture to her table was with her woven placemats. I use our round woven placemats all year long so this was an easy addition to our spring table decor. Like the burlap runner, they go with every season and style and are really a timeless look.
4. Bunnies in a Spring Centerpiece on a Tiered Tray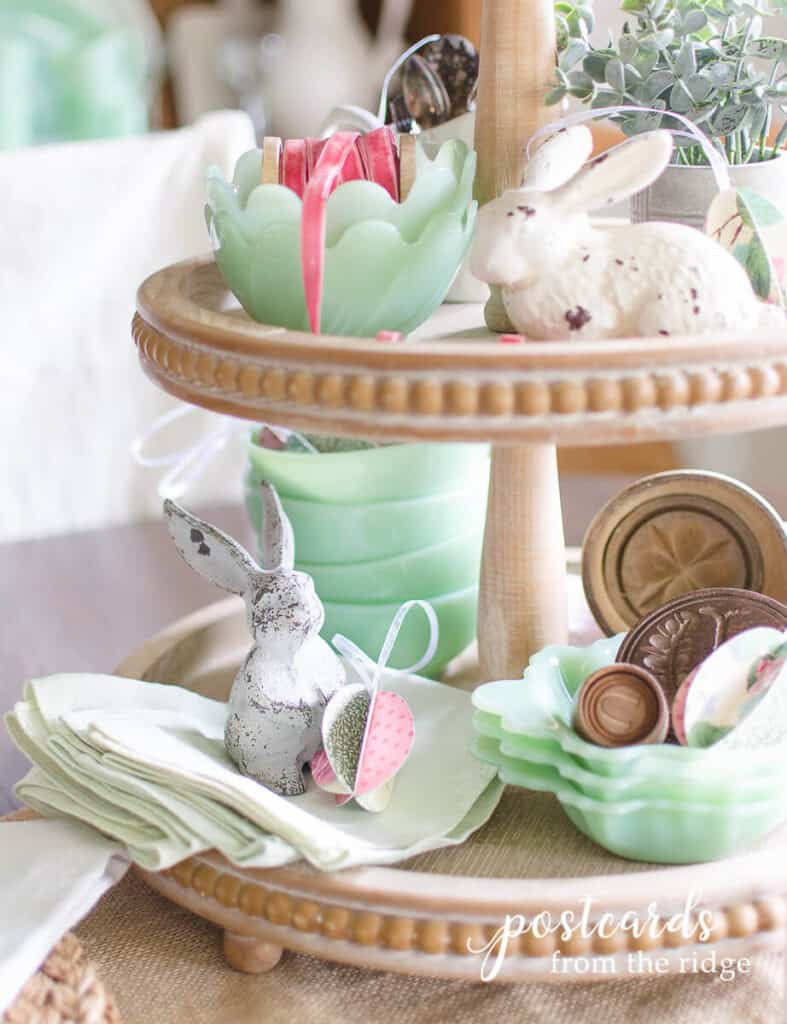 Is there anything sweeter than bunnies in the springtime? I don't think so, and I love to use little bunnies throughout our house for spring.
Suzy used a few different styles of bunnies on her table. And for our centerpiece I added a couple of little cast iron bunnies to the tiered tray plus a cute little rabbit notecard perched on a vintage metal spike floral frog.
5. Small Pots of Greenery and Plants for a Spring Centerpiece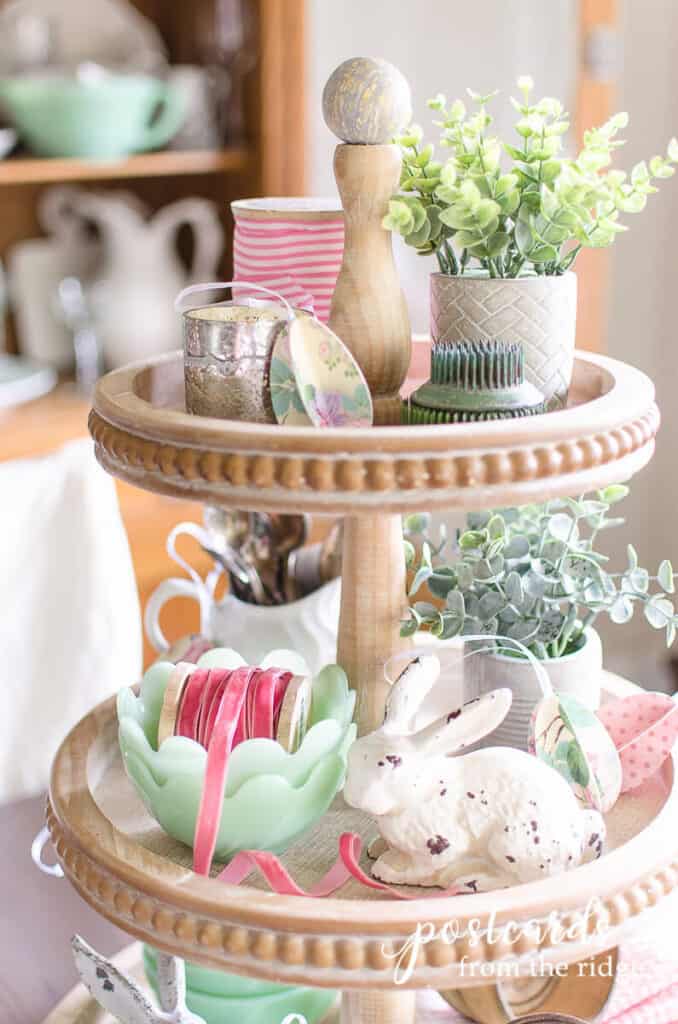 Suzy's centerpiece has some little faux plants and I also have some of these that I use around the house. They make great filler for shelves and trays and are perfect for the tiered tray centerpiece. And they work with any style decor so they're a great item to have around the house.
6. Wood Accents
The inspiration centerpiece has some wooden candlesticks and bowls used as planters. I didn't have items like those but added some vintage wooden butter molds that I picked up at an auction a couple of years ago. They have the same warmth of the wood in Suzy's centerpiece, plus I already had them.
7. Green Dishes with White and Wood for Spring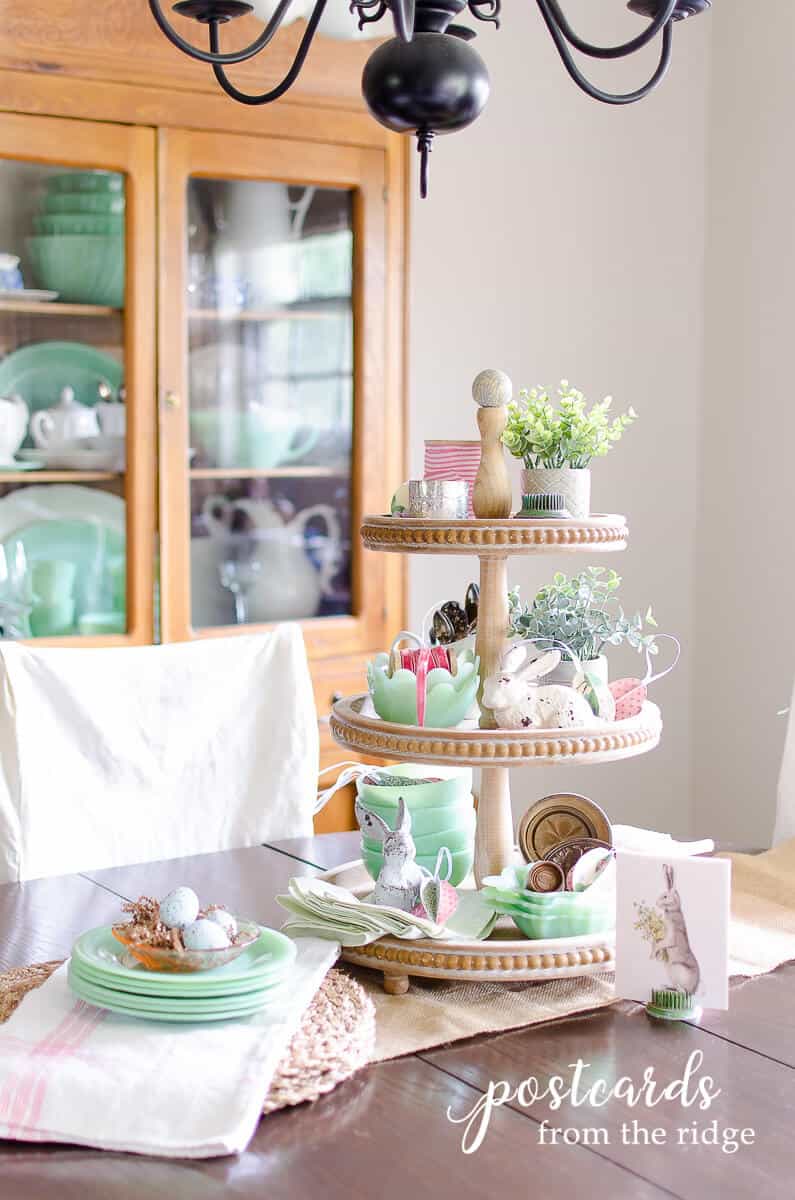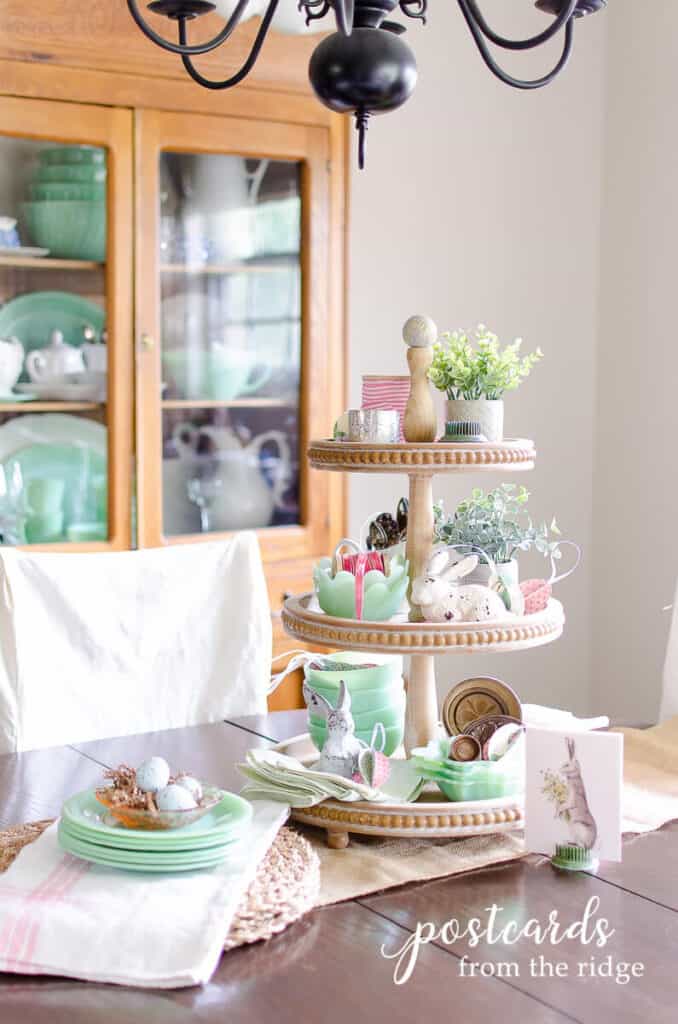 The green dishes with white and wood accents on Suzy's table give it a garden-inspired feeling. And although I added the white and wood, my green dishes are a bit different than hers. I used some vintage Jadeite pieces and added pink accents for a fresh spring vibe.
I've been craving bright colors in our home recently and the pops of pink gave me that. The pink velvet ribbon and pink and white striped ribbon were an easy addition and I already had them.
Another colorful item I added was some 3D paper eggs that I made a couple of weeks ago. You can read how I created these here: 3D Paper Egg Ornaments
Now it's time to see all the different interpretations of Suzy's gorgeous table. Up next is Marty at A Stroll Thru Life who always has the prettiest ideas! All of the tables are below, so be sure to visit everyone.
Shop this look