How to Decorate a Spring Mantel
How to Decorate a Spring Mantel
Let's talk about how to decorate your mantel for spring! Decorating a spring mantel doesn't need to be complicated. By following a few simple guidelines you can create a look that's interesting and visually appealing. These tips can be used in any decorating project and are basic principles of interior design that anyone can do with a little practice and planning.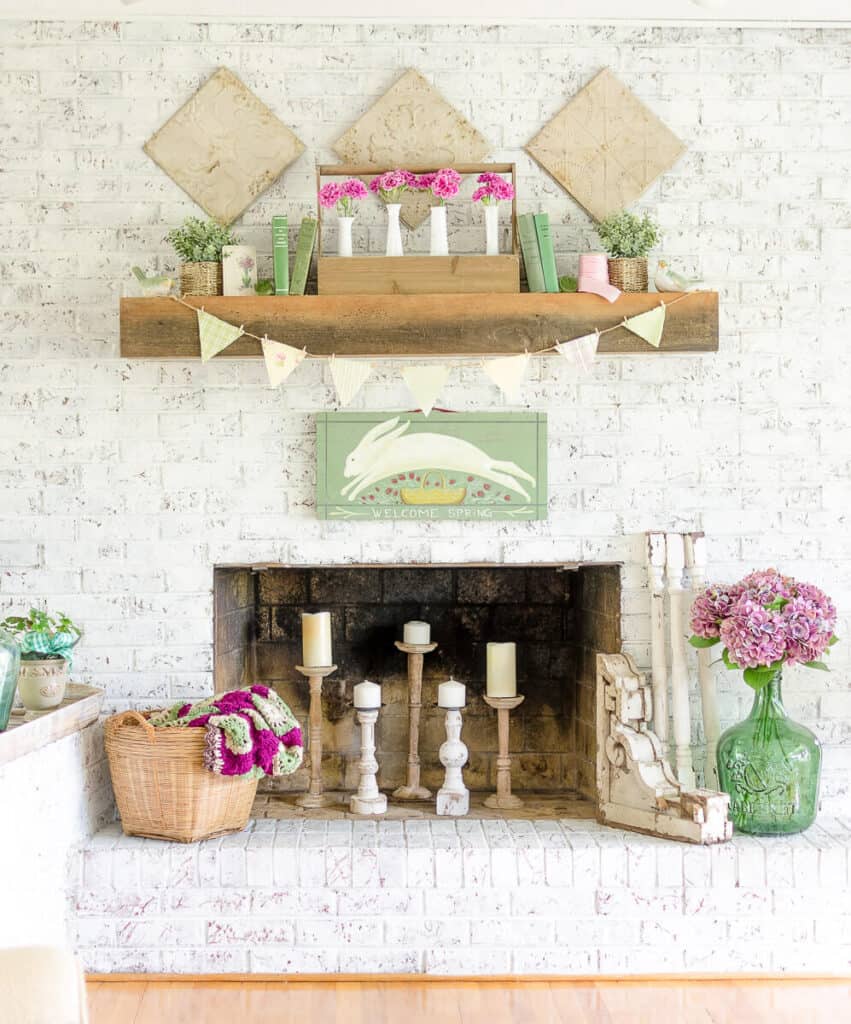 Today I'm joining the Celebrate Spring Home Tour hosted by my friend Leen at Sand Dollar Lane. She always has the prettiest coastal decorating ideas. If you haven't seen her post yet, be sure to visit her here: Sand Dollar Lane. And if you're just coming over from Leen's, welcome! I'm so glad you're here! I also post on Facebook and Instagram and would love for you to visit me there!
For the tour, I'm sharing our spring mantel along with how I created this look. You can also get ideas for decorating your home for spring from the other talented bloggers on this tour at the bottom of this post. Here's a sneak peek: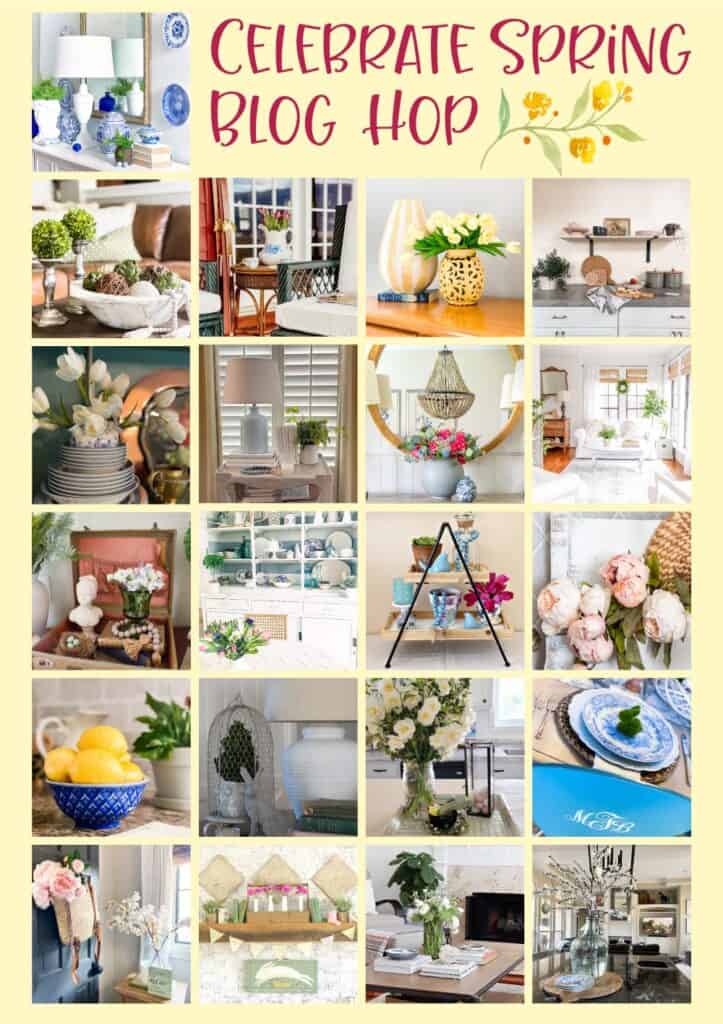 For this year's spring mantel I only used things that I had with the exception of the pink carnations. Everything else was in my stash/hoard or from my online shop, Emory Valley Mercantile.
I shop at estate sales, auctions, and thrift stores year round and have been doing so for decades so my stash/hoard is actually way too large. I do enjoy shopping my house and moving things around to create new looks though, so I'm happy that I have these items to play with.
This post contains affiliate links for your convenience. I may make a small commission on products purchased with my link, but your price does not change. For full disclosure go here: Disclosure and Policies. Thank you for supporting my site.
For some unexplained reason I've been really craving color in our house recently so I wanted to create a spring mantel that would satisfy that craving. Whatever the reason, you can expect to see lots of color in my upcoming posts. Stay tuned! And be sure to subscribe to my newsletter if you aren't already.
Anyway, let's talk about our colorful spring mantel and I'll show you how to decorate your spring mantel to its full potential.
Shopping Resources
If you're interested in creating a look like you see here, scroll to the bottom of the post where I'm sharing resources for the items I used in this project, or items as close as I could find that are currently available.
1. COLOR – Use colors associated with spring
I don't know about you, but I like to change the colors in our house several times a year to coordinate with the current season. Some people just change shoes and purses, but I also change pillows and decor. I just can't help myself. Last week I shared our pink and green spring table decor.
Different colors might make you think of spring depending on where you live, and you can certainly use any color you want. But here in Tennessee, we have dozens of varieties of wildflowers blooming and I love to use those colors for my spring decorating.
Here are the main colors I used for our spring mantel this year:
Green – books, sign, large glass jar, faux succulents, stoneware birds
Pink – fresh carnations from the grocery store, faux hydrangeas, roll of striped ribbon
Yellow – the fabric pennant has some yellow in it
White – milk glass vases, vintage wooden corbel, vintage wooden spindles, wooden candlesticks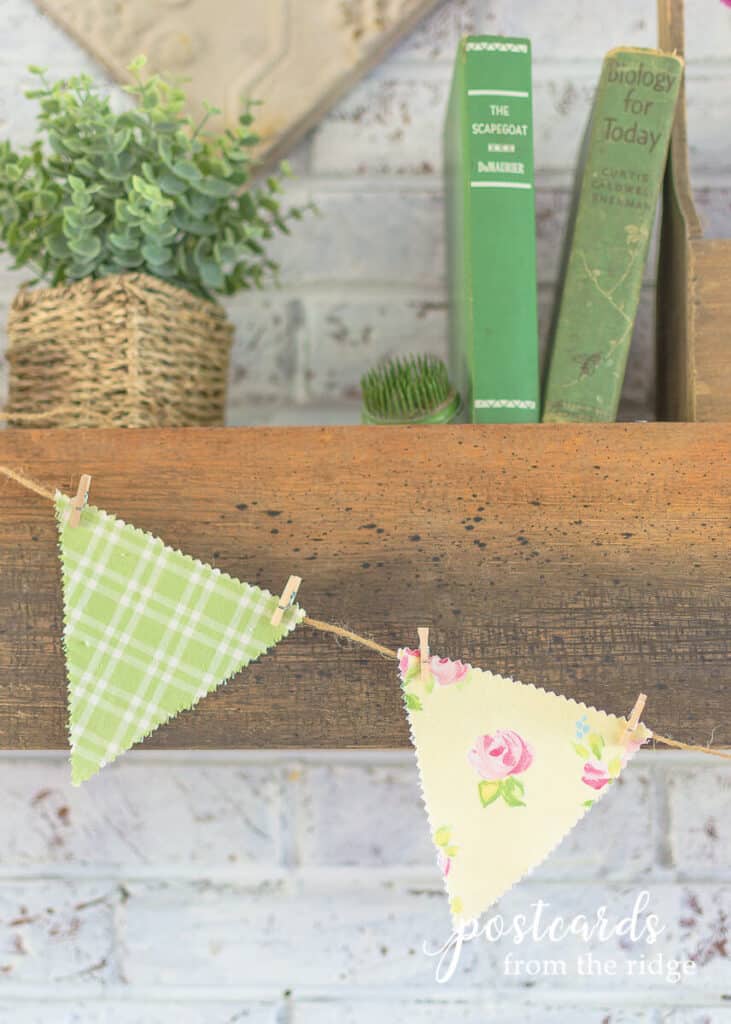 Spring fabric pennant banner
One of my favorite elements of this spring mantel is the simple fabric pennant banner. Here's how I made this if you're interested in making one too:
Gather fabric samples or scraps. You could also use old clothing or sheets, or really any fabric that you like.
Using pinking shears, cut your fabric into triangle shapes.
Cut a piece of jute twine to the desired length and attach to your mantel or shelf. (I recommend using these hooks or this removable tape to it.)
Using tiny clothespins, attach your fabric pieces to the twine, spacing evenly apart.
2. Natural Elements
Decorating with natural items is something I love to do any time of the year. In the spring my favorite natural elements are colorful flowers and branches. We have lots of daffodils and other flowers in our yard that I often use, and other times I pick up flowers from the grocery store. Trader Joe's and Costco have beautiful bouquets at very good prices too.
For this spring mantel these are the simple natural items that I added:
3. TEXTURES & MATERIALS – Use a variety of materials and textures
Layering materials and textures on your mantel or in your decor gives the area depth and interest. There are so many things you can use and here's what you'll find on our mantel:
Textures
Woven – baskets with throw blanket and faux greenery
Chippy wood – vintage spindles and corbel
Embossed metal – tin tiles
Textured glass – milk glass vases and large green glass bottle
Brick – the painted brick fireplace gives tons of texture. (See my tutorial for painting a brick fireplace here: How to Paint Your Brick Fireplace with a Rustic French Look )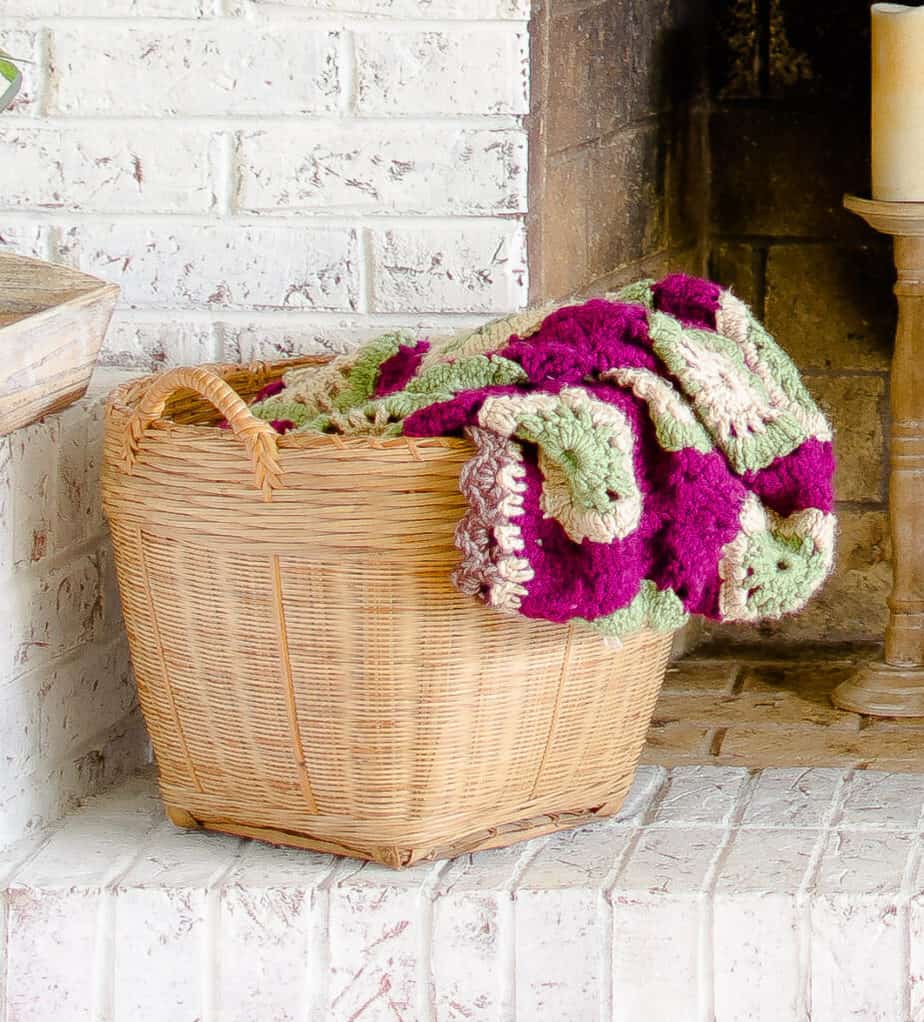 Materials
Glass – milk glass vases, large green glass bottle
Wood – sign, wooden caddy, candlesticks, corbel, and spindles
Textiles – knitted throw blanket, fabric pennant banner
Metal – tin tiles, little green metal spike flower frog
Paper – vintage postcard, books
4. HEIGHTS – Use various heights
Using a variety of heights in your design keeps your eye flowing and gives visual appeal to your project. You want to use tall, medium, and short items for the best aesthetic.
These are the items I used to get a variety of heights in our mantel.
Tall – candlesticks, spindles, flowers in vases
Medium – books, faux greenery, wood caddy
Short – ceramic birds, metal flower frogs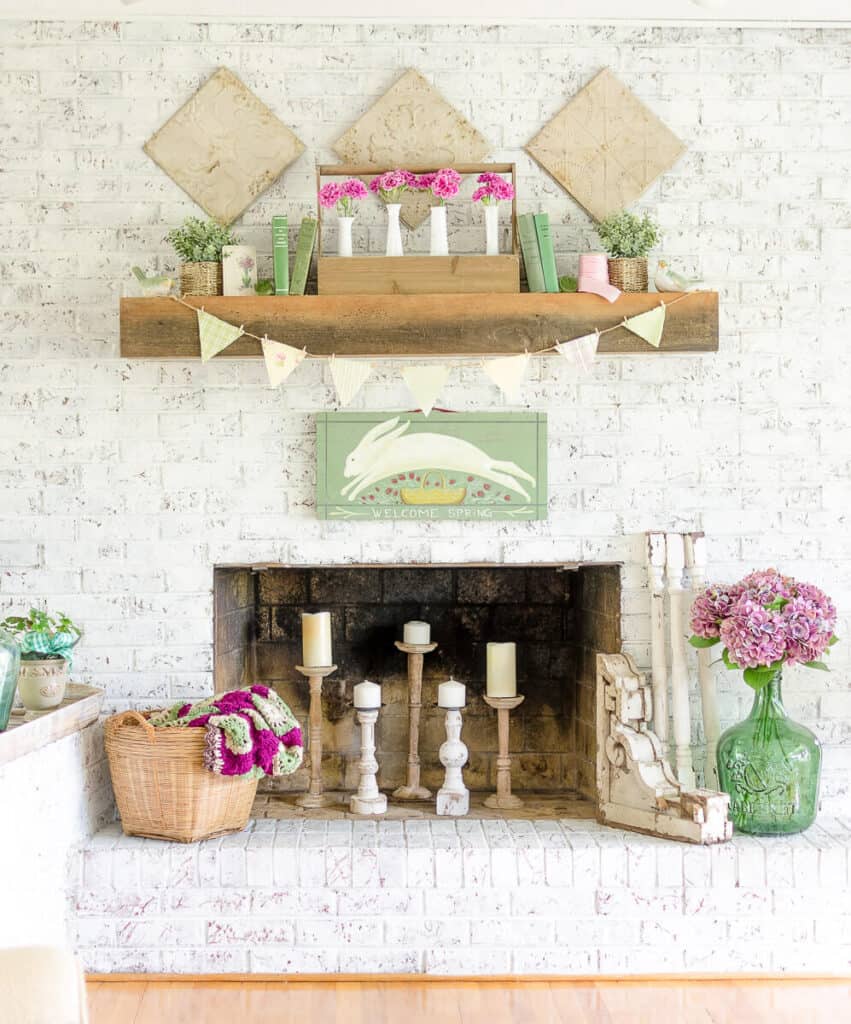 5. AGE – Combine old and new items
Vintage items add character and patina to any decorating project. And if you've ever read any of my posts then you know that I love to use a mix of old and new items.
I enjoy shopping at estate sales, yard sales, and thrift stores for vintage treasures and I have them scattered throughout our home. (See my tips for shopping at estate sales here: How to Shop Estate Sales Like A Pro) But I also like new items that look old, as well as a few new looking items, and that's what this mantel has.
Other great places to find nice vintage items are etsy, and eBay.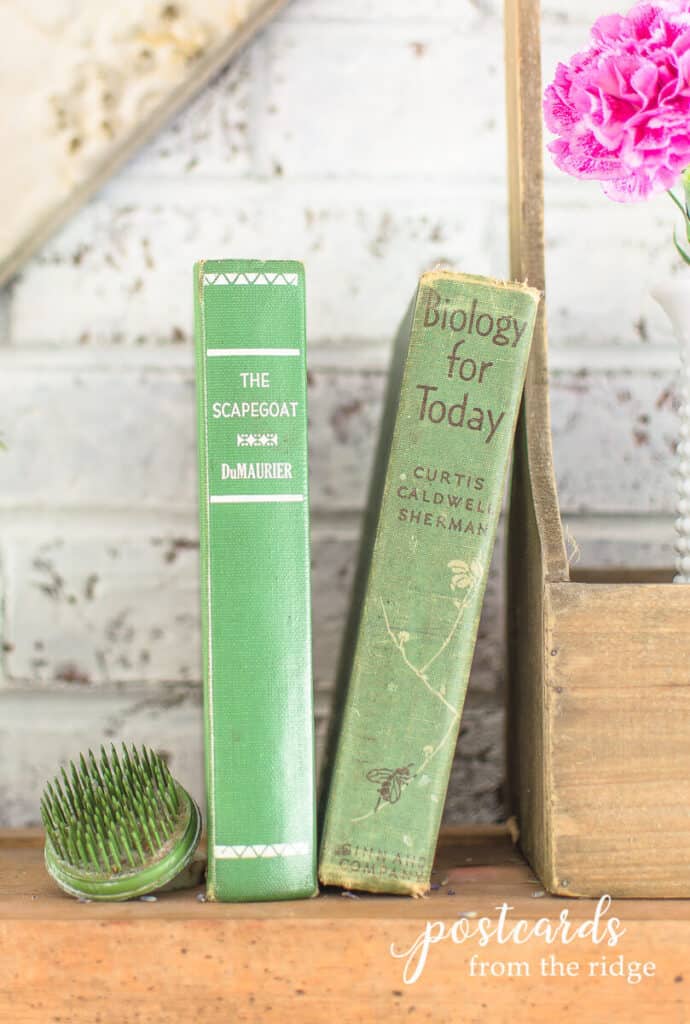 Here's a run down of old and new items I've used here:
Vintage – books, vases, architectural elements, throw blanket, basket, metal spike flower frogs
New – faux greenery, green glass bottle, faux hydrangeas
New with vintage look – tiles, candlesticks, wood caddy, stoneware birds
6. SHAPE – Add different shapes and lines
The most appealing spaces always have a variety of different lines and shapes found in them. This adds interest and keeps your eyes moving throughout the scene. Our spring mantel has different shaped items as well.
Here's what I used:
Straight lines – books, tiles, sign, caddy, planter with faux greenery, vintage wood spindles
Rounded shapes – milk glass vases, large green glass bottle, candles, vintage wood corbels
Irregular shapes – flowers, greenery, throw blanket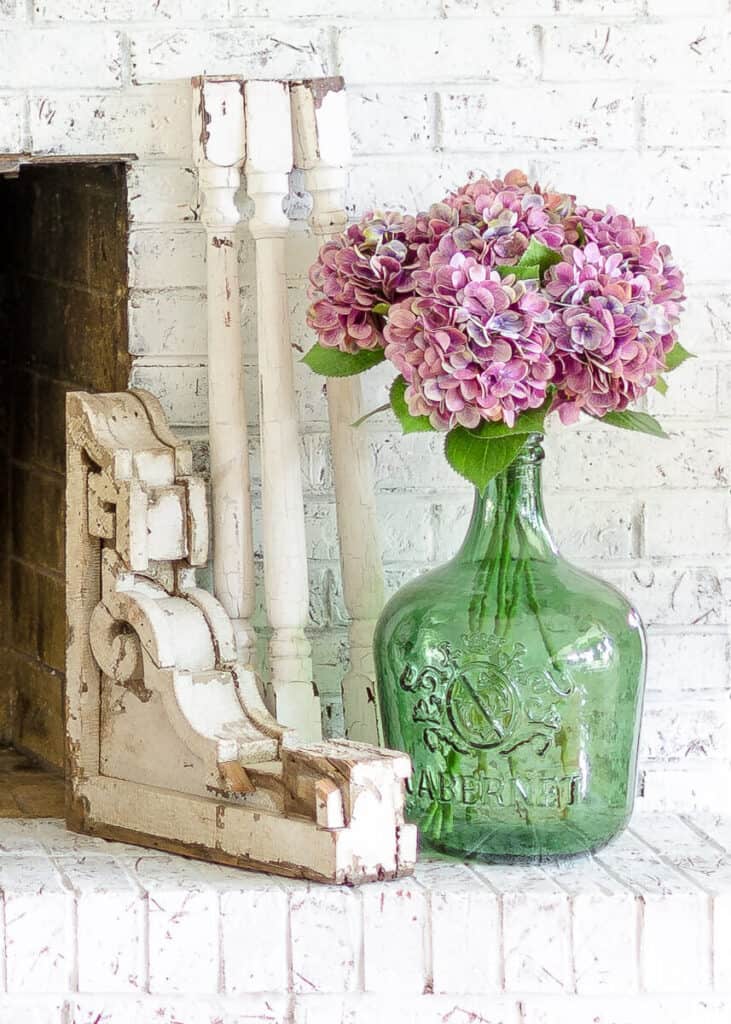 Did you notice? – without even realizing it, I recreated the vase of flowers that are on my vintage Easter postcard with my large green glass bottle and some faux hydrangeas. Look at it below and then look at the picture above. I guess I'm consistent if nothing else. lol.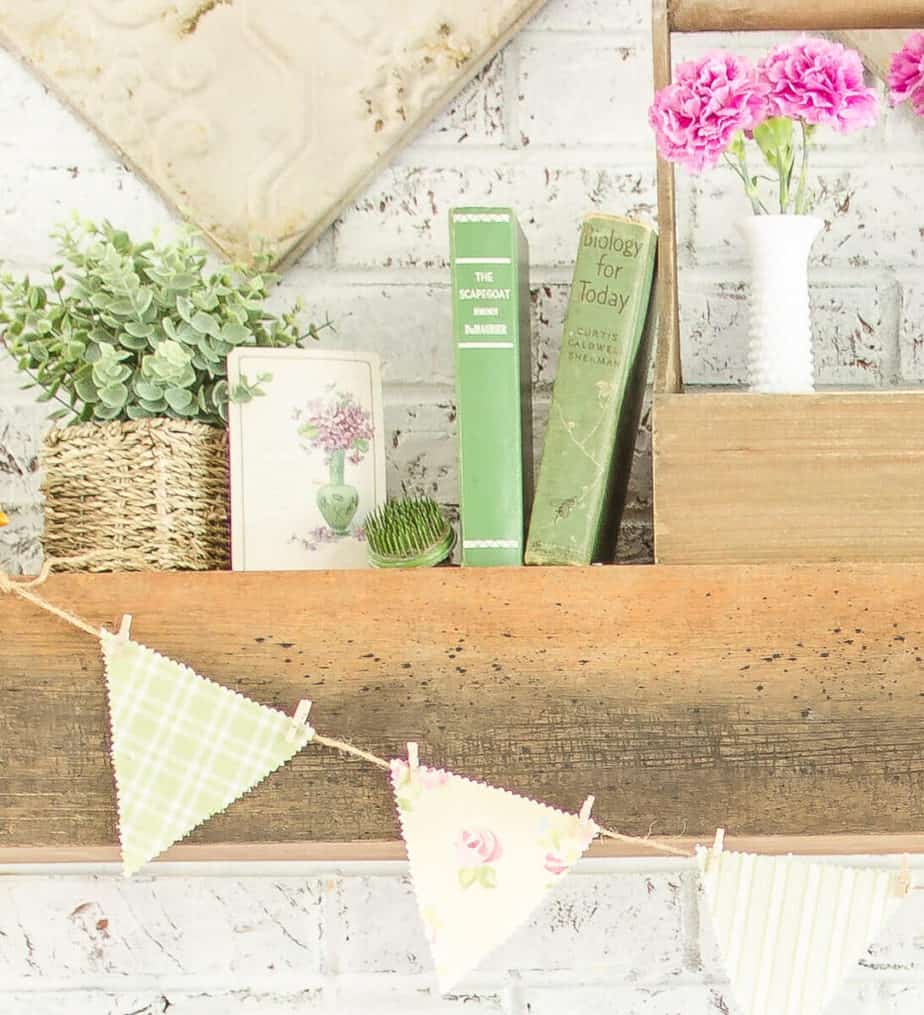 That does it for our mantel and my tips for decorating your own spring mantel. Now it's time to head over and see how Suzy at Worthing Court has decorated her home for spring. You're going to love it as much as I do!
Here are all of today's posts:

Sand Dollar Lane // Postcards From The Ridge // Worthing Court // The Tattered Pew // Noting Grace
---

2 Bees in a Pod // DIY Beautify // Cottage in the Mitten // Southern Home and Hospitality
Sonya Burgess // Thistlekey Lane // Dabbling and Decorating // Aratari at Home

Songbird // Southern Crush Home // Simply 2 Moms // Our Crafty Mom

Zucchini Sisters // Amy Sadler Designs // Bluesky at Home // My Family Thyme