Spring Tablescape with Pink Peonies and Depression Glass
Tablescape with Pink Peonies and Depression Glass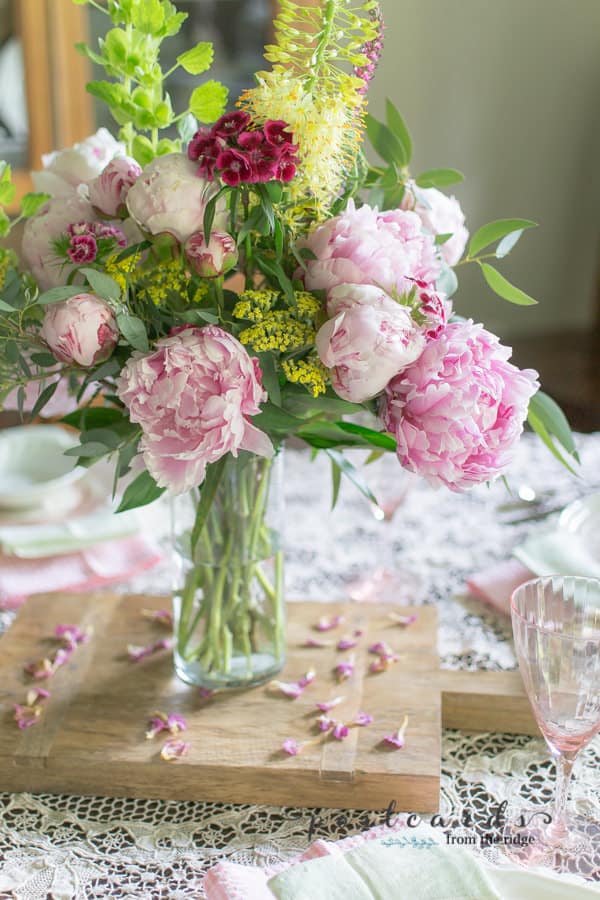 Peonies have been one of my favorite flowers for years. My girls both gave
me flowers for mother's day and one of the arrangements was full of locally
grown pink peonies, while the other had lots of pretty purple wildflowers
and daisies. I couldn't resist using the peonies and putting together a pink
themed tablescape. It was lots of fun using my mom's pink depression glass
and some other favorite items.
This post contains affiliate links for your convenience. For full
disclosure go here.
I love fresh floral bouquets but my husband has serious allergy problems so
I don't usually have them in the house. But since my girls both gave me
beautiful flowers for mother's day, he had to suffer for a few days. I'll go
back to my pretty faux flowers soon enough, lol.
One of my blogging friends,
Anita at Far Above Rubies, does amazingly beautiful tablescapes and shared one a couple of weeks ago
that included some pink glassware. It was my inspiration for using the pink
glasses.
I actually love using pink for accent decor, but it somehow doesn't look
right except in the spring. I have some throw pillows, a vintage hooked area
rug, and a few other accent pieces that I like to bring out to help banish
the winter blues.
For this table, I used a vintage Venetian lace table square that I found at
a rummage sale as the base. I know it's a little small for the table, but it
still makes and impact and lightens the scene somewhat.
A
wooden cheese board
from my shop was used for the base of the arrangement. It anchors the whole
centerpiece.
A few dried rose petals were sprinkled on the
cheese board
for a little romantic effect. My mom has a nice collection of pink
depression glass and I borrowed a few of her pieced for the table. The
goblets are so dainty and delicate looking.
For the napkins, some vintage green jacquard napkins and some new
pink seersucker gingham napkins give the place settings a definite spring theme.
The pink depression glass plates are a little smaller than regular dinner
plates so I layered them over my everyday white dishes. I used my white
wooden scalloped chargers as a base for the place settings.
You can see the beautiful details of the vintage lace piece here. Would you
believe that I got this piece for $1?? It had a stain on it but it came out
with a little soak in some soapy water.
I'll be adding some red, white, and blue accents soon for Memorial Day and
summer so stay tuned for that!
In case you're interested in creating this looks, here are the sources for
what I have or as close as I could find:
Visit my other tablescapes here:
You are invited to the Inlinkz link party!