Three Steps to a Patriotic Decorated Tier Tray
Patriotic Tiered Tray Decor Ideas
Here are a few easy ideas for adding patriotic decor to your
tiered tray. Nothing fancy or complicated, just fun, simple, and patriotic.
This post contains affiliate links for your convenience. For full
disclosure go
here.
I love using
tiered trays
throughout the year. They're so versatile and fun to decorate. And they
don't take up very much space at all. You can create a festive little
vignette quickly and easily.
Here are my tips for decorating your tiered tray.
1. Start with larger items
For this patriotic
tiered tray
version, I added a vintage style navy soldier cloth doll to the top. I won
this one and the marine one a few years ago and love their cozy time-worn
look. The American flag looks so perfect behind him.
On the middle tray, the
floral enamel mugs
were the first things added. One wasn't quite tall enough so I stacked them
to get more height.
I knew I wanted to use my red, white, and blue
vintage dish towels
so they were the first things added to the bottom tray.
2. Fill in with greenery and smaller decor items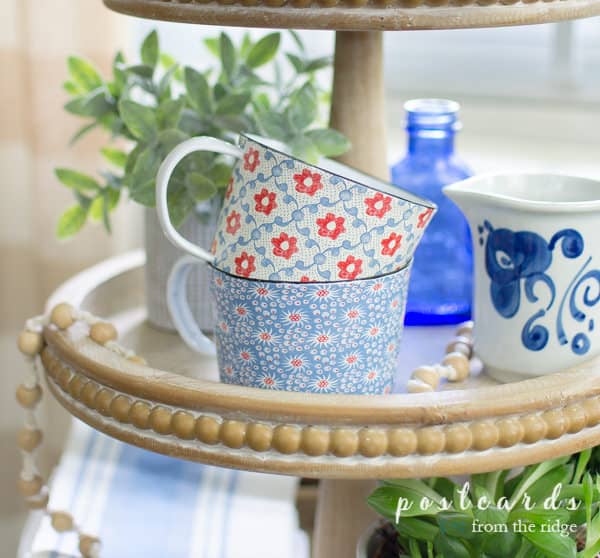 To fill in the gaps, I added some faux greenery, a couple of
vintage milk of magnesia bottles, and a few thrift store pieces that I've found over the years. On the
bottom tray I added a succulent for some weight and texture. And I tucked in
a couple of
mini preserved boxwood topiaries
for filler as well.
I just got these vintage milk of magnesia bottles
a couple of weeks ago and love the pretty cobalt blue color. They add a nice pop of
color to the tiered tray.
3. Add a garland
The last thing added to the tiered tray was a strand of wood beads. It's
like adding a piece of jewelry to an outfit before you walk out the door.
Just a nice little finishing touch.
Shop this look:
Get ideas for decorating your tiered tray with vintage items for fall
here:
Tiered Tray Decor with Vintage Items and Cozy Fall Colors
See how to use vintage dishes and silver on your tiered tray in this post:
Tiered Tray Decor Ideas with Thrifted and Vintage Finds
For more ideas for decorating your tiered tray, visit this post:
Tiered Tray Styling Ideas You'll Love