Outdoor summer dining ideas with flowers and vintage finds
Outdoor summer dining ideas with flowers and vintage finds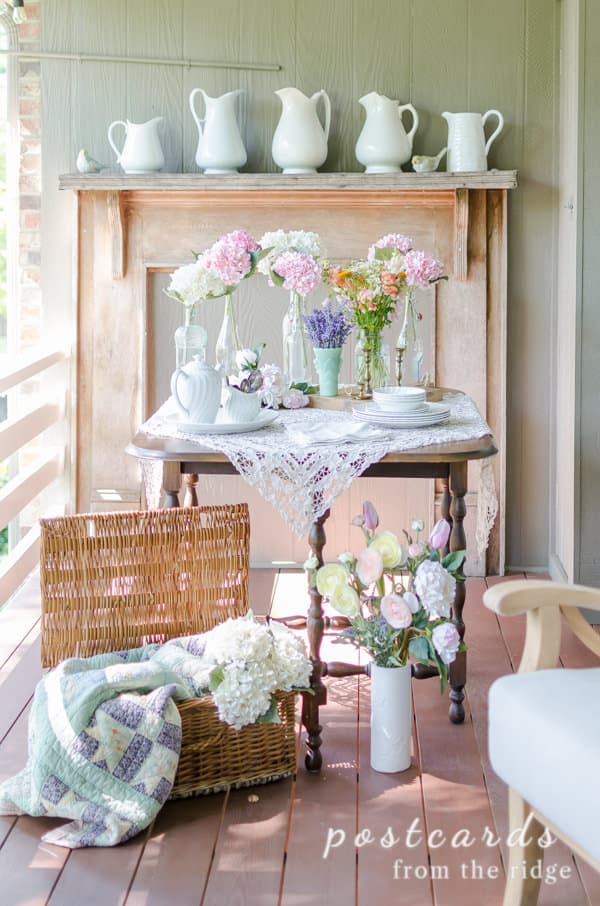 Get ideas for creating a simple summer dining table with glass bottles,
flowers, and vintage pieces.
This post contains affiliate links for your convenience. For full disclosure go here.
Today I'm joining some vintage decor loving friends to give you ideas on how
to create a beautiful summer dining table. It's organized by my sweet and
talented friend Cindy at County Road 407 .
If you're just coming over from Cindy's, welcome! I always love how she
decorates her home. Be sure to hop over there if you haven't seen her post
for this challenge yet.
Cindy found an inspiration image from Karen at Sanctuary Home Decor
and we're all sharing our interpretation of it. Karen has such a beautiful
style and I actually featured her home as part of my Beautiful Home Tours a
couple of years ago.
You can see that post here:
Rustic, Elegant Farmhouse Tour and you can see the post with the inspiration photo and all of her gorgeous details here: Summer Table with Glass Bottle Centerpiece. 
Here's the inspiration for today's post:
The main design elements I see here are:
Centerpiece with glass bottles
Pink and white flowers
Casual rustic setting
Wood cutting board
Metal candlesticks
Lace table linens
White pitchers in hutch seen in background
Now you can see how I interpreted her stunning summer table using things from my home. I already had everything except the fresh lavender and flowers that I picked up from the farmers' market.
Most of my things are from estate sales, rummage sales, yard sales, and thrift stores. You can also find similar vintage items on esty and eBay.
1. Glass bottles as vases
I tend to hang on to clear glass bottles that are interesting, so I used some of those to recreate the look of her centerpiece. The bottles with the swing-top lids look like vintage French bottles to me.
They were filled with lemonade when I bought them. And I just might have bought them more for the bottle than the lemonade, lol. 
2. Pink and White Flowers
Karen used fresh peonies in her glass bottles, but my peonies finished blooming several weeks ago so I used some faux hydrangeas from my online shop. I also added some faux peonies to the table but I didn't add them to the bottles. 
3. Casual Rustic Setting
Our deck is too small for a large dining table, but it definitely has the casual rustic feeling there. I have an old gateleg table that stays out here all the time. And the old weathered mantel adds to the rustic vibe out here.
I added a vintage picnic basket, an antique quilt, and a few faux white hydrangeas to dress up the area a bit. 
4. Wood Cutting Board
Adding a cutting board to your table is a great way to add some texture and a little height to the setting. I used this small wood cheese board from my shop and placed some flowers that I picked up from the farmers' market on it. 
5. Metal Candlesticks
Karen used silver candlesticks, but I added some vintage brass candlesticks that I found at the thrift store a couple of years ago. Adding a metal element to the glass, wood, and textiles just gives the setting another layer of texture and sparkle. 
6. Lace Table Linens
The table in the inspiration photo has ruffled placemats and linen napkins. For my version, I added a vintage Venice lace tablecloth and some vintage linen napkins with a crocheted edge from my stash.
7. White Stoneware Pitchers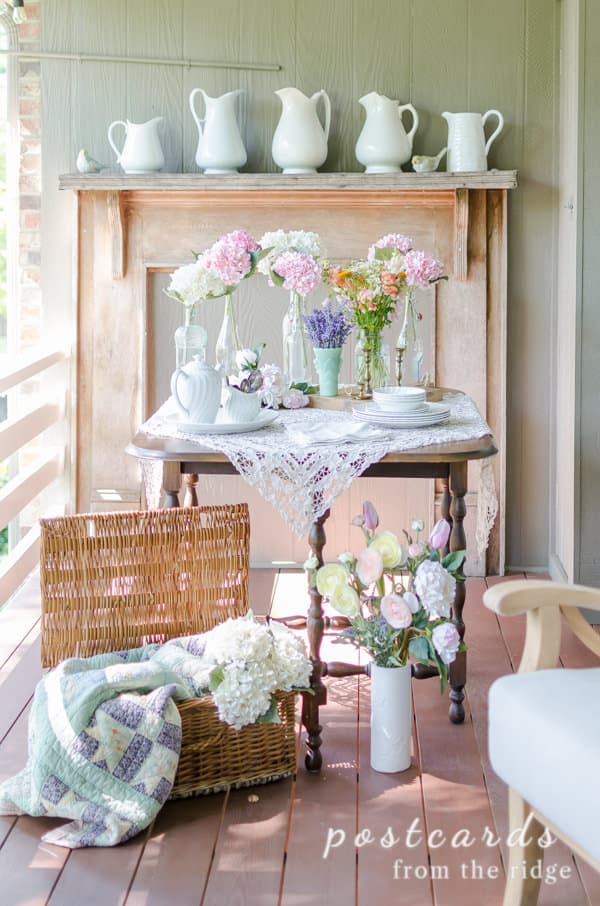 The inspiration photo has a vintage hutch with some white stoneware pitchers in it, so I thought it would be fun to put some of my vintage white ironstone pitchers on the mantel ledge. It adds to the vintage, casual look.
She also used some light pink dinnerware, which I didn't have anything close to, so I added some pieces of my vintage white swirl ironstone collection including a teapot and some dishes.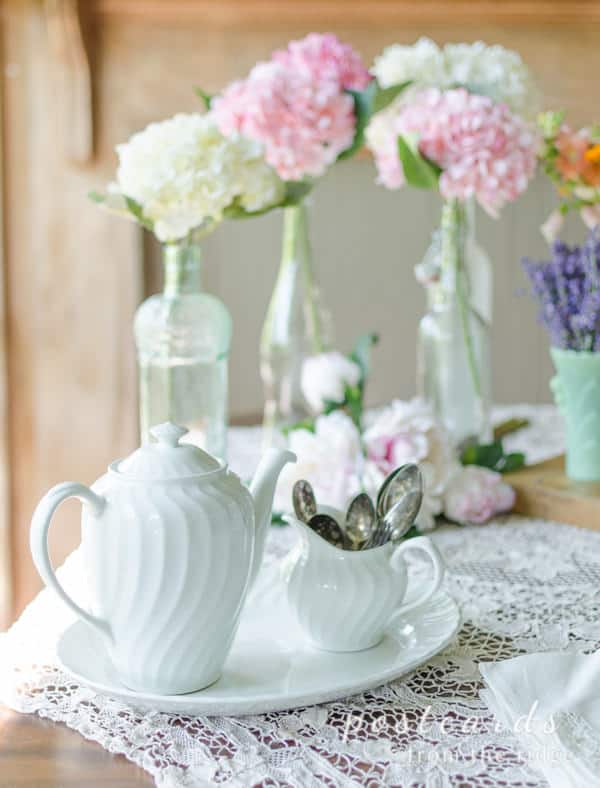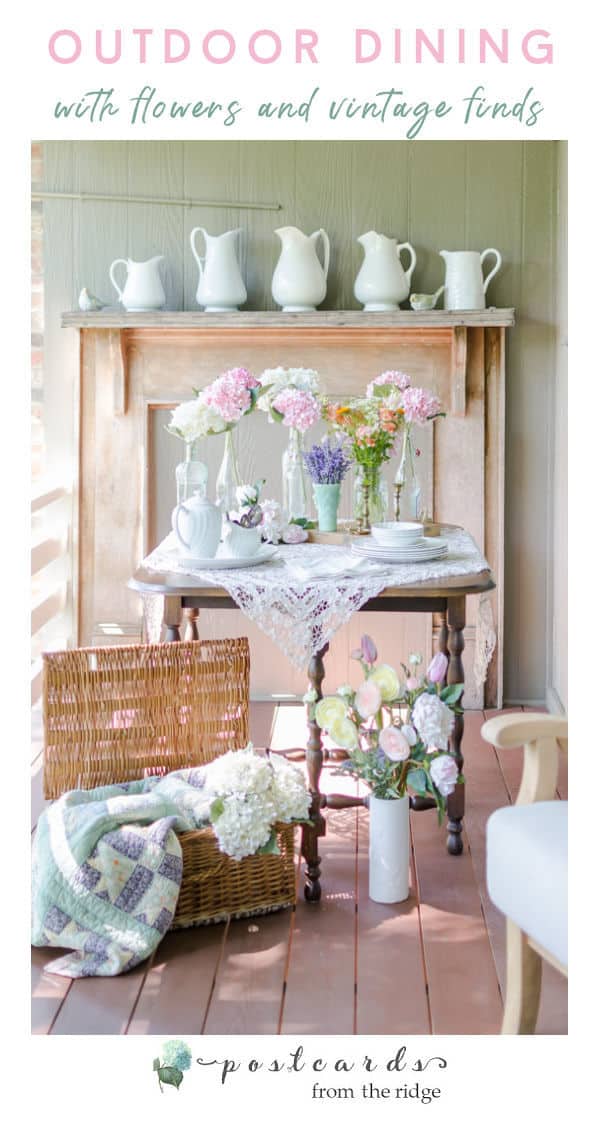 Now head over to see how Michelle at The Painted Hinge interpreted our inspiration photo. If you love vintage items and pretty decor, you'll adore her style! 
And here are all of the posts in this month's challenge!
You are invited to the Inlinkz link party!
To see more of my tablescape ideas, visit these posts:
Patriotic Table With Vintage Thrift Store Dishes