Quick and Easy Fall Basket Decorating Ideas
Here are some quick and easy fall basket decorating ideas for you to try. You'll be amazed at how simple it is to create one.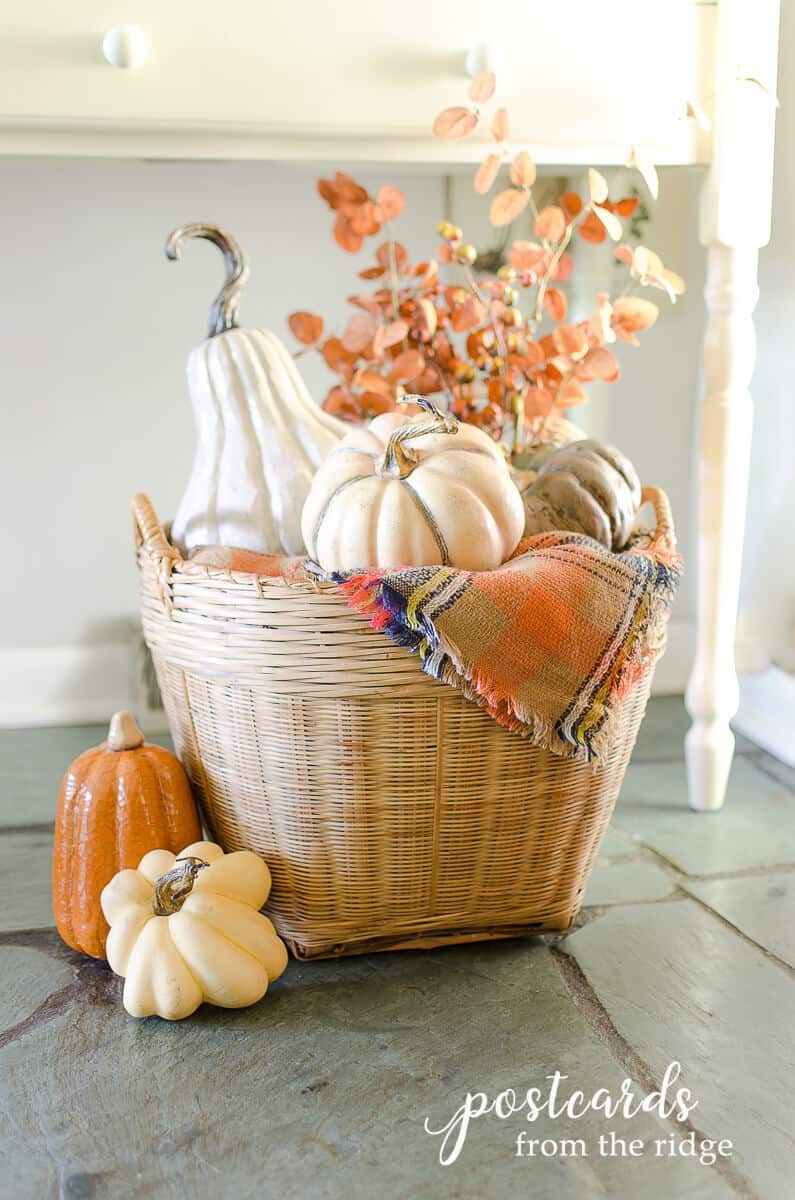 This post contains affiliate links for your convenience. I may make a small commission on products purchased with my link, but your price does not change. For full disclosure go here: Disclosure and Policies. Thank you for supporting my site.
Fall Basket Decorating Ideas
Decorating a basket for fall is one of the easiest little projects you'll ever do. And it's one of my favorite ways to make our home ready for autumn and the cooler temperatures.
This fun project is this month's pinterest challenge hosted by my talented friend Cindy at County Road 407. Each month she finds an inspiring image for us to make our own version of and it's always amazing to see what everyone comes up with.
All of the interpretations from the group of bloggers joining this challenge are linked at the bottom of the post so be sure to visit everyone.
Love gorgeous wall art? Grab my free printables!
Beautiful wall art doesn't have to be expensive. As a subscriber, you'll have access to all of my free printable art.
If you're coming over from Thistle Key Lane, welcome! I adore Michelle's home and the way she styles everything is so classy. Hop over and see her if you haven't already been there.
This month's inspiration photo comes from Janelle Trinette. Isn't it lovely? And the old door sitting behind it is the perfect backdrop.
Here are the key elements in this vignette:
Faux pumpkins – a staple for fall decorating
Woven basket – adds a nice texture
Wheat stems – gives height to the arrangement
Cloth draped over edge of basket – softens everything and gives it a finished look
How to Style a Fall Basket
Now let's get to my version of the fall styled basket with similar elements. And keep scrolling because I'm sharing several other styled baskets from my archives.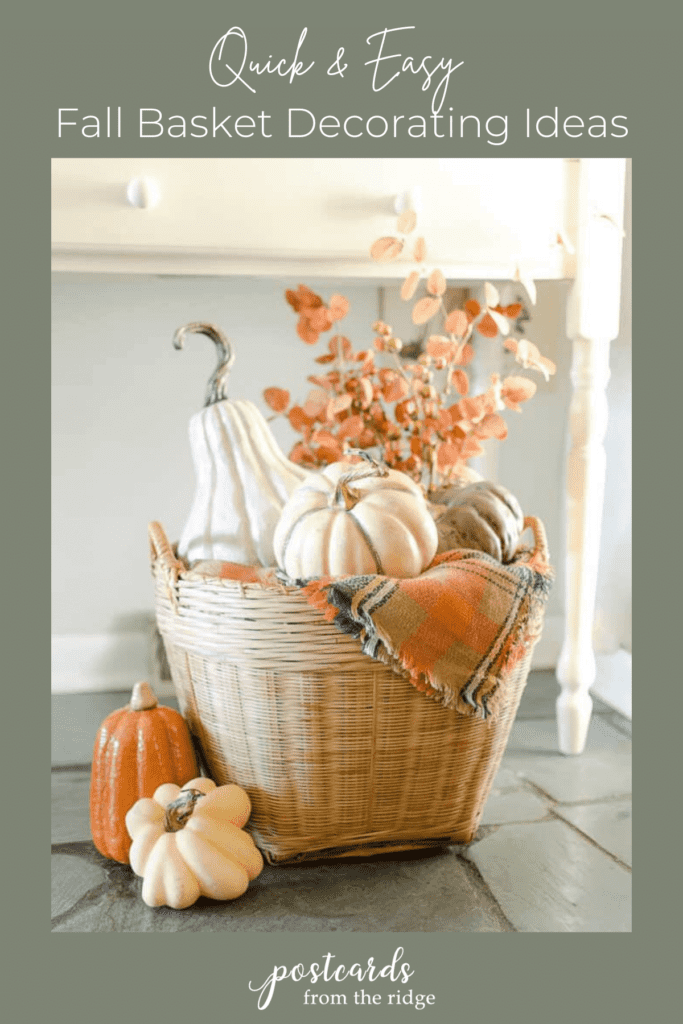 Supplies Needed
DECORATOR TIP: Since real pumpkins are so expensive, consider investing in nice faux pumpkins and use them for many years to come. See some of my favorite ones here: FAVE FAUX PUMPKINS
Instructions for Styling a Fall Basket
1. Fill the basket
Fill up the basket with filler material. You can use crumpled paper, bubble wrap, a folded blanket, or a sheet. If you don't have a large basket there are other things you can use to create a fall vignette. I'm sharing some ideas below so keep scrolling!
DECORATOR TIP: Always look at baskets when shopping at thrift stores, yard sales, or estate sales. There are almost always some for sale and usually at good prices. I found the large vintage bamboo basket I'm featuring today for $5 at a yard sale many years ago.
2. Cover the filler
Using a blanket scarf or throw blanket, cover the filler completely.
3. Add fall foliage or branches
Tuck your fall branches in the back of the basket, placing them slightly off-center. You can use branches gathered from your yard of artificial ones. It's entirely up to you and your budget!
4. Add larger pumpkins and gourds
Place your larger pumpkins and gourds at the back of the basket in front of your branches. I've had these pumpkins and gourds for years so you've probably seen them before if you've been reading my blog for very long.
5. Add medium and small pumpkins
Layer the smaller pumpkins in front of the larger ones. The gourd adds great height to this display.
Mine started out in our family room but I ended up moving it to the entry.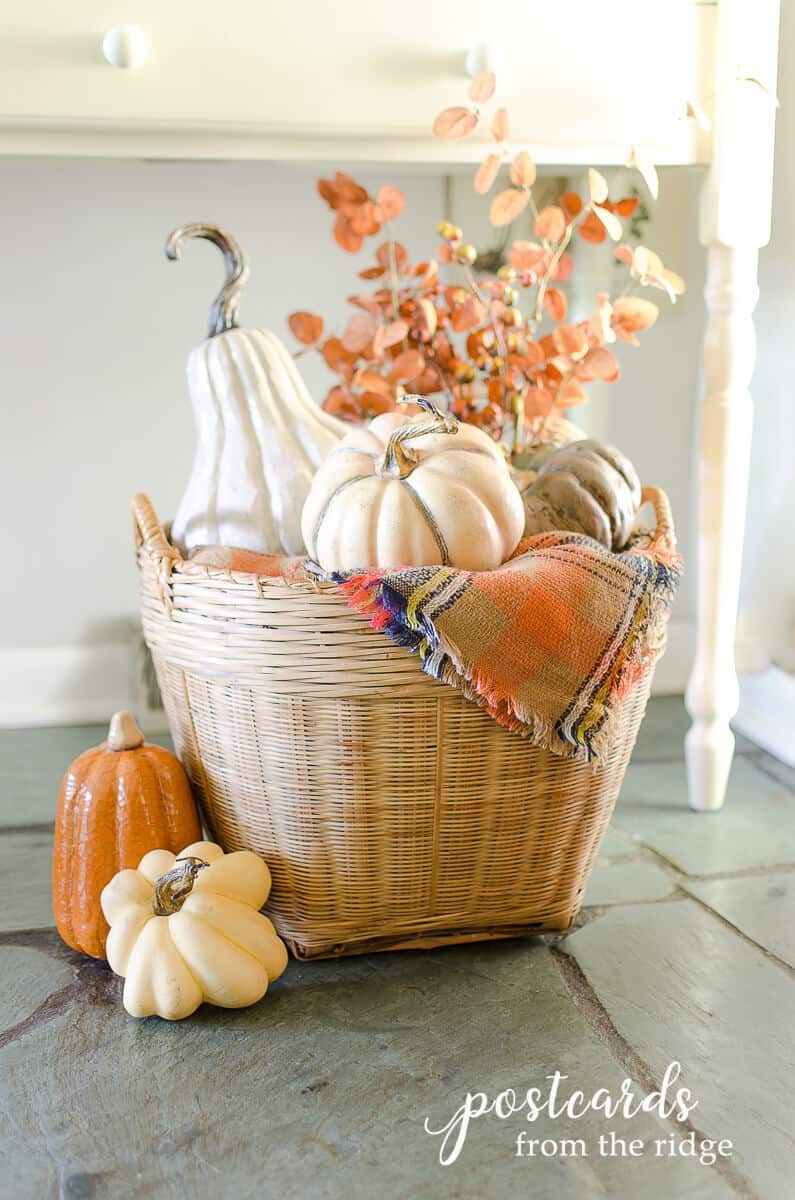 sources: vintage basket (similar) // plaid blanket scarf // faux pumpkins
More Fall Basket Decorating Ideas
I really enjoy decorating baskets throughout the year. I've accumulated a large collection from various places over the years and you can see some of them below.
Fall Basket with Mums and Plaid Blanket Scarf
I love to decorate out on our covered deck for each season. A couple of years ago I filled a lidded basket with mums and a blanket scarf and added some muted colored pumpkins next to it. See more of it here: Cozy Rustic Outdoor Mantel with Fall Decor
sources: plaid blanket scarf
Discover more of my favorite ways to decorate with blanket scarves here: 6 Easy Ways to Use a Blanket Scarf in Your Fall Decor
Vintage Wire Egg Crate with Plaid Throw Blankets and Faux Pumpkins
A basket doesn't have to be woven from natural material. You can get creative and use a metal one too! My vintage wire egg crate made a great little fall vignette a few years ago with blankets and pumpkins added to it. See more of this fall home tour here: Fall Mantel with Plaids, Metals, and Farmhouse Charm
Sources: plaid throw blanket // vintage wire egg crate (similar)
Vintage Copper Tub with Plaid Throw Blanket and Faux Pumpkins and Gourds
A tub will give you a similar look if you don't have the right size basket. I used my copper tub with some cream and green accents a few years ago. See more of this copper and green fall decor here: Rustic Green And Copper Fall Mantel Decor
sources: green throw blanket // vintage copper tub (similar)
Vintage Picnic Basket with Plaid Blanket Scarf and Faux Pumpkins
Picnic baskets make great displays for fall or any season. I used one in our entry last year and added my faux pumpkins and plaid scarf. The details are found here: Fall Entry Decor Ideas
sources: plaid blanket scarf // faux rust eucalyptus (similar) // vintage picnic basket (similar)
Vintage Wooden Milk Crate with Throw Blanket and Wicker Demijohn
Going back a few years ago with this one. I added a striped throw blanket and a vintage wicker demijohn with some dogwood branches I clipped from the yard to this early fall vignette.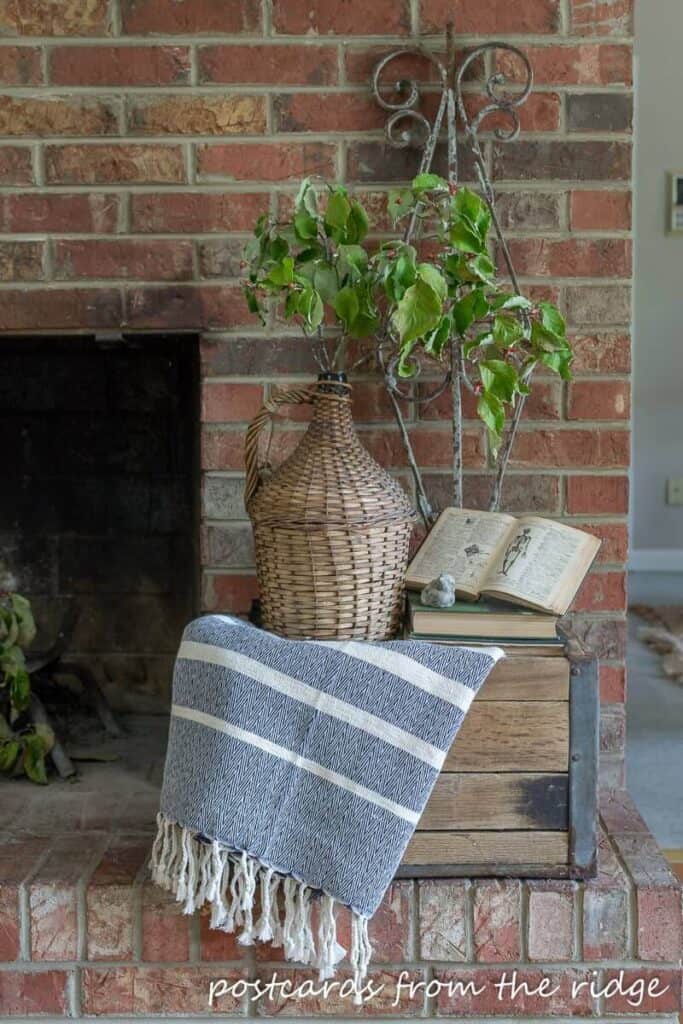 sources: vintage wicker demijohn (similar) // vintage wooden milk crate (similar)
Vintage Metal Olive Basket with Fall Decorations
And here's one from the way back time machine. I still love the old metal olive basket and that plaid blanket is an all time favorite. As a side note, I sure am glad my photography has improved and that I painted my dark brick fireplace. (See my tutorial here: How to paint a brick fireplace).
sources: plaid throw blanket // vintage metal olive basket (similar)
That covers it for my fall basket styling ideas. Now it's time to head over to see Marty at A Stroll Thru Life. She always has the greatest decorating ideas.
And here are all of the interpretations of this month's pinterest challenge.
More Fall Basket Styling Ideas
How to Style a Basket For Fall
There's nothing that says fall like a big basket full of pumpkins. See how to style a basket or crate with a few simple elements in this quick and easy tutorial.
Materials
Large basket or crate
Blanket scarf or throw blanket
Fall branches, real or faux
Pumpkins and or gourds, real or faux
Newspaper, bubble wrap, or other filler for bottom of basket
Instructions
Gather all of your supplies and your basket or crate
Fill the bottom of a large basket with crumpled newspaper, bubble wrap, or an extra blanket.
Place your blanket scarf or throw blanket so it covers the filler. Drape one corner over the front of the basket.
Add a tall arrangement of fall branches or wheat to the back of the basket. Place it slightly off-center.
Add your pumpkins or gourds one at a time starting with the tallest ones at the back.
Place a few small or medium pumpkins on the outside of the basket.
Set it in your entry, on your hearth, or anywhere you want a touch of fall decor.
Notes
You might need to add more or remove some filler if the pumpkins aren't at the right level,
Recommended Products
As an Amazon Associate and member of other affiliate programs, I earn from qualifying purchases.