Halloween Hutch Decorating Ideas
These fun Halloween hutch decorating ideas are quick and easy. You can find many of the items or similar ones at thrift stores, so the price isn't scary either.
This post contains affiliate links for your convenience. I may make a small commission on products purchased with my link, but your price does not change. For full disclosure go here: Disclosure and Policies. Thank you for supporting my site.
Halloween hutch decorating ideas
Now that September is here it's time for all things fall and pumpkin. And today I'm sharing some fun little Halloween colors and decor that I added to our vintage oak hutch.
What is it about fall that everyone goes crazy for? I think it's a mix of the colors in nature showing off, cooler temps, traditional fall activities, and the overall anticipation of the upcoming holiday season.
Whatever the reason, it's always fun to change up the decorations in the house. And today I'm joining with some blogging friends for a Halloween themed blog hop, hosted by Carol at Bluesky at Home. If you're just coming over from Kim at Perfecting Places, welcome!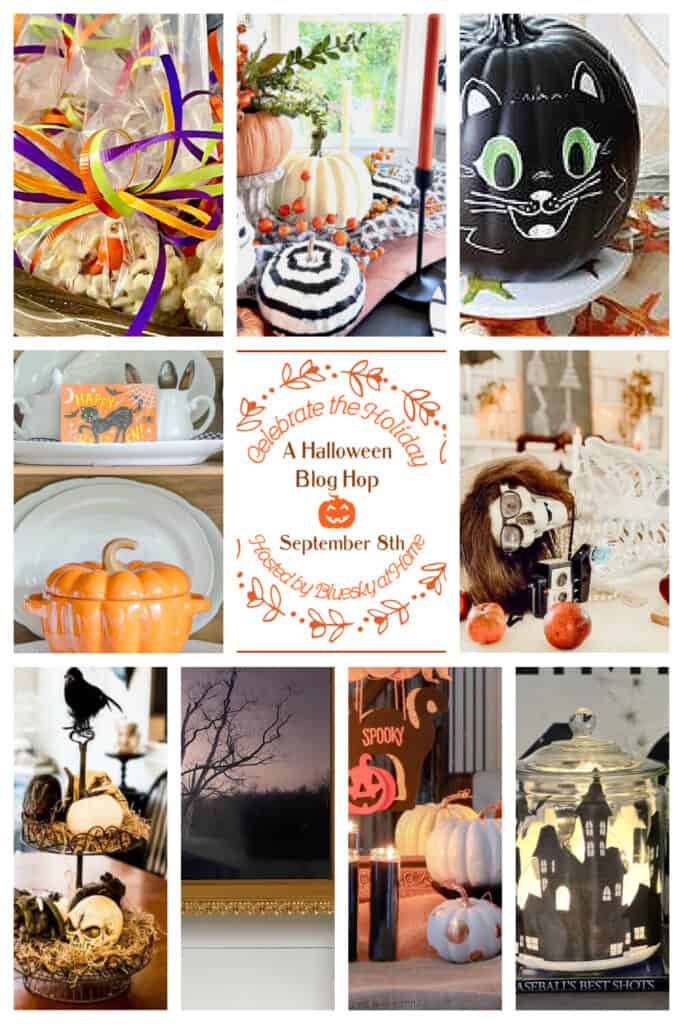 If you're new here please make yourself at home. You can learn more about this site and me here: Start Here. And I'd be thrilled if you subscribed to my newsletter or followed me on Instagram and Facebook.
Use what you have whenever possible
I'm at a point where I'm trying to whittle down my stash, not add to it, so I only used things that I had in the house. I really don't decorate much for Halloween so adding a few simple touches to the hutch was perfect for me.
How to Create an Interesting Shelf or Hutch Display
Many times it's just a matter of arranging and rearranging things, but there are a few key elements to any shelf or hutch display. Here's what I always try to use:
Layers – Use various heights and sizes of items layered with the largest and tallest at the back of each shelf. Place small and short items in the front of your display.
Textures – A variety of textures makes any vignette more interesting and appealing.
Materials – Metal, wood, paper, cloth, and ceramics can all be used together to create a feast for the eyes.
Old & New – Whenever possible use items from different eras to add tons of character.
I've linked to items that would give you the same look if you want to create something like it in your home. And you can read my best tips for estate sale shopping here: How to Shop Estate Sales Like a Pro
Now let's take a look at the various goodies in my hutch.
Ceramic Element: Pumpkin
You just can't have Halloween without a pumpkin, so I brought out my orange ceramic lidded pumpkin that I got several years ago. I've never used it in this spot and really love the way it looks here.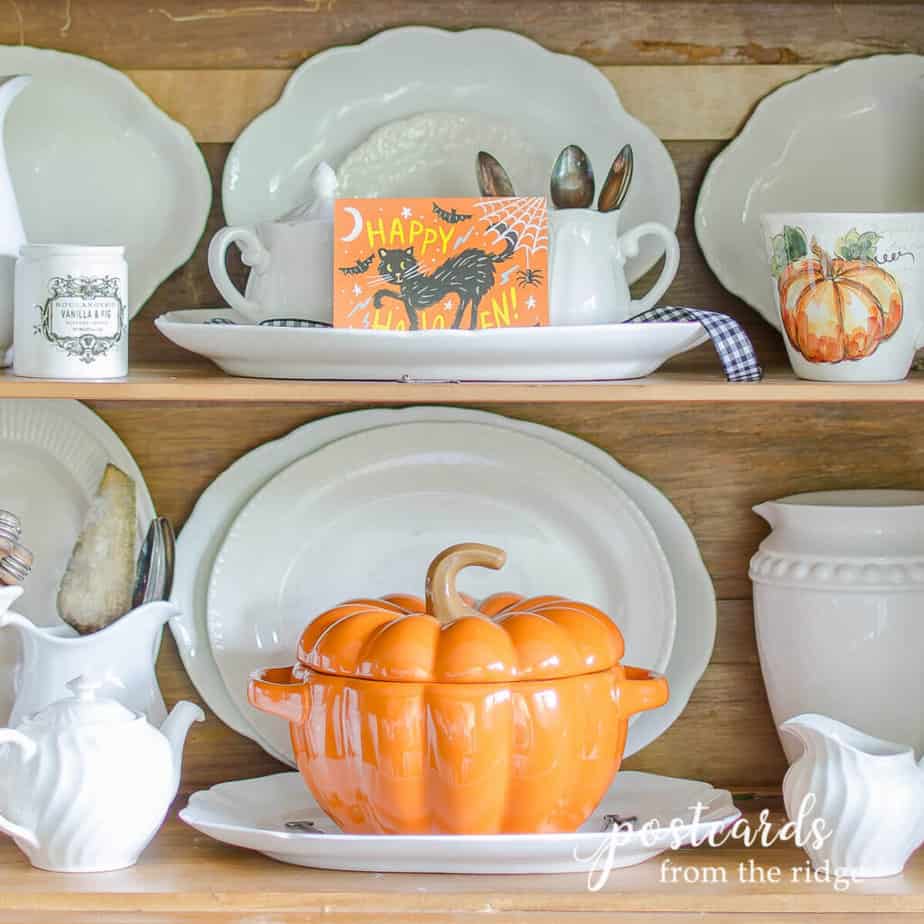 You can find a similar one here: ceramic pumpkin with lid, or here: cast iron pumpkin with lid
Ceramic Candy Bowl
We've had this cute bowl since the girls were little (they're now 26 & 22) and fill it with candy every year on Halloween. The girls still love it and I thought it would be a great addition to the Halloween hutch.
My ceramic pumpkin and ghost bowl is discontinued but I found one here and here.
Ceramic Pumpkin Mug
Adding to the pumpkin and Halloween theme is my oversized pumpkin mug. The watercolor artwork on it is so pretty and the colors are just right. Similar mugs found here: Pumpkin Mug
Vintage White Stoneware
I started collecting vintage white stoneware platters and pitchers at least 25 years ago and have a pretty good size stash. They're always in the hutch and are a great backdrop for any color I put with them.
You can see how I've styled this hutch and our vintage China cabinet for various seasons in these posts:

Metal Element: Vintage Skeleton Keys
Well of course I had to find a way to incorporate my vintage skeleton keys somehow. Only because of their name, lol. But they do add a fun element to the whole vignette.
Wood Element: Quill Bob
These old wood quill bobbins with the orange stripe go perfectly with the other orange accents in the hutch. I found these when we were antique shopping in Maine last fall and knew I'd use them somewhere fun.
Another wood element is this fabulous old wooden crate with original labels "Caution" and "SULFURIC ACID" on it. There's actually an antique glass bottle inside that apparently had sulfuric acid in it. I thought it was a great addition for Halloween since it's kind of creepy.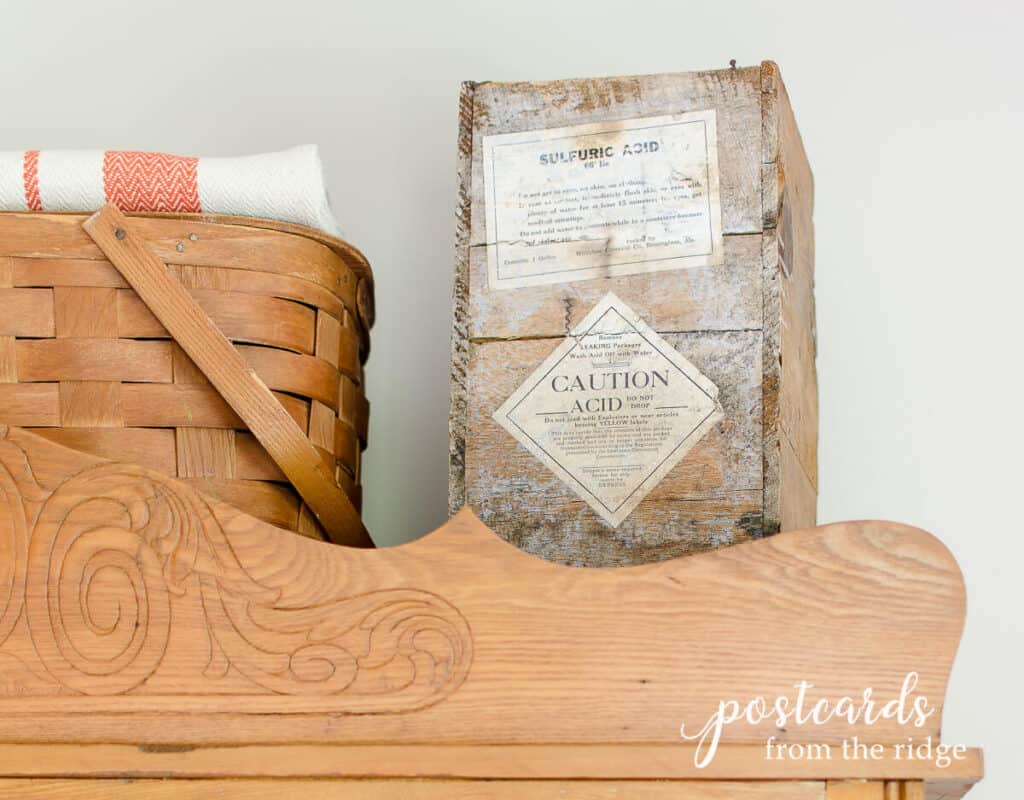 Paper Element: Halloween Greeting Card
The creative designs on greeting cards makes them tiny works of art and they're fun additions to any vignette. I bought this black cat Halloween greeting card from one of my favorite artists when they had a sale a few weeks ago. You can see more their fun work here: Rifle Paper Greeting Cards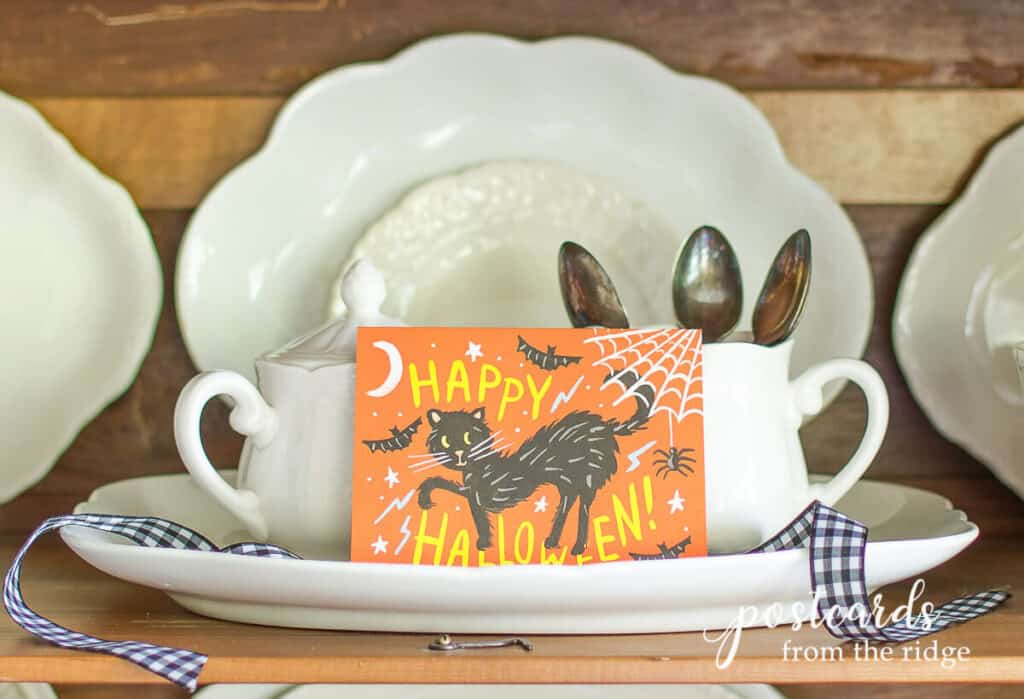 Textile/Fabric Element: Stuffed Animal
Back in the 90's I had a small collection of Boyd's Bears. Do you remember those? They were popular before Beanie Babies or the other ones that I can't even remember the name of…webkins?
Anyway, I still have this cute little black cat with an adorable pumpkin sweater and he's right at home in the Halloween hutch. Similar ones found here: Boyd's Bears Halloween Cat
That's all there is to my Halloween hutch decorating.
You can find many of these items or similar ones by doing a search on etsy or eBay. Or you might get lucky and find something similar at a thrift store or yard sale. And you can see the curated collection of similar fun Halloween decor in my Amazon shop here: Halloween Hutch Decorations
Do you decorate for Halloween? Leave me a comment below and let me know your favorite Halloween decorations.
Now you should definitely head over to Thistle Key Lane and see Michelle's adorable black cat pumpkin!
Here are all the Halloween ideas:
Carol at Bluesky at Home ~ Festive Halloween Decorations
Kim at Perfecting Places ~A Cheerful Table Decoration for Halloween
Angie at Postcards from the Ridge ~Halloween Hutch Decorating Ideas
Michelle at Thistle Key Lane ~How to Make a Black Cat Pumpkin
Kelly at The Tattered Pew ~Easy Haunted House Silhouette Craft
Tammy at White Lilac Farmhouse ~Easy Fall Harvest Snack Mix
Lynn at Living Large in a Small House ~Easy Neutral Halloween Decor
Leslie at Feet Under My Table ~ Do You Need a Great Fall Popcorn Ball Recipe?
Ann at Dabbling and Decorating ~How to Make a Halloween Skeleton Centerpiece
Anne and AnnMarie at Simply2Moms ~ Simply Spooky Ideas to Decorate Your Home for Halloween