Vintage and Natural Fall Decor
Using vintage and natural elements for fall decor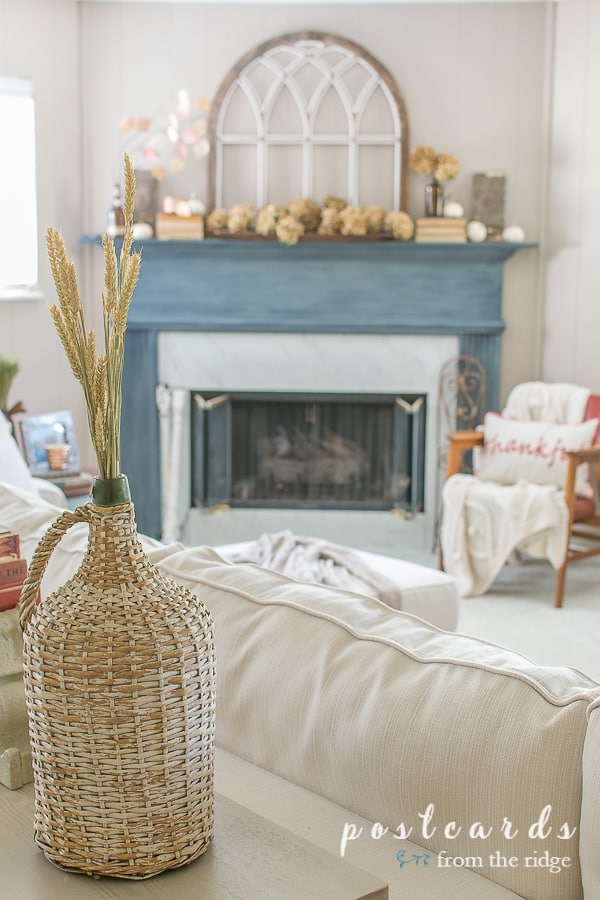 This post contains affiliate links for your convenience. For full disclosure go here.
Hey, friends! I'm so happy because it's FINALLY starting to feel like fall here after the hottest September on record. And I'm also happy to be sharing some of our natural and vintage decor from the family room as part of a fall blogger tour organized by Sara at Twelve on Main. If you're new here, you can go to my start here page to learn more about me and this site. Also, links to all the posts are at the bottom, so be sure to scroll all the way down for fall inspiration galore!
Earlier this year I painted our family room mantel and hearth. It was dark brown with a black marble surround and I wanted to lighten the mood in this room. You can see more about the makeover here → painted mantel and surround
I love the new, lighter look and the blue-ish mantel, but it is a little limiting on colors I can use on it. I decided to go more neutral with the fall colors in here after using more traditional colors on the living room fireplace. You can see the fireplace here → fall living room fireplace
We're big recyclers in this house but our local recycling location stopped accepting glass. So now I'm trying to find ways to use all of our glass bottles and jars. My oldest daughter saved this pretty brown bottle from a kombucha drink and I decided to use it for some of my dried hydrangeas. It's perfect for fall, don't you think?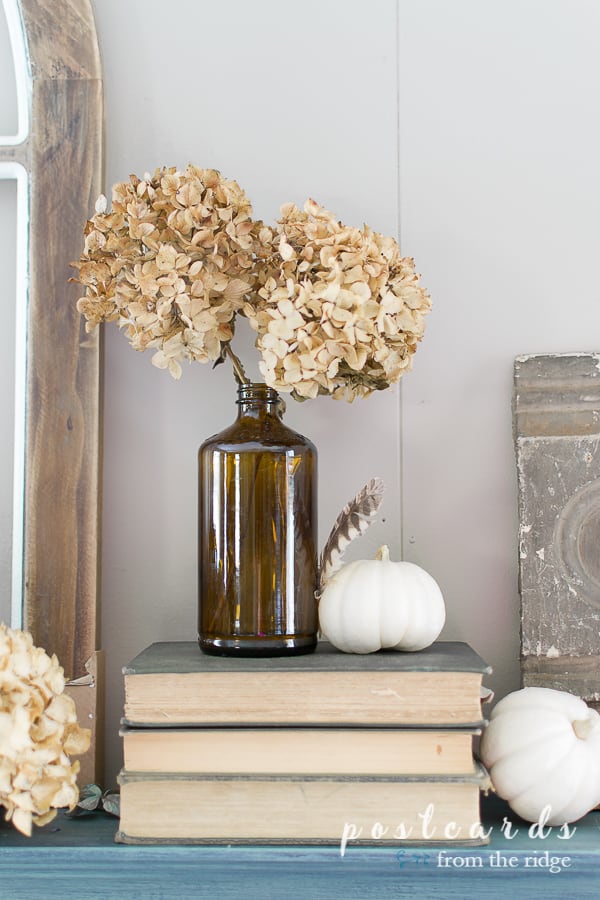 And how do you like my "antique" hydrangeas? They were a happy accident. I had clipped about 20 stems from my parents' giant hydrangea bush a couple of months ago with the intention of drying them to retain their soft pastel colors. I succeeded in drying them, and then put them out on our deck. But apparently when it's 90° outside the soft pastel colors fade to this antique color.
So there you go. If you want this shade of hydrangeas, just leave the dried stems outside when it's blazing hot. How easy is that? You could also just leave them on the bush until all of the color fades from them and clip them to bring inside.
See the simple way I dry hydrangea stems to preserve their color here → how to dry hydrangeas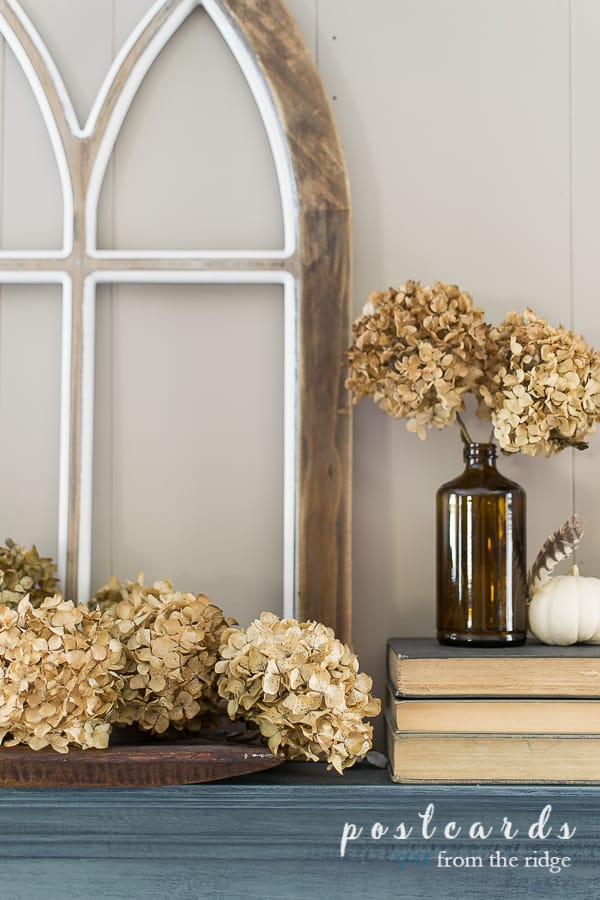 Another brown bottle I love is this vintage German beer bottle. It was a freebie from an old family friend and I'm always reminded of him when I use it.
I made a couple of branches with watercolor vintage sheet music leaves and used the bottle as a vase for them. I'll be sharing how I made these in a tutorial at the end of this week, so check back or sign up for my newsletter at the bottom of this post and the tutorial will be delivered to your inbox.
A few baby boo pumpkins, vintage books, and a couple of pieces of vintage woodwork add to the vintage, natural theme. And although the cathedral window is new, it looks like an old piece and fits in with the theme as well.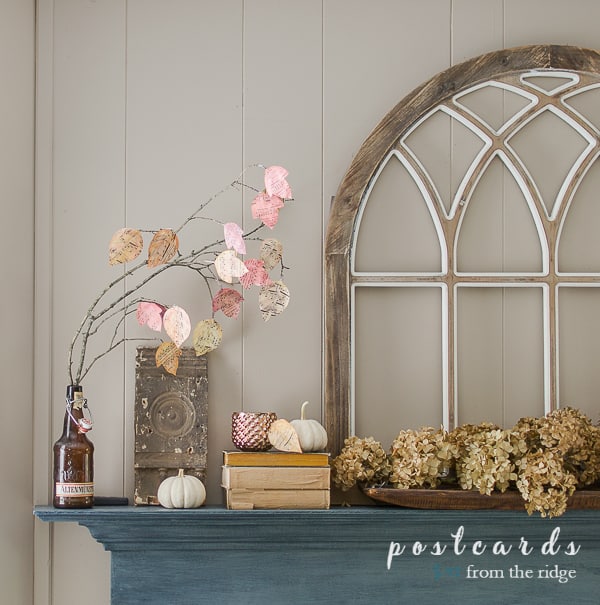 My vintage freebie mid century chair always works well with fall decor since it has a russet colored leather on it. And I have a serious throw blanket addiction so I added this cream cotton one from my stash to soften the look. I've had the pillow for several years and always get it out for fall.
On the wall to the left of the fireplace is my faux map drawer file cabinet and my favorite sign. Our family was in the paint and wallpaper business for several decades so I HAD to get this sign when I saw it. Plus it was the perfect size and color for this room. How could I not get it?
For fall, I added a wood lantern with some faux greenery, baby boo pumpkins, and more vintage books. And the boxwood topiaries are great all year round.
Confession – I also have a serious pillow addiction. Can you tell? My husband actually asked me how many pillows we had. I just said "a lot". 😂
Another part of the makeover of this room earlier this year was our new sectional sofa. It's huge and I can fill it up with pillows. Plus my husband and I can both lay down on it when we watch movies. We're the laying-down-while-watching-television kind of people. 
My favorite corner of the couch is right here. You'll find me here watching Wheel of Fortune and Jeopardy pretty much any night of the week. Yeah, I'm a total nerd and proud of it.
That's pretty much of our fall decor in the family room. Have you added any fall decor to your house? What colors are you using? Leave me a comment below and let me know!
Keep scrolling to see all of the fall home tours!
shop this look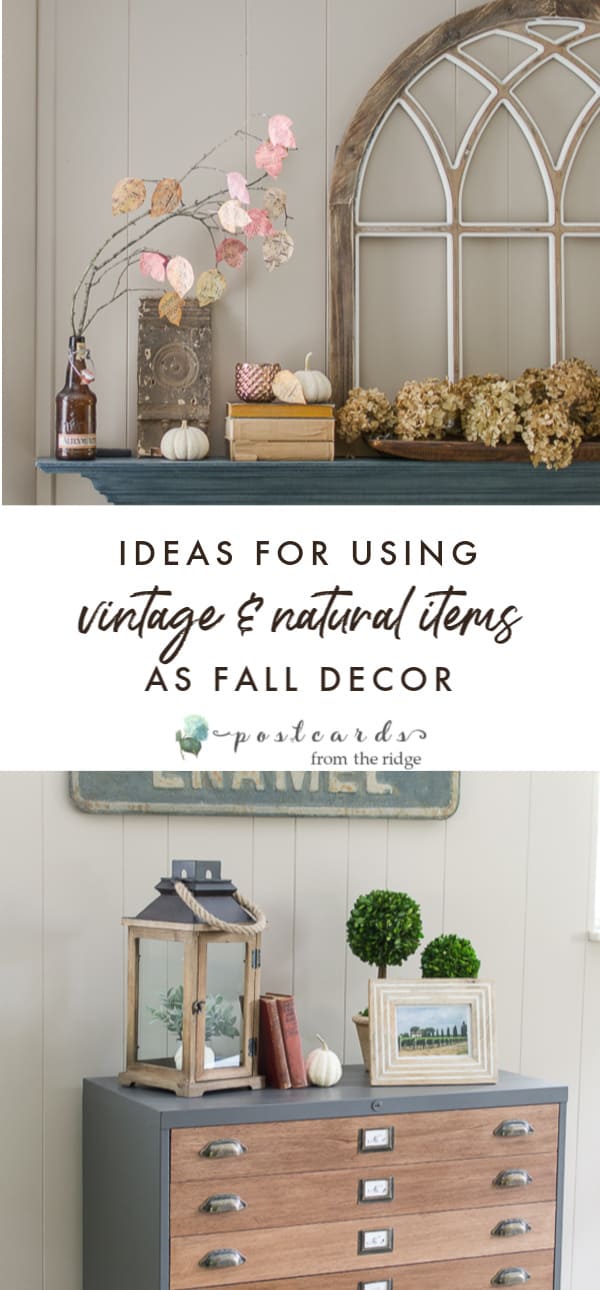 See our fall entry, bar cart, and tiered tray from a couple of weeks ago here → Cozy Fall Home Tour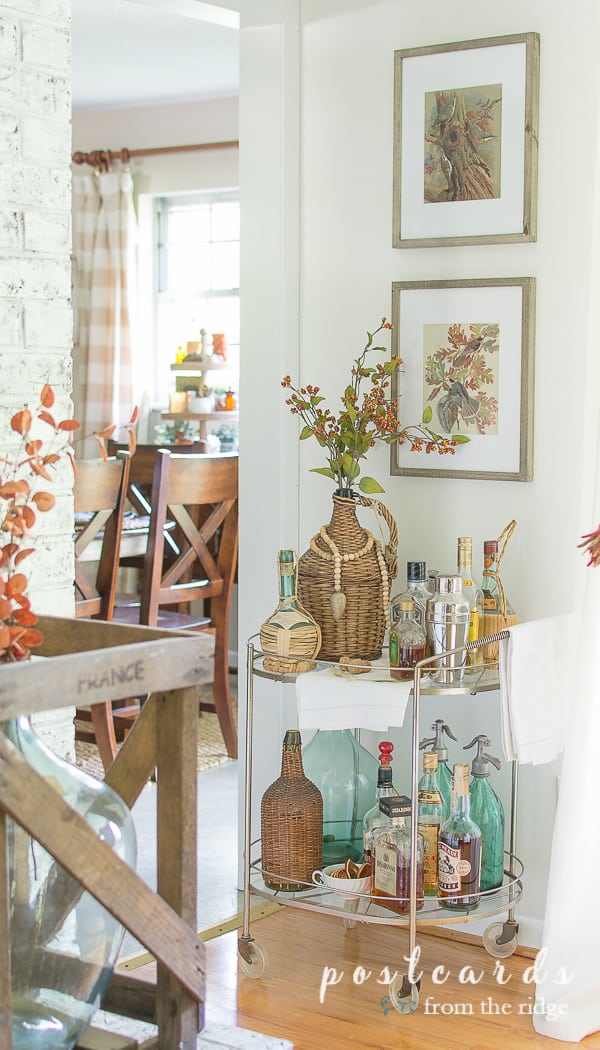 See all of my fall decor since 2011 here → fall decor archives
Check out all the amazing fall decor in our cozy fall home tours!

Twelve On Main | Unskinny Boppy | A Blue Nest | Red Brick on the Lake
Sanctuary Home Decor | Saw Nail and Paint | Noting Grace | Honeycomb Home
The Little By Little Home | Postcards from the Ridge | Grace In My Space | Cribb Style | Finding Lovely
I'm sharing my post over at All About Home at Common Ground and All About Home at Follow The Yellow Brick Home.