DIY Sheet Music Watercolor Fall Leaves
These DIY sheet music watercolor fall leaves are so thrifty and simple to make. They're a fun addition to any fall decor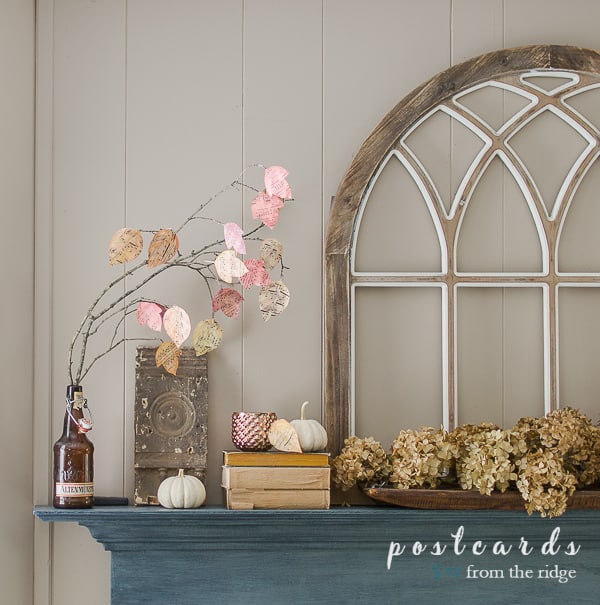 This post contains affiliate links for your convenience. I may make a small commission on products purchased with my link, but your price does not change. For full disclosure go here: Disclosure and Policies. Thank you for supporting my site.
Hey, friends! Are you enjoying fall temps and adding fall decor to your home? Fall is my favorite time of year because the house feels cozy and warm and the leaves on the trees are so beautiful.
Today I'm sharing an easy tutorial for making some leaves out of sheet music. I've just joined a talented team of bloggers, organized by Julie at Redhead Can Decorate, who all have amazing ideas for thrifty decor and are sharing some budget friendly ideas for you. The projects are at the bottom of the post so keep scrolling after my tutorial to see them all.
All of our ideas are made with items that are thrifted, second hand, or found and they're so creative and original. And thrifty, of course!
Let's get started on my super simple and thrifty project!
DIY Watercolor Sheet Music Leaves
I found a stack of vintage sheet music books a few weeks ago at our local Re-store for a whopping .55¢. I wasn't exactly sure what I was going to do with them, but I love old sheet music and knew I'd come up with something.
I decided that they'd be perfect for some fall leaves on our family room mantel. (You can see the rest of the mantel and family room decor here → Fall Family Room Decor)
Supplies Needed
How to make the watercolor sheet music leaves
1. Cut the pages into leaf shapes
I used my Cricut maker and a free leaf design from the cricut design space for the leaves. Since the sheet music was a little delicate I used the light grip mat. I tried the regular grip mat first but the paper tore as I was trying to remove it.
NOTE: You could easily cut out some leaves by hand if you don't have a cutting machine. The machine just makes it a little quicker and easier, and I'm all about that!
2. Add color to the leaves with watercolor paint or pencils
After the leaf shapes were cut, I used my watercolor pencils to add color to them. It took a couple of minutes per leaf to get the colors I wanted. This was really simple to do and I made a little video while I was painting the leaves. You can view it on my youtube channel here: DIY Watercolor Leaves Video
3. Attach the leaves to branches
I used my hot glue gun to attach the leaves to a couple of branches that I had found out in our yard. I made the first branch with soft golden yellow and orange-y leaves but decided to add more color with the second branch.
More reds and blues were used to create the second branch. They turned out a little more pink than I wanted, but I can always add more yellow or orange to change the hue.
I added the branches to a vintage German beer bottle that was a freebie from a family friend. It made the perfect fall vase!
So what do you think? Not bad for spending .55¢, huh? Plus I still have lots of pages left for future thrifty projects. What would you do with them? I'm looking for ideas and am all ears!
Be sure to keep scrolling to see all of this month's thrifty decorating ideas! And watch for more ideas each month.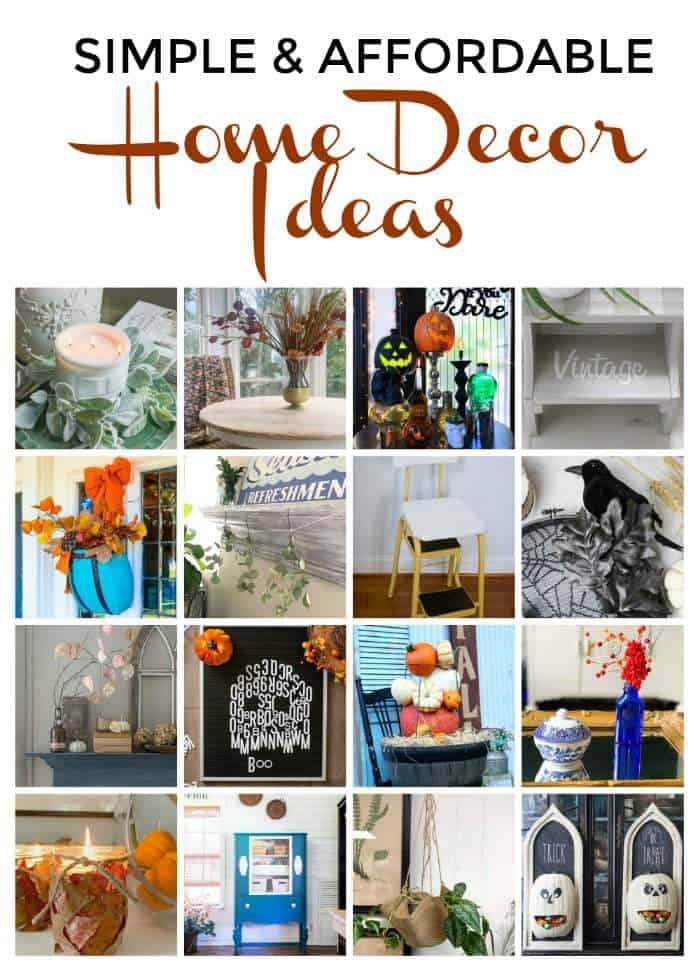 Thrifty Spooky Halloween Corner from Redhead Can Decorate
Framed Mirror Tray from 2 Bees in a Pod
Step Stool Makeover from Bliss Ranch
Fall Leaf Candleholders from Chatfield Court
Thrifty Homemade Candles from Cottage at the Crossroads
Painting an Antique Cabinet in a Bold Blue from DIY Beautify
Fall Crafts Using Spray Paint from Duke Manor Farm
Fishing Basket Turned Fall Door Decor from I Should Be Mopping the Floor
DIY Hanging Basket from a Placemat from Jennifer Rizzo
DIY Watercolor Sheet Music Leaves from Postcards from the Ridge
Tomato Cage Pumpkin from Salvage Sister and Mister
Embroidery Hoop Halloween Wreath from The Creek Line House
Vintage Kitchen Counter Step Stool Makeover from The DIY Village
Halloween Letter Board Ghost from The How To Home
DIY Halloween Candy Dispenser with Jack O' Lantern Eyes Printable from Unskinny Boppy
Simple Eucalyptus Garland from What Meegan Makes