How to paint your mantel and get clean paint lines
This is a sponsored post written by me on behalf of FrogTape®. All opinions are 100% mine.
Tips for giving your fireplace mantel a fresh new look with paint.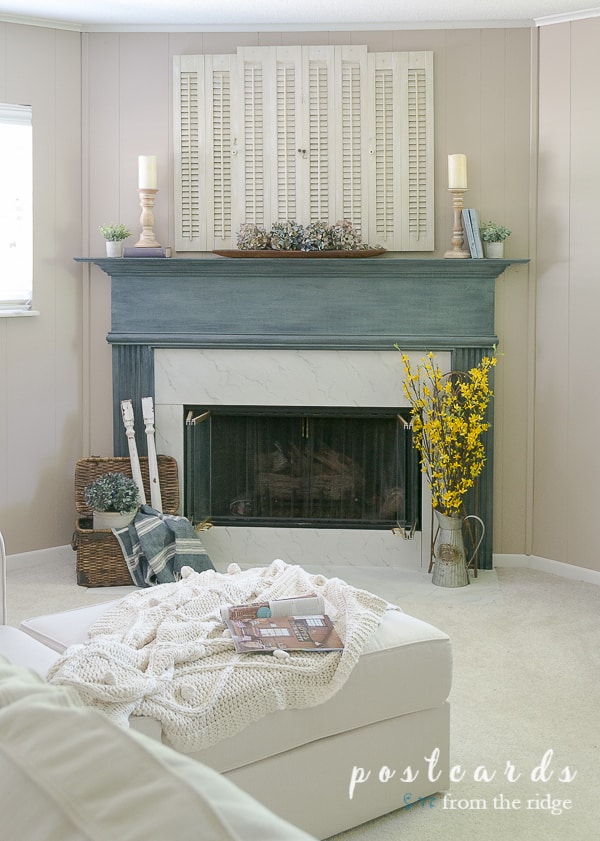 Hello, friends! Do you have a mantel that needs a fresh new look? Giving our family room mantel a makeover with paint has been on my to-do list for a few months. So when FrogTape® recently reached out to me to collaborate on a simple painting project, I knew exactly what I wanted to work on.
Here's how it looked before the makeover. Not bad, but it was a little dark for the new direction we're going in this room.
A couple of months ago I shared some inspiration for this room and this blue antique mantel was something I wanted to try to recreate. It's a little different than what you normally see on mantels, but that's okay with me. I like to be different.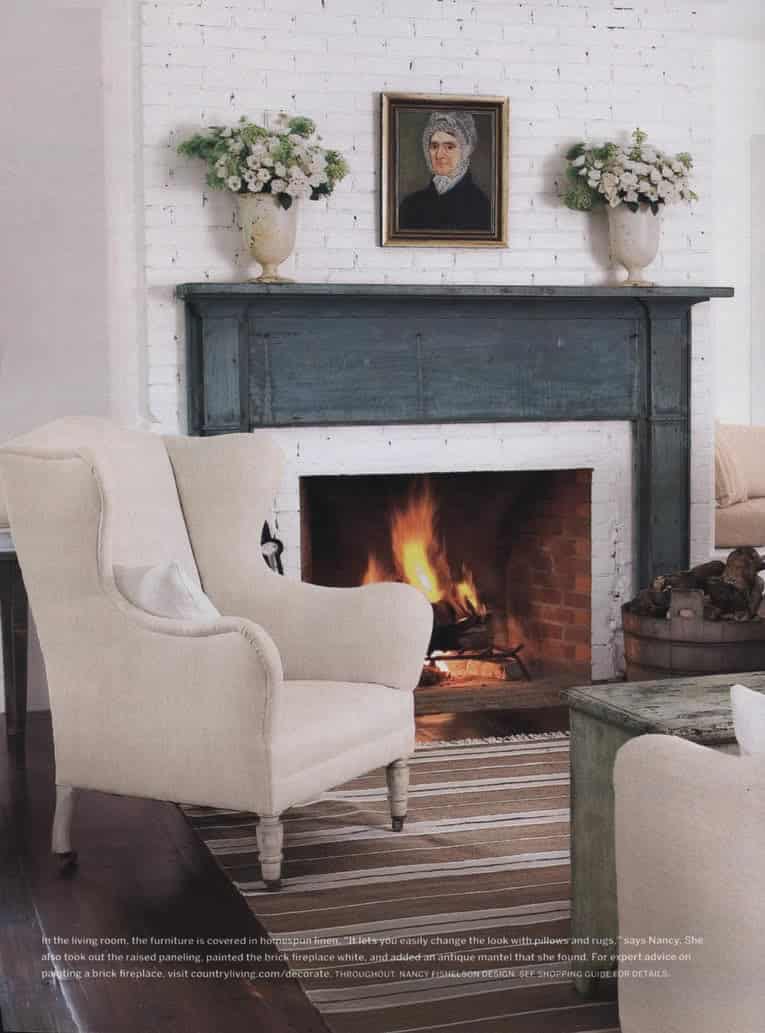 You can see all of the ideas and plans for our family room HERE.
Another thing that I drew inspiration from was a new throw blanket that's in this room. It's a stonewashed denim look and it's so cozy feeling. The kitty loves it too.
With the help of FrogTape®, I created my version of an aged denim finish and I really like the relaxed look of it. Here's a closeup of the freshly painted mantel. It's so much lighter and more casual.
And here's how I painted it without having to worry about messy paint lines.
How to paint a fireplace mantel
1. Tape off the edges
The first thing I did was tape around all the edges of the mantel with the Multi-Surface FrogTape®. All of their tapes have a special technology called PaintBlock® which is a super-absorbent polymer that reacts with the water in latex paint and instantly gels to form a micro-barrier that seals the edges of the tape. This prevents paint bleed and the need for touch-ups. You get crisp, clean paint lines the first time! Such a great, time saving, stress-free product!
Pro Tip – Apply the tape in short strips instead of long ones for better control.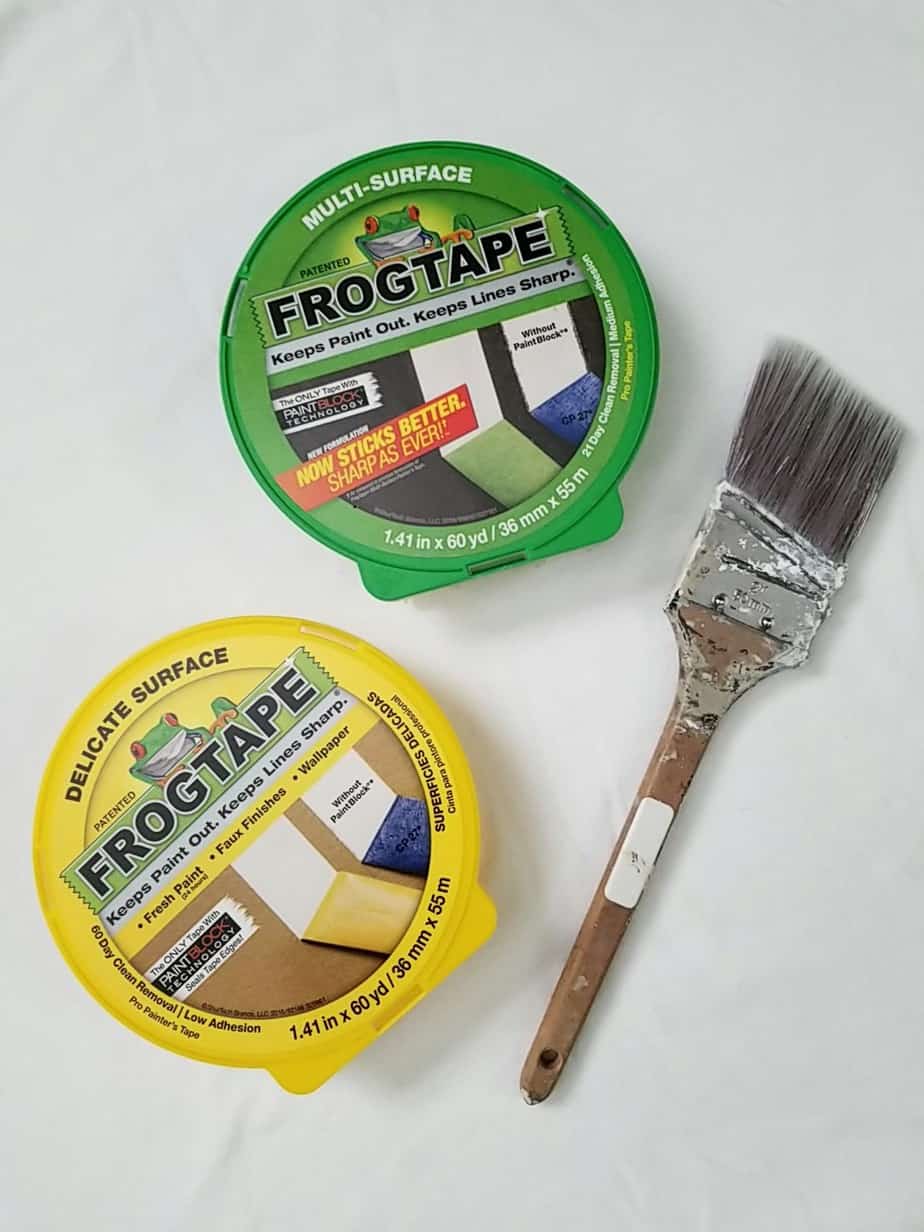 2. Layer different blues
Using several different blues from my stash, I painted them on the mantel in layers, allowing them to dry in between. The first was a dark blue; next was a mix of the dark blue, a gray, and a medium blue; and last was a mixture of a medium-light blue and a clear acrylic varnish. Each layer was lightly brushed on so the previous layers show through.
3. Prime the fireplace surround
After the mantel dried, I removed the multi surface tape that surrounded it. Then I taped over the inside edge of it using the FrogTape® Delicate Surface Painting Tape. This tape is recommended for use on finished wood, fresh paint (dry to the touch), wallpaper, veneer, laminate, vinyl and drywall (primed only).
Next I applied 2 coats of an acrylic bonding primer with a small foam roller.
Pro Tip – if painting next to carpet, use a credit card or something similar to push the tape down between the carpet and the surface to be painted.
4. Marbleize the fireplace surround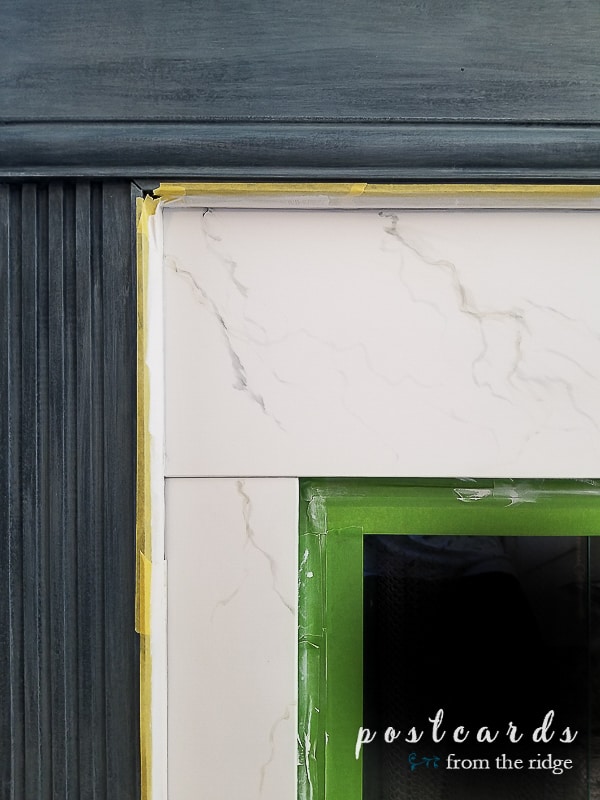 Since I wanted to lighten the fireplace surround, I used the primer as the basecoat and added some veins with a small artist brush. Some of the gray-blue paint was mixed with an artists' matte medium to make it more translucent and have a longer drying time.
I added a small amount of the mixture to the brush and softly dragged the tip of it in a diagonal direction, gently rolling it from right to left as it went. While it was still wet, I lightly dragged a larger brush through it to soften it.
5. Add a clear coat for protection and remove tape
I highly recommended sealing the finishes with a clear acrylic finish. You can use any gloss level that you want. I prefer satin or low gloss, but a high gloss would give you a dramatic look. After you apply your clear coat then remove the tape.
Here's the finished look. No messy lines and the denim finish didn't pull off! Woohoo!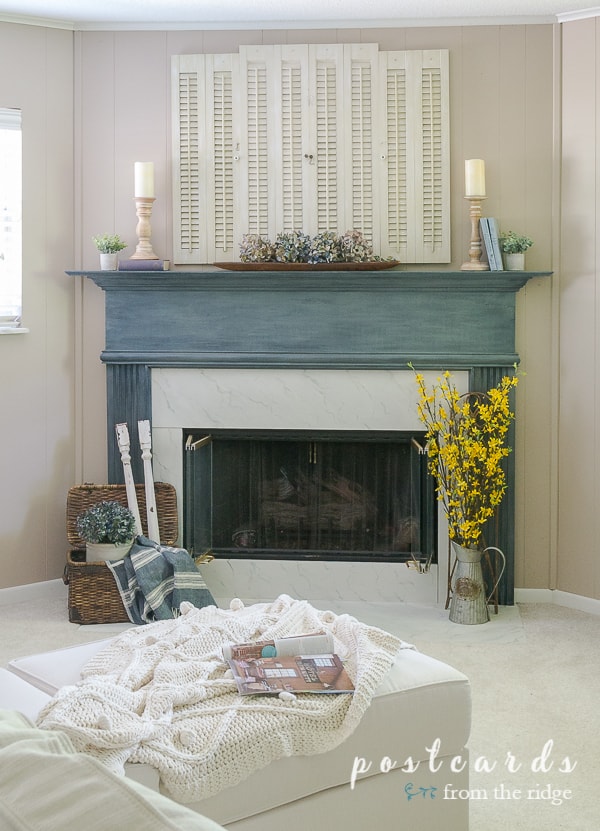 I'm working on another post detailing all of the colors and finishes I used for this project so stay tuned for that.
What do you think of my mantel makeover project? I love the mantel and really like the marble. I'm not sure if it's going to be too formal for this room. Now that I've painted it once, I won't hesitate to paint it again if I want something different. And I know that with FrogTape® that I won't have to worry about any paint lines!
Do you have a painting project on your to do list? Be sure to make your job easier by using FrogTape® It's the very best way to get a professional looking finish on all of your baseboards and walls. And it's the only painting tape treated with patented PaintBlock® Technology and gives you the sharpest paint lines possible.
Leave me a comment and let me know what project you could use FrogTape® on!
Need more painting inspiration? See all the paint projects in my archives HERE.
Happy painting!