Warm & cozy home decor ideas with traditional fall colors
This post contains affiliate links for your convenience. For full disclosure go here.
Hello, friends! Are you ready for some fall decor ideas? If so then you'll love today's post. This week I'm teaming up with some of my blogging friends and were sharing some fall decorating ideas with you. Leen at Sand Dollar Lane is hosting the tour so be sure to hop over and see her HERE. And if you're coming over from A Life Unfolding, welcome!!
Fall Entryway
This year I really wanted to use warm, traditional fall colors in our decor. We spent last week in Austin, Texas helping our oldest daughter move for her new job and I think I've been influenced by the burnt orange from all the University of Texas fans there, lol. Seriously though, I love the cozy feeling that traditional fall colors bring to any space. In our entry I've changed out a few items to give it a warm and welcoming look.
Free decor idea!
One thing I love to use in my fall decor is pressed leaves. I pick up pretty leaves wherever I see them…in parking lots, in the yard, on the sidewalk. Yes, I do get some strange looks but who cares?
I place them all inside a large book to flatten and press them. It's free and simple to do and they're so pretty.
Old books are another fun thing to add to any decor. I found these old poetry books at an estate sale and loved the covers. The browns are perfect for adding a fall touch to the entry. (To see my tips for shopping at estate sales, go HERE.)
Underneath the table I added a fall blanket scarf to a large round basket. And I tucked some faux fall foliage and an orange scarf into my jute shopping tote. And those boots? They're the most comfortable boots I've ever owned. Yes, I'm at the age (and size) where comfort really matters so I was thrilled to find something cute AND comfortable. I got them last year and wore them all the time.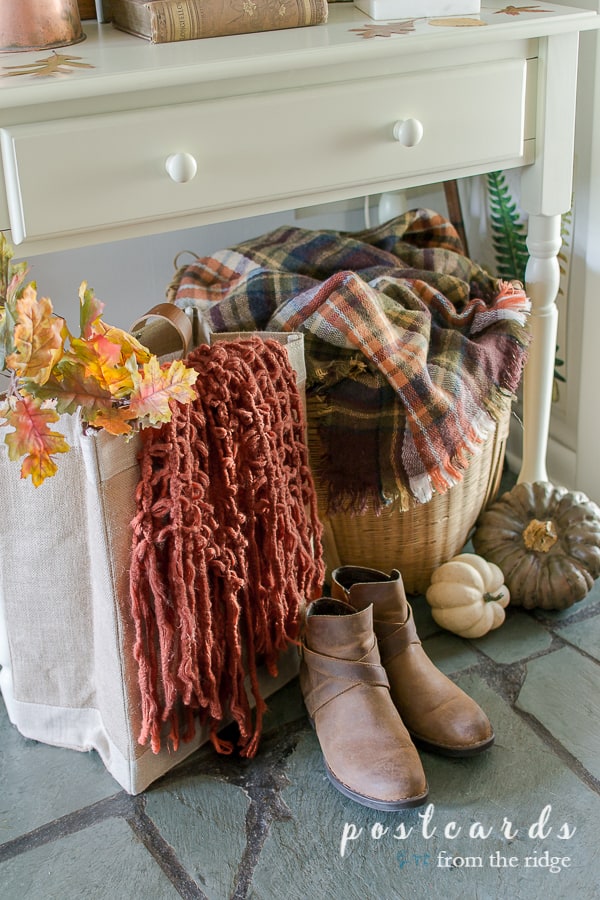 Fall Tiered Tray
Over in the dining room I decorated my three tier tray with some other fall-ish items.
I've had these little vintage amber bottles for several years and had forgotten about them. My stash/hoard has grown way too large over the last couple of decades and sometimes I pack things away and totally forget about them. Would you believe that these had been wrapped and packed up in a box for 13 years? I'm so glad I rediscovered them!
The colors are warm and rich and make the room feel so cozy.
I couldn't resist adding a couple of old school books to the tray. Fall always makes me think of school and I love the character of old books.
I used a couple of stoneware mugs from my shop and tucked some faux eucalyptus in them as filler. I'm loving blue these days and really wanted to incorporate it into my decor.
Living Room Bar Cart
This little vintage bar cart is one of my favorite finds. It has a fun mid-century modern look and isn't too heavy. We don't actually drink much but I like to decorate it for each season.
A few vintage wine bottles, a strand of wood beads, a spray of faux fall berries, and a few other items are a simple way to add fall color and texture.
And how do you like my "new" art? I have to tell you the story about these two vintage bird prints and how simple they are (and cheap). While we were in Austin last week, we visited a nice used book store. They had a couple of stacks of vintage book pages and I found these gorgeous bird book pages in fall colors for $10 each.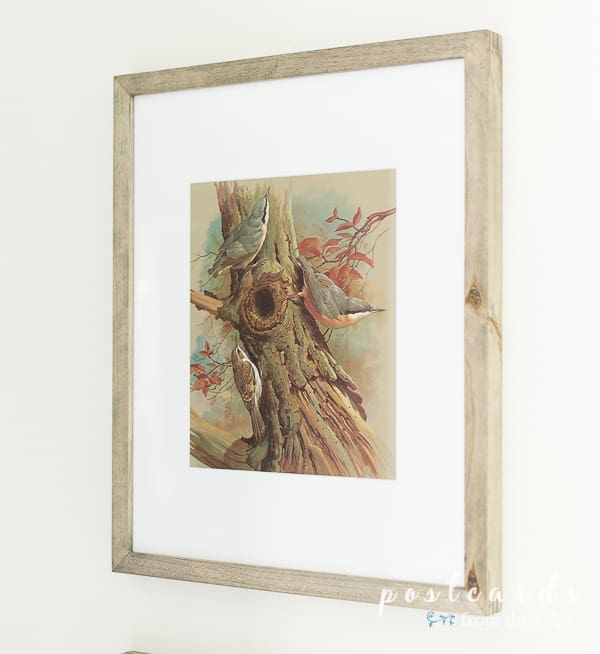 I knew I wanted to use them in my fall decor somehow. So when we got home I dug out a couple of frames I had bought on sale a few months ago and popped the prints into them for instant artwork. How simple is that? These frames are found HERE and there are some similar ones HERE. Similar vintage bird prints can be found HERE.
Fall Fireplace Sneak Peek
I'm still adding some finishing touches to our living room fireplace mantel and will share it in a few days. And I'll be sharing our family room fireplace decor later this month too. Here's a little peek of the living room fireplace. I found the gorgeous vintage demijohn in the crate during our visit to Texas last week. (Similar ones HERE.)
I also bought the sienna eucalyptus sprays when we stopped by Magnolia Home on our drive home from Texas. I love the rich colors and they look very realistic! They've sold out of them on their website but I found a very similar one HERE.
Check back next week to see the full mantel and fireplace decor as part of another large tour of fall ideas. Or you can sign up for my newsletter below and it will arrive in your inbox.
Next up on the tour (Wednesday) is We're the Joneses. Be sure to drop by there for more fall inspiration. And keep scrolling to the bottom of the post to see all of the bloggers on this week's home tour. So many great ideas!!
Read my tips for shopping at estate sales HERE.
Love tiered trays? See more ideas for tiered tray decor HERE.
See all of my fall decor ideas HERE.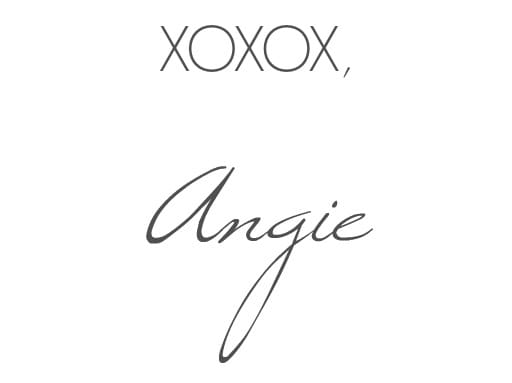 Here are all of the participants for this tour. Be sure to visit everyone for some amazing ideas!
Tuesday
Sand Dollar Lane // A Life Unfolding // Postcards From the Ridge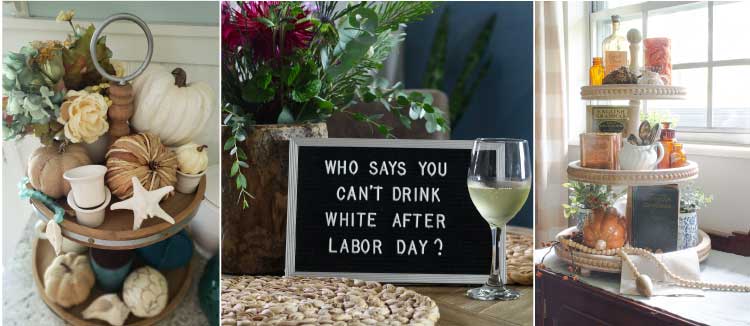 Wednesday
We're The Joneses // Worthing Court // The Tattered Pew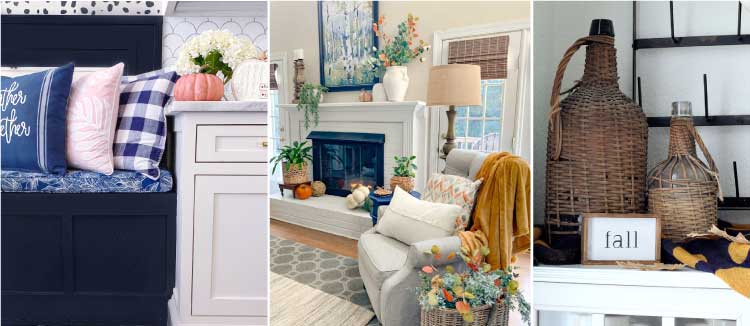 Sonya Burgess // Seeking Lavender Lane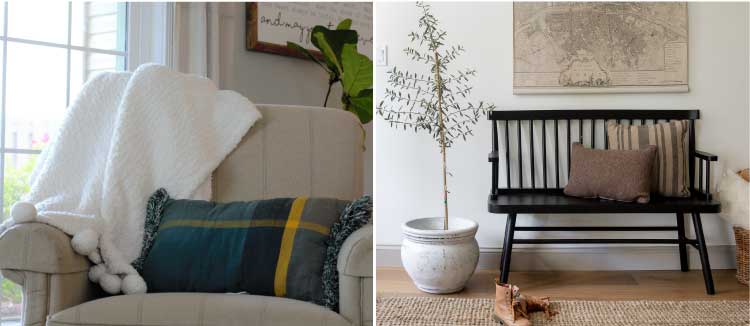 Thursday
Noting Grace // My Wee Abode // Cribbs Style