30 Beautiful Ideas for Decorating with Green Plus Free Printables
Are you jumping on the trend and looking for ways of decorating with green? Lately I've really been crushing on the color green.
I've been adding small doses of it around the house and love the organic vibe it provides. And green is a wonderful color to accent with any time of the year. It's somewhat of a neutral color and blends with so many different things.
If you, too, are loving green these days, here are some favorite ways to decorate your home with it.
This post contains affiliate links for your convenience. If a purchase is made after clicking one of the links I might make a small commission. Your price does not change. For full disclosure, go here.
30 Ideas for Decorating with Green
Decorating with Green Dishes
It's no secret that I'm a bit of a dish hoarder and I happen to have a few green pieces in my collection. The green goblets add a nice pop of green to our table at Christmas. They belonged to my mother-in-law and we love to use them during the holidays. (Similar goblets found HERE.)
These little green cabbage bowls are nice accents for spring and summer. They're perfect for fruit, ice cream, or cereal. (You can find similar ones HERE.) And it's such an easy idea for decorating with green.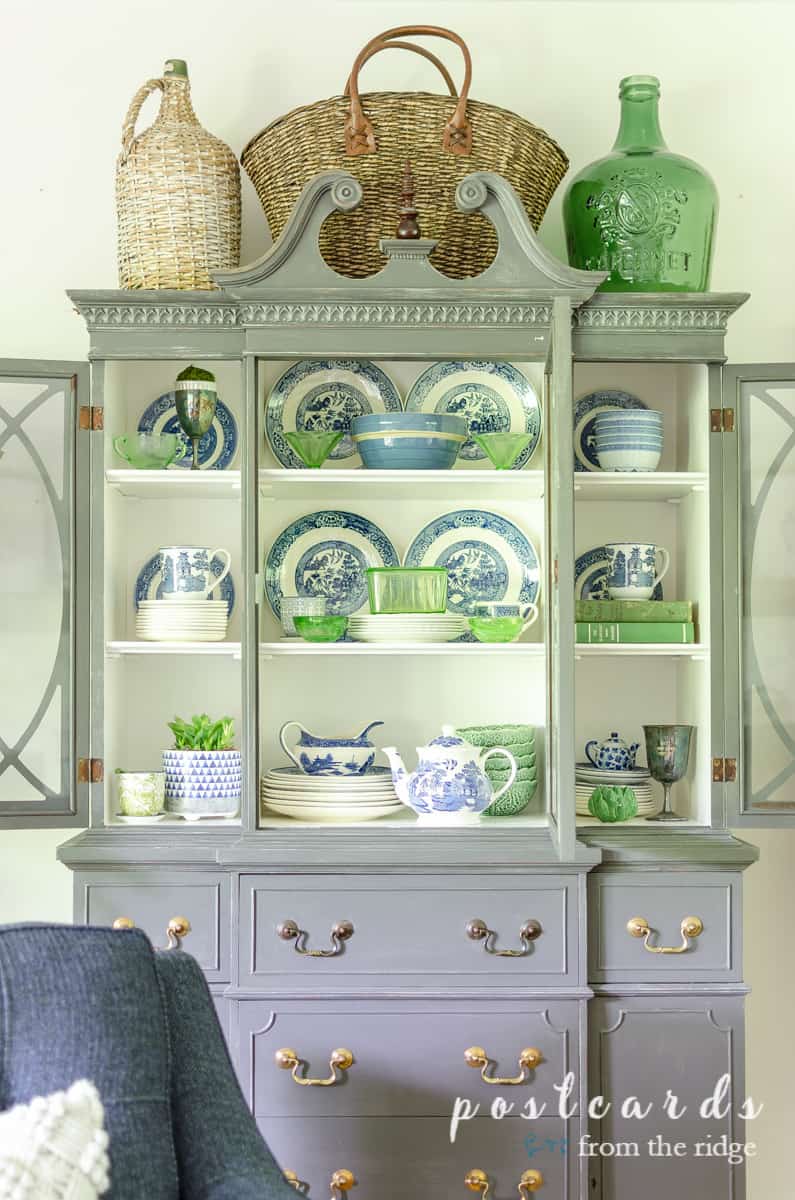 Decorating with Green Boxwood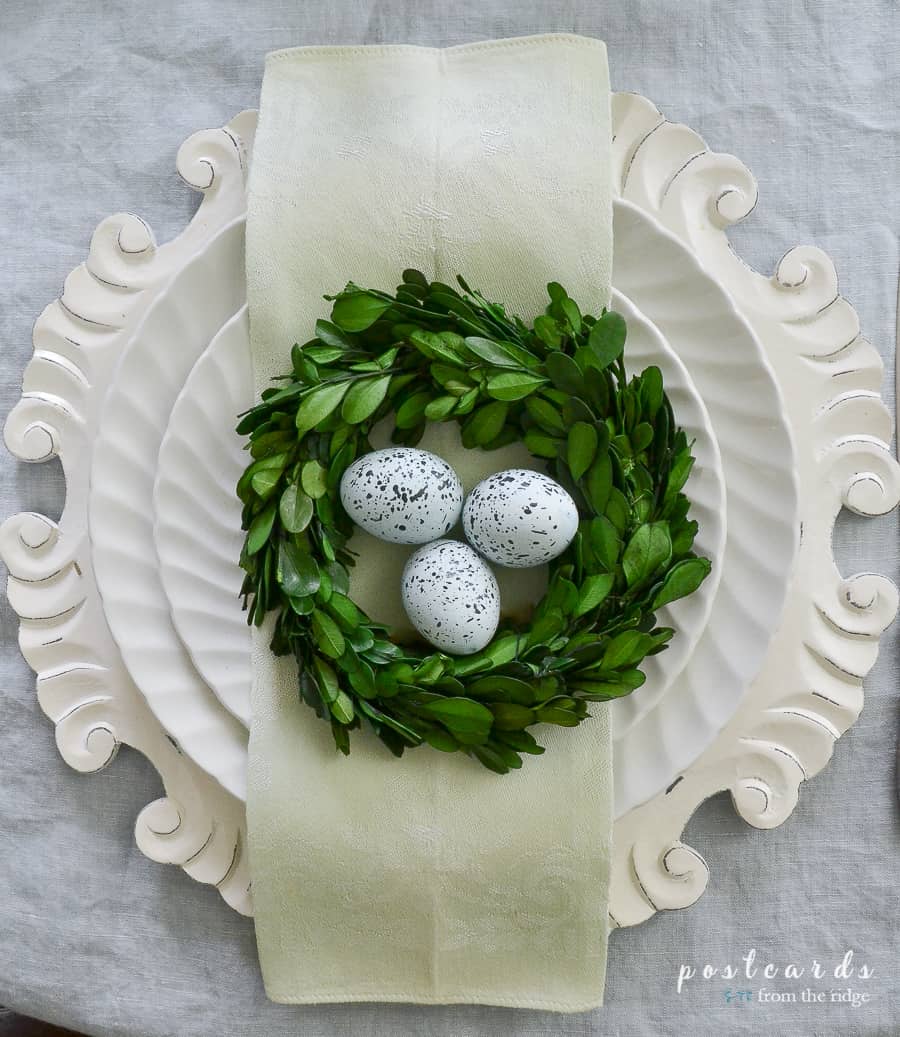 I never met a boxwood wreath I didn't like. And they're such a pretty, rich shade of green. They can be used as wall hangings, table decor, or on cabinet doors as accents. (Wreath found HERE.)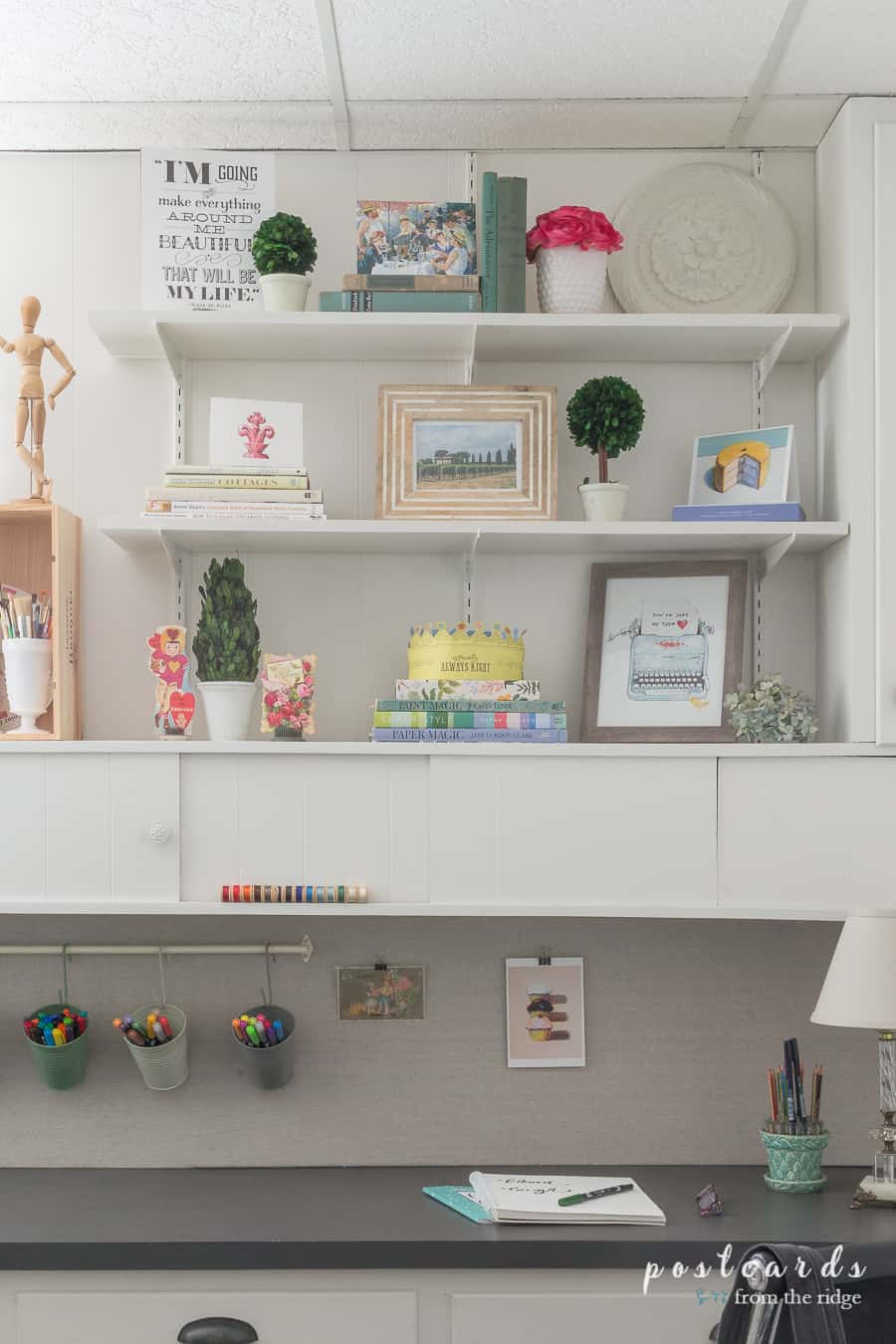 And little boxwood topiaries are great as shelf or table decor. They add just the right amount of green to any space. (Found HERE.)
Plants
Naturally, plants are an ideal tip for decorating with green. The driftwood succulent planter is simple to make and adds a nice organic touch wherever you decide to use it. See how to make one like this HERE.
You can never go wrong with ferns. Add a few to some glass bottles for an instant dose of green style.
An upcycled little green bottle vase is the perfect vessel for this small bouquet of flowers. See more ways to upcycle and repurpose bottles and more here: 29 Repurpose and Upcycle Ideas for Your Home
Vintage Green Books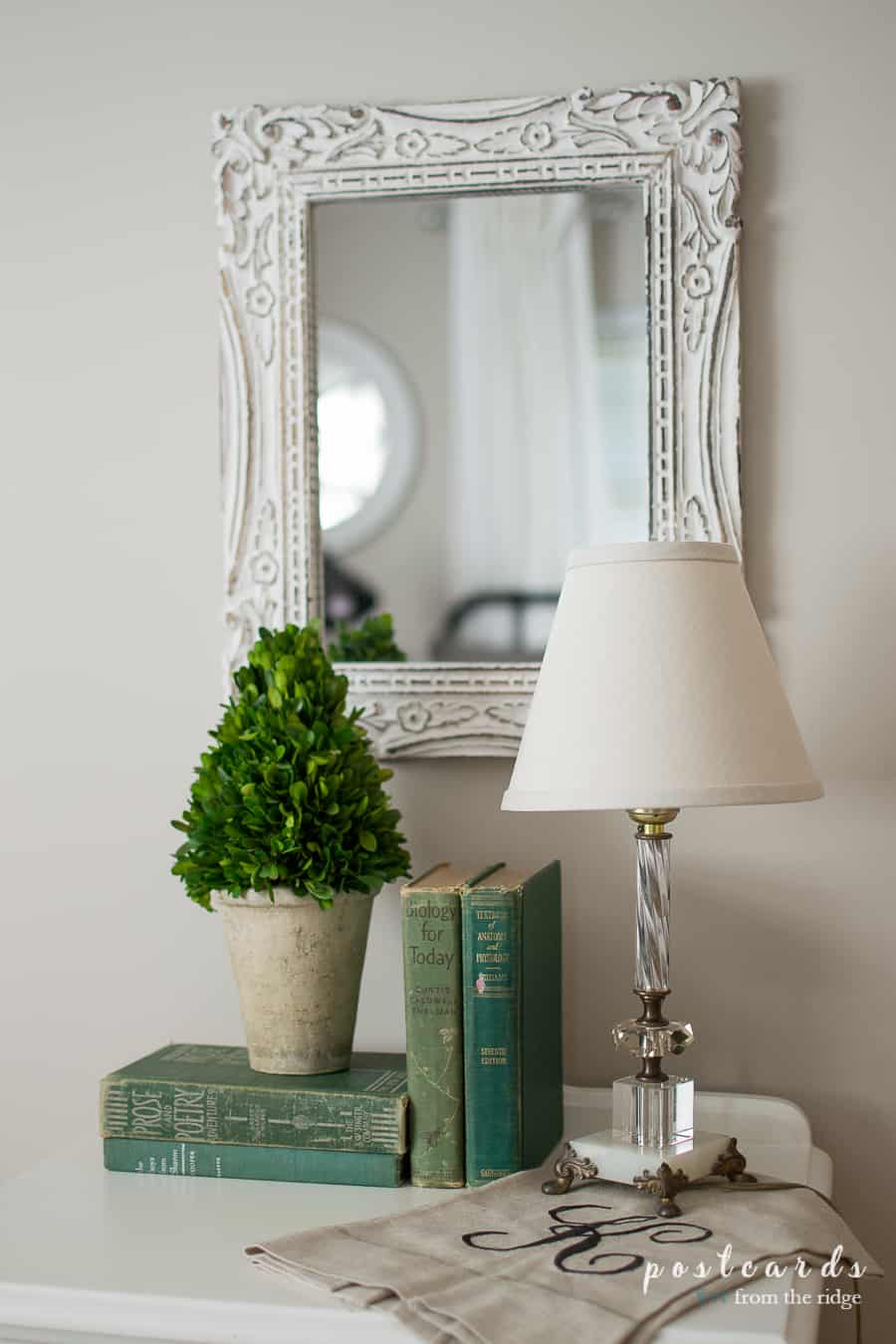 A charming way to add pops of green is by adding a few vintage green books. These are in our guest bedroom which got a makeover last year. You can see more of this room HERE. And similar vintage green books are found HERE.
Green Vintage Tin Tiles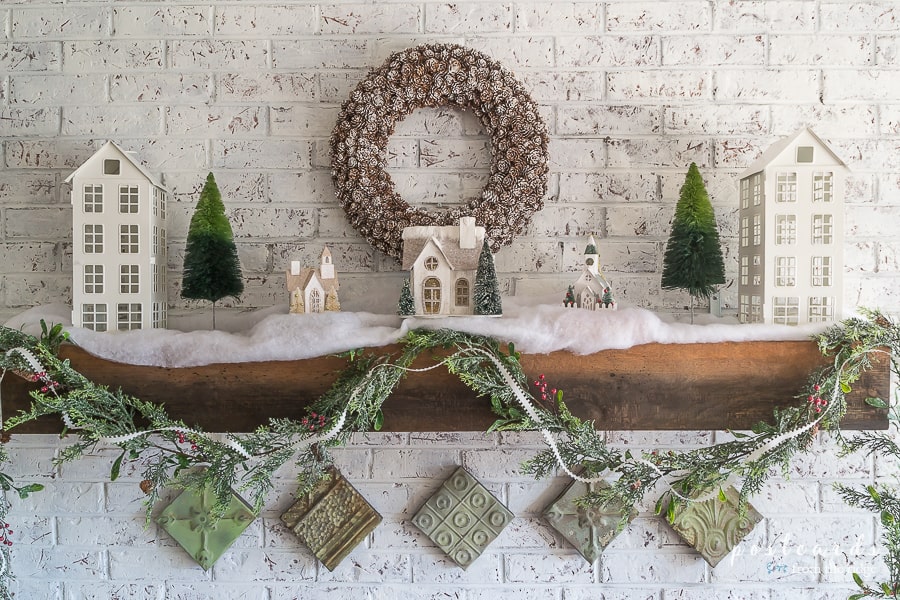 Last year at the Vintage Market Days fair I found these fun little vintage tin ceiling tiles. They fit perfectly underneath our living room mantel and add a fun pop of green to the area.
They also blend nicely with my spring and holiday decor. You could get a similar look with small green plates. The botanical floral prints are available as free printable art here: Spring Entry and Living Room Plus Free Printables
Green Artwork
For a small dose of green, consider adding artwork with shades of green to your walls. There are thousands of options and here are some fun ones:
For a classic and timeless look, add a grouping of fern botanical wall art. They work well with any style decor.
If you like the look of the fern artwork then be sure to scroll all the way to the bottom of the post. I'm offering a set of 6 vintage fern botanical printables for free. They're a classic way to add a bit a green to your home without spending a dime.
Green Painted Furniture
Painting an accent piece of furniture is a quick and easy way to add green to your decor. The piece above got a fresh coat of green paint and now holds various supplies in my studio. You can see the entire room HERE.
This pretty kitchen island from Miss Mustard Seed was painted with boxwood milk paint. It looks so nice with her copper and blue accents. And it's a great complement to her white cabinets and wood floor. (Milk paint found HERE.)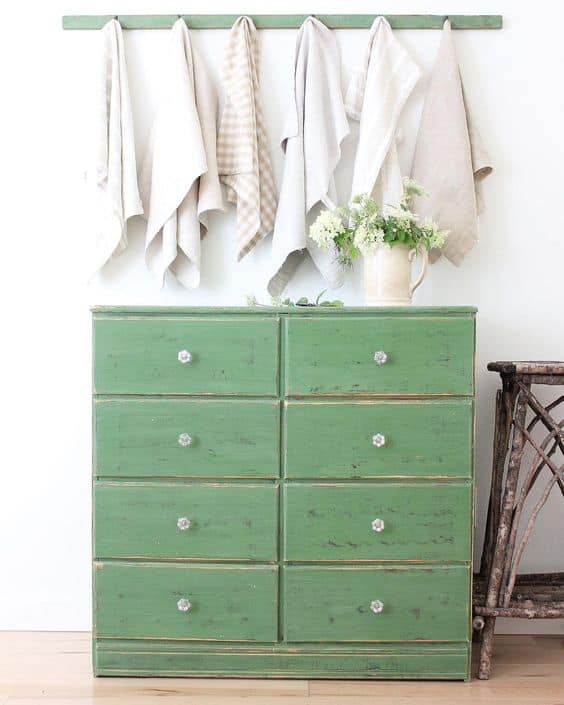 This vintage piece from Where Sisters Gather is another pretty shade of green. The little glass knobs add a sweet bit of sparkle to it.
My friend Susan at Saw Nail and Paint recently gave this thrift store table a facelift by painting the legs and skirt green. Isn't it gorgeous? You can get the details of this makeover HERE.
Green Painted Walls
Sherwin Williams Rosemary
Benjamin Moore October Mist
Magnolia Home
The walls in this farmhouse style entry are painted with Magnolia Green Paint. The space has such a welcoming feeling to it.
Green Wallpaper
Make a statement on your walls with green wallpaper. Accent walls and small rooms are great areas for wallpaper and these are wonderful ways to add some green to your home.
favorite green wallpapers
green and white hydrangea wallpaper
If you want a subtle dose of green, this green fern leaf wallpaper fits the bill. Classic and timeless, it would be perfect for an entry, bathroom, kitchen, or almost any space. I'm thinking it would be great in my entry too!
Go bold or go home! This stunning green peacock wallpaper will add personality and color to any space. So many pretty colors in this print.
Green Upholstered Furniture
Green Tiled Backsplash
For a punch of color, green subway tiles are the way to go. The look amazing with the copper accents, white cabinets and counters, and wood shelves in this kitchen.
The warm reclaimed wood island and shelves in this kitchen perfectly complement the green backsplash.
similar green tiles found here: Green Subway Tiles
Green Pendant Light
A hanging green pendant light would work in a farmhouse or industrial style kitchen and is a very inexpensive way to add a pop of color.
Green Area Rug
Add a pop of personality to your front door with this vibrant green door mat.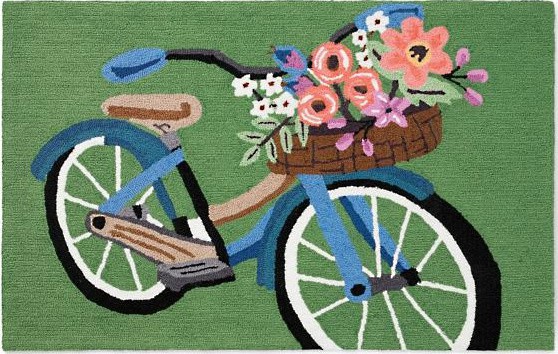 What are some ways that you like to decorate with green? Leave a comment below and let me know what your ideas are!
Click HERE to see my curated collection of favorite green vintage items on etsy.
Click HERE to see my favorite green items from amazon.
Here are some free fern botanical printables to add some green to your space. Subscribe to our newsletter below to get yours. You can unsubscribe at any time. If you're already a subscriber, click below and you'll get them for free too!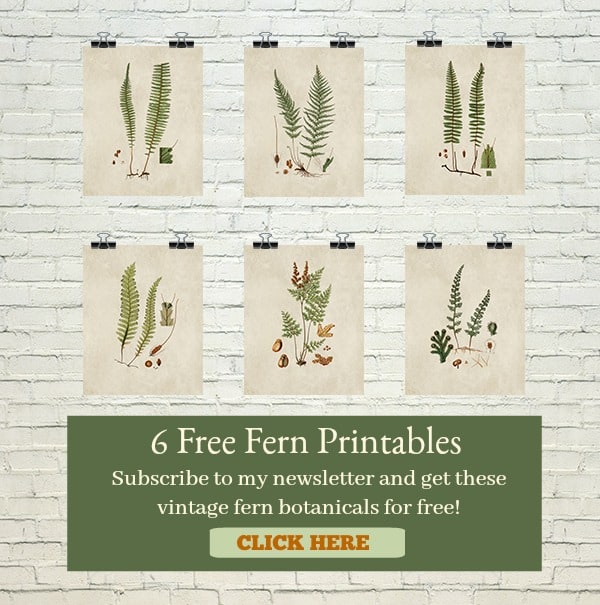 Thanks so much for dropping by!