27 genius ways to use old books
27 Creative Ways to Use Old Books
Let's talk about ways to use old books. One thing (of many) that I just can't pass up at thrift stores and estate sales is an old worn book. I don't know why. Maybe it's because we live in such a digital world today, but I have a soft spot for yellowed, vintage books.
They're such a great item to collect since they're usually very inexpensive and can be found without a lot of searching. And they're a wonderful decorating accent, adding color and texture to any vignette.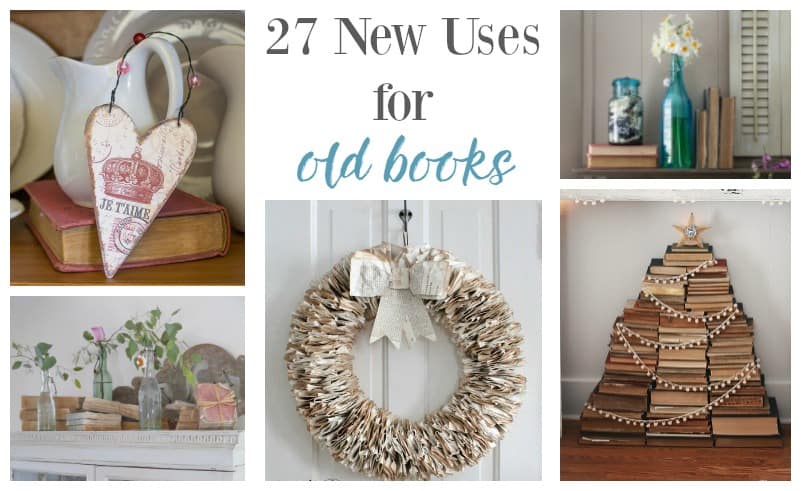 Today I'm sharing some fun ways to incorporate them into your decor, along with ways to repurpose them and some creative things to do with book pages. You'll be collecting soon yourself if you aren't already!
*Please visit the original sources and pin from there.*
Charming Ways to Decorate with Old Books
1. On a fireplace mantel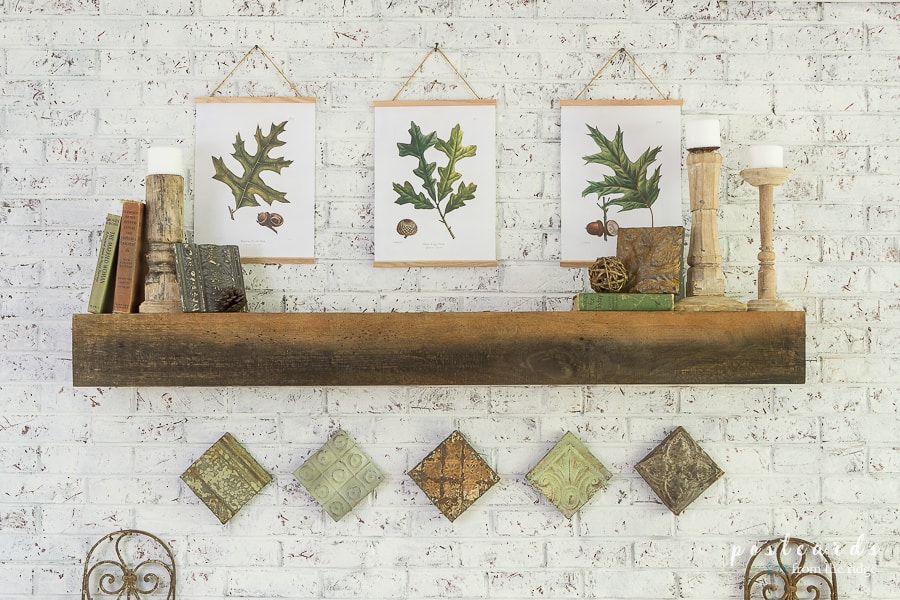 One of my favorite places to use old books is on our fireplace mantels. They're perfect for filling in empty spots and for adding height and texture.
On our fall family room mantel, I even opened an old book to an interesting page titled "How a witch was caught". I thought it was fun for October.
Our spring family room mantel also had several books added to the mix.
2. On a fireplace hearth
On our fall living room hearth, I opened an old 1800's dictionary to a sketch of a skeleton. Do they still have sketches in dictionaries today? Do they even make dictionaries today? I guess most people look up definitions online these days. One more reason to love old books.
3. On an accent table
For a cozy fall vignette, stack a couple of books and place a candle on top. See more of my favorite ways to decorate with candles here: 5 Ways to Decorate with Candles
4. On a night stand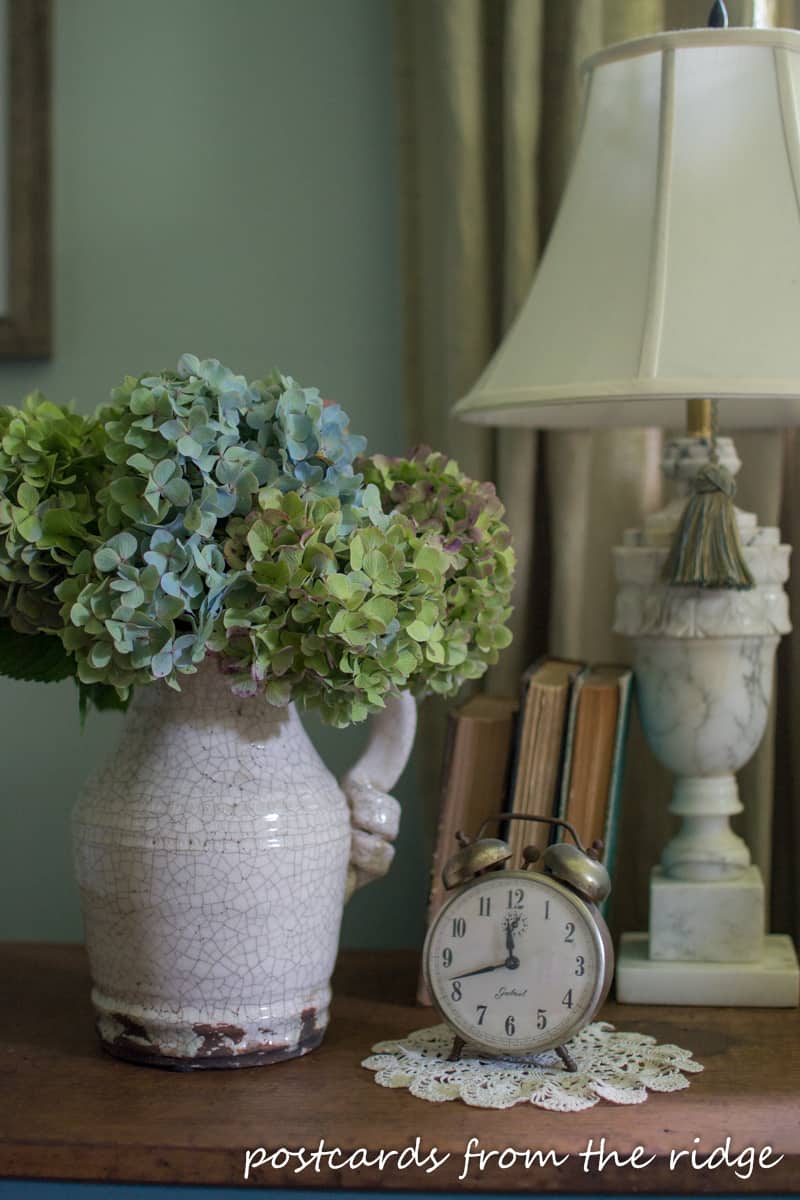 I recently shared some tips for adding farmhouse style to any bedroom and using old books was one suggestion. They add a nice touch of character and color to the mix.
5. On a tray
Part of our master bedroom summer decor last year was a tray on the bench at the foot of the bed that had some old books and other items.
6. In lieu of an accent table
Nowhere to set your coffee cup? No problem. Simply create a stack of books high enough to be used in place of a small table.
8. In a China hutch
Our valentine's hutch included old books along with old linens, dishes, silverware and more. To see the rest of it go to this post.
9. On top of a cabinet
Mary Alice at Chateau Chic also uses old books in her decor and they look beautiful on top of her antique cabinet. I love the way she tied them together with twine and raffia. To see more of her style go here.
10. As part of a tablescape
Jennifer at Town n Country Living has lots of beautiful decorating ideas including this tablescape that has old books and book pages. Isn't it charming?
11. Inside an unused fireplace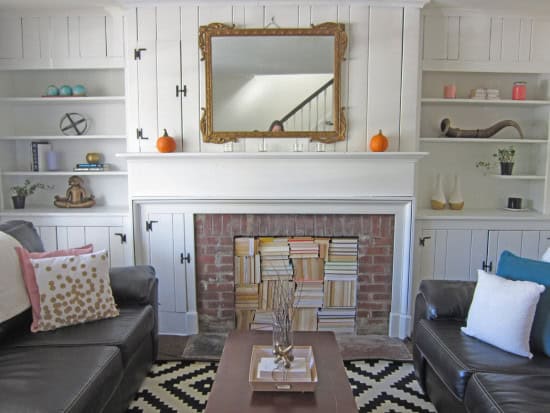 Roxanne at The Honeycomb Home got really creative and filled up a fireplace with old books in her daughter's rental apartment. Isn't it adorable? My daughters would love something like that.
12. As a Christmas tree
How cute is this?? Alice over at Thoughts from Alice made great use of a bunch of old books as a makeshift Christmas tree, complete with pompom garland and a star!! I love this!
13. As a base for a small accent decor
Need to add some height? Stack a few books and create a little pedestal for your accent pieces. See the rest of this sweet spring mantel here: Spring Mantel with Flowers and Vintage Finds
Here some more ways to use old books.
14. As a lamp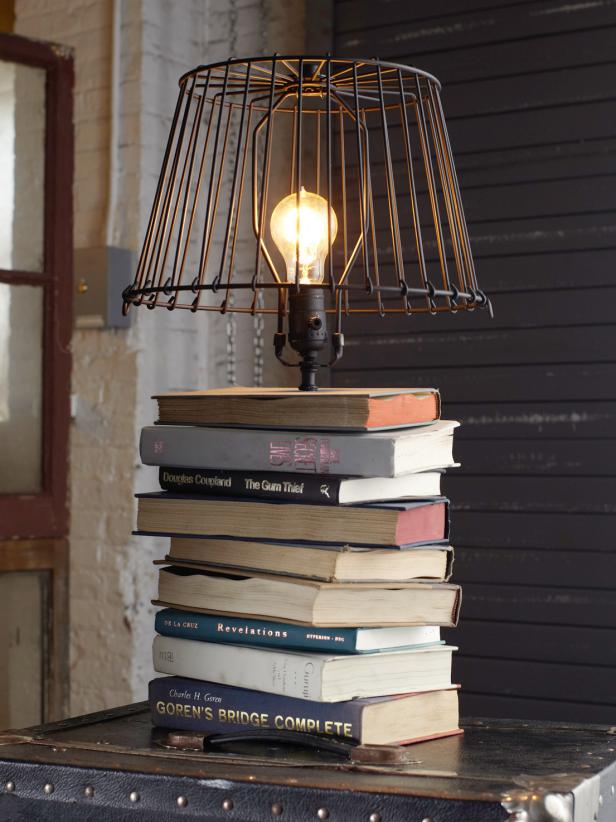 The creative folks at hgtv made a lamp from a stack of books. For the full tutorial, go here.
Want to repurpose or give your old books a makeover? You'll love these ideas.
15. Recovered with fabric
Angie at Knick of Time covered some of her books with ticking and dropcloth fabric. They look so cute. See how she did it in this tutorial.
16. Painted with metallic paint
For a more modern look, use some metallic paint on old books. Sherry at Savvy Apron shows you how to get this look in this post.
17. Covered with maps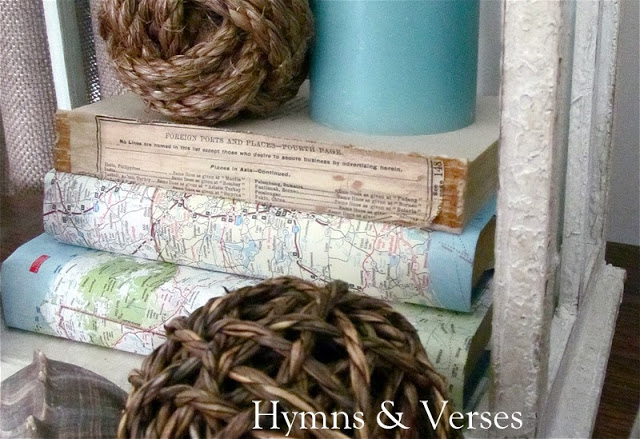 Going with a nautical theme? See how Doreen at Hymns and Verses got this fun look by following these instructions.
18. As Stocking hangers
Give your old books a completely customized look by creating the title and cover you want them to have. You can use any theme. See how Angie at Knick of Time created this holiday look in this post.
19. Upcycle the pages into leaves
Okay, so technically these leaves were made from vintage sheet music, but you could make them from old book pages as well. I used my Cricut maker for these and they could be cut free hand too. See how I made them here: DIY Paper Watercolor Leaves
20. As a shelf
Need some small shelves to display your collections? You can find how to make these at real simple.
21. As a planter
Darby smart shows you how to make a planter from an old book in this post.
And here are some wonderful crafts to make from old book pages. You could also use sheet music for these creations.
22. Made into a wreath
The texture and soft color of this book page wreath from Angie at Knick of Time is perfect for most any decor. See how she made it in this tutorial.
23. Used as a bird's nest
Wouldn't this be perfect for spring? See how Meegan at What Meegan Makes created this adorable bird's nest in this post.
24. Transformed into an apple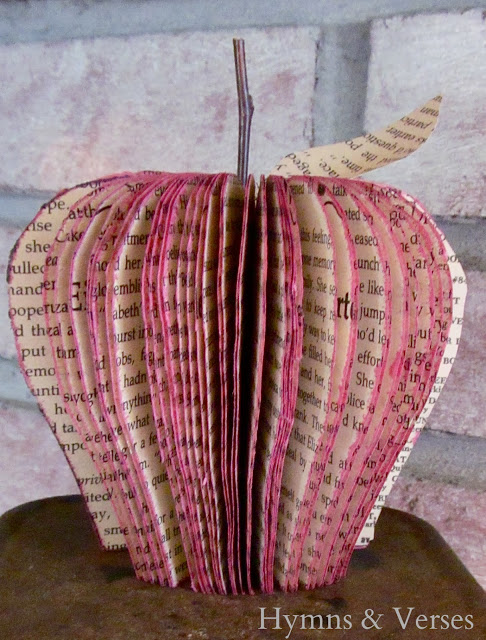 This fun book page apple would be the perfect addition to any fall vignette. See how Doreen at Hymns and Verses made it in this post.
25. Covering an old trunk
Give an old trunk a new look by covering it with book pages. Get the tutorial for this makeover by Mary at The Boondocks Blog in this post.
26. As placemats and table decor
Dress up your table and your mason jars with book pages. See how to create this sweet look by Diane at An Extraordinary Day in this post.
27. Into a wreath
This fun wreath made for a baby shower by Randy at Frugelegance is made with pages from childrens' books. See how she made it in this tutorial.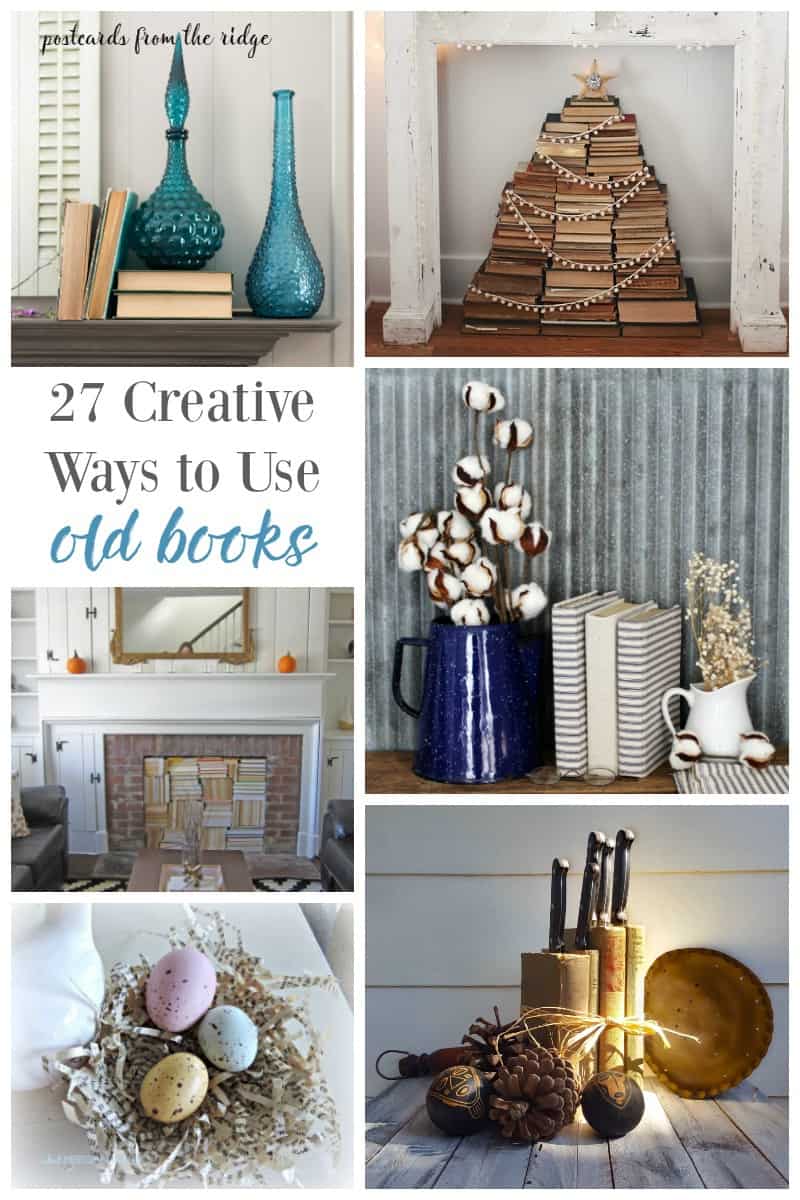 Wow, so many great uses for old books. The next time you see one, snag it and use it in your home decor. The possibilities of what to do with them are endless.
Besides thrift stores and estate sales, another great place for old books is etsy. To see the great selection, go here.
Books are only one of the things I look for at estate sales. To see what I hunt for, some of my favorite finds so far, and my tips for estate sale shopping, visit this post.
Have you used old books in your decor? How have you used them? Leave a comment below and let me know. I'm always looking for new ideas!
Thanks so much for dropping by.
XOXOX,
Angie


This post contains affiliate links for your convenience and to help keep this blog in operation. I may make a small commission from any item ordered but your price remains the same. For full disclosure, go here.