Spring Decorating Ideas with Flowers from the yard and Vintage Finds
I love decorating our home, especially when I can use flowers from our yard and vintage finds from my stash. Recently I decorated our family room mantel for spring, along with our entry, living room, and breakfast room and today I'm joining some of my blog friends and sharing some simple ideas for you to use in your home.
This post contains affiliate links for your convenience. If a purchase is made after clicking one of the links I might make a small commission. Your price does not change. For full disclosure, go here.
Be sure to keep reading until the bottom of the post and drop by my friends' blogs for more great ideas for spring decorating.
Here's our family room mantel. The shutters were some that I've had tucked away, waiting to be used somewhere. We took them off of a couple of bathroom windows when we bought the house and I always knew I reuse them somewhere. I didn't realize until I started to hang them up here that the two pairs were slightly different heights. And different colors. I did a light dry brush of some off white paint that I had and they look pretty much the same now. I simply attached them to the wall with screws.
TIP – Keep an eye out for old shutters at the thrift shop or at yard sales to recreate the look for your home. You can usually find them pretty cheap.
TIP – I made the wreath with an old grapevine wreath and some leaves I snipped from our magnolia tree. 30 minutes with a hot glue gun was all it took! If you don't have a magnolia tree or a nice neighbor who'll let you clip from theirs, you can find an artificial one here.
A few old books and some yellow and white narcissus flank the left side of the mantel.
I also added some dominoes in a vintage blue mason jar.
I love the yellow/orange center of these contrasted against the turquoise bottle.
TIP – You can usually find a variety of spring flowers at grocery stores.
Three small glass vases with dogwood clippings make up the center of the mantel.
The dogwoods aren't quite in full bloom yet but that didn't keep me from snipping a few and bringing them inside.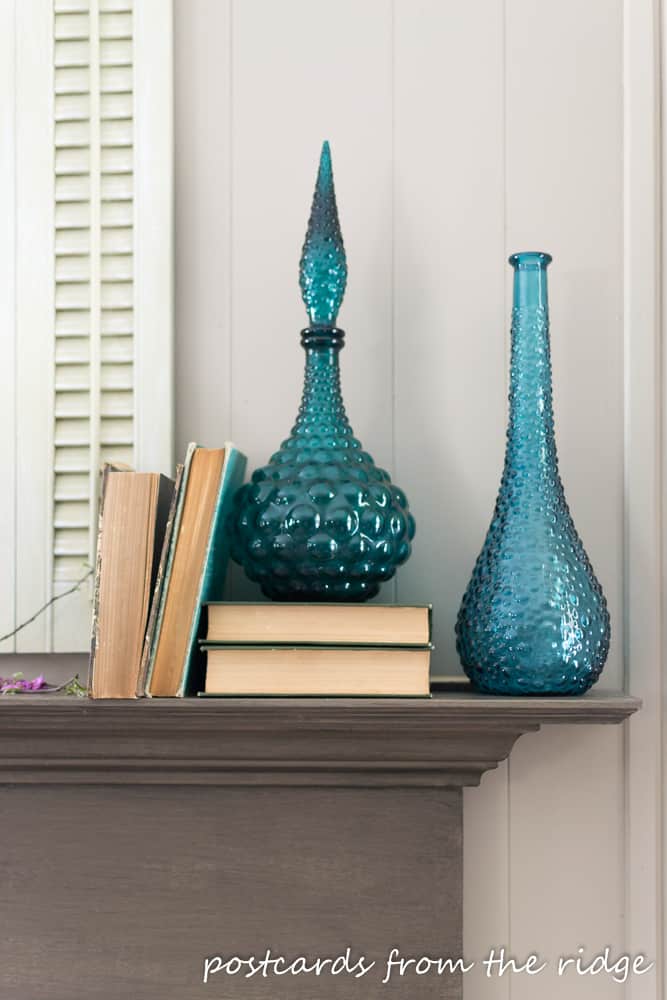 I have a thing for turquoise and have had these old bottles in my stash for a while. The shorter one belonged to my great aunt. It reminds me of genie bottle. I wish one would pop out and grant me 3 wishes!
The little redbud blossoms are so pretty and delicate. The old Arm & Hammer crate is one I picked up a few years ago from a tag sale.
TIP – Old wooden crates are fairly easy to find and are great to stack things on or inside of. You can find some here.
I clipped the branches the day before I photographed them and the blossoms were already wilting.
TIP – Flowering branches are such a nice, easy, and inexpensive way to add a spring touch to your decor. You can use so many different ones…redbuds, dogwoods, forsythia, quince, crabapple, peach, just to name a few.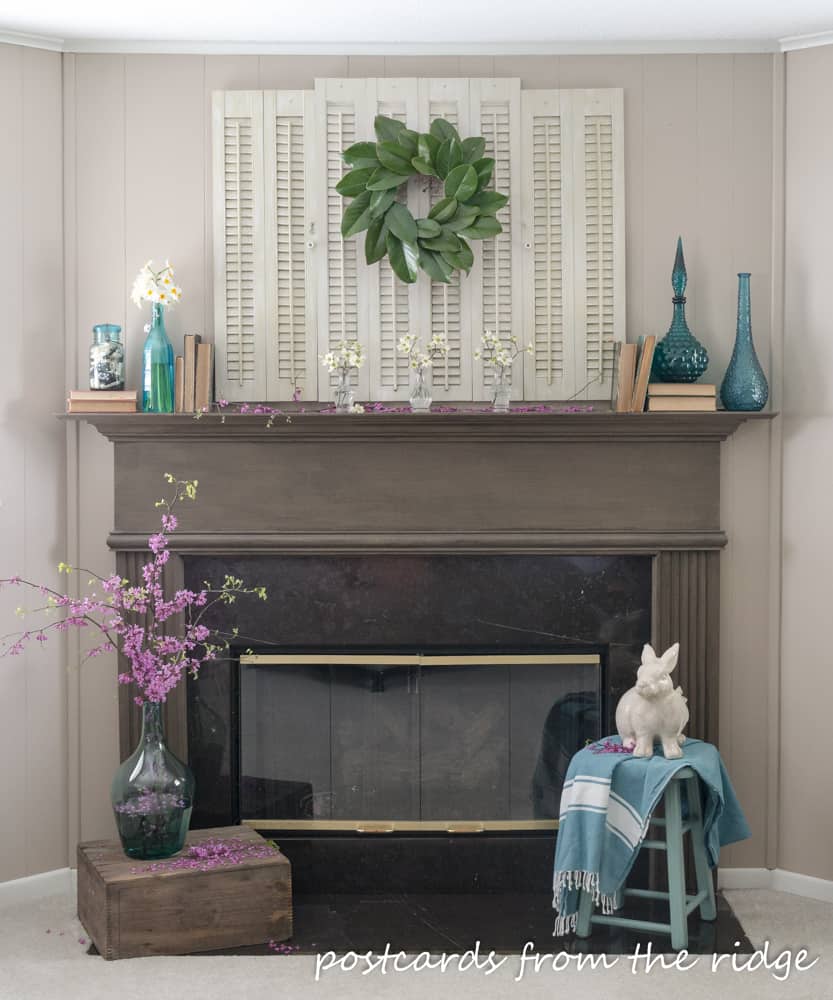 That's it for the spring mantel. I think that black marble might get painted soon. Would that be so wrong? It's been here forever and is just so dark.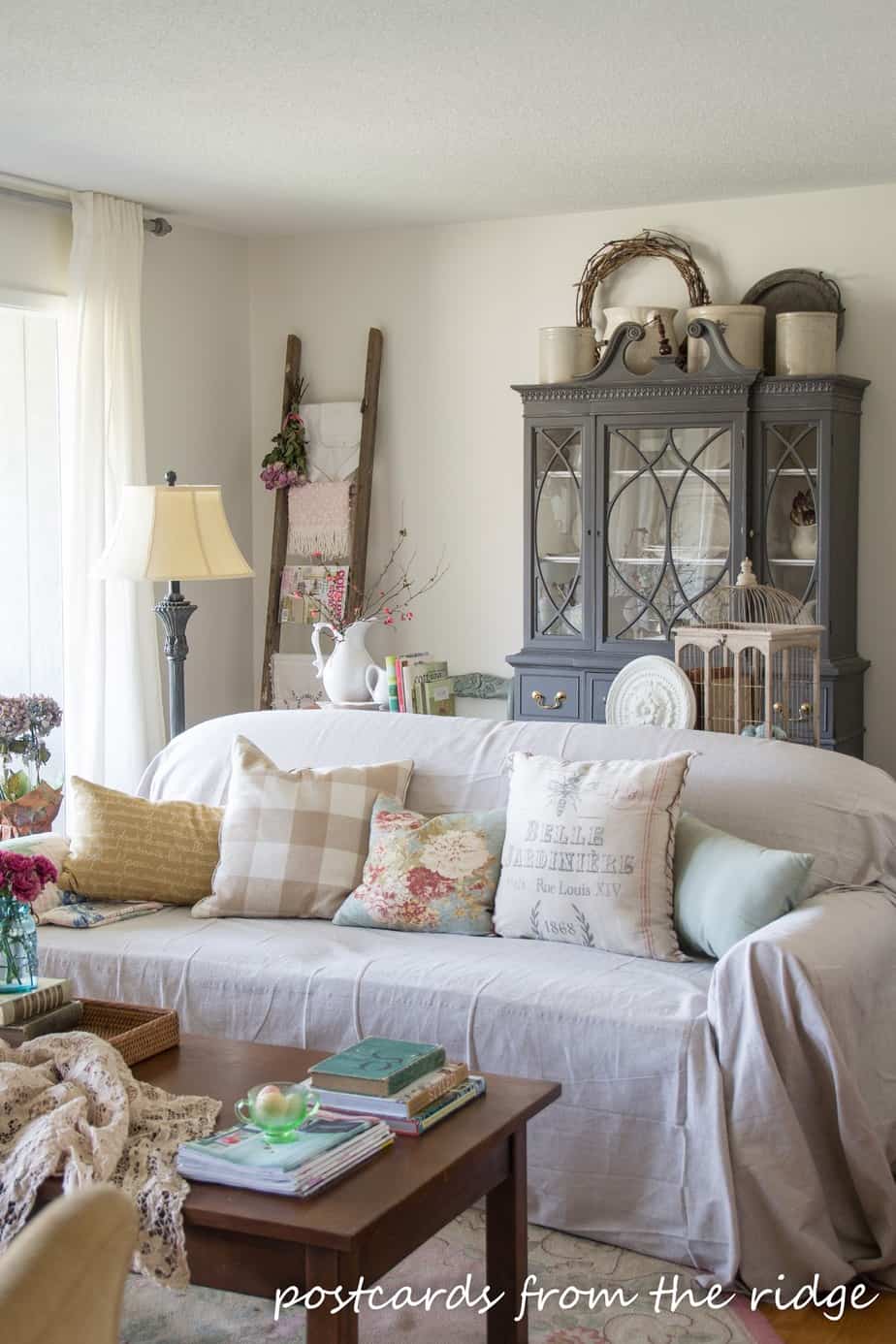 Here's how the living room looks for now. I rearranged everything in there and shopped the house for decor.
TIP – No need to buy new things for a new look. Just shop your home and move things from room to room. Rearranging the furniture can give you an entirely new look too.
TIP – Use a painters drop cloth as a slip cover if you want to give your sofa a new look. Get an extra large one and tuck it into the crevices.
I added some grocery store flowers to a vintage blue mason jar for a pop of color in here.
To see the details of this room, go here.
The entry has a new lighter look for spring too. Now that the warm weather is here we can grab our picnic basket and head to the park for an afternoon picnic. It could happen….
TIP – Old picnic baskets are great for storage. You can tuck them into corners or underneath tables or even in the top of closets.
See more of the entry here.
The breakfast room has a spring look as well.
TIP – Adding pastel colors and fresh flowers ligthen the mood in in any room.
Some lighter dishes and dried flowers make it easy to decorate the hutch for spring. See more of the breakfast room and hutch here.
That does it for our spring decor for this year. What are your favorite spaces and ways to decorate for spring?
Don't forget to continue to the bottom of the post and visit my friends for more spring decor ideas!!
Thanks for dropping by.
XOXOX,
Angie
If you're new here, sign up for email here or follow along here so you don't miss a thing:
Email * Facebook * Hometalk * Pinterest * Twitter * Instagram

For handy tips and tutorials, go here.


To see my painted projects, go here.

For tasty recipes from my kitchen, go HERE.
For some simple tips for capturing a great photo, go HERE.
Go here to learn about having an online design or color consultation.
And go here for dozens of photos, ideas and favorite paint colors.