Summer Updates to the Master Bedroom
Since hazy, hot, and humid are words commonly used to describe our summer weather, keeping things light and airy around here in the summer months is crucial. Anything we can do to lighten things up makes a difference especially when it comes to getting a good night's sleep.
This post contains affiliate links for your convenience. For full disclosure, go here.
I haven't shared pictures of the master bedroom in a long time and have made a few changes since then. The biggest upgrade? Our headboard. It really made a the room seem more finished even though not too much of it can be seen due to our Euro shams. Before this, we hadn't had a headboard in several years, I'm ashamed to say!
For the bedding, a white quilt and blue duvet cover folded at the bottom give the space a lighter feeling for the summer. I like to change out the colors seasonally with the pillows and throws. The blues and neutrals are perfect for creating a summer time feeling in here. The rug matches the wall color and doesn't get changed out.
The flowers give a pop of color to the white accents on my night stand. I found the flowers at Marshalls a couple of months ago for less than $10 and just love them here.
Over on the Mr's side I added a simple preserved boxwood topiary for color. It 's a nice item to have there any time of the year, really. The vintage lilac candy box was one that belonged to my father-in-law and there are postcards from his mother to him inside there from the 1940's.
I know, the throw isn't exactly lightweight, but it's one of my favorite things and I keep it out year round. At least it's a light color! And on nights when there's a little chill in the air I pull it up over me to keep warm.
On the bench at the foot of the bed I added a white tray from Ikea along with some old books, dried roses, and a monogrammed linen. It has a summer cottage look, wouldn't you say?
If you saw my summer home tour over at Shelstring blog then you've already seen these along with our summer decor in the living room and breakfast room. Go here to see more. And go here to see our summer front porch decor.
What are some changes you make to your home decor for summer? Comment below and let me know.
SHOP THE LOOK
*I'm currently traveling down to Atlanta for my 3rd Haven conference so stay tuned to see what I learn from there as well as the latest innovations from companies like Amy Howard Paint, Home Depot, Moen, Ryobi, LaZBoy Furniture, Home Decorator's Collection, Kirkland's, Modern Masters, and many more! It's always an exciting time.
I'll share more about it next week here and this weekend over on instagram. Follow along there to see real time happenings.
Have a great weekend!
Click each item for sources:
Headboard // Linen Euro Shams // White Quilt (similar) // Duvet Cover folded at the bottom of the bed (similar) // Rug // Preserved Boxwood Topiary (similar) //
Vintage lilac candy box // Cable Knit Throw (similar) // Bench (similar) // Monogrammed linens (similar)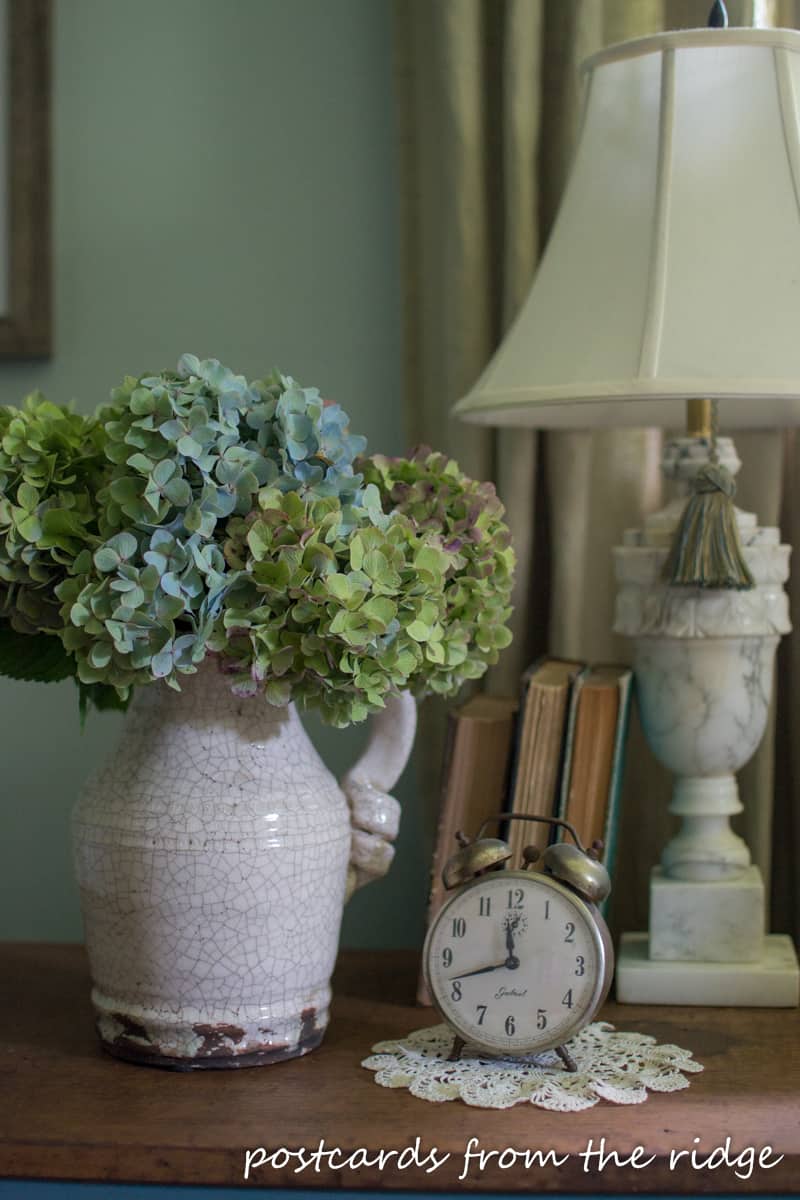 Update – We've made a few minor tweaks to the room and you can see them all by clicking HERE.
For more farmhouse decor ideas be sure to visit our virtual home tour here.
Sharing this post here:
Concord Cottage Something to Talk About Party
XOXOX,
Angie
If you're new here, sign up for email here or follow along here so you don't miss a thing:
Email * Facebook * Hometalk * Pinterest * Twitter * Instagram

For handy tips and tutorials, go here.


To see my painted projects, go here.

For tasty recipes from my kitchen, go HERE.
For some simple tips for capturing a great photo, go HERE.
Go here to learn about having an online design or color consultation.
And go here for dozens of photos, ideas and favorite paint colors.
Thanks so much for dropping by my little space on the world wide web!