A Dozen Different Flower Container Ideas
There's nothing like flowers and plants to make a place feel homey. They add such a nice cozy touch to any space, and you can almost always find pretty ones at the grocery store for a bargain. There are so many different ways to contain or display them and today I'm sharing a dozen different ideas, just in time for spring.
This post contains affiliate links for your convenience. If a purchase is made after clicking one of the links I might make a small commission. Your price does not change. For full disclosure, go here.
1. White Ironstone Pitcher
Tulips are a spring favorite and they come in so many pretty colors. I found these yellow tulips at the grocery store and simply added them to one of my white pitchers. There are so many styles of white pitchers available and they're perfect for flowers or branches.
2. Milk Glass Vases
For these mini carnations I used some vintage milk glass vases and grouped them together on a wooden cake plate as a centerpiece. So simple. The milk glass vases come in all shapes and sizes and are very inexpensive.
To see more photos of this Valentine's table setting, go here.
3. Silver Bowl
We got a set of these silver bowls as wedding presents 25 years ago. They're a bit tarnished, but I like them that way. We're not a shiny silver kind of family. I dried some roses that the Mr. gave me and snipped the buds off and added them to one of the silver bowls for a shabby chic look.
For more photos with these dried roses and the tiered table, go here.
4. Tall Glass Jug/Vase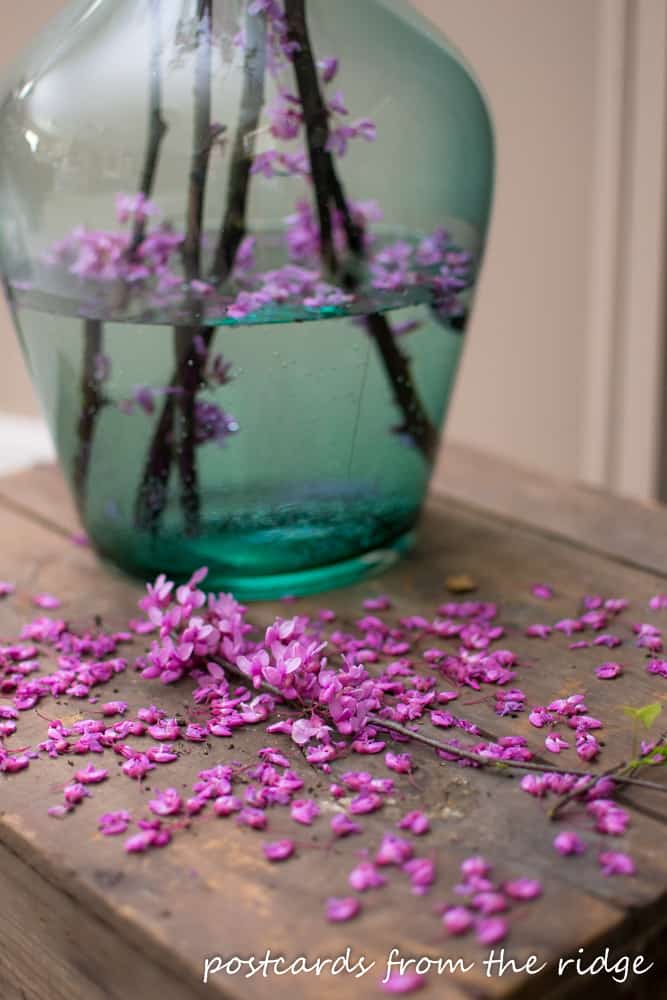 A tall blue glass vase is a great way to hold some artificial branches for a seasonal display. You could place any type of branch in one of these. I prefer dried or artificial ones because the vase would be really difficult to clean if you used fresh branches and added water. Maybe there's an easy way to clean it? I'd love any suggestions!
5. Vintage Olive Basket
My dad's beloved radio flyer wagon greets us on the front porch with seasonal flowers and decor. I usually have some type of flowers or branches in my olive bucket, which is one of my very favorite belongings. You could also use a metal watering can for branches or flowers.
Go here to see more of our summer front porch decor.
6. Mason Jar
Blue mason jars are perfect for spring and summer clippings. They have such a cozy farmhouse look and are perfect on a table, shelf, or just sitting pretty on your kitchen counter.
To see more of our summer lake party decor plus our fun photo booth, go here.
7. French Flower Bucket
A French flower bucket is a wonderful way to display branches or long stemmed flowers. You could put them in front of a fireplace or in a entry for a nice way to greet your guests.
Go to this post to see more simple Valentine's decor ideas.
8. Enamel Pitcher
A white pitcher full of flowers makes a great centerpiece. Simply stunning!
More of our summer decor can be seen here.
9. Vintage Amber Beer Bottles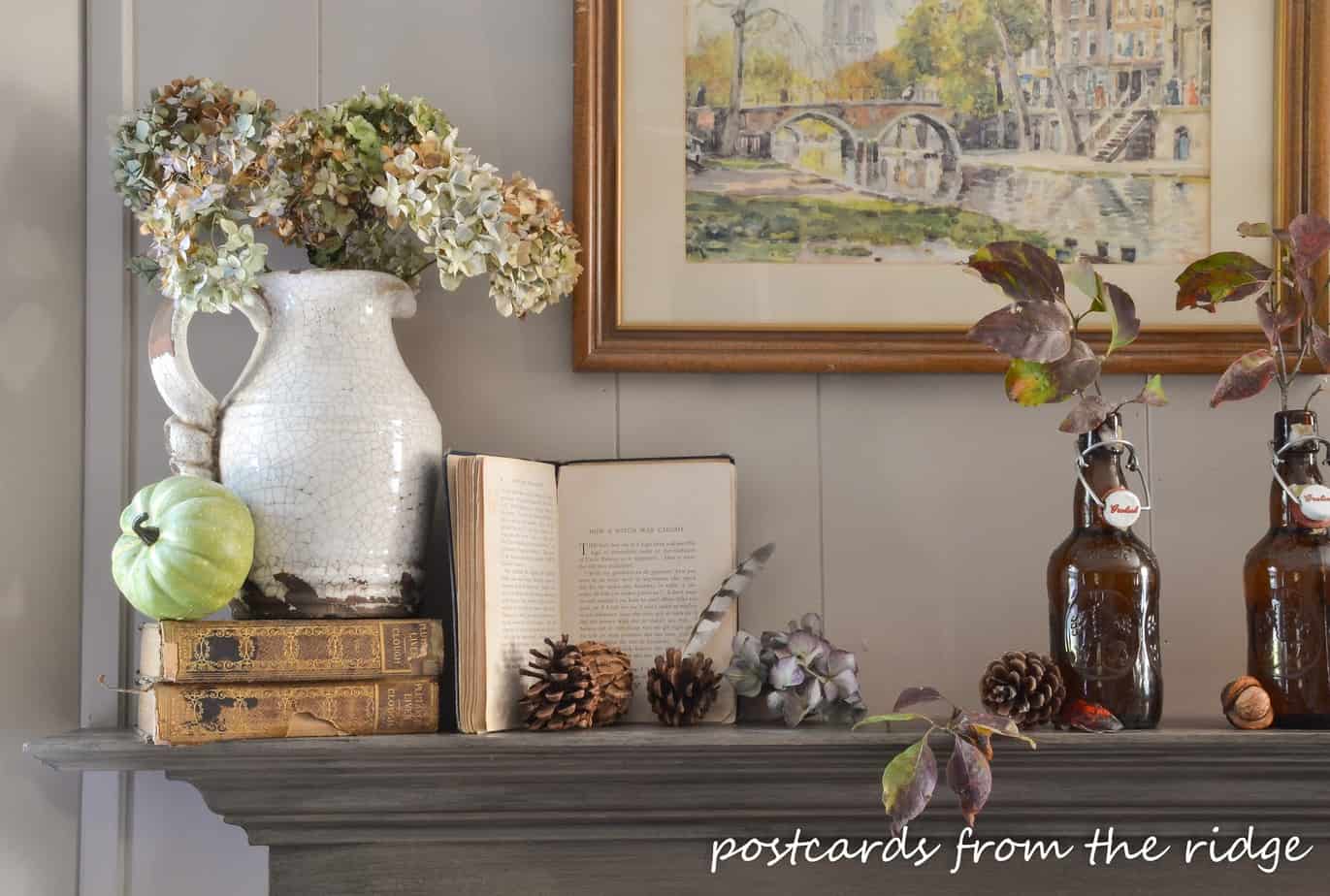 Amber bottles are a unique way to display stems or branches. I decorated our fall mantel with these last year and loved the rich color of the bottles paired with the fall colors on some dogwood branches.
To see the entire vintage themed fall mantel, go here.
10. Vintage Metal File Box
A vintage metal file box is a fun place for some succulents. We had this on our front porch last summer as a fun greeting for our guests.
For more summer front porch ideas, go here.
11. Empty Wine Bottle
Hang on to some empty wine bottles to use as vases. They're perfect for a couple of long stemmed roses.
12. Vintage Medicine Bottles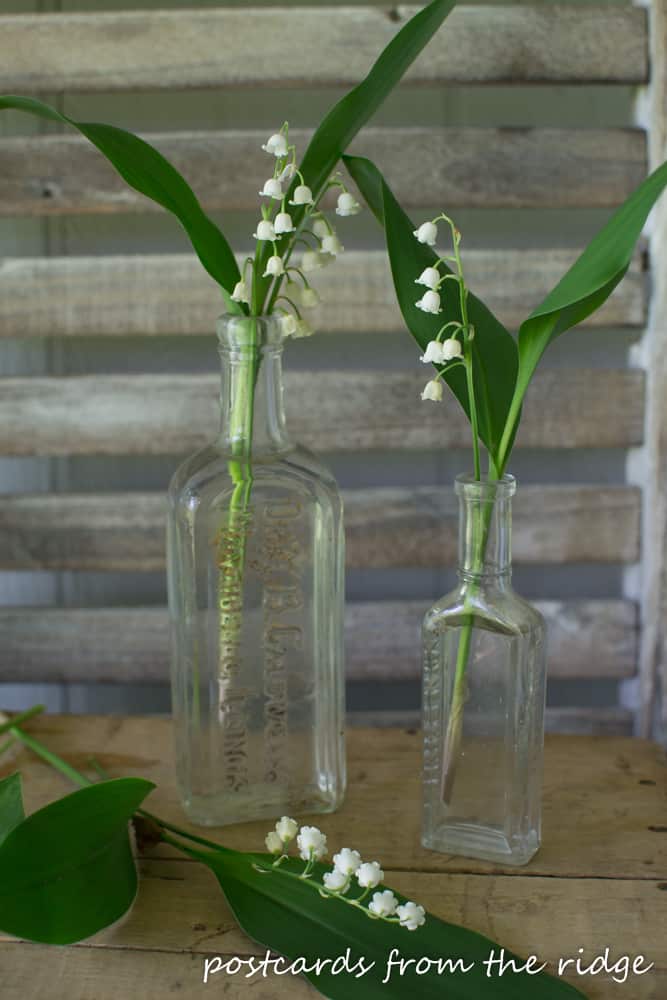 Clear glass extract bottles are another nice way to display your flowers. These lilies of the valley are the perfect size for the petite bottles.
There are so many other items that would be great as flower containers. Just a few that come to mind are vintage medicine bottles, insulators, or even kitchen colanders. What are some fun containers that you use for flowers?
Sources (click the item)
Thanks so much for dropping by!
XOXOX,
Angie
If you're new here, sign up for email here or follow along here so you don't miss a thing:
Email * Facebook * Hometalk * Pinterest * Twitter * Instagram

For handy tips and tutorials, go here.


To see my painted projects, go here.

For tasty recipes from my kitchen, go HERE.
For some simple tips for capturing a great photo, go HERE.
Go here to learn about having an online design or color consultation.
And go here for dozens of photos, ideas and favorite paint colors.