New Furniture Arrangement and Spring Decor in the Living Room
The 8th time's the charm. Or something like that. I'm pretty sure this is the 8th different furniture arrangement I've tried in our extremely awkward living room and it's the first one I've really, truly loved. With a wall of floor to ceiling windows, a fireplace, and 2 large openings, arranging furniture in here has given me fits since we moved in almost 10 years ago. But I recently spent a couple of days moving things around, purging pieces from the room, shopping the rest of the house for decor, and editing, editing, editing. Come on in and see how it looks now.
This post contains affiliate links for your convenience. If a purchase is made after clicking one of the links I might make a small commission. Your price does not change. For full disclosure, go here.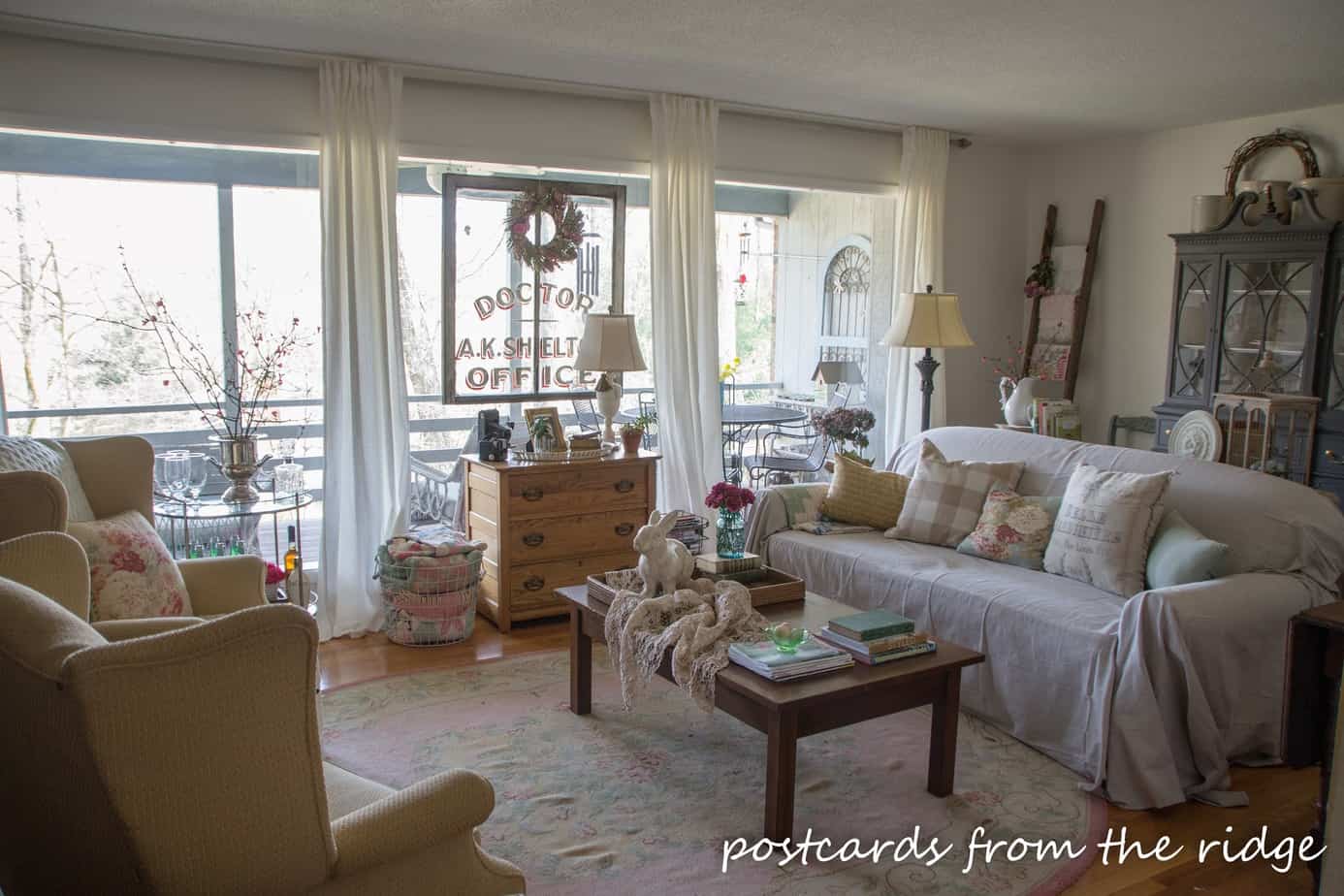 This is the view of the room looking in from the entry. It's all decked out for spring now. Out of view is a brick fireplace on the left behind the wingback chairs. And there's an opening into the breakfast room next to that. It's a long and narrow space with 1 1/2 full, unobstructed walls so it's been a real challenge to make it work.
We have a China cabinet in here because the house doesn't have a dining room and we rearrange this room and use it for entertaining when we have dinner parties. It's a lot of work, but really does make a nice dining room!
I shopped the house and used things from my hoard stash. A vintage lace tablecloth makes a nice place for the crackled bunny to sit.
A mix of pillows liven up the slip covered sofa.
I added this vintage hooked rug that I found it at an estate sale 7 or 8 years ago. I don't usually decorate with pink, but I love to use it in the spring.
A painted ceiling medallion and a vintage looking birdcage rest on a table behind the sofa.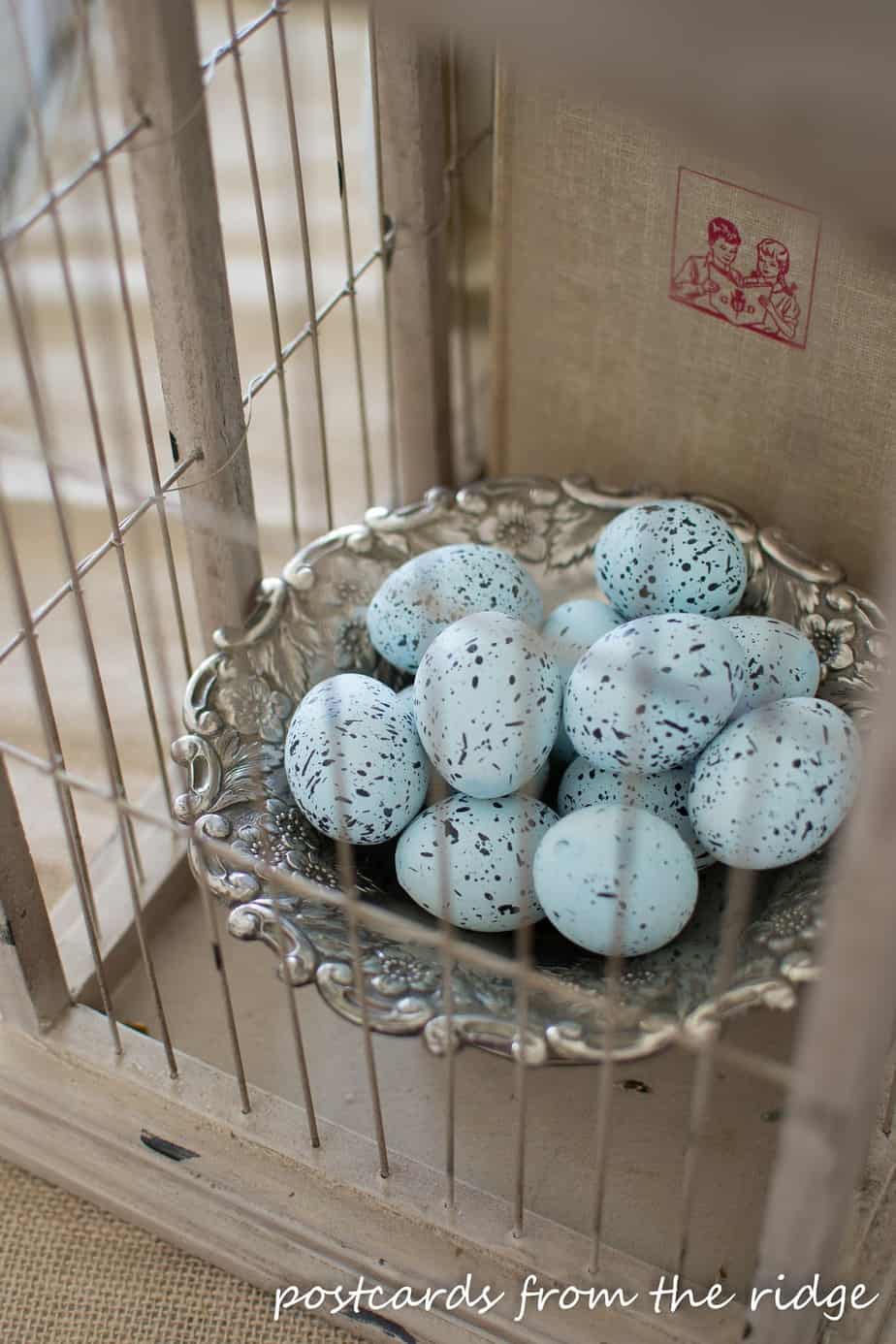 Some ceramic robin's eggs are nestled in a vintage silver bowl.
Some quince branches from the yard, vintage ironstone pitchers, and some colorful books brighten up the other end of the sofa table.
I rounded up my vintage crocks and added them, a grapevine wreath, and a round wooden tray to the top of the china cabinet.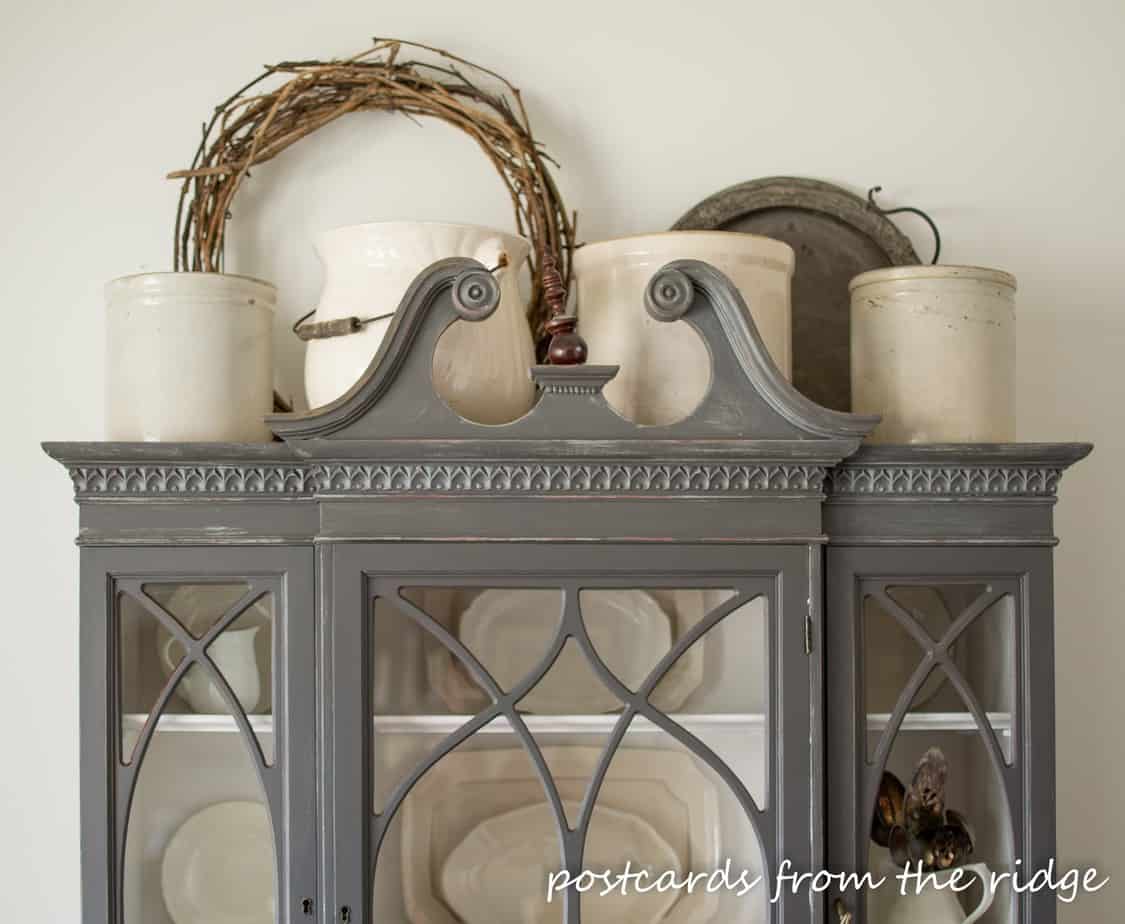 I painted the china cabinet last year and haven't shown it since the redo. I added some cream platters and dishes along with some vintage silver for a subtle vintage touch.
I borrowed the old ladder from the guest bedroom and added some vintage linens and textiles and some dried roses.
I have a nice collection of vintage chenille and embroidered linens that have been boxed up, waiting patiently for me to find a way to use them. I love having them out where I can see them everyday.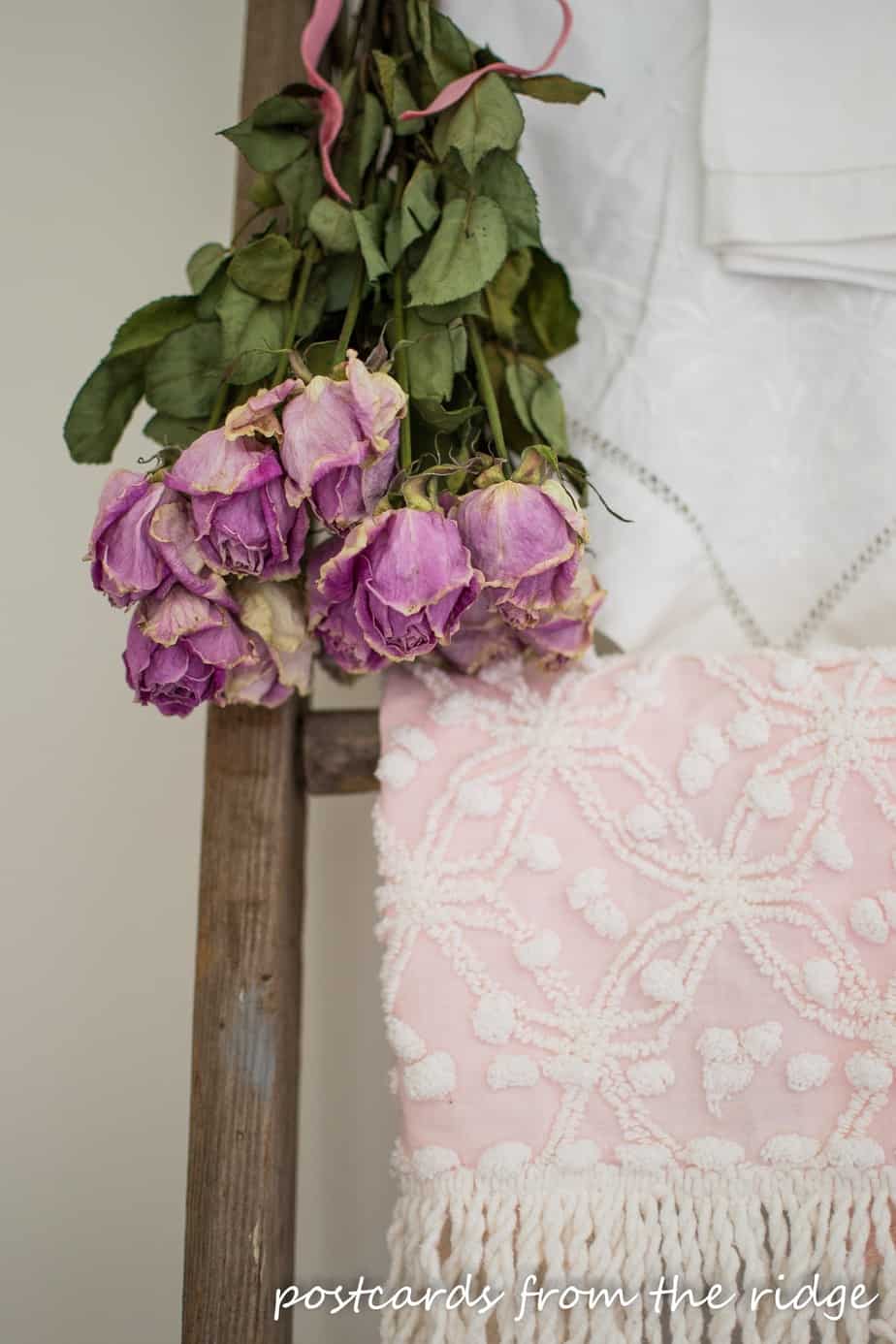 The Mr. bought roses for me and the girls for Valentine's day and I dried them and hung them on the ladder.
There was a sale 2 houses up the street from me a couple of weeks ago and I got there early and snagged this trophy champagne bucket and a couple of other vintage silver items. Happy dance! I've been wanting one of these for a while now and was thrilled to get it. It graces the top of our mid century bar cart, which also came from an estate sale about 5 years ago.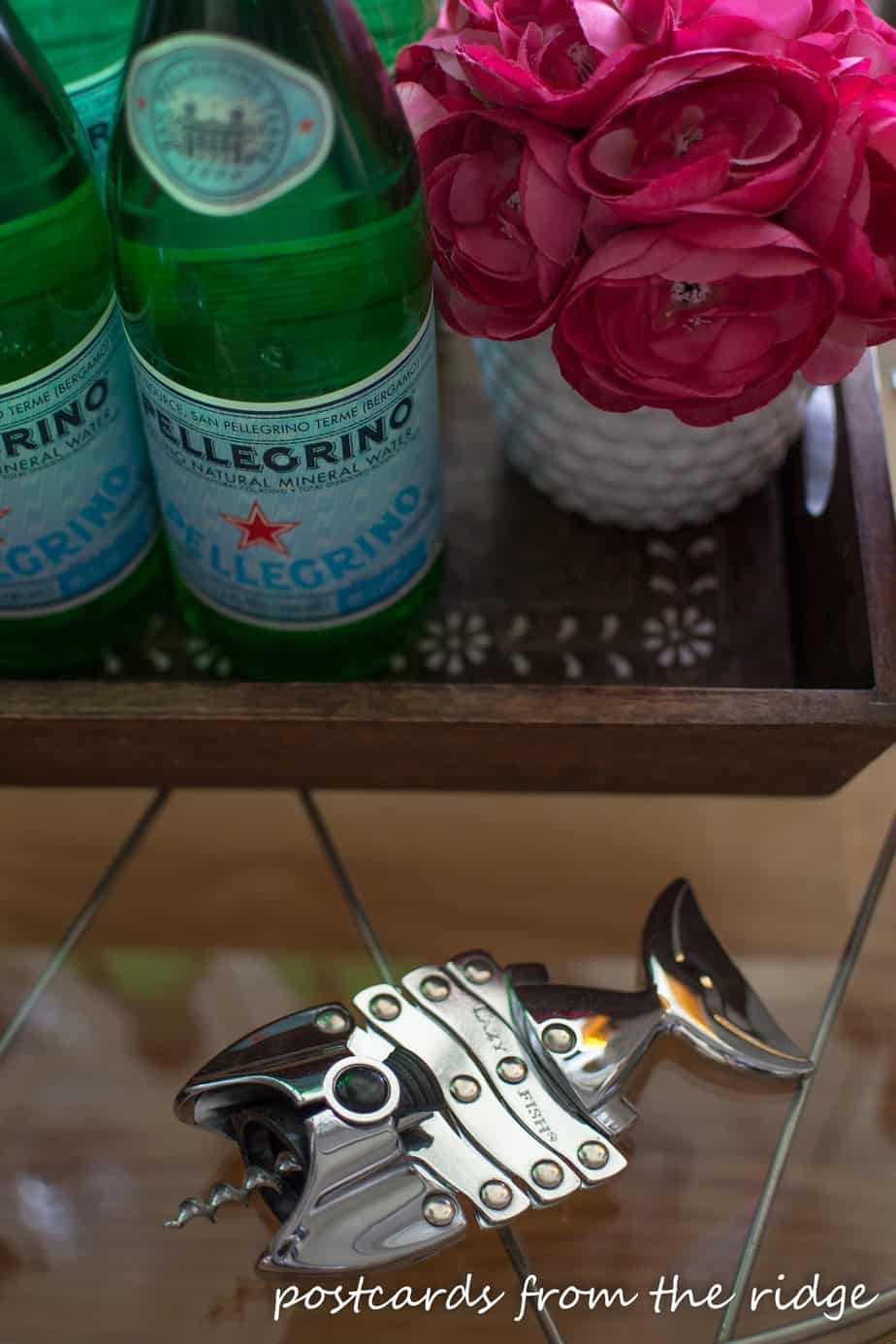 On the bottom of the bar cart I added some sparkling water and silk flowers to a small wooden tray. And here's my funky fish wine bottle opener. Isn't it fun?
Next to the bar cart I placed a vintage oak chest. It was in the entry but I really love it in front of the window. A couple of vintage cameras and some other collected items decorate the top of it.
Also from my stash, vintage quilts. I used my pastel colored ones.
The quilt top you see here is one that my great grandmother pieced together. A few of my quilts are heirlooms, but most of them are just ones that I've found while treasure hunting.
These are the carnations that are in the first photos. I picked them up at the grocery store the other day and just knew that they would be perfect in a vintage blue mason jar. I took them out on the deck for an impromptu photo shoot. Aren't they pretty?
This concludes the tour of the spring living room. I'm really enjoying the space and the items that are in there.
Have you done any spring decorating? Do you shop what you have or add new things?
Thanks so much for dropping by!
Sharing this post at Feathered Nest Friday
XOXOX,
Angie
If you're new here, sign up for email here or follow along here so you don't miss a thing:
Email * Facebook * Hometalk * Pinterest * Twitter * Instagram

For handy tips and tutorials, go here.


To see my painted projects, go here.

For tasty recipes from my kitchen, go HERE.
For some simple tips for capturing a great photo, go HERE.
Go here to learn about having an online design or color consultation.
And go here for dozens of photos, ideas and favorite paint colors.