Affordable DIY Artwork Inspired by Pottery Barn ~ Rock Your Knockoff
Let's face it. Artwork can get expensive. But bare walls are just plain boring. So what's a design loving, DIY girl to do? Make your own, that's what. Today I'll show you how and it's so simple that you don't even need a paint brush or power tools. It's all part of our Rock Your Knockoff Tour that some of my favorite blog friends and I are participating in.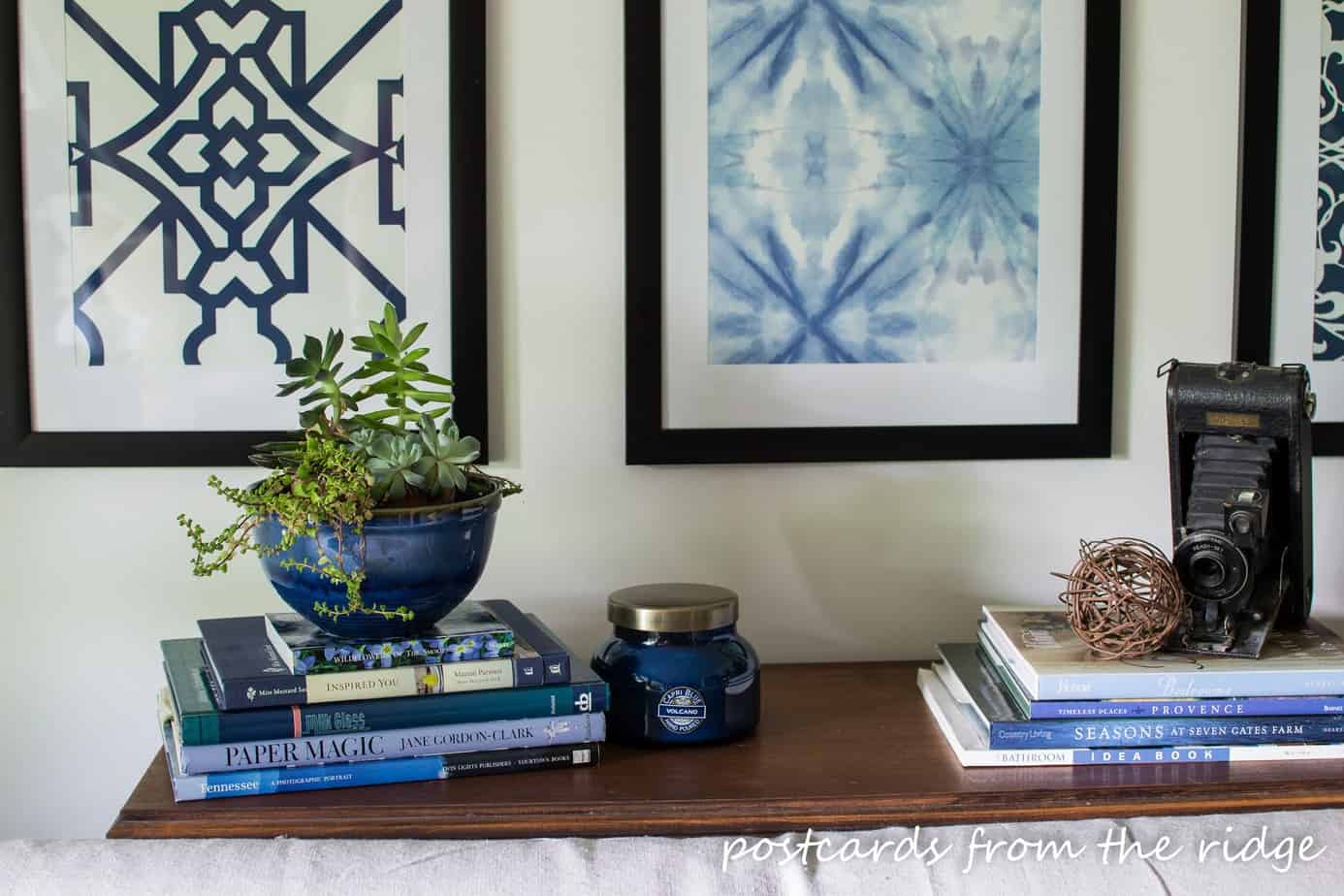 This post contains affiliate links for your convenience. For full disclosure, go here.
I always look forward to getting the Pottery Barn catalog in the mail. They have a great style that's comfortable and classy at the same time. Several things in our house have come from there, but I usually wait until what I want is on sale. (Check out their current sales here → Pottery Barn Sale) For this Rock Your Knockoff Tour, I scoured the catalog and fell in love with their blue ikat set of artwork. But I didn't fall in love with the price. So it's the inspiration for my project.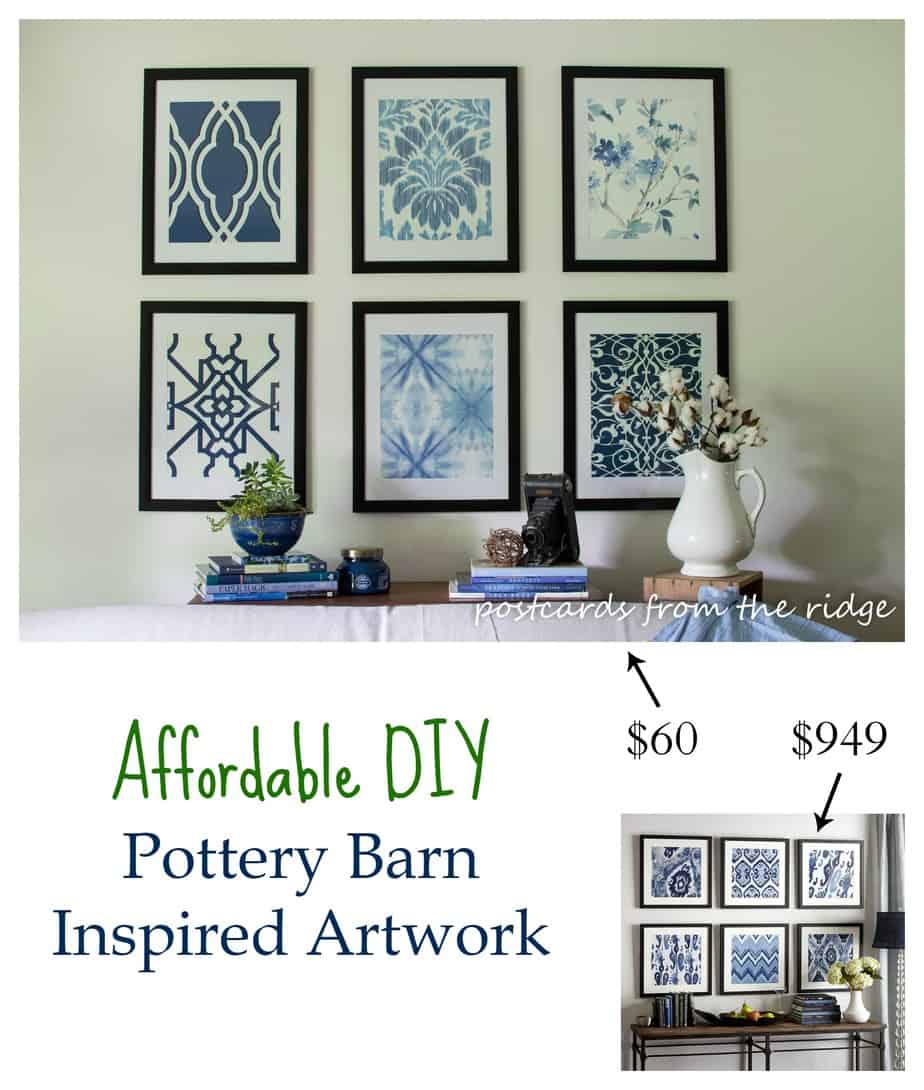 For the Knockoff Tour, we find something we love and make our own version of it. Be sure to visit all the other projects at the bottom of the post after you finish here. There's lots of inspiration today!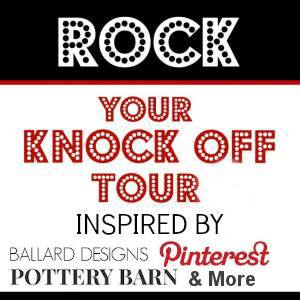 So here's my project: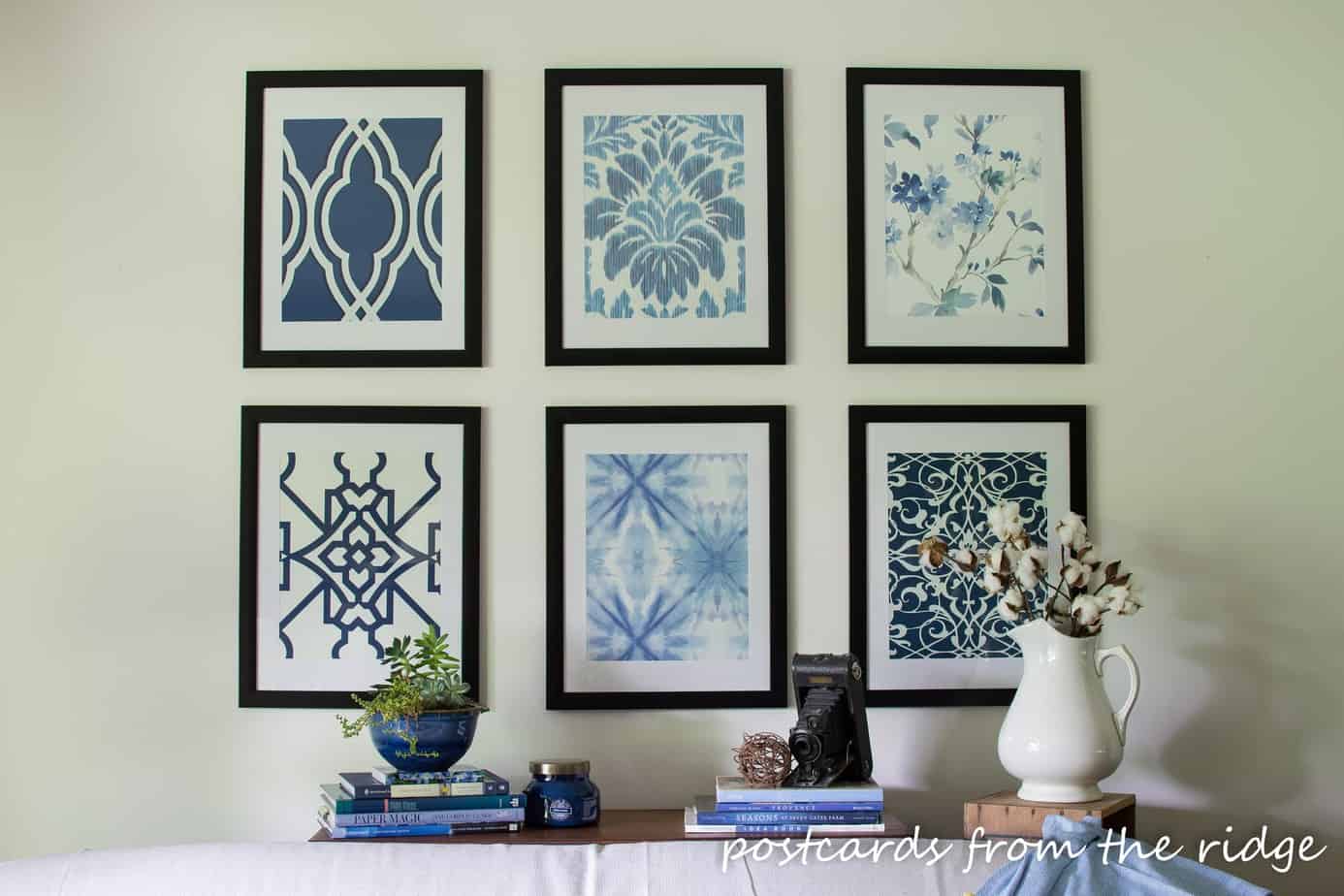 It cost me a few hours and around $60 for all 6 prints.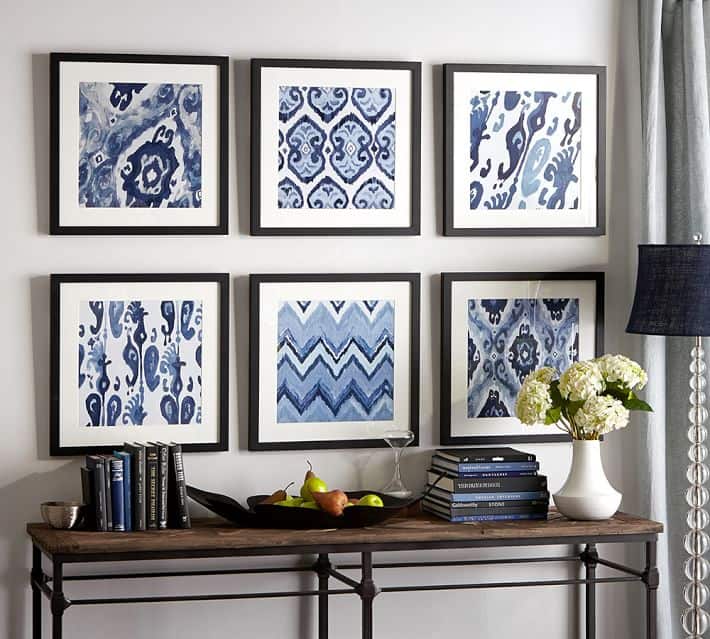 Their version. The frames are square and larger, and the prints are different. And the cost for all 6 is $949. I like them, but not that much. So I decided to make my own as part of our Knockoff Tour. You can see their version here.
Supplies needed:
Wallpaper, scrapbook paper, or thicker wrapping paper. You could also use fabric. Wallpaper samples can be ordered HERE.
Scissors
Picture hooks or nails
Pen or pencil
Plain paper
Hammer
Blue tape (or some type that wont' be too sticky)
level
screwdriver to remove the back of the frame


How to make your artwork:
1. Gather your supplies. I wanted 6 prints so I used 6 different wallpaper samples.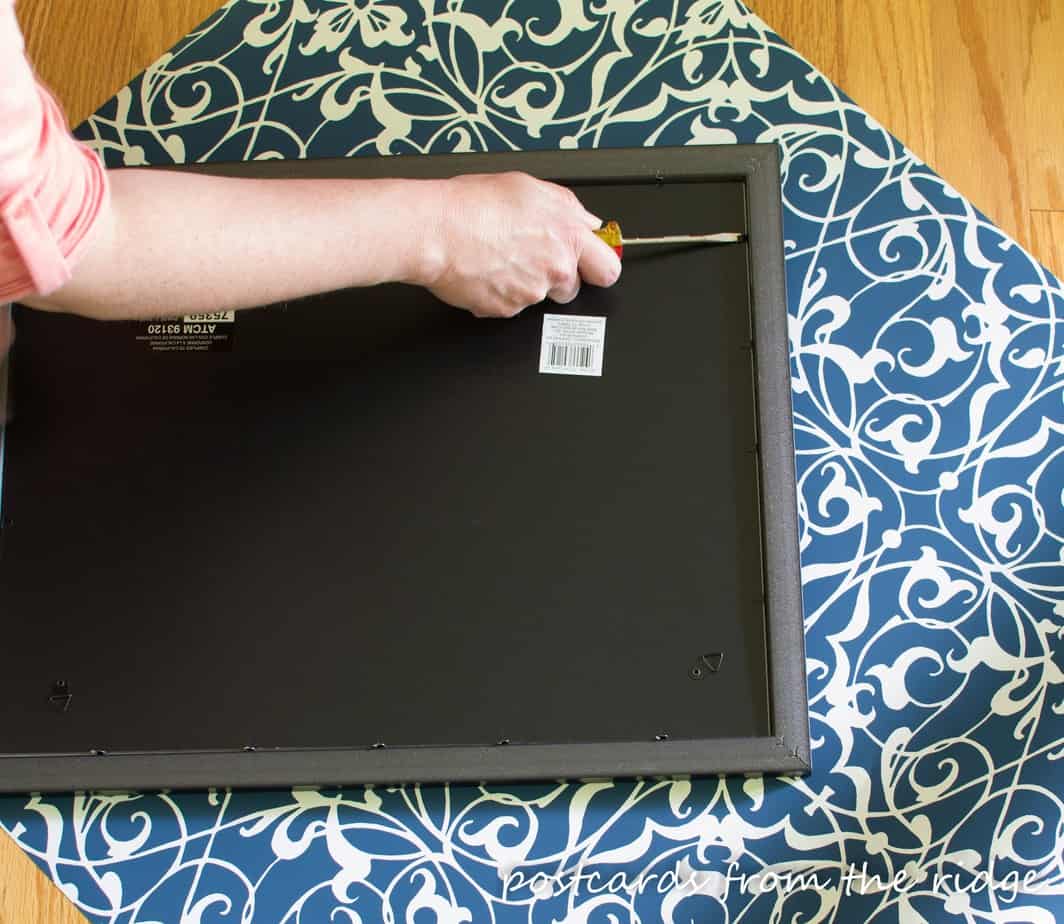 2. Remove the back of your frame(s) and take out the glass.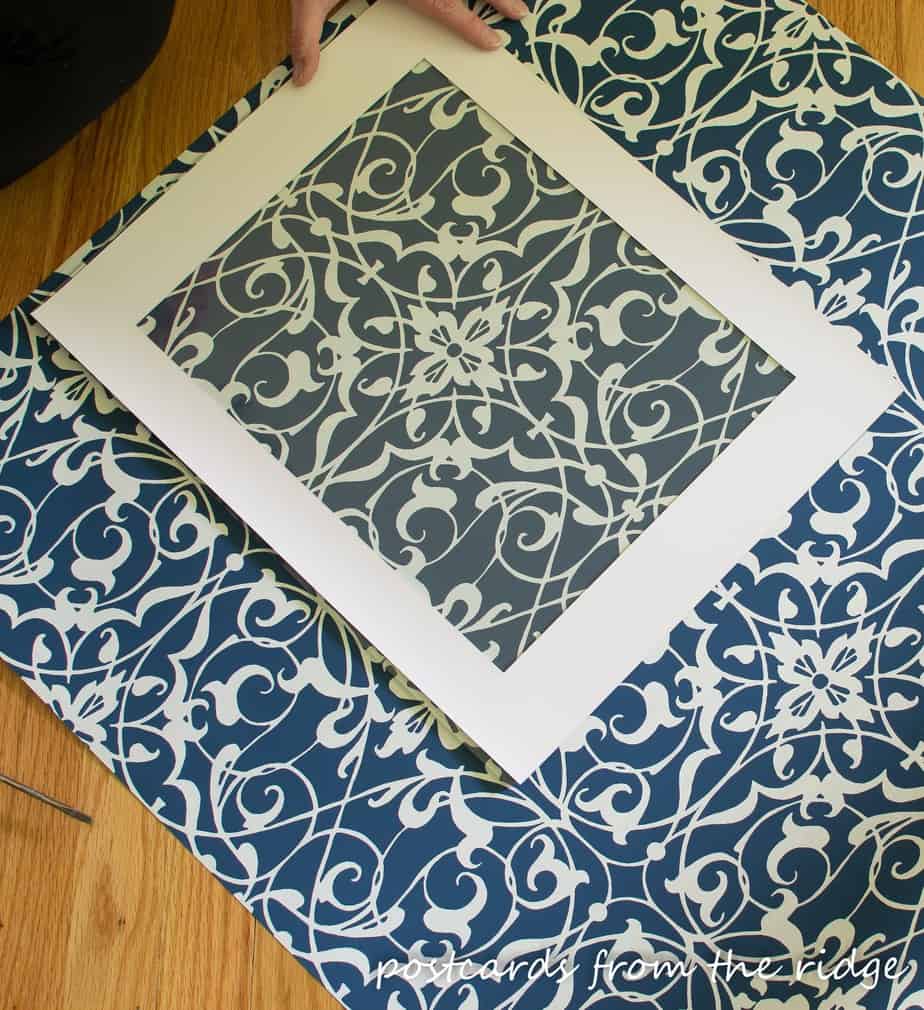 3. Place the glass from the frame over the part of the print you want centered and then trace the outline of the glass. Next, cut it out and insert into your frame. Repeat for all the prints you're framing.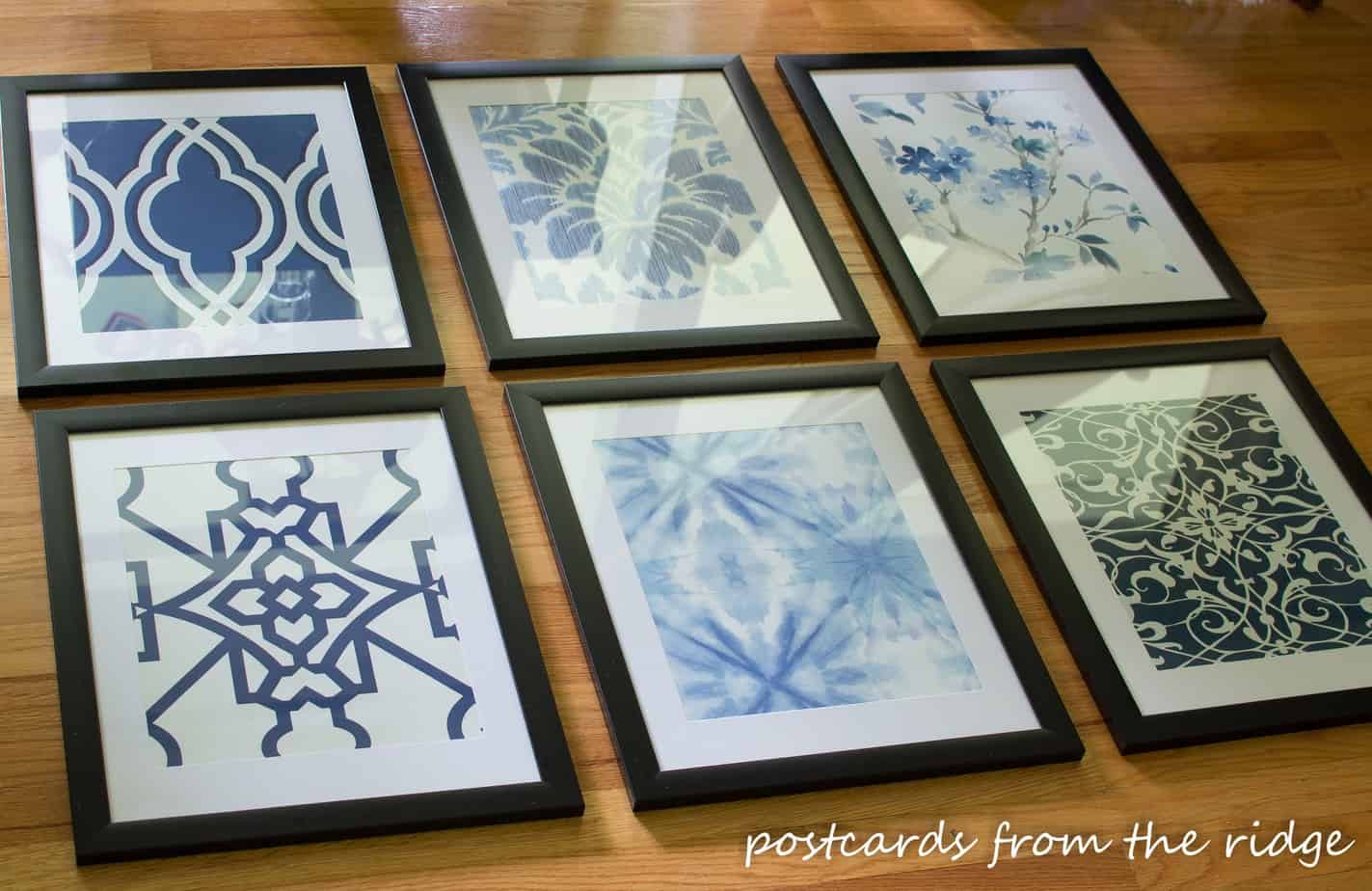 4. Once you're finished framing the prints, lay them out on the floor to decide how you want to hang them.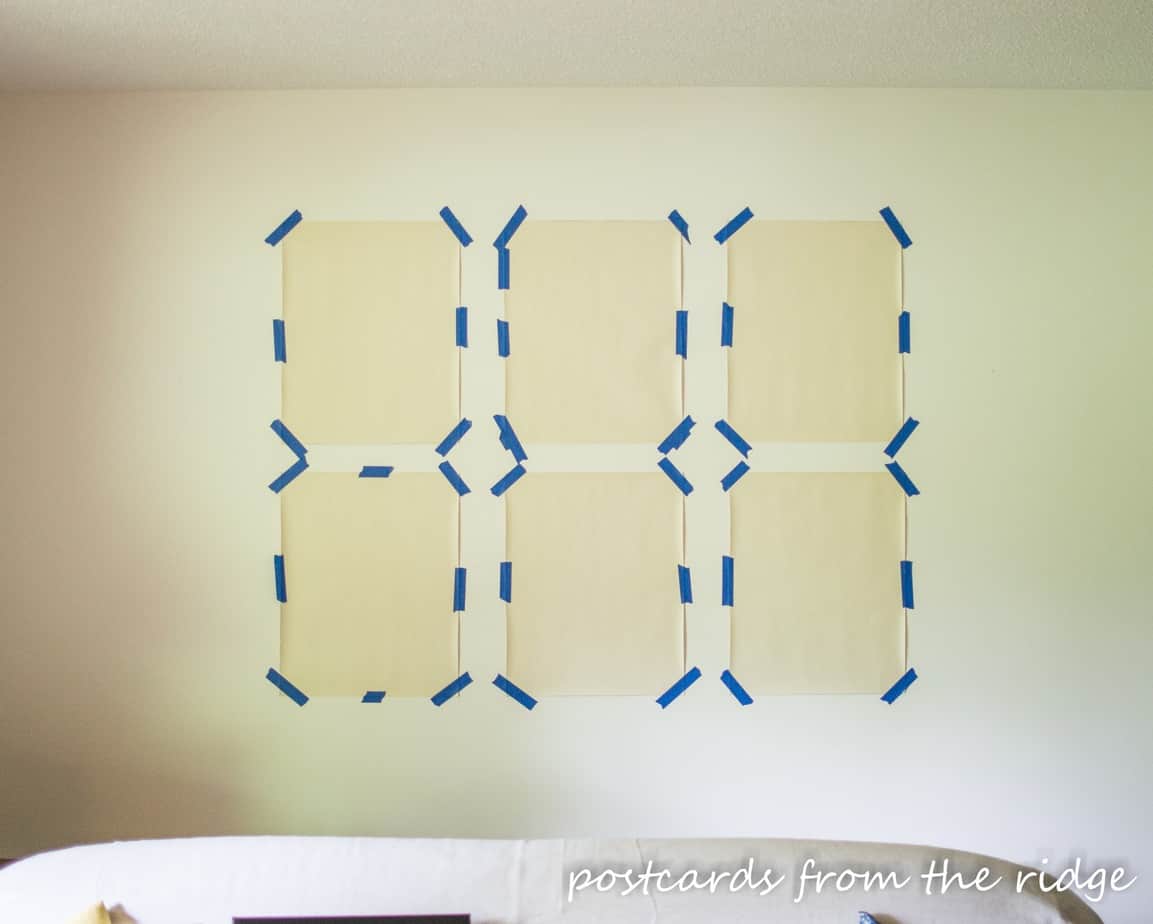 5. The most difficult part is getting them straight on the wall. For this layout, cut out paper pieces (after tracing the frame) for each of the prints and place them on the wall where the prints will be hung. Make sure they're level and spaced the way you want them, then tape them to the wall with removable tape.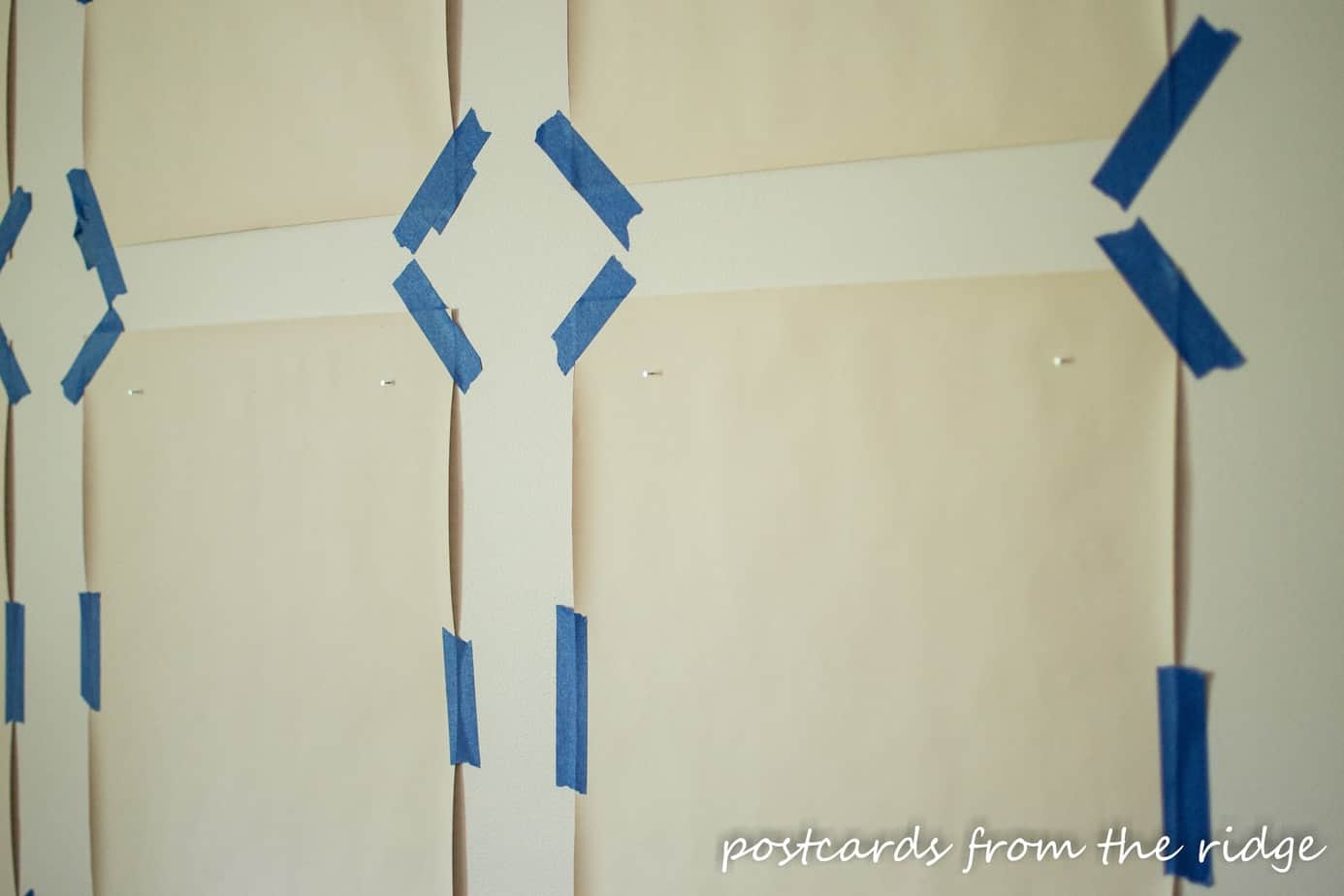 6. Next, determine where your picture hooks or nails need to be placed and hammer them into the wall. Then remove the paper and tape.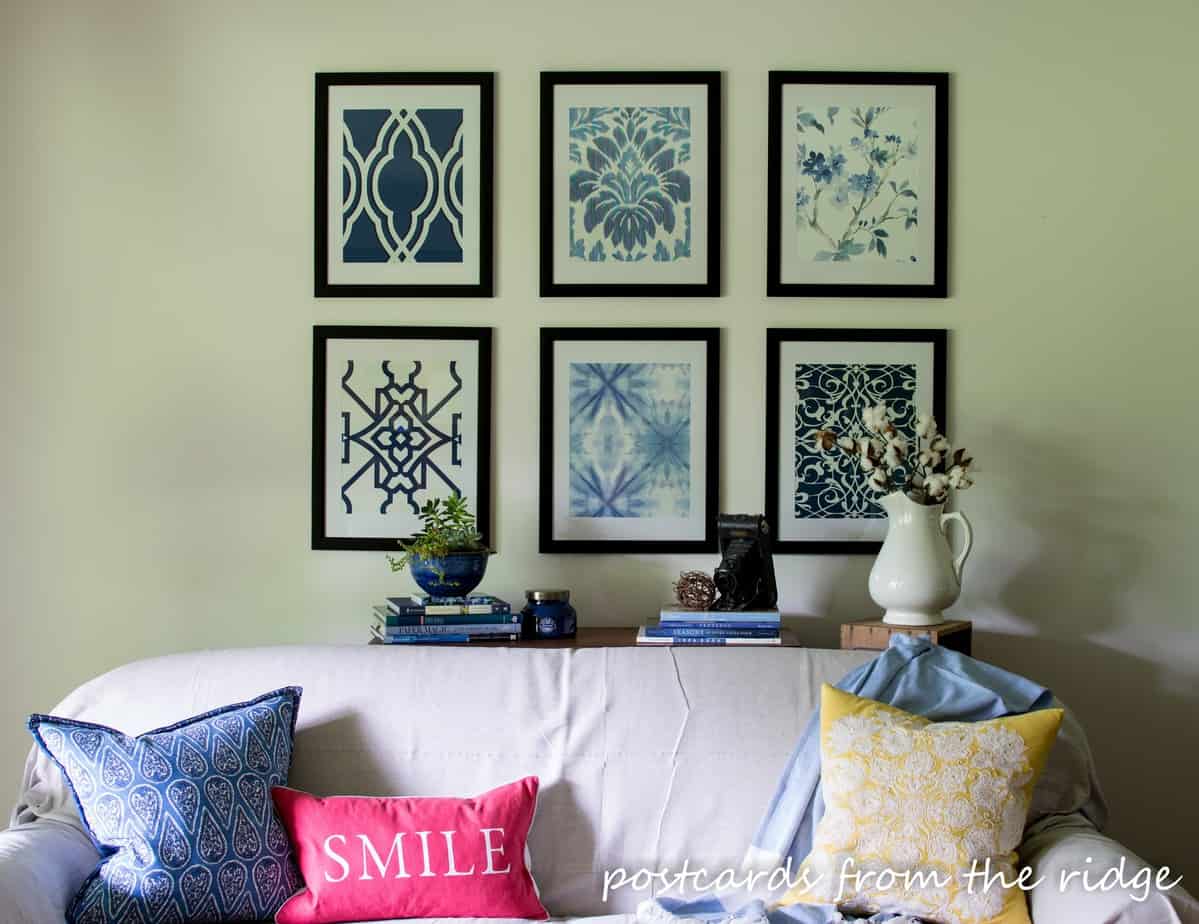 7. Hang up the prints, then step back and admire your affordable artwork! One of the nice things about this artwork is that when you get tired of looking at it, you won't feel one bit guilty for changing it out to something different.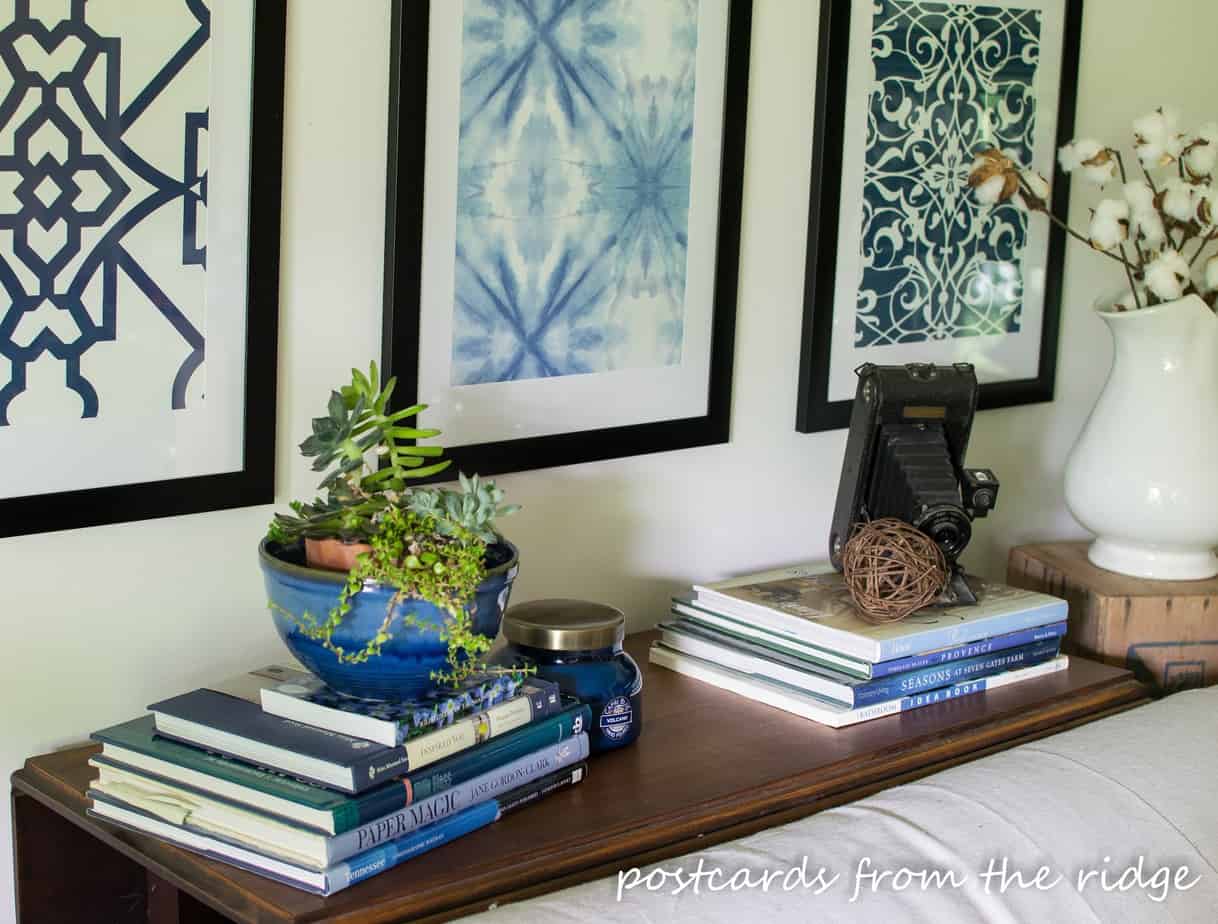 Since I was trying to recreate the look in the catalog, I even styled it somewhat like they did with the blue books.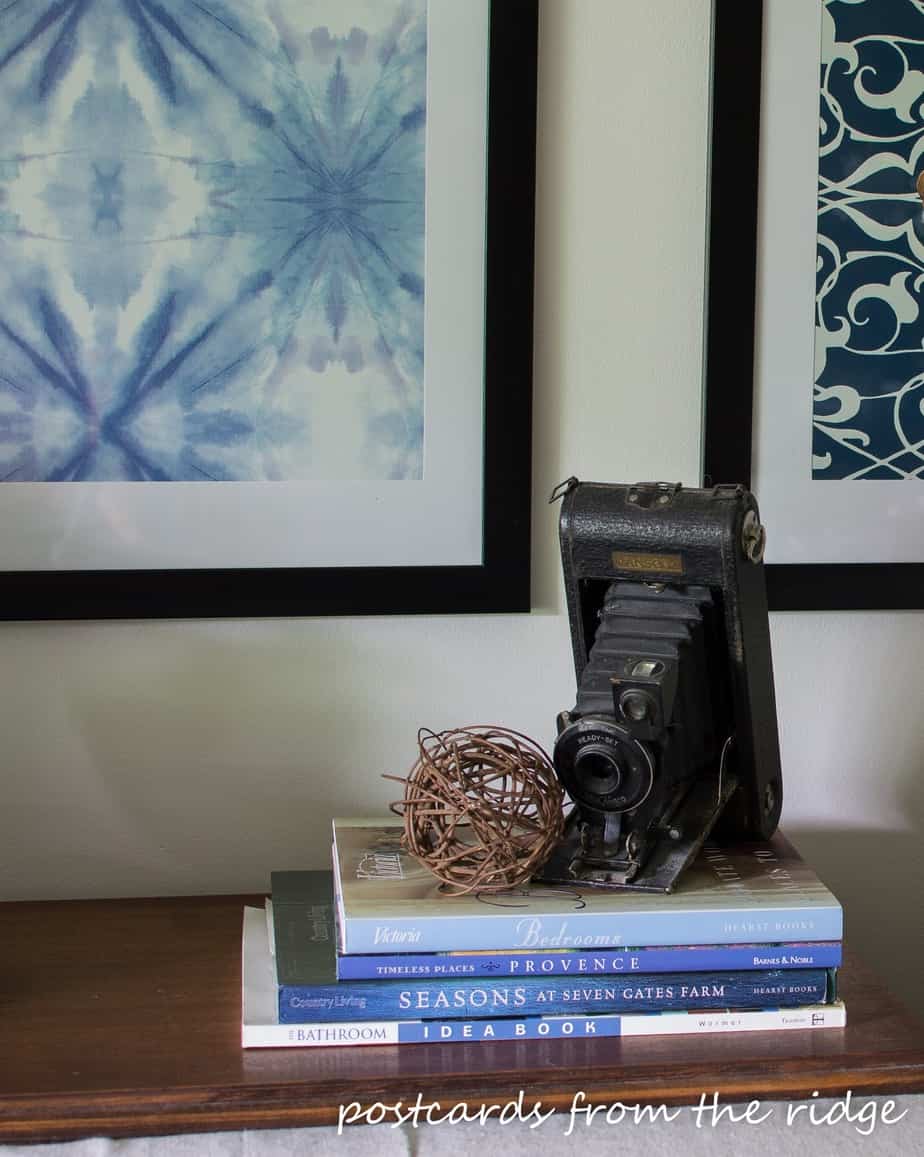 I had to add my favorite old camera to the space.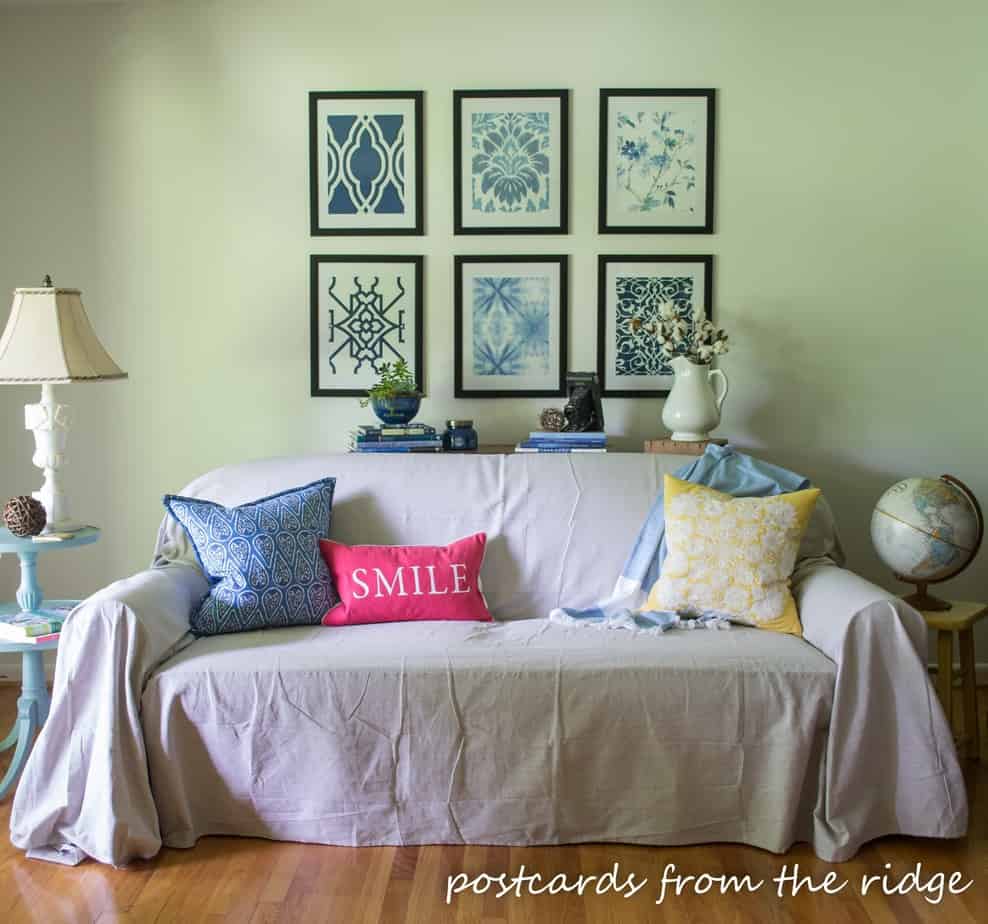 What do you think? Are you ready to create your own artwork now from wallpaper or wrapping paper? There are so many beautiful designs that would look perfect as framed art. Let me know if you make some for your home.
Sources:
For wrapping paper that looks very similar to this, go here.
There is a great price on a set of frames here.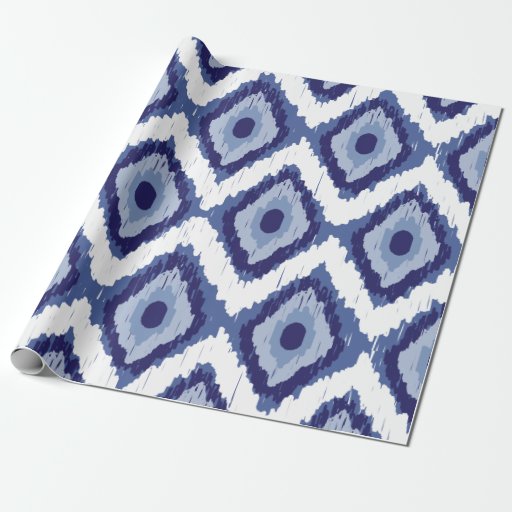 Find this wrapping paper here.
Want to see 28 more ways to DIY artwork on a tight budget? Go here for some amazing tutorials.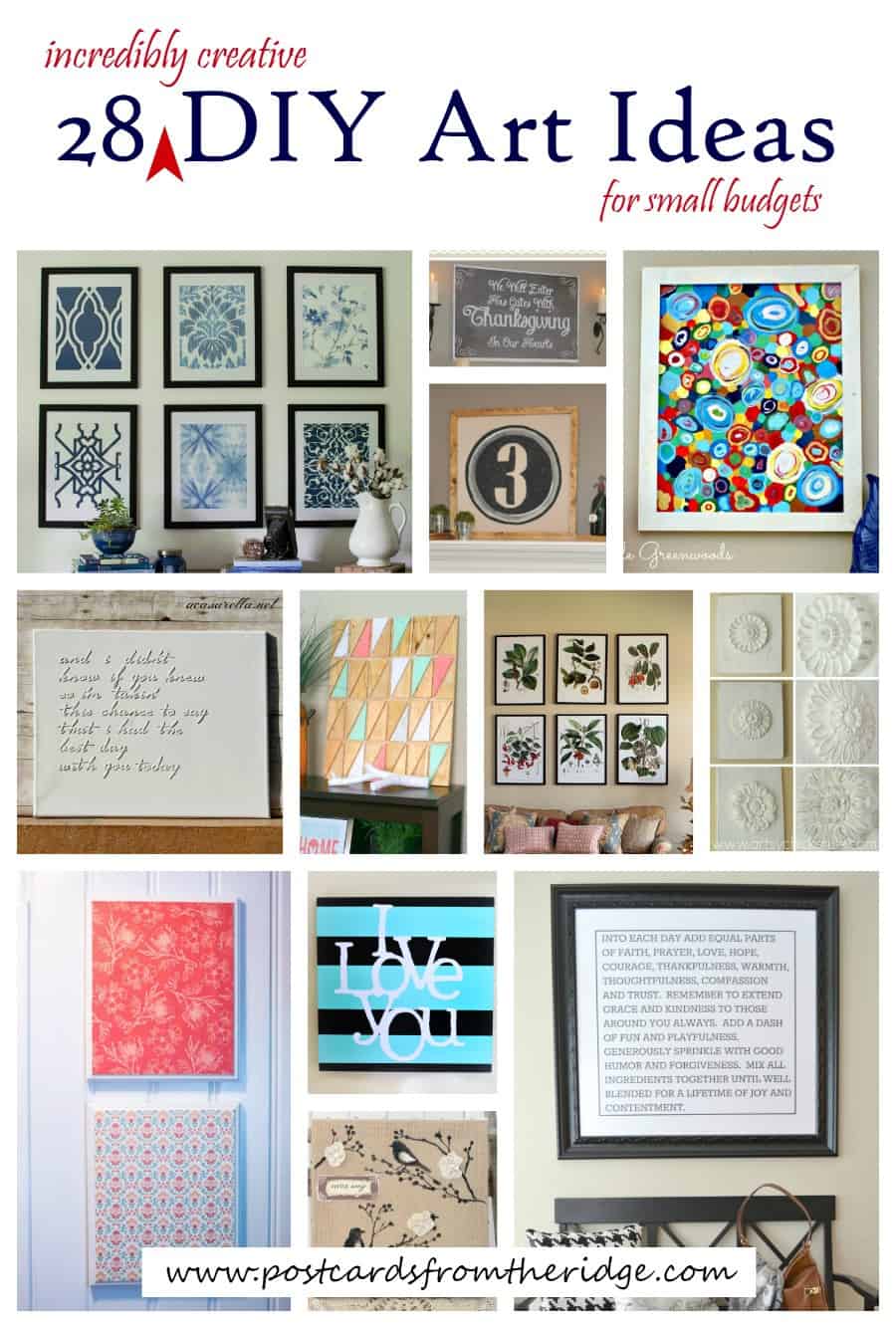 Thanks for dropping by.
Sharing this project here:
Don't forget to visit my blog friends and see their awesome knockoff projects!
XOXOX,
Angie
If you're new here, sign up for email here or follow along here so you don't miss a thing:
Email * Facebook * Pinterest * Twitter * Instagram

For handy tips and tutorials, go here.


To see my painted projects, go here.

For tasty recipes from my kitchen, go HERE.
For some simple tips for capturing a great photo, go HERE.
And go here for dozens of photos, ideas and favorite paint colors.
Thanks so much for dropping by my little space on the world wide web!