Home for the Holidays Tour ~ Kitchen and Breakfast Room Hutch
Welcome to our breakfast room and kitchen. I've been on several tours over the past couple of weeks and have shown you many of our spaces and how they're decorated for Christmas, but our kitchen and breakfast hutch haven't been shared yet. We don't have a designer kitchen by any means. But it's functional and big and has everything we need. So grab a cup of coffee and take a little tour! And while you're here, be sure to visit my friends who are sharing their homes on our Home for the Holidays tour!
Some of my best blogging friends and I are sharing our spaces today and tomorrow. Be prepared for lots of inspiring ideas!
I don't post a lot of pictures of our kitchen for a couple of reasons. First of all, it's the hub of our home and usually has a, ahem, very lived in look. Second, I don't love the finishes in here so it's not something I like to post about. It does its job well, but is not my dream kitchen. Anyway….
I've dressed it up for Christmas with some simple kitchen towels, a tray, and some ornaments.
A few months ago I added the basket to the counter and corralled all of our most used kitchen items in it.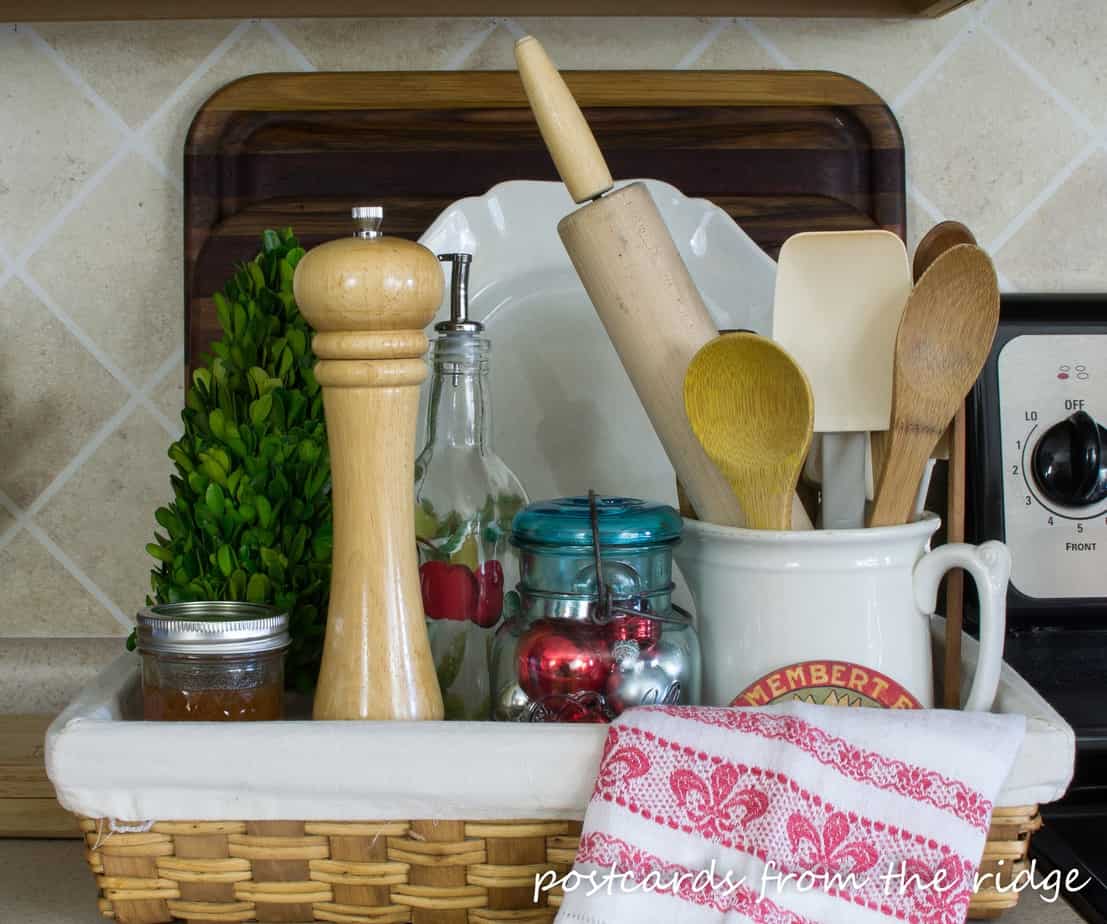 Wooden cutting boards, an ironstone platter, a boxwood tree, wooden spoons, an ironstone pitcher, and a few other items make their home in here now. I added the blue jar filled with old mercury glass ornaments for a festive touch.
This post contains affiliate links for your convenience. If a purchase is made after clicking one of the links I might make a small commission. Your price does not change. For full disclosure, go here.
My favorite thing on this side of the kitchen is the faucet. I installed it myself last year and it's like Christmas everyday! In this area I added some more festive linens, a little tree in an old crock, and a Christmas floral arrangement sitting on top of a vintage kitchen scale. I don't add a lot of holiday decor in here because honestly it just gets in the way.
On the other end of the kitchen is our breakfast room. Our old hutch is always filled with seasonal dishes. This year I put our Johnson Brothers Friendly Village dishes in it along with various ironstone platters and pitchers.
A few ornaments and pine cones were added for a bit more holiday flair.
And some of my favorite vintage linen napkins are at home in here as well. They're so fun to use on special occasions.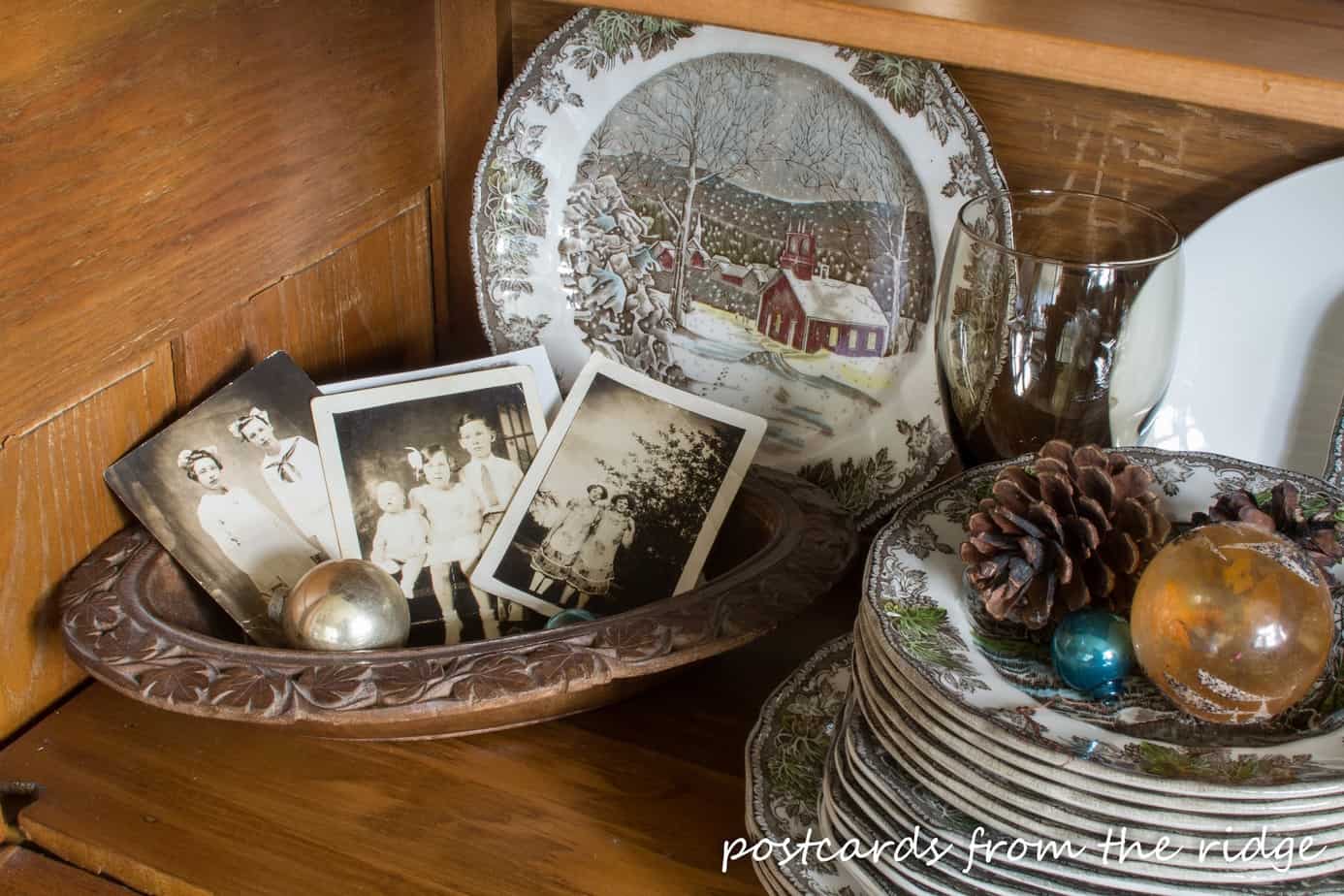 Some old family photos are nestled inside of a wooden bowl. The baby in the middle photo was my late mother-in-law. The twins in the other photos are her mother and aunt, Essie and Bessie. I don't know which is which. Fun fact: the twin sisters had another set of twins in their family named Bertie and Gertie. Can you imagine having 2 sets of twins 100 years ago? I'm exhausted just thinking about it!
Candles and ornaments make up the rest of the contents of the hutch. I'm thinking it will stay like this for a couple of months and I'll change it up again in the spring.
Back in the kitchen, the wall opposite the stove is brick. It's the back of our living room fireplace.
I have an oversized bulletin board there and I've added a countdown calendar and past Christmas card photos of the girls. This is our landing space for mail and keys and doesn't always look this tidy, but I'm hoping to keep it like this through the holidays at least! I added the table a couple of months ago and love it. The bucket on the bottom is usually our recycle bin, but magnolia leaves look much better for the holidays.
I posted the details about this area and our traditions for counting down to Christmas with Balsam Hill a few days ago in this post.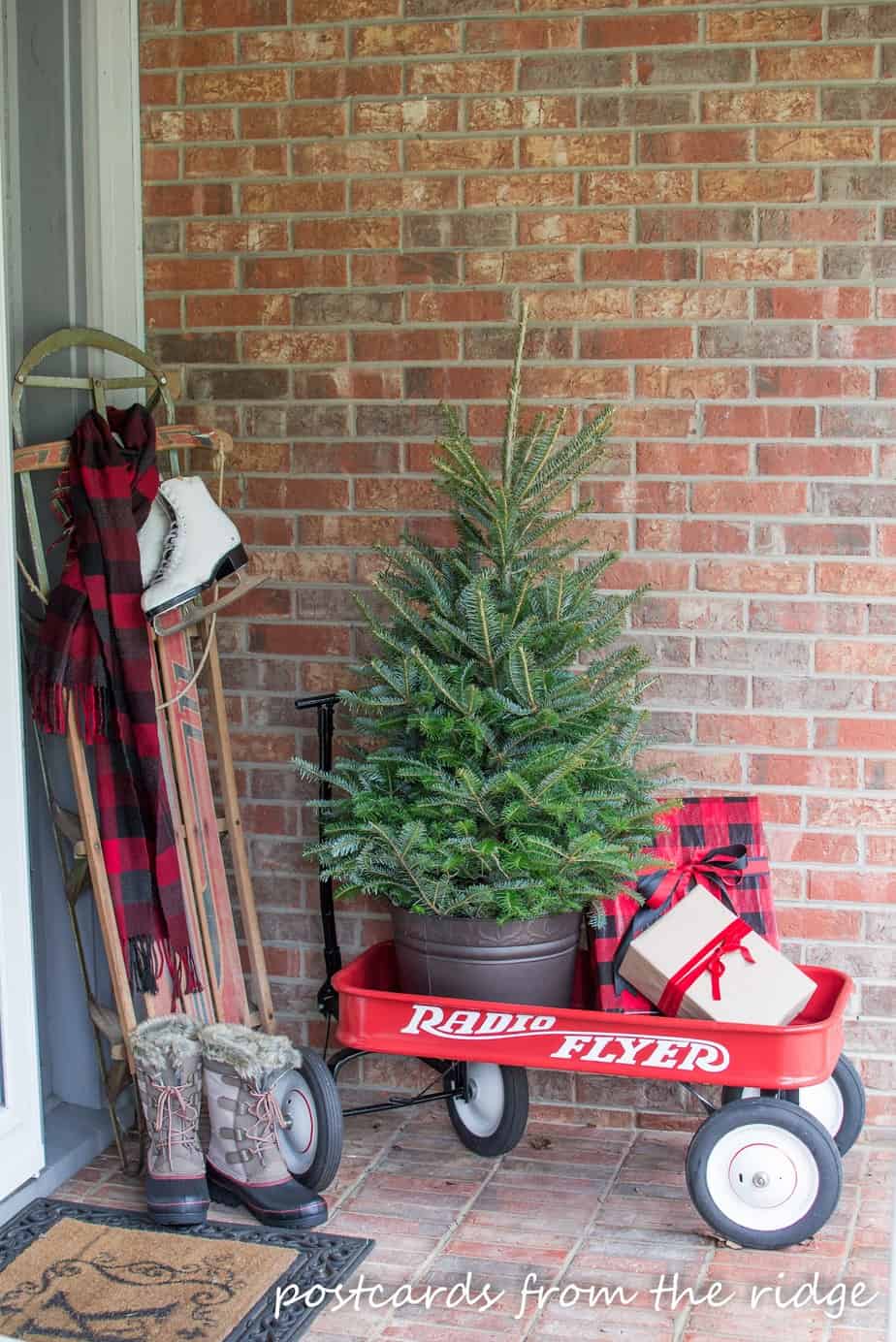 Last week I also shared a tour of our front porch as part of our Welcome Home tour. You can see that post here.
Our holiday table setting was part of our Christmas Ideas tour and can be seen here.
Another tour was chock full of ideas for gift wrapping. You can see all of those ideas here.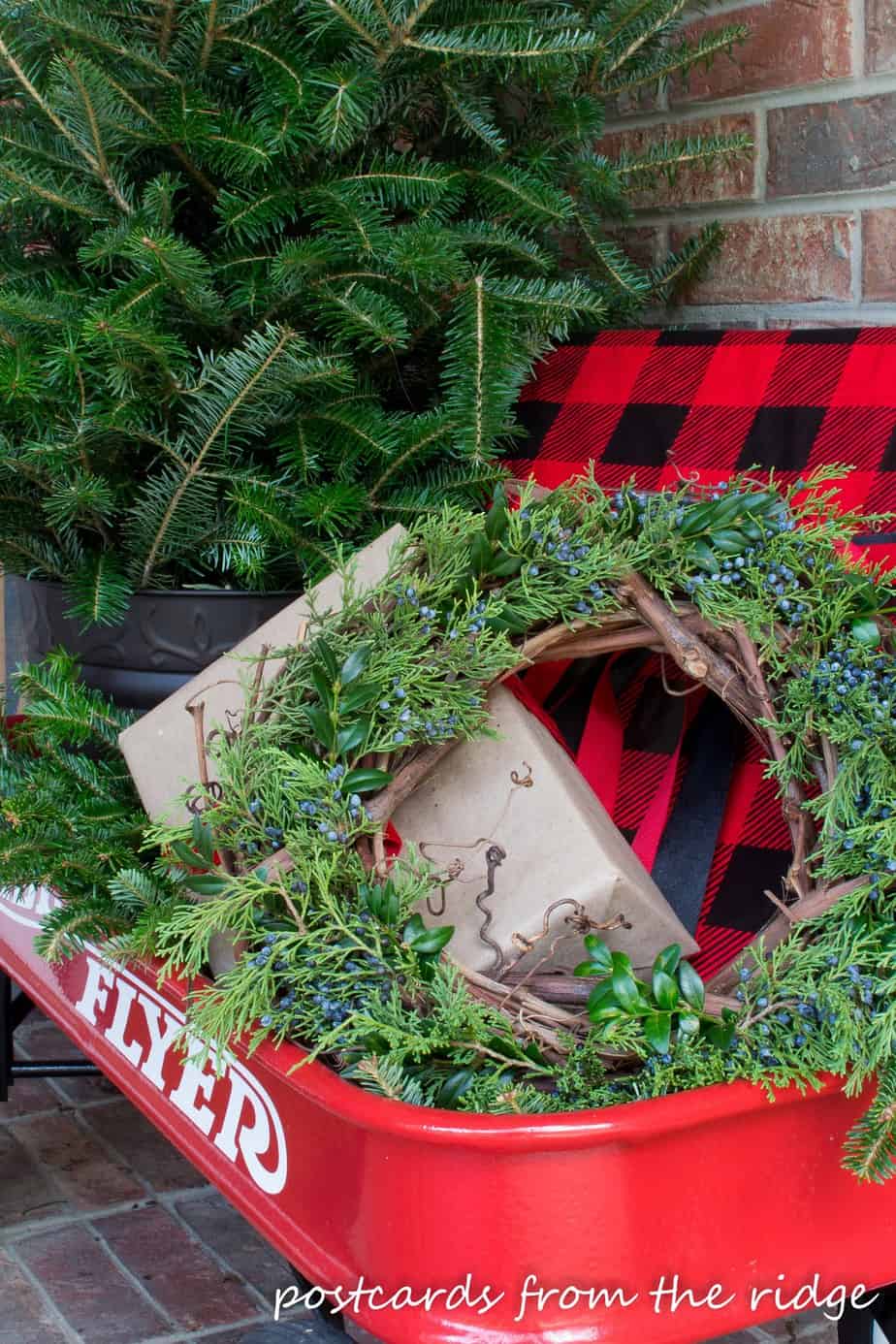 My previous post featured some DIY natural wreaths that I made with my mom and youngest daughter. You can learn more about that here.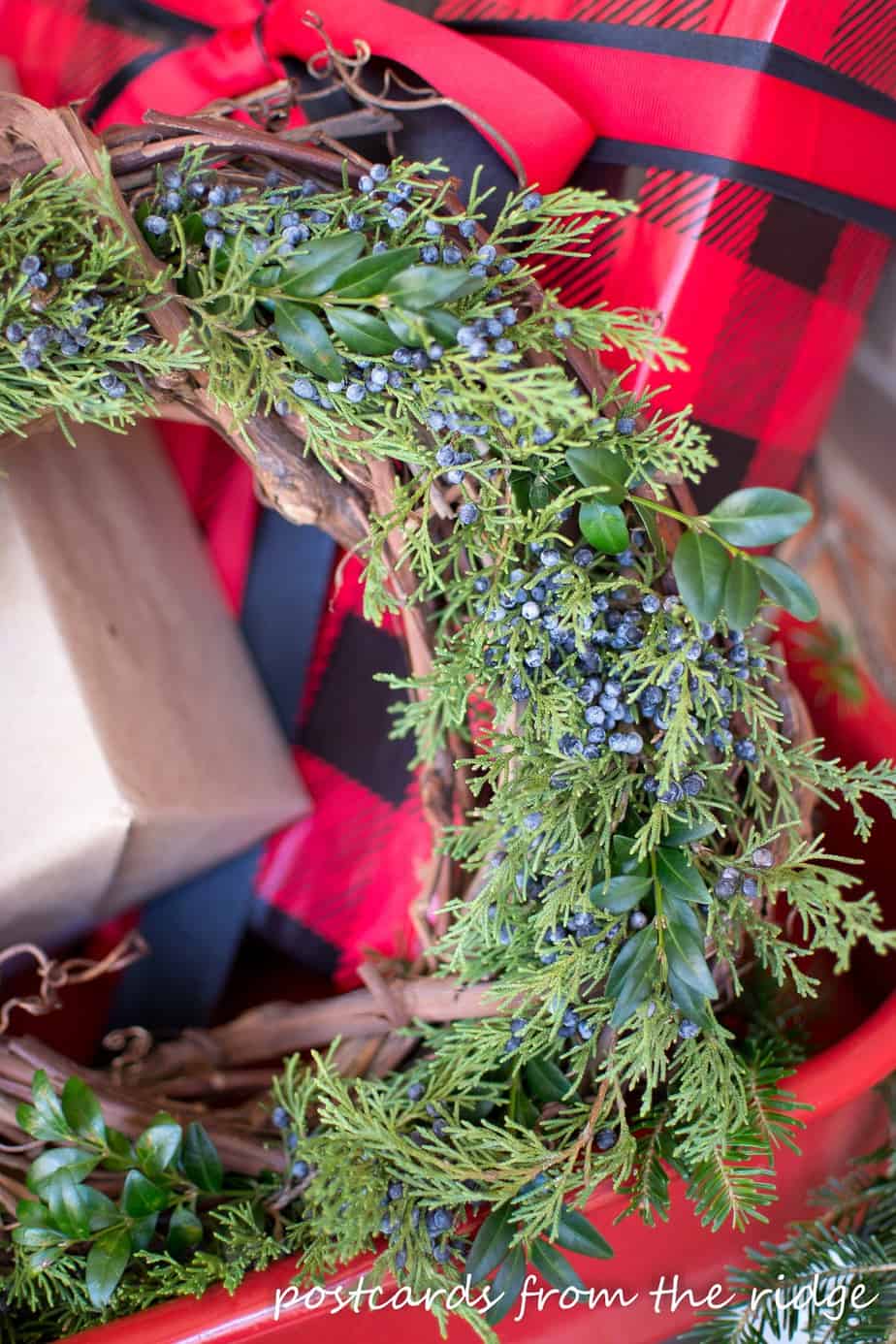 Our family room mantel has a rustic farmhouse theme this year. I shared all of the details of this space here.
The guest bedroom is all decked out for Christmas as well. You can take a tour of this room here.
And to all a good night. After all of these Christmas tours I'm ready for a long winter's nap.
Have you finished your decorating yet? I'm done except for one room and hope to finish it today or tomorrow. I'm looking forward to relaxing and enjoying the rest of the month.
Be sure to visit all of my friends on the Home for the Holidays tour! Scroll down and click on the images to visit each site.
Thanks so much for dropping by my little space on the world wide web!
XOXOX,
Angie
If you're new here, sign up for email here or follow along here so you don't miss a thing:
Email * Facebook * Hometalk * Pinterest * Twitter * Instagram

For handy tips and tutorials, go here.

To see my painted projects, go here.

For tasty recipes from my kitchen, go HERE.
For some simple tips for capturing a great photo, go HERE.
Go here to learn about having an online design or color consultation.
And go here for dozens of photos, ideas and favorite paint colors.