Our Christmas Front Porch ~ Welcome Home Tour
Welcome Christmas, dahoo dahray. Welcome Christmas, Christmas day. And now you'll be singing that song all day, won't you? You're welcome. 🙂 I just wanted to give you a big welcome to our Christmas front porch. I'm joining with some of my blogger friends to show you different ways that we welcome our guests. Not all of our posts are porches. Some are ideas on how to make your guests feel more welcome, and all of the ideas are wonderful.
This post contains affiliate links for your convenience. If a purchase is made after clicking one of the links I might make a small commission. Your price does not change. For full disclosure, go here.
I had planned on showing you our entire porch with our white Adirondack chairs and the red stars that are hanging on the wall. But it's been raining here for the past 3 1/2 days and I wasn't able to get all of the photos I wanted. I'll try to add them in a few days, so check back to see more! Go here to see last year's porch and our chairs.
Decorating a porch for Christmas can be as simple as adding a couple of jingle bells or a wreath to the front door.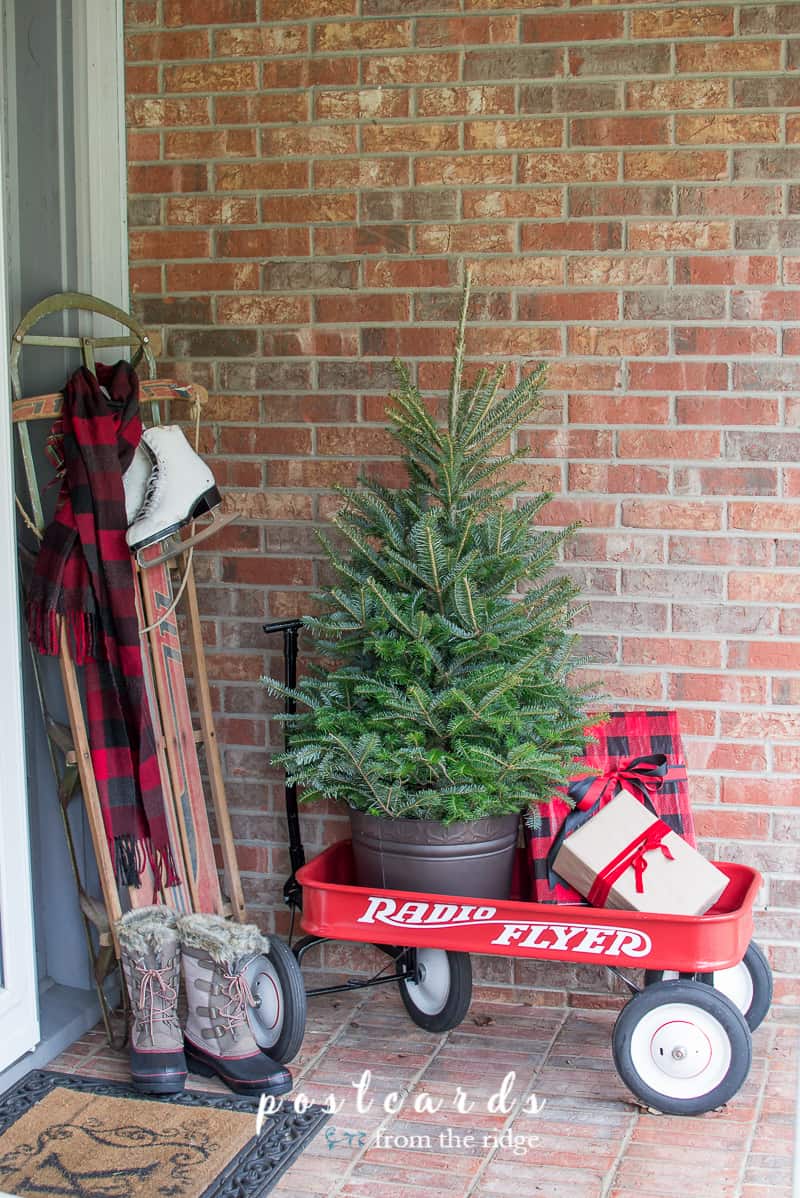 Adding a vintage sled and skates with a wintery scarf and boots helps set the scene.
A simple table top tree was an impulse purchase at the grocery store last week. The porch seems so festive now. I also added these boxes that I wrapped a couple of weeks ago for a gift wrap ideas post. If you look closely you'll notice that the paper is wrinkled from all the rain we've had. Now just pretend you didn't see it.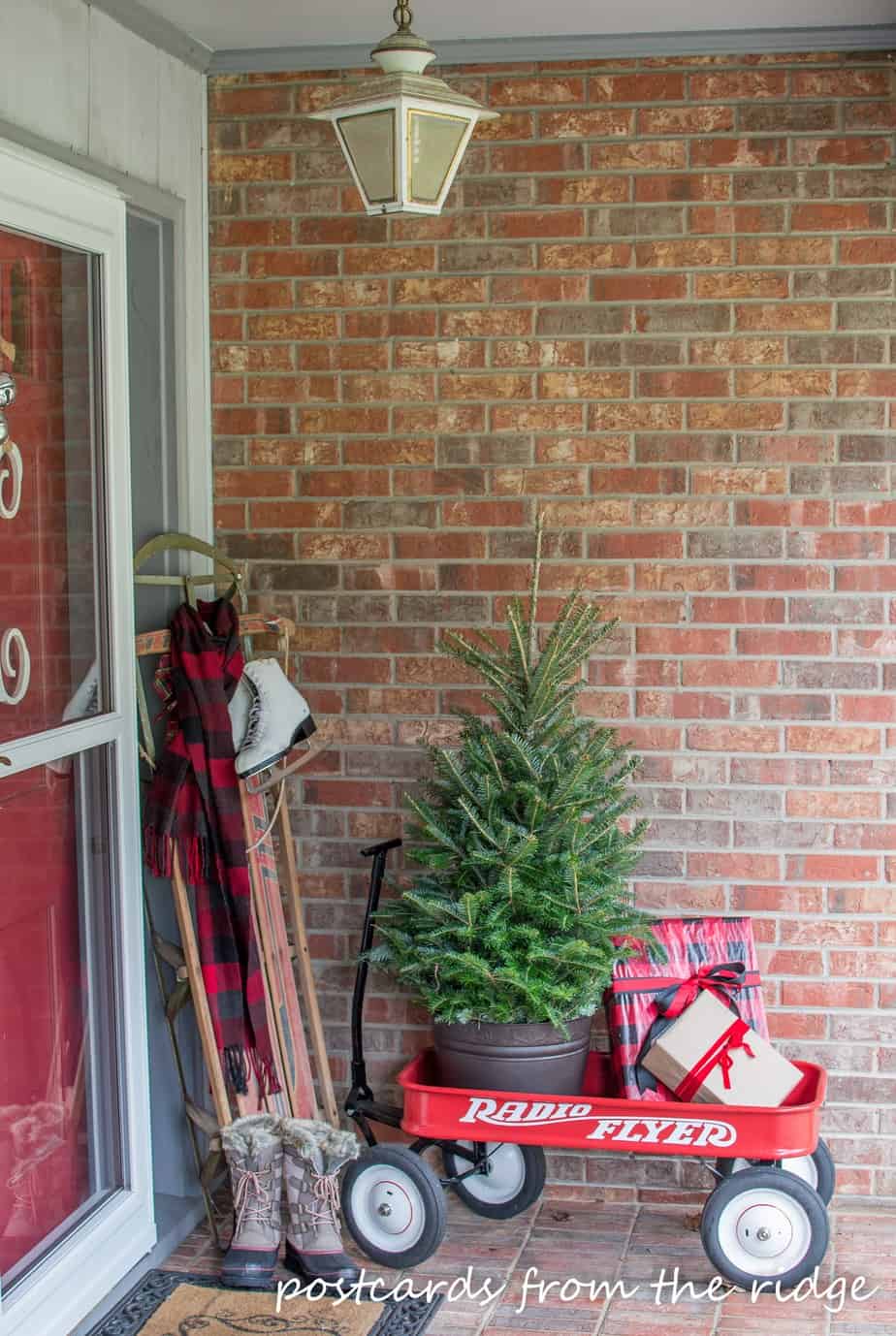 I placed the tree in a beverage bucket and set it inside a vintage red wagon. This wagon was my father's when he was a little boy and it's perfect on our front porch. I think Dad likes knowing it's there too.
All that's missing is some snow! How do you welcome your guests for Christmas?
Subscribe to updates and you'll receive fresh ideas for your home.


Recreate this look with these sources:
Now it's time to see how all of my friends welcome their guests. Click on the photos below to visit everyone and get some great ideas for your home. Check back tomorrow for all of the Thursday tours.
In case you missed it yesterday, be sure to visit our Christmas Ideas Tour for ideas on for your mantel, tables, wreaths, and some thrifty crafts. Go here for the tour and see our Christmas tablescape.
Click the photo below to see how we countdown to Christmas at our home.
Click on the following photo to see our kitchen and breakfast room decked out for the holidays.
For more Christmas decorating ideas, click the following photo.
Thanks so much for dropping by my little space on the world wide web!
XOXOX,
Angie
If you're new here, sign up for email here or follow along here so you don't miss a thing:
Email * Facebook * Hometalk * Pinterest * Twitter * Instagram

For handy tips and tutorials, go here.

To see my painted projects, go here.

For tasty recipes from my kitchen, go HERE.
For some simple tips for capturing a great photo, go HERE.
Go here to learn about having an online design or color consultation.
And go here for dozens of photos, ideas and favorite paint colors.