How to Make Your Overnight Guests Feel Pampered
This shop has been compensated by Collective Bias, Inc. and its advertiser. All opinions are mine alone. #HostingHacks #CollectiveBias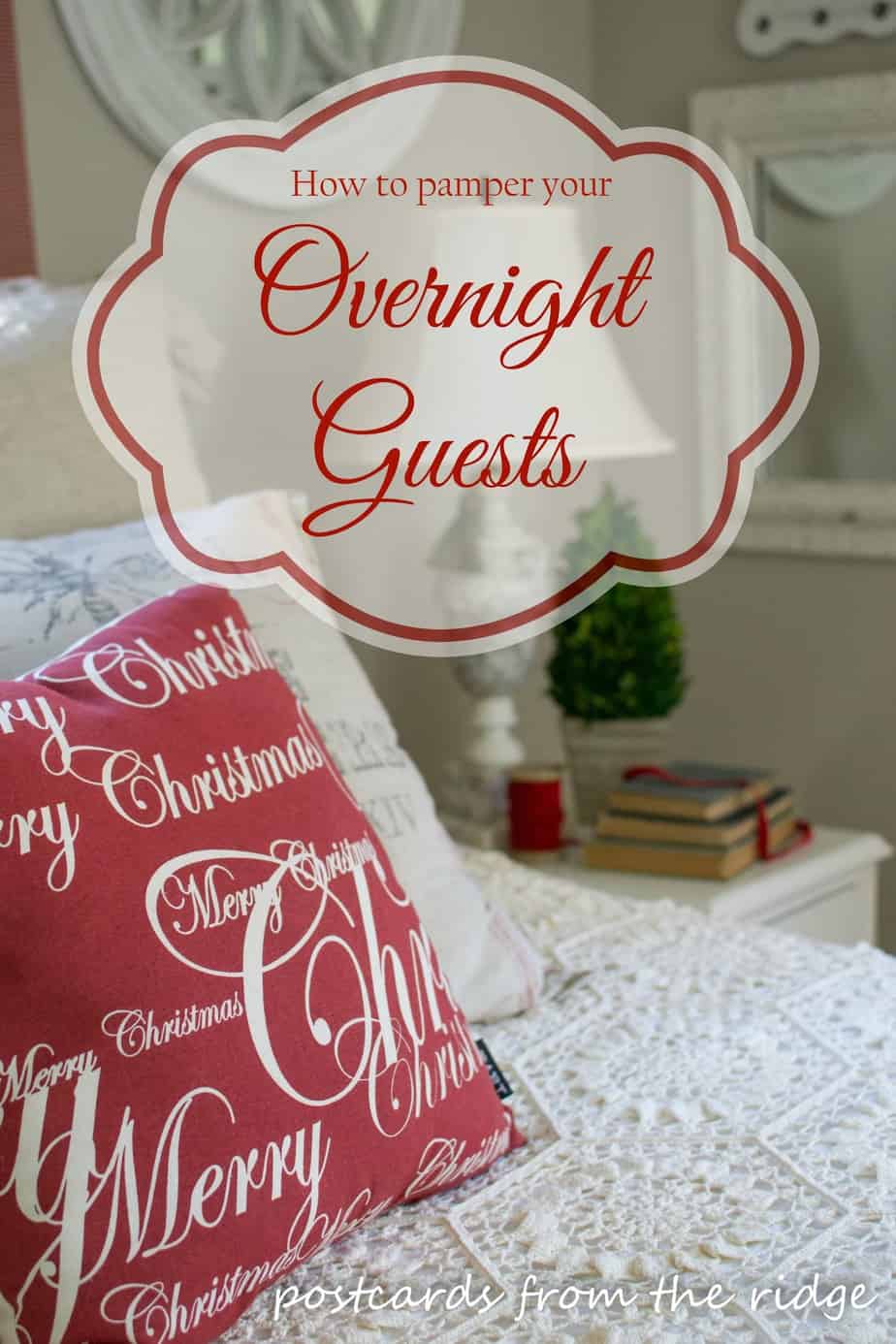 The holidays aren't just about shopping and food. Many people visit friends and family for one or more nights and always appreciate the efforts of a gracious host. While there are several things you could do to make your guests feel pampered, there are a few simple things that you don't want to be caught without that go a long way in boosting their comfort level. Today I'm partnering with P&G to share some ideas with you.
This post contains affiliate links for your convenience. If a purchase is made after clicking one of the links I might make a small commission. Your price does not change. For full disclosure, go here.


1. Extra blankets and throws
Make sure to dress the bed in layers. This way your guests can add more if they're cold or take some off the bed they get too warm.
2. Provide water bottles and a few basic snacks.
Your guests wouldn't want to raid the kitchen in the middle of the night if they woke up thirsty or hungry. A few snacks and water bottles can help cure the midnight munchies and allow your guests to rest well.

3. Leave a few necessities in case they forgot to pack something.
Take a cue from hotels and leave out soap, lotion, and anything else your guests might need during their stay. Other items that might be needed are antacids, mouthwash, toothbrush, shampoo, razor, and more. And always leave freshly laundered towels out for them to use.
4. Have nightstands and bedside lighting.
Make it convenient for guests to check their email or catch up on social media from bed. And on that note…
5. Give them your wifi password.
Everyone is connected these days and it's always nice to have access to wifi wherever we roam.
6. Make sure they have a place to plug in.
Easy access to an outlet for charging phones and other electronic devices is always appreciated.
7. The most important thing for overnight guests – make their bed as comfortable as possible.
If you really want to know how comfortable the bed is, sleep in it for a night and you'll know exactly what it needs. Adding a foam mattress pad makes a bed very comfortable. Also be sure there are ample pillows and that everything is fresh and clean. Freshly laundered bedding is always welcomed by overnight guest.
shop this look
You don't want to want to worry about running out of laundry detergent or fabric softener and not be able to offer fresh towels and bed linens to your guests. For our fresh laundry needs we go to Costco and always have plenty of what we need. Our clothes and bedding all smell fresh since we use Tide Pods and Downy April Fresh. And whether it's a guest bedroom or not, there's nothing like clean sheets for a cozy night's sleep.
We love the Tide Pods and Downy April Fresh and buy them in bulk to save money and have a large supply. We also send some of the Tide Pods to our older daughter who's in college. It's so easy to tote one or two pods to the laundry room in her apartment building. No need for a big jug of detergent.
That's just one of the many things we love about Costco. So many easy to find items that are also easy to load into your cart and car to ensure you don't get caught without the things you need most.
Here are some other great P&G products from Costco that you definitely don't want to get caught without this holiday season:
Charmin
Bounty
Tide Advanced Power
Gain Original Fresh
Downy Unstopables
Dawn Platinum Advanced Power
Cascade Action Pacs
Febreze CAR
Swiffer
Febreze Air Effects
Mr Clean Magic Eraser
Always
Tampax




Are you hosting any dinner or overnight guests for the holidays? What are the things you don't want to run out of? Be sure to visit Costco to keep that from ever happening!
Coming up next –
Holiday house tours.
A countdown to Christmas
Dozens of ideas for mantels, tablescapes, wreaths, and crafts for the holidays.
And more! Whew, I'm tired just thinking about all of it!
Thanks so much for dropping by my little space on the world wide web!
XOXOX,
Angie
If you're new here, sign up for email here or follow along here so you don't miss a thing:
Email * Facebook * Hometalk * Pinterest * Twitter * Instagram

For handy tips and tutorials, go here.

To see my painted projects, go here.

For tasty recipes from my kitchen, go HERE.
For some simple tips for capturing a great photo, go HERE.
Go here to learn about having an online design or color consultation.
And go here for dozens of photos, ideas and favorite paint colors.