Countdown to Christmas with Balsam Hill and a Great Giveaway
This is a sponsored post. I was provided with product and/or compensation. However, all opinions and text are my own.
It's 21 days until Christmas. I can't believe I just typed that. 21 DAYS! And we're really looking forward to Christmas and time spent with family. Today I'm joining 23 other bloggers in counting down the days and offering 25 lucky readers a $100 gift card to Balsam Hill. That's $2500 in giveaways. Merry Christmas to you!
This post contains affiliate links for your convenience. If a purchase is made after clicking one of the links I might make a small commission. Your price does not change. For full disclosure, go here.
Yesterday Meegan from What Meegan Makes shared what Christmas means to her and some special memories, as well as a nativity Advent calendar. Hop over and read about her memories and how she counts down to Christmas here. She always shares the best stories.
When the girls were younger I had one of those fun Advent calendars that was a cabinet with tiny doors that they opened each morning and found a little surprise. They loved it. These days their wish list includes bigger things and little candies and trinkets don't delight them quite as much. But we still love to count down the days. I was happy to receive this fun calendar board from Balsam Hill to help us anticipate the celebration of Christmas.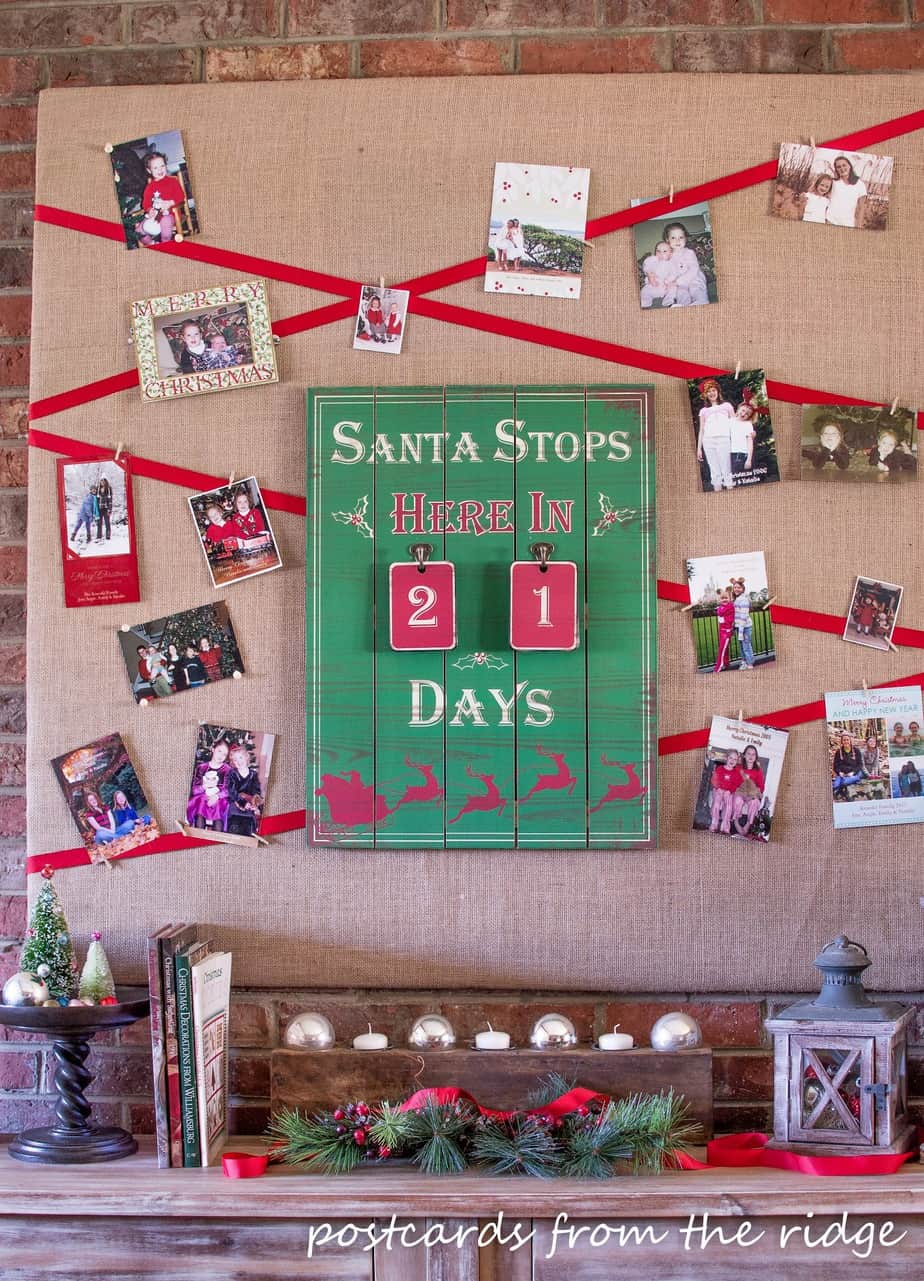 One of our yearly traditions is to take the girl's photo and send it out with our Christmas cards. For the past few years I've displayed all of the past photos. It's fun to see how much the girls have changed over the years. This year I clipped them to some ribbon that I attached to our kitchen bulletin board.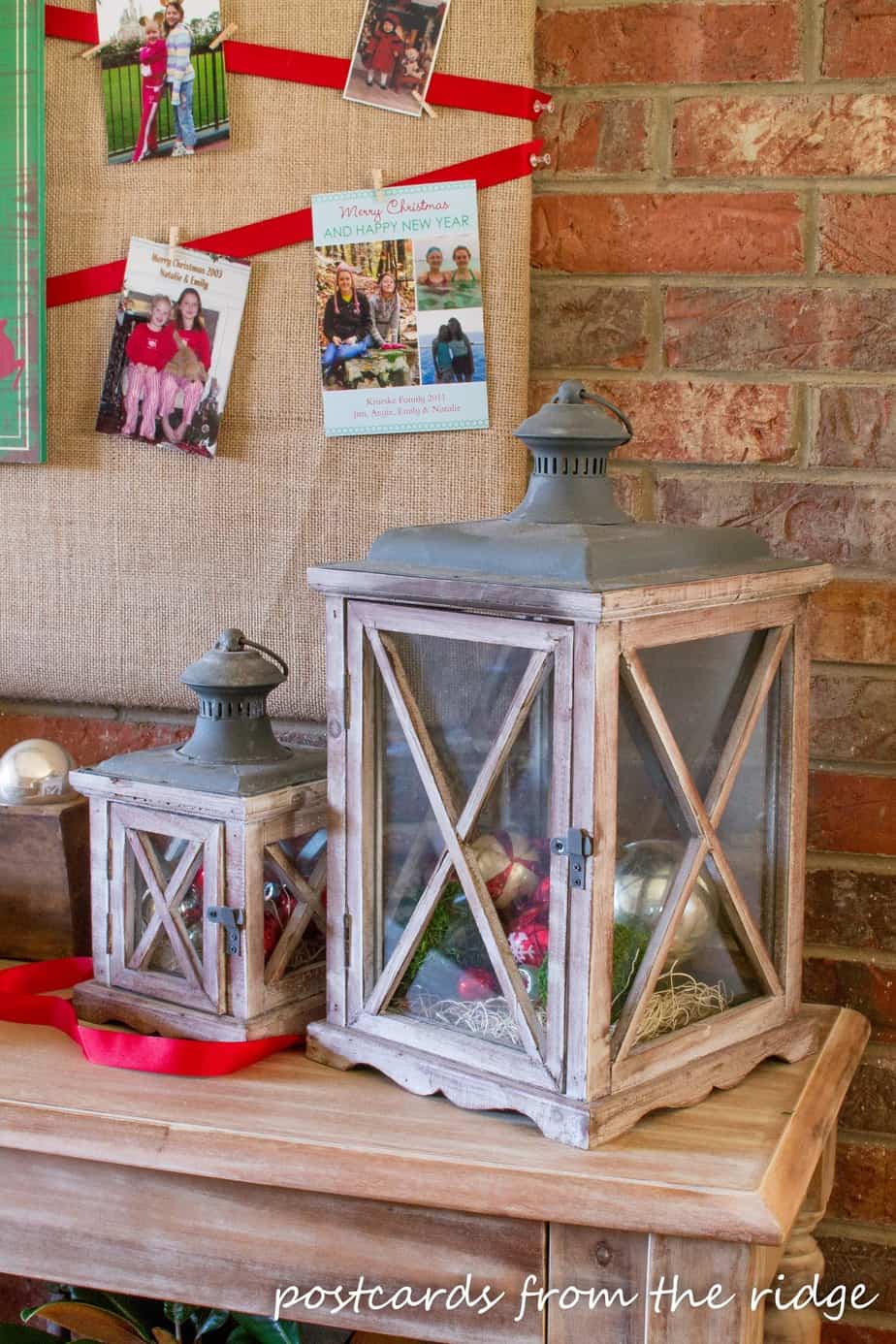 Another thing we do each year is fill the wooden lanterns with ornaments. It adds such a festive touch. I usually have them on one of the mantels but for now they're in the kitchen.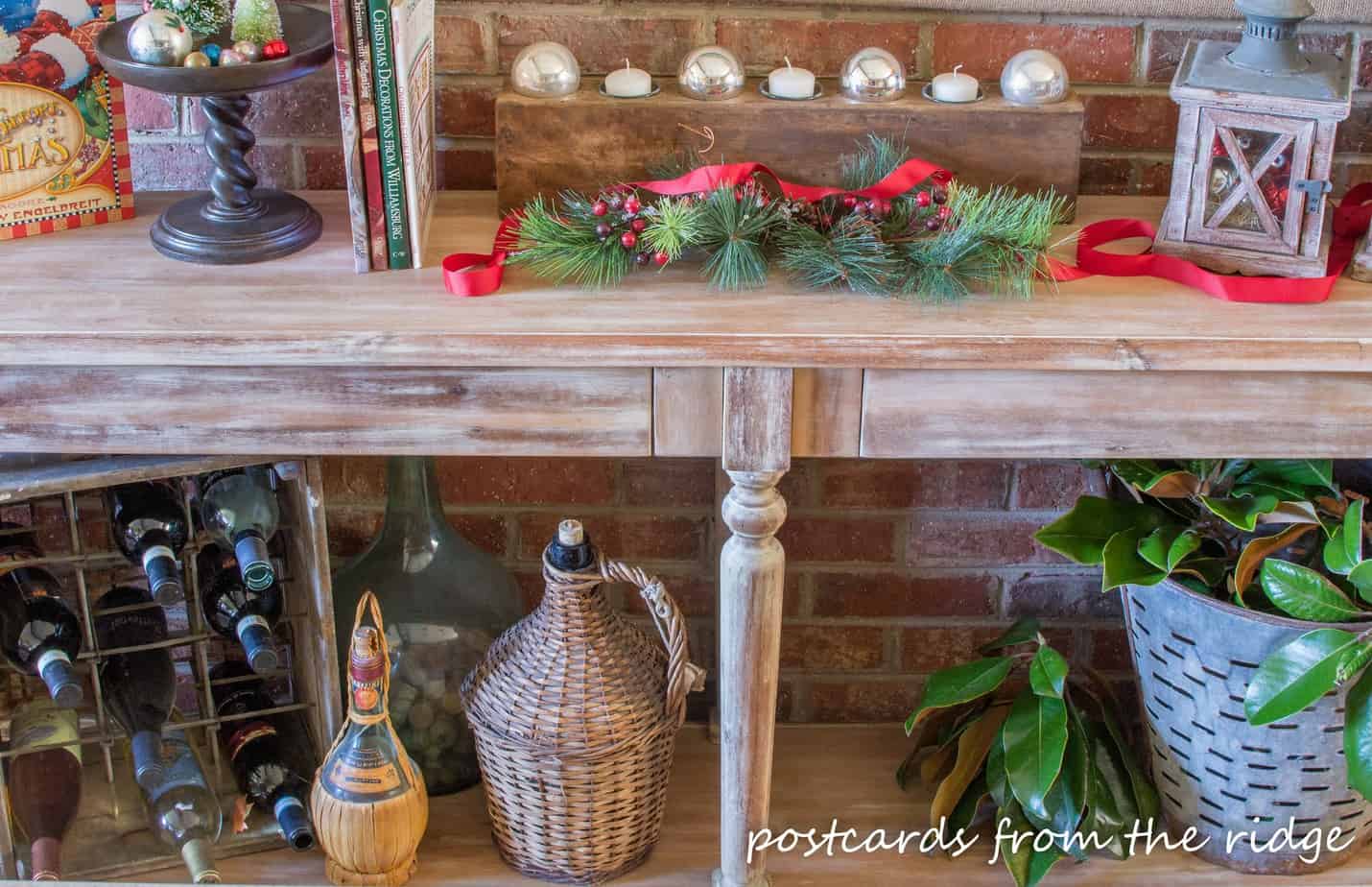 We place bits of greenery and ribbons throughout the house. And ornaments are found just about everywhere. Magnolia clippings from the tree in our front yard always make their way into the house and this year they're tucked into a vintage olive bucket on the bottom shelf of our foyer table.
The front porch gets decorated for Christmas each year too. Earlier this year my dad gave me his old restored Radio Flyer wagon from when he was a little boy in the 40's. It's perfect on the porch with a small tree and some wrapped boxes. I shared a tour of the porch a couple of days ago and you can go here to see it all.
The guest bedroom usually gets all dressed up for the holiday as well. We don't have as many guests as we used to when we lived away from family, but it's nice to have the space. You can go here to see the details of this room.
And it's always fun to dress up the table for the season as well. I shared our Christmas tablescape here a couple of days ago.
The holidays are extra special because both girls will be at home. Our oldest (on the right) is in her 2nd year of college and we don't get to see her as much these days. It's nice to have both of them home and bake goodies and go shopping.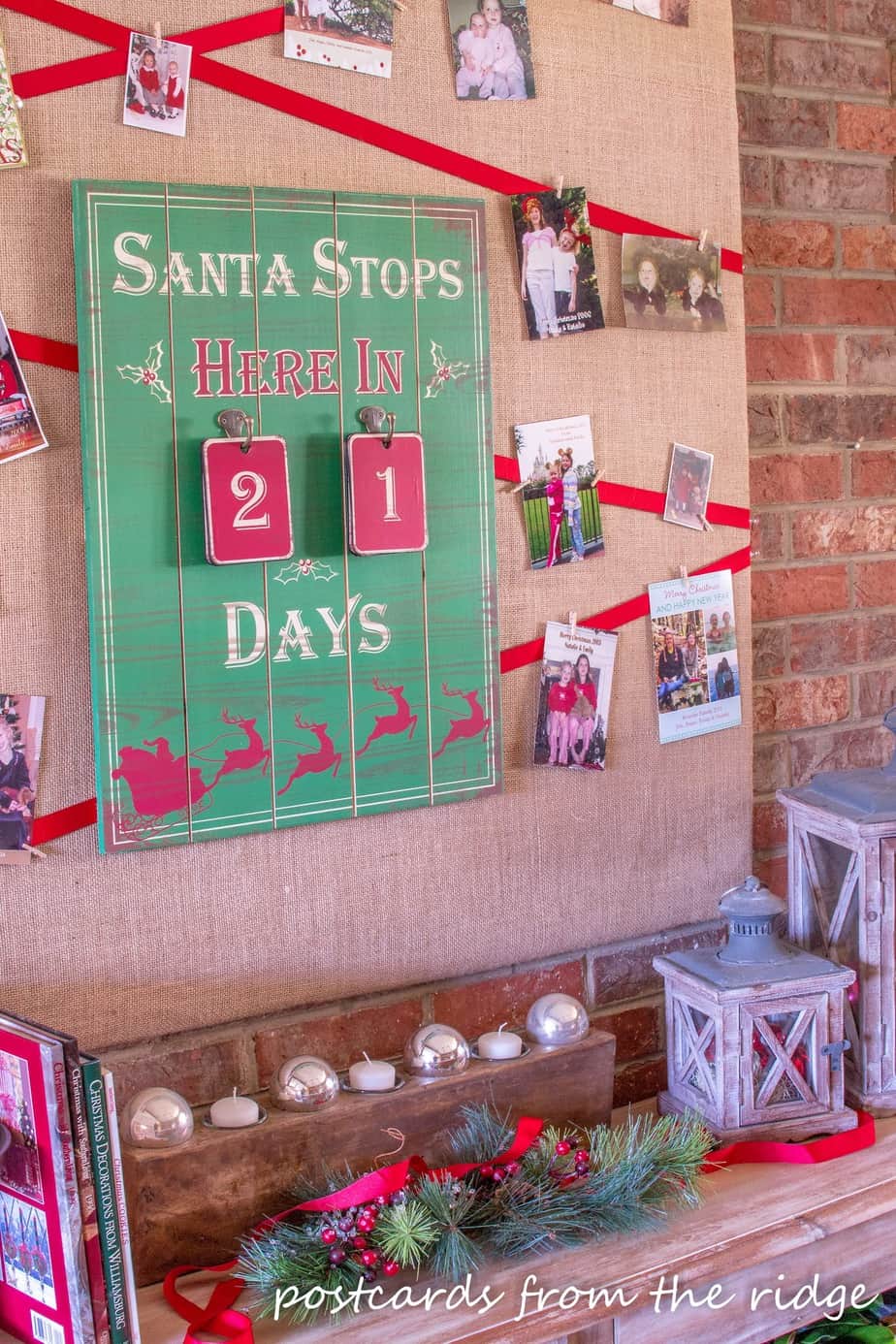 As we count down the days I'll be finishing our decorations and sharing them here. Check back to see our tree and more over the next few days. I hope to have everything done soon so I can sit back and enjoy the remainder of the month.
Interested in seeing how some talented bloggers countdown to Christmas in their homes? Starting December 2 until December 23, one blogger will reveal their calendar while sharing their favorite Yuletide traditions and what the season means to them. Go here for the lineup.
Tomorrow Christy at Our Southern Home will be sharing how she counts down to Christmas in her beautiful home. Be sure to hop over and see what she shares.
Courtney of French Country Cottage will be wrapping up on December 24, and on Christmas Day, we'll be sharing a special message from Balsam Hill founder and CEO, Thomas Harman.
How would you like a $100 gift card from Balsam Hill? Go here to enter to win one. 25 winners will be drawn on Christmas day!
What are some of your favorite ways to countdown to Christmas?
Thanks so much for dropping by my little space on the world wide web!
XOXOX,
Angie
If you're new here, sign up for email here or follow along here so you don't miss a thing:
Email * Facebook * Hometalk * Pinterest * Twitter * Instagram

For handy tips and tutorials, go here.

To see my painted projects, go here.

For tasty recipes from my kitchen, go HERE.
For some simple tips for capturing a great photo, go HERE.
Go here to learn about having an online design or color consultation.
And go here for dozens of photos, ideas and favorite paint colors.