Simple Natural Christmas Wreaths ~ Home for Christmas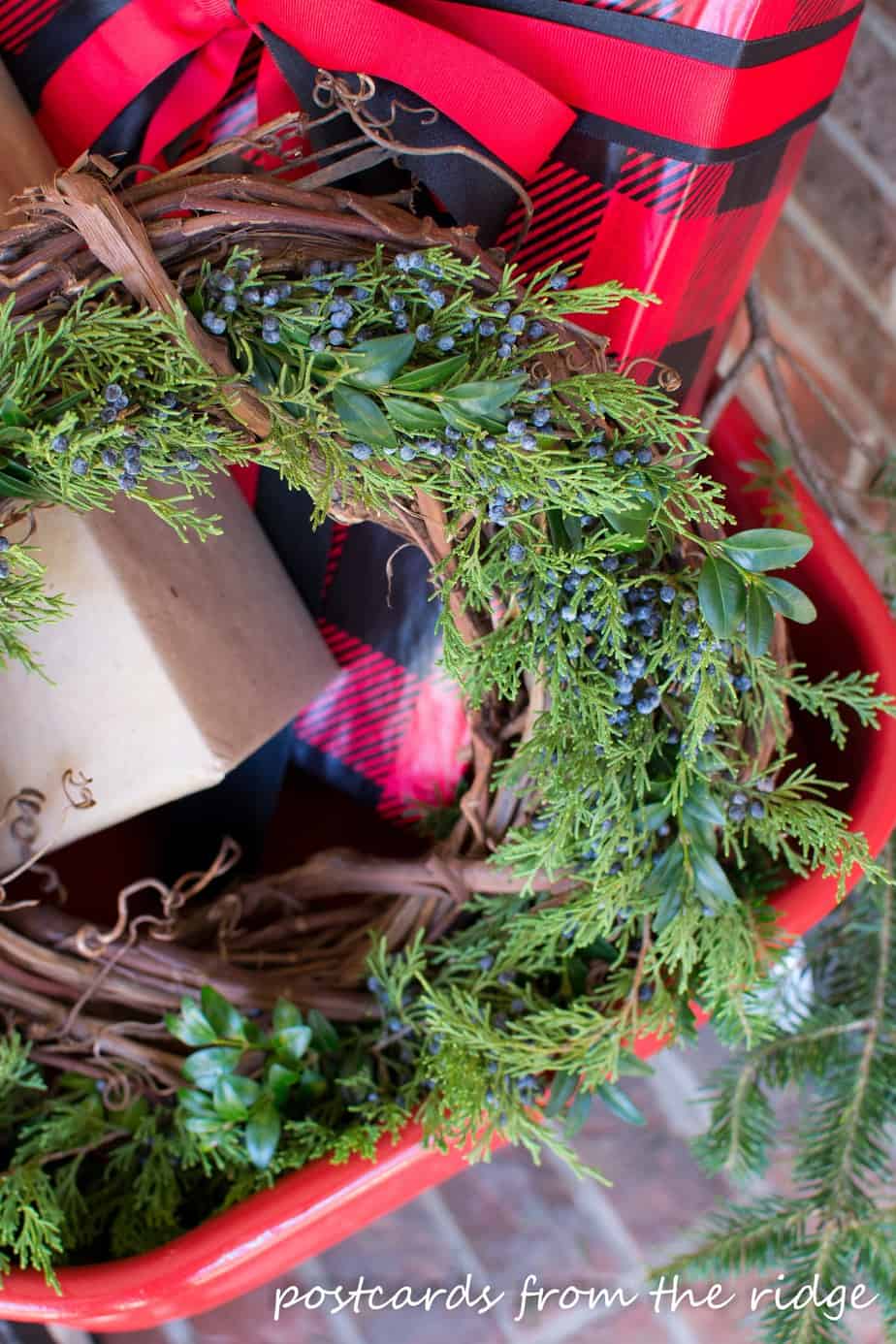 I had the best time yesterday with my mom and my 16-year-old daughter. It was a nice sunny day and we got together and made wreaths with clippings from various trees and bushes. It was so easy and turned out so pretty that I wanted to share it with you. And I'm joining forces with dozens of other bloggers who are also sharing Christmas projects in this tour hosted by Hometalk.com and CountryLiving.com. They're all listed at the bottom of the post.
This post contains affiliate links for your convenience. If a purchase is made after clicking one of the links I might make a small commission. Your price does not change. For full disclosure, go here.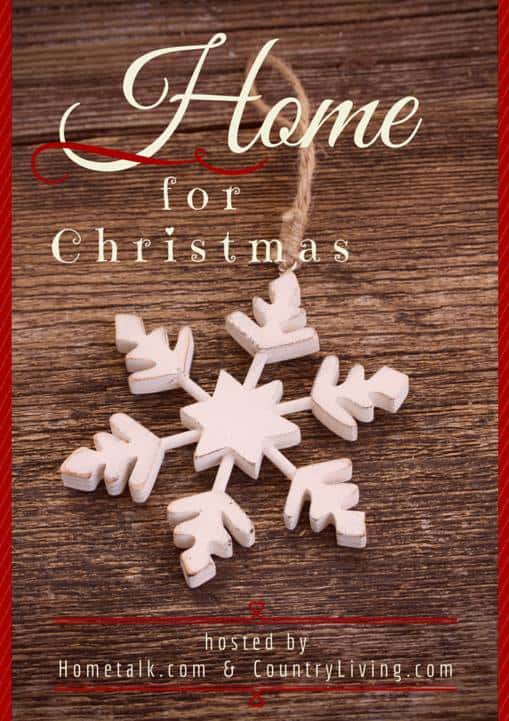 We're all sharing Christmas ideas and projects for your home. I'm so excited that this tour is hosted by Hometalk.com and CountryLiving.com. They're 2 of my favorite sources for ideas.
It was the perfect day for this project. My mom had gathered some clippings from some of her trees and we placed everything on her potting bench. Isn't the bench cute? I think I need one for myself now.
Here are the supplies we used:
Laurel Cypress Branches
Cedar branches with juniper berries (my favorite)
Various Holly branches and twigs
Boxwood
Hemlock
Pine branches
Clippers
You can use whatever you have access to. Magnolia leaves would look great too. If you have nice neighbors they might let you clip a few of your branches from their trees and bushes. Be sure to ask first though!
The first thing we did was insert the cypress branches into the grapevine wreath.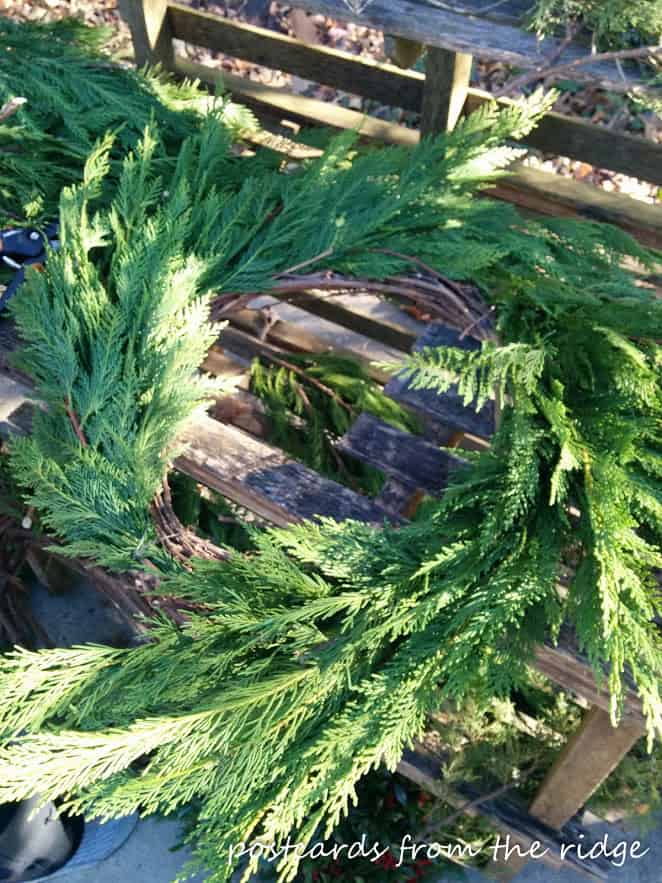 We arranged them all in the same direction and inserted them far enough into the wreath that they wouldn't budge. No glue or wire was used for these wreaths, but you certainly could use it if you want.
After we covered the wreath with the cypress we filled in with small twigs of cedar with juniper berries (above), holly, boxwood, and hemlock (below). Again, use whatever you have. You really can't go wrong with nature's bounty!
You'll want to hold the wreath upright to make sure everything is balanced and pointing the way you want it to. You may have to rearrange a few of the branches to get it to look right. It was easy for us since we didn't use glue or wires, though.
And here's how mine turned out!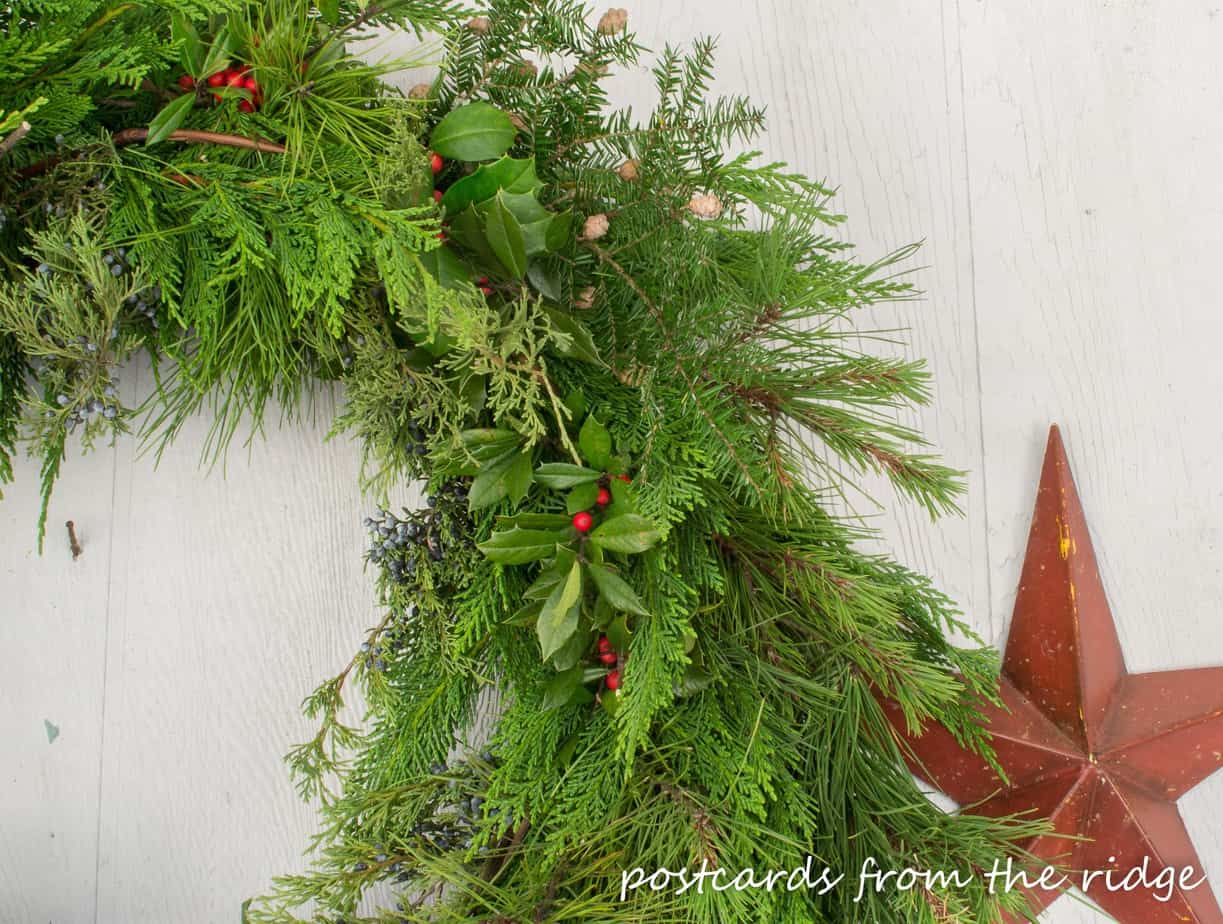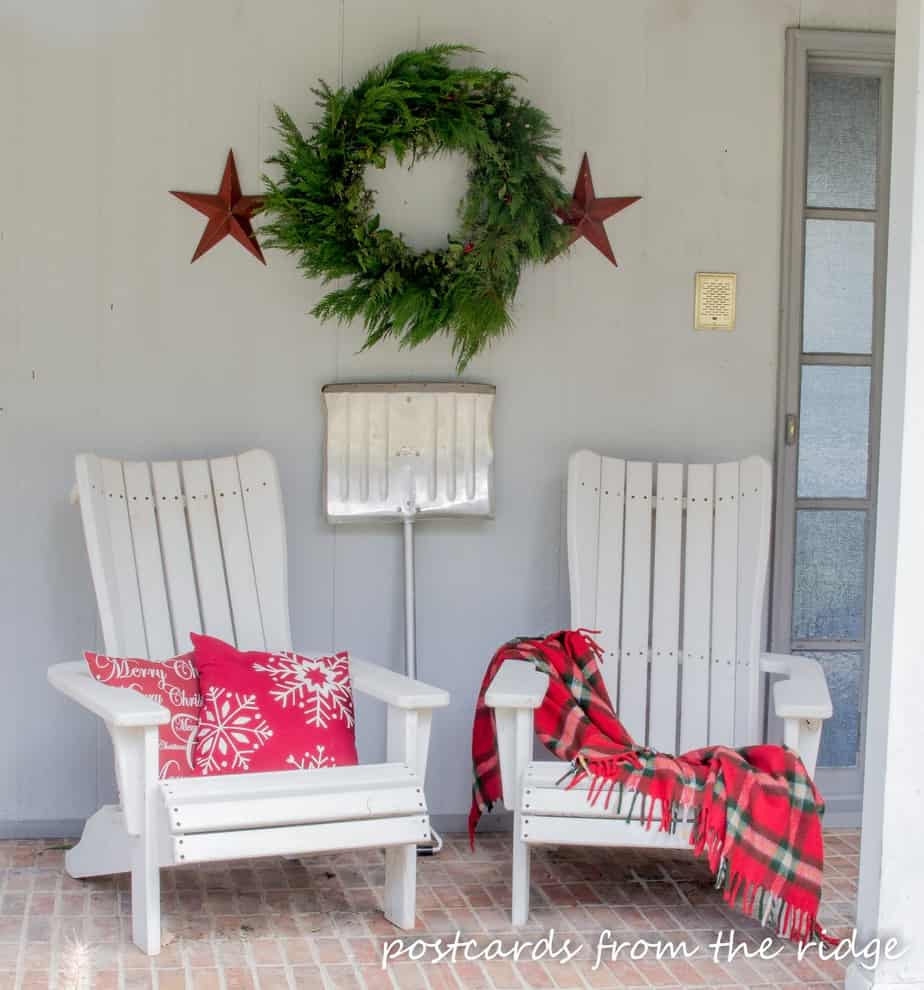 I also made a smaller one with only the cedar branches with juniper berries and some boxwood clippings. It's actually my favorite.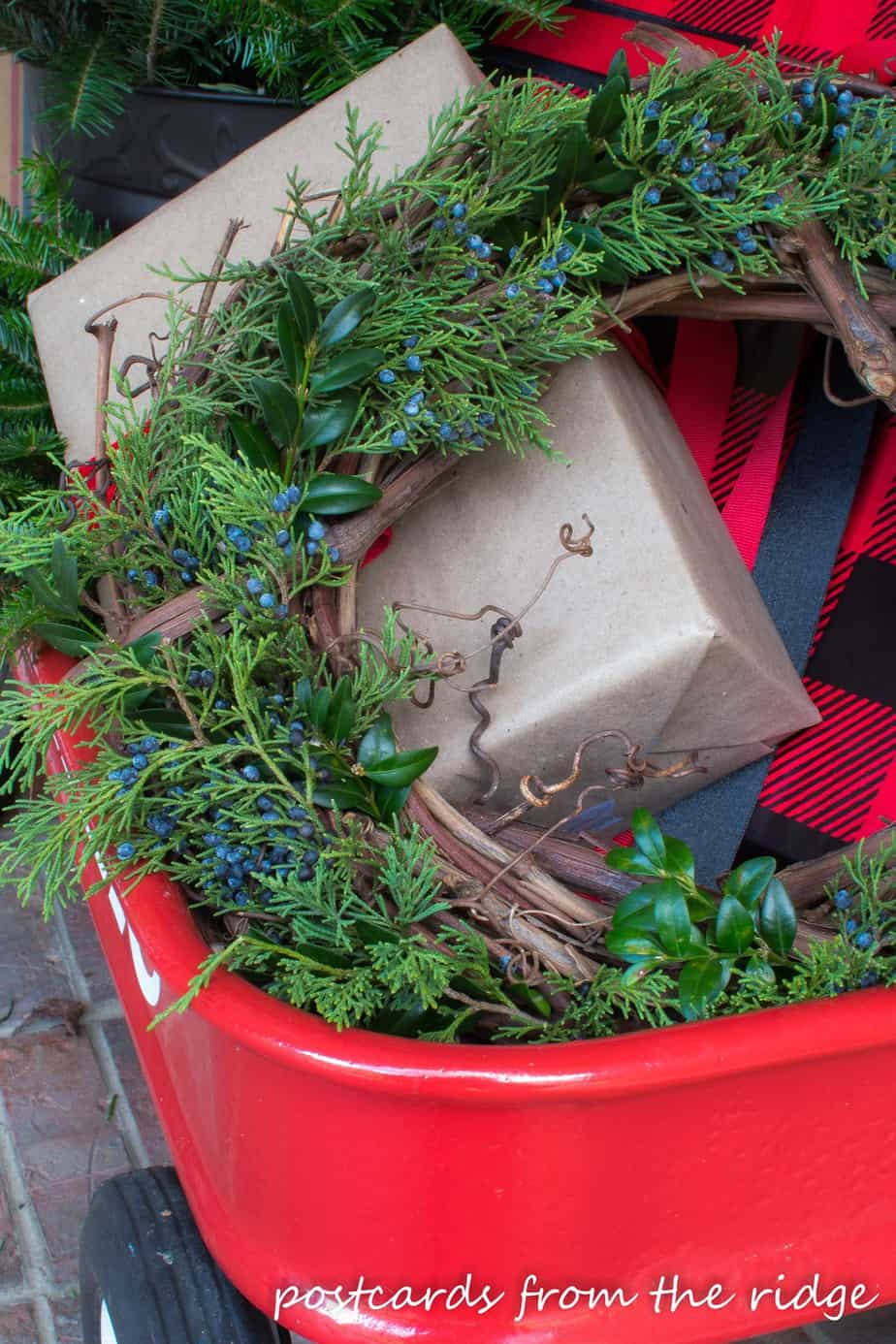 I'm in love with the blue and green combination these days. For this one I simply tucked in sprigs of cedar all around the wreath and then added a few boxwood twigs here and there.
I added it to our red wagon that's all decked out for Christmas.
The larger one fits perfectly between our Adirondack chairs. I added a vintage aluminum snow shovel to finish it all off.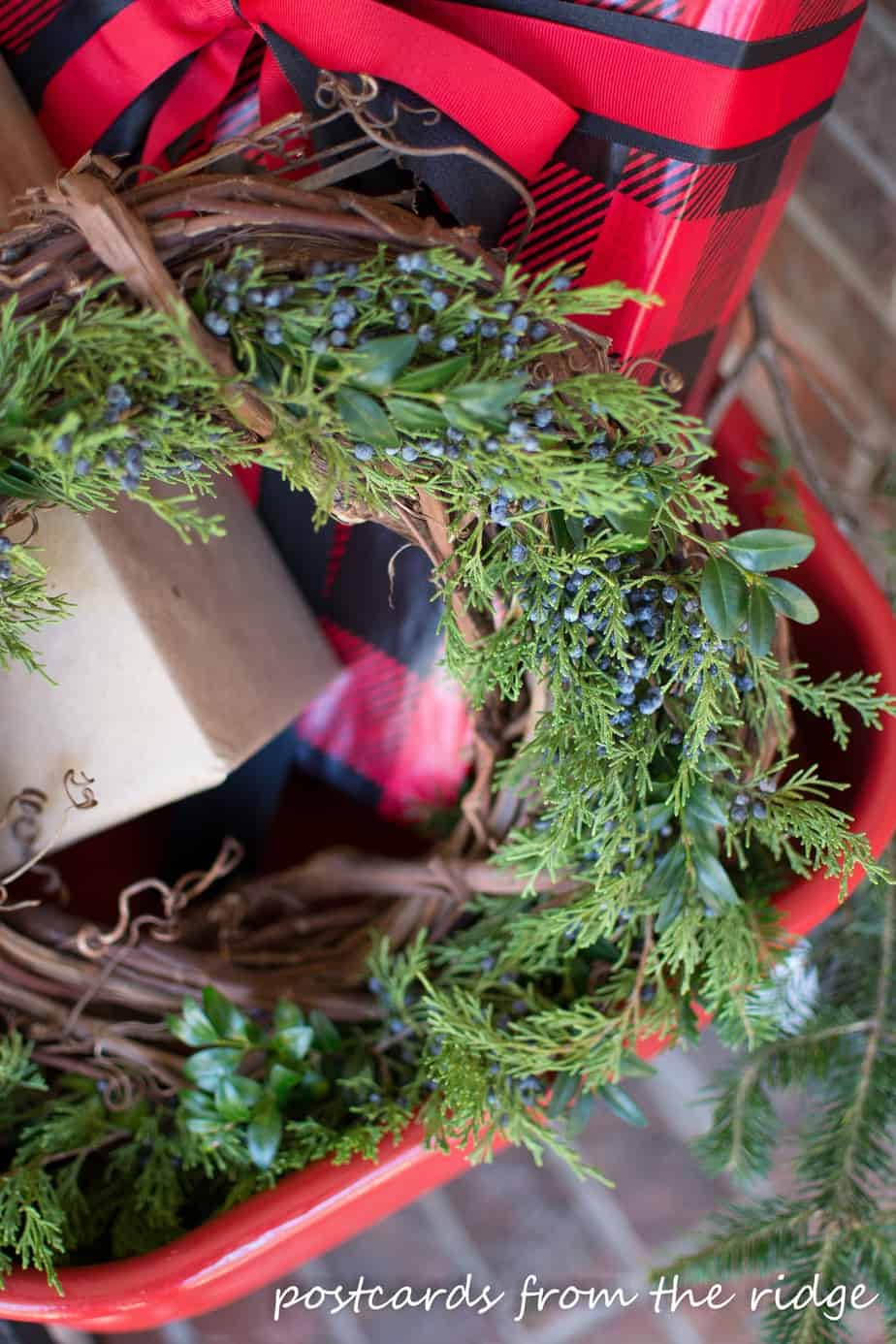 Such a fun way to be greeted when we come home, and it was so easy to make these! And it was a great way to spend a couple of hours with my mom and daughter.
Have you made wreaths from branch clippings before? What did you use?
And now for a peek at the inside of the house. I've shared these spaces in other posts and you can click on the links to see more of each area.
Kitchen and Breakfast Room Tour
Vintage-Inspired Holiday Tablescape
Rustic Farmhouse Family Room Mantel
Christmas countdown in the kitchen
Or you can go here to see these and more from previous years.
Don't forget to check out all of the amazing projects linked up to our Home for Christmas tour. There are so many talented people sharing their ideas. Click on the photos below to find out more about them.
And be sure to link up your posts at our Inspired by You party! It starts every Sunday at 10:00! Go here to link up and be seen and possibly featured on 4 blogs. Or click on the photo below.
Thanks so much for dropping by my little space on the world wide web!
XOXOX,
Angie
If you're new here, sign up for email here or follow along here so you don't miss a thing:
Email * Facebook * Hometalk * Pinterest * Twitter * Instagram

For handy tips and tutorials, go here.

To see my painted projects, go here.

For tasty recipes from my kitchen, go HERE.
For some simple tips for capturing a great photo, go HERE.
Go here to learn about having an online design or color consultation.
And go here for dozens of photos, ideas and favorite paint colors.