Drum Table Updated with Anthropologie Knob and Paint
Guess what day it is??? It's themed furniture makeover day! For newcomers, this is the day where once a month my furniture painting gal pals and I all give a piece of furniture a facelift with a theme. This month's theme? Small tables.
This post contains affiliate links for your convenience. For full disclosure, go here.
In case you missed it, I shared another table makeover yesterday. Two tables in two days. Two posts in two days. There must be a blue moon somewhere! You can see yesterday's table here.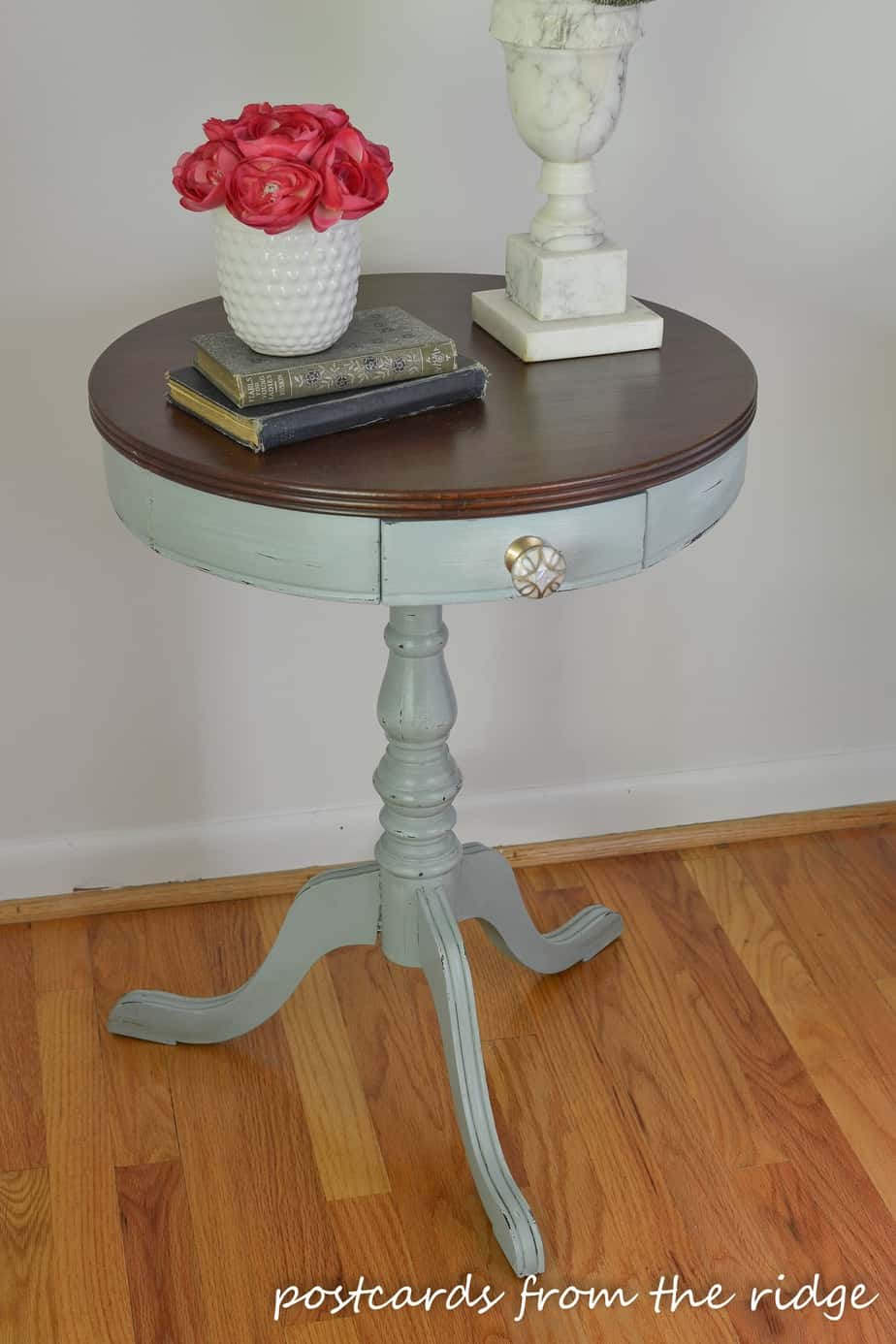 Here's the whole table, legs and all. It has a really nice shape, don't you think?
Here's how it looked. As my 15-year-old daughter said, there wasn't anything wrong with it. And she was right. Not bad, but I always like to take things to their full potential.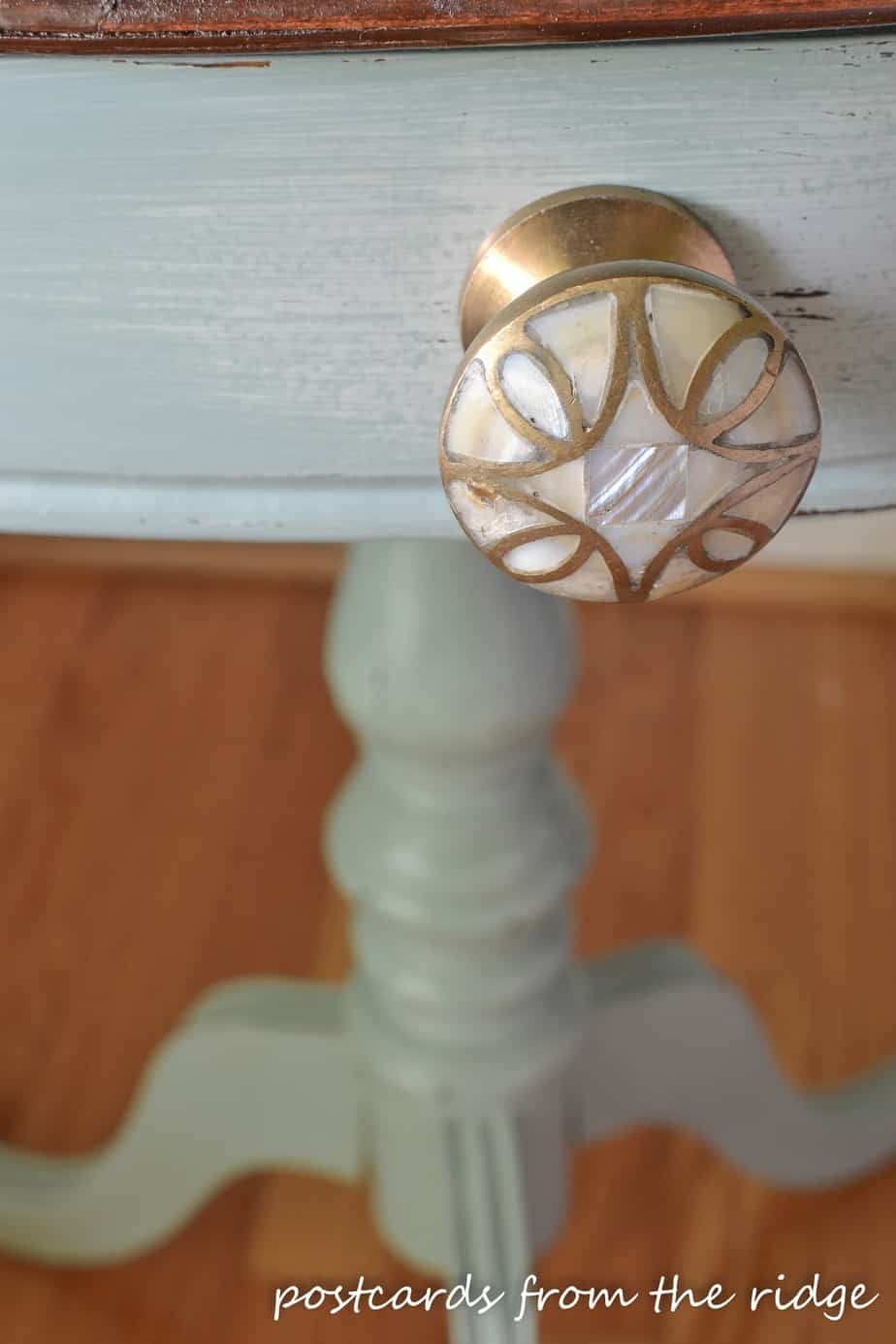 This was my inspiration. I found this stunning knob at Anthropologie and fell in love immediately. The detail is amazing and I knew it would be perfect for this project.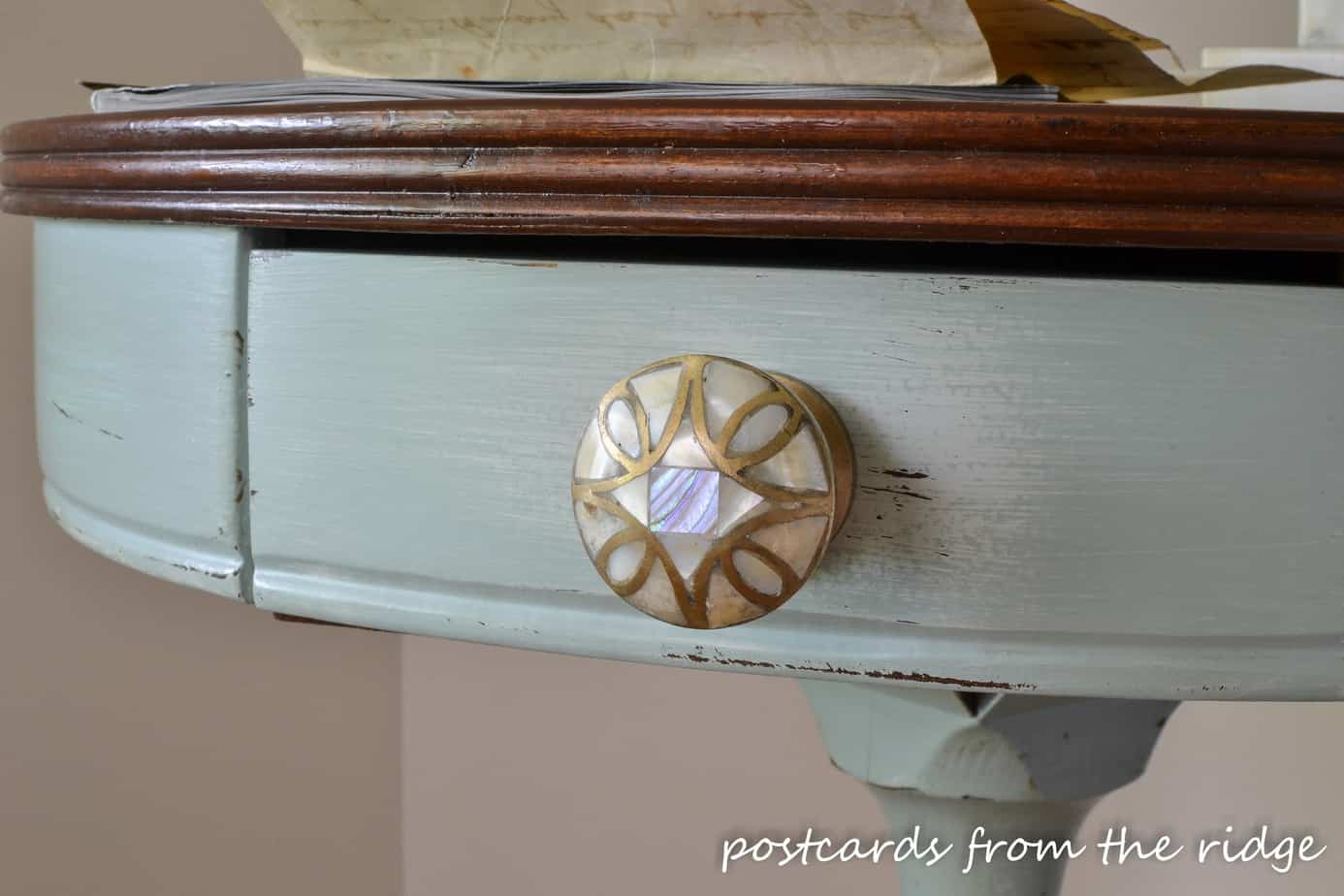 I'm so glad the camera was able to capture the iridescent color in the center. It really does shimmer like that. I painted the table with Benjamin Moore Gray Wisp first, but it looked too light. So I added a layer of Stratton Blue for more depth.
A little distressing in strategic places revealed the lighter color and gave it a nice naturally aged look. I'm loving the layers.
Lastly I coated it with a layer of my favorite wax, let it dry, and buffed it to a soft shine.
I photographed it in the living room but am strongly considering using it as a night stand. What do you think? Too small?
Some old books, flowers from Marshall's, and one of my alabaster lamps decorate the top. I left the top unpainted because it was in great shape and I like the two toned look.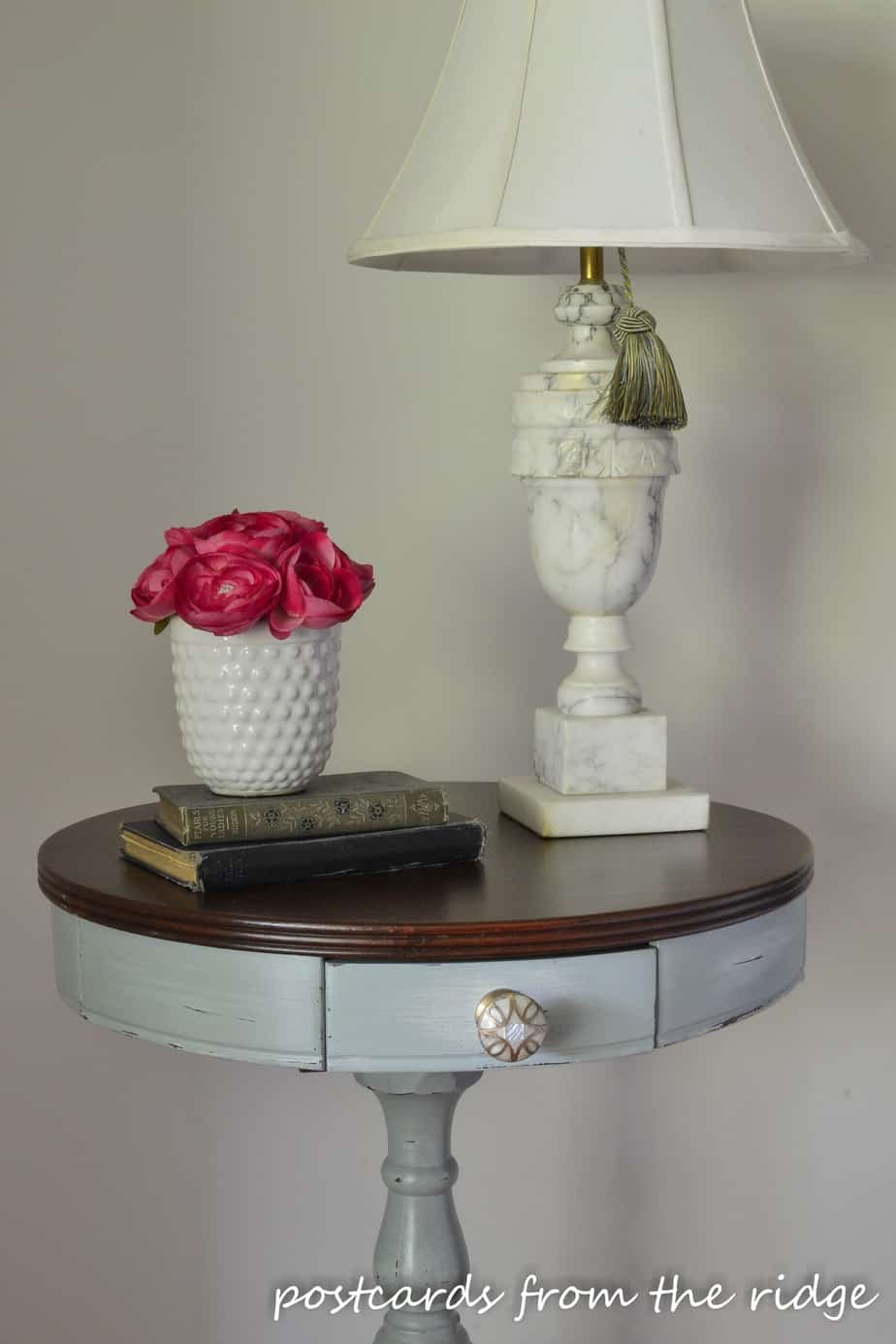 What do you think? Is it an improvement over how it looked or would you have kept it as it was?
*DISCLOSURE: This post contains affiliate links for your convenience.
I use this product to clean and prep my furniture before painting it. Prepaint Cleaner
This is the wax I prefer. Furniture Wax
For the knob, go here.
Don't forget to drop by and see all of the great makeovers that my friends have done. Just click on the images below and see the story behind each piece. And be sure to leave them a nice comment to let them know how much you like it!
Here are a few previous themed furniture makeovers if you want even more inspiration.
Thanks for dropping by.
XOXOX,
Angie
If you're new here, sign up for email here or follow along here so you don't miss a thing:
Email * Facebook * Hometalk * Pinterest * Twitter * Instagram

For handy tips and tutorials, go here.


To see my painted projects, go here.

For tasty recipes from my kitchen, go HERE.
For some simple tips for capturing a great photo, go HERE.
Go here to learn about having an online design or color consultation.
And go here for dozens of photos, ideas and favorite paint colors.
Thanks so much for dropping by my little space on the world wide web!