Refinished and Refreshed Drop Leaf Table – "Inspired By" Themed Furniture Makeover
What inspires you? Isn't that a great question? I'm inspired by so many different things. Nature, architecture, blogs, magazines, pinterest, HGTV, my daughters, and the list goes on. And around here the past few days the weather has been very spring-like and I've been inspired to set out some brighter things around the house.
I recently revived an small, old, wooden drop leaf table that had seen much better days. It will be a perfect table for a small entry, a small eat-in kitchen, or even a night stand. I wanted to give it a bright and colorful makeover and used a cheerful, vintage-looking green paint.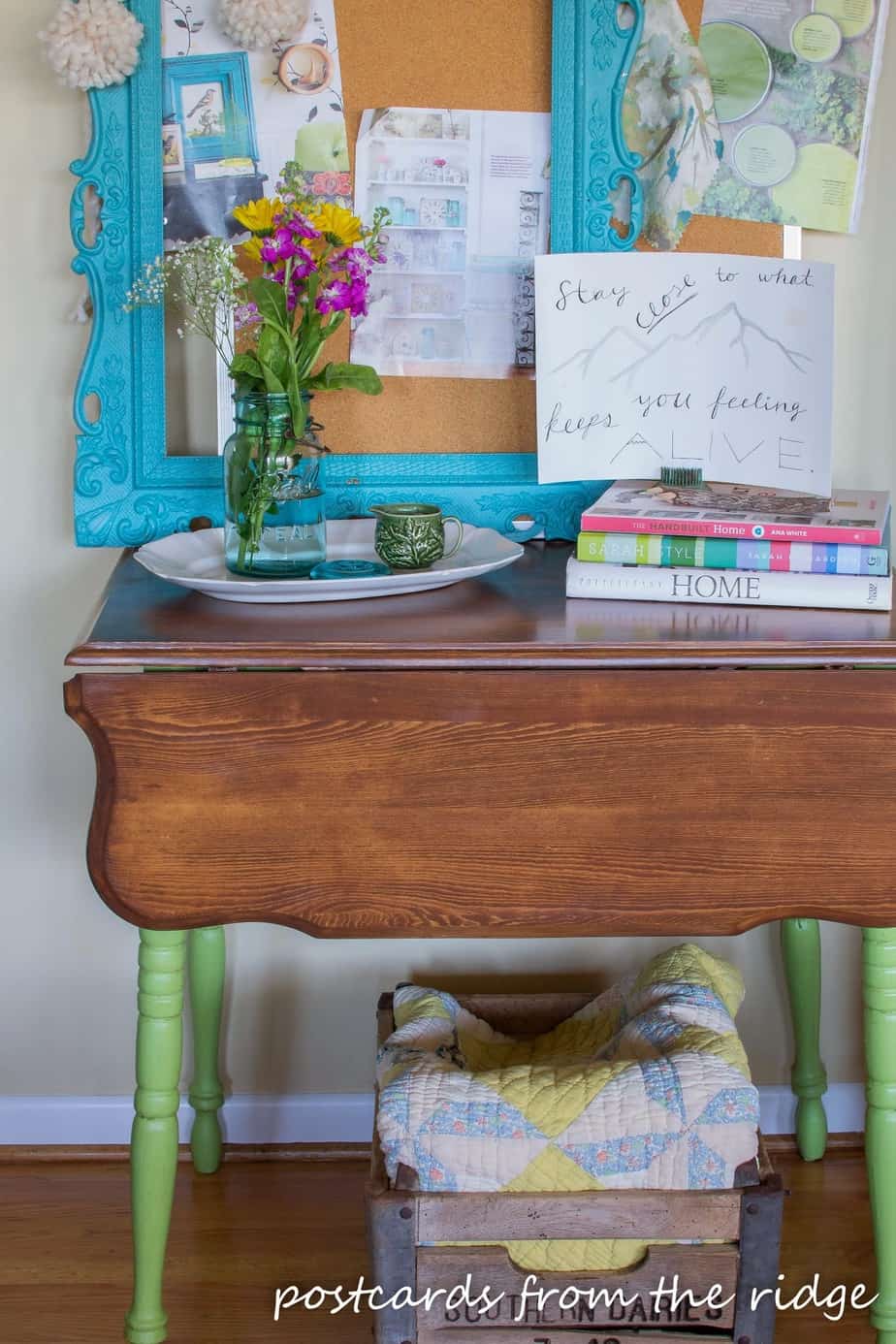 This fun project is part of a monthly themed furniture makeover challenge that some of my furniture painting friends and I put together to inspire you, our readers. There are some super creative and talented ladies in this group and I'm thrilled to be able to join them. This month's theme is "Inspired By".
This post contains affiliate links for your convenience. If a purchase is made after clicking one of the links I might make a small commission. Your price does not change. For full disclosure, go here.
Some of our previous themed furniture makeovers include
After you're done here scroll down to the bottom of the page and click on the images shown to visit all of the inspired projects.
My inspiration sources:
Starting at the top left and going clockwise, sources are The Golden Sycamore, Country Living Magazine, Celebrating Everyday Life with Jennifer Carroll, House and Home, Wayfair Country Living Shop, Miss Mustard Seed, My Passion for Decor.
Most of these are on my pinterest boards and can be found here.
The main inspiration piece is the table with the hot cocoa sign, but mine ended up with green legs. All of the other pieces were my inspiration for color.
And now for the transformation of this fun piece. It's come a long way, baby.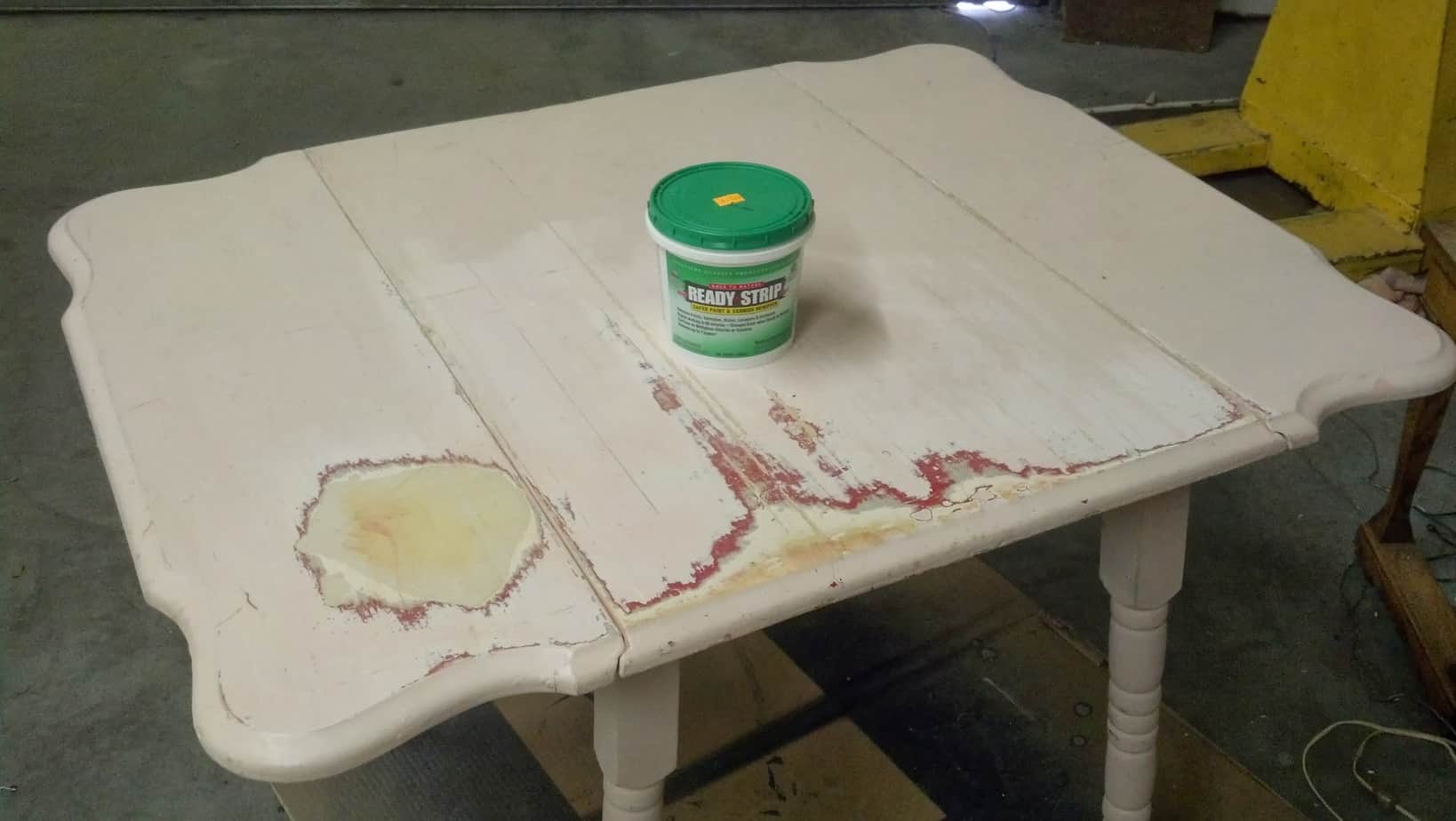 It was painted in a pale pink shade when I got it. And underneath the pink was red, gray, and white. UGH. For some (crazy) reason I envisioned it with all that paint stripped off of the top and the wood exposed. And once I get something in my head it's pretty hard to change my mind. I'm flawed that way.
Even the hinges on this piece were covered in layers of paint. But I had a vision. And I'm stubborn, remember?
After the chemical paint stripper I tried didn't remove all of those layers of paint, I ended up buying a new sander. It worked great but created a ton of dust, even with the bag that's supposed to catch all of it. *Note to self – do this outside the next time. 🙂
I have to tell you that even with the sander it took me at least a couple of hours to get all the paint off the table top and underneath. Wearing gloves is recommended to help cut down on the vibrations from the sander. And always wear a respirator and safety glasses when using a sander. Even with all that, I think it was definitely worth the effort.
Next up, stain and finish. I stained the wood with Zar Mocha and finished it with 2 coats of Zar Antique Flat Polyurethane, sanding lightly in between coats. The photo above shows what the drop leaf looked like after removing the old layers of paint but before staining.
For my complete tutorial for refinishing wood furniture, go here.
Green wasn't the only choice for the legs, as you can see. I tried a deep brown and a turquoise too.
I finally narrowed down the color to Benjamin Moore Central Park 431 and painted all the legs.
After the paint dried I applied a coat of dark wax and then buffed it slightly after it dried. Once that was all done and the top of the table and leaves were dry, it was time to put it all back together and take it home from the shop.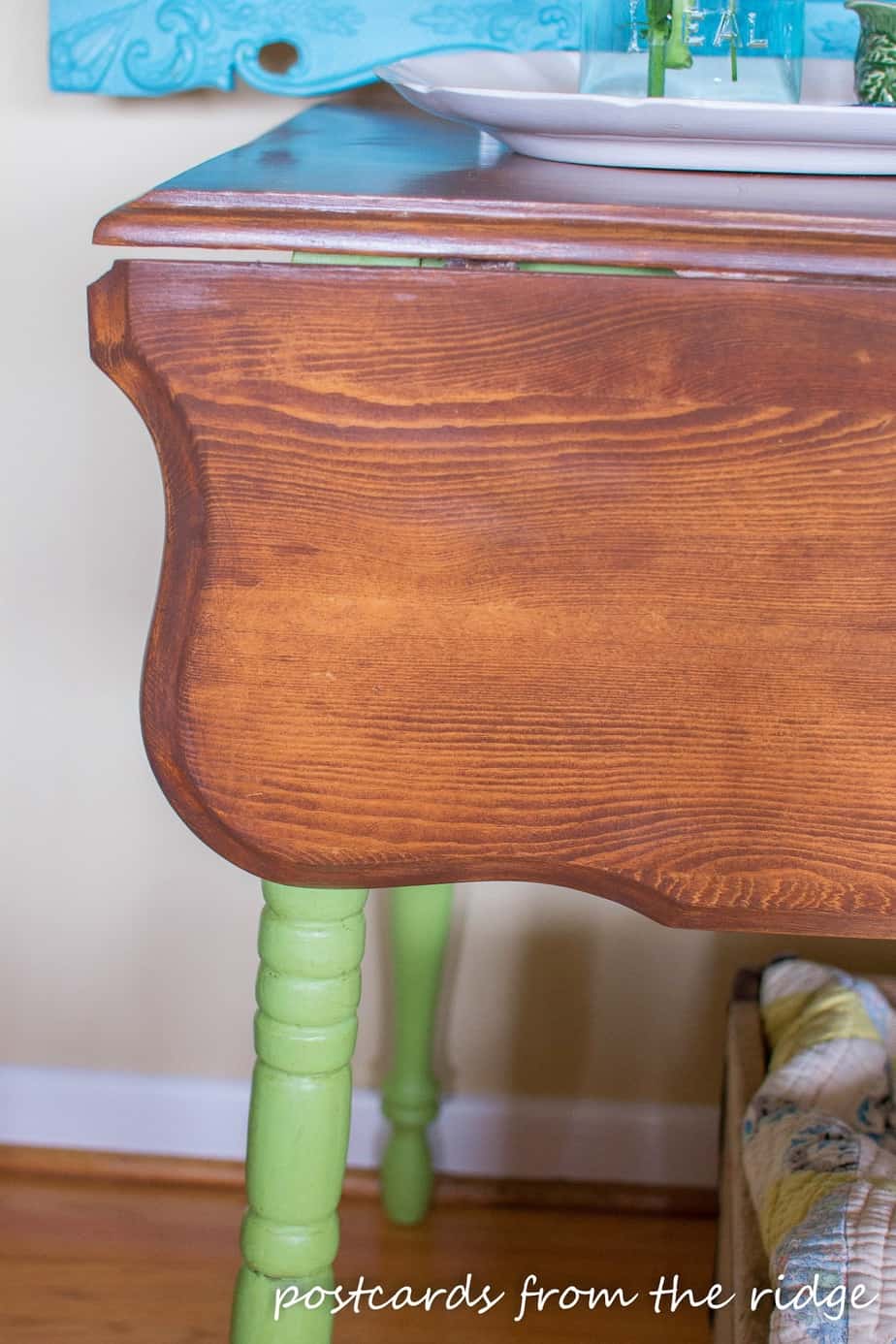 Although I don't have this color anywhere else in our house and it was met with questioning looks (from my youngest) when I brought it home, I'm really liking it.
It's different. It's fun. It's quirky, like me.
This project really got me thinking about what inspires me so many of the items you see here are things I find inspiring.
A few of my favorite magazines, my favorite Turkish throw, and some velvet ribbon that I love made it into the photo.
And I just posted a tutorial for making an Anthropologie-inspired pompom garland here, so you might be seeing more of those made from the green yarn pictured as well as some pink and blue yarn that I picked up a couple of days ago. I was feeling inspired. 🙂
I adore the contoured edges of this little table and the way they turned out.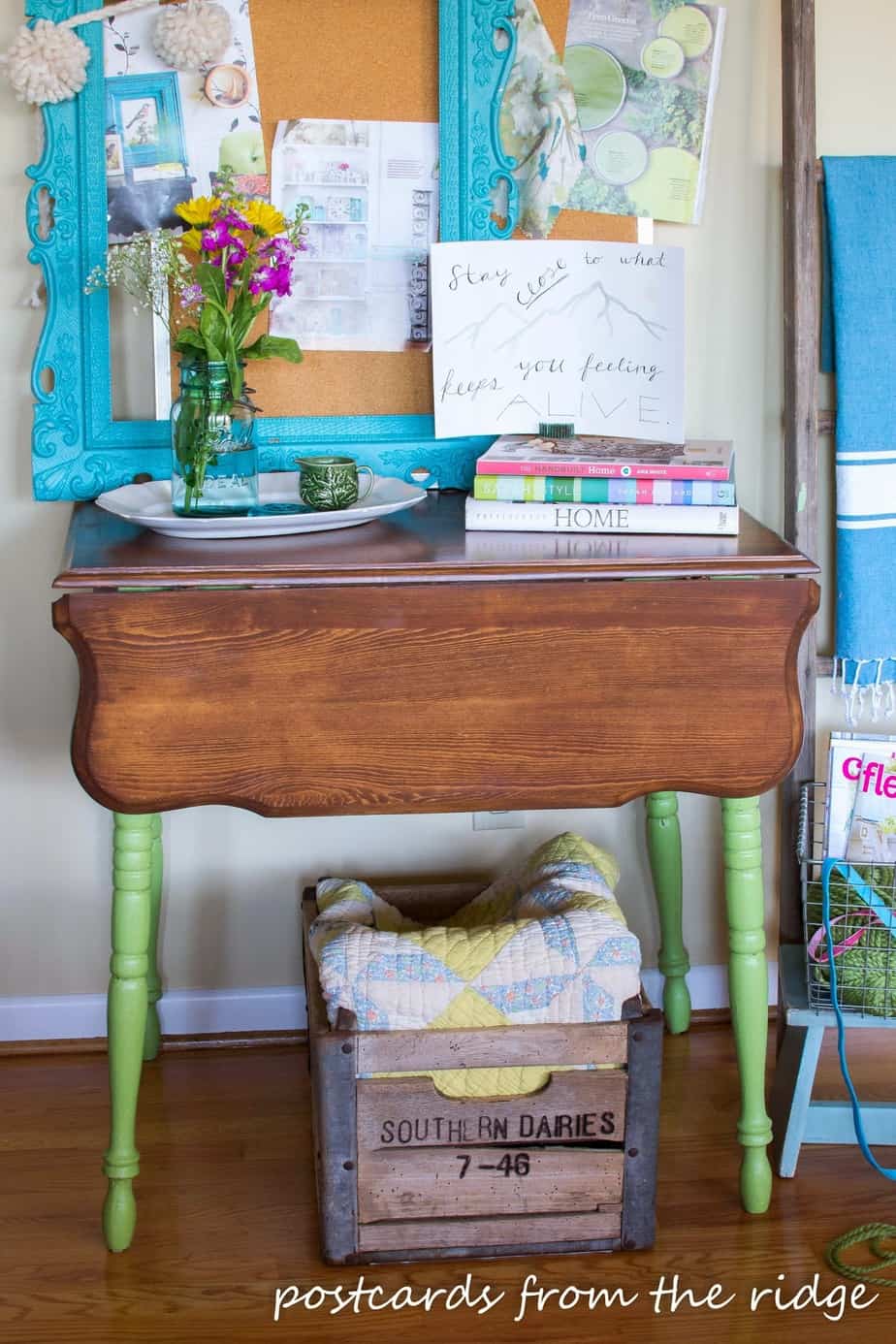 And thankfully the wood grain looks as good as I had hoped it would.
The 2 coats of poly means that it will be extremely durable and water resistant and might make a great little kitchen table someday.
A few items that I like to look at. Flowers, a blue mason jar, an ironstone platter, some favorite books.
The old frame is painted in Benjamin Moore Blue Spa 2052-40. And the sign was painted by my 15-year-old daughter. She gave it to my husband for Christmas and I stole it for the photo shoot. I'll be framing it as soon as I can find a frame to fit it.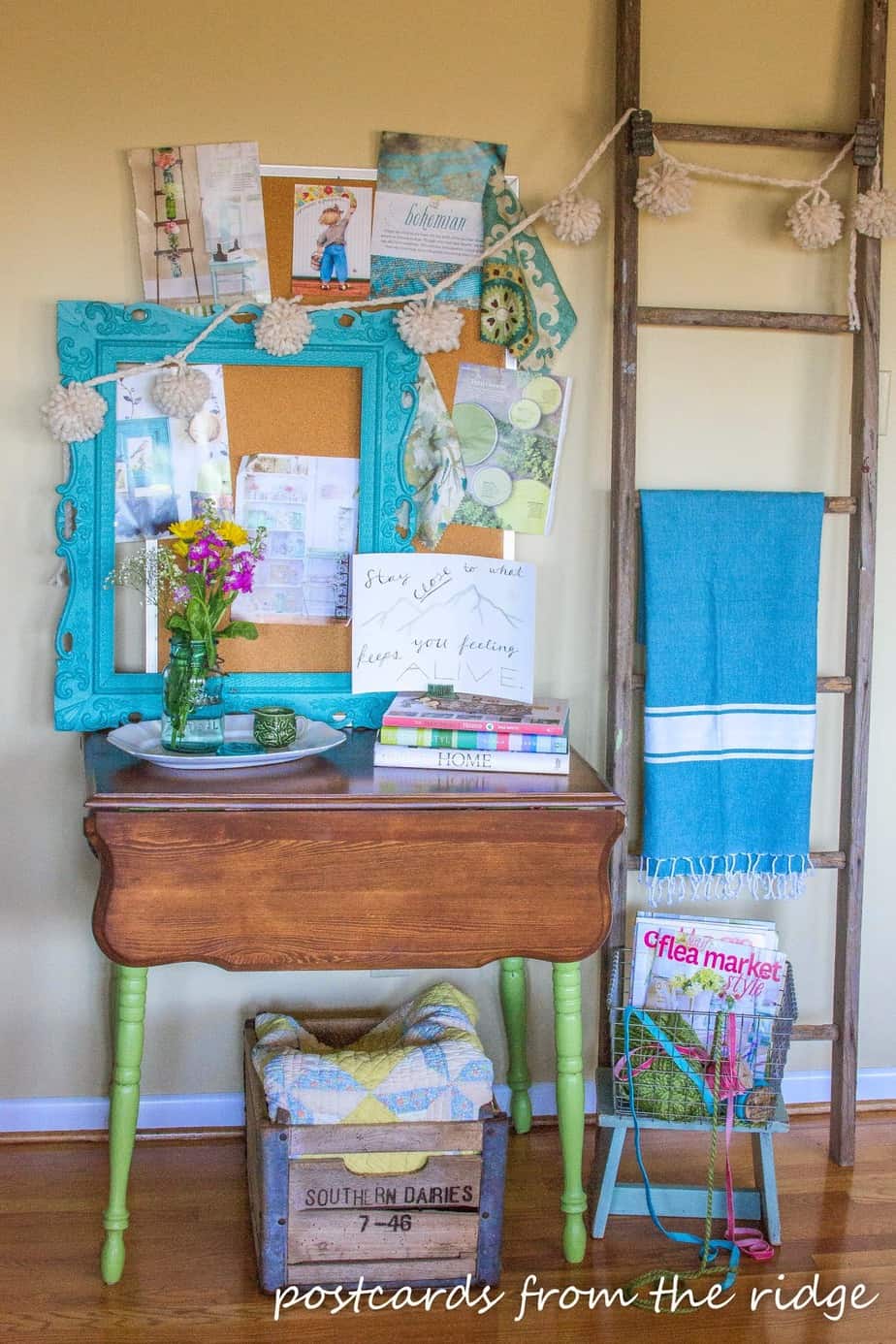 Now that I've set out all of these spring colored things, there's snow in the forecast. Wouldn't you know it? Probably just flurries, but we're not out of the woods yet with the winter weather. Oh well, I can just look at these things and automatically feel warmer!
So I ask you, what inspires you????
Don't forget to scroll down and see my talented blog friends' inspired projects! Let me know which ones are your favorites!
If you're new here, sign up for email here or follow along here so you don't miss a thing:
Email * Facebook * Hometalk * Pinterest * Twitter * Instagram

For handy tips and tutorials, go here.
To see my painted projects, go here.

For tasty recipes from my kitchen, go HERE.
For some simple tips for capturing a great photo, go HERE.
Go here to learn about having an online design or color consultation.
And go here for dozens of photos, ideas and favorite paint colors.
Thanks so much for dropping by my little space on the world wide web!
XOXOX,
Angie
Sharing this project here: