Red Hot Cocoa Cart ~ Themed Furniture Makeover
It's here again! Themed furniture makeover day! I love this challenge because it always pushes me to think outside the box somewhat. And this month's theme was no exception. Our theme this month is RED. And although I love red and used to have lots of it in my house previously, I don't have as much these days. But that might change because now I'm starting to fall in love with it again.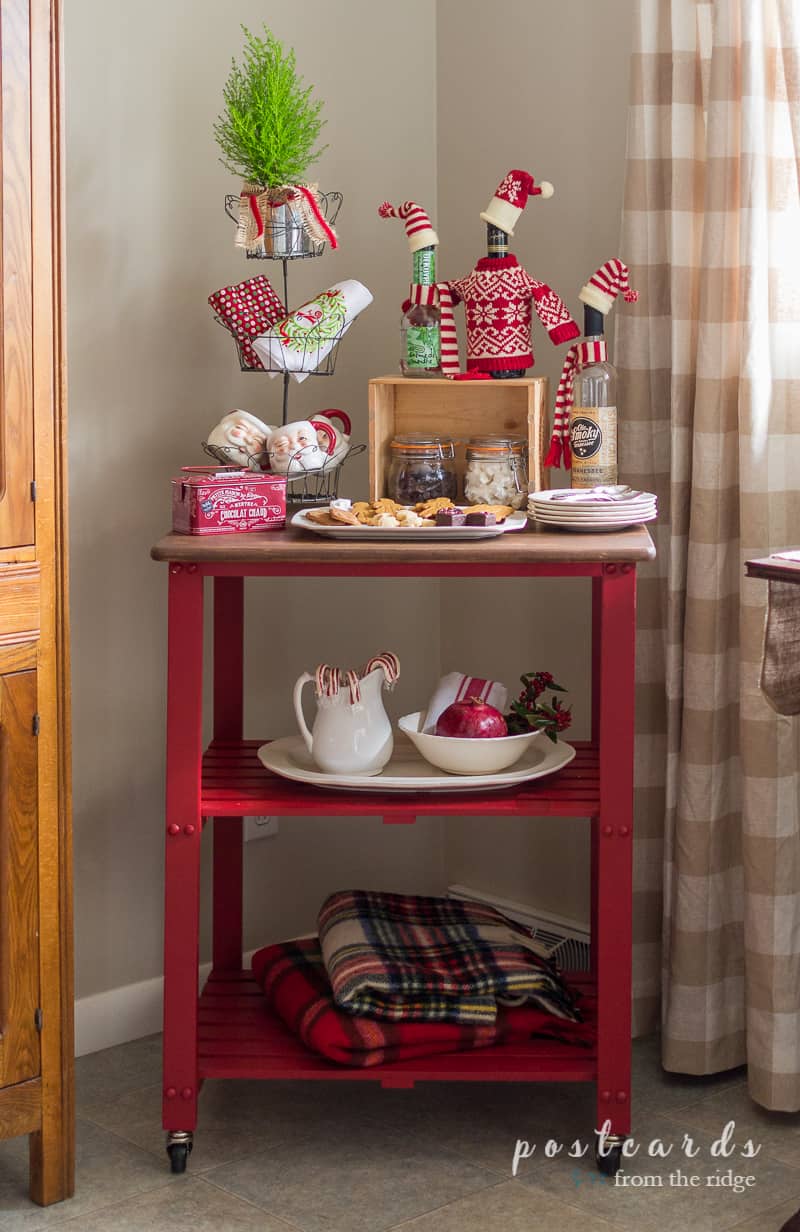 This post contains affiliate links for your convenience. If a purchase is made after clicking one of the links I might make a small commission. Your price does not change. For full disclosure, go here.
If you're not familiar with it, once a month some of my furniture painting friends and I get together and do themed furniture makeovers and share our projects on the same day. All of the projects are shown at the bottom of the post and you'll definitely want to see all of them! I've got some super talented friends!
Some of the previous themes are two-toned HERE, numbers HERE, and decoupage HERE.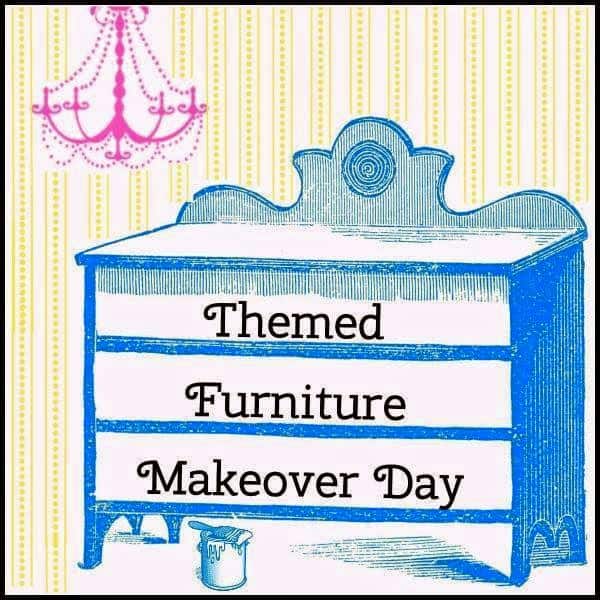 For this project I converted an unused kitchen cart into a hot cocoa cart. We bought it when we lived in our old 1930's Cape Cod house that had a tiny 1930's kitchen with no storage. The cart was built well and wasn't unattractive, but we didn't need it in this house. So it's been tucked away in a storage closet for a few years now. It was time for it to come out of the closet and start a new life. 😉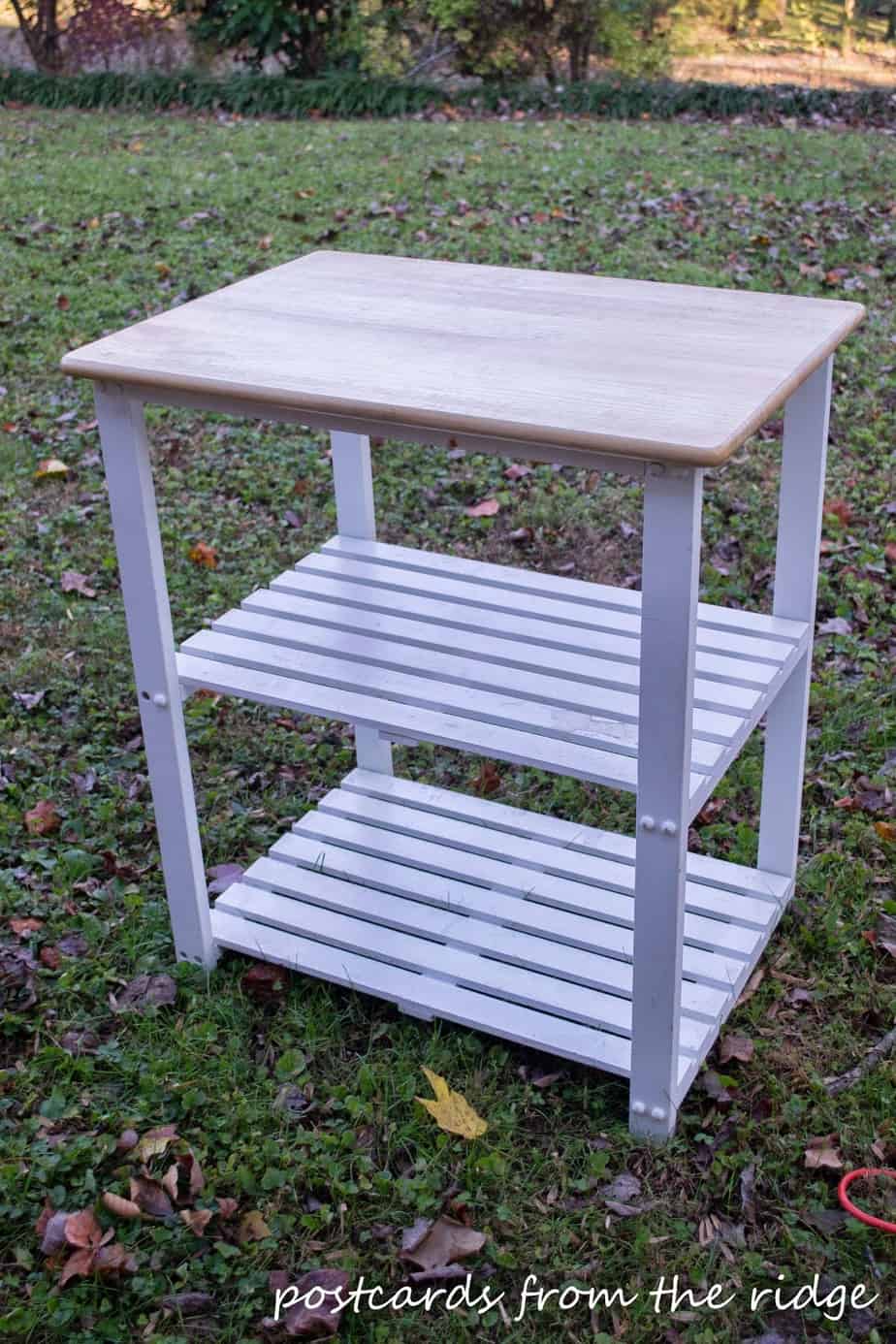 Overall, it was in good shape but the wheels had been removed and it was missing a few of the wood buttons that cover the holes in the legs.
First, I gave it a good cleaning with my favorite pre paint cleaner. Next I flipped it over and removed the top (it was attached with screws).
You can see where the wood buttons were missing in this photo.
Next, I sprayed the bottom side first, then the top with Rustoleum red spray paint.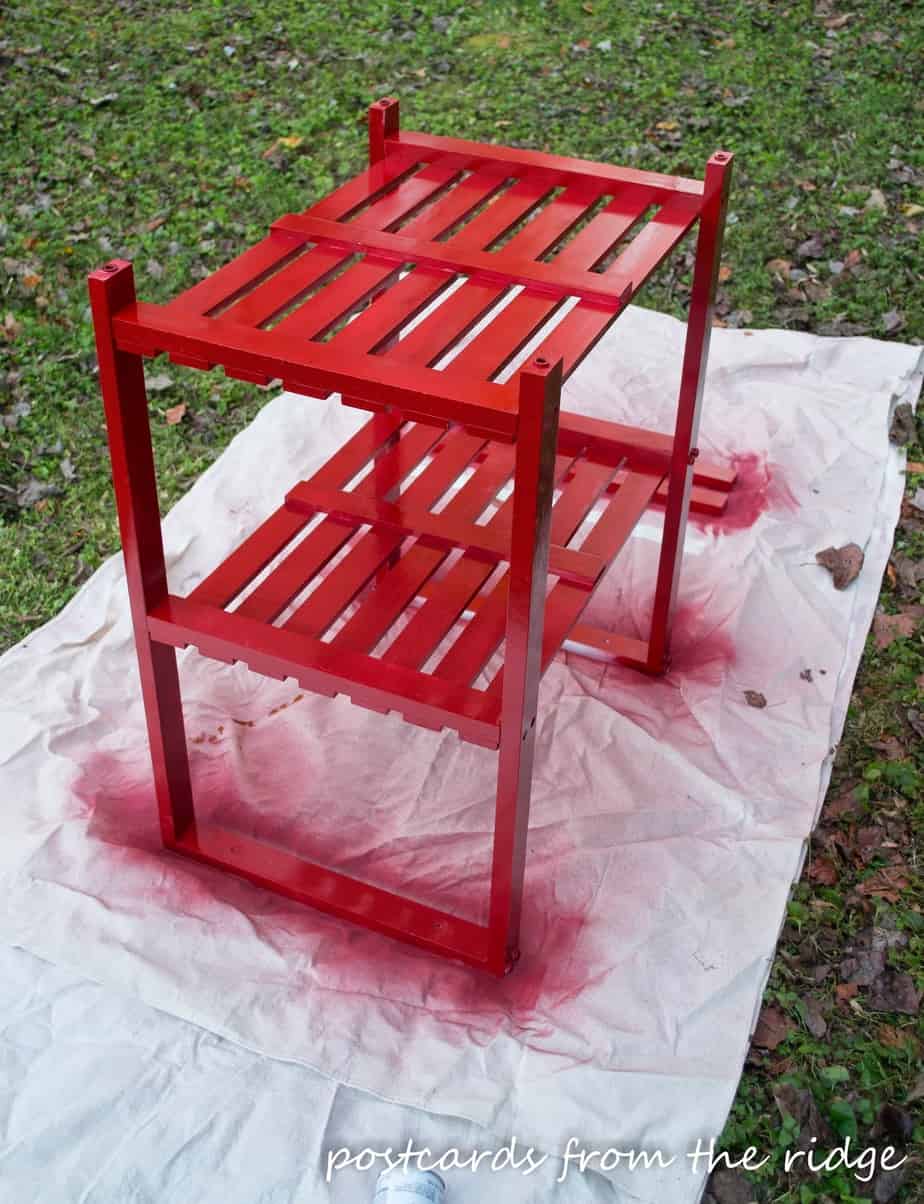 After it dried, I decided it was too glossy and a little bright for my taste, so I hand painted it with Benjamin Moore Caliente. I had some leftover from my Pottery Barn Mercury Glass Knockoff from last week.
For the top, I used my electric sander to remove the old finish and then restained it with Mocha stain.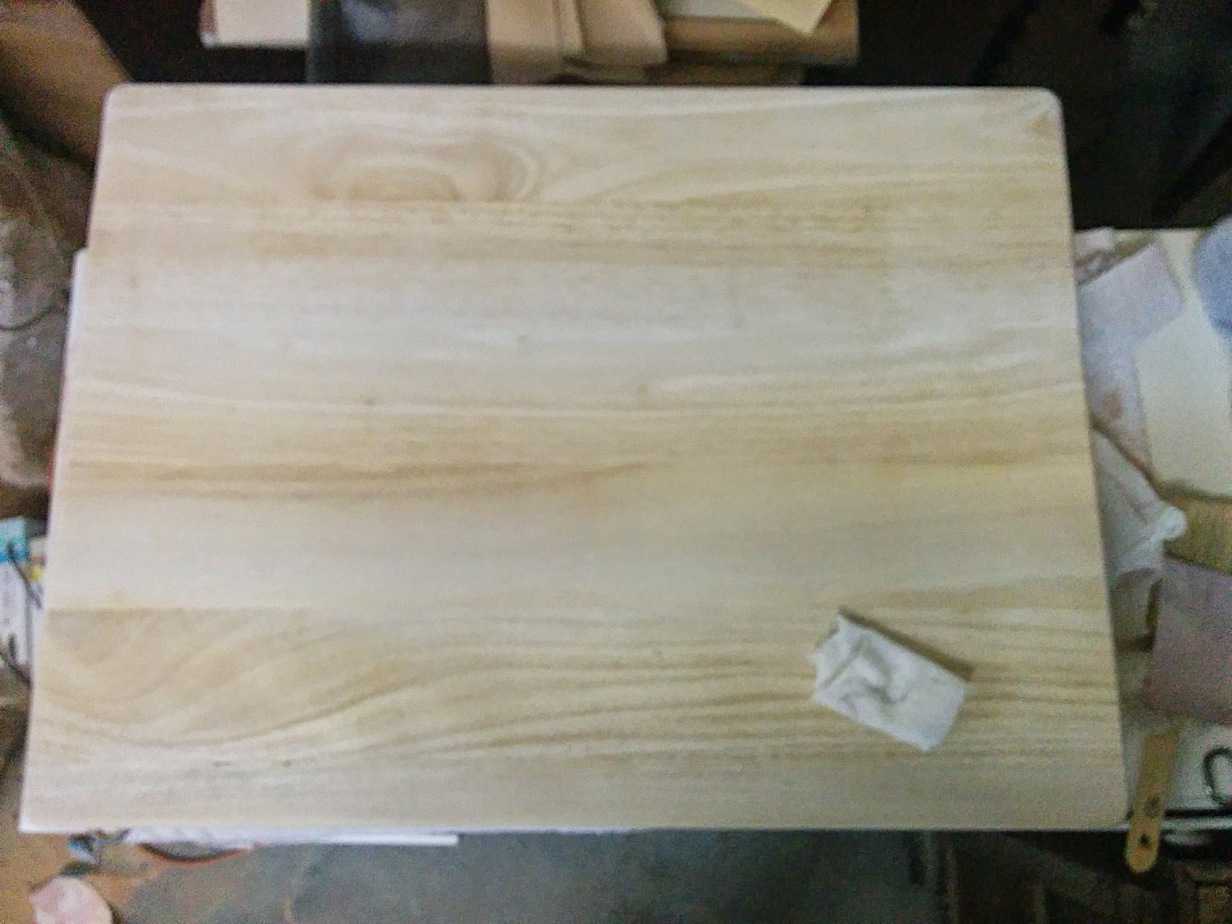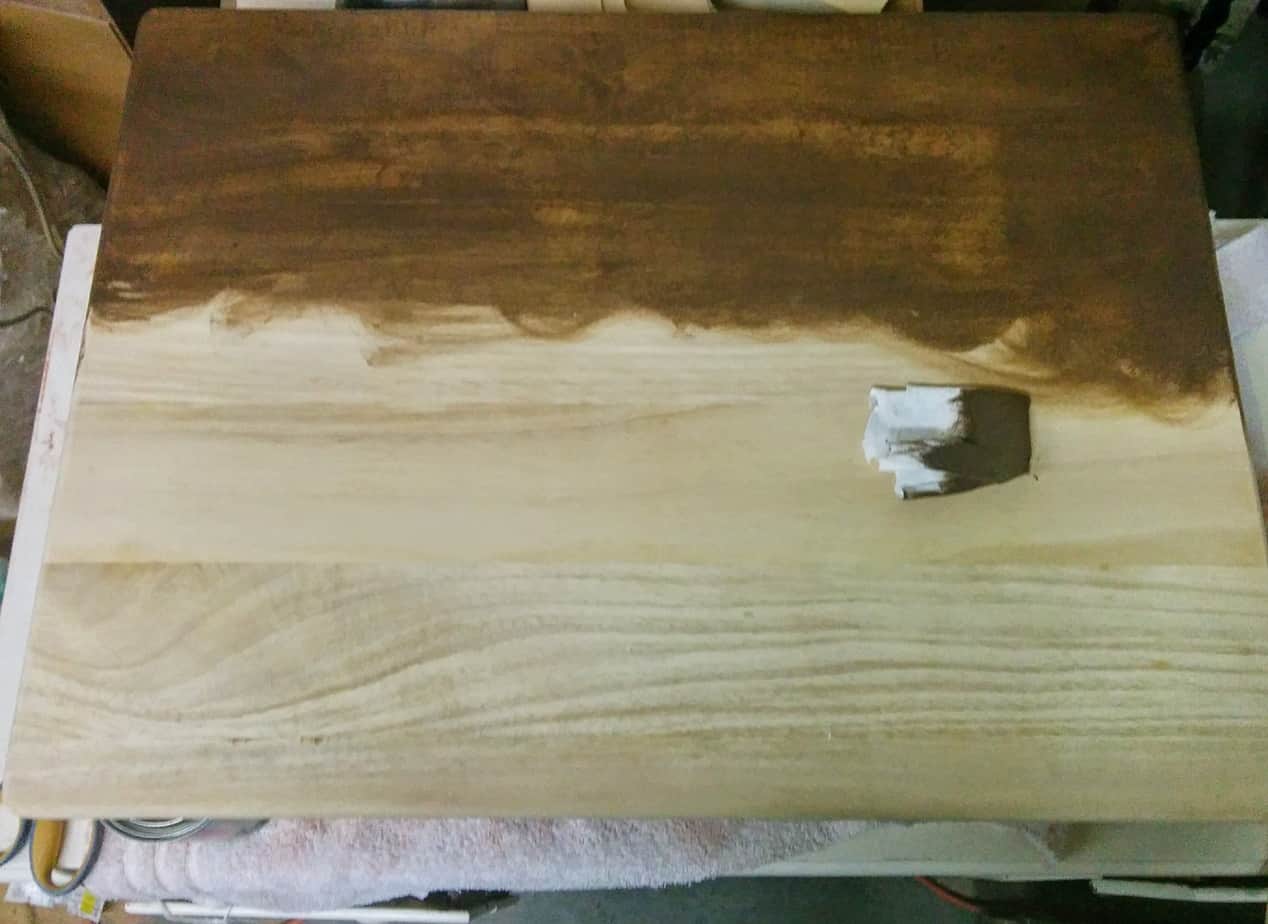 After the stain dried, I applied a coat of my favorite Varnish for protection. Once that dried I reattached the top to the base.
Then I added new casters to the bottom, flipped it over and had a brand new cart!
All that was left to do was stock it with hot chocolate items! And that was the really fun part!
I wish all of my projects were this fun! It turned out just as cute as I was hoping. The only thing I bought for this project was the spray paint and the glass canister for the hot cocoa mix, as well as the casters and wood buttons. About $20 total.
Well, I also bought the food ingredients, but I'm not counting that since I had most of it on hand. 🙂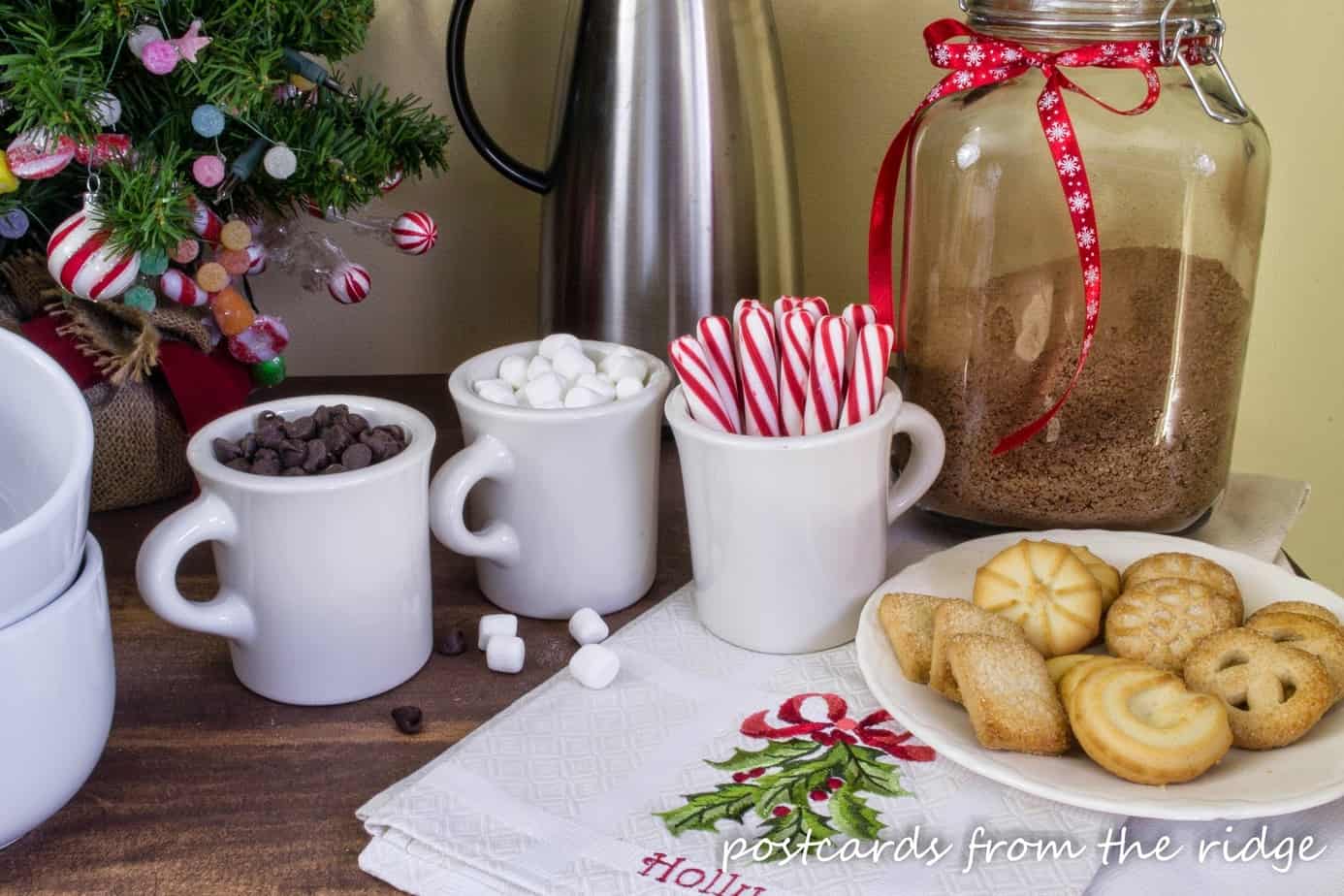 The top of the cart has hot coca mix, a carafe for hot water, jumbo mugs, marshmallows, chocolate chips, peppermint sticks, and some cookies for dunking.
I used some vintage coffee mugs for the cocoa additives and an old dish for the cookies. I bought the embroidered "Holly" linen a few years ago when we visited the Biltmore at Christmas. It's one of my favorite things to set out at the holidays.
The middle shelf has the adult additives…Creme de Menthe, Bailey's Irish Cream, and Kahlua. Dressed for the season, no doubt. I found the wine sweater and scarves last year, but there are some very similar ones HERE.
Everybody is happy with this cart.
I also added a couple of vintage plaid throws for extra warmth, and because I love old plaid throws.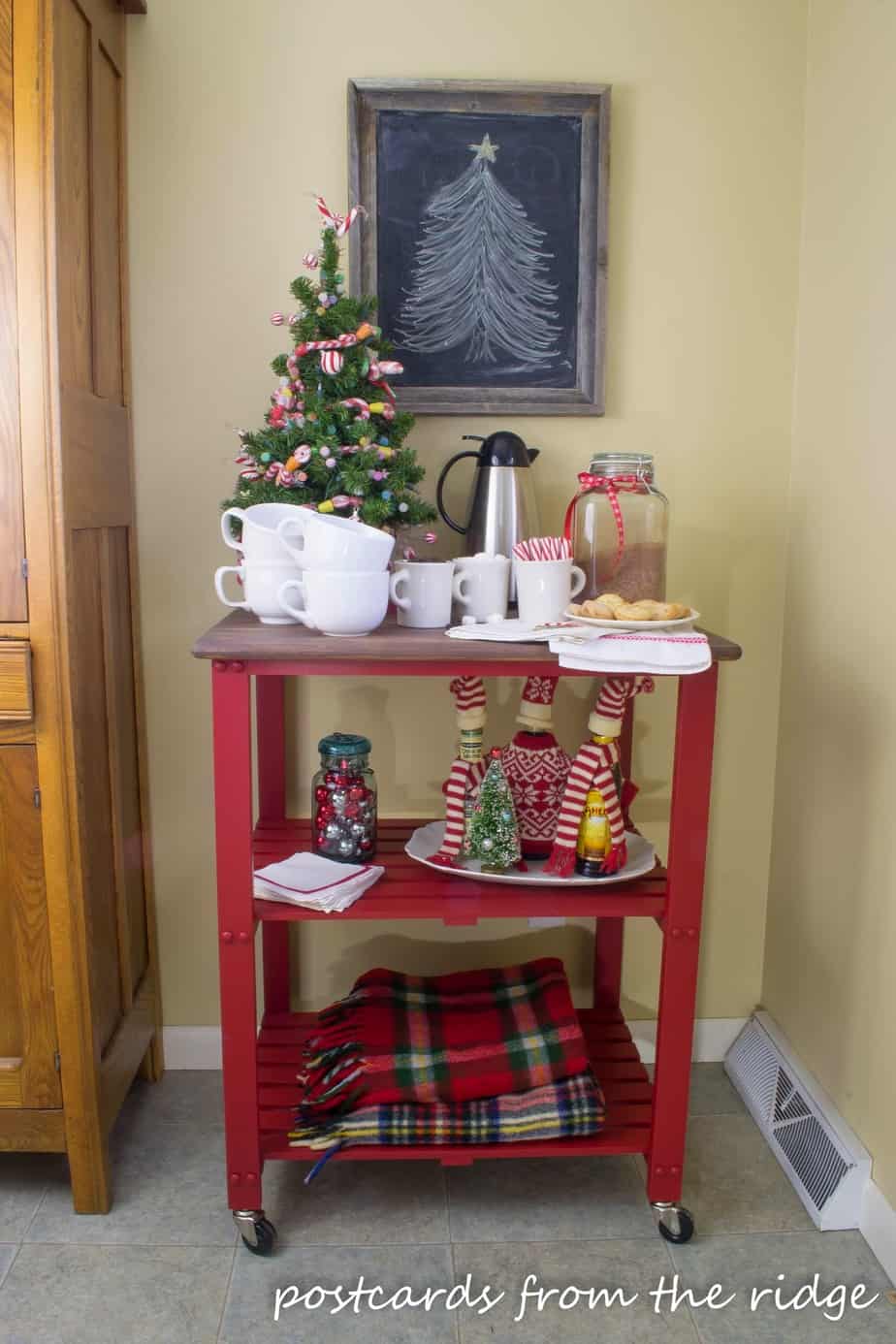 I've always loved the idea of a hot cocoa bar and this one is perfect for us. I can use it as an art caddy or a coffee cart after the cold months are over with.
What do you think, shall I make a cup of cocoa for you?
See more recent photos of this cart in this post → Cozy Christmas Home Tour
And DON'T FORGET TO GO TO THE BOTTOM OF THE POST TO SEE ALL OF THE FURNITURE MAKEOVERS!!
XOXOX,
Angie