Tiered Tea Table Inspired by our Moms
Today I'm sharing a table that has a special meaning to us. It was a favorite one of my late mother-in-law and we're happy to have it in our home. She was very proud of it and kept it in front of her living room window with pretty violets on it. She had a green thumb, much like my own mother does.
This post contains affiliate links for your convenience. If a purchase is made after clicking one of the links I might make a small commission. Your price does not change. For full disclosure, go here.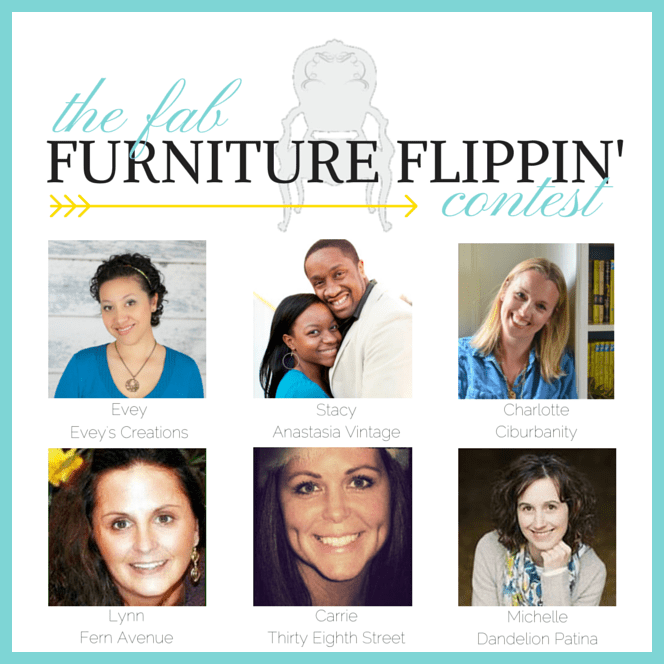 This project is my entry into the May Fab Furniture Flippim' contest which has an "Inspired by Mom" theme. This month's contest winner will receive a prize package from Cece Caldwell paints. (Fingers crossed). To see the projects, you can visit Evey's Creations or Anastasia Vintage.. If you're a blogger and are interested in participating in future Fab Furniture Flippin' contests, contact Stacy at info@anastasiavintage.com or Evey at info@eveyscreations.com.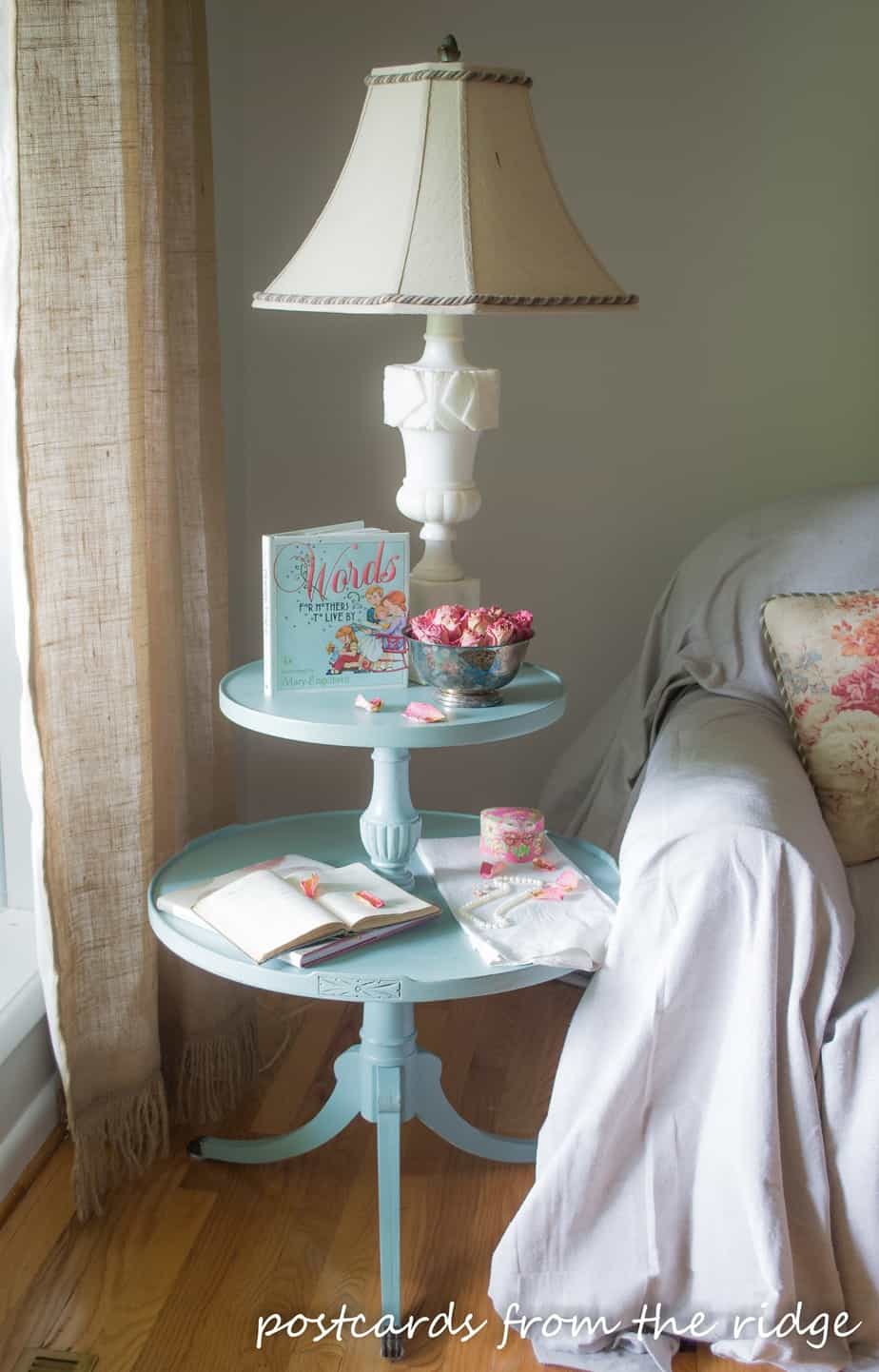 My mother-in-law passed away in 2001 and since that time the table was a little neglected. It needed some TLC so I cleaned it up and gave it a little facelift. She would be happy with the way it looks now and glad that we've found a place for it in our home.
I'm calling this the "before" shot even though it actually didn't have any paint on it at all when we got it. At first I attempted to do a really rustic, distressed look on it but it just didn't suit the piece. So it sat in my workshop for a while. Several months, honestly, until I had a better idea what to do with it.
I had a couple of pints of paint I wanted to use for a project. One was blue and one was yellow. Neither were really a good color to use on this piece. So I mixed the two together until I came up with this color that I used. I painted it with two coats, distressed it lightly, then finished it with a flat varnish.
It's now in our living room and I added some special touches as a tribute to my mother-in-law and my mom. A good mom (and mother-in-law) is a wonderful thing to have.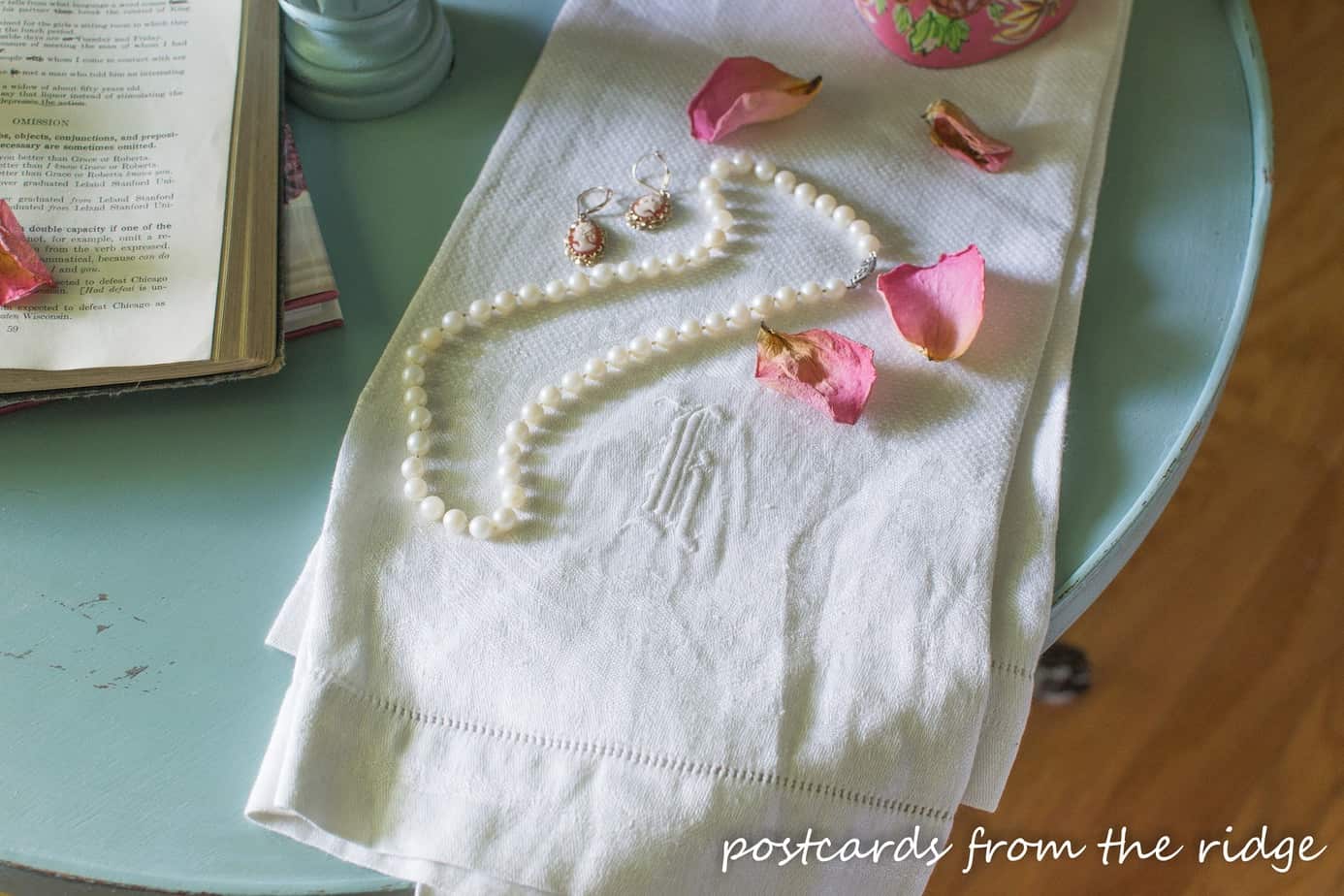 The earrings belonged to my mother-in-law and my mom was given the pearls as a wedding gift from her father-n-law. She gave them to me years ago and I cherish them.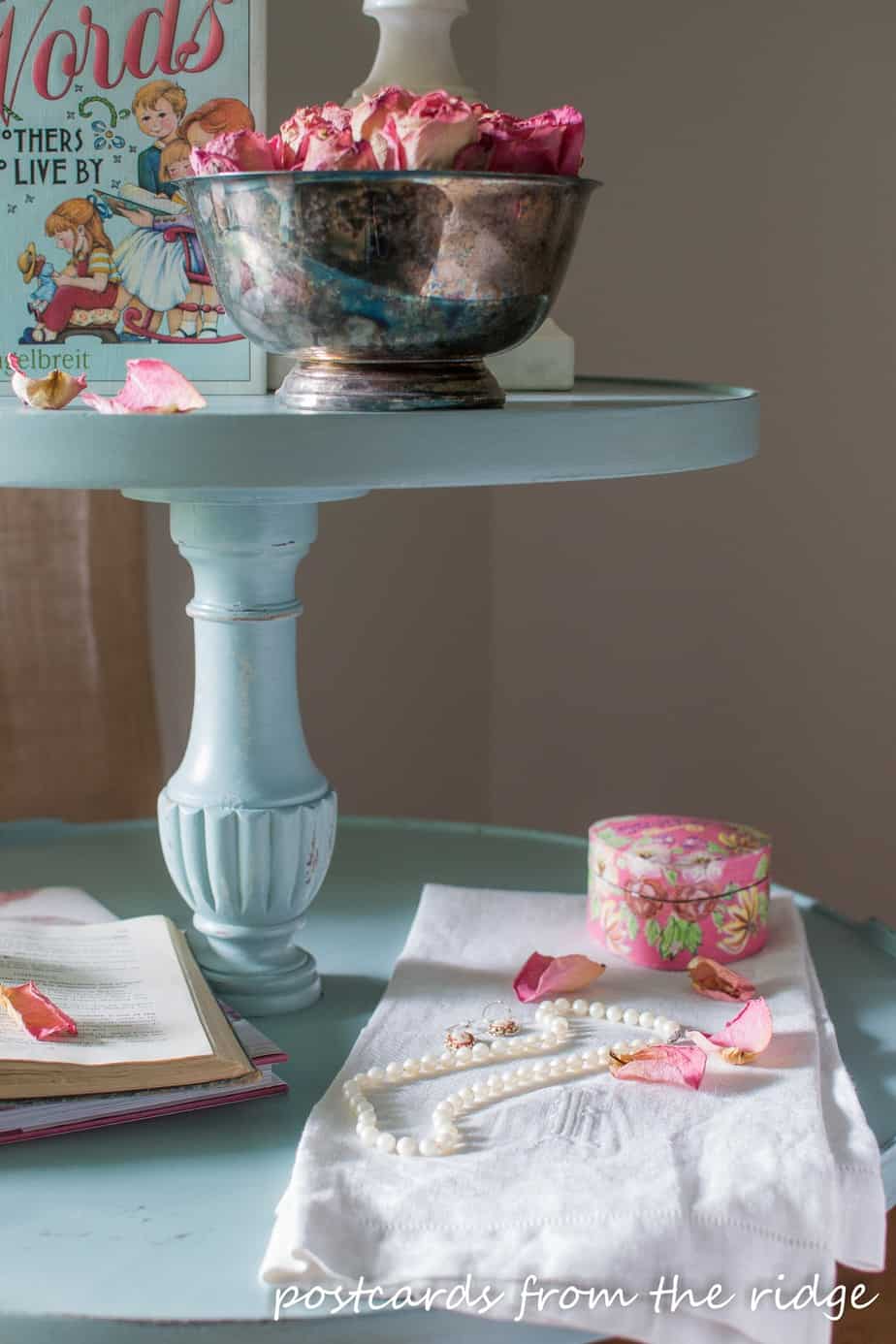 Roses and antique linens complete the look.
Old books and rose petals are always a good idea. Here you can see some of the distressing and the details of the piece.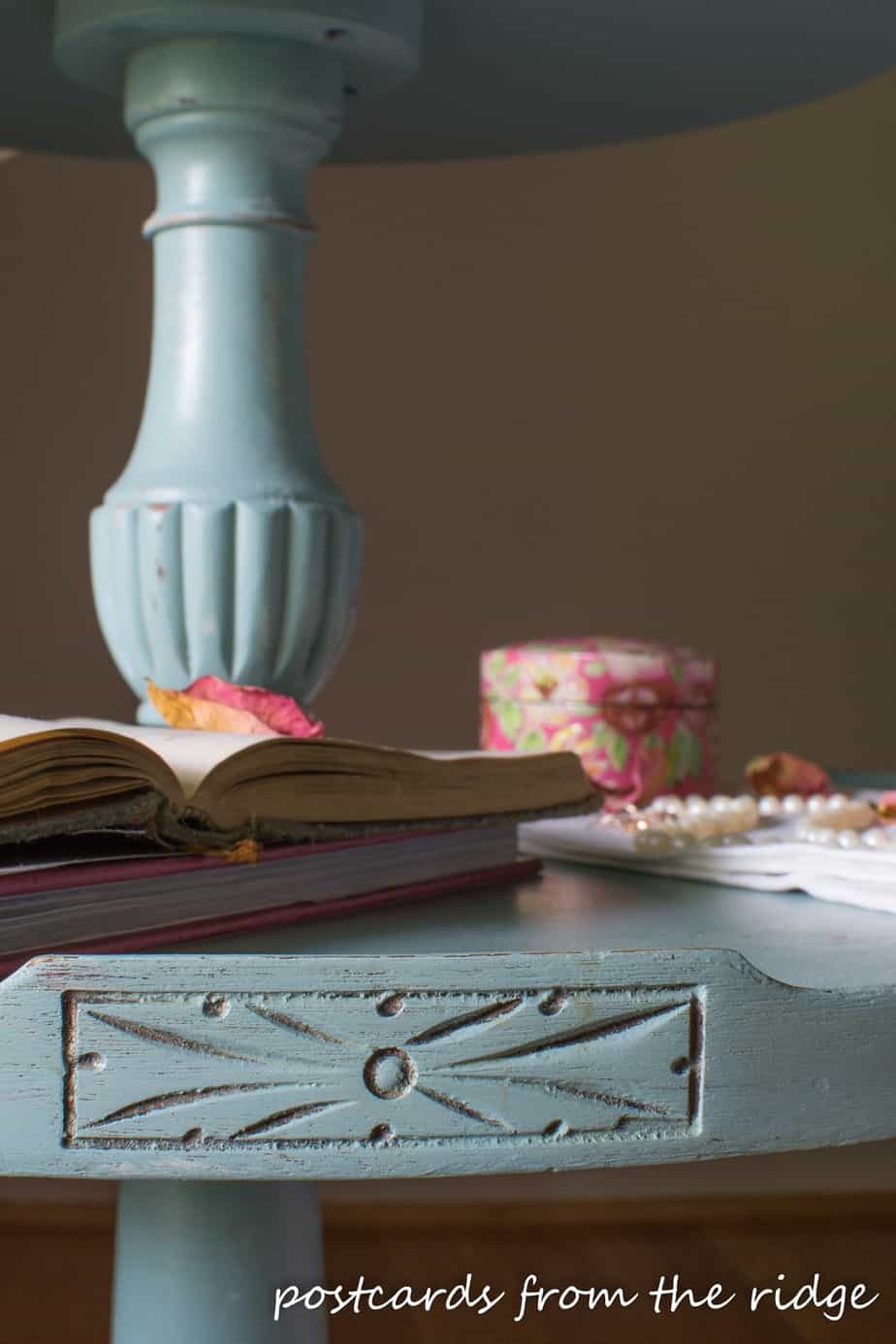 The legs were distressed in areas that would naturally show wear over time.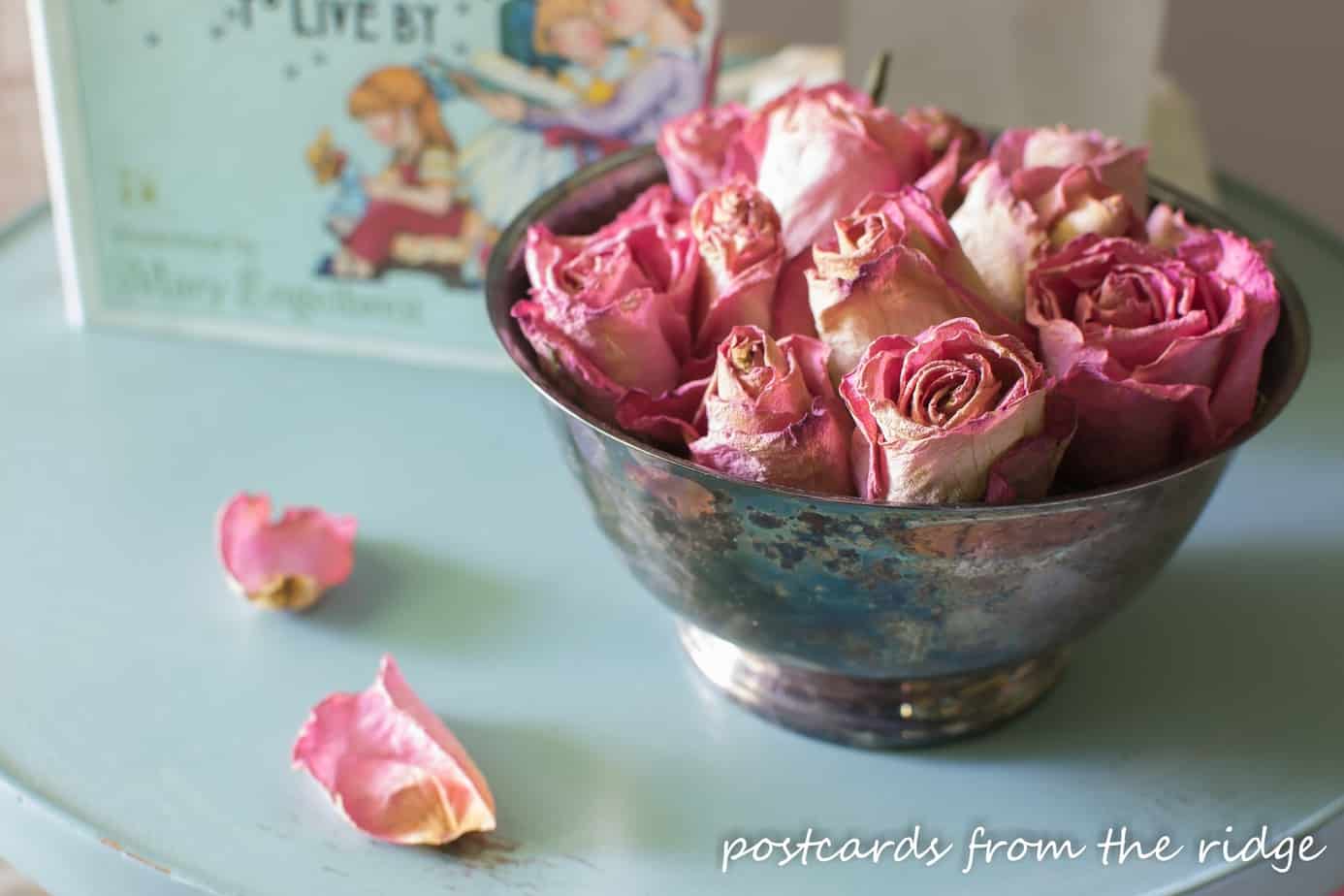 The roses were given to me by my husband for mother's day this year and they were so pretty as they dried that I kept the blooms.
I guess I got a little carried away photographing them. I don't get roses too often and have really enjoyed them. (Thanks, dear!)
Do you have any pieces that were inspired by or make you think of your mom?
The book "Words for Mothers to live by" can be found here.
The silver bowl I used can be found here. (Mine is a bit tarnished)
Sharing this project here:
XOXOX,
Angie
If you're new here, sign up for email here or follow along here so you don't miss a thing:
Email * Facebook * Hometalk * Pinterest * Twitter * Instagram

For handy tips and tutorials, go here.


To see my painted projects, go here.

For tasty recipes from my kitchen, go HERE.
For some simple tips for capturing a great photo, go HERE.
Go here to learn about having an online design or color consultation.
And go here for dozens of photos, ideas and favorite paint colors.
Thanks so much for dropping by my little space on the world wide web!