Chalkboard Painted Pedestal Coffee Table Inspired by Pottery Barn
painted pedestal table
It's that time again. The day when my furniture painting friends and I complete a themed challenge to transform a piece of furniture with paint. This month's theme? POTTERY BARN INSPIRATIONS. And who doesn't love Pottery Barn? Like you, I can't wait to see what everyone has done for this challenge!
This post contains affiliate links for your convenience. If a purchase is made after clicking one of the links I might make a small commission. Your price does not change. For full disclosure, go here.
My piece was inspired by this beautiful pedestal coffee table, found at Pottery Barn.
I realize it's not an exact replica. But I really like the way this one turned out. Now let me show you how it was when I found rescued it.
It was unsold at the end of a local estate sale so I got it for $20. I guess most people couldn't see beyond the 1970's orange. I like the shape and size of it and knew it would look much better with a face lift.
I had a vision for this piece. It involved multiple layers and various specialty paints. First I painted the whole table black. I brushed everything except the top in Benjamin Moore Onyx. And on the top of the table, I sprayed it with two coats of my favorite chalkboard paint, found here.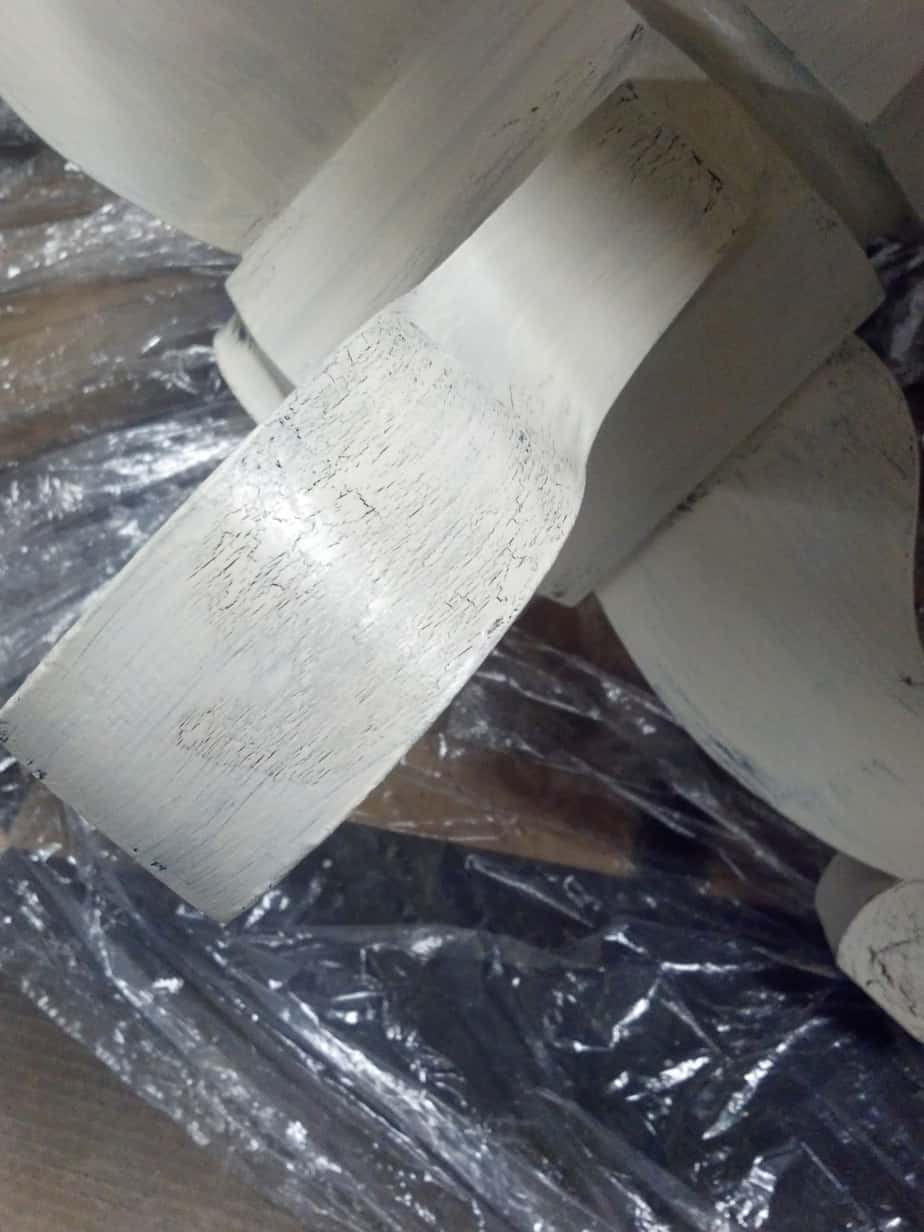 After that dried, I added touches of my favorite crackle medium in various places for a bit of character. Then I painted the legs and base an off white shade.
You can learn how use crackle medium in this post ==> How to Crackle Paint like a Pro
Voila! One crackle painted, chalkboard topped table! It's such a fun piece!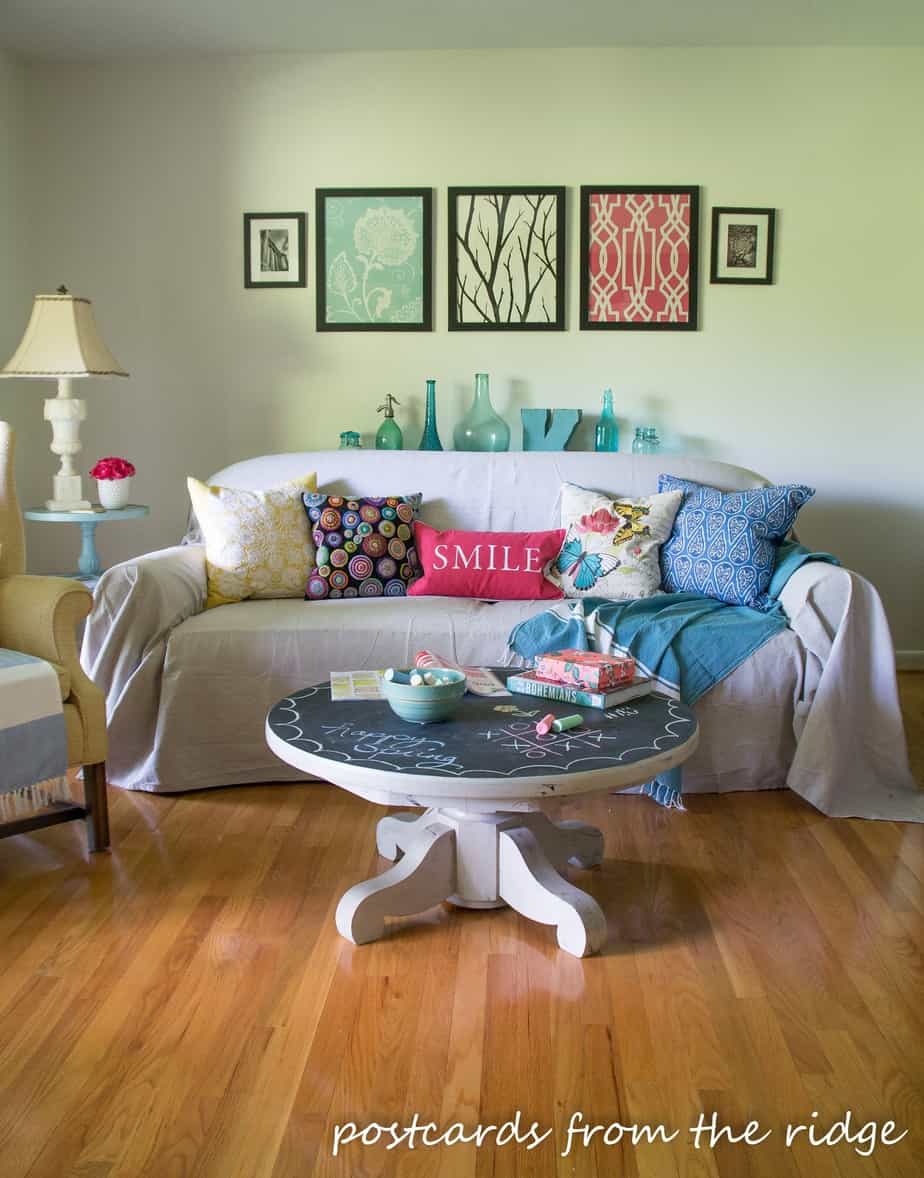 It adds a fun touch of whimsy to our living room. It inspired me to add some spring touches like the bright pillows and the artwork I made from wallpaper samples. To see my easy method of making artwork this way, go here ==> DIY Artwork from wallpaper.
And the colorful pillows inspired me to add more color behind the sofa. Give a mouse a cookie…..or the domino effect. Either way, you know what I'm talking about. One thing always leads to another, am I right?
A closeup of the legs shows the character of the crackling process. It's not for everyone, but I don't think a solid white table would have worked in our house. We're not the solid white furniture kind of people; at least not at this point in our lives.
The black and white table balances all the color and the black frames and the black pillow in here. And the great thing about this space is that I can easily change out the pillows and wallpaper samples and have a totally different look in here. Easy as pie.
I'll probably keep it like this until fall and then oranges and browns and golds will be replace the bright sunny colors. But the table won't have to change at all!
Don't forget to drop by and see all of the great makeovers that my friends have done. Just click on the images below and see the story behind each piece. And be sure to leave them a nice comment to let them know how much you like it!
Here are a few previous themed furniture makeovers if you want even more inspiration.
Thanks for dropping by.
XOXOX,
Angie
If you're new here, sign up for email here or follow along here so you don't miss a thing:
Email * Facebook * Hometalk * Pinterest * Twitter * Instagram

For handy tips and tutorials, go here.


To see my painted projects, go here.

For tasty recipes from my kitchen, go HERE.
For some simple tips for capturing a great photo, go HERE.
Go here to learn about having an online design or color consultation.
And go here for dozens of photos, ideas and favorite paint colors.