Vintage Boho Christmas Decor on the Deck
I'm excited to welcome you to the annual Atta Girl Says Christmas Porch Tour, featuring eight talented decorators.
This post contains affiliate links for your convenience. I may make a small commission on products purchased with my link, but your price does not change. For full disclosure go here: Disclosure and Policies. Thank you for supporting my site.
Christmas Porch Decor Ideas
We dedicate this year's tour to our dear friend, Paula Skulina from Sweet Pea, who died in February after a five year battle with lung cancer. Paula has participated in this tour since 2017, and we are all really missing her this year.
Paula was just the sweetest person, full of love for her family, her beloved dog Sherman and her students.
Her home was beautiful and full of vintage treasures. Paula had a knack for styling, but what I loved most were the stories she told about her decor. So many of her Christmas decorations were treasured family heirlooms. I'm so grateful she shared those memories with us.

While Paula is not here this year to tour with us, she's still an important part of our group. I encourage you to visit her blog, Sweet Pea, for Christmas decorating inspiration, especially if you like to use meaningful family items in your holiday displays.
To honor Paula, we are also donating in her memory to LUNGevity and The Humane Society for Campbell County, Va. If you loved Paula and her blog, we encourage you to make a donation in her memory using the links above.
Vintage Boho Christmas Decor on the Deck
Now let's head out to our deck where I've added a few very simple outdoor touches to make it feel more festive.
A few years ago I added this old mantel to the far wall of the deck. It's fun to decorate it for the various seasons throughout the year. For Christmas this year I added a few colorful vintage gardening hand tools, some vintage flower frog spikes, a vintage Martin Senour Paint thermometer and a few other little items. I thought the old thermometer looked a festive with the colorful stripes at the top.
Back in the spring I added this egg shaped outdoor chair to the deck and have been surprised at how comfortable it is! We call it the throne chair and have to fight the cats for it, lol. The outdoor rug is a new addition as well and it really makes the whole area feel more cozy. My plaid throw blankets give it a Christmas-y feeling and of course, the cats like those too. They're quite spoiled.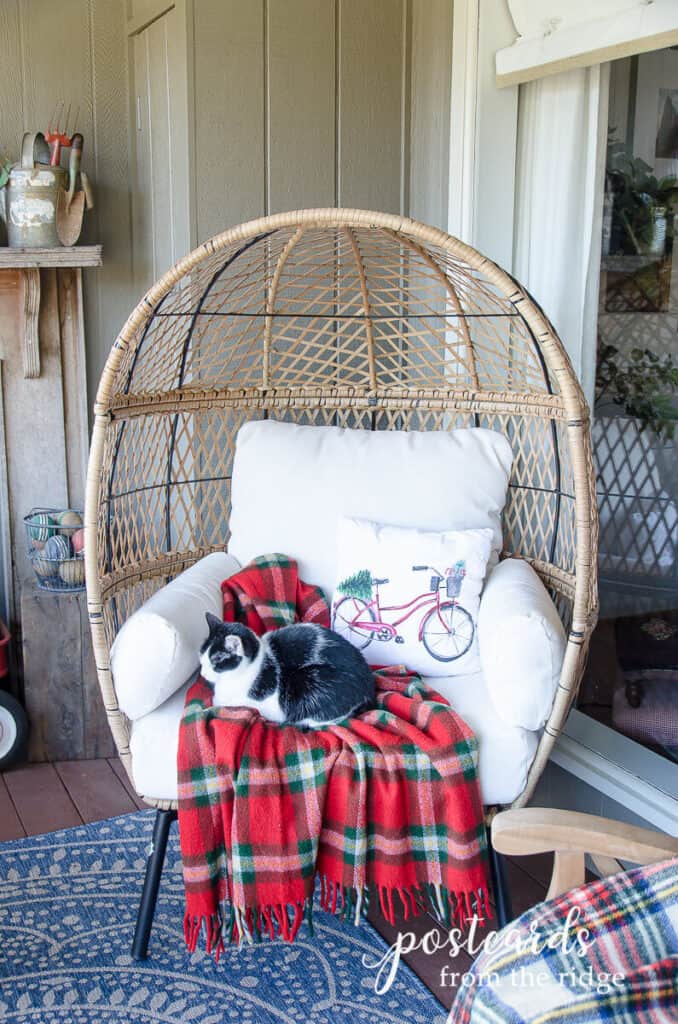 I didn't do near as much decorating out here as I usually do. It's been a busy time for us with our youngest graduating from college next week. So this area isn't as decked out as usual. (See what I did there.)
You can see a glimpse of my favorite little red wagon that always makes an appearance. It holds a special place in my heart since it belonged to my dad when he was a little boy. See last year's version here: Christmas Deck decor with Dad's little red wagon.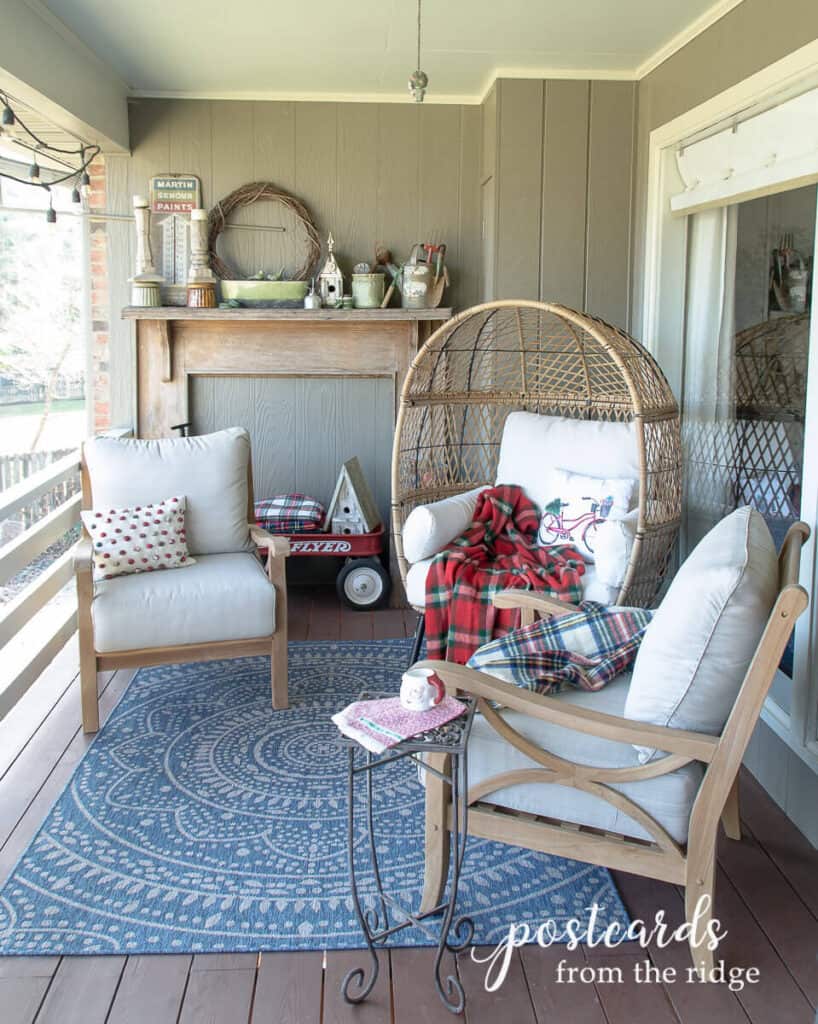 I think it's time for a hot cocoa break now, don't you? Cheers to our late friend Paula who we all miss especially this time of year.
I hope you have a great holiday season full of good food and lots of great company.
Christmas Porches Tour
Be sure to visit all the participating bloggers for festive decorating inspiration for your porches, balconies, decks and other outdoor spaces.
Atta Girl Says // Southern Home and Hospitality // 2 Bees in a Pod // DIY Beautify
Worthing Court // Our Crafty Mom // Postcards from the Ridge // House of Hawthornes
More Christmas Decorating Ideas