Christmas Porch Decor with Dad's Little Red Wagon and Vintage Plaid Accents
Christmas Porch Decor Ideas
Christmas Porch Decor Ideas
This post contains affiliate links for your convenience. For full
disclosure go
here.
Decorating your porch or deck for Christmas is always so much fun. It's a nice
way to welcome your guests and make your outdoor spaces more festive. Today
I'm joining several other home bloggers to give you ideas for your Christmas
porch and outdoor spaces.
It's all part of this year's annual Christmas Porches Tour hosted by my friend
Amy at AttaGirlSays. She always has the most amazing Christmas porch so be sure to visit her if
you haven't already. All of the porches are at the bottom of the post.
I usually feature our Christmas front porch, but this year I've decorated our
covered deck. The same decorations and ideas could be used on a porch or
patio. I just wanted to do something a little different this year.
shop this look
Here's what I used to create a festive scene on the deck.
1. Red Wagon
My
Radio Flyer red wagon
is one of my most cherished possessions, especially this year. It was my dad's
when he was a little boy in the 1940's. We lost him in March of this year so I
definitely wanted to include his wagon in my decor again this year.
Dad used to tell stories of his dad, uncles, and grandfather pulling him
around in this wagon and it sounded like he had so much fun. My great uncle
refurbished it several years ago and I've had it for a while now. FYI, I also
created some personalized Christmas gifts involving some of Dad's quotes in
this post:
DIY Personalized Christmas Gifts
2. Vintage Fishing Creel
Dad also loved to fish so I thought it would be fun to add this old fishing
creel that I found a few years ago. He didn't actually do any fly fishing but
instead fished from a boat.
But the idea is the same. I like the texture and charisma that the basket adds
to the scene.
3. Vintage Plaid Throw Blankets
I might have a slight obsession with throw blankets and can't resist a pretty
vintage plaid blanket when I see one. I love the colors of these beauties,
especially at Christmas.
And if we're sitting out here on a chilly day we can grab one to stay warm.
(Find new ones here:
Plaid Throw Blankets and vintage ones here:
Vintage Plaid Throw Blankets)
4. Vintage Thermoses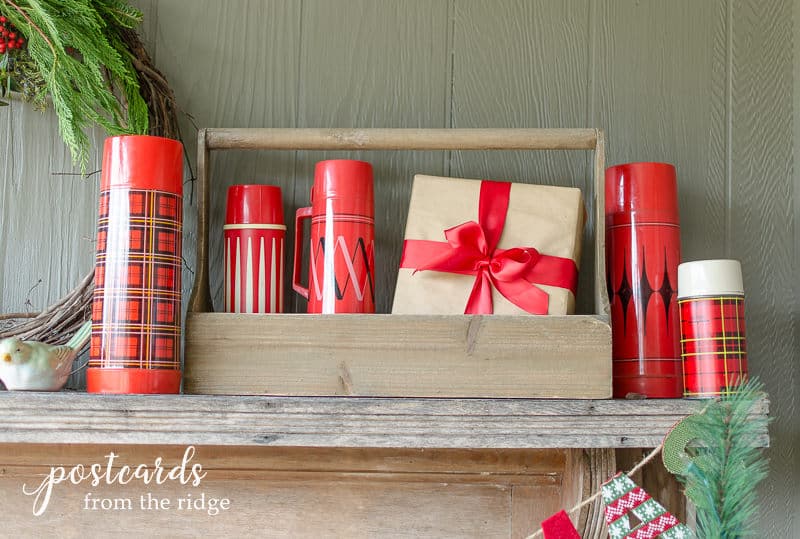 My collection of vintage thermoses has been accumulating for several years and
my mom gave me some of hers a couple of years ago. I think the colors and
patterns add even more festivity to the deck.
I can just imagine filling one with hot coffee or cocoa on a cold night and
watching a Christmas parade. Can't you? (Find similar ones here:
Vintage Red Thermoses,
Wooden Toolbox,
Ceramic Birds)
5. Fun Christmas Banner
I bought this fun plaid Merry Christmas banner a few years ago and it's
perfect out here with all the other rustic, plaid holiday accents I've used.
(similar one found here
Plaid Merry Christmas Banner)
6. Christmas Wreath
My mom, sister, and I try to get together each year and make wreaths. We made
some last week using grapevine wreaths as a base and adding clippings of
various evergreens from our yards.
6. Wrapped (empty) boxes with red ribbon
One of my favorite simple things to use for decor during the holidays is
wrapped boxes. These are all empty and I use them every year.
They're simply wrapped with
brown kraft paper
and tied with
red satin ribbon. Easy, lightweight, and budget-friendly! And the kitties approve, lol.
I hope you've enjoyed the little tour of our Christmas deck and have gotten a
few ideas for your own Christmas porch decor. You can see my previous years'
porch decor and tours here:
shop this look
Now it's time to visit all the other stops on the Christmas porch tour. Here's
a glimpse at them and you can scroll to the bottom for the links to see them
up close.
Be sure to visit all the participating bloggers for festive decorating
inspiration for your porches and sunrooms.
Atta Girl Says
//
Southern Home and Hospitality //
DIY Beautify
//
Sand Dollar Lane
//
Postcards from the Ridge
Sweet Pea
//
Worthing Court
//
Our Crafty Mom
Major Hoff Takes a Wife
//
2 Bees in a Pod
Thanks for visiting. Let me know what your favorite ideas for your Christmas
front porch are!