Our Lovesac Sactional Couch Review – Is it worth the splurge?
Complete Review of Our Lovesac Sactional Couch
Are you shopping for a sectional sofa and considering the Lovesac Sactional couch? We own one and I'm sharing everything you would want to know before buying one. We shopped and researched several different types of sectional couches and decided on the Lovesac Sectional couch.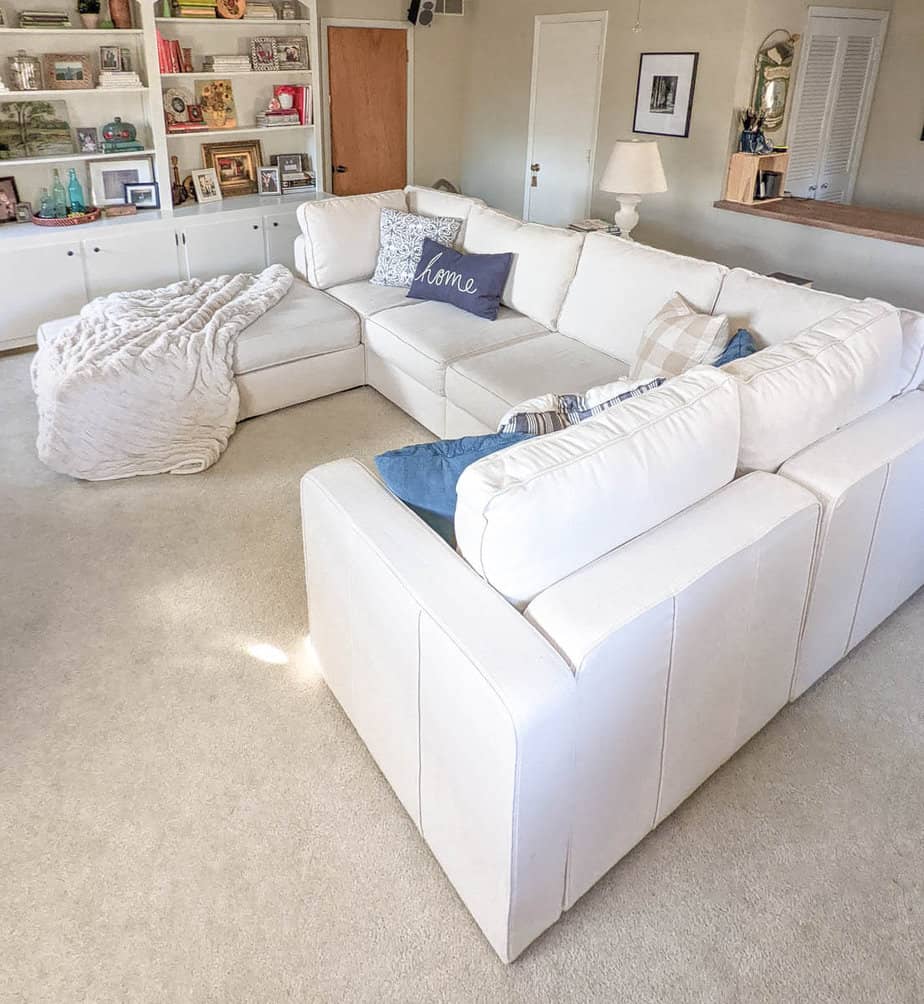 This post contains affiliate links for your convenience. I may make a small commission on products purchased with my link, but your price does not change. For full disclosure go here: Disclosure and Policies. Thank you for supporting my site.
Lovesac Sactional Couch Review
When I say we researched the sactional, I mean we had a spreadsheet comparing warranties, costs, options, freight charges, delivery time, etc. We're a little bit obsessive on researching all of our big purchases. But we hope to have it for 10 years so we wanted to get it right.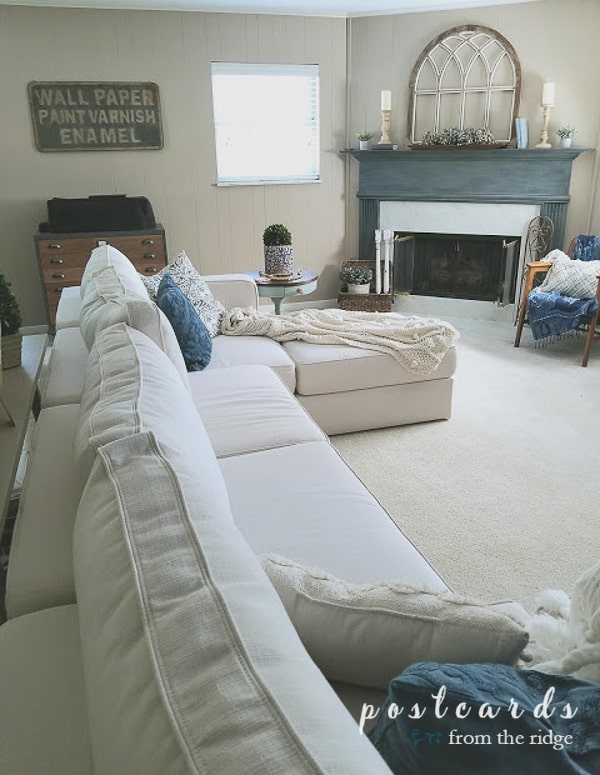 Anyway, I couldn't find many Lovesac reviews at that time so I wanted to share what we found for anyone else who's looking at investing in one of them.
This post is in no way sponsored by Lovesac. I just wanted to share our personal experience with our Lovesac sactional.
Is buying a Lovesac worth it?
After nearly 4 years I can still say that yes, this sofa is worth the investment for many reasons that I'll dig deeper into in this post. For starters, we've rearranged it multiple times, washed all of the seat covers at least twice, and even added on to it after three years.
The lovesac couch is unlike anything else on the market. Now let's dig a little deeper and see if it's right for you.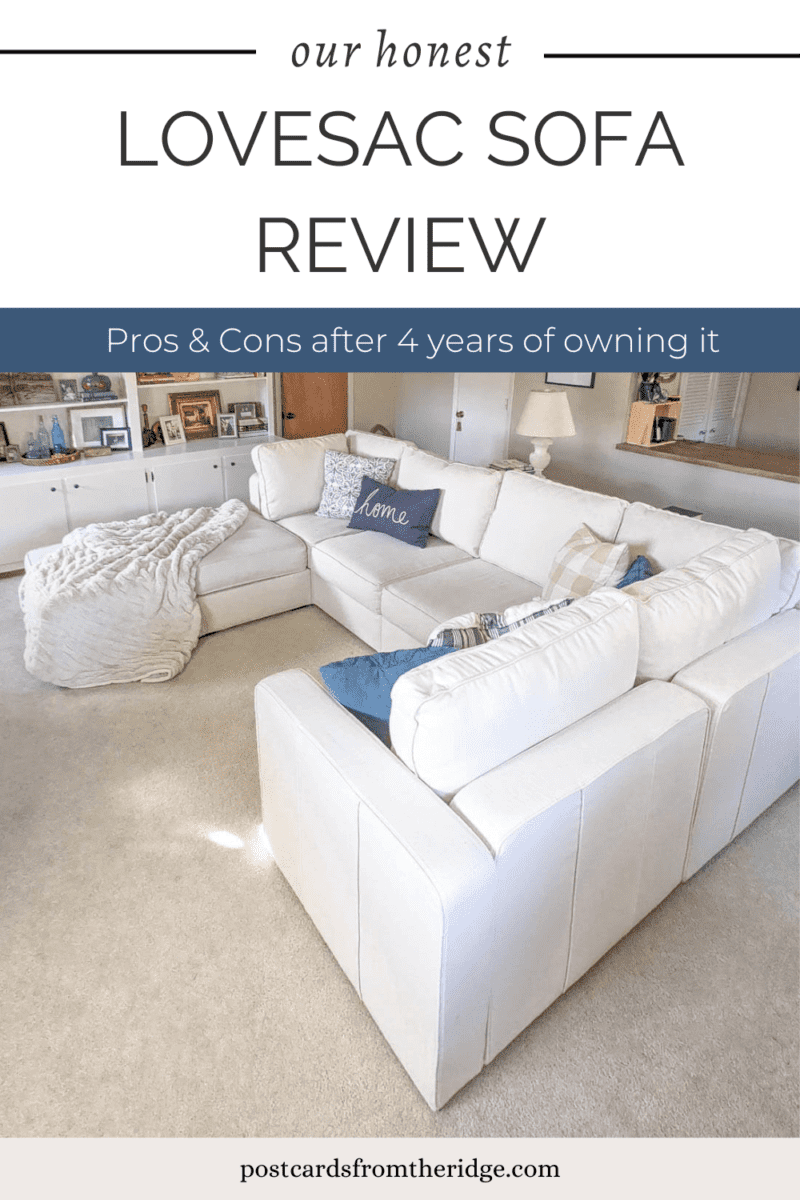 What is a sactional?
A sactional is a modular sectional sofa manufactured and sold by the Lovesac company. It's known as "The world's most adaptable couch" and "designed for life" thanks to several unique features:
It can be rearranged in many different configurations
The covers can all be removed and washed
If you get tired of the look, you can replace the covers with a different color or fabric or you can change the style of the sides
Lovesac Sectional Couch Pros and Cons
Here are some things you'll want to consider before purchasing your Lovesac Sactional:
Pros of the lovesac sectional:
Lifetime warranty – Lovesac features a "Designed for Life" philosophy which allows you to adapt the sectional to meet your changing needs. It's a sustainable and long-term solution to furniture needs.
Endless configurations – you can arrange it any way you want!
Free shipping – other brands have shipping charges up to $300
60 day home trial
Unique concept
Washable covers
Frequent sales
3 cushion choices
2 seat depth choices (see below for more about deep sides)
Quick delivery – ours arrived in 1 week and other brands would have taken a minimum of 4 to 6 weeks.
You can change the look of the sofa by replacing the covers
Sections lock together in multiple places for maximum stability
Various accessories available – you can add coasters, tables, and more that are specifically designed for Sactionals.
Options galore – You can add charging hubs to the sides, get seats with storage if desired, and you can change the look of the sofa by replacing the covers.
Update – you can now add the new Stealthtech to existing love sac couches. It's a premium technology system seamlessly embedded inside the endlessly adaptable Sactionals platform. A unique combination of captivating 5.1 Dolby Digital surround sound by Harman Kardon and wireless charging, it's extraordinary.
JUST ADDED – Angled sides are now available in addition to the standard side and roll arm side.
Cons of the lovesac sectional:
Assembly – You have to assemble it, including adding the covers to each part. Allow at least a couple of hours, depending on how much help you have. It's not difficult but I definitely recommend watching their assembly videos.
Limited style choices.
Price – it's expensive but they run sales often.
Depth of standard configuration – I wish we had ordered "deep sides" so the seats would be a 35″ deep instead of 29″. It's a little confusing because if you want "deep sides" then you actually need to order the smaller ones since the backs/side pieces will be 29″ and not 35″. Your depth will be larger than your width when you arrange the seats. (Update – we ordered two deep sides in the fall of 2022)
What was the deciding factor for us? The thing we love most of all is the flexibility. There are lots of different configurations with this sofa and you're not limited by odd pieces or "arms".
Are Lovesac Sactionals comfortable?
When we first got the Lovesac sectional, the cushions were a little firm. But after sitting and laying on them for a couple of weeks they relaxed somewhat.
For us, they're comfortable. But we like cushions that are more firm and don't lose their shape.
If you like softer cushions, you might want to go with the down blend or the Lovesoft cushion fill. FYI, we ordered the standard fill cushions and our fabric is the Polylinen Seashell.
Is Lovesac Furniture Expensive?
The list prices for the sets range from $2000 to $8000 but that can vary depending on your choices of cushion fill, fabric, and accessories.
Does Lovesac ever have a sale?
Yes! You can almost always get a discount of at least 10%. Watch for sales on these major holidays and more when the savings are as much as 30%:
Memorial Day
Labor Day
Presidents' Day
Black Friday
To see the current sales go here and scroll to the bottom of the page >> CURRENT LOVESAC SALES
NOTE: If you're a first responder, healthcare worker, teacher, or military personnel you can get an extra discount here: HEROES DISCOUNT
How long do Lovesac Sactionals last?
We've had our sactional couch for almost 4 years now and it has held up well. It's been nice to be able to rearrange it when needed. Here's a recent photo showing how it looks after 3+ years.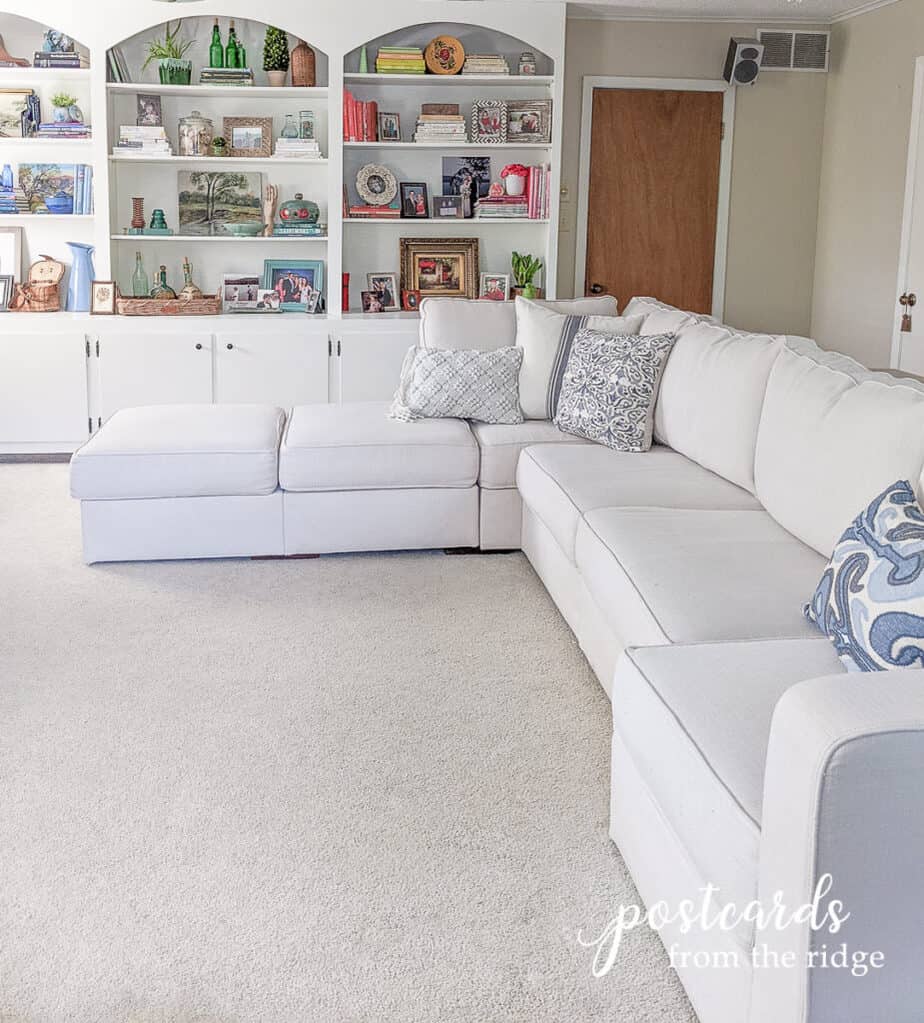 We have six sides and six seats and have rearranged it into a u-shape, an L-shape, a bed, and we even arranged it into 2 smaller sofas at one point. The flexibility of the sactional is amazing. And we plan on keeping it at least 5 more years, probably longer.
NOTE: We added another seat and two deep sides in the fall of 2022 and here's how it looks now: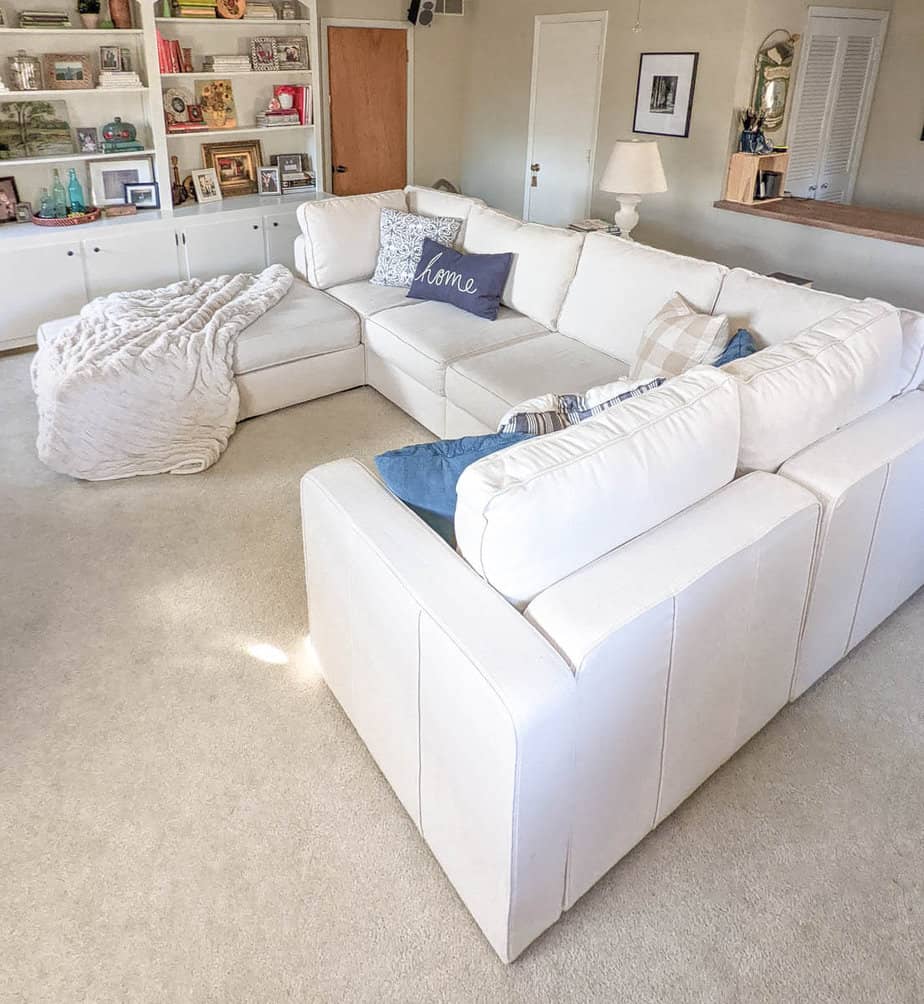 Sources: faux fur throw blanket | blue and white throw pillow
Can you sleep on a sactional?
If napping on it is any indication, then yes. I fall asleep on ours nearly every night. And we've used it as a guest bed before as well. With a little quick rearranging of the pieces, it's the perfect place for guests.
How to use it as a guest bed
You can connect 4 seats for a larger bed that's similar to a queen size. They're most comfortable and the gaps are covered if you use the Sactionals Guest Rest Bedding Kit that includes a mattress pad and a sheet set and can be conveniently stored in it's duffle bag inside the seat.
Or you can use your own sheets and a mattress pad like one of these: Down Alternative Mattress Topper
Here's what one reddit reviewer had to say about using the lovesac sactional as a bed with the Guest Rest Bedding Kit :
Which Lovesac fabric is most pet friendly?
According to several reviews, the corded velvet is the most pet friendly fabric for a sactional couch. Our sactional has the polylinen fabric on it and our cats have made a few random pulls in it.
Lovesac Sactional Couch Delivery:
Here's what you can look forward to once your decide to order a sactional:
How long does it take a sactional couch to arrive?
Our lovesac couch components were delivered about a week after we ordered. I can't say whether or not that's typical, but we were thrilled.
The boxes, and there were many of them, arrived via Fedex on the rainiest day we've had all year, of course. We put all of the boxes in the living room and grouped them together according to what was inside each one.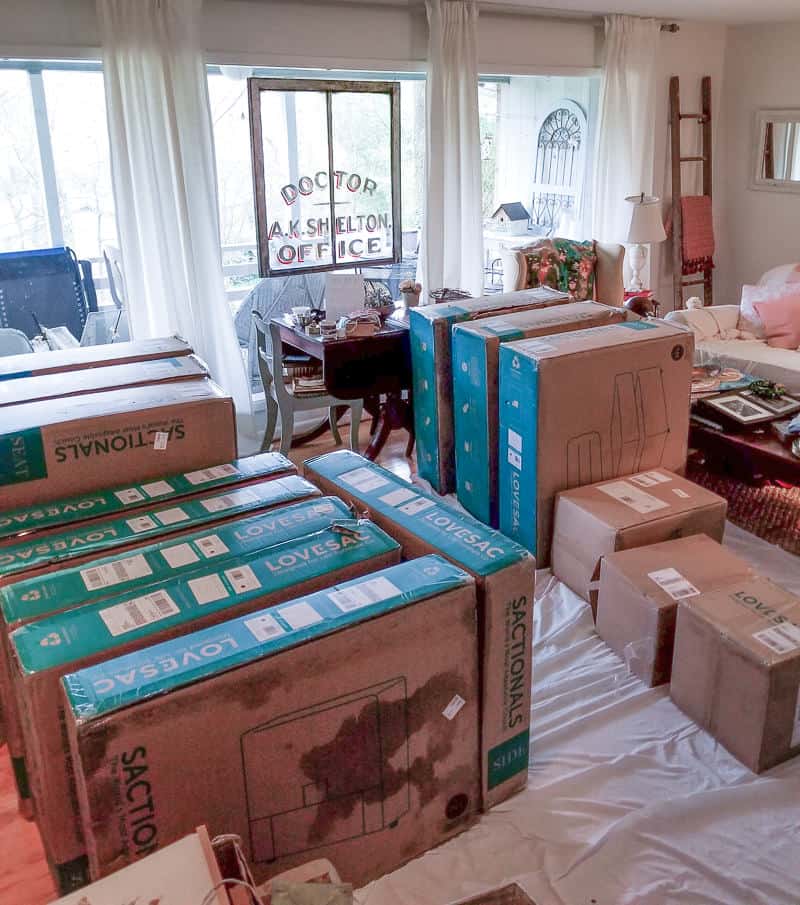 I'm showing you the picture below to let you know how well they're packaged. You would think that whatever is inside this box would be ruined because it's soggy and even torn in one place.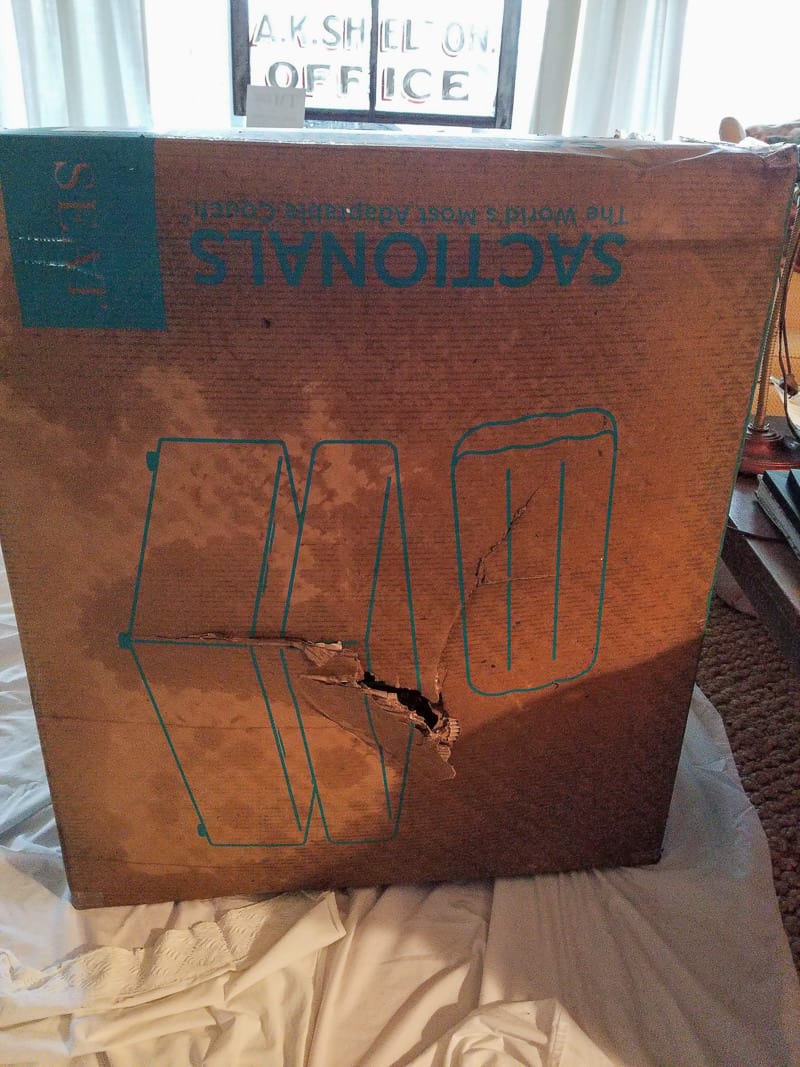 We thought the same thing. But I'm happy to tell you that everything inside was in perfect condition. I took photos assuming I would need to file a claim with Fedex but it wasn't necessary.
Lovesac Sactional Unboxing
The boxes are packed very efficiently with the cushion inside of the frame. My husband is removing the lovesac sectional cushion here.
As we removed the cushions and other items, we stacked them all together. It made assembly so much easier.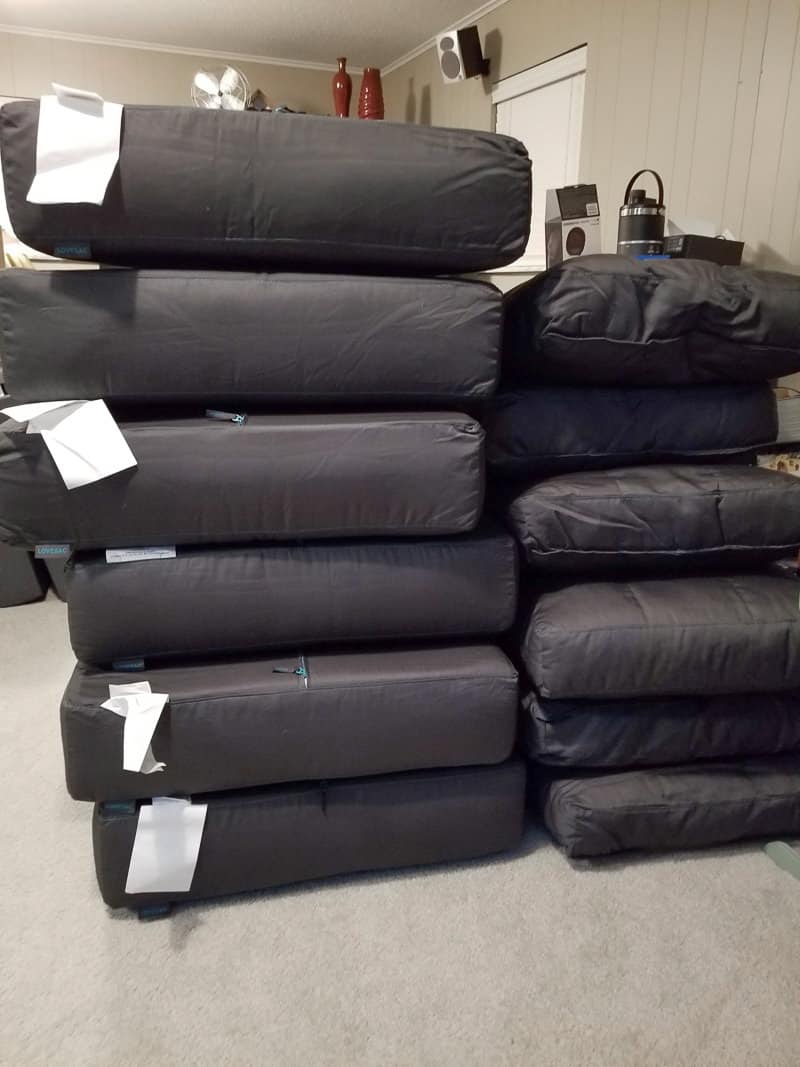 Likewise, we grouped each type of cover together.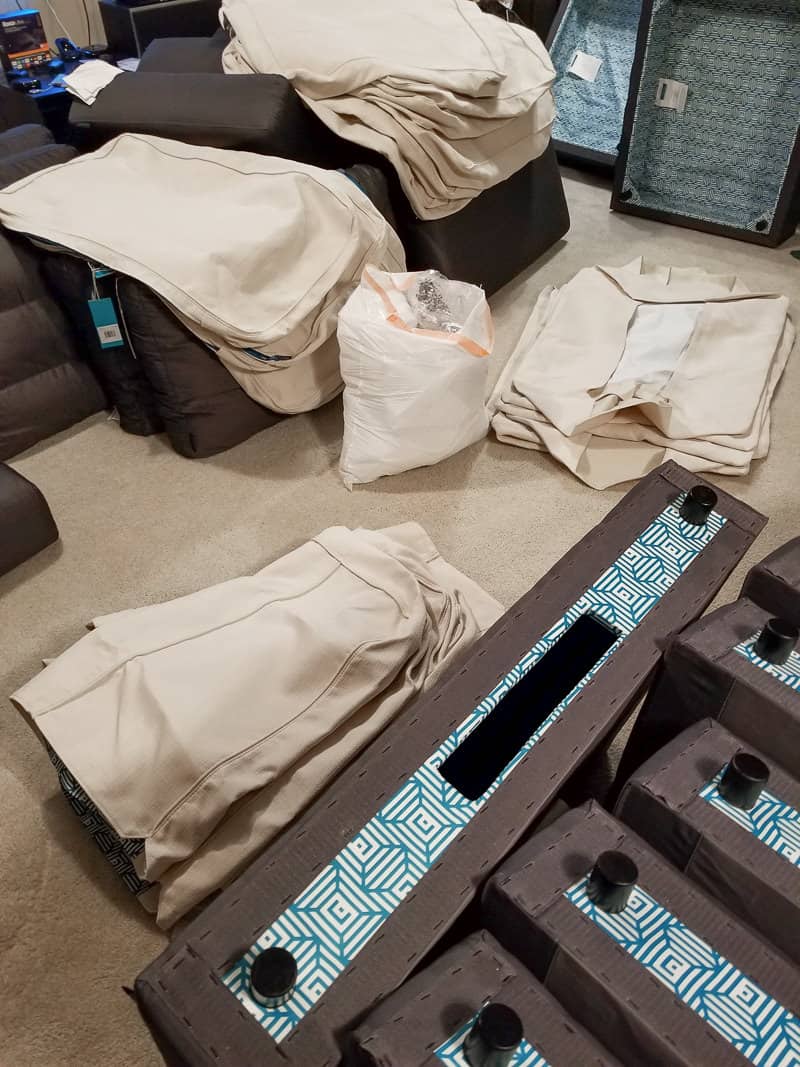 And we stacked the shoes together with the group of clamps.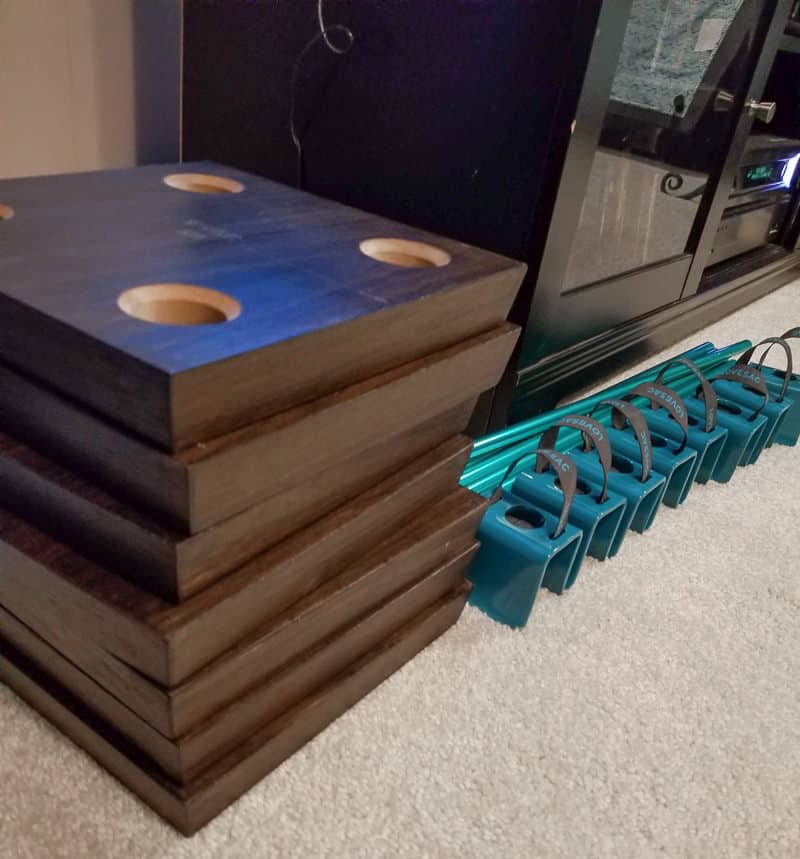 The legs are efficiently nestled inside of the shoes.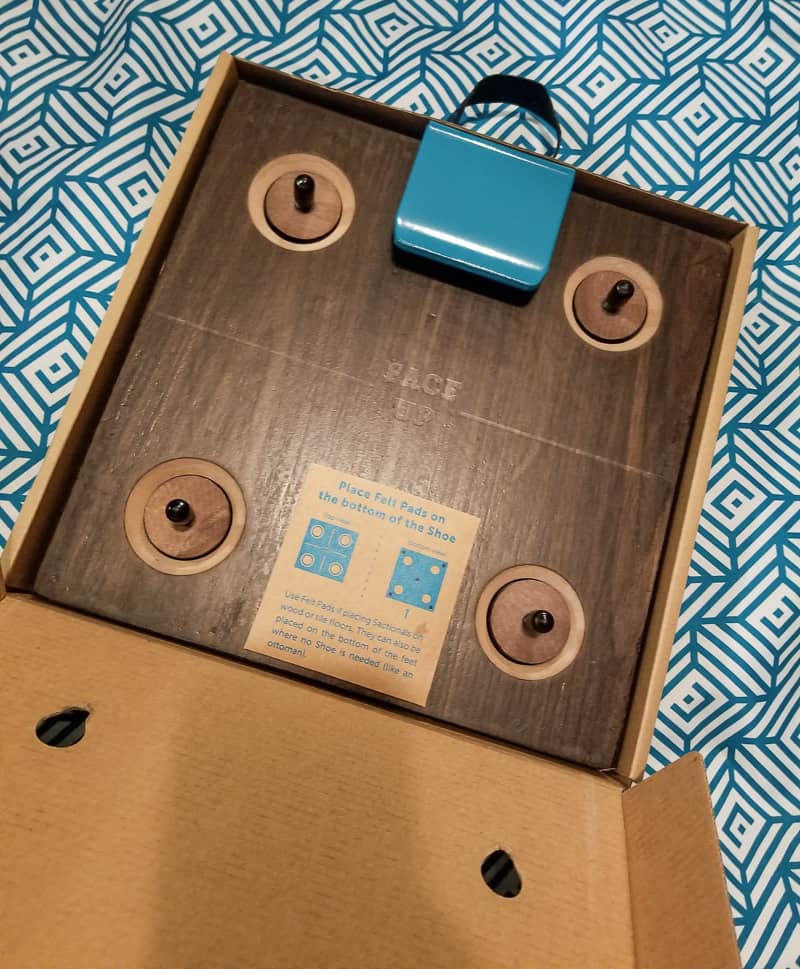 Lovesac Sactional Couch Assembly
Once we opened all the packages and sorted all of the items, we began the assembly process. Before we even opened the boxes, we had watched their assembly videos.
I highly recommend doing this. It will save you time and make things easier for you. I also recommend using this simple tool to help attach the clamps.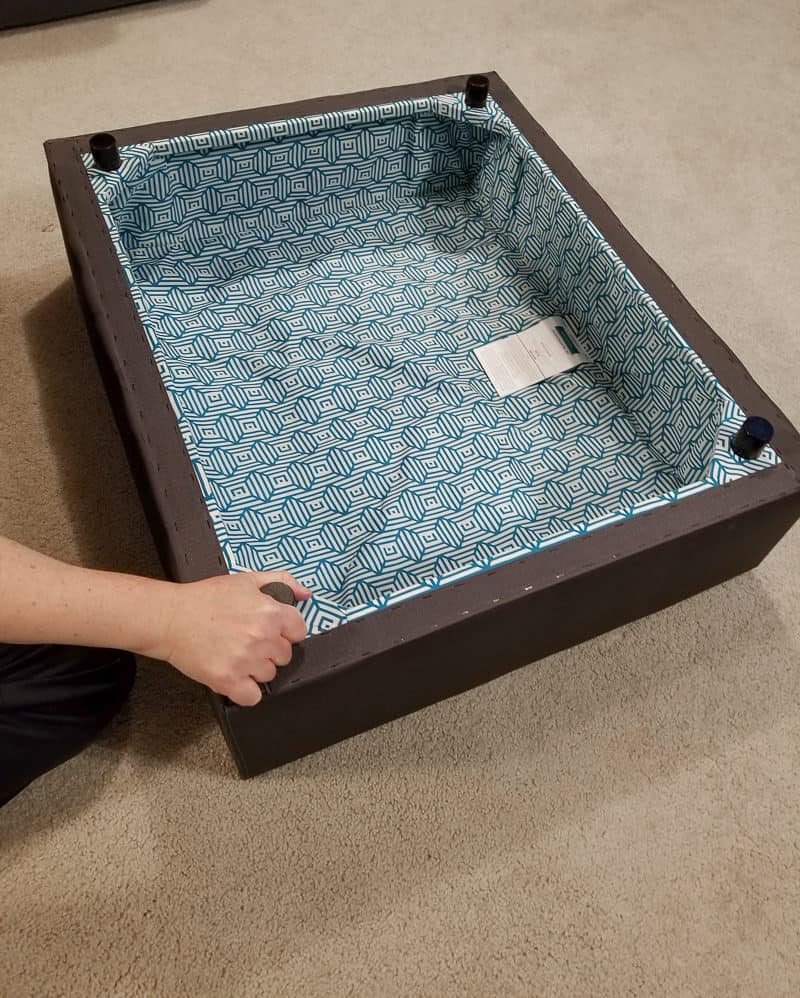 Attaching the legs isn't difficult but does take a few minutes for each one.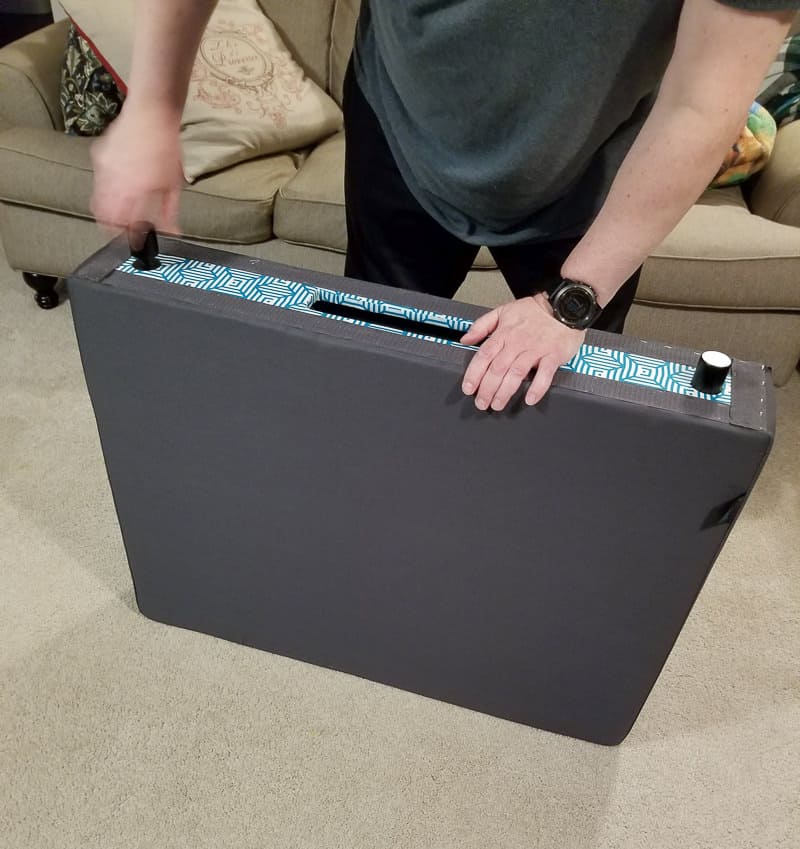 We recruited help from our youngest daughter and her boyfriend. With all 4 of us working together, it took a couple of hours from unboxing to completion.
We just put on some good music and made the best of it. It's not complicated but does take time.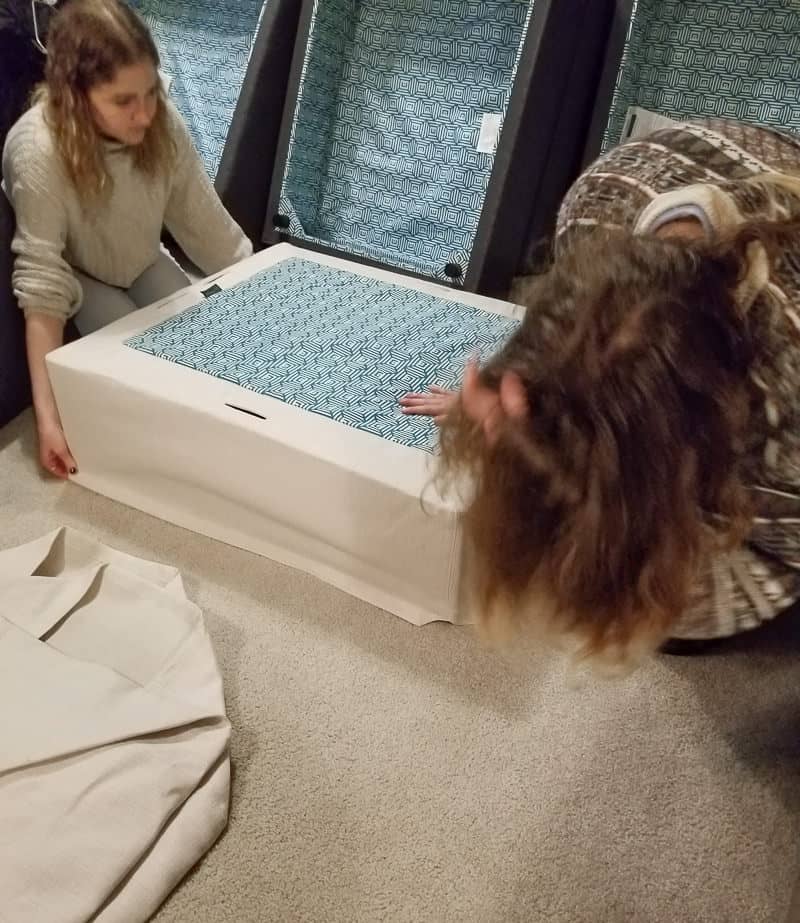 I didn't take photos of us placing the individual pieces and attaching them, but that part is actually pretty easy.
Again, I recommend watching the videos that Lovesac has recorded for you.
How washable is a LoveSac Sactional cover?
How does it hold up in the wash? I love the light and airy feeling of the fabric we chose (Solid Seashell Polylinen) but was just a little nervous about how it would hold up in the wash.
We use this sofa a lot and have already washed 3 different covers and I'm happy to report they wash beautifully.
One cover had chocolate on it and thankfully it all came out! Two others had some fuzz/piling from a dark blue stonewashed cotton throw blanket that we were using and 99% of it came off too.
I've switched to a lighter throw blanket so we won't have to deal with that any longer. Keep that in mind if you love to use throw blankets too. I'd recommend a lighter one or one that doesn't shed.
Be sure to wash the covers on the delicate cycle in cold water and line dry and you shouldn't have any issues at all.
I usually wash no more than 3 at a time and hang them to dry on this heavy duty folding wooden drying rack that has more than 2,000 positive reviews. It's sturdy enough to hold them and they dry within a few hours.
Rearranging the Sactional Couch
How easy is it to rearrange? Although we haven't rearranged it much, I did take it apart and move it back a few inches soon after we set it up.
I was able to do it by myself without too much trouble. And we do move the ottomans pretty regularly.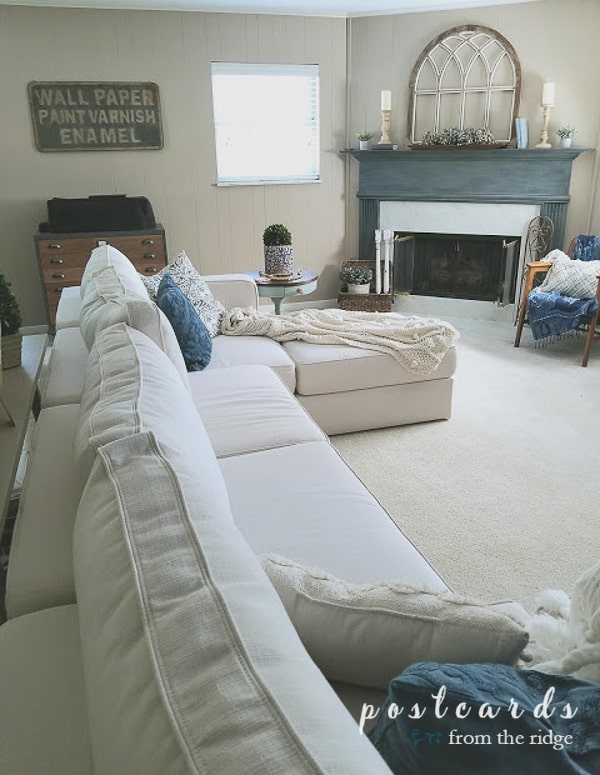 Our last sofa had down cushions and we HATED them because they were always flat. But maybe you don't mind that. Totally a personal decision.
What are deep sides?
The deep sides make it possible to turn the cushions so that they're not as wide, but are deeper. In the image below, the end seats and cushions are turned on their sides, creating a deep seat. You can see the difference in the depth of the seats.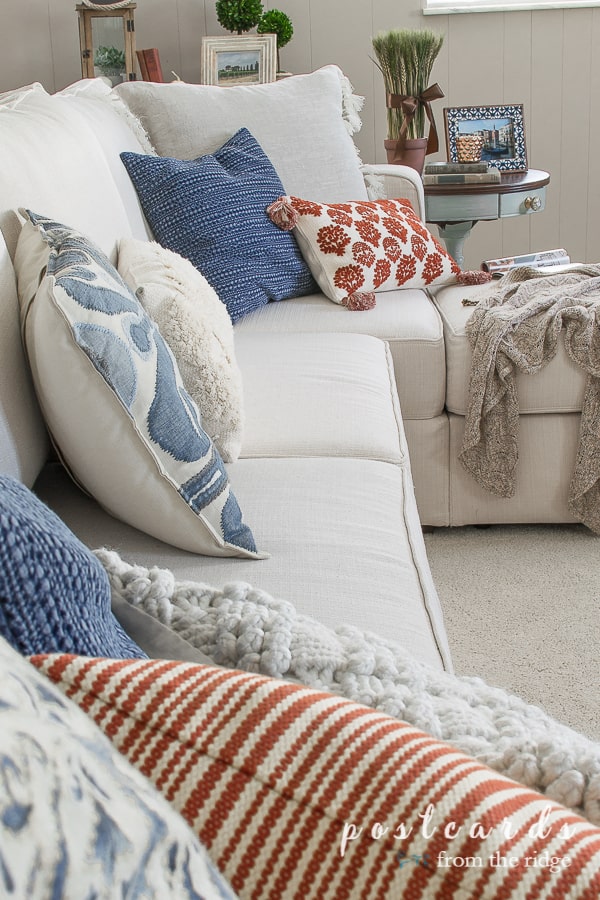 Here's another picture of the sactional with some fall pillows on the. I love the fact that I can use any color with this fabric, the Polylinen Seashell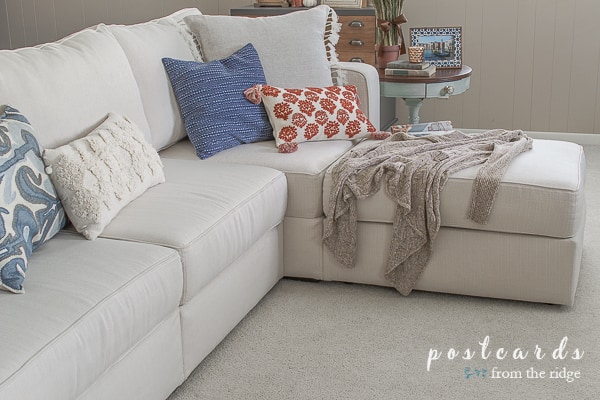 UPDATE: As I mentioned earlier in the post, we ordered 2 deep sides and an additional seat in the fall of 2022. The image below is how it looks now.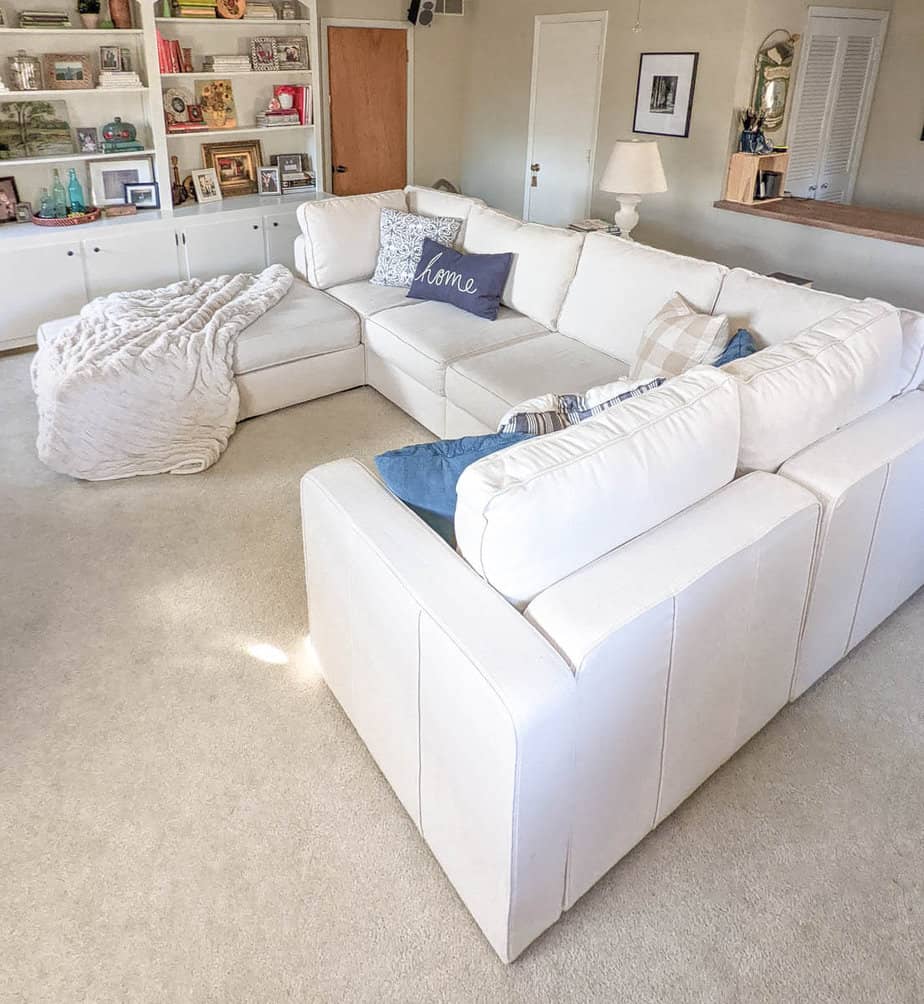 What's comparable to a Lovesac sactional
If you want to look at options that are similar to a sactional couch, here are some alternative modular sofas to to consider:
Recap of our Lovesac sactional couch review
That pretty much covers everything that I can think to tell you about our Sactional sofa. If you have any questions please leave them in the comment section and I'll do my best to answer it.
Bottom line...would we order it again? Yes, definitely. But I would probably get the "deep sides" and the instead of the standard ones for 2 of the seats. I would also get the deep back pillow inserts and covers to go with the deep sides. They're 29″ wide x 23″ tall and match the width of the deep sides. The standard size pillow inserts are 35″ wide.
Thanks so much for dropping by.
Let me know if you have a Lovesac Sactional and what you think of it, or if you decide to get one after reading my review!
Here are some other posts you might be interested in:
See the design plan for our family room including our new sofa here → cozy family room design plan.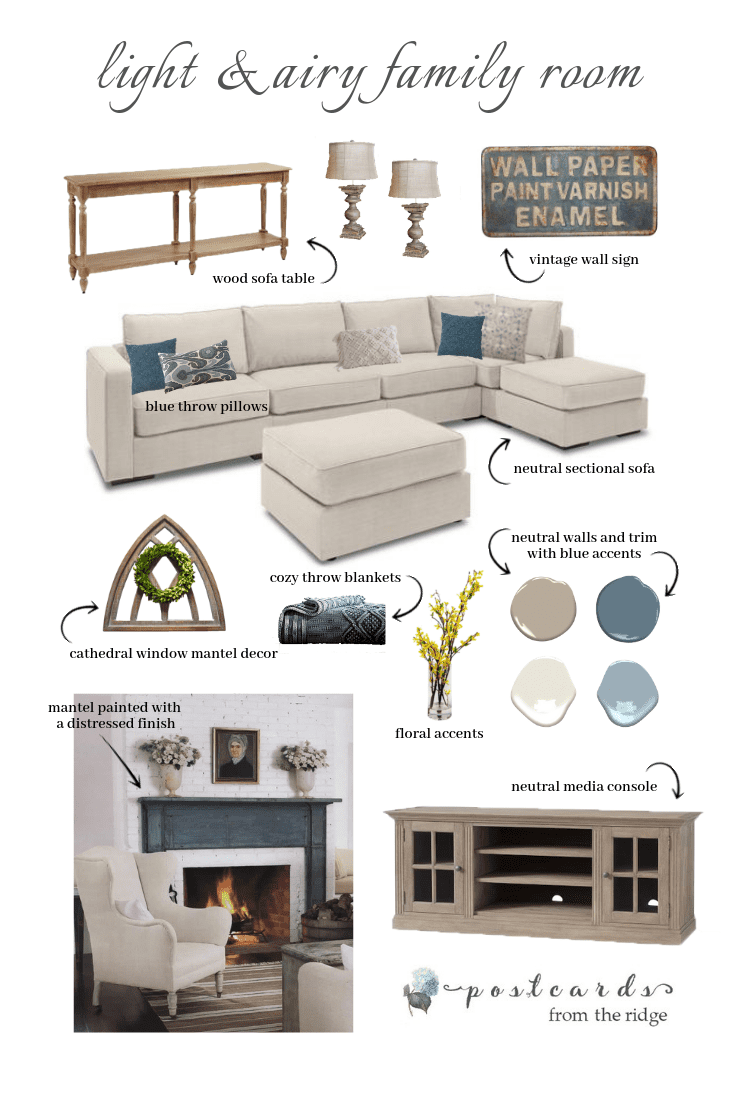 click for sources
Paisley Pillow Cover // Blue Pillow Cover (similar) // chunky navy cable knit throw blanket // Ikat blue pillow cover // wood console table // media console
// lamps // Arched window decor (similar)
Need ideas for wall colors? See paint colors in real homes of popular bloggers
here → home bloggers' favorite paint colors.
Find stylish ways to decorate and organize your small entry here → ideas for small entryways.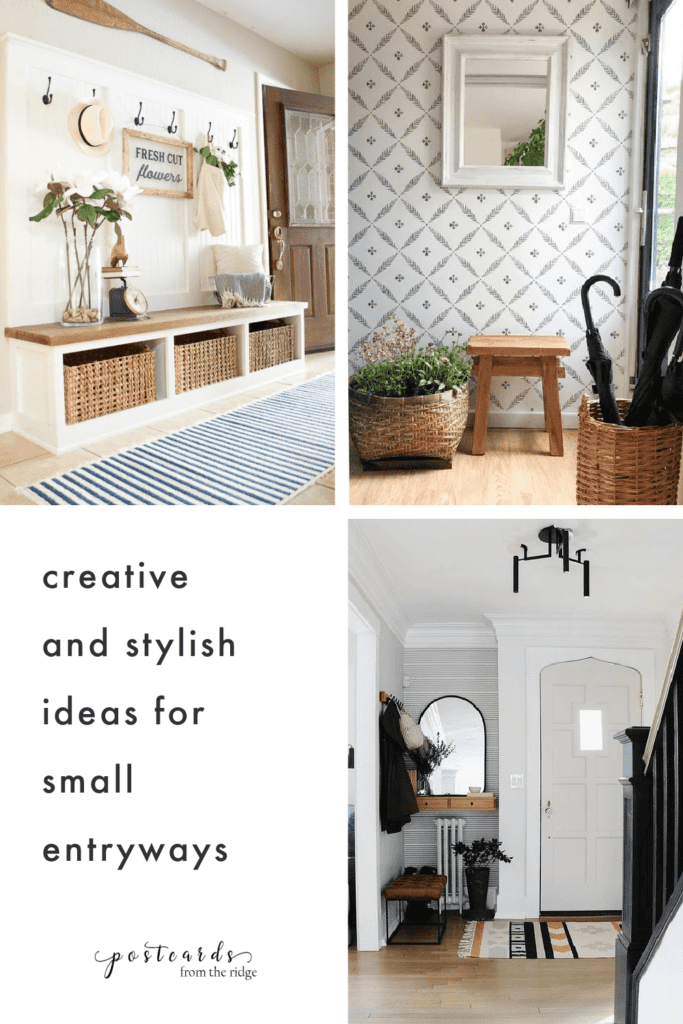 Get ideas for styling tiered trays here → 10 tiered tray styling ideas