New Living Room Furniture From Rooms to Go
Living Room Furniture from Rooms to Go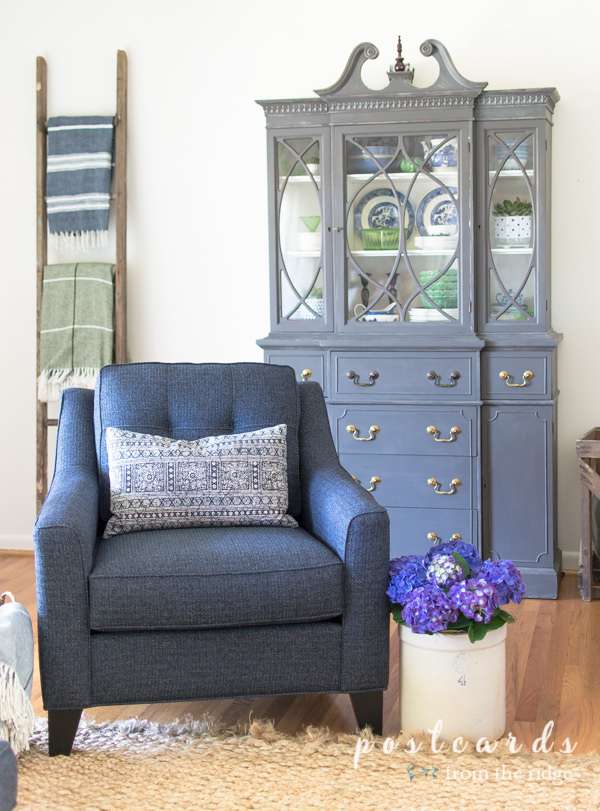 This post is sponsored by Rooms To Go. All text and opinions are
mine.
I'm excited to share that I recently partnered with
Rooms To Go
for an update to our living room furniture. This room is the first thing you
see when you enter our home and it was in a sad state of affairs. It was way
overdue for an update and I'm so happy to have the opportunity to refresh
it.
Rooms To Go
offers several easy ways to shop. You can buy the room and make it super
simple with a completed look. Or you can buy furniture pieces individually to
create your own look. I shopped online first to get an idea of what might work
for our living room.
They make it easy to shop online by having categories of furniture, and you
can filter it down by style, color, designer, and more. After browsing online,
I visited our local store to see the furniture in person.
I felt a little like Goldilocks after testing out lots of different seating
options. Some were too soft, some were too firm, some were just right! The
manager was extremely helpful in showing me various options and checking stock
for me.
I also took a peek at the bedroom furniture for potential future updates.
Isn't this set gorgeous?
And I might have gotten a little distracted by the dining furniture too. Those
sunflowers and the cozy farmhouse table and chairs really caught my
attention.
And the tufted chairs and bench are so pretty and sophisticated!
Back to the room at hand…our living room. Here's how it looked after I said
goodbye to our old sofas and removed almost everything from the room. So fresh
and clean already.
I was really impressed by how quickly my furniture came. I started shopping,
placed my order, and had it all in less than 2 weeks. Now that's great
service!
The delivery guys showed up 30 minutes early and had our furniture in the room
and unwrapped in under 15 minutes. It was so nice not having to assemble
anything or get rid of boxes and packing materials.
All that was left to do was style the space. This is a 1960's living room and
we don't actually use it very much since our television is in the family room.
I wanted this room to be a little more sophisticated and set up as a
conversation room.
I went with a blue and white/beige theme since I've been drawn towards blues
lately. The chair and ottoman are from the Cindy Crawford collection and are
amazingly comfy AND pretty.
I was able to use a pillow that I already had on the chair. It fit
perfectly!
The matching ottoman makes this the perfect place to sit and read in the
mornings, sipping on my coffee. The sun comes up in this room and we've
started calling it the morning room because I'm in here every morning now,
soaking it all in.
The texture on the chair is nice and cozy. And I'm sure it will last for years
because it's heavy as well.
It's also kitty-approved. Wizard has tested all of it out and gives it his
seal of approval.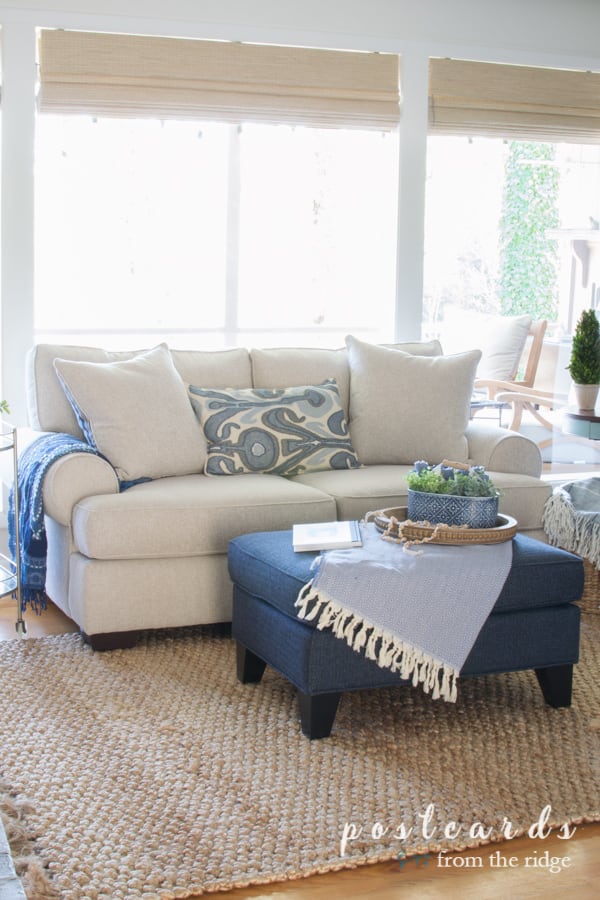 I went with a loveseat instead of a sofa because we wanted flexibility. At
Christmas we have the tree in here and have to move the furniture to make room
for it. The loveseat works better for that than a large sofa.
Plus we sometimes use the space as a dining area when we host friends for
dinner, and the furniture gets pushed to the end of the room. Smaller is
better for that setup as well.
As you can see, the sofa is also nice and cozy and gets the kitty's seal of
approval. 😻
The room is looks so pretty now. My husband loves it too. He says it looks
better than it ever has, and I totally agree.
We love it all and can highly recommend shopping at
Rooms To Go. They have tons of options, all at amazing prices. Plus all this month
they're celebrating their 30th anniversary so you can take advantage of some
very special deals!
If you're interested in the pieces we have, here's what they are:
Cindy Crawford Madison Place Chair, Navy
Cindy Crawford Madison Place Ottoman, Navy
Highland Lakes Loveseat, Beige
I also added some new bamboo shades, a silk tree, and a few other
accessories. Here are some of the other items in the room.
shop the room