How to Make Pedestal Stands from Thrift Store Candle holders
DIY pedestals from candleholders and tart pans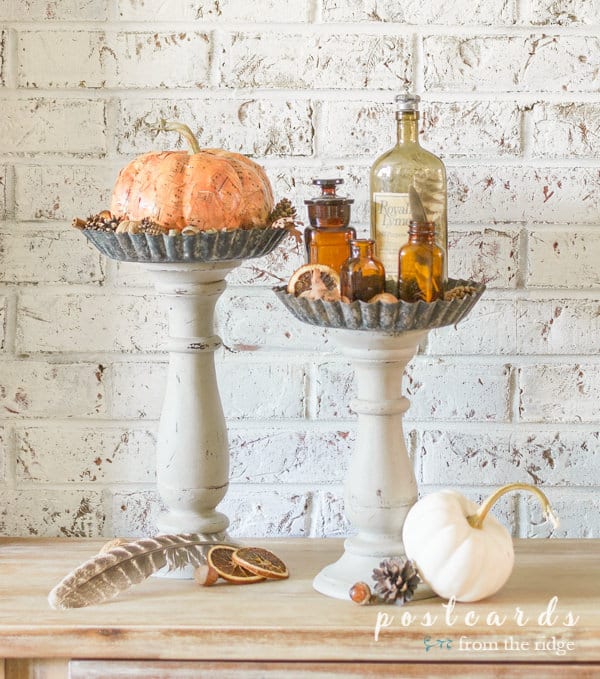 This post contains affiliate links for your convenience. For full
disclosure go
here.
DIY Pedestal Stand from Wooden Candleholders and Tart Pans
I've got a super simple and cute project for you today. It turned out even
nicer than I had imagined and that always a good thing, right? Plus I only
used items from my stash so it's a big win all the way around!
It's all part of this month's Thrifty Style Team Challenge hosted by my
friend Julie at
Redhead Can Decorate. The challenge is to share a project or decorating idea using things that
are low budget, thrifted, or free. You can see all of this month's projects
and ideas at the bottom of the post and there are some amazing ones!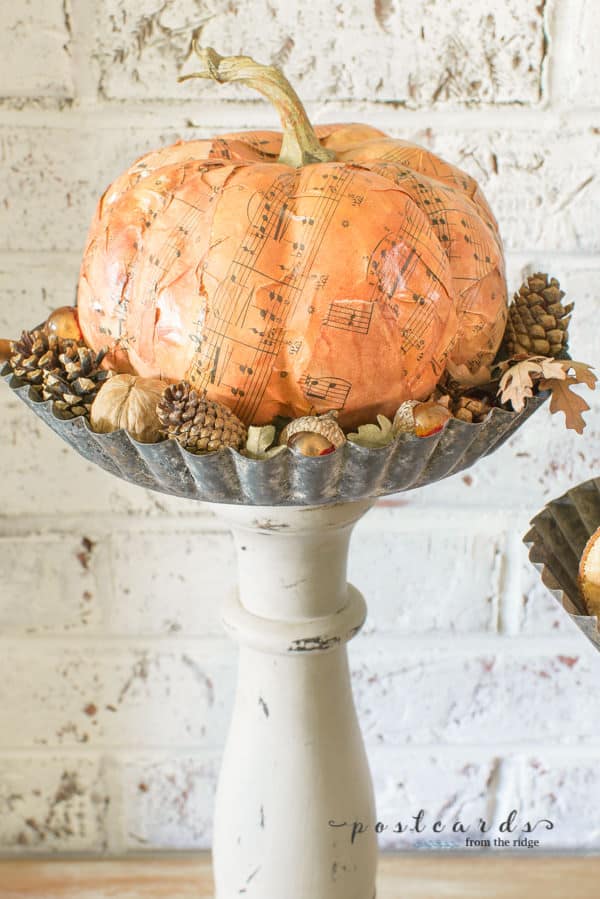 For quite some time, okay so maybe around 2 years, I've had these wooden
candleholders that I found at the thrift store. And I've had the very used
tart pans for even longer. I knew exactly what I wanted to do with them but have never gotten around to the project until now.
Have you ever done that? Have you procrastinated a simple project or
chore until you got just the right kick in the rear? It happens to me pretty
regularly, lol. That's one reason why I'm so glad I'm part of this creative
team. It pushes me to do things that I might not be motivated to do
otherwise.
Anyway, my vision for these items was a somewhat rustic pedestal stand that
could be used for candles, decor, or small desserts. You could even put a
small cloche on it.
The tart pans I used are ones that I found at an estate sale for no more
than $1 a piece (because they're VERY used), but you could definitely use
new tart pans. They're available in several sizes and come in
silver,
champagne, and
copper
colors too. I think the copper ones would be amazing for fall and might try
to do something with those at some point in the future.
I ended up putting this paper mache pumpkin on one of them with some natural fall items
like nuts, pine cones, acorns, and more. The paper mache pumpkin project was something
else I've thought about doing for a while. I don't have a tutorial for it
but it was simple enough to do.
In case you're interested in that project, I started with a cheap
white pumpkin from the craft store. I tore some
vintage sheet music
into irregular shapes and painted them with watercolor paint to give them
the orange shade. Then I applied them to the pumpkin and sealed it all with
some
Mod Podge.
Back to the pedestals. I used some paint and supplies from my stash so I
didn't actually spend anything at this time on this little project. If I had
to buy all the supplies new, I could probably get by with spending less than
$50 for everything.
Here's a quick tutorial for how I made these pedestal stands.
How to make pedestals from candleholders and tart pans
Yield: 2
Estimated cost: $10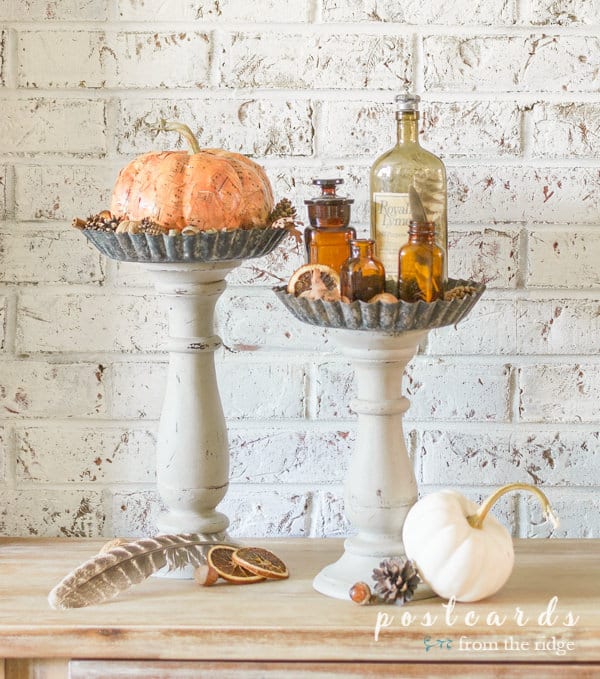 DIY Pedestals from Thirft Store Candleholders
Add style while saving money with this easy DIY project.
prep time: 10 Mperform time: 45 Mtotal time: 55 M
materials:
tools:
steps:
Using a clean cloth, wipe a
prepaint cleaner
over the surface of your candleholders. This cleans them, eliminates sanding, and only takes a
few minutes.
Paint the candleholders with an acrylic or chalky paint.
After the paint dries, distress various areas by lightly going
over them with a
sanding sponge.
Apply
dark wax
with a clean cotton rag.
If desired, buff the wax to a shine with a different clean cotton
rag.
Attach the tart pans to the top of the candleholders with all purpose
adhesive and allow to dry.
Created using
Craft Card Maker
The next time I have some great supplies like these, I won't wait so long to make something with them! It was a quick and easy project and I'm very happy with how they turned out.
See my past Thrifty Style Team posts here:
For more fall decor ideas go here:
Here are all of this months' Thrifty Style Team projects and you really should visit all of them.
Redhead Can Decorate – Mini DIY Pumpkin Patch
The Painted Hinge – Upcycled Fall Wreath
DIY Beautify – The Easiest Fall Centerpiece Ever
2 Bees In A Pod – Revamped Vintage Clorox Bottle
Postcards From The Ridge – DIY Pedestals From Thrifted Candleholders
The How To Home – DIY Pretty File Folders
The Tattered Pew – DIY Cane Armoire Makeover
Sweet Pea – DIY Gold Trimmed Painted Wooden Tray
What Meegan Makes – Vintage Bicycle Wreath for Fall
Cottage At The Crossroads – Paint a White Pumpkin
I Should Be Mopping The Floor – 5 Vintage Vanity Mirror Tray Uses
The Creek Line House – Inexpensive Faux Board and Batten Wall