Watercolor Lavender Free Printable Art
Free printable with watercolor lavender art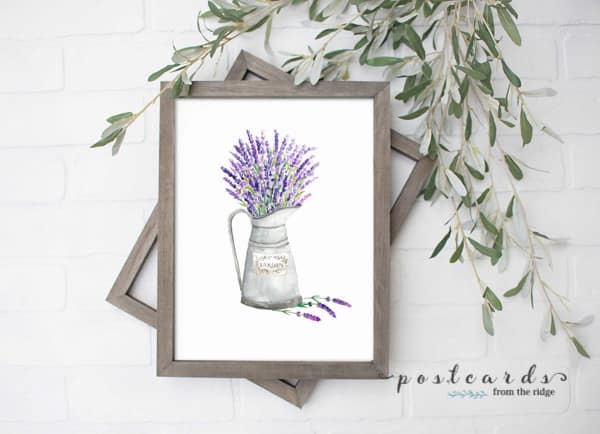 This post contains affiliate links for your convenience. For full disclosure go here.
Hello, friends! I hope you're having a wonderful week. Today I'm joining with some of my talented blogging friends to offer you some free printables for summer. My friend Carrie at Lovely, Etc has organized a summer printable blog and you can get several goodies for free. See all of the printables at the bottom of the page with links to each blogger's post.
My favorite sign that summer has arrived is fresh lavender. Is there anything that smells better? Plus the scent is very calming, and we all need more of that these days. If you've been following my blog or instagram for very long then you know that lavender is something I'm very fond of. I love all flowers, but lavender is amazing in so many ways.
A few years ago we took our family vacation in the Pacific Northwest and it just happened to be lavender season. We visited a lavender farm in Sequim, Washington and were allowed to walk through the fields. Be still my beating heart!
We also visited a lavender farm near Mt. Hood, Oregon. To say I was in heaven would be an understatement. Isn't this a dreamy scene?
Back home in Tennessee, lavender still seems to find its way into my photographs.
I even made some lavender candles a while ago. You can get the how-to here:
Luckily, I'm not the only one around here who loves lavender. Our little town has its very own lavender festival and it's amazing! Fresh lavender, local artisans, regional ciders and wines, and so much more. It's not happening this year, sadly, but will be back next June and I'm already looking forward to it.
I 💜 lavender! And I just spent several hours at our wonderful local @lavenderfestival with my youngest and several thousand of my closest friends. So many local handmade items, food, and plants! This truck was full of newly harvested lavender when it arrived and was nearly sold out by them time I bought mine. It smelled like heaven. . What are you up to this weekend? . . . . #jacksonsquarelavenderfestival #lavender #lavenderfestival #oakridgetn #celebrateoakridge #tennessee_life #tennesseelove #tennesseeliving #easttennesseeblogger #easttennessee #shoplocal #picktnproducts #theonlytennisee #instagramtennessee #tennesseeblogger #oakridgelavenderfestival
A post shared by Angie (@postcardsfromtheridge) on
Shameless plug: If you love lavender as much as I do, you might be interested in seeing the lavender items in my online shop, Emory Valley Mercantile. I have a small section of lavender themed items including the exclusive, pretty pillow below. You can see them all here → Lavender Items
After all of this, it was only natural that I finally created a lavender printable. I'm using graphics from several different etsy artists for this free printable.
You can get the exclusive digital file for free when you subscribe to my newsletter. Don't worry, the newsletter doesn't go out more than twice a week, and usually not even that much.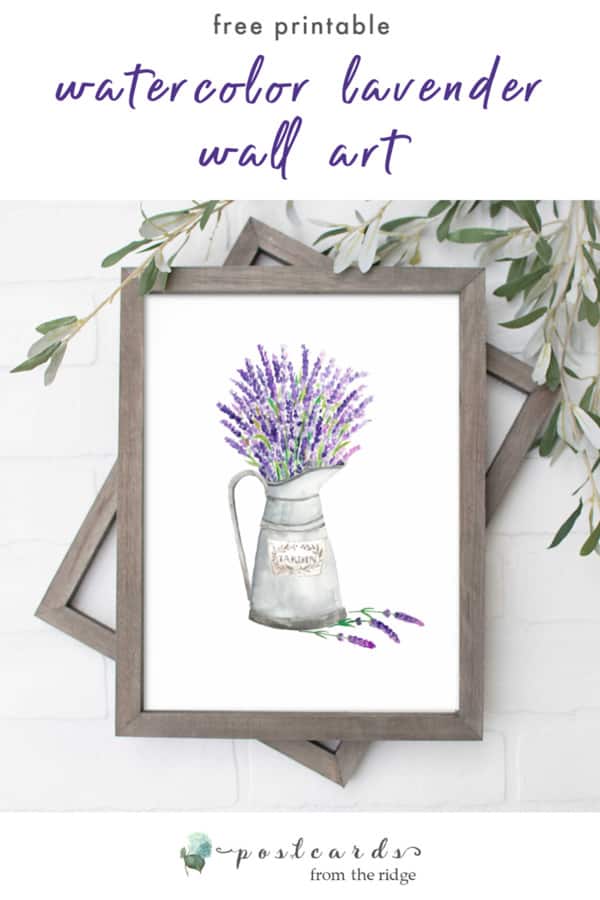 Now for the free printable! Here's how to get yours:
To sign up for my newsletter and get this exclusive digital artwork for free, CLICK HERE.
Check your inbox and verify that you do want to subscribe.
After you verify, you'll receive a welcome letter that includes a password and special link to all of my printable artwork. 
Download the file and print it as you wish.
This art is for personal use only and can't be resold or used for commercial purposes.

And now, here are all of the free printables from my blogging friends. Be sure to visit everyone and leave a nice comment!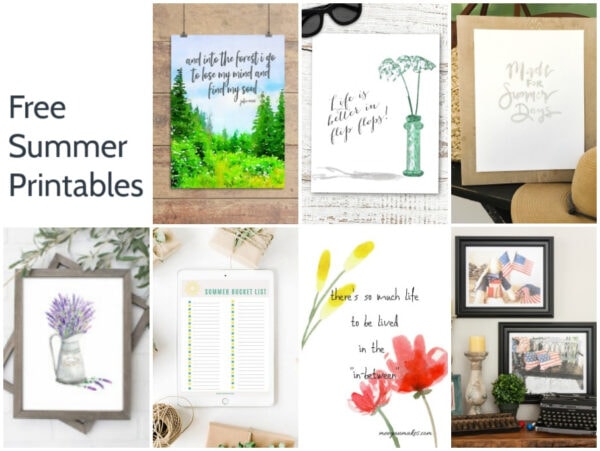 Free Printables: Colorful Art for Summer from Lovely Etc.
Free Summer Printable: Life is Better in Flip Flops from Up to Date Interiors
Set of 5 Summer Quote Printables from Twelve on Main
Watercolor Lavender Free Printable from Postcards from the Ridge
101 Summer Bucket List Ideas – FREE Printable from Charleston Crafted
There's So Much Live To Live Summer Printable from What Meegan Makes
Wall Art Free Printable | 3 Colorful Designs For Summer from Sunny Side Design
Thanks for dropping by today! Enjoy the free printable!