20+ Fresh Ideas for Decorating with Blue and White
Ideas for decorating with the ever-classic combination of blue and
white.
Lately I've really fallen in love with classic blue and
white decor. Not in huge doses, but instead little bits here and there since I
tend to get tired of too much of any one color these days. One of the best
things about decorating with blue and white is how versatile it is. It can be
classic, vintage, coastal, masculine, and more.
Today I'm sharing a few of my favorite ways to decorate using this classic
color combo with the help of some of my talented blogger friends.
This post contains affiliate links for your convenience. For full
disclosure go here.


PLEASE VISIT EACH BLOGGER'S POST AND PIN IMAGES FROM THERE.
Dish Displays
One of the easiest and most common ways to add pops of blue is by
displaying dishes. You can hang them on a wall, set them on your
counter, display them in a cabinet, or any other way you want show them
off.
We inherited my MIL's beloved but small collection of blue and white dishes
several years ago and I've added to the collection. I still don't have a lot
but pick up pieces as I find them.
I scored the copper pieces at an estate sale a few weeks ago and bought them
with the intention of selling them in my shop. I like them so much I'm not
sure I can part with them though! What do you think? Keep or sell?
And my own mama has a wonderful collection of
Blue Willow dishes, some antique and some newer. Don't they look gorgeous in her old corner
cabinet at their lake house? Please excuse the fishing rods. 🙂
Jennifer at Dimples and Tangles is an expert at adding pops of color, and her dining room is a
perfect example of that. Don't her blue willow dishes look great in her
green china cabinet?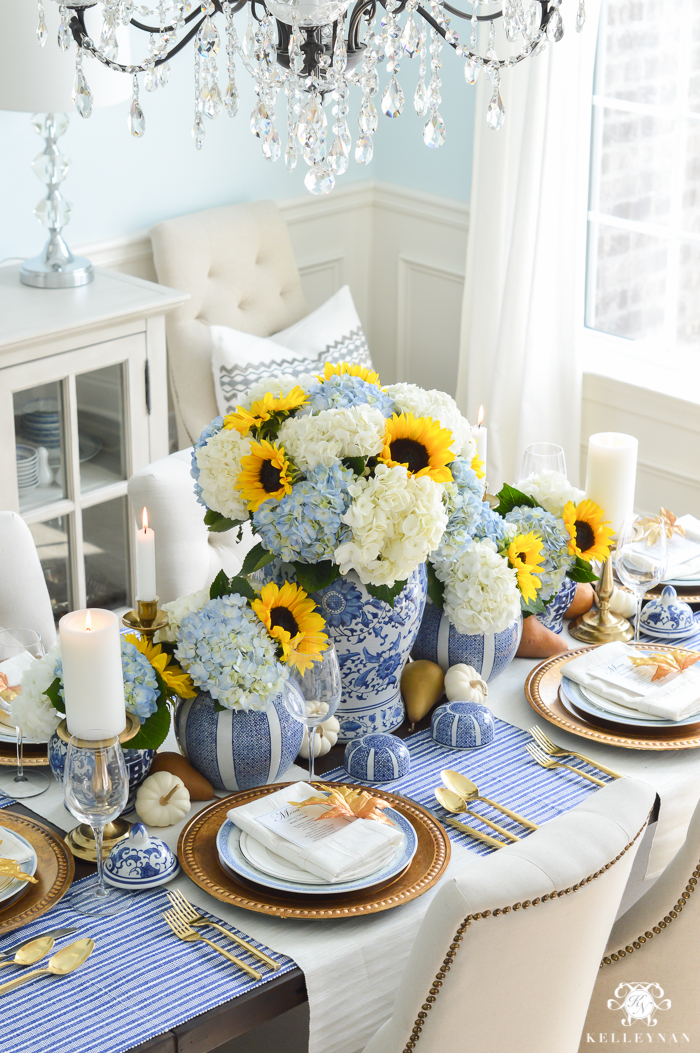 With the fluffy hydrangeas and vibrant sunflowers, this tablesetting
from
Kelly Nan
is perfection. All of the things I adore in one place!
Tamara at
Citrine Living
adorned her kitchen island with these gorgeous pieces of blue and white
pottery and accented them with lemons, limes, and hydrangeas. Such a
beautiful color combination.
Debbie at
Confessions of a Plate Addict
has a wonderful collection of blue and white dishes and uses them as
accent decor as well as on her table. Don't they look pretty in her
wooden carrier?
I added these
rice grain porcelain bowls
to our collection a couple of months ago and am in love with them.
Living Areas
Want to add a touch of blue to your living area? It's easier than ever
with all of the gorgeous accents that are available. You can simply add
any of these items for a fresh dose of blue:
A variety of patterns and shapes on these blue pillows add such interest
to this living room that belongs to Tamara at
Citrine Living.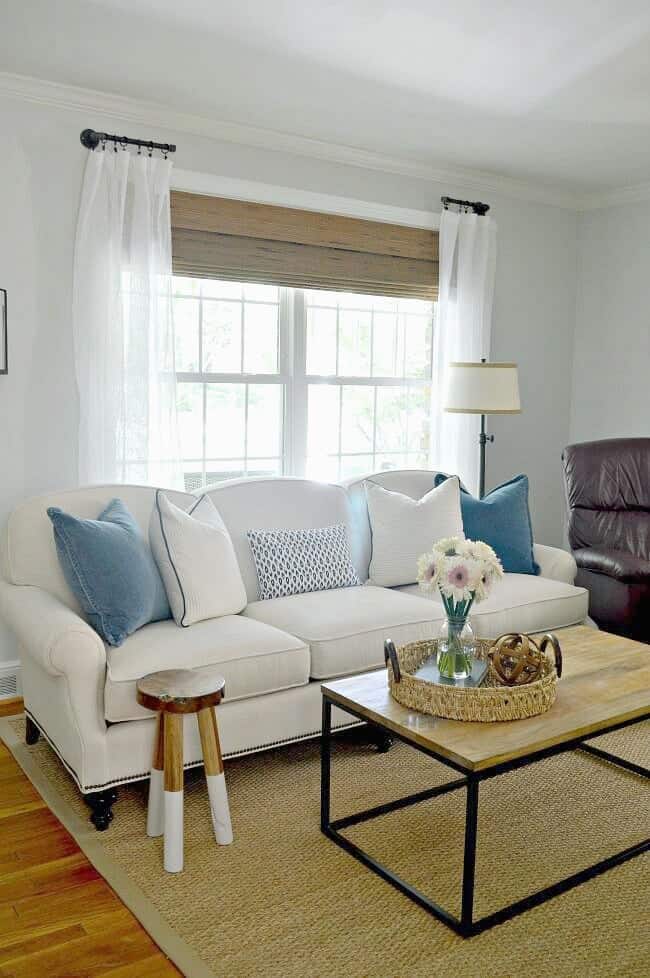 Kristi at
Chatfield Court
recently updated her living room and added a little pop of color with
her blue pillows. Such a pretty space!
Bedroom
Add a dash a blue to your bedroom with any of these items:
Bedding – quilts, duvets, comforters, or sheets
Area Rugs
Accessories
Wallpaper
Here's a bedroom with blue accents that looks cozy and sophisticated
all at the same time. I love how Tamara at Citrine Living has mixed different patterns and shades of blue. So inviting.
Go bold with blue on your window curtains and sheets like Jennifer
at Dimples and Tangles. I love how she infuses color into all of her spaces.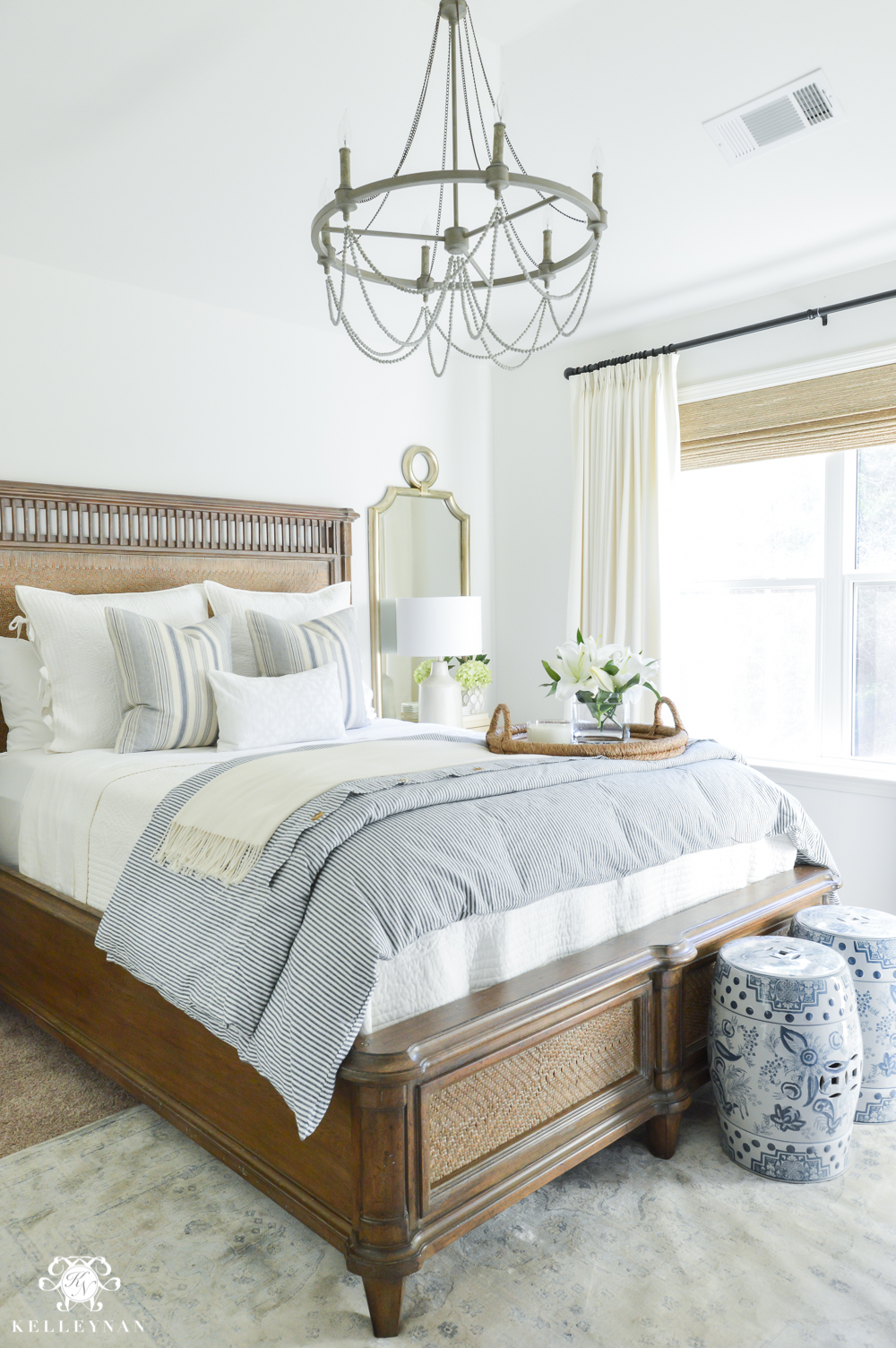 Here's a pretty and serene bedroom from Kelly Nan with accents of blue. A soft striped duvet cover and shams go
nicely with the garden seats and subtle rug. Just a dash a blue makes a
beautiful bedroom.
Isn't this room from Julie at Love My Simple Home pretty? She added pops of blue to her bedroom with throw
blankets, duvet covers, curtains, and more. That umbrella stand is so
pretty!
Want to make a statement with blue? Add wallpaper to an accent wall
behind the bed for an instant impact. Erin from
DIY Passion
used it in her recent bedroom makeover and it looks amazing!
Painted Furniture
This painted buffet is a great example of adding blue to a space with
furniture. Such a beautiful makeover! Hop over to Thirty Eighth Street
and see how Carrie got this look.
Give your furniture pieces a dose of personality by painting them blue.
This area comes to life with the matching chairs and bench at One Mile Homestyle.
Miscellaneous Accents
Ashely at Bigger Than the Three of Us added pops of blue to her updated dining room with an area rug
and some lightweight curtains trimmed with blue. Doesn't it look
gorgeous?
Vicki and Jennifer at
2 Bees in a Pod always have great decorating tips and added some fun pops of blue
to their fireplace area. Go
HERE
to get all the details of this fun vignette.
Pretty blue glass bottles and coastal accents are ideal for a coastal
themed table setting like this one by Our Crafty Mom.
A
tiny blue and white teapot
can make a nice impact when grouped with some
white ironstone creamers.
There are so many ways to infuse blue into your decor. What are some
of your favorite ways to use it? Leave a comment at the bottom of the
post and share your ideas. We're always looking for fresh ways to do
things!
Great Sources for Blue and White Decor:
More Blue and White Fabric
Blue and White Wallpaper
Blue and White Artwork
Blue and White Pillows
Blue and White Dishes
More Blue and White Faves (Click for info)