17 Simple Christmas Decorating Ideas that anyone can do
Christmas decorating ideas that are simple and beautiful
Have you started decorating for Christmas yet? It's on my to do list for later this week and I've been gathering ideas and trying to decide what I want to do here this year. I'm thinking of changing it quite a bit from what I've done the past few years but haven't totally decided yet, so you'll have to stay tuned for that.
This post contains affiliate links for your convenience. If a purchase is made after clicking one of the links I might make a small commission. Your price does not change. For full disclosure, go here.
Today I'm sharing some of my favorite simple Christmas decorating ideas from our house over the past 3 years, plus some that I've already added to our bedroom this year. It's all simple, cozy, and festive and anyone can do these. So if you're also trying to decide how to decorate this year, hopefully you'll get a few ideas while you're here. Let me know which one is your favorite!
Simple and cozy Christmas decorating ideas
1. Cozy throws and pillows
Adding cozy throw blankets and pillows is a fast and easy way to decorate the bedroom for Christmas. This faux fur throw blanket has quickly become one of my very favorite things even though I've only had it a few weeks.
2. Festive sheets on the bed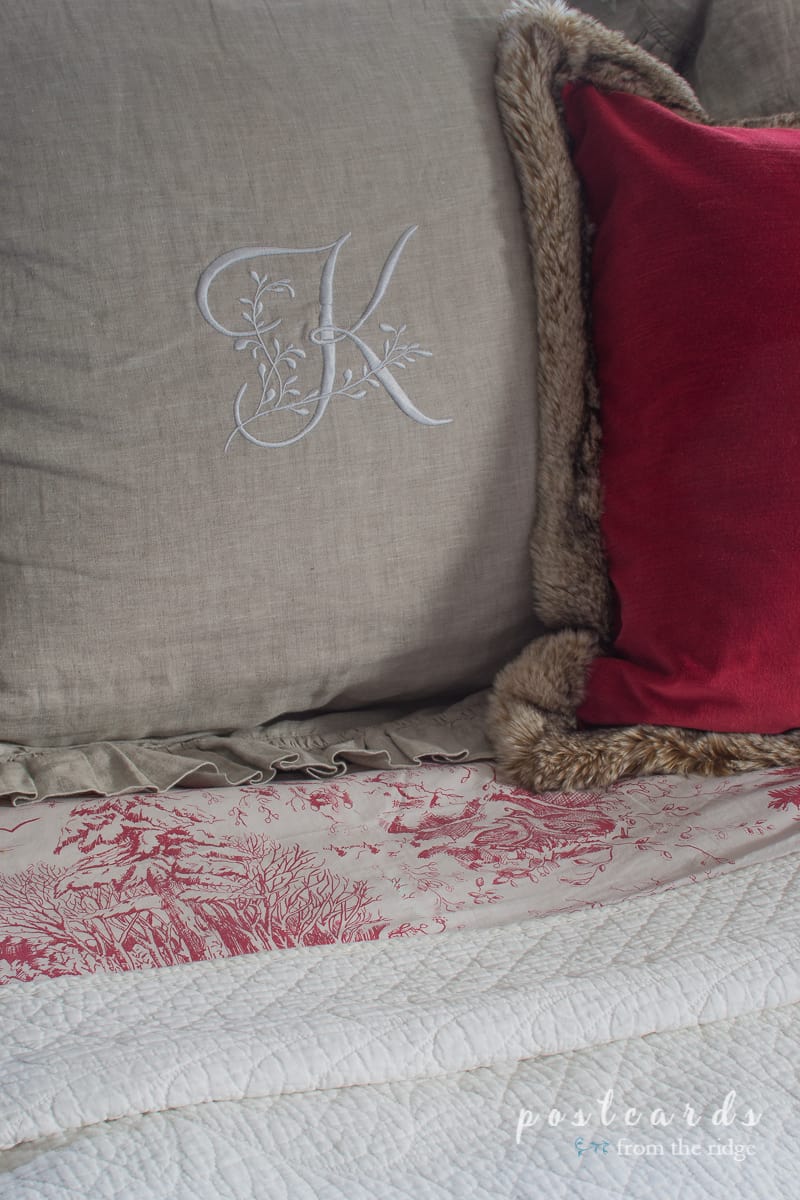 Use holiday sheets instead of your regular ones. You'd be surprised how this little change makes such a nice impact.
3. Decorate a lamp
Another easy way to add holiday spirit is by adorning your lampshades. I attached this small boxwood wreath to the finial of the vintage lamp in our master bedroom and let it dangle over the side.
4. Set out Christmas magazines and catalogs
Magazines and catalogs have the prettiest covers this time of year. Set some on a pretty tray for a simple way to add Christmas decor to your bedroom, living room, or family room.
6. Display festive dishes and old silver
Pretty silver and holiday dishes look especially festive when displayed in your kitchen or dining room. We have these in our breakfast room hutch.
7. Decorate the guest bedroom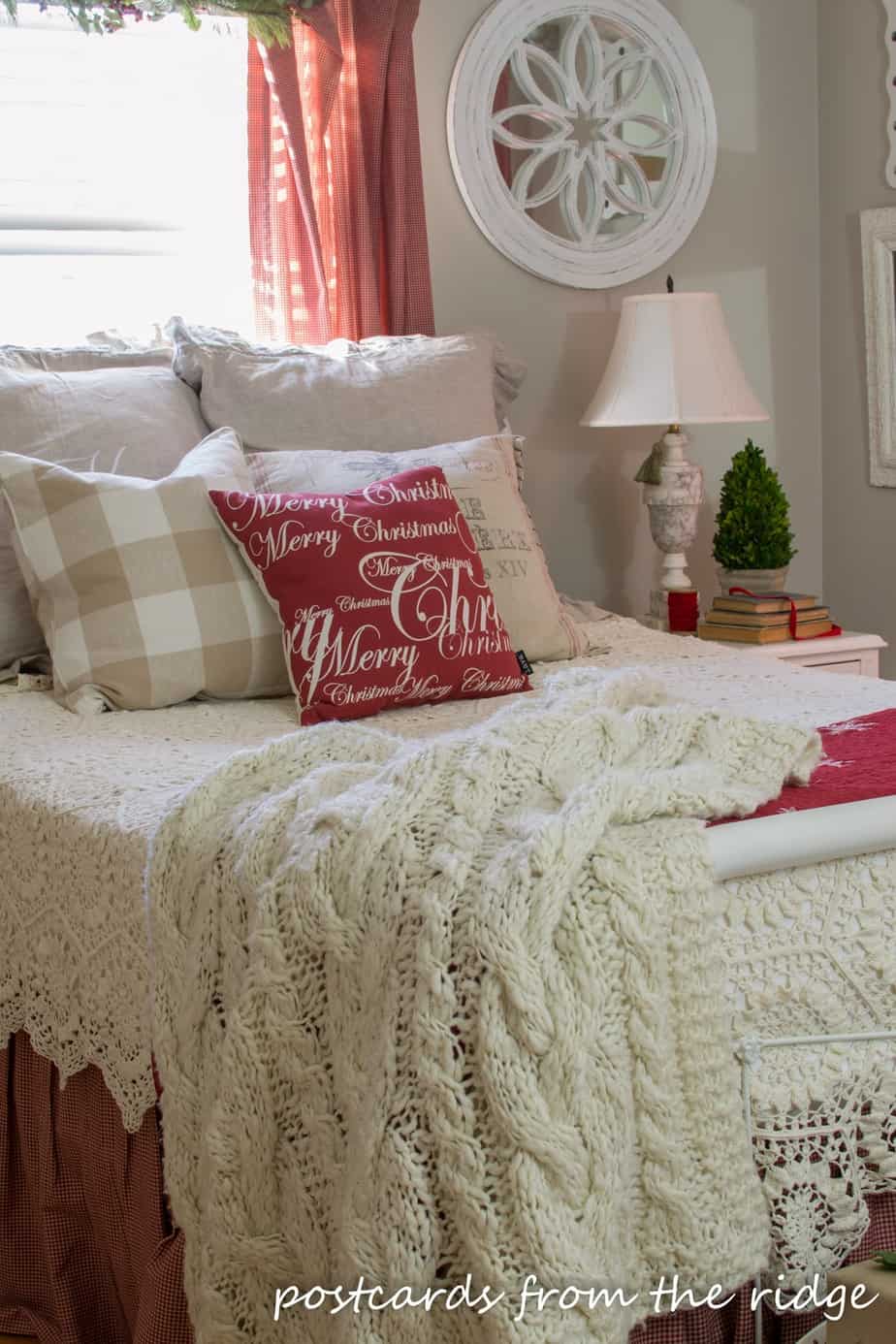 Welcome your guests by adding cozy Christmas decor to a guest bedroom. A soft throw blanket, a Christmas throw pillow and a few other little touches make the room warm and welcoming.
See the whole room here => Guest bedroom Christmas Decor
8. Set up a hot cocoa station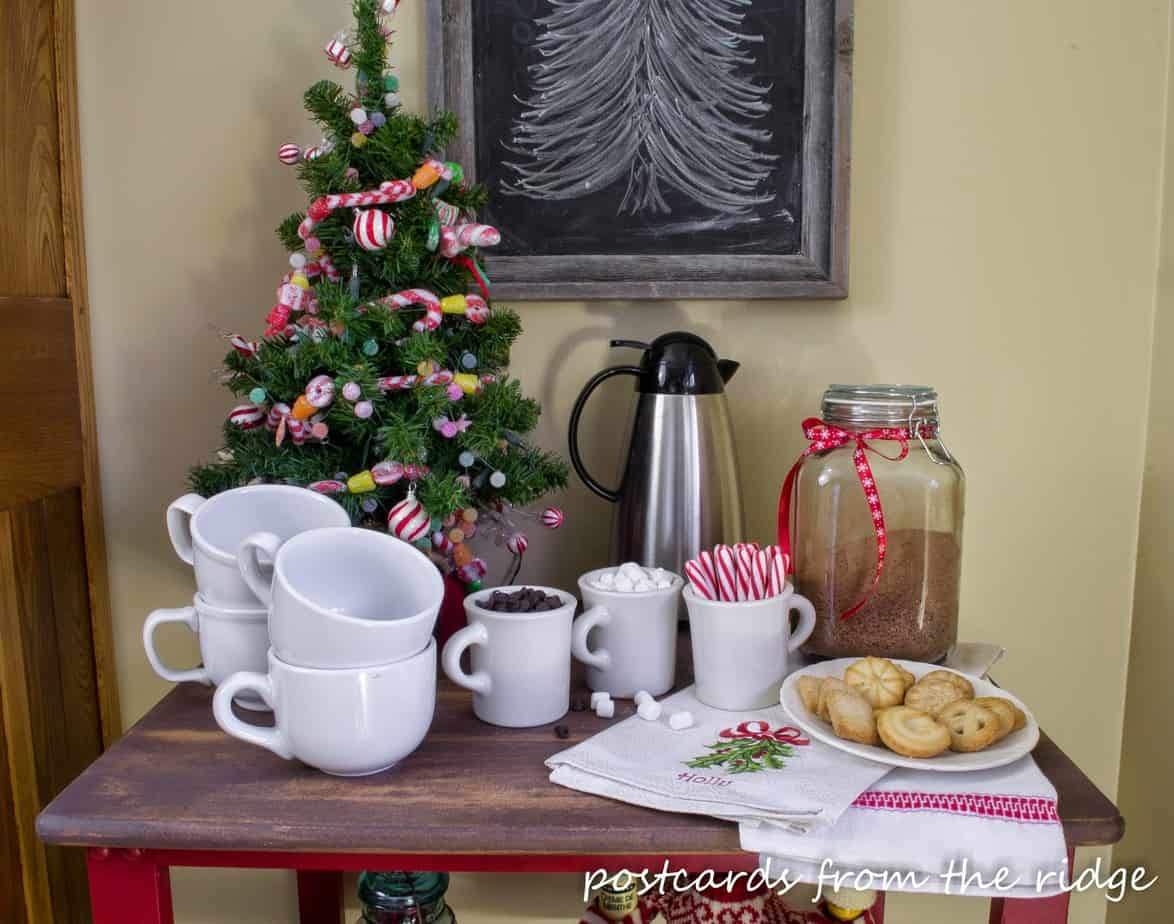 Set up a hot cocoa station for cold December nights. I used our old kitchen cart for this one. To see how I transformed it, go here ==> Red Hot Cocoa Cart
9. Prep a bar cart
For the grown ups, decorate a bar cart with colorful red glasses, beaded garland, and shiny cocktail shakers. Add candy canes to your glasses as another easy, inexpensive holiday touch.
10. Dress up the table
Dine in holiday style by dressing up the table. For this tablescape, I started by stacking a glass candleholder on a glass cake pedestal and added some mercury glass ornaments. Then I added some holiday dishes and linen napkins to a pretty charger plate. My green goblets and vintage silverware tied with a velvet ribbon completed the look.
To see more of this table, go here ==> Christmas tablescape
11. Add vintage ornaments to a wooden lantern
Wood lanterns are great decorations any time of the year, but look especially pretty at Christmas when filled with ornaments.
12. Hang snowflakes in the window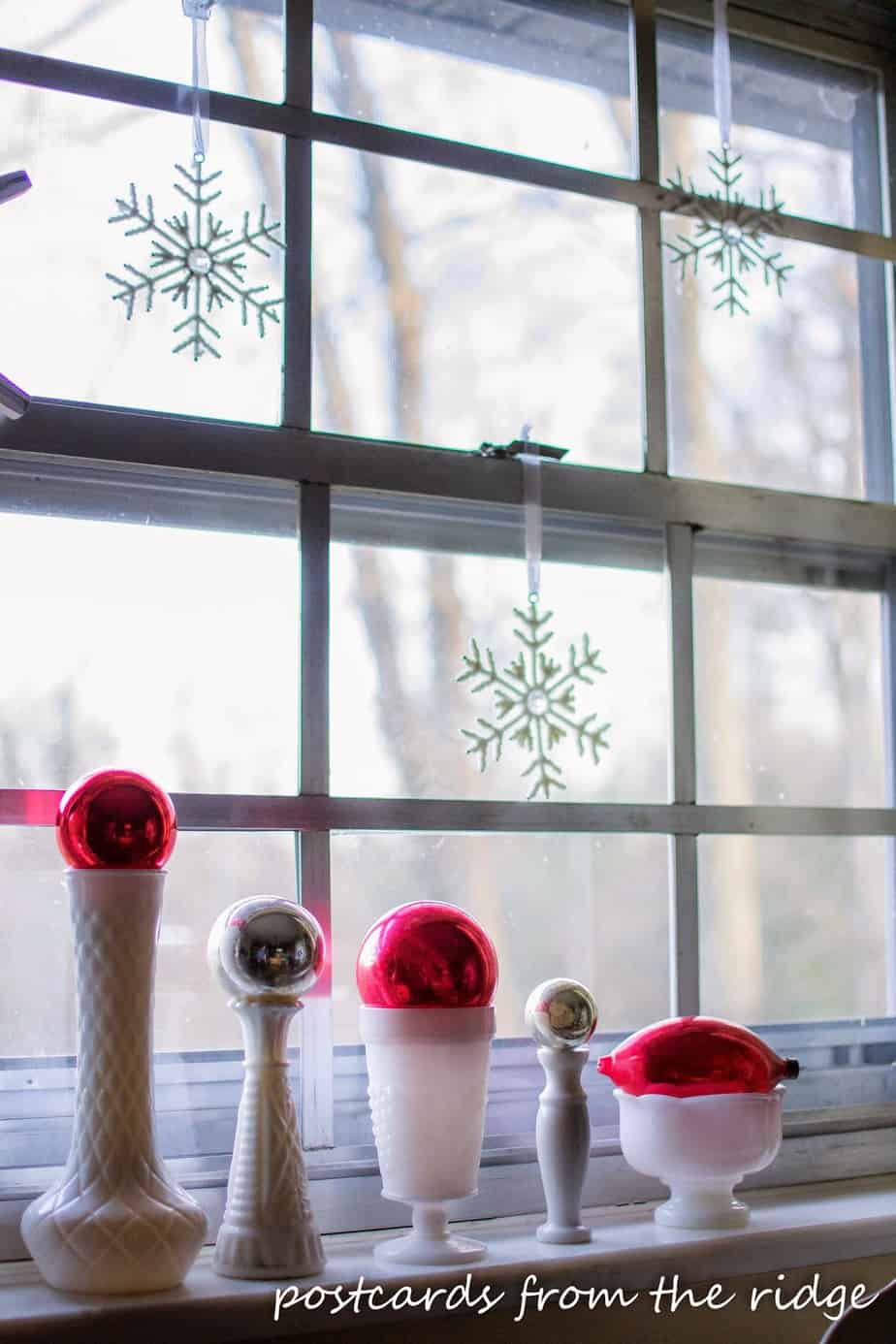 Add a few snowflakes to your window to make it feel more like winter. I attached a few snowflake ornaments to the glass with these hooks.
13. Fill a bowl with vintage ornaments
For a quick burst of holiday color, simply add some colorful glass ornaments to a wooden dough bowl. This doesn't take more than just a few minutes to do is so elegant and festive.
14. Decorate the entry
Make your entry festive by displaying Christmas cards, adding a few ornaments and a boxwood topiary, and plaid scarf, and some greenery tucked inside your rainboots.
15. Add a little red wagon to the front porch
Welcome your guests with some cozy front porch decor. This was so simple to put together. I put a small Christmas tree in a pretty container and placed it and some wrapped boxes in a fun little red wagon. The old sled, buffalo plaid scarf, ice skates, and snow boots add even more Christmas charm.
To get the details of our Christmas front porch go here ==> Christmas front porch
16. Use fresh greenery
Another fun way to dress up the front porch is to add some fresh greenery to a vintage olive bucket. I added magnolia, pine, and holly, and wrapped a plaid ribbon around this one.
17. Make a natural wreath
Clip a little more fresh greenery and attach it to a grapevine wreath for another nice way to add Christmas cheer to the porch. I added this one with juniper and boxwood to our front porch wagon.
What are some simple ways that you decorate for Christmas? Leave a comment below and tell me your favorite ideas.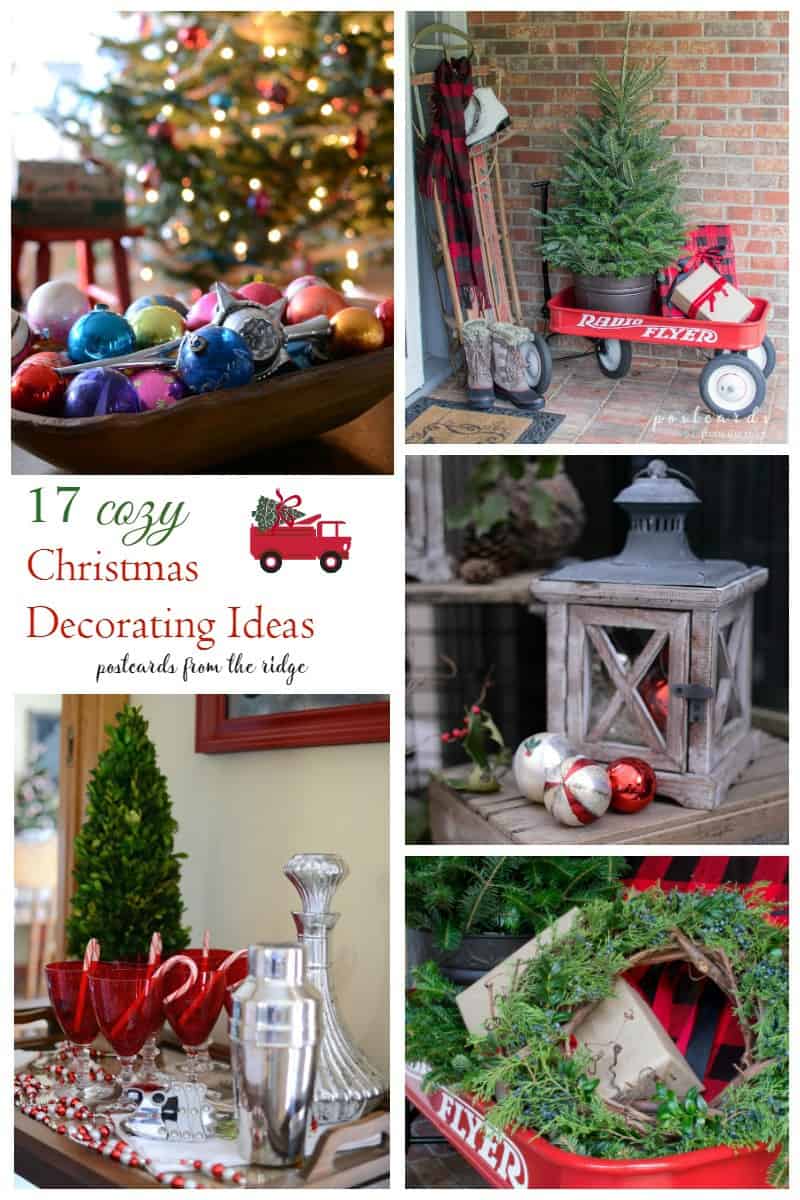 Coming up soon – more ideas for Christmas decorating including table settings, front porch, Christmas tree ideas, and much more. Subscribe to updates below so you don't miss any of it.
Click for sources:
faux fur throw blanket // holiday sheets // vintage lamp // small boxwood wreath // cable knit throw blanket // colorful red glasses // cocktail shaker // glass cake pedestal // holiday dishes // linen napkins // charger plate // green goblets // vintage ornaments // wood lanterns // snowflake ornaments // wooden dough bowl // boxwood topiary // rainboots // plaid scarf // vintage olive bucket // red wagon
Thanks so much for dropping by!
XOXOX,
Angie
Sharing these ideas here:
A stroll thru life – Inspire me Tuesday
Cedar Hill Farmhouse – The Scoop