Home for the Holidays ~ Christmas Home Tour
Happy holidays, merry Christmas, happy Hanukkah, or whatever you celebrate! It's full blown Christmas at our house right now, and today's the day we're kicking off our Home for the Holidays tour! I'll be joined by 24 other bloggers who are sharing their homes this week.
I can't wait to see all the beautiful spaces and get some great ideas for next year! Check back each day to visit everyone on the list. The lineup is at the bottom of the post and I highly recommend you drop by each home for a visit. You'll be glad you did!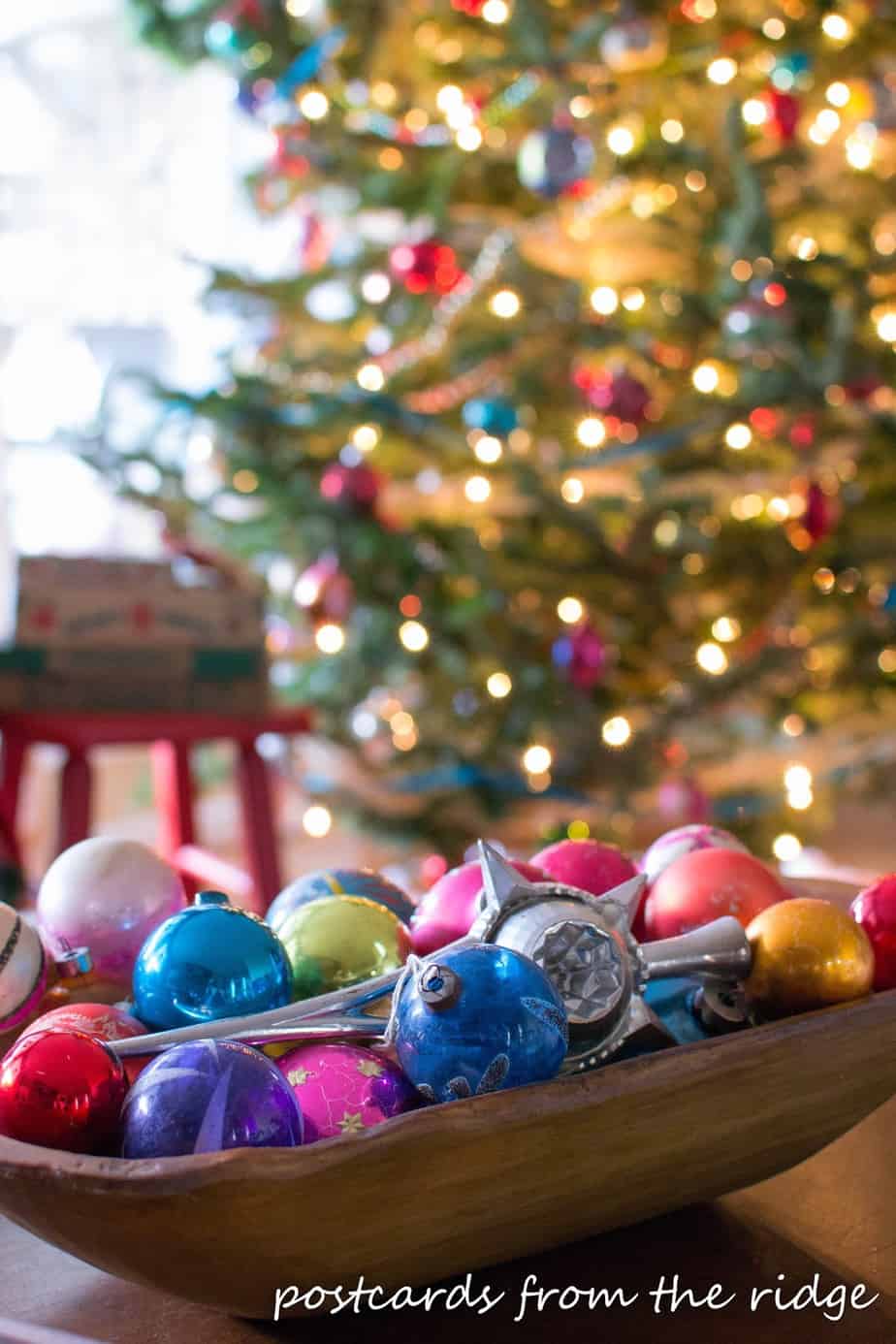 For my tour, I'm starting with my favorite photos and then sharing more from each space. I took several hundred photos and narrowed it down to my favorites. I hope you like what you see! If you're new here, ours is a 1964 ranch style house that we've updated with paint and a couple of bathroom remodels. It's definitely nothing fancy, but neither are we.
Welcome to our home for the holidays!
This post contains affiliate links for your convenience. If a purchase is made after clicking one of the links I might make a small commission. Your price does not change. For full disclosure, go here.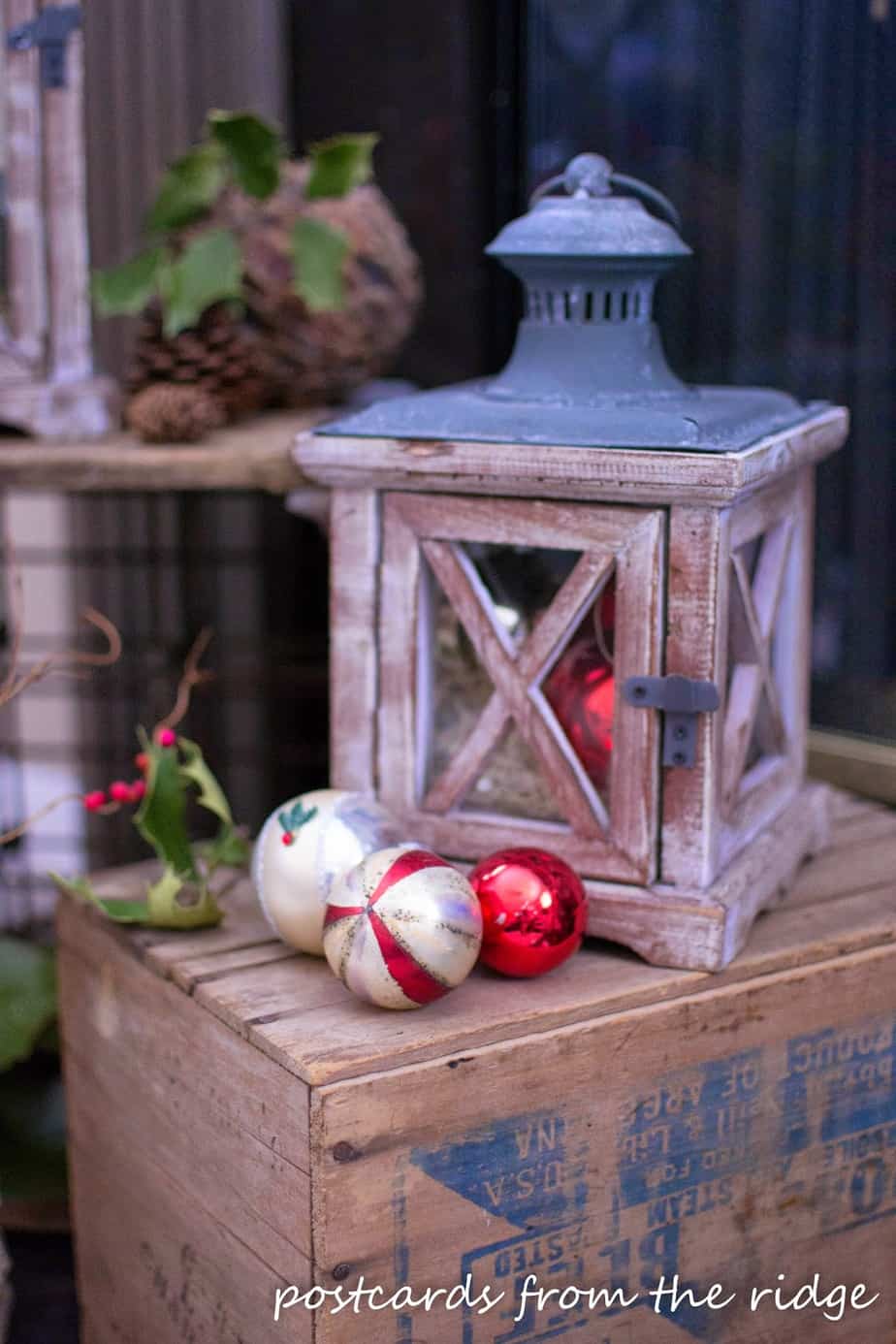 The Living Room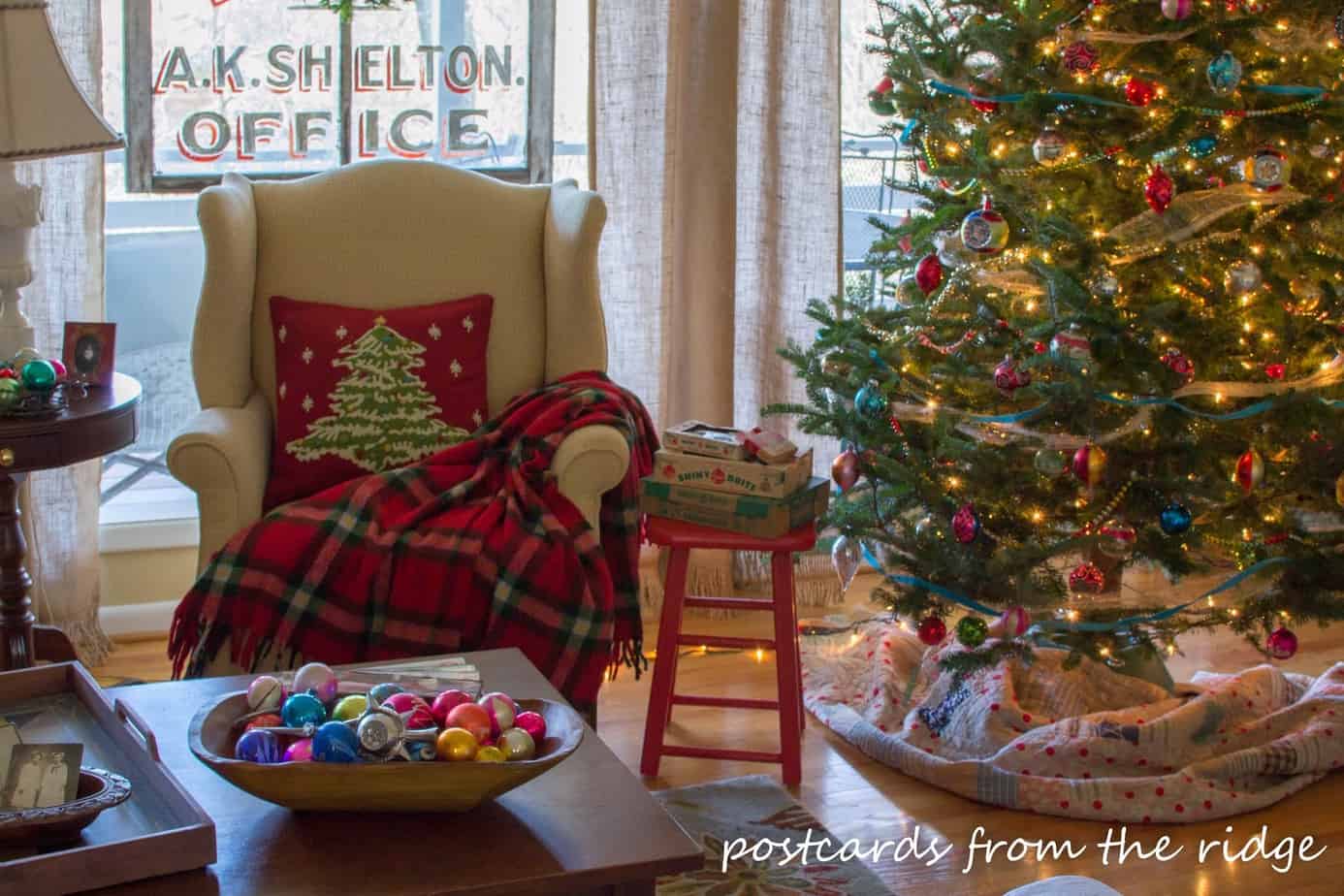 This is where we have our tree, and it's the first room we see when we come home. I love our tree, if I do say so myself!
I started collecting vintage ornaments a few years ago and hit the mother lode at an estate sale last year with about 10 boxes. I've got way too many at this point and have to put them in bowls and on mantels and in windows. You'll see what I mean as we go through the house.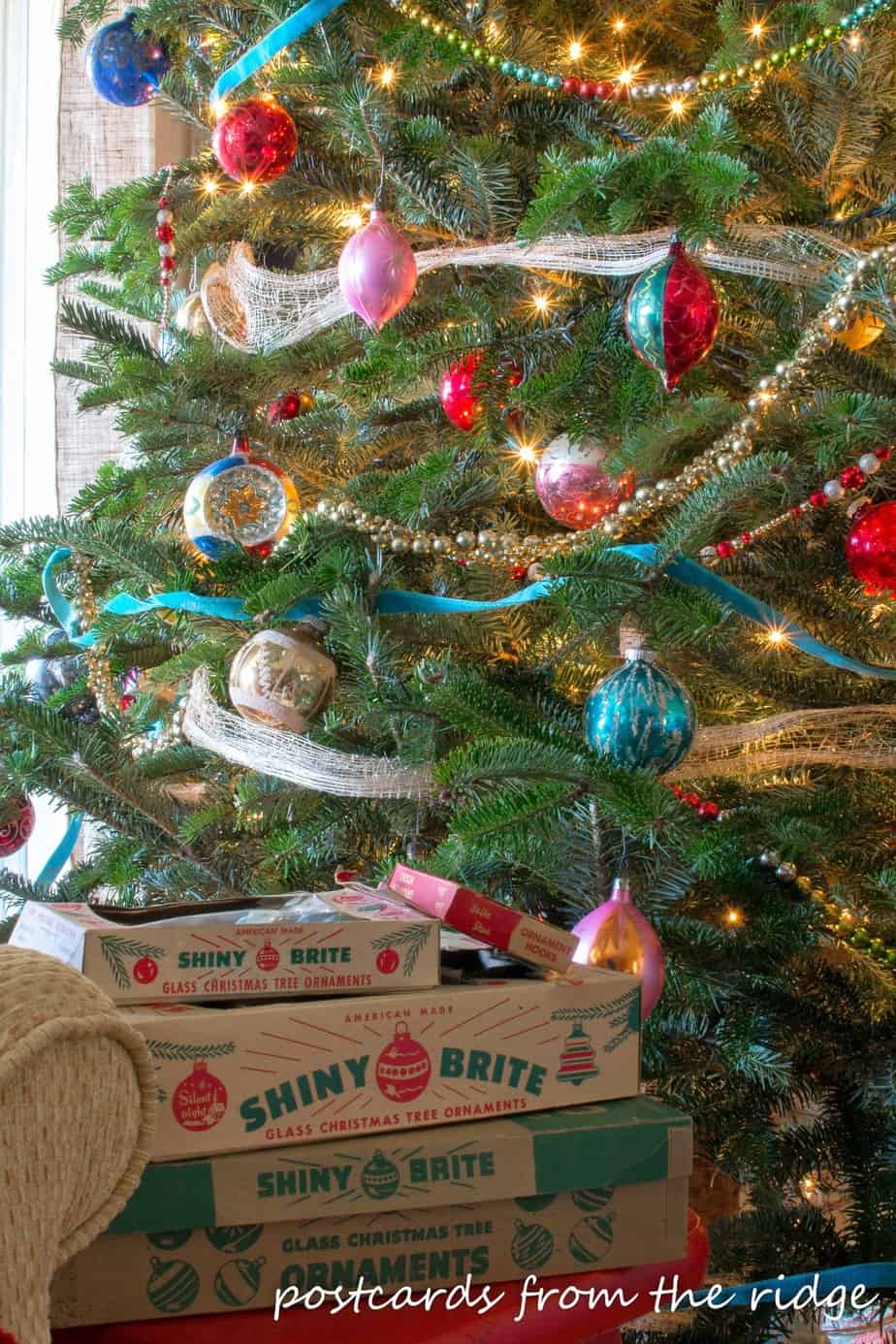 Not all of the ornaments are the Shiny Brite brand, but most of them are from the 60's or earlier. The color is amazing and I love to sit and stare at the tree. Do you do that too?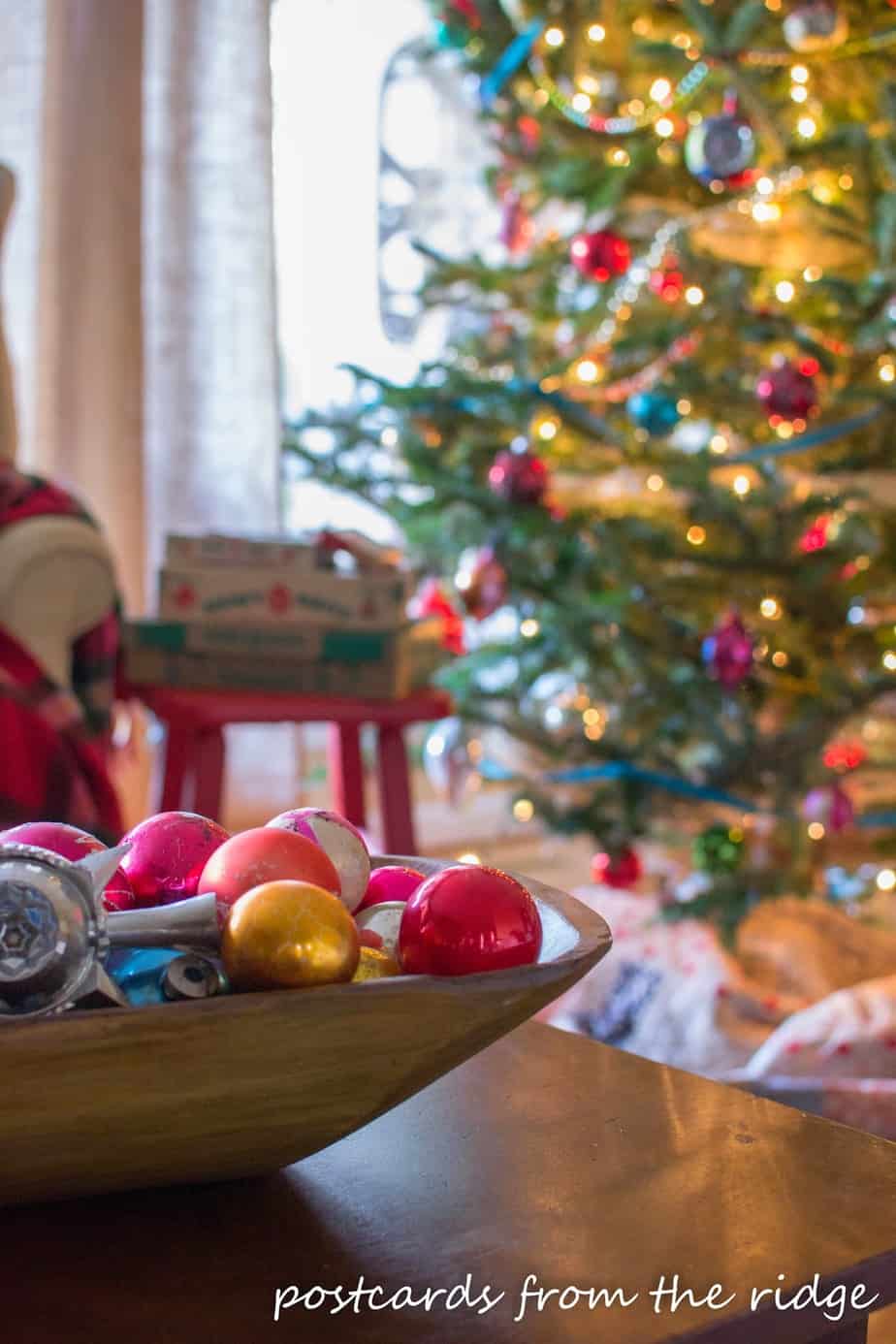 Santa stopped by early and brought me a new lens (go here to find it). I've been playing with it and took all the photos in this post, including this one, with it. I love Santa. But I have to remember that when there's nothing under the tree for me on the 25th.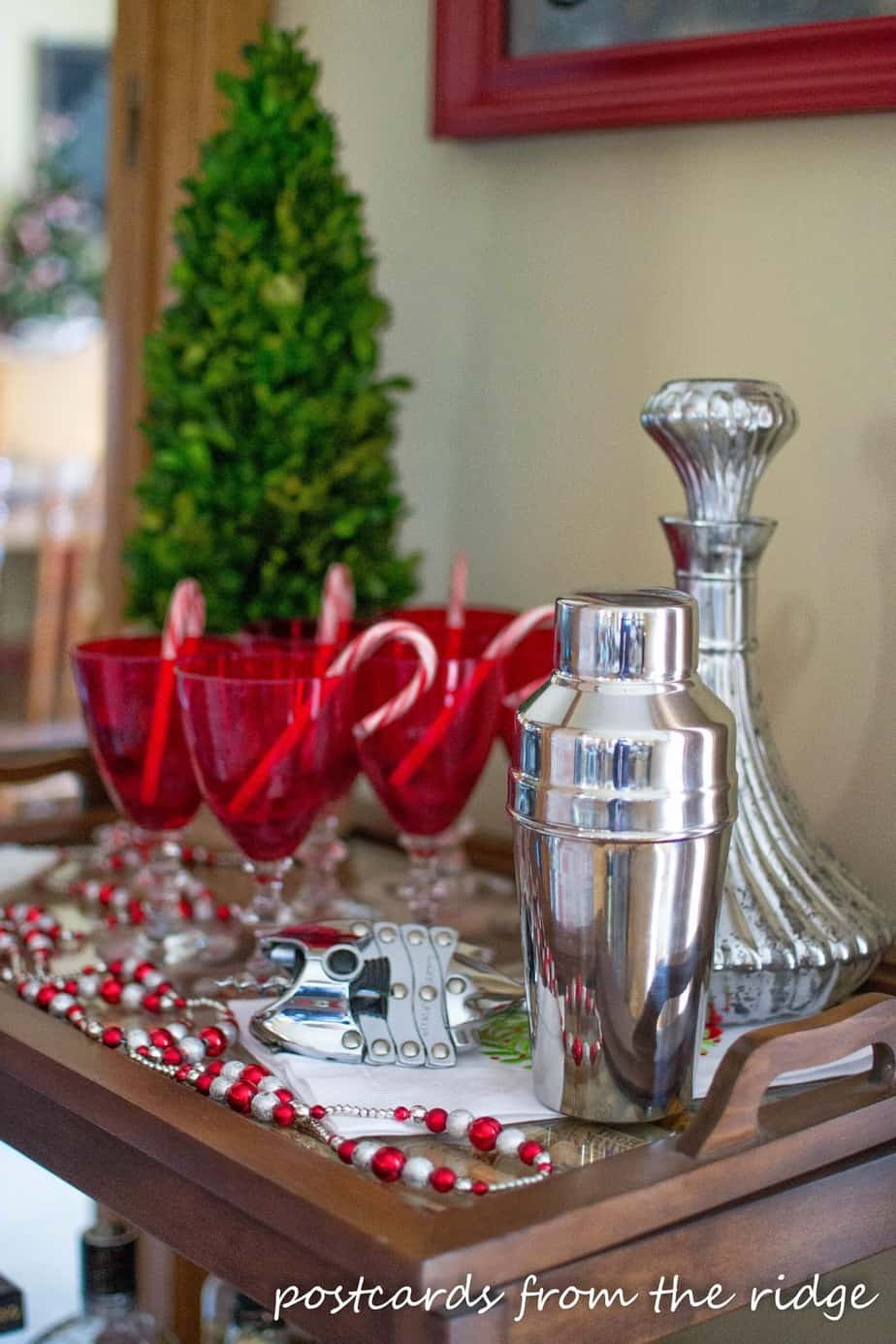 The bar cart. It started out as a tea cart, but bar carts are more fun, right? Right.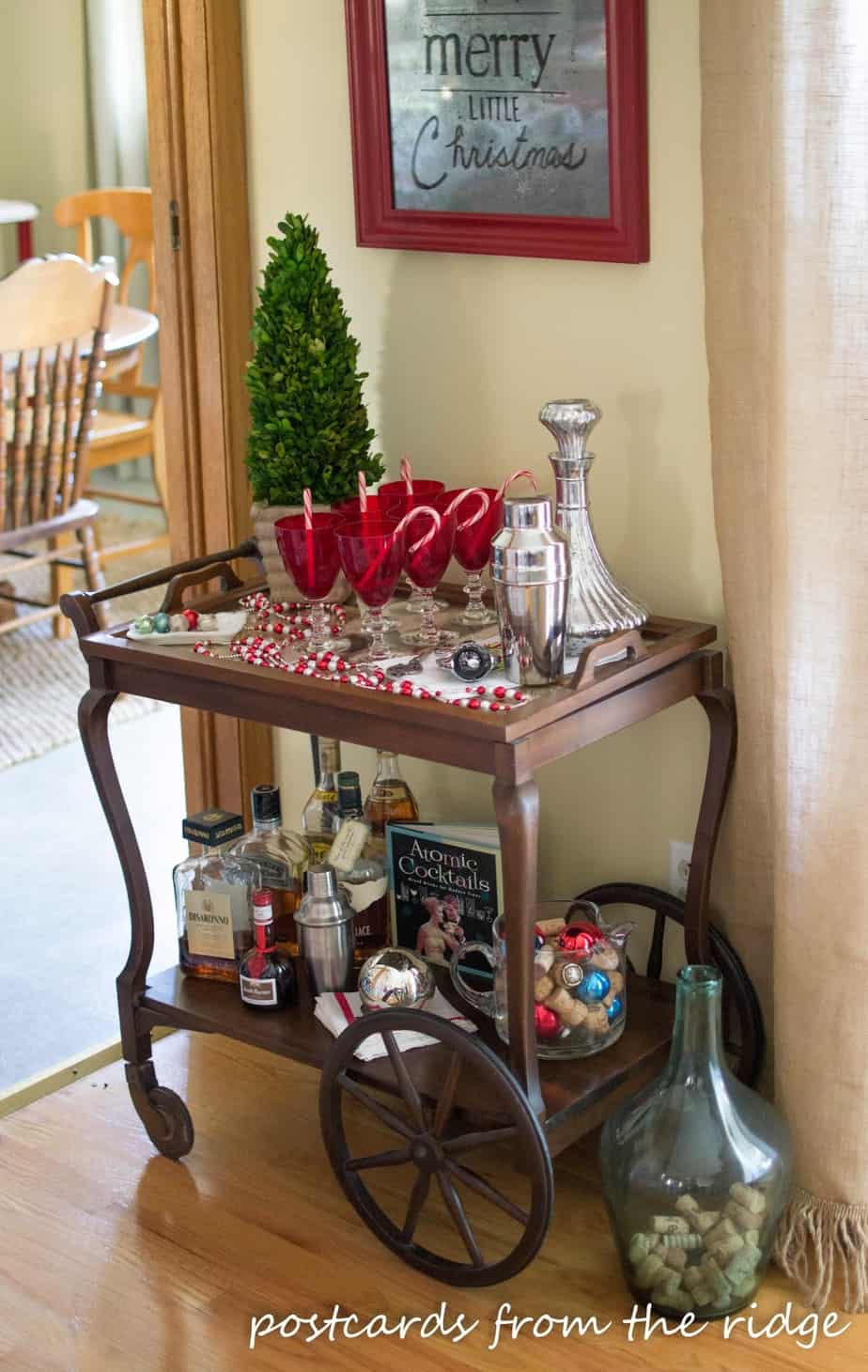 The Family Room
We spend lots of time in this room watching movies or just hanging out. The colorful granny square afghan is perfect for snuggling on the couch and watching old Christmas movies.
The vintage egg crate came from a family member a few weeks ago and I didn't even notice what it said until I started putting Christmas decorations in it. Isn't it perfect? And we lived in Nashville for 15 years, including the years when our daughters were born, so that makes it even more special.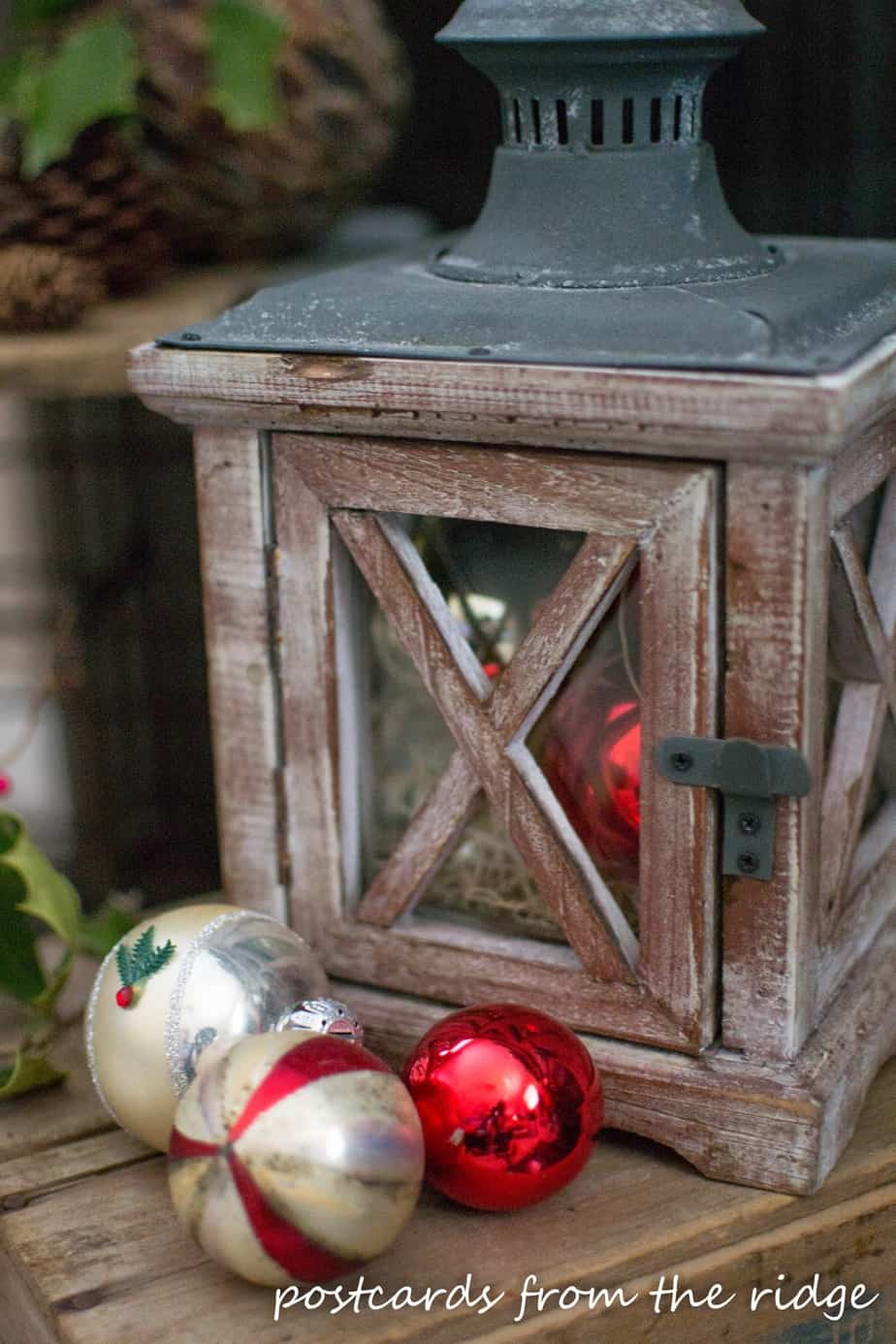 Old Shiny Brite ornaments. Again. You'd better get used to seeing these here.
Do you see the little glass trees on the mantel? I found them at a thrift shop a few weeks ago for a couple dollars each. Then I was in Potttery Barn recently and they had them for around $20 or $25 dollars. I just love it when something like that happens.
The Breakfast Room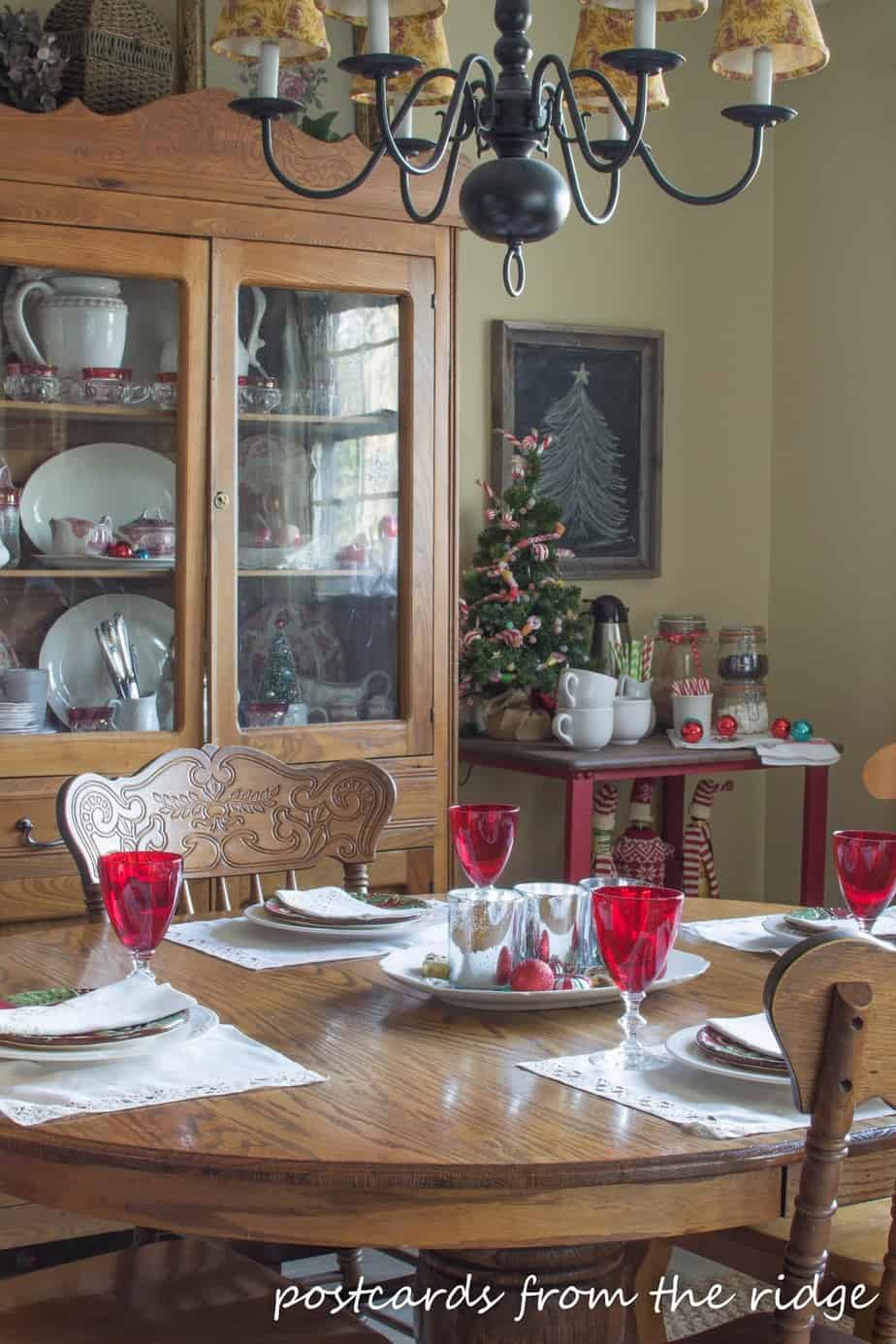 Just off the kitchen, we eat here daily. It's all prettied up for the tour.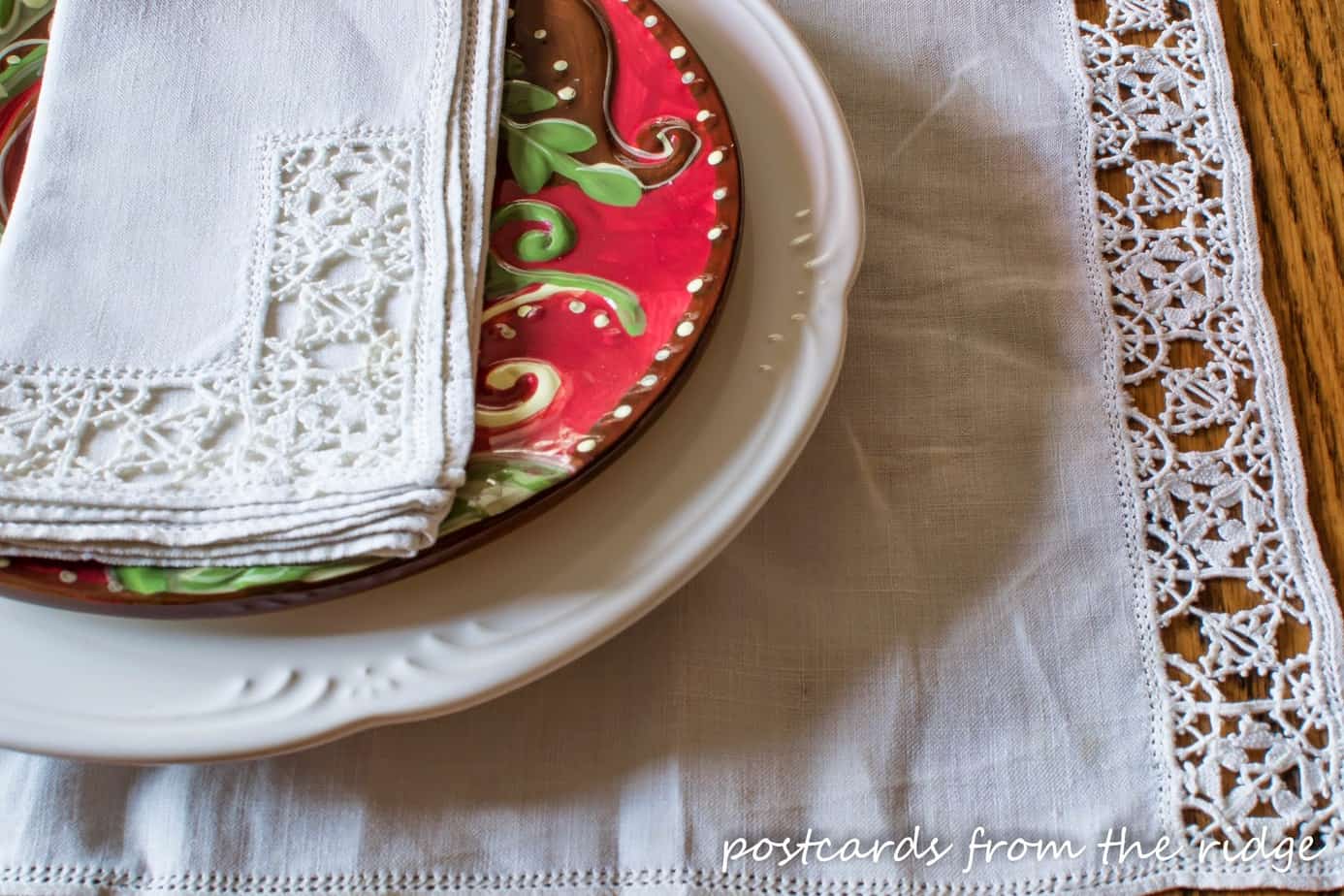 My most fun project in a while is this hot cocoa station. Go here to see what it used to look like!
Our old oak hutch was my husband's grandparents' and we were fortunate to have it given to us by my late mother-in-law. It's filled with red and white dishes and pitchers for the holiday season.
Old linens and old ornaments.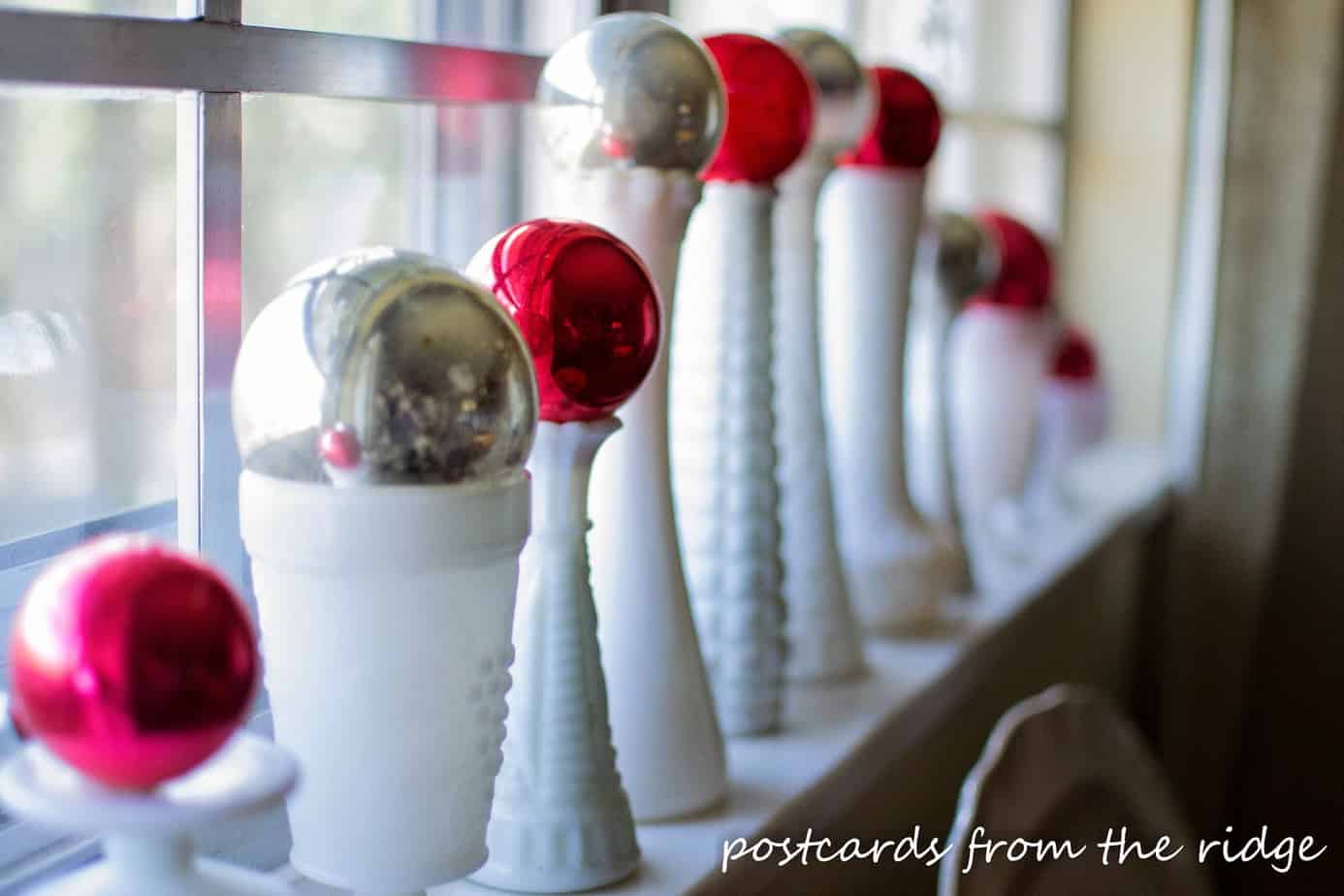 I've always loved milk glass and have a nice little collection of vases and various dishes. I put them in the breakfast room window and added a few ornaments for color.
A few snowflake ornaments hang from the window and make me wish for snow!
The Dining Area
Our house doesn't have an official dining room but we have a dining room table on one end of the living room. I dressed it up for the holidays with some transferware, vintage linen napkins, and red glasses.
The Entry and Front Porch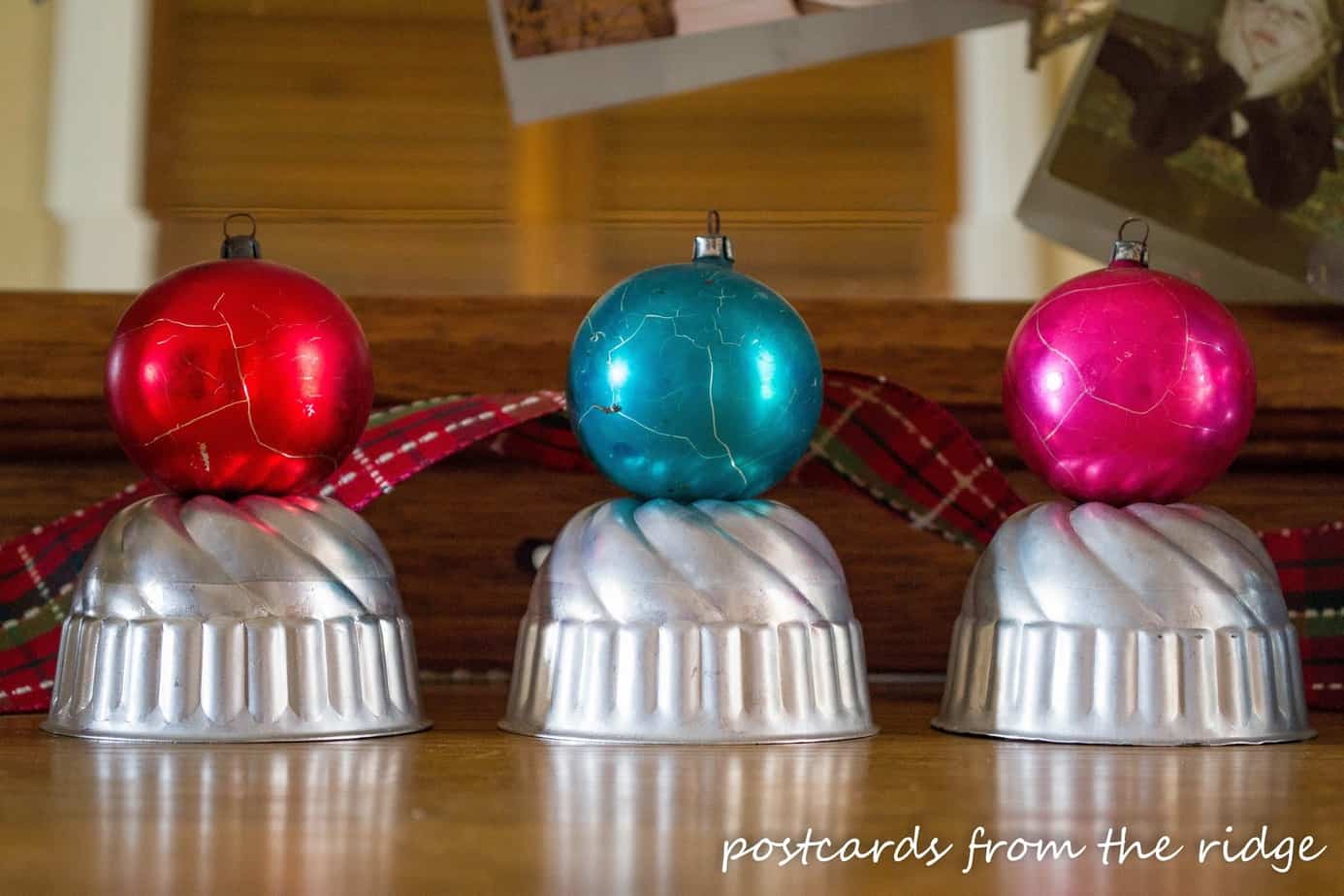 Last week I shared our entry and front porch as part of the Welcome Home Christmas Tour. To see more of these areas, go HERE.
Keep scrolling down to see the other homes on the Home for the Holidays tour!
To get this look:
Sharing this tour here:
From my front porch to yours – Treasure Hunt Thursday
Stay tuned over the next few weeks because I'll be sharing LOTS MORE Christmas ideas. If you're new here, sign up for email here or follow along here:
Email * Facebook * Hometalk * Pinterest * Twitter * Instagram

For handy tips and tutorials, go here.


To see my painted projects, go here.

For tasty recipes from my kitchen, go HERE.
For some simple tips for capturing a great photo, go HERE.
Go here to learn about having an online design or color consultation.
And go here for dozens of photos, ideas and favorite paint colors.
XOXOX,
Angie
*disclosure – this post contains affiliate links for your convenience.
Home for the Holidays Tour
December 8 – 12, 2014
Monday
Tuesday
Confessions of a Serial Do-it-Yourselfer
Wednesday
Thursday
Friday