Favorite Paint Color ~ Benjamin Moore Manchester Tan
Happy Hues-day, friends!  In the spotlight this week is Benjamin Moore Manchester Tan, one of our most popular neutral shades at the paint shop.
This post contains affiliate links for your convenience. If a purchase is made after clicking one of the links I might make a small commission. Your price does not change. For full disclosure, go here.
Benjamin Moore Manchester Tan
What color is Manchester Tan?
Manchester Tan is a warm neutral with yellow undertones. Although it'ss a great neutral, the photos I'm showing today illustrate something very important…color looks different in each room, depending on the lighting and other elements that are located in the space. 
As you scroll down and see the different room settings, do you notice that they don't look exactly alike?  This is why it's CRUCIAL to sample the color in your own space. I use and recommend peel and stick paint samples from Samplize. You can quickly and easily try a sample without the mess, and they're made from real paint. Get a peel and stick sample of Manchester Tan here: Peel and Stick Manchester Tan
It's also critical to and look at it during different times of the day.  For example, look at it in morning light, late afternoon light, and then at nighttime with artificial light.  Something as simple as turning on a lamp in the room can change the appearance of a color.
Benjamin Moore Manchester Tan Living Room
Here's Manchester Tan on a sunny day paired with cool aquas and lime greens.  It looks like a creamy tan in this setting.  I love the accent colors they've used with it.
In this space, there isn't quite as much natural light as the previous photo and the color looks a little "cooler", or grayer.  Cooler colors are those with blue, purple, green or gray undertones.  Warmer colors are the ones with yellow, red, orange and warm brown undertones.
Pairing it with warmer accent colors can also make it take on a grayer appearance. It sounds crazy, I know, but trust me. Always look at colors next to furnishings and fabrics that will be in the room.
Another reason that colors look different is because many photos are digitally edited, which can change the way the color looks on our computer screen. This makes it even more important to look at the color in person and in your own space and is why I NEVER recommend making a final color decision based on a photo you've seen, whether it's on a computer or in a magazine or anywhere.
I can't tell you how many times a customer has come into the paint shop to look at a swatch of something they saw in a photo and say that it doesn't look anything like the picture. Use the photos as a place to start. Sometimes it might actually be the perfect color, but don't count on it until you see it in person.
Dining Room Painted with Manchester Tan
Becca at Adventures in Decorating used Manchester Tan in her dining area with some white ironstone accents. It looks gorgeous and is a great backdrop for her white accessories. I love the way it looks in here with her warm hardwood floors.
Contemporary Family Room by Dc Metro Interior Designers & Decorators Liz Levin Interiors
In this space it pairs nicely with the wood floors, soft gray-green window shade, the light blue ceiling and the rosy sofa. It's a perfect complement to the soft accent colors.
Traditional Bedroom by Minneapolis Interior Designers & Decorators Billy Beson Company
The walls and ceilings in the sitting area have just the right amount of color to make the molding stand out. Don't you wish you had a sweet reading nook like this one? I know I do!
Home Office Painted with Benjamin Moore Manchester Tan
Traditional Home Office by Mississauga Interior Designers & Decorators Jacqueline Glass and Associates
By painting the walls and cabinets in this office in the same color, the setting is calm and peaceful. Some would say it's boring, but I think it would be a nice place to get some work done without being distracted by lots of bold colors and accents.
Cool, warm, whatever, right? Manchester Tan is a great neutral in many spaces. But the lesson of the day is to try it before you buy it!
I hope you've found this post helpful and inspiring. Let me know if you've used Manchester Tan before or if you have another favorite paint color.
My favorite, no-fail neutrals are found in this post: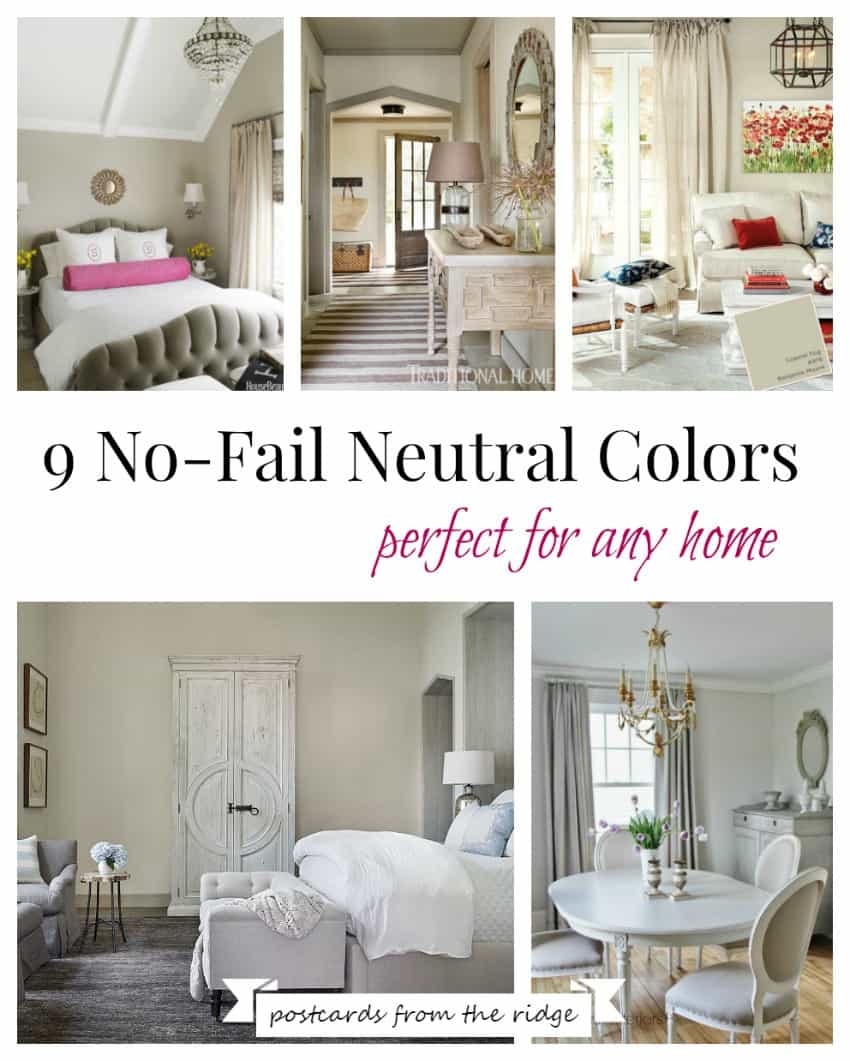 Thanks so much for dropping by my little space on the world wide web!