Favorite Paint Colors ~ The New Williamsburg Collection from Benjamin Moore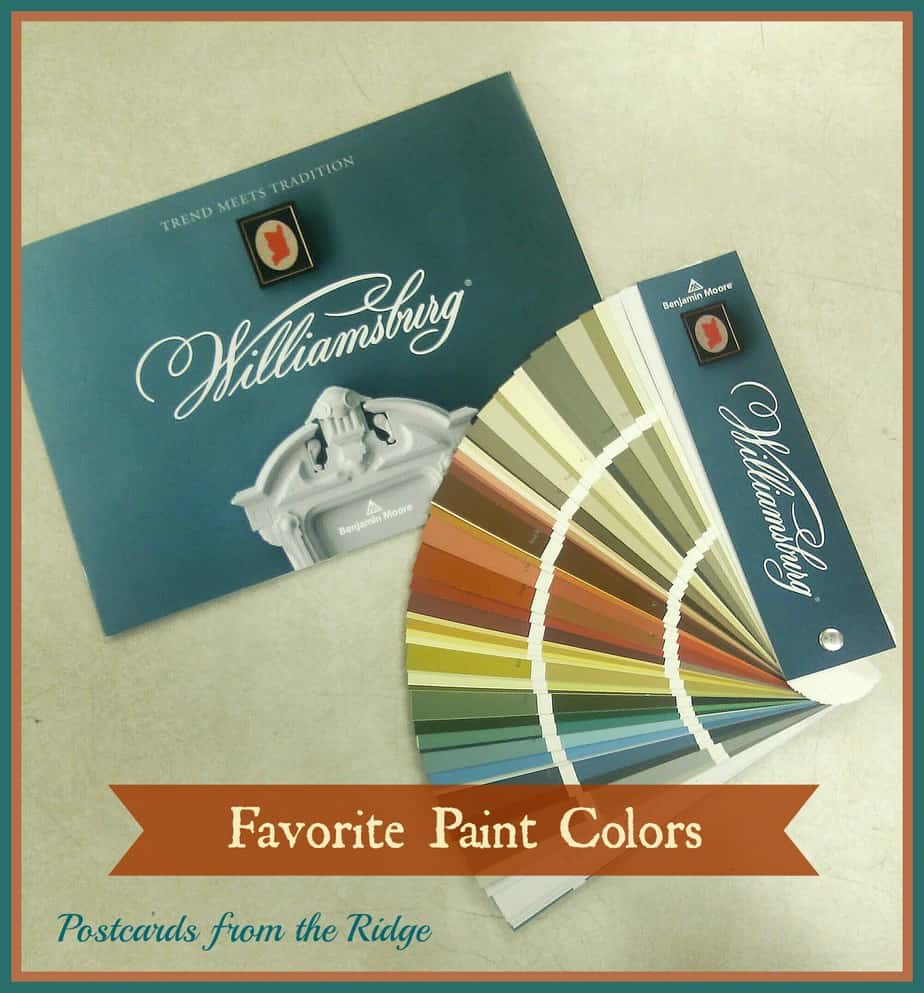 Happy Huesday, friends! And welcome to the 2nd installment of my new
blog series about favorite paint colors. In case you missed last week's
feature on Wythe Blue, you can see it
right here.
Today I'll be previewing a portion of a palette of historical hues from the
18th and early 19th centuries instead of just one single color. Just
launched this month is the
Williamsburg Collection
from Benjamin Moore. What does it say about me that I get a little giddy when new paint colors are
introduced? I guess it means that I'm a paint and color geek. It's
true, I wholeheartedly admit it!
This month Benjamin Moore launched this new color palette which has 144
gorgeous shades. We just got the new color deck and color chart
at work (see above), and I've been playing with it and dreaming about which
area of the house might be getting repainted soon.
The theme of this new color collection is "where trend meets tradition".
Within the palette, there are 45 authentic Williamsburg colors curated
by Benjamin Moore and The Colonial Williamsburg Foundation. For more
information about Williamsburg, visit
here.
Here are some of my favorites. All of the photos are from
Benjamin Moore.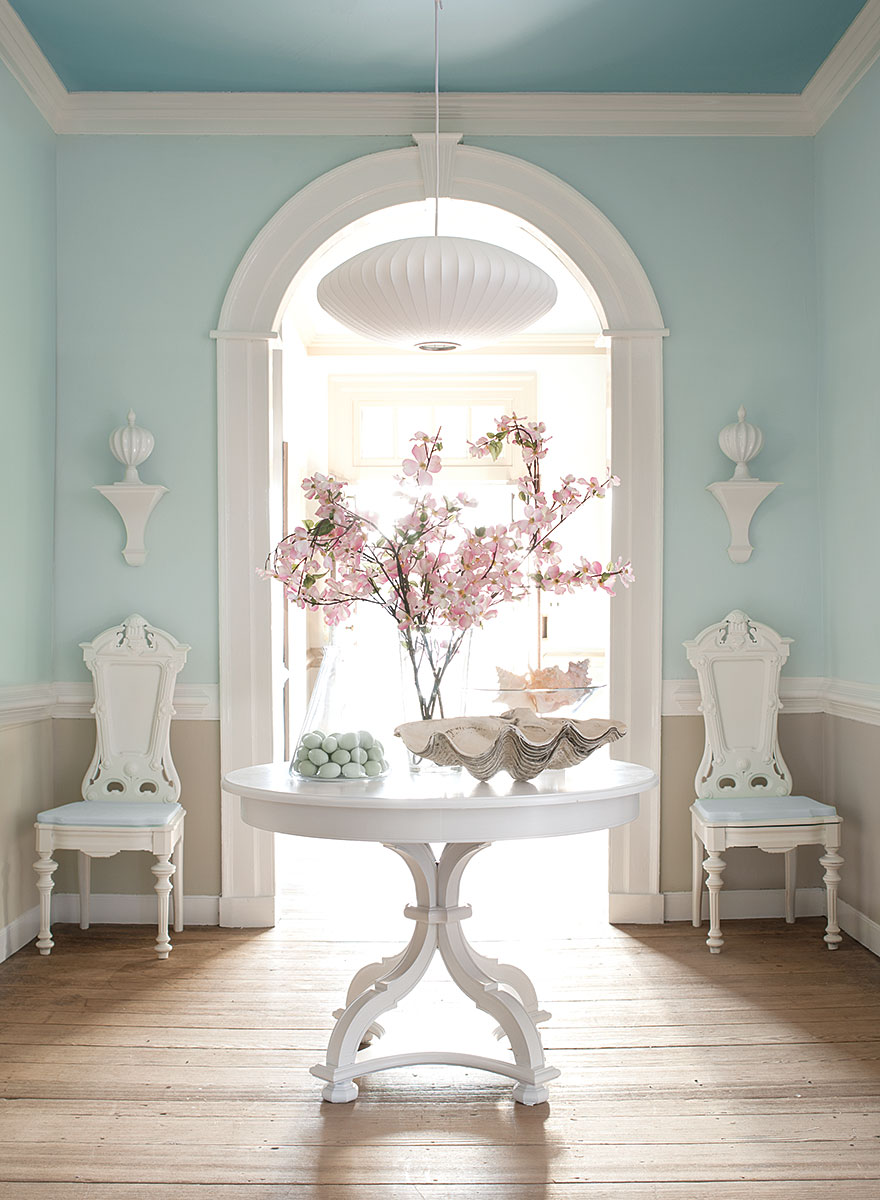 Upper Walls: CW-585 Ewing Blue
Lower Walls: CW-30 Market Square Shell
Ceiling: CW-595 Chesapeake Blue
Trim: CW-5 Harwood Putty
I love this palette! The soft aqua and neutral tan with the crisp trim
look so heavenly. I could live with this for a long time.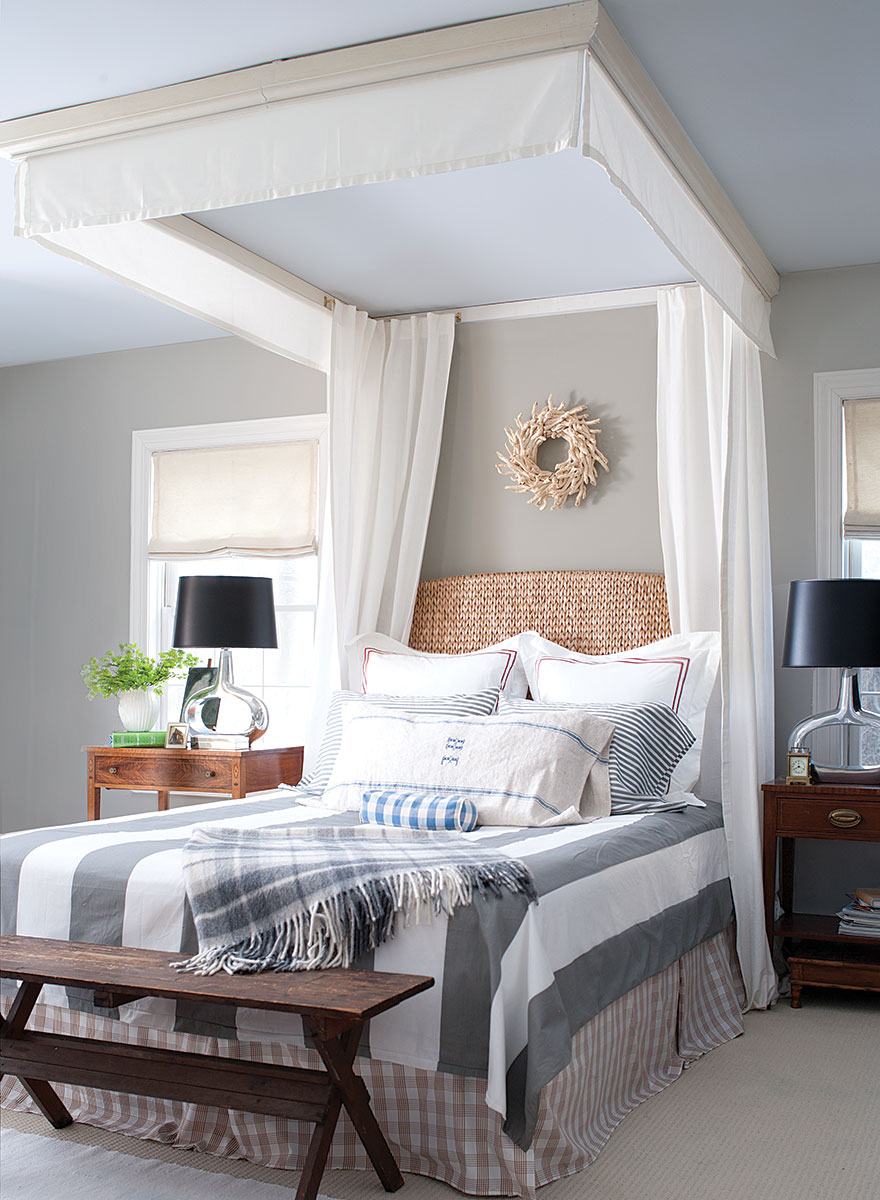 Walls: CW-50 Tyler Gray
Ceiling: CW-650 Palace Pearl
Tyler Gray is my favorite neutral in the collection. It would
pair nicely with almost any other color.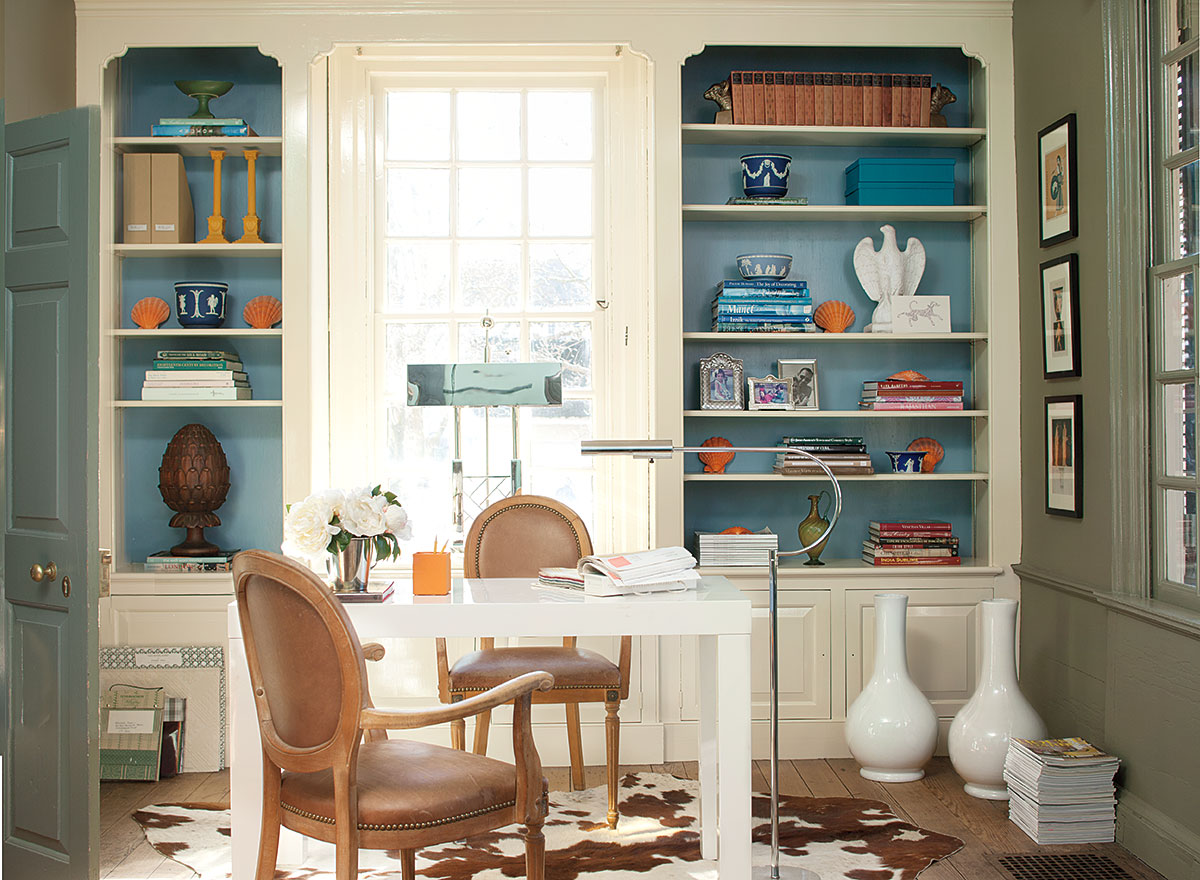 Shelves: Bracken Cream CW-105
Back of shelves: Williamsburg Wythe Blue CW-590
I love the Williamsburg Wythe Blue in the back of the bookcases. It
adds a nice punch. I have a very similar color in the back of our
family room bookcases. You can see our room in this post.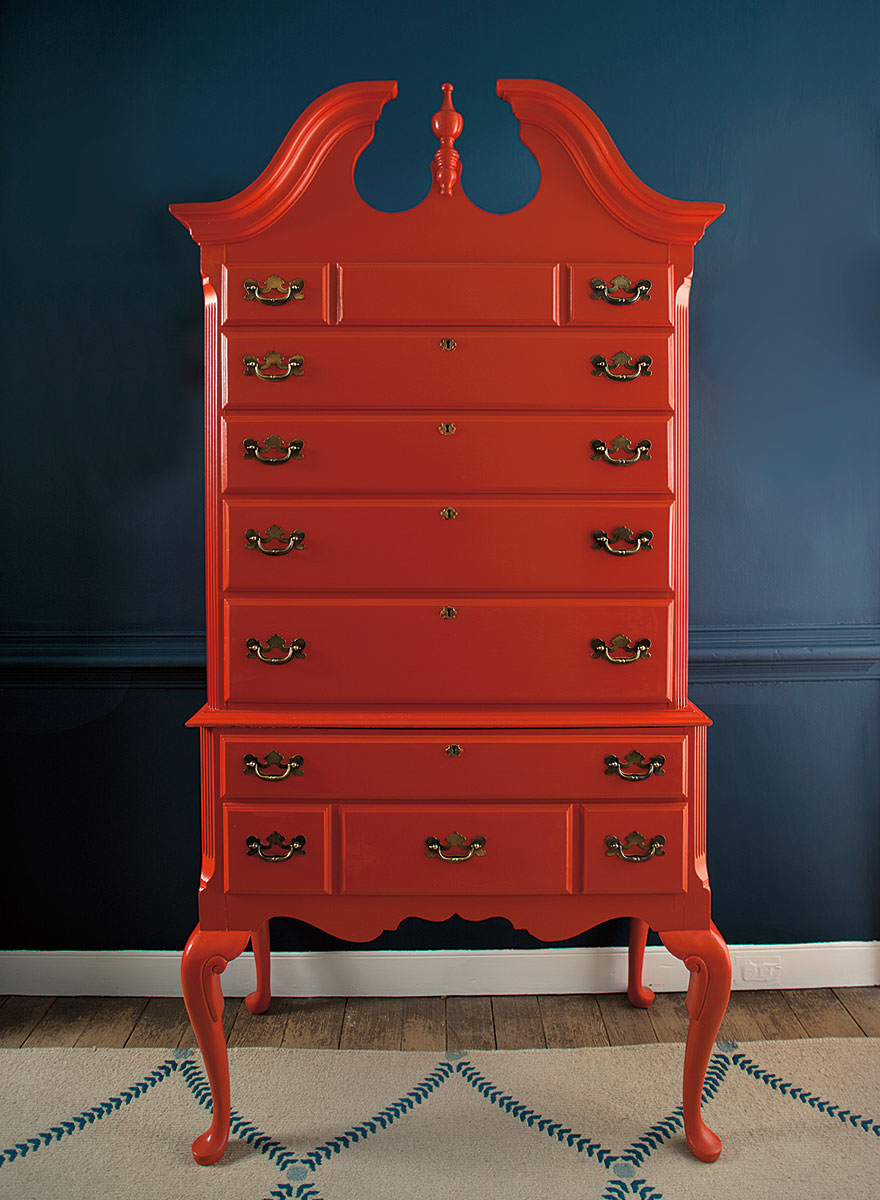 Walls: Washington Blue CW-630
Highboy: Cornwallis Red CW-315
Talk about a color that says "Wow"! That Cornwallis Red is a
showstopper! I love the way it pops against the Washington Blue.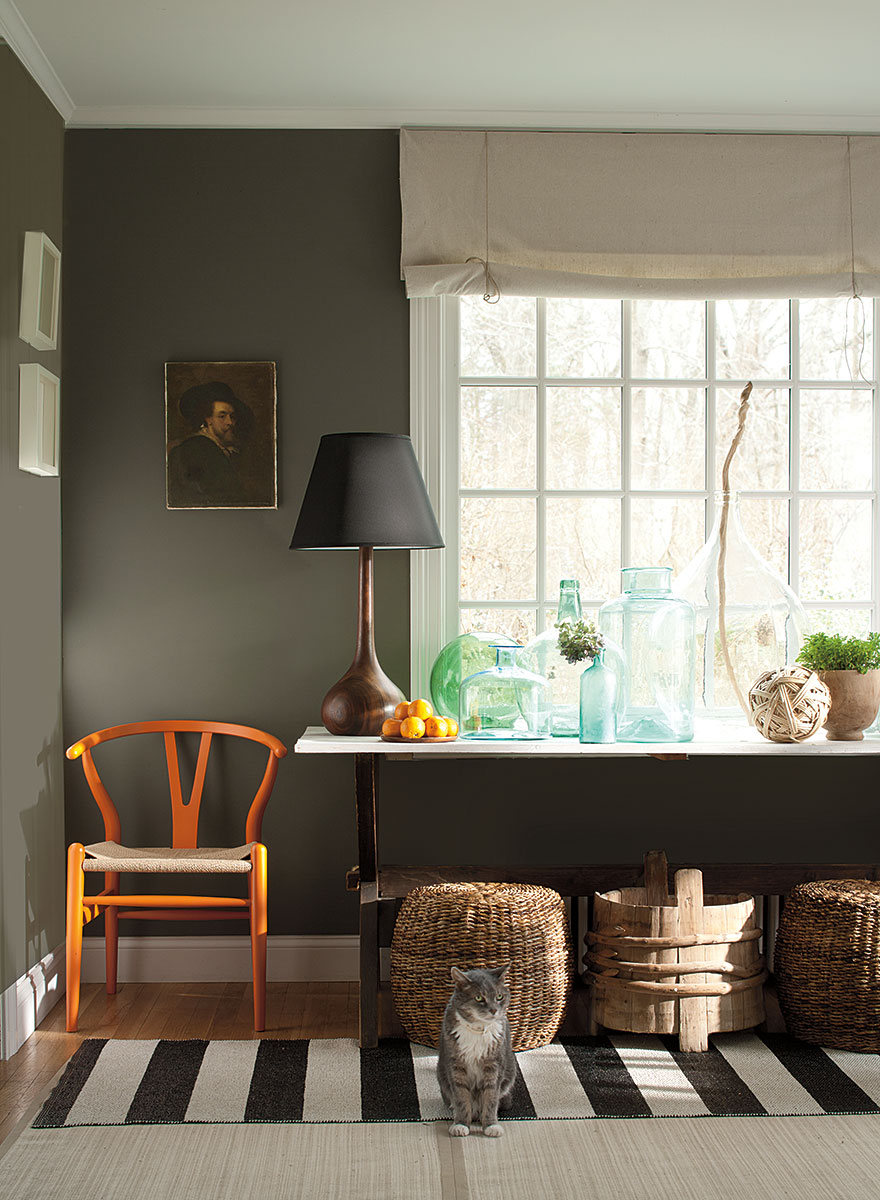 Walls: Carter Gray CW-80
Trim: Capitol White CW-10
I'm wanting to paint a room in our house with a dark neutral like this
Carter Gray. Maybe the half bath. It's such a striking, bold
color and looks great with the blue and green bottles and the orange accents
in this photo.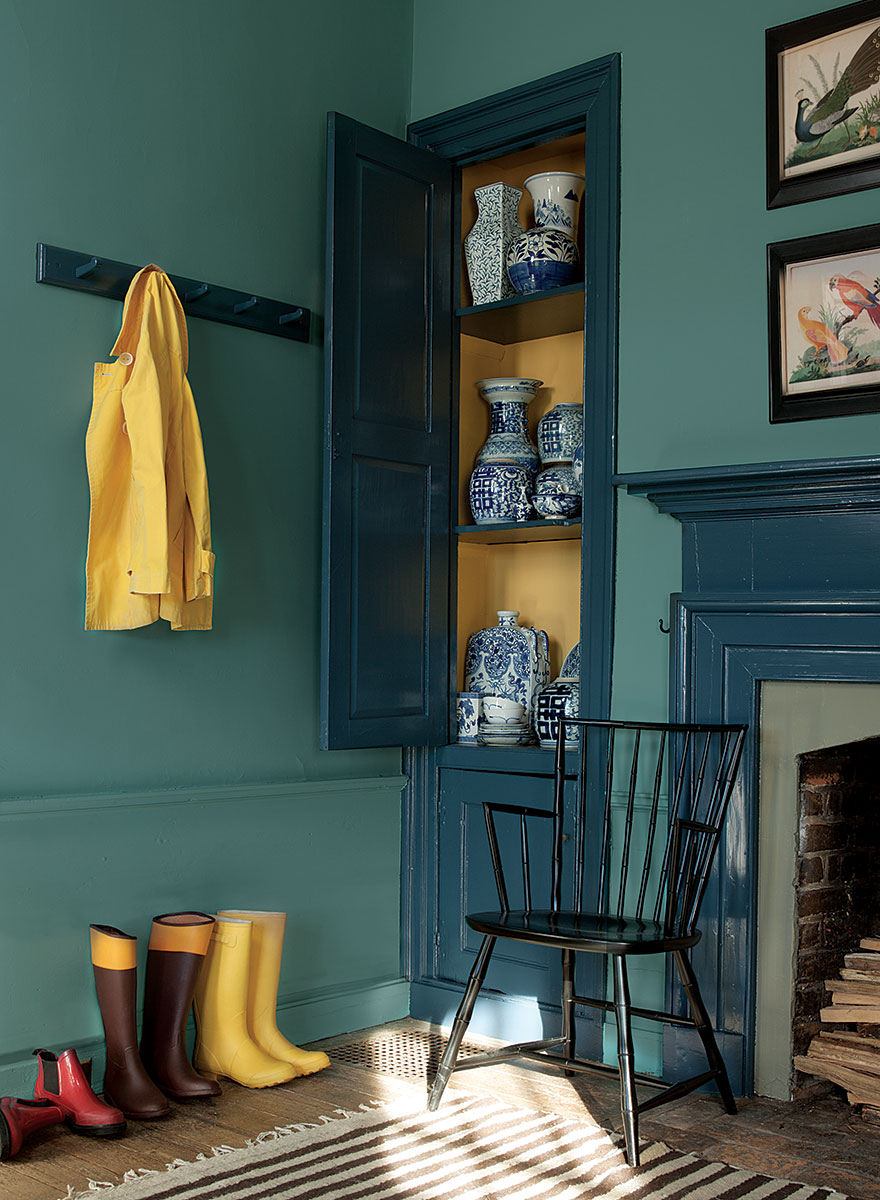 Walls: Spotswood Teal CW-545
Trim: Everard Blue CW-575
This wall color is wonderful! If you've visited Williamsburg or any
other similar historical sites, you know that the paint colors used back
then were very different from what we use today. The colors then were
vibrant and clear. Think bright greens, blues, reds, etc.
Shocking, I know!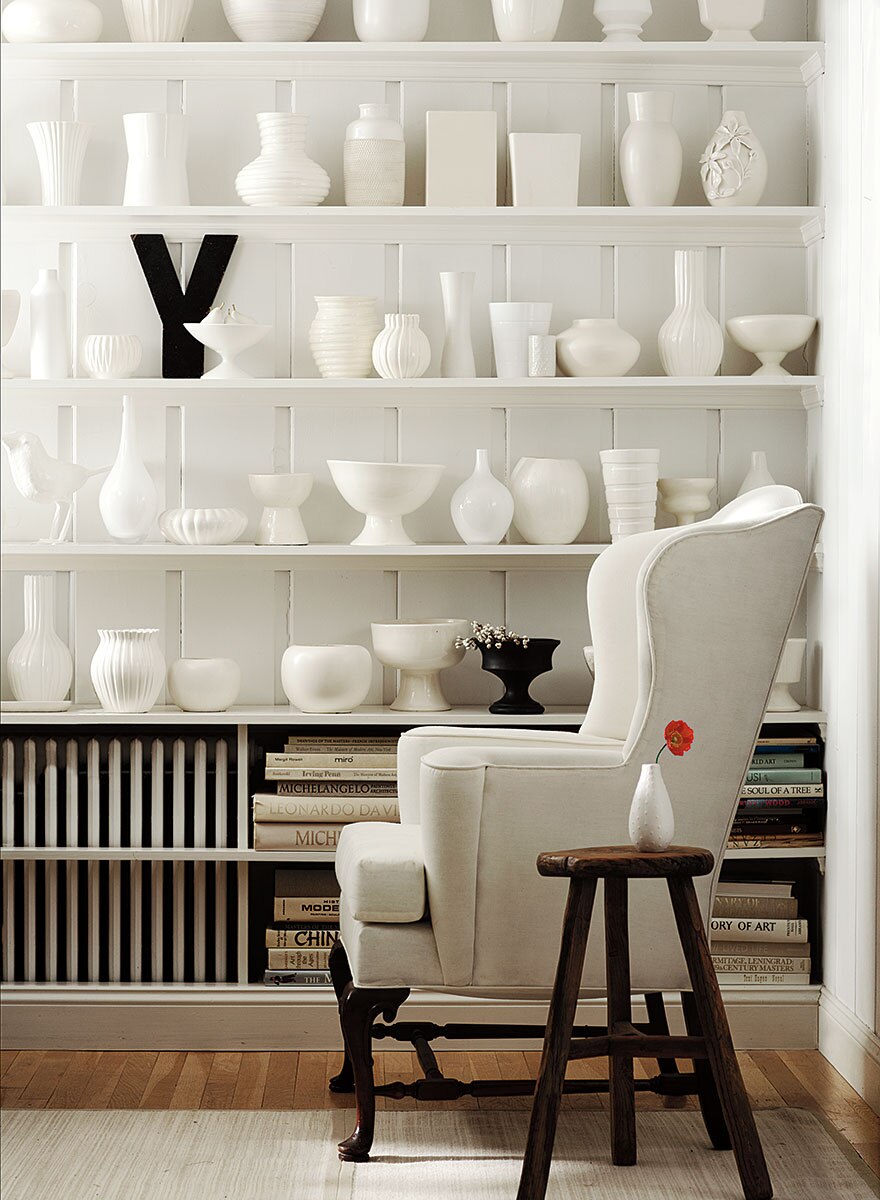 Walls: Harwood Putty CW-5
You just can't go wrong with Harwood Putty. It's a fabulous white with
the slightest touch of cream.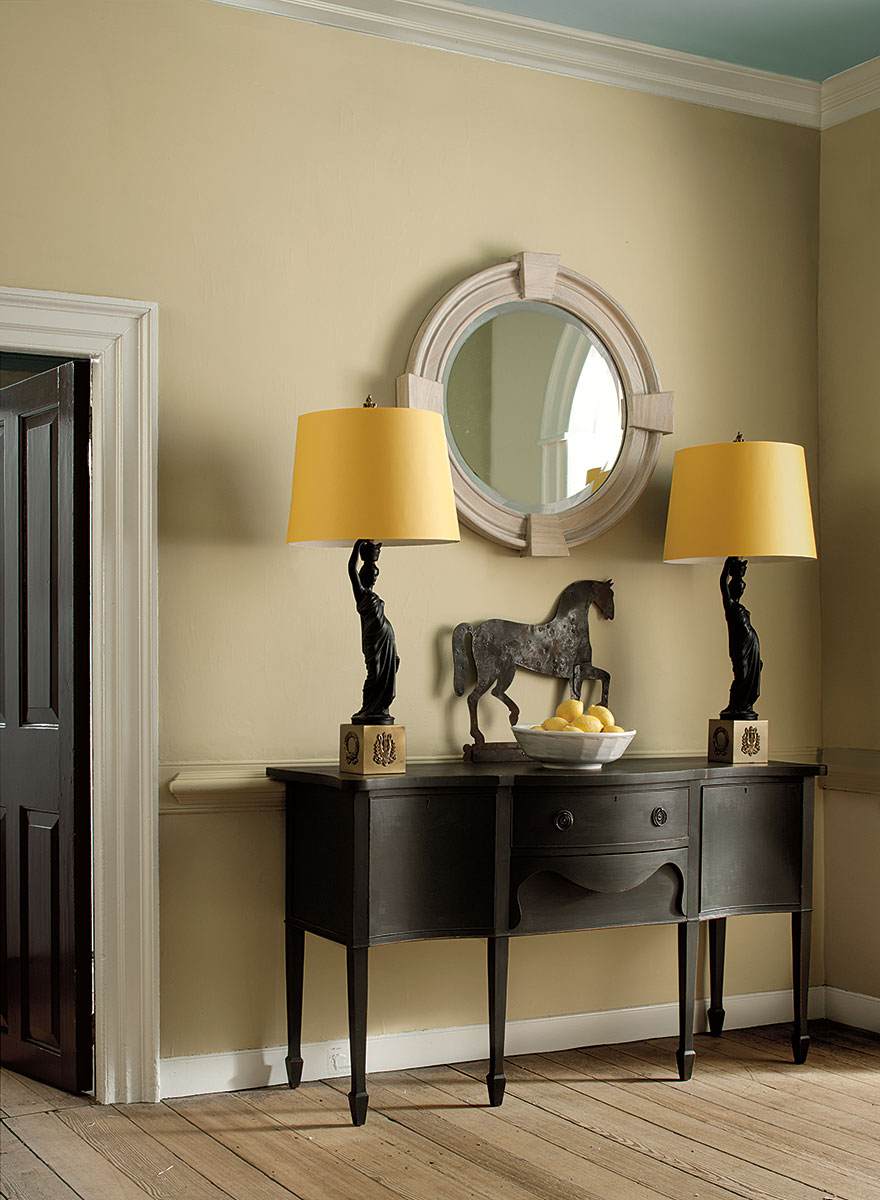 Walls: Williamsburg Stone CW-25
Doors: Mopboard Black CW-680
Trim: Harwood Putty CW-5
The Williamsburg Stone color is another great neutral that would go with
most any other color.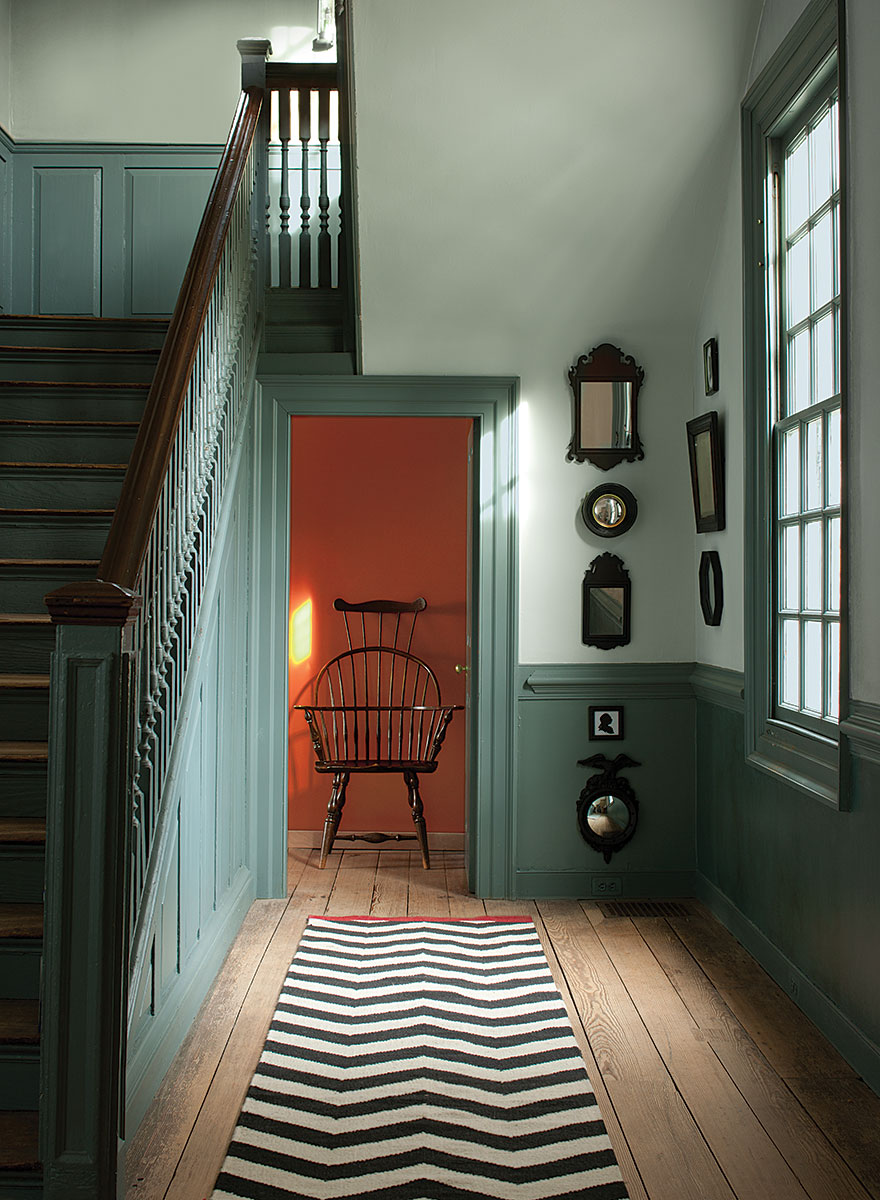 Stairs and Wainscotting: Williamsburg Wythe Blue CW-590
Walls: Palace Pearl CW-650
Back Hall: Claret CW-305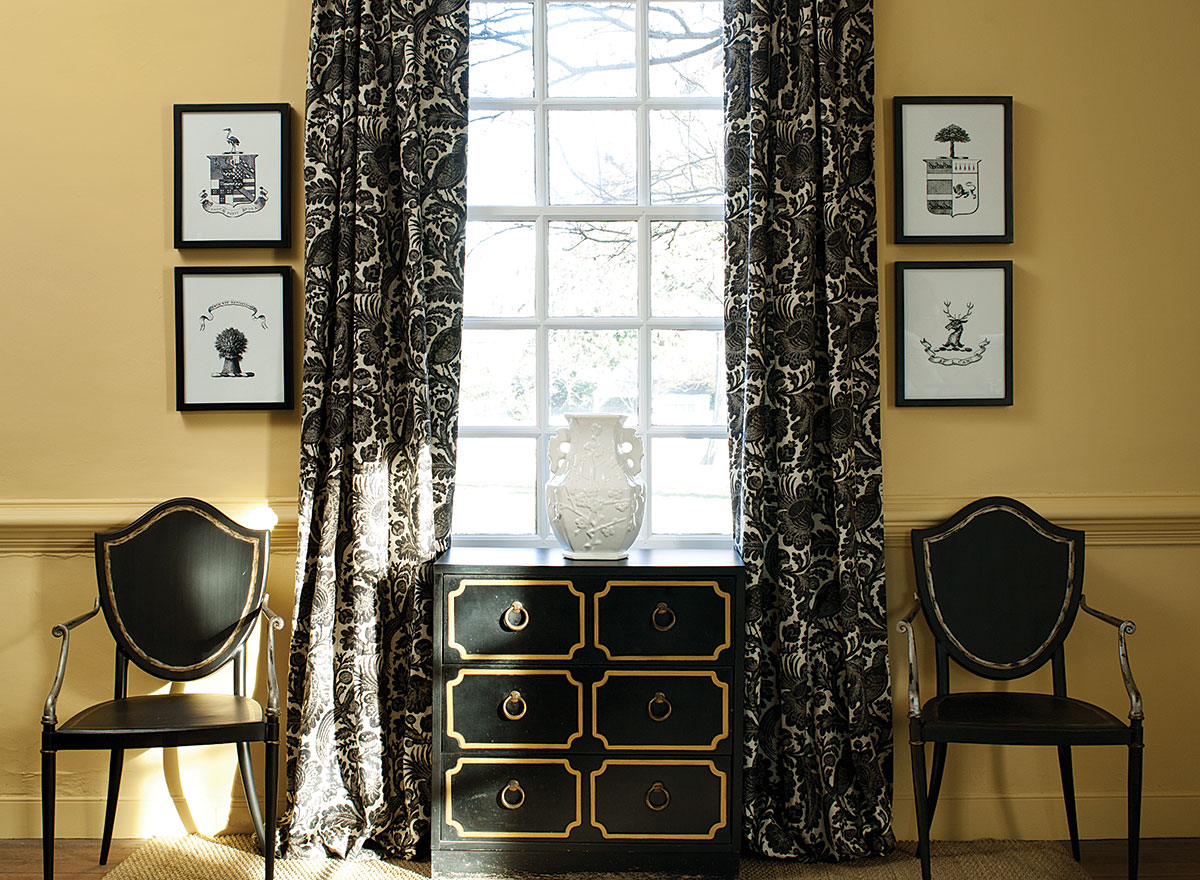 Walls and trim: Damask Yellow CW-400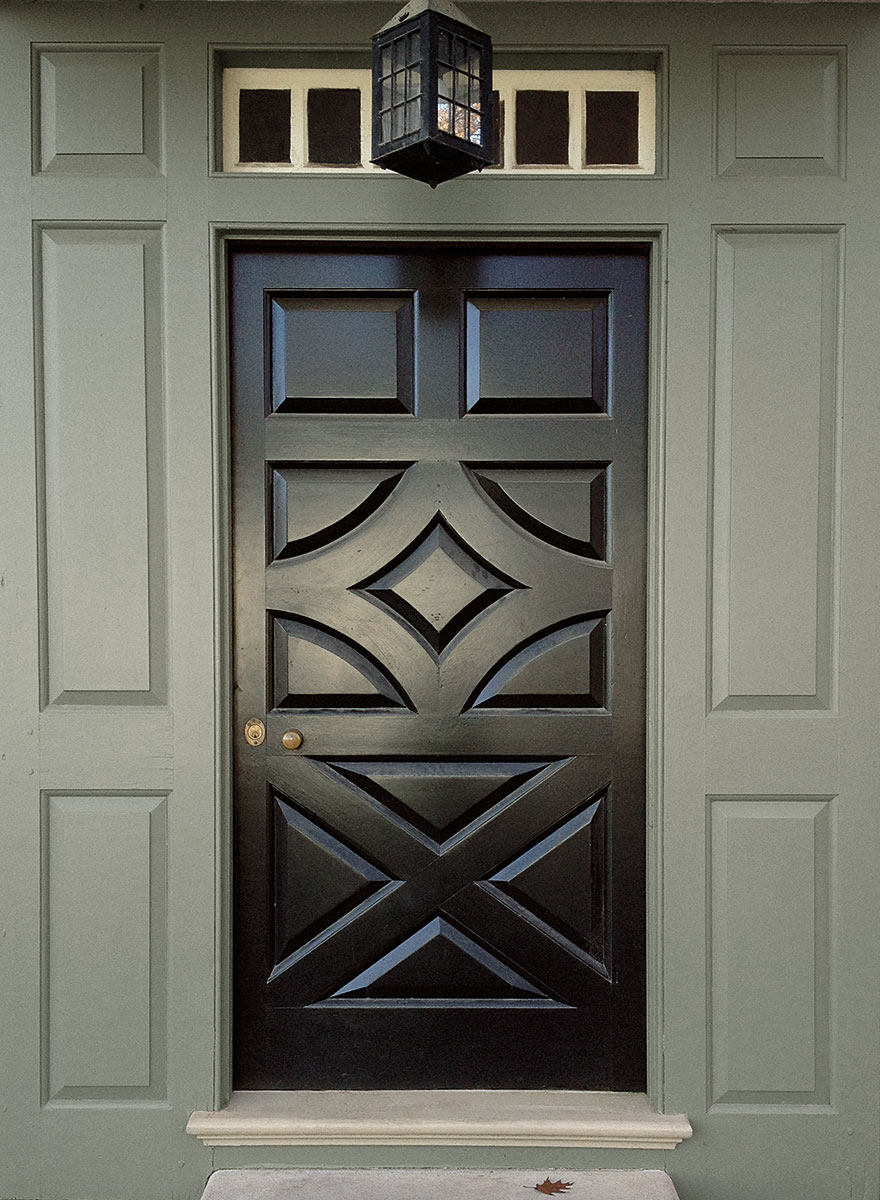 Door: Mopboard Black CW-680
Trim: Gunsmith Gray CW-65
I think Mopboard Black might be my new go-to black for furniture,
doors, and shutters. And that door is amazing.
This palette has just been launched this month, so before you go to your
local Benjamin Moore store, call to make sure they have the samples.
We just got our starter set in and have the paint formulas to mix all 144
colors, but don't even have the take home swatches yet! Drop in if
you're local and we'll show you the entire palette!
I hope you've enjoyed this preview!
Thanks so much for dropping by!
XOXOX,
Angie
If you're new here, sign up for email here or follow along here so you don't miss a thing:
Email * Facebook * Hometalk * Pinterest * Twitter * Instagram

For handy tips and tutorials, go here.


To see my painted projects, go here.

For tasty recipes from my kitchen, go HERE.
For some simple tips for capturing a great photo, go HERE.
Go here to learn about having an online design or color
consultation.
And go here for dozens of photos, ideas and favorite paint colors.