The Most Realistic Faux Pumpkins and Ideas for Styling Them
Realistic faux pumpkins are a wonderful addition to your fall decorations. They come in so many pretty colors, sizes, and shapes. See the best ones plus get ideas for decorating with them here today.
Realistic Faux Pumpkins and How to Use Them
It's pumpkin season, y'all! And with it comes all the pretty fall decorating ideas. Pumpkins are always a big part of it but sometimes real ones are hard to find. And they've gotten so expensive!
Enter the faux pumpkin. Once only available in bright orange plastic with a black handle for trick-or-treating, they've come a long way, baby. The faux pumpkins available today are realistic, pretty, and last for many years so it's definitely worth the investment.
Realistic pumpkins available from Ballard Designs
Today I'm sharing some of my favorite realistic pumpkins that I own, pros and cons, sources to find them, and ideas for using them in your fall decorating. Let's get started!
Faux Pumpkins Pros and Cons
Using faux pumpkins instead of real ones has its pros and cons. Let's talk about them and you can decide if they're right for you.
Pros for using faux pumpkins
They last forever.
After your initial purchase they don't cost anything. You'll definitely get your money's worth.
They're lightweight and easy to move around.
No rotten pumpkins to dispose of in November.
You can paint them, carve them, and do almost anything to them that you would do with a real pumpkin.
Cons to using faux pumpkins
They're fake, obviously. But you can get some very realistic looking ones.
You don't get to make a trip to the pumpkin patch to get them.
They can be expensive.
You have to store them.
Sources for the Most Realistic Faux Pumpkins
There are several good sources for realistic faux pumpkins. The most realistic ones are also the most expensive, unfortunately. But even the cheaper ones look pretty good these days.
Here are the best sources for faux pumpkins:
Ideas for using realistic faux pumpkins
Now let's look at some ideas for styling your faux pumpkins. Before we dig in, know that you'll be seeing the same realistic faux pumpkins in a lot of these pictures.
I've had many of them for 10 years and have added a few along the way. I've definitely gotten my money's worth out of them over the years.
1. In a basket, bin, or bucket
One of my favorite ways to decorate with faux pumpkins is adding them to a basket. Last year I created this big fall basket full of pretty pumpkins and foliage. It was super simple and you can read my tutorial plus see more ideas here: Quick and Easy Fall Basket Decorating Ideas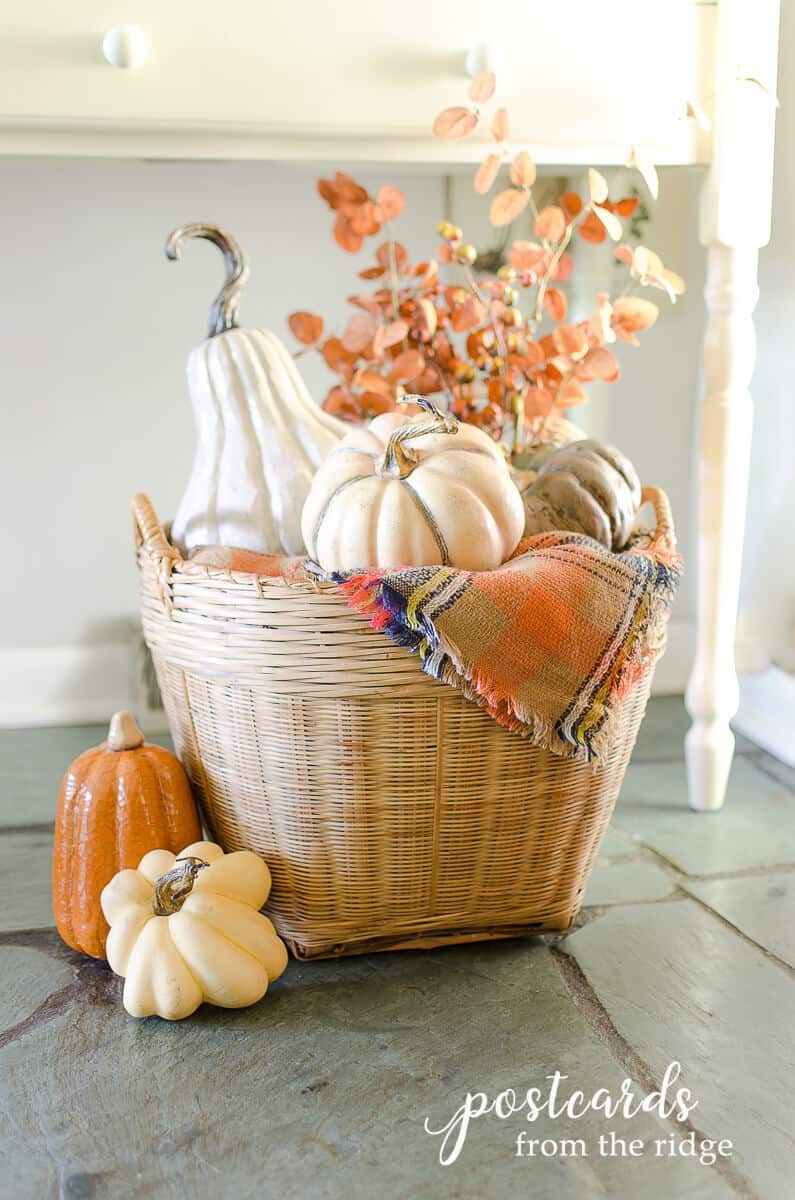 A few years ago I decorated our living room fireplace mantel with a vintage wire egg crate and layered some plaid blankets and topped them off with my faux pumpkins. It was so cozy and colorful.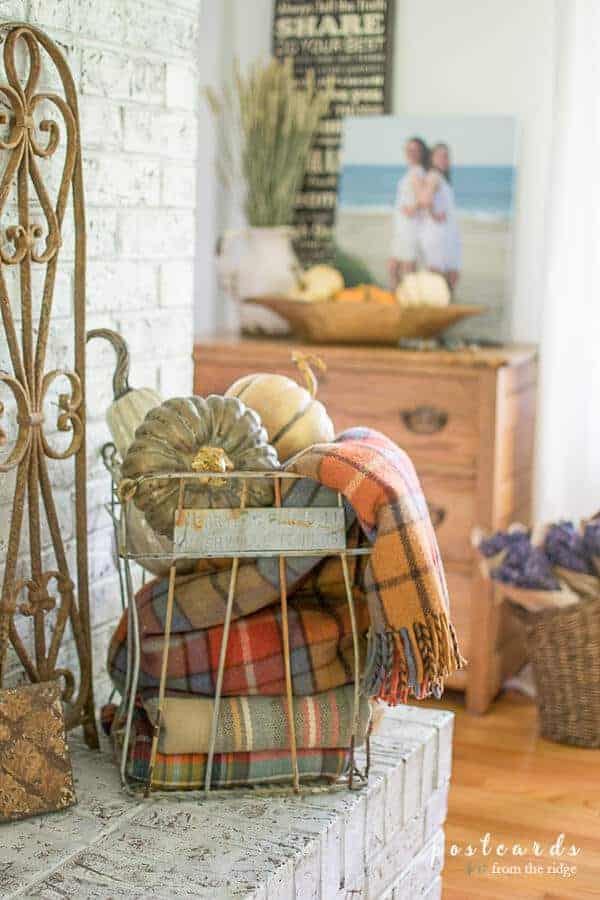 Our entry is a favorite place to decorate. A couple of years ago I added a blanket scarf, faux pumpkins, and realistic fall foliage to a vintage French basket.
Copper accents are perfect for fall decorating and look amazing with some plaid blankets and faux pumpkins. I used my vintage copper boiler tub and it added so much patina.
I dug through my archives and found this image where I used a vintage metal olive basket to display my faux pumpkins. The old wooden crate was the perfect pedestal for it all.
2. Pumpkins on a Pedestal or Cake Stand
Elevate your smaller faux pumpkins on a candle stand or pedestal. They look best when the heights are staggered and there's an odd number of them. I used 3 wooden pillar candle holders for this look.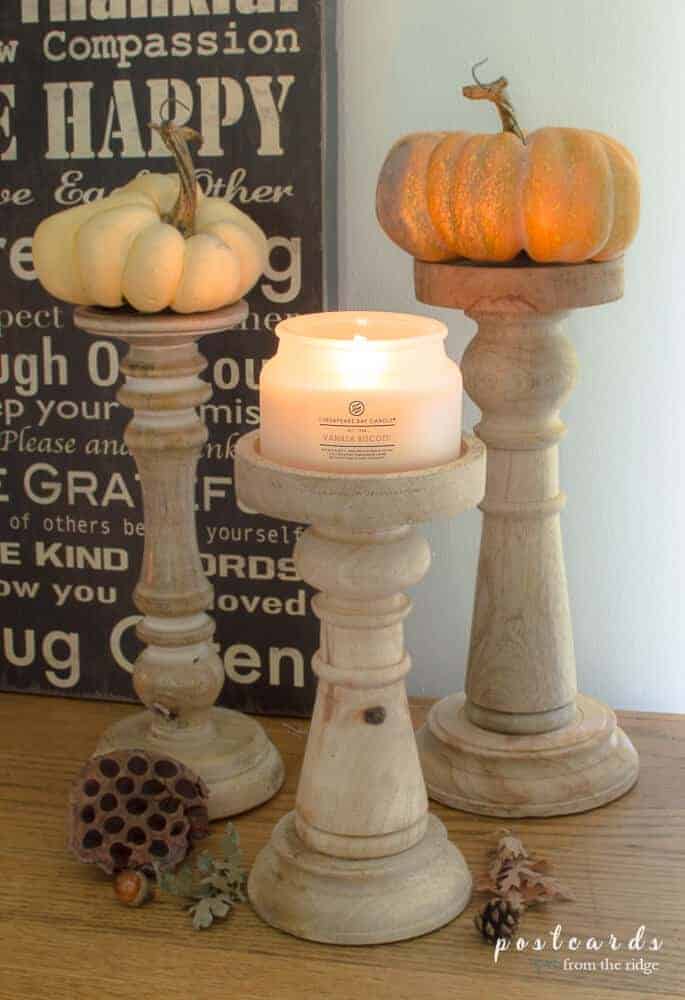 If you don't have a pedestal, you can easily make them! These two were created with thrifted finds and you can see how to make them yourself here: How to Make Pedestal Stands from Thrift Store Candleholders
A wire cloche placed over your faux pumpkins really gives them a special look. See how I put this look together here: Fall Chicken Wire Cloche Decorating Ideas
3. On a fall-themed tiered tray
Tiered trays are so much fun to decorate and it only takes a little while to style it. I created this fall tiered tray with a variety of items including a faux pumpkin, amber bottles, faux plants, and several other vintage finds.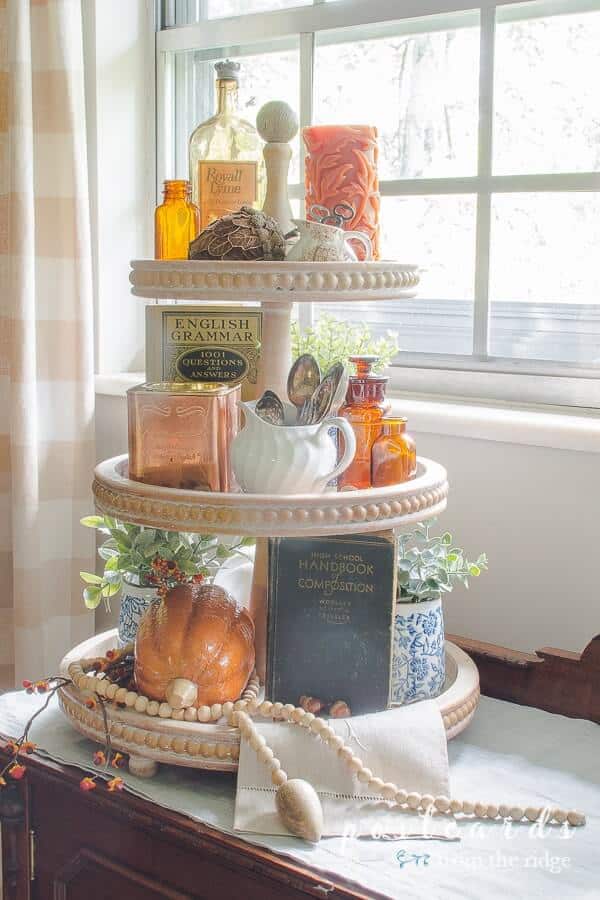 Get the tray here: 3-tier beaded edge wooden tray, and see the entire look here: Tiered Tray Styling Ideas You'll Love
4. Leaning or Stacked
If you don't want a lot of pumpkins, lean a couple of them up against something larger. One of my favorite fall mantels was decorated with faux pumpkins next to my glass demijohn. See more of this mantel here: Cozy Fall Home Tour
Over in the entry I leaned a couple of smallish faux pumpkins up against a large rattan basket. I added fall scarves and foliage for more texture.
Use a stack of books as a little end table and lean a few faux pumpkins up against them. You can usually find pretty old books at estate sales or thrift stores.
An old pitcher with dried flowers is a great thing to lean a faux pumpkin against. See how to dry hydrangeas here: The Easy Way to Dry Hydrangeas
4. In a Dough Bowl or Tray
For a simple little fall decoration, add a few faux pumpkins, pine cones, leaves, and acorns to a dough bowl. Use in on an accent table or shelf or even as a table centerpiece.
Create a fun fall table centerpiece with faux pumpkins, leaves, pine cones, wine corks, and dried fruits in a decorative metal trough. Layer it on a plaid blanket for a cozy look.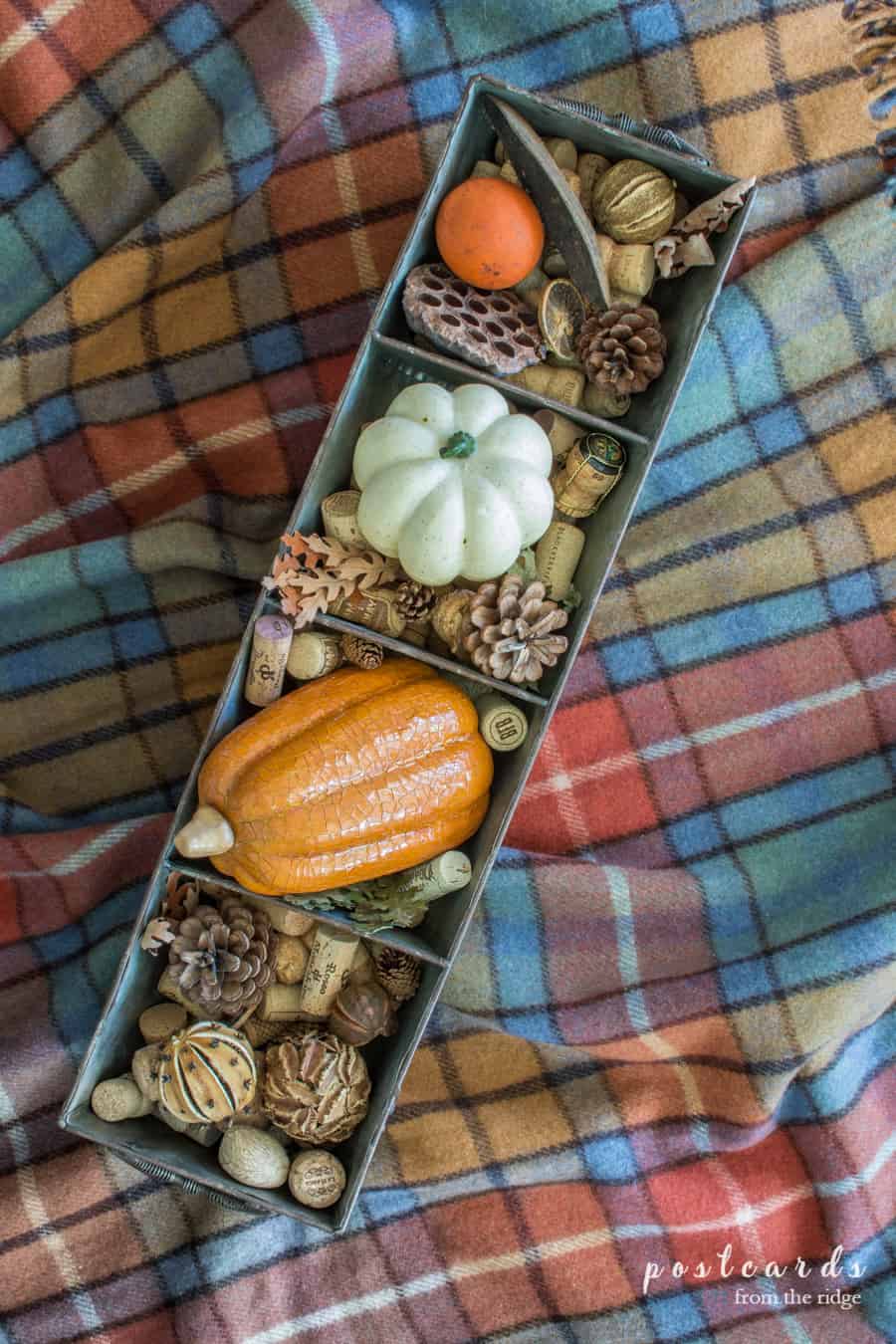 5. Added to an accent table
There's no need to get fancy with your fall decorating. A simple little faux pumpkin and some dried wheat will give you a timeless, cozy fall look.
More Fall Decorating Ideas
Be sure to visit my archives that go all the way back to 2011 for more fall decorating ideas. Here are some reader favorites:
Do you use faux pumpkins in your fall decorating? Leave me a comment and let me know your favorite way to use them!