9 Creative Vintage Fall Decorating Ideas
Ideas for using vintage items for fall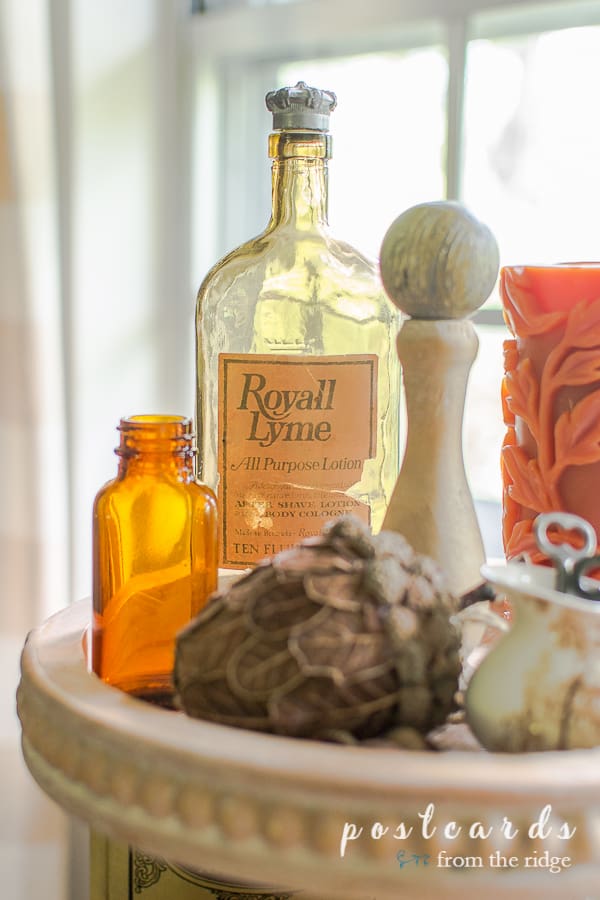 This post contains affiliate links for your convenience. For full disclosure go here.
Hello, friends! Can you believe that fall is just around the corner? This year is going by so quickly!
I know it's a little early to start decorating for fall, but it's definitely not too early to start thinking about it. One of my favorite ways to decorate for fall and pretty much any time of the year is with vintage items. They always have so much charm and character. And they're usually something that you don't see everywhere.
Today I'm sharing some of my favorite ways to add vintage items to your fall decor as we take a stroll through my past fall decor. Let me know in the comments which ones you like the best!
1. Copper
There's just something about copper in the fall that makes my heart smile. The soft, warm, metallic hues are a great complement to almost anything you put with them. This copper pitcher is the perfect place for some dried hydrangeas. Don't the blues look pretty against the copper?
See the super simple way I dry hydrangeas HERE.
Take a tour of our cozy fall home HERE.
Last year I used my copper boiler on the living room hearth and filled it with faux pumpkins and green throw blankets. The greens and coppers remind me of fall in the woods.
See the rest of our copper and green themed mantel HERE.
Tiered trays are a great way to add some fall decor to a small space. The little copper tea box adds a nice little metallic touch to all the pumpkins and hydrangeas.
See more tiered tray styling ideas HERE.
2. Rusty, Chippy Metals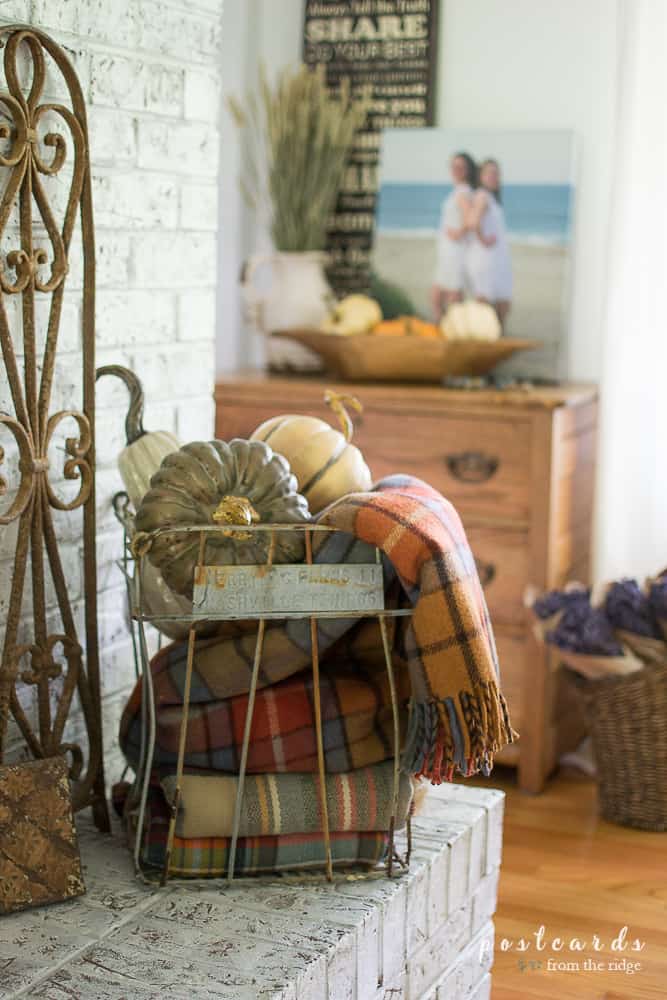 I find myself drawn to rusty, chippy metal every time I see it. A couple of years ago I used this vintage wire egg crate to hold some of my favorite fall plaid throw blankets. The soft, warm colors give a nice contrast to the metal.
View the rest of this vintage mantel and hearth decor HERE.
Vintage pressed tin ceiling tiles are a fun way to decorate for fall. I found these little ones at a vintage sale a few years ago and used them on last years mantel. They added so much patina to the scene. I might use them again this year, but haven't decided for sure yet. Stay tuned to see what I do use.
Get these vintage oak leaf botanical printables for free by subscribing to my newsletter HERE.
Another fun item to use in your decor is rusty old iron fence or gate sections. These were found at a local antique shop a few years ago and I've had them all over the house.
The green metal lanterns complement the rusty fence sections too. They're new but look old.
Old metal sap buckets are a fun way to display cotton stems. I found mine at the world's longest yard sale a few years ago. Have you ever been to that? It's crazy.
3. Ironstone Crocks and Dishes
Ironstone crocks are fun to use any time of the year. I like to put small hydrangea pots in them for fall. You could also put small pieces of firewood or kindling in them. They're very handy to have on hand.
Get more ideas for a cozy fall family room HERE.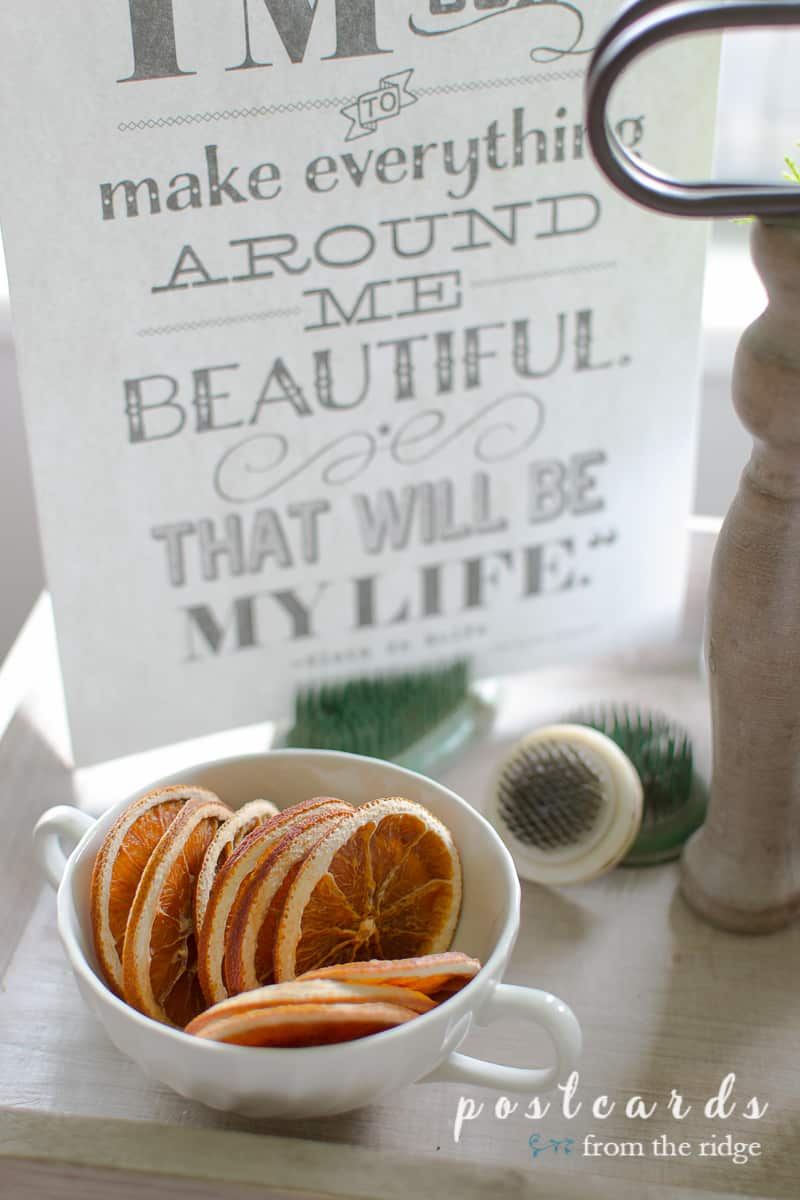 I know oranges aren't what you normally think of when fall comes to mind, but dried oranges are great to decorate with in autumn and during Christmas. Add a few to an old ironstone sugar bowl for instant charm.
4. Vintage Bottles
Wicker wrapped wine bottles add a nice texture to fall items. You can find them pretty easily at flea markets and estate sales or there are lots of them on etsy HERE.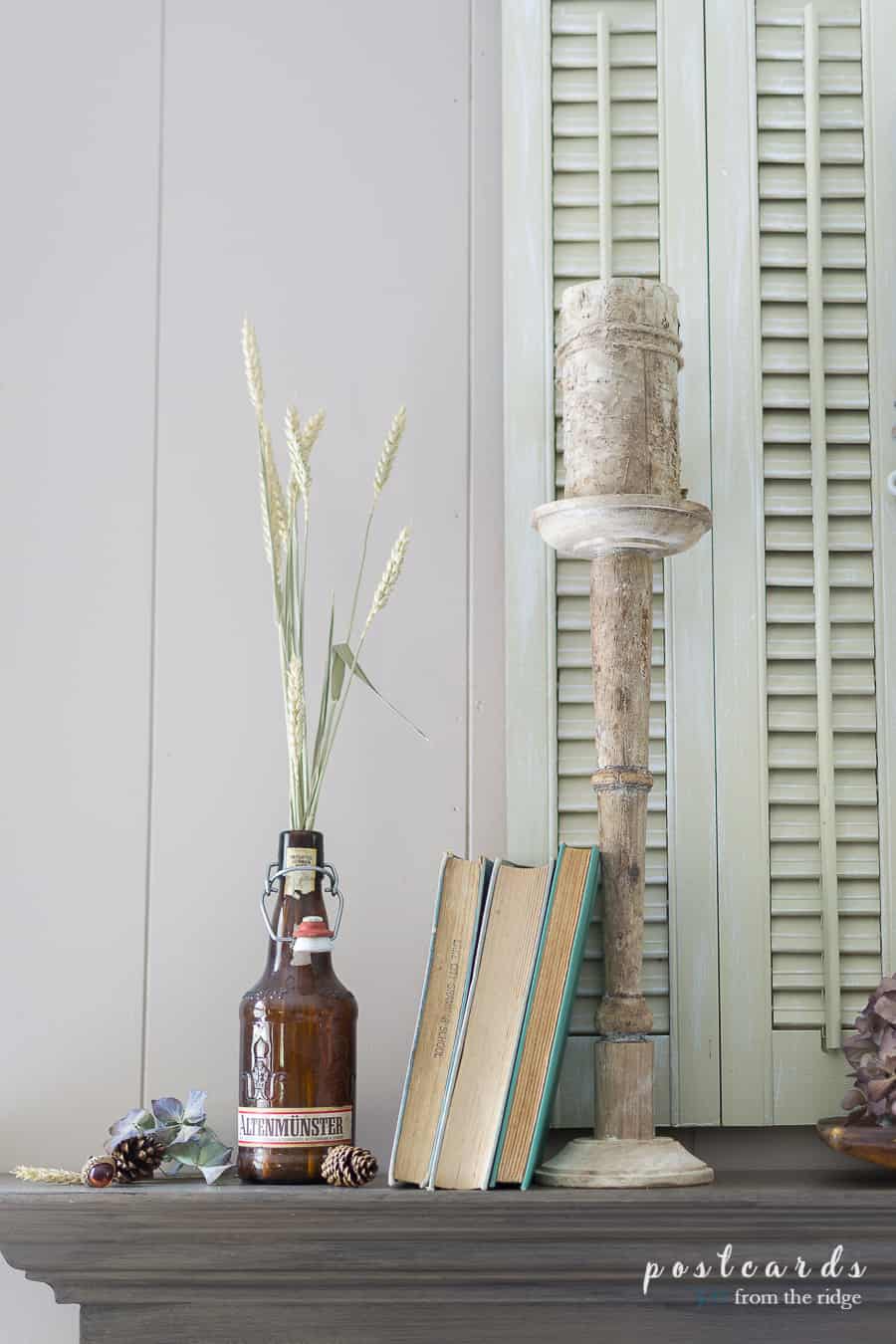 And vintage amber beer bottles are a fun place to pop some dried wheat stems.
View the rest of this subtle fall mantel decor HERE.
Dried hydrangea blossoms in vintage medicine bottles add a pretty fall touch to any mantel, shelf, or table.
5. Vintage Books
I LOVE decorating with old books. They come in such pretty colors and sometimes even have pretty artwork on the cover.
See the rest of this fall mantel HERE.
The rest of this fall mantel can be seen HERE.
Discover lots of creative ideas for using old books HERE.
6. Vintage Olive Basket
A vintage olive basket is a great place to add pretty plaid throw blankets, pumpkins, or mums. I've had mine for several years and it's one of my favorite finds.
7. Vintage Wooden Crates
Prop up lanterns and decor on an old wooden crate.
Old wooden milk crates are also great place for throw blankets and decor.
8. Vintage Linens
Vintage linens add a pretty, subtle texture to any little vignette. Roll them up and put them in a china cabinet or hang them in the bathroom for simple, elegant, vintage charm.
9. Vintage Silver
Vintage silver is so pretty whether it's polished or tarnished. Add it to your table setting or set some in little creamer pitchers for instant sparkle.
See over 40 fall table decorating ideas HERE.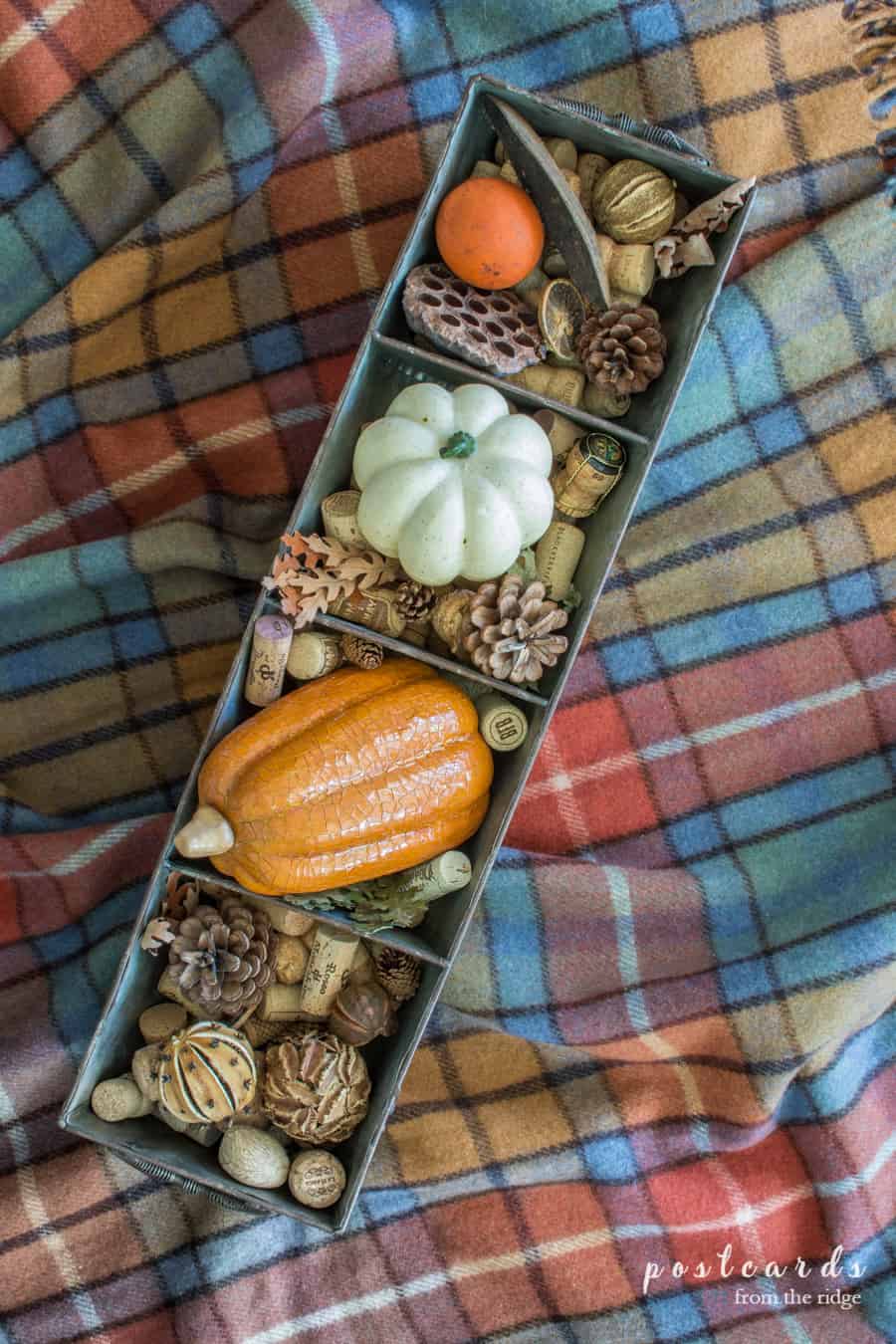 Do you love creative ideas for using vintage and found items in your home? See over 20 ways to organize your home with vintage items HERE.
Discover more than 20 ways to use vintage items in your holiday decorating HERE.
Looking for tips on getting the best finds and deals at estate sales? Read my secrets HERE.
Do you have any vintage items that you like to use in your fall decor? Leave me a comment below and let me know about it. I love new ideas for old things!
Thanks for dropping by.