Christmas Decorating Ideas with Navy Blue and Pink
Today we're talking about easy Christmas decorating ideas with navy blue and pink. You'll see how to incorporate these or any non-traditional holiday colors in your home. And you can use the same ideas for red and green if you love those colors too!
This post contains affiliate links for your convenience. I may make a small commission on products purchased with my link, but your price does not change. For full disclosure go here: Disclosure and Policies. Thank you for supporting my site.
I'm joining my friend Leen at Sanddollarlane who has put together a big ole' tour for Christmas called "Celebrate Home". There will be new additions each day so you'll want to be sure to come back and visit everyone. All of the links are at the bottom of the post and here's a sneak peek:
If you're coming over from Zucchini Sisters, welcome! Rebecca always has the prettiest decorating ideas! If it's your first time visiting my site, you can read this and learn more: Start Here
Shopping Resources
If you're interested in creating a look like you see here, scroll to the bottom of the post where I'm sharing resources for the items I used in this project, or items as close as I could find that are currently available.
Navy and white with hot pink accents for Christmas
You might remember last year's blue and green Christmas decorations on our tree and in our antique oak hutch. It's always fun to use non-traditional colors and I've done that again this year.
Blue and white mixes well with so many other colors if pink doesn't appeal to you. Green, gold, red, yellow, silver, teal, and even purple all coordinate beautifully with blue and white! Any colors could be used in place of pink and blue in my ideas below.
Now let's take a little tour of this year's entry and den mantel all dressed up for the holidays and learn how to add pink or any other color to your Christmas decor.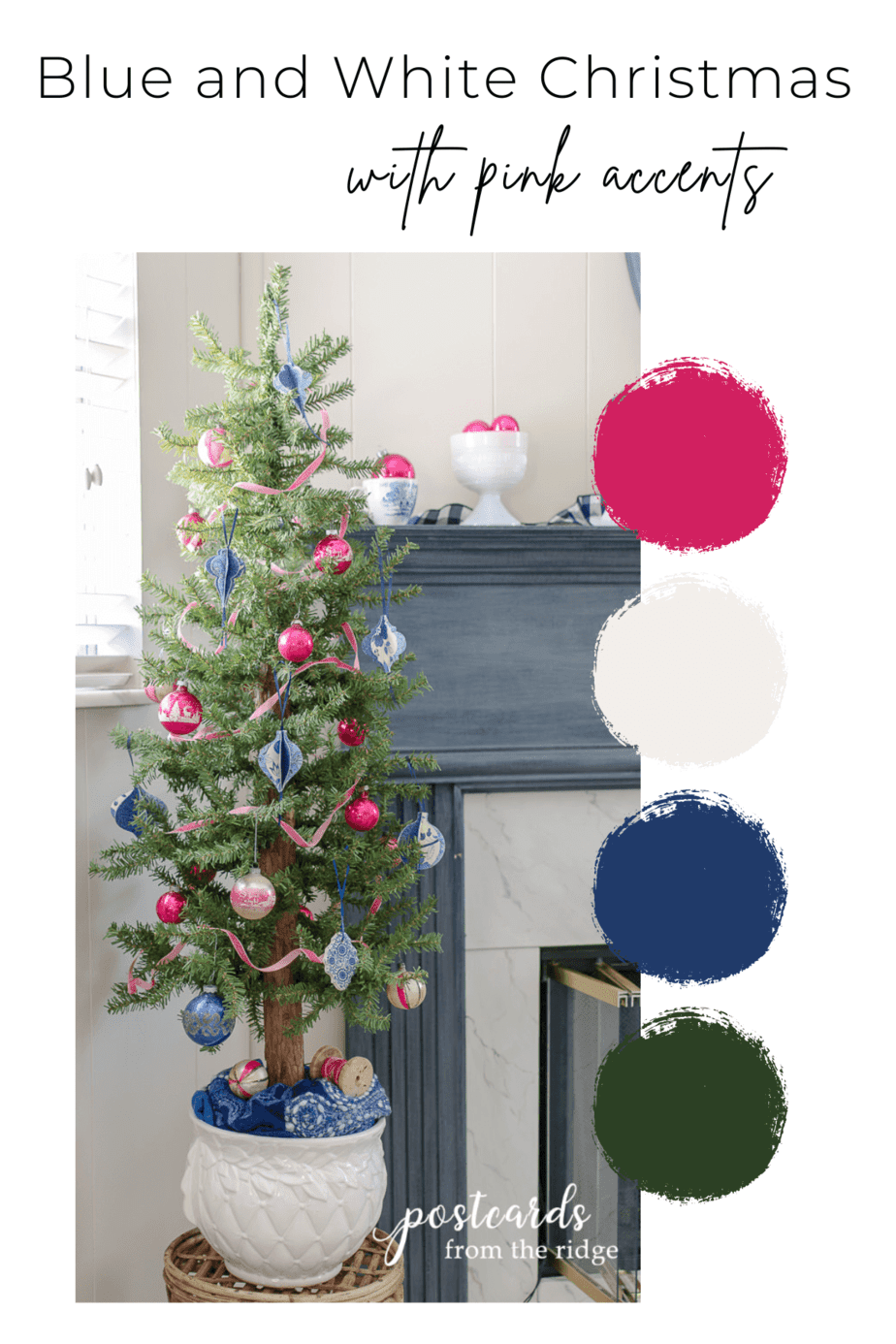 Add color with ornaments
Over that past 15+ years I've been collecting vintage Christmas ornaments and I dug out all of the pink and blue ones for this year's decorations. There are some fun ways you can use them in addition to hanging them on your tree.
Ornaments displayed in a glass cloche
Earlier this year I shared how I made this fun and easy DIY glass cloche. It's a great way to display colorful ornaments for Christmas and is definitely budget-friendly. To create this display, I held the lid upside down and carefully arranged the ornaments, mixing large and small ones until it was filled up. Then I placed the little white milk glass dish over the opening and slowly turned it over. I added a pink and champagne ribbon to the lid to finish it off.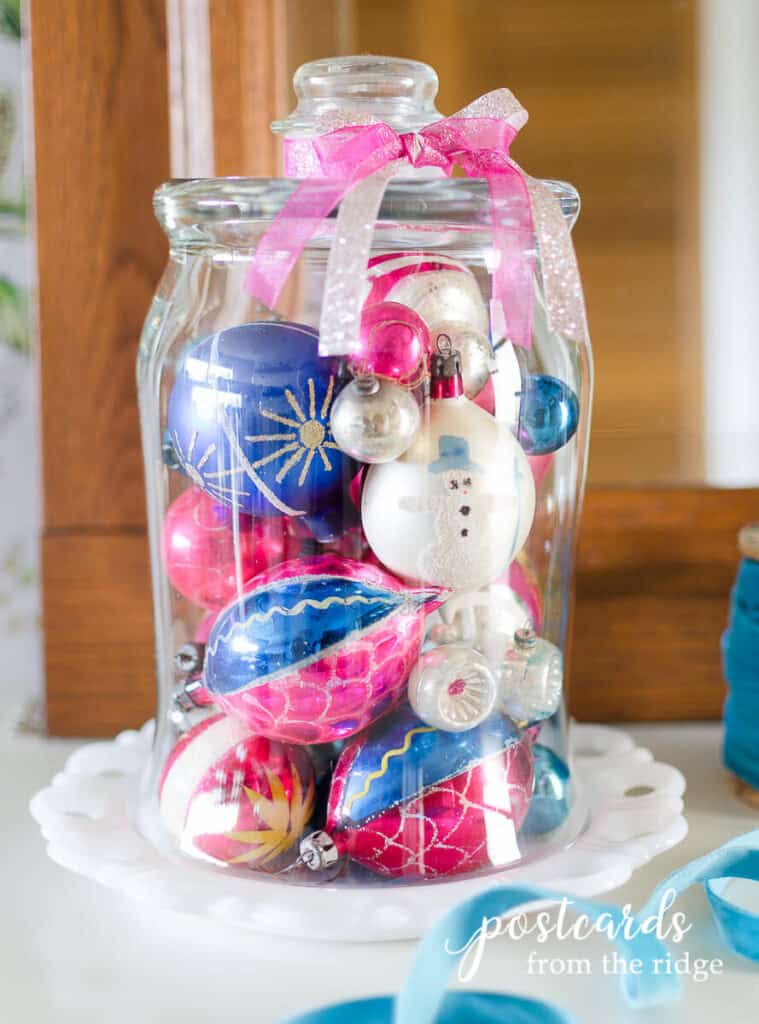 Colorful ornaments tucked in a basket
Underneath our entry table I have an African woven basket . I added a couple of wrapped boxes and tucked in some ornaments for a dose of color.
Large bowl of ornaments
This bowl full of vintage ornaments is actually from a few years ago but I'm adding it to today's post to show you how easy it is to display them this way.
A wooden dough bowl is another pretty way to display them easily.
On top of a vase
Another fun way to display colorful vintage ornaments is on top of a milk glass vase. I have a couple dozen of these so I'm always looking for new ways to use them. They're easy to find them at thrift stores and yard sales.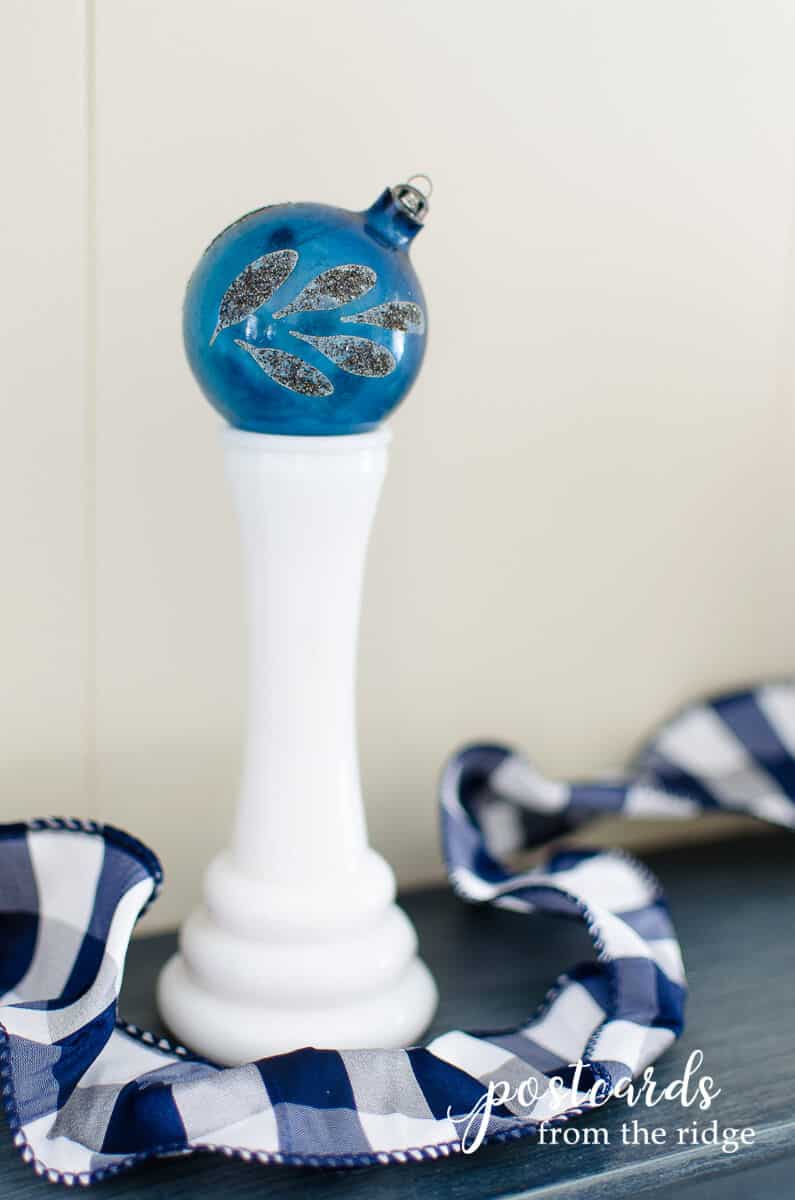 Hanging on your Christmas tree
Vibrant ornaments look great on your tree too, of course! I actually made several like this in my Friday afternoon pottery class. Did you know that I've been making pottery pieces since 2019? Most of them aren't worth showing to anyone but these simple little ornaments turned out so pretty.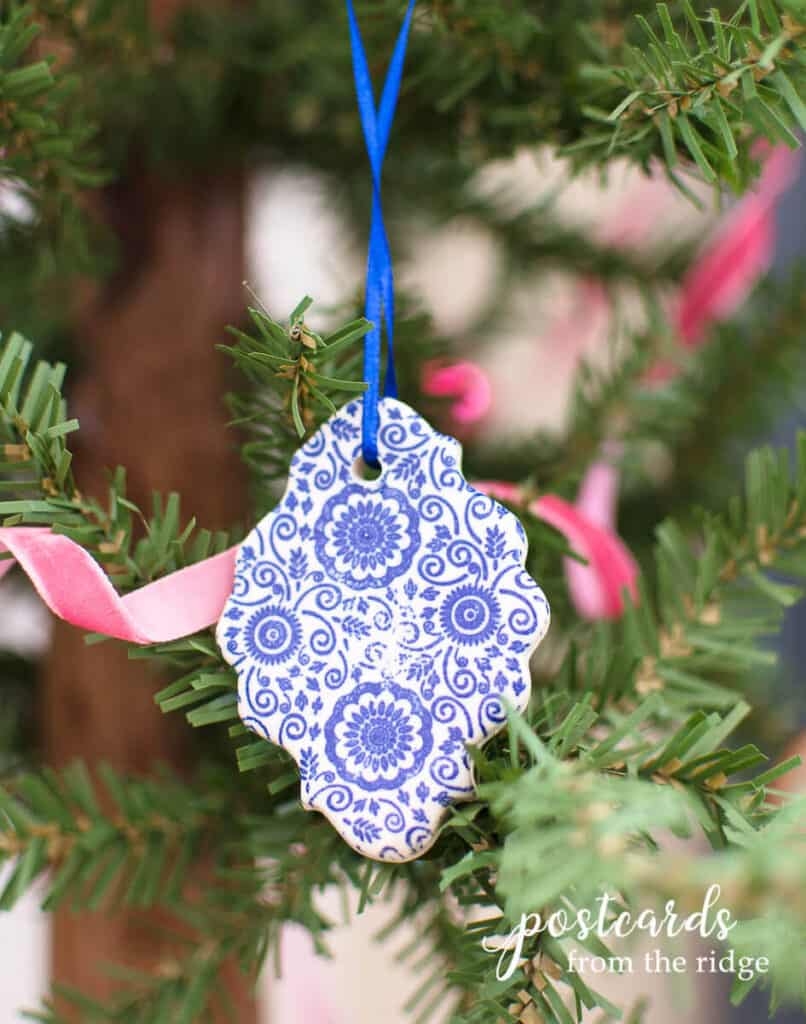 Next week I'll be sharing how I made the navy blue and glass glitter ornaments so be sure to subscribe to my newsletter if your aren't already! Update – see how to make them here: Easy DIY Glittered Ornaments
And a couple of weeks ago I posted a DIY 3D paper chinoiserie ornament tutorial for these blue and white beauties. They're much easier than they look and can be made with any color!
Colorful ribbons
Decorating with ribbons is one of the fastest and easiest ways to dress up an area.
Wrapped presents
I wrapped a couple of empty boxes with brown kraft paper and added some navy and white checked ribbon for color and pattern in the entry.
On your mantel
And the same ribbon is on the mantel in the den. I'm trying not to go overboard with decorations this year but might add a little greenery in here before it's all said and done. I'm feeling like it looks a little skimpy.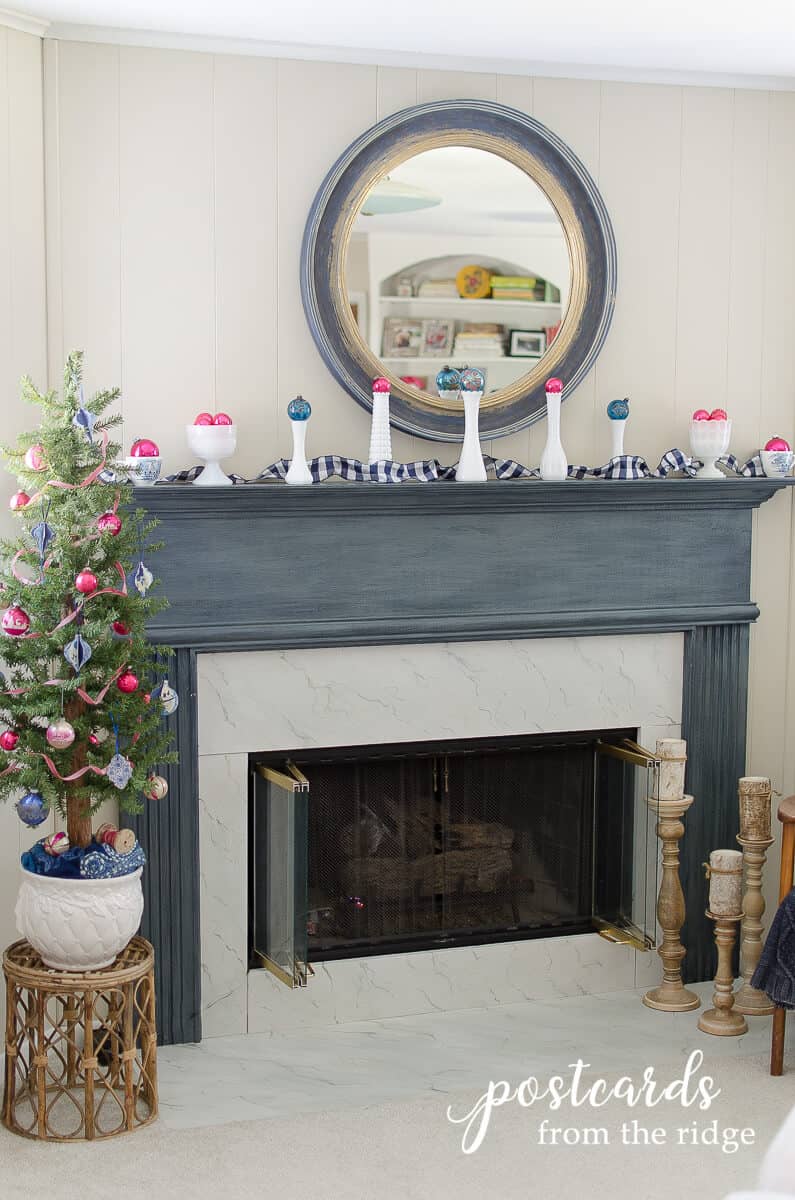 Ribbon used as tree garland
Adding ribbon to a Christmas tree is a clever way to introduce some color and texture. This pink velvet ribbon was just the right touch for my blue and white with pink accents theme.
Add color with throw blankets, pillows, and scarves
Scarves, shawls, and throw blankets can also perform double duty by adding color to a little nook.
Basket filler
When my dad passed away last year, some sweet and talented ladies from our church made prayer shawls for me, my mom, sister, and sister-in-law. I used my pretty hot pink one to add some color in the entry for the holidays.
Scarf used as a tree skirt
Colorful scarves can also be used as tree skirts for smaller trees like our 4′ artificial tree in the den. This blue one that I've had for several years is the perfect match for my blue ornaments. It's discontinued but there's a similar one here: blue paisley wrap
Add character with vintage pottery and glassware
Large planters and crocks are ideal for holding small trees.
Vintage pottery as tree holder
A few months ago I was the winning bidder at an auction for a box full of vintage McCoy planters including this gorgeous large white piece. It was a little dirty but it cleaned up so nicely and made the perfect container for our small tree in the den.
Compotes and teacups used for displaying ornaments
Thrift store teacups and compotes are wonderful ways to display vibrant ornaments and other small items.
Milk glass vase used as a pedestal
And here's another vintage milk glass vase acting as a pedestal for a vintage mercury glass ornament on the den mantel.
You can see the whole mantel here. I haven't shared a picture of this room since I changed the mirror and added on to our sectional sofa.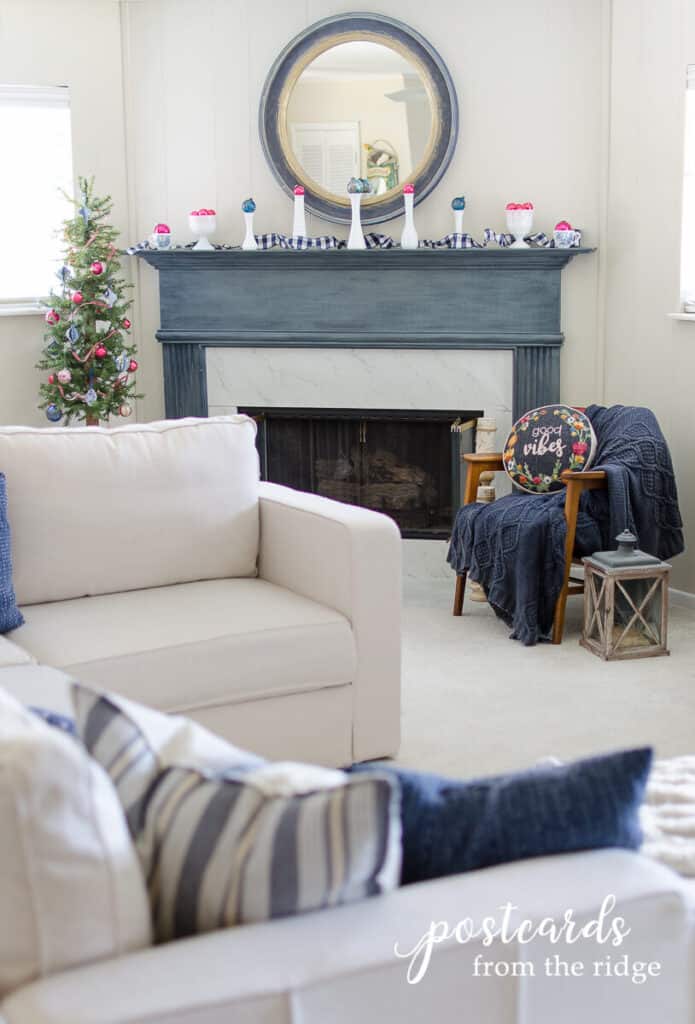 The walls also got a fresh coat of paint this spring with Benjamin Moore Clay Beige. The little round "good vibes" pillow was actually my inspiration for this year's colors! I'm really loving blues and vibrant hues these days.
Sources
Here are all of the tours you can visit this week. There are some gorgeous homes full of wonderful ideas. Next up is Melanie at Southern Crush at Home and she always has great decorating tips!

Sand Dollar Lane // 2 Bees in a Pod // At Home with Kristy // Exquisitely Unremarkable
Our Crafty Mom // Hearth and Vine

Zucchini Sisters // Postcards from the Ridge // Southern Crush at Home // Amy Sadler Designs
Pasha is Home // Simple Nature Decor

Worthing Court // The Tattered Pew // Cottage in the Mitten // DIY Beautify
Thistle Key Lane // At Lane and High // Feet Under My Table

White Arrows Home // Aratari at Home // White Lilac Farmhouse
Cottage on Bunker Hill // Bricks 'n Blooms

My Family Thyme // Southern Home and Hospitality // Songbird // Shiplap and Shells
Chalking Up Success // Pure Happy Home