Cozy Christmas Decor with Blue, Green, and Hydrangeas
hydrangeas, blue, and green Christmas decorations
This post contains affiliate links for your convenience. For full
disclosure go
here.
Using blues, greens, and hydrangeas for Christmas
Blue and green with hydrangeas for Christmas decor isn't something I've done
before this year. But it's been a different kind of year since losing my dad
in the spring, and it called for a bit of change at our house.
Today I'm sharing our Christmas tree and antique oak hutch that I've
decorated with blue and green, and the tree has dried and artificial
hydrangeas on it. It's part of this year's Celebrate Christmas tour hosted
by my friend Leen at Sand Dollar Lane. There are 15 home bloggers sharing ideas and you can visit everyone by
clicking the links at the bottom of this post.
If you're coming over from Sand Dollar Lane, welcome! I always love
seeing what Leen has done with her decor, especially at Christmas. Hop over
and visit her here if you haven't already: Sand Dollar Lane
Here's a peek at what you'll see on this beautiful tour full of ideas for
your Christmas home:
Now I'll give you a little tour of a couple of areas of our house that I've
decorated with blues and greens and hydrangeas.
Antique Oak Hutch with Jadeite and blue and white
One of my favorite places to decorate is our antique oak hutch. The
vintage white ironstone pitchers
and
platters
have been found at yard sales, estate sales, thrift shops, and at least a
couple have been given to me. They go with every color and are fun to use as a
sort of base for whatever I decide to put with them.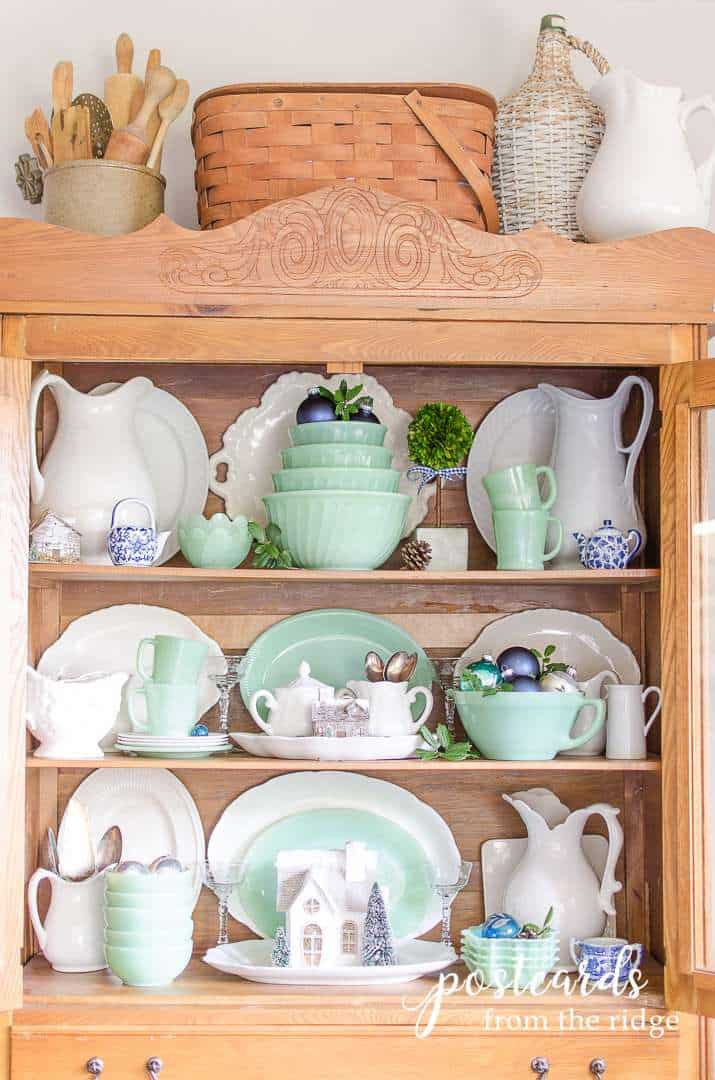 The
antique jadeite pieces
are some that my amazing sister gave me earlier this year. She and her husband
downsized and she decided that she no longer wanted these and gifted them to
me. I'm the luckiest sister in the world!
A few blue glass Christmas ornaments in the
jadeite batter bowl, tiny blue and white teapots, and a simple
blue and white gingham ribbon
tied around a
boxwood topiary
add just enough blue to the scene.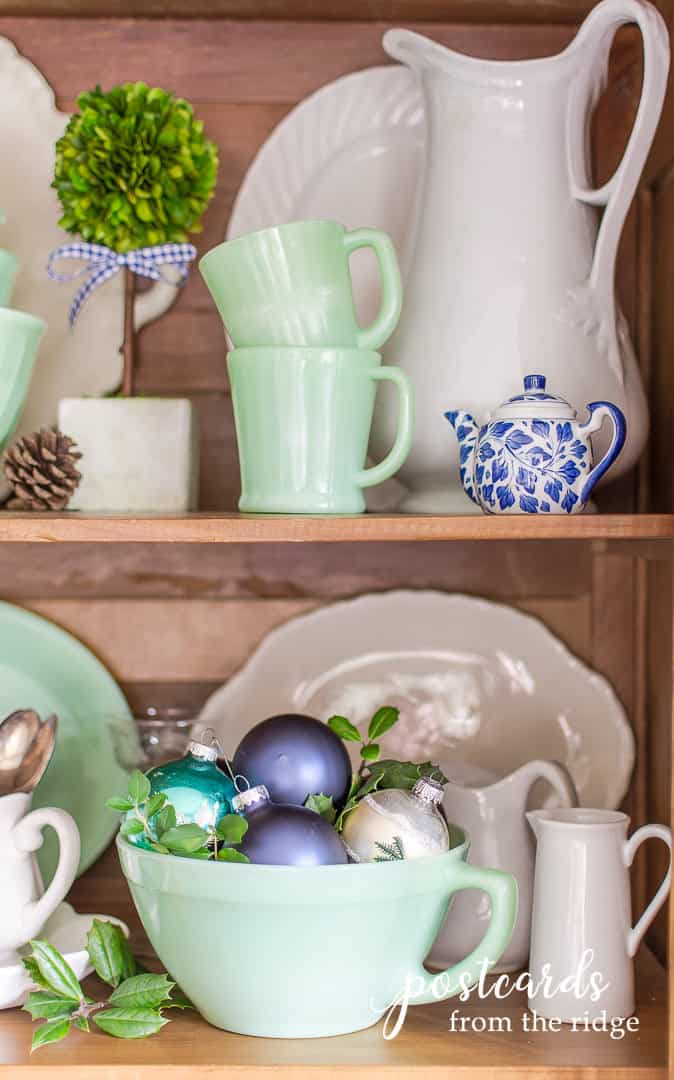 I mimicked the shape of a tree with the
set of jadeite bowls and added a few blue ornaments and holly clippings.
And a few small vintage mercury glass blue ornaments were scattered here as
well. The vintage silver spoons and the ironstone creamer and sugar are in
the hutch pretty much all the time and go with everything. The small led
birch houses are from my online shop,
Emory Valley Mercantile.
If you're interested in antique jadeite pieces you can see the collection I've
curated on etsy here:
Vintage Jadeite . Or keep scrolling to the bottom of the post for some more affordable
reproduction pieces.
See my favorite ways to decorate with vintage items for Christmas here:
Vintage Christmas Decorating Ideas
Christmas tree with blues, greens, and hydrangeas
I've really grown to love blue and white over the past couple of years and got
some new furniture in here earlier this year. You can read about that here:
New Blue and White Living Room Furniture. I was definitely influenced by the furniture when I was planning our
Christmas decor.
To create this look, I dug through my stash of vintage ornaments, ribbons, and
garland. The only thing I bought specifically for Christmas this year is the
Christmas tree pillow and some new
gift wrapping paper.
Do you love decorating with blue too? See more ideas for using it any time of the year in this post: 20 Fresh Ideas for Decorating with Blue
Hydrangeas are one of my absolute favorite things to decorate with any time of
the year. I used some dried and
faux white hydrangeas
on the tree and adore how they look. They're so full and fluffy. You can see
how I dry them here:
How to Easily Dry Hydrangeas. After I dried them, I left them outside during a few hot summer days and
they turned into this antique tea stained color.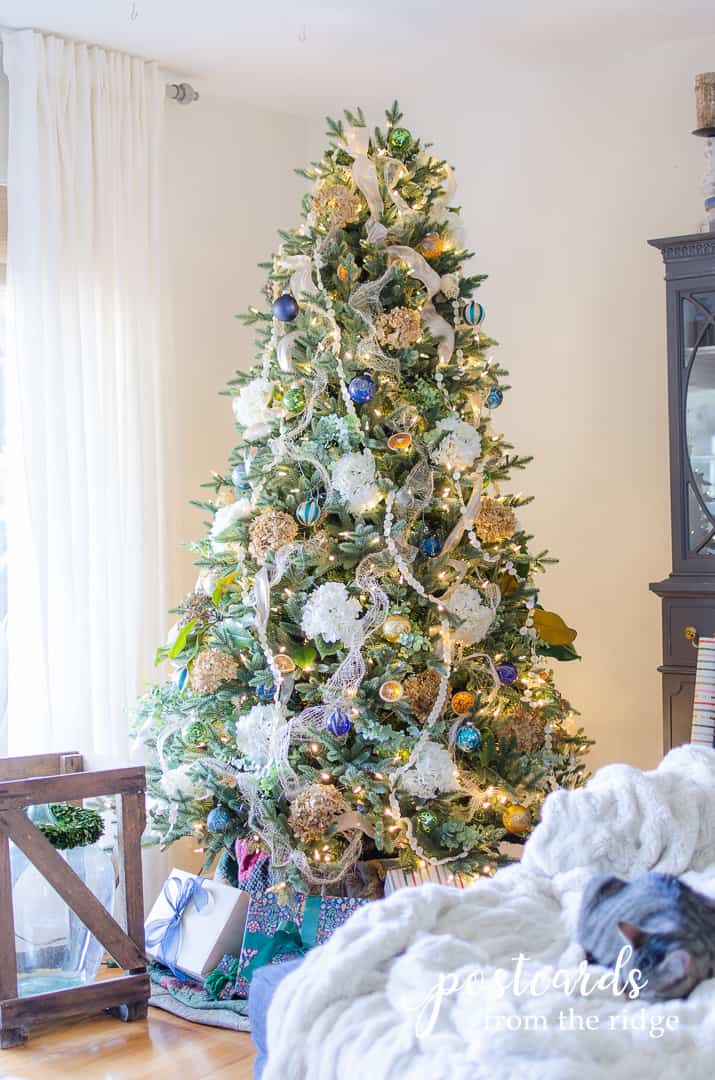 I also added some
faux baby eucalyptus branches, dried orange slices,
button garland, and vintage ornaments in shades of blue, green, and turquoise. And I
clipped a few branches from our magnolia tree for a bit more greenery.
If you're interested in similar colored ornaments, I've curated a collection
of vintage ones here:
Vintage blue, green, and turquoise ornaments.
I have always loved wrapping presents. Is that weird? When I
was growing up my mom always had me wrap the presents and it was so much fun.
This year I bought some pretty Christmas wrapping paper with blue, green, gold, and terra cotta. It coordinates perfectly with our
area rug.
And I brought our
faux fur throw blanket from the family room to add a bit of cozy texture to the room. It's
Lucy's favorite place to take a nap. She's completely spoiled.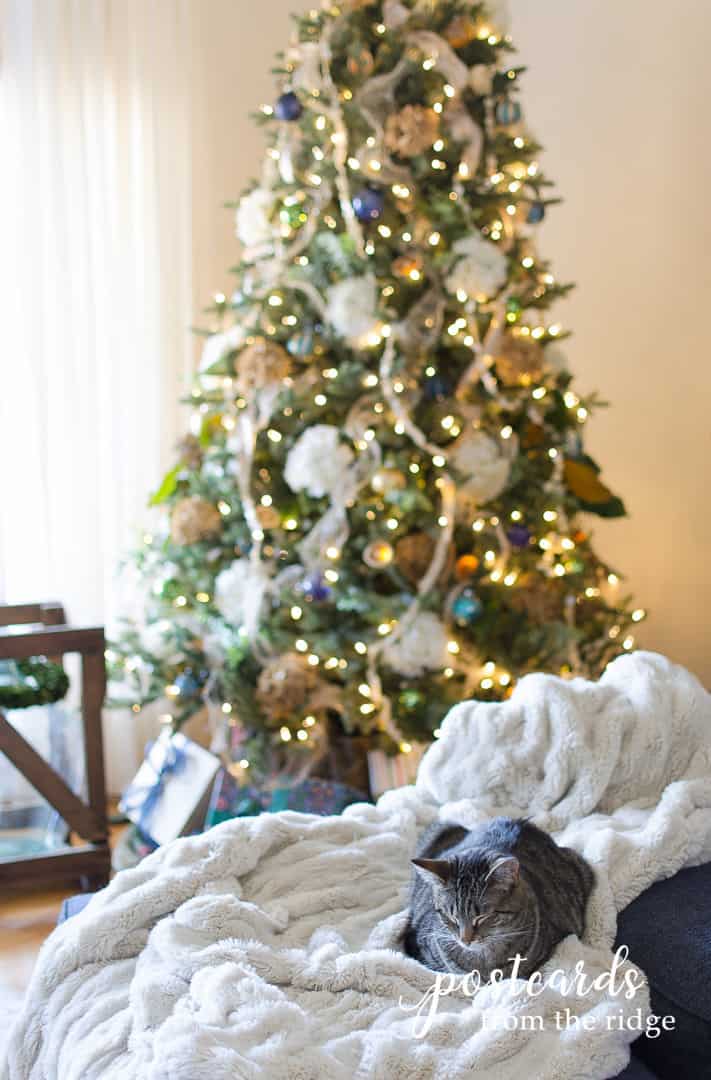 On the wall next to the tree is our vintage china cabinet with my 1991
china
and
crystal. A few magnolia branches are tucked inside a basket on top of it. And a
boxwood wreath
and a couple of
throw blankets
adorn my vintage wooden ladder.
See how I decorated the china cabinet with blue willow and green depression
glass here:
Antique Hutch Decorating Ideas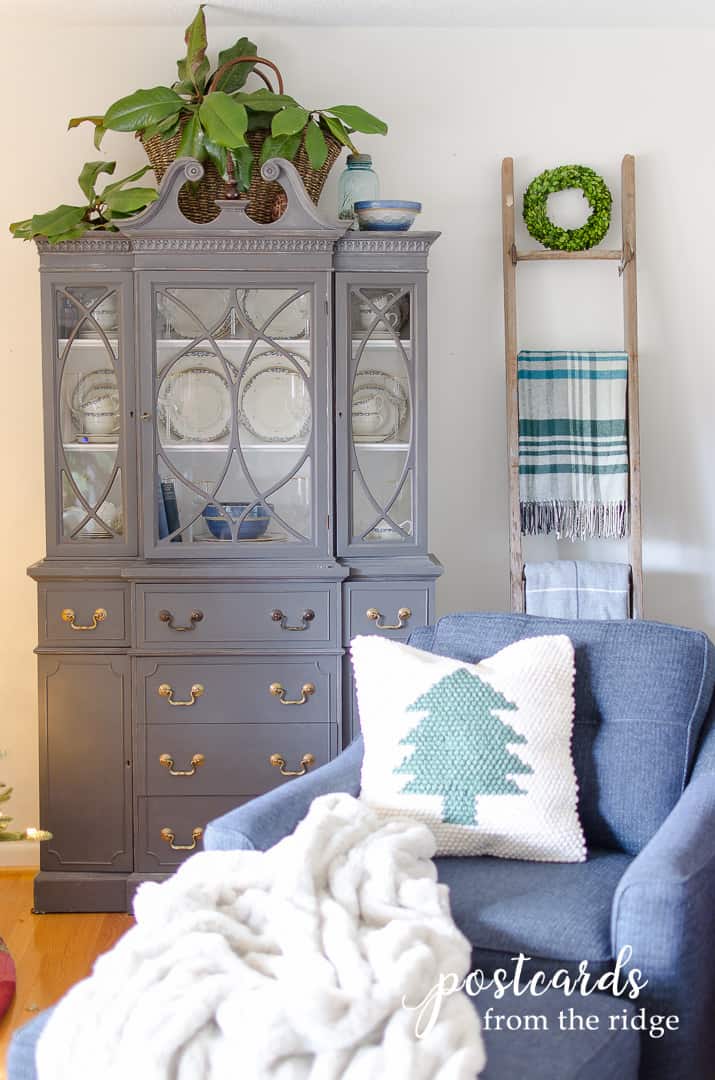 I'm pretty happy with these new-to-me Christmas tree colors. They're fresh,
happy, and clean looking and that's exactly what I needed this
year.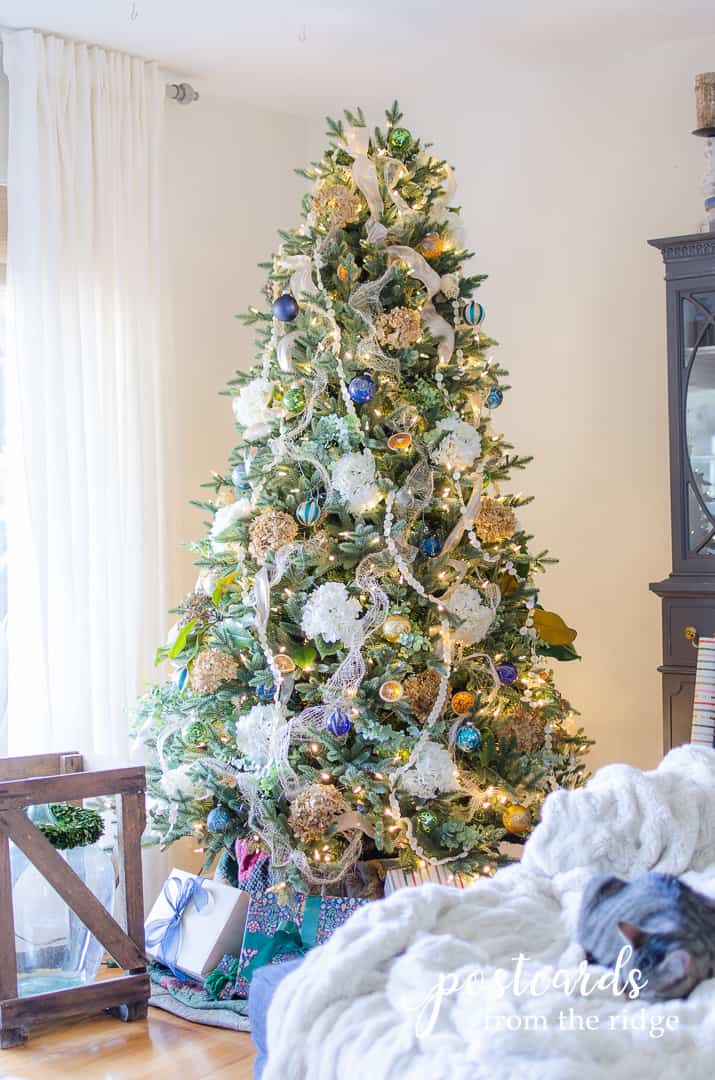 I hope you've enjoyed seeing our tree and holiday hutch. Let me know what your
favorite part is. And be sure to subscribe to my newsletter so you'll get my
upcoming Christmas porch and master bedroom ideas in your inbox.
Next up on the tour is A Life Unfolding and her tree is gorgeous! Be sure to hop over these and see all the beautiful
details. All of the posts are below.
Sand Dollar Lane
//
Postcards From The Ridge
//

A Life Unfolding
//
Atta Girl Says
//
Aratari At Home
My Family Thyme
//
2 Bees in a Pod
//

Sonya Burgess
//
Worthing Court
//
Southern Home and Hospitality

Sweet Pea
//
Kippi At Home
//
First Day of Home
//
Zucchini Sisters
//
Our Crafty Mom
shop this look